1961(2) Gibson SG Standard
(used in Easy Come, Easy Go)

Original one-sheet for Easy Come, Easy Go - 1967
Photo courtesy IMP Awards
In the 1967 release of Paramount's Easy Come, Easy Go, his twenty-third film and last with Paramount and for Hal Wallis, Elvis plays a recently discharged Navy Officer/Diver in pursuit of sunken treasure who, naturally, spends his spare time singing with a band at a fictitious club called the Easy GoGo. The film was actually filmed after Double Trouble in 1966, but released before it in 1967.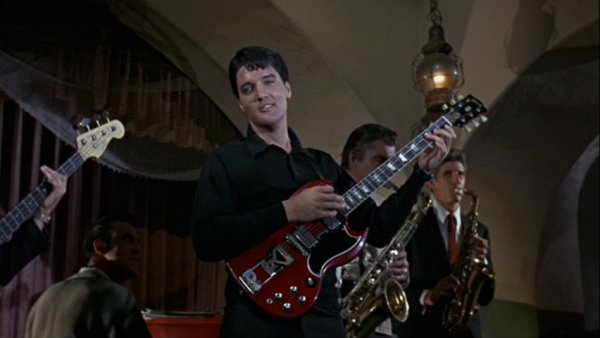 Elvis with an early 60's Gibson SG Standard in Easy Come, Easy Go - 1967
Screen capture © Paramount Pictures
Early in the movie he is first seen performing with a mid 1960s Fender P Bass but soon switches to what is apparently a 1961 or 1962 Gibson (Les Paul) SG Standard. In the film the SG is first seen used by an on screen member of the house band played by Bill Lynn.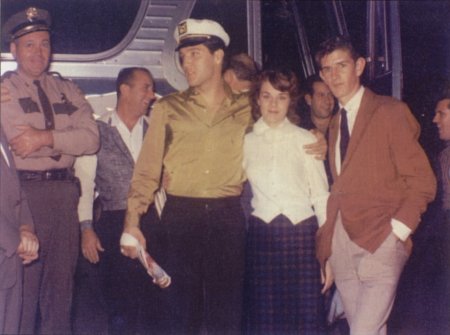 Elvis with friends, fans and Bill Lynn outside RCA Studio B - Oct. 1960
Photo courtesy Elvis: Day By Day
Originally from Bogota, Colombia and then Miami, he was signed by ABC Paramount Records as their Nashville "studio drummer" in 1960, where he first met Elvis. It's been said that he played drums on the recording of It's Now or Never but there is nothing to substantiate that claim. In 1963 he moved to Los Angeles and became the drummer in a band called "The Ringers". He later visited Elvis during the filming of Easy Come, Easy Go and was invited to appear as one of the band members and ultimately played band members in several of Elvis' films, including Speedway.* After handing off the SG to Elvis he is later seen playing bass, sax and the piano.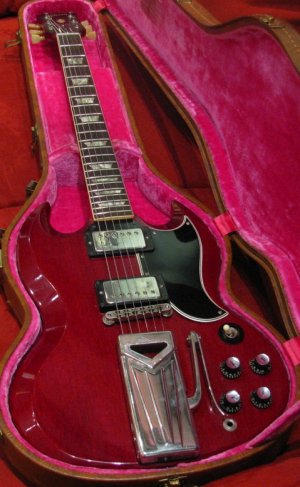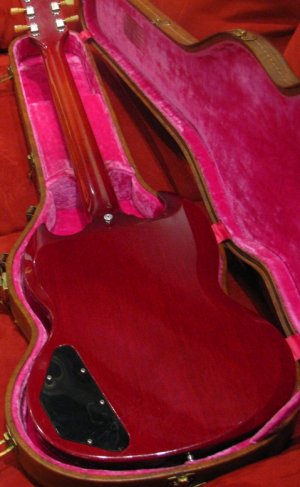 1961 Cherry Gibson Les Paul/ SG Standard
Photos courtesy GBase/We Buy Guitars, LLC.
The Gibson Les Paul was originally designed in the early '50s by Ted McCarty in collaboration with and endorsed by guitarist Les Paul to compete with the growing popularity of the recently introduced solid body Fender Telecaster. The guitar was a single cutaway design that featured a carved maple slab top over a thick solid mahogany body which increased density and sustain (not to mention weight). The Les Paul was redesigned in 1960 and went into full production in 1961 with a thinner, all mahogany double cutaway contoured body to compete with the growing popularity of Fender's Stratocaster. It had what they described as a slim, fast, low action neck. Les was said to be displeased with the design and ultimately had his name removed from it and the model became known simply as the SG, for "solid guitar."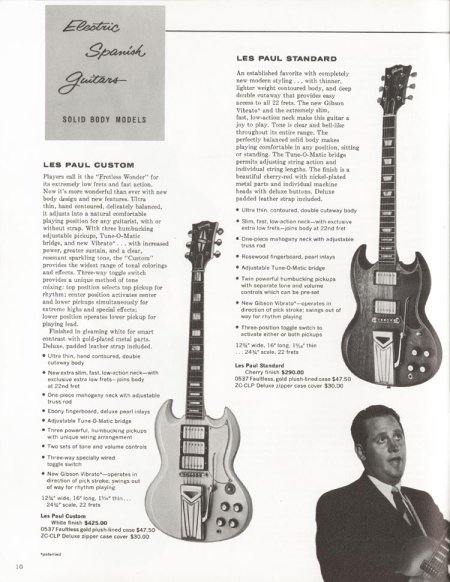 Page 10 of the 1962 Gibson Guitar and Bass catalog
courtesy Vintage Guitars and Basses
Various versions of the model were offered over the years that featured two and three humbucking pickups or one or two single coil P-90s, some with vibratos and others with stop tailpieces. In 1961 and 1962 the Les Paul (SG) Standard featured two PAF (Patent Applied For) humbucking pickups, with 3 way switching and independent volume and tone controls, Gibson's "sideways" vibrato (tremolo), trapezoid inlays and a Tune-O-Matic bridge.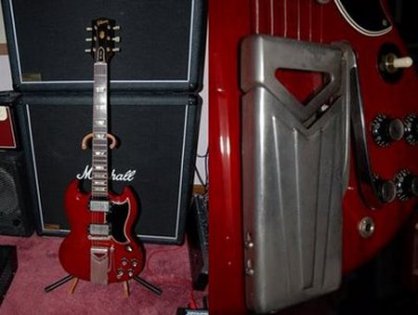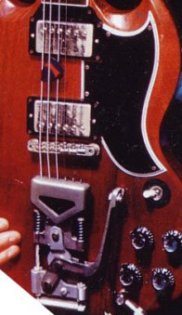 The early 60s Gibson SG Standard sideways vibrola covered and uncovered, with trem arm folded back
Photos courtesy Guitarz blog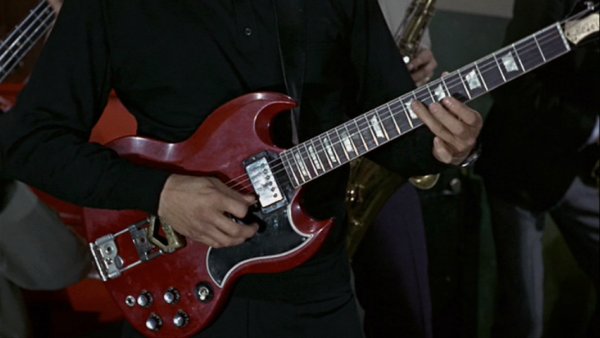 Elvis with the SG Standard with disassembled sideways vibrola tailpiece in Easy Come, Easy Go - 1967
Screen capture © Paramount Pictures
The "sideways" vibrato was discontinued by 1963 and replaced by Bigsby's and Gibson's Maestro Lyre vibratos. The vibrato on the one used by Elvis in the movie had been disassembled and configured as a non vibrato stop type tailpiece which facilitates ease and stability of tuning and keeps the rest of the string in tune when one breaks.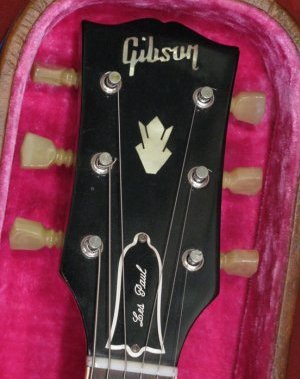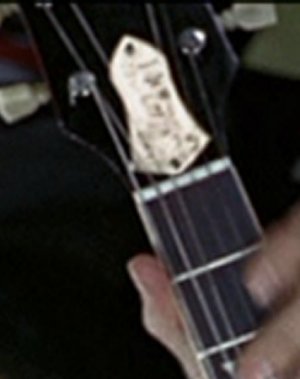 The original 61 Truss cover and the brass replacement on the movie guitar
Photo courtesy GBase/We Buy Guitars, LLC., Screen capture © Paramount Pictures
Another distinctive feature of the the guitar used in the movie was the brass truss cover. The early SG's had a truss cover with Les Paul inscripted on it (and also on the pick guard piece between the fretboard and neck pickup). The replacement cover on the movie guitar had some custom "unidentifiable" engraving or design on it.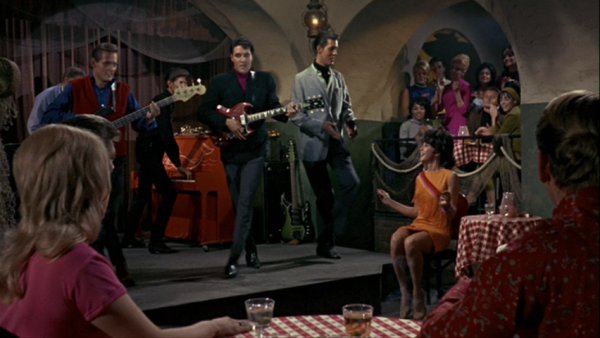 Elvis with the SG Standard and 64 Burns Double Six in Easy Come, Easy Go - 1967
Screen capture © Paramount Pictures
Gibson continues to offer varied models of the SG today and at times has reissued versions of this historic model. In addition to the SG, one of Elvis' personal guitars, the 1964 Burns Double Six, also makes a cameo with bad continuity in several shots from the last scene of the movie.
This page added August 15, 2010 is part of the section The Movie Guitars of Elvis Presley.
* according to The Ringers Story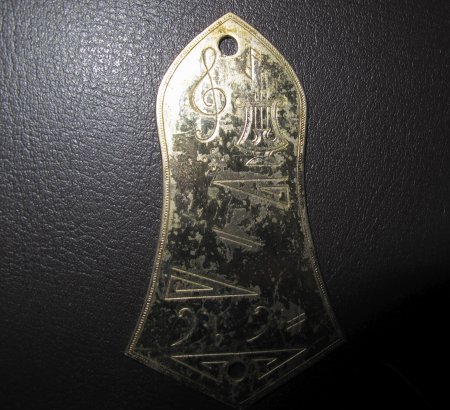 custom truss cover like Charlie's, and the movie SG from the Gibson banjo - Feb 5, 2011
Photo courtesy Trevor Rice
The custom truss cover appears to be an aftermarket cover available at least in the '50s and has been seen on one of Hank Garland's guitars and a Gibson banjo from Chicago.
appended February 5, 2011
FENDER®, STRATOCASTER®, STRAT®, TELECASTER®, TELE®, P BASS®, PRECISION BASS®, and the distinctive headstock designs of these guitars are registered trademarks of Fender Musical Instruments Corporation.