Martin 0-17 Mahogany
(used in Girls! Girls! Girls)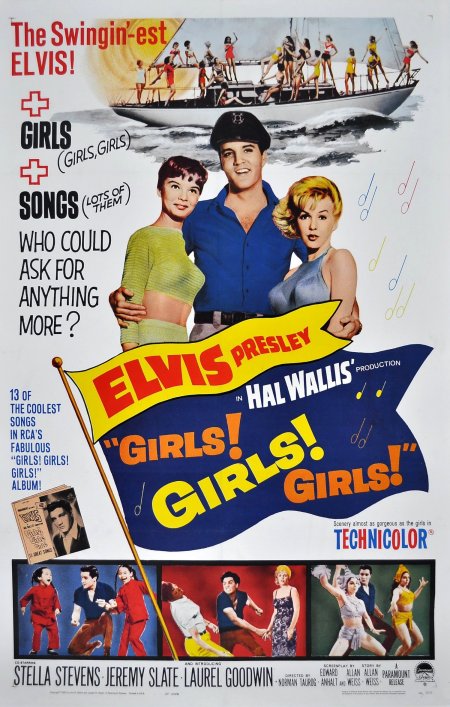 Original One-sheet poster for Paramount's Girls! Girls! Girls! - 1962
Photo courtesy CineMasterpieces
The 1962 release of Paramount's Girls! Girls! Girls was Elvis' eleventh film and the second of three films to be filmed on location in Hawaii. This was his fifth film with Paramount and because of the success of Blue Hawaii the direction of his movie career changed as producer Hal Wallis decided to promote him now as an entertainer in far less dramatic roles.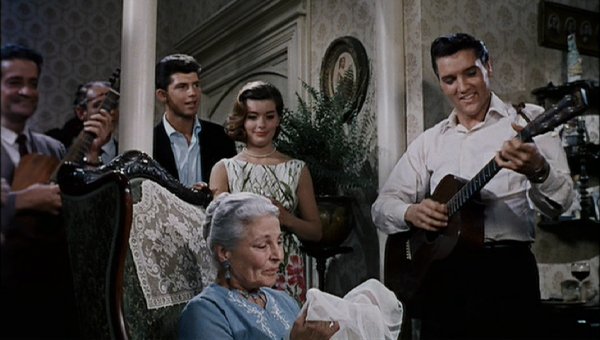 Elvis with Martin 0-17 in a scene from Girls! Girls! Girls - 1962
Screen capture © Paramount
The first guitar he's pictured playing in the film is a Martin 0-17. During the scene where he sings to the honoree of an anniversary party, the other Mahogany guitar that he uses in the remainder of the film, a Harmony H165, can also be seen played by someone else. The Martin 0-17 was the first guitar designed to use steel strings instead of cat-gut.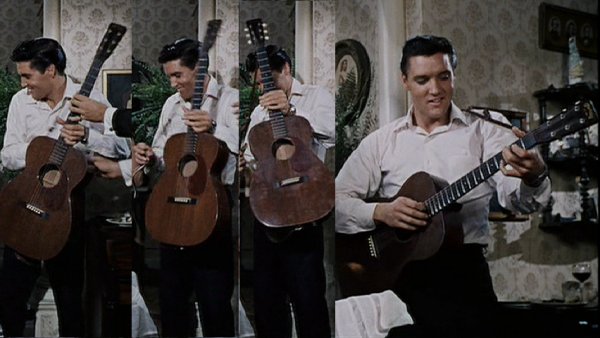 Elvis with Martin 0-17 in a scene from Girls! Girls! Girls - 1962
Screen capture © Paramount
Inspired by Hawaiian music, C.F. Martin created the first all-mahogany guitar, the tiny, spartan, inexpensive 2-17. Among the purchasers was a young Jimmie Rodgers, who used the instrument to create his blues-tinged style of country music before moving up to a custom-built 000-45.* The Mississippi born singer, known as the "Singing Brakeman", was country music's first superstar and had a significant impact on the popularity of the guitar.**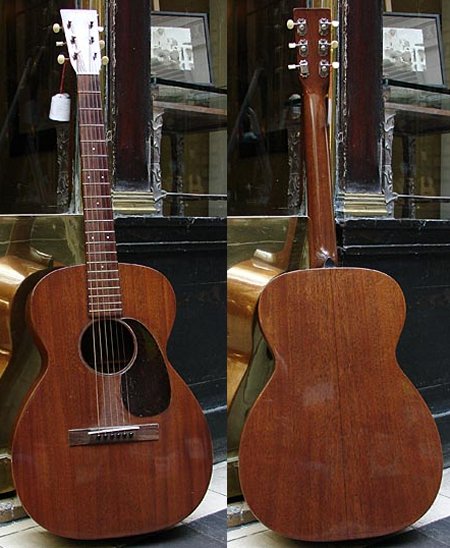 1946 Martin 0-17
Photo © courtesy R.F.Charle
By 1929, Martin had recognized the demand for steel string guitars and had made the change from gut strings to steel on all models. Additionally, two new all mahogany models, the 0-17 and 00-17, were released. The concert size 0-17 was first produced in 1929 and grand concert 00-17 was first produced in 1930. Both of these models were larger than the 2-17 and reflected the shift in demand to louder, larger body guitars with 14 frets clear of the body and non-slotted headstocks.*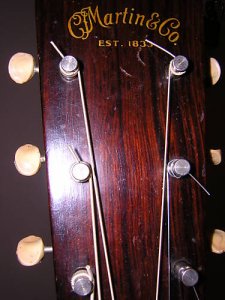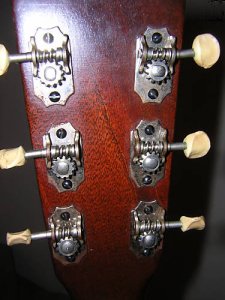 1945 Martin 0-17 Headstock and tuners
Photos courtesy Guitar Museum
Martin introduced its less expensive style 15, which combined all-mahogany construction with a matte finish, in concert size only, in 1940. Martin also made a few 000-17s in 1952, but the 15-inch wide guitars didnít catch on in mahogany, and the size was dropped after just 25 instruments.**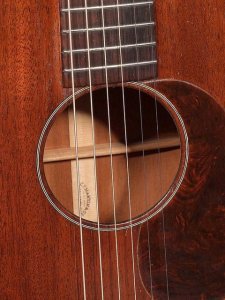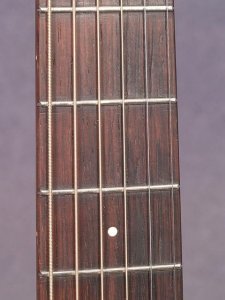 1936 Martin 0-17 soundhole and fretboard
Photos courtesy Elderly Instruments
Martin discontinued production of its all-mahogany models in 1961 until recently, though the 17 was briefly reintroduced in 1967-68. Probably because of the quality they offered for the money, mahogany-topped instruments found favor among several folksingers at the beginning of their careers. Bob Dylan played a Martin 00-17 from the 1940s during his coffeehouse days, and Judy Collins accompanied herself on an 0-15 when she started out.**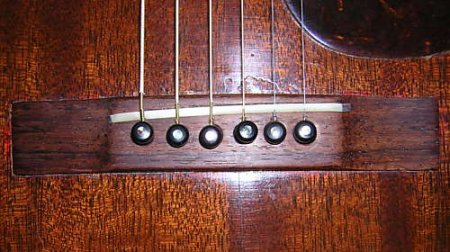 1945 Martin 0-17 rectangular bridge with black pins
Photo courtesy Guitar Museum
The guitar as used in the movie features a concert body style, mahogany top, back, and sides, mahogany neck, 20-frets with 14 clear of body, rosewood fingerboard with double pearl dot inlays, solid headstock with three-per-side open-style nickel tuners with plastic buttons, rectangular rosewood bridge with white bridge pins, a tortoise pickguard and a natural gloss finish.
This page added August 15, 2010 is part of the section The Movie Guitars of Elvis Presley.
Special thanks to Dick Boak of C.F. Martin & Co. for his input on this page.
* excerpt from Martin 2-17 - Martin's Forgotten Parlor Guitar by Doug Schmude
** excerpts from "Brown is Back" by Mashall Newman courtesy Acoustic Guitar