Gladewater Baseball (Bear) Park
Gladewater, TX
Not to be confused with Bear Stadium, the old High School football field originally located on Melba Avenue, Gladewater Baseball Park was the former semi-pro baseball park located on E. Pacific Ave. at S. Lee Drive not far from the Lee Building, home to Radio KSIJ in Gladewater, TX. The park was built in 1935 by Richard Wesley Burnett as the home field for the Gladewater Bears, his minor league team affiliated with the Boston Red Sox.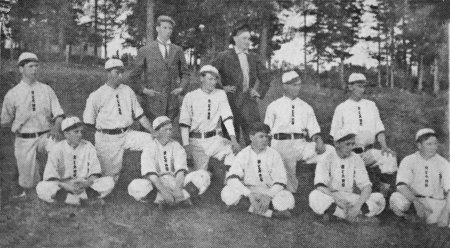 The First Gladewater Bears Baseball Team - ca. 1935 Standing: Leon Foshee, Floyd Mings. Middle Row: Alton and Arthur Mackey, Bert Johnson. Seated, 3rd and 4th from left: Hugh Pennel and Archie J. Wood
Photo courtesy Lanny Medlin
Burnett, an oilman and baseball entrepreneur, was born in McLennan County, Texas and moved with his family to Gladewater at the age of two. Serving in the Navy during World War I, he made his initial success during the East Texas oil boom buying and trading oil leases and in 1932 drilled a well, struck oil, and became moderately wealthy. In 1935 he bought the Shreveport ("Sports"), Louisiana, franchise in the Class C East Texas League and moved it to his hometown on June 4th, renaming them the Gladewater Bears. The team won a pennant in 1936.1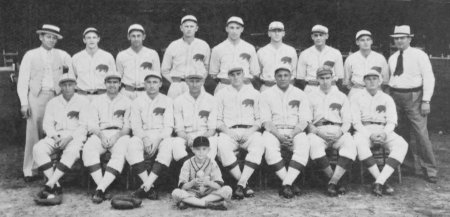 Gladewater Bears of the East Texas League - 1936 Pennant winners Back: Claude Lee, Benny Benismiller, Eddie Hock mgr., Lew Frierson, Clarie Hack, Gabby Lusk, Bill Windle, Rabbit McDowell, Dick Burnett. Front: Jinx Poindexter, Lefty Burros, WalterButler, Slats Lucas, Jim Reiniger, Fats Vogguel, Pete Vistart, Bill Kent, and Mascot, Robert George Pritchett
Photo courtesy Lanny Medlin
The Gladewater Bears were completely new to the East Texas League in 1936, coming from the West Dixie League where they played in 1935. The Bears won the League Championship, as they beat the Tyler Trojans four games to two in the finals. The Trojans had placed first in the regular season standings that year, going 94-56, while the Bears went 93-59 to finish second in the league. Following the season, the Bears ceased to exist in Gladewater. A new team with that name would show up in 1948, playing in the Lone Star League. In 1950 Gladewater led the league with a 92-45 record, but second-place Marshall beat fourth-place Longview four games to one in the finals. The league folded following the 1950 season and the Gladewater Bears, Marshall Browns, Henderson Oilers and Kilgore Drillers folded with it.2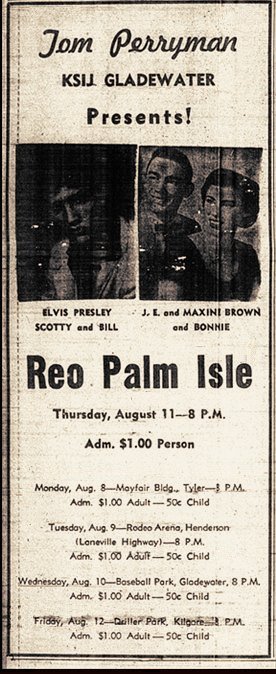 Longview ad for August Perryman tour- 1955
courtesy Lanny Medlin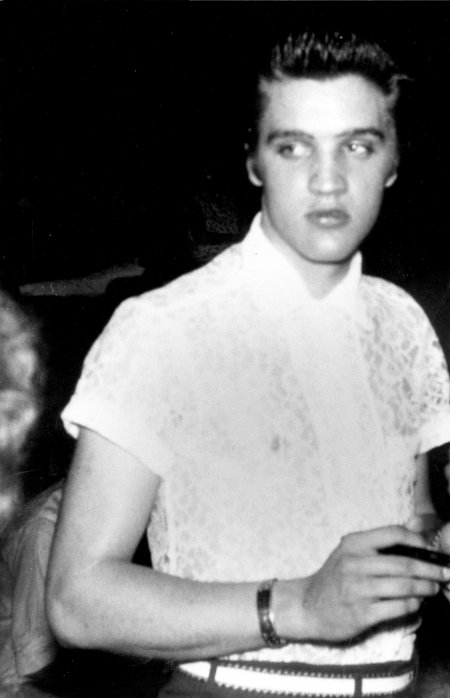 Elvis signs a baseball at Bear Park in Gladewater, TX - Aug. 10, 1955
Photo courtesy Steve Bonner
On August 10, 1955, Elvis, Scotty, Bill and DJ performed at the Gladewater Baseball Park on one stop of a five city tour put together by Tom Perryman with Jim Ed and Maxine Brown. During this tour the Browns added their younger sister Bonnie to their act and would ultimately be referred to simply as The Browns. According to Lee Cotten, Elvis arrived in a pink Cadillac and the show was staged from a flat-bed truck parked at second base. The number of people attending is estimated by Buzz Long, now Mayor of nearby Big Sandy, at only twenty people. Elvis appeared upset at the poor turnout and during the first half of his show he barely moved a muscle. During intermission, Buzz could see Scotty and Bill trying to pump up Elvis' spirits. It worked, and Elvis lived up to his "Fireball" reputation during the second half of the show.3 The following night they performed at the Reo Palm Isle in nearby Longview.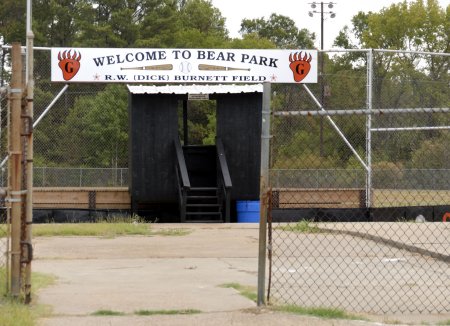 R. W. (Dick) Burnett Field - Bear Park in Gladewater, TX - Aug. 12, 2011
Photo © Lanny Medlin
By 1948 Burnett owned minor-league franchises in Gainesville and Texarkana, Texas, and Monroe, Louisiana when he purchased the Texas Rebels of the AA Texas League and also Oak Cliff ballpark in Dallas, where the Rebels played their home games. He renamed the Rebels the Eagles and the park Burnett Field and by 1953 Burnett turned a lackluster franchise into a powerful force while he pioneered changes in the league. Because of his successes as owner of the Eagles and his efforts to improve the conditions of minor league baseball, the Sporting News declared him the Minor League Executive of the Year in 1954. Burnett, at the age of 57, was in Shreveport on June 1, 1955, to see his Eagles play a weekend series when he suffered a heart attack and died. He was buried in Hillcrest Cemetery, Dallas.1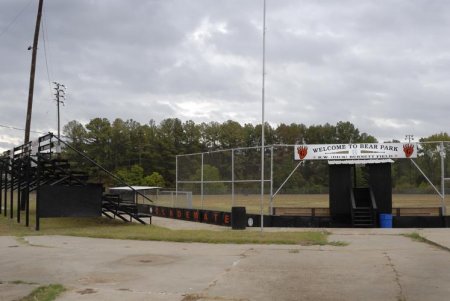 R. W. (Dick) Burnett Field - Bear Park in Gladewater, TX - Aug. 12, 2011
Photo © Lanny Medlin
According to John Low, owner of the Poor Boy's Barber Shop on Hwy. 80 in Gladewater, the H. Money family had originally donated the land for the baseball park with the stipulation that it could never be sold. It belongs to the city but if it were ever to be used for any other purpose it would revert back to the Money family heirs. In 1957 the original park and bleachers were torn down and the little league field was built.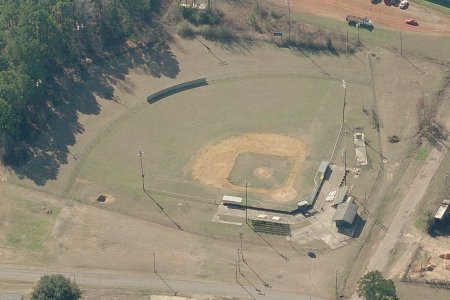 Aerial views of Bear Park in Gladewater, TX - 2010
Photos courtesy Microsoft Earthdata
Today Bear Park in Gladewater no longer looks like the semi-pro park of Burnett's Bears. Named R.W. (Dick) Burnett Field in his honor, Bear Park located at 900 East Pacific Avenue at the corner of South Lee Drive, is home to the Gladewater Youth Baseball Association.
Page added August 17, 2011

Special thanks to Lanny Medlin for his assistance with this page. Lanny is a native of East Texas and regularly publishes the results of his research on its history in Lanny Medlin's Albums. Thanks also to Larry Coulter, Van Craddock and John Low for assisting in the verification of the original Bear Park location.
1 excerpts from and according to Larry G. Bowman, "BURNETT, RICHARD WESLEY," Handbook of Texas Online
2 according to East Texas League: Reference, see also Gladewater, Texas Minor League History - Baseball Reference
3 excerpt from "Did Elvis Sing in Your Hometown?" by Lee Cotten
---
Lanny,

Thanks for sharing the memories of old Bears Park. When I was a very small child our family lived on Bobo Street (now Lee) north of U.S. 80. When I saw the lights on at the ballpark I'd pitch a fit and my dad would walk me the two blocks or so to the stadium. I wish we still had the old East Texas League.


The building that was the Green Hut Cafe on East Hwy 80 - Aug. 16, 2011
Photo © Lanny Medlin

By the way, my dad worked at Hall Lumber Co. at Bobo (Lee) and 80. One day in 1954 he was sitting in the Green Hut cafe across the street from KSIJ and in walked Elvis and the Blue Moon Boys. My dad and Elvis almost got in a fight there (My dad's version is that Elvis remarked about the sunlight reflecting off his bald head) but Scottie and Bill pulled them apart. My dad never did like Elvis after that.

Van Craddock
Longview, TX
August 18, 2011