Perhaps The First Rock And Roll Guitarist
by Douglas Green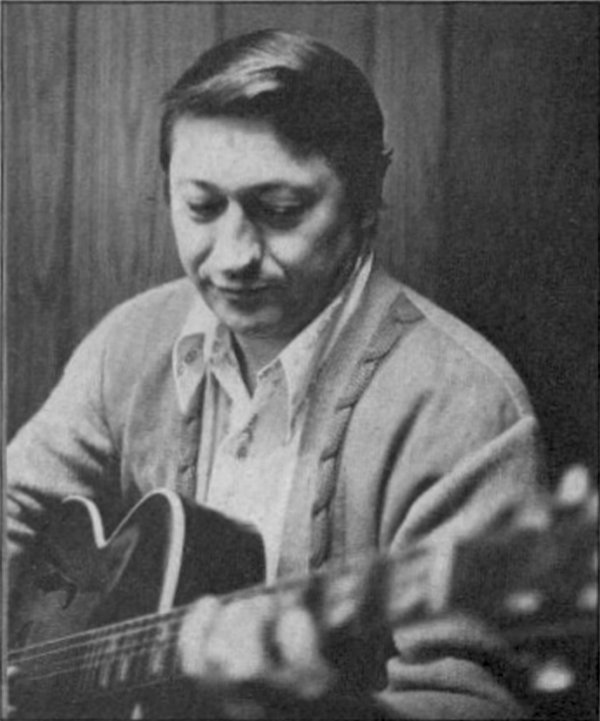 Photo by Doug Green

Long before there was rock and roll, Scotty Moore was a rock and roll guitar player. As Elvis Presley's first guitarist, every note that the 21-year old Scotty played on such tunes as "Houndog," "Don't Be Cruel," and "Heartbreak Hotel" was memorized by tens of thousands of young guitar players — many of whom have gone on to become legends themselves.
Scotty Moore later recorded a solo album, The Guitar That Changed The World, (Epic, LN 24103), and is today a recording engineer in Nashville. Scotty was among the handful of musicians in the early Fifties of whom it can be said, "They invented rock and roll."

* * *

Tell us about your childhood and your early in rarest in music.

I was born in West Tennessee -- Humbolt. My father and two brothers all played, so that's where my first interest came from. They mostly played the country songs of the time. I was the youngest in the family, so by the time I was old enough to start playing, my brothers had left home, and my dad was too old to care anything about it any more. So I didn't pursue it very much until I got into the service and formed a couple of bands. When I came out in '52 I went to Memphis, to work for my brother who had a cleaning plant. And in my spare time I formed a band, and met Sam Phillips (of Sun Records), and began getting into recording a bit.

Were you a studio musician with Sun?

Yes, I guess you could call it that. Sam had been into rhythm and blues before that, and with the band that I'd put together we started working on some country product.

What was the name of the group?

The Starlight Wranglers! (laughter). Bill Black was the bass player. The singer's name was Doug Poindexter. We put one record out and were playing some of the clubs around Memphis. Then along came Elvis. Bill and myself auditioned with him. Sam also had a custom record service, and Elvis had been in a year before and made a record for his mother. Sam liked his voice, and kept his name on file. At the time, the music business was at a very low ebb, and we were all looking for something that would sell. Sam had me get hold of Elvis, and so Elvis came over to my house one Sunday afternoon. We sat around and played, and Elvis sang a little bit of everything - pop, country, R&B. So after that I called Sam and said, "Well, the guy sings good. He doesn't really knock me out. you know, but. . . " So Sam says, "Let's go into the studio and see what he sounds like on tape." So that's what happened, and the first record came out of that first session.

What guitar were you playing at the time?

I had a Fender. I don't remember if it was a Telecaster, a Broadcaster, a Lancaster -- it was one of those 'casters, I do know that. Then shortly after that I went to a Gibson, and I've been playing Gibsons ever since. I had a Les Paul model, made just like the small Les Pauls, but it had a bigger body.

An ES295 with a gold top?

I'm not sure of the number. I played it for about a year, then went to an L-5, then to a Super 400. I've been playing Super 400's ever since.

What was your amp back then?

It was a custom built Echo-Sonic, made by Ray Butts. Chet (Atkins) had one, I can't think who had the second, and I had the third one built. It had a tape, more like a slap-back effect - not the echo-plex we know of now with a repeater. but it just gave a little boost lo the sound. It was awful good if you missed a note. It wouldn't come out so bad (laughter). I still have that same amp, but of course I also have two or three others.

How did you get a rock and roll sound our of a hollow-body?

That's hard to say, because there wasn't any rock and roll before. So that was it! We couldn't get the highs or bend the strings as far as many players do now, because we didn't use light gauge. We just had to work harder. The Gretsch Chet Atkins strings were the only ones that would hold up on the particular guitar.
On a couple of earlier guitars I'd used different ones, though. I still use the same Atkins strings now by today's standards they're like rope, they're so big.

So then what happened after the release of Elvis' first record?

The first one wasn't a nation-wide thing. It was more in the Southwest Mississippi, Arkansas, Texas. We started doing some shows, and it was rough, it was wild. It wasn't an overnight success, by any means. but even in those early days the crowds were just as ecstatic as now, but not as large. Then we went to the (Shreveport) "Louisiana Hayride" and worked with the other acts that were on it. And then we did the first show with Tommy and Jimmy Dorsey, and with that, coupled with the first record we did on RCA, "Heartbreak Hotel," it was just like an atomic bomb going off! Nobody even had time to think after that. A phenomenon. really! And even being as close to it as I was. it's still hard for me to realize it. I think I'm still getting shock waves out of it.

How long did you stay with Elvis?

Fulltime until he went into the Army in '58. and again when he came out. Then he did movies more. didn't do too many shows. We worked record sessions, movie soundtracks and such. I worked with him up through the Singer TV special which was about three or four years ago. At that time he was going to Vegas for the first time and wanted myself, D. J. [Fontana. drummer with his band] and the Jordanaires to go with him. But it was going to be a six-week bit, and you know what it means to be out of town that long -- it's like starting over.

Is that when James Burton joined Elvis?

Elvis needed a man to work with him who was loose enough to travel. And I don't think he could have found a better player! That's for sure! James is fantastic and, I might add, a personal friend for years. l knew him back when he was with Ricky Nelson. James, Fred Carter Jr. who's here in Nashville, and Ricky — we all used to get in the hotel, in California, and jam.

What was Elvis like in the beginning? Was he much of a player then?

Elvis was just an everyday guy — young and wild. Now he's old and wild! He only played rhythm guitar, what I call self-accompaniment. He played a little piano, too. But he didn't consider himself a guitar player as such, but his playing did add to the group, because he played rhythm and more or less tied things together from the rhythm standpoint. But singing was always his first concern.

Did he have a shaping effect on the course the music was taking? Or did you, Bill and J. D. pretty much decide what that music was to be?

It was a combination of everybody. We'd stop and say, "Let's see if this'll work." But for the most part I think you could say that once we'd get a rhythm pattern going that felt good with the way Elvis wanted to sing it, we'd work everything else in around that. The rhythm was the primary thing. Any lead work was really secondary at that point.

In Jerry Hopkins' book, Elvis, he hints strongly that you were the real reason for the Elvis sound, that it was your musicianship and your guitar playing that actually drove the group and created its sound.

Well, it's easy for another guy to say nice things about you.

He also suggests that you guys really got beat on the money end of it.

Ouch! that was a good lick.

For example, after it became clear that Elvis war the star, your original agreement of 50% for Elvis and 25% each for you and Blil Black, was dropped. Hopkins also says that you had made an agreement that would have given each ofypu 1/4 of 1% on all record sales, an agreement that, had it come into effect, would have made you both millionaires. Instead, you were put on salary, which, though high for the time, was just a comparative drop in the bucket — and just when, after all the struggling, you were finally getting to make some money.

Well, sometimes you win, and sometimes you lose. I guess there are some things that should be put in writing.

How much did you get paid in those early days?

I think it was along about $250.00 a week. Back then it was a good salary.

Was it strictly up to you to decide the guitar leads in those pre-rock days?

Yeah, basically. They were primarily my own invention, if you can use the word "invention." A lot was a combination of old blues licks, some Travis, some Atkins, a combination of thumb and finger - just whatever I could make work, really. I used a thumbpick mostly, then a straightpick on other styles.

Who did you learn from in those days? Who were your inspirations?

I don't think I really had any particular favorites. I was listening to Atkins, Travis, Barney Kessel, Tal Farlow, B. B. King. I was just into everybody. As long as he played guitar he was fine with me.

Do you play a lot of jazz?

No. I love it dearly, wish I could. Unfortunately, and I'm sure I'm not the only one this has happened to, but at the time when I was at the point of grasping things pretty fast and putting things together in my own way, we were locked into a rut. So, other than when we were in the studio making records, we just played the same thing day in and day out. And when you've traveled six or eight hundred miles, you just don't want to rehearse or jam or look for new things. And I've felt, over the years, a little left out in that sense. As far as becoming a good musician as opposed to a commercial player, well, I missed that chance. But, that's show biz! I saw in the Sunday paper, [GP editor] Jim Crockett's comments about jazz [coming back on the shoulders of the guitar]. I wholeheartedly agree with the whole thing. I believe he's absolutely correct. In fact. l've been saying that for about three years, that jazz is going to come back, and it's going to have a big influence on music in general. And I'm not talking about jazz in the form of [tenor saxophonist Stan] Getz or [pianist Dave] Brubeck. But in listening to many rock groups you hear so many obviously fine musicians, and I think they're going to bust out on their own with great music, music that won't be way-out or deep, necessarily, but people will appreciate the ability that went into it. They might not call it jazz, they might call it something else.

What do you play when you just sit around with your guitar?

Oh, l just noodle. No particular thing. But, to be very honest, when I do sit down I'm always looking for little different sounds and new combinations.

How did you get started as a recording engineer?

When Elvis went into the Army I lived in Memphis and started a little record company with a couple of other guys there. The first artist we had, and the first . . .


Unfortunately GP Magazine goofed and a portion of this interview that should go here was omitted from the publication and never printed, it concluded incompletely and out of context as follows:

. . . part?

Yes, I really do. l think there's a lot of un-sung heroes in that end of the business.

What are your plans for the future?

I think I'd like to continue the course I'm on now. I want to find and develop artists independently. That's really what I want to do more than anything else. Any kind of music — I have no preference. I'd just as soon work with country, R&B, just anybody good that comes along. And the music, I think, is getting closer together all the time, for the better, in the long run. I think it's all going back to music, technically.
---
This interview originally appeared in the August 1974 issue of Guitar Player magazine.
added June 27, 2016