Jefferson County Armory
Louisville, KY

Artist's rendition of Jefferson County Armory - ca. 1905
Postcard courtesy eBay
In 1893 the Kentucky state legislators passed a law which required every city of 1st or 2nd class to provide an armory with a drill hall and ammunition repository for the local branch of the state militia." As it was not always possible to build a new armory, some of the towns adapted existing buildings which were adequate to meet the needs of the National Guard. In Louisville, a large plot of land was purchased in April of 1904 at the corner of Walnut Street, and Sixth Street from O.S. Basye and Company for $89,750.1 Originally it was the site where Aleck and Annie Craig's Louisville home once stood.*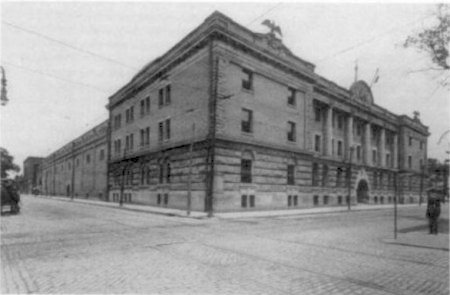 The Jefferson County Armory at 525 Walnut St. Louisville, KY - ca.1905
Photo courtesy John E. Kleber's "The encyclopedia of Louisville"
A large three-story brick, stone, and steel building on a raised basement, it was designed by Louisville architect Brinton B. Davis, and built by the Louisville firm of Caldwell & Drake. The building was designed in the Beaux Arts style, and featured eagles perched atop the facade, cannons along the cornice line, and an arched entranceway. The raised basement/foundation was built of rough-cut stone. The building cost a total of $440,000 to build, and it was largely finished and dedicated on December 31, 1905. An estimated 10,000 people attended the dedication ceremony.1


Cityscape of Louisville, KY, armory in rear - 1910
Photo courtesy Kentucky Wildcat Basketball
Although its main function was that of a military installation and arsenal for the famed Louisville Legion (the Louisville Legion was federally recognized as the 138th Field Artillery, Kentucky National Guard, in June of 1922), the building was also intended as a community center for the City of Louisville, which did not have a large meeting/ recreational facility at the turn of the century.1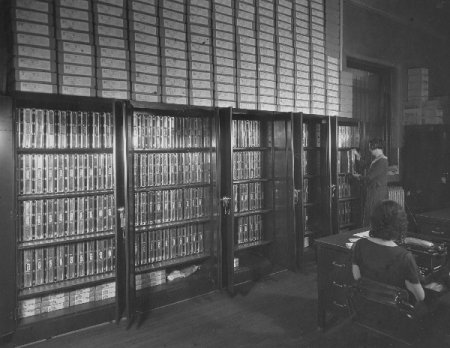 Jefferson County Armory, Registration Office
Photo by Caufield & Shook, Herald-Post Collection, University of Louisville
The armory also contained offices, a swimming pool and a rifle range in the basement, a large drill hall with 53,055 square feet of floor space and offices on the main floor, a gym, bathrooms, a band room on the second floor, and locker rooms on the third floor.1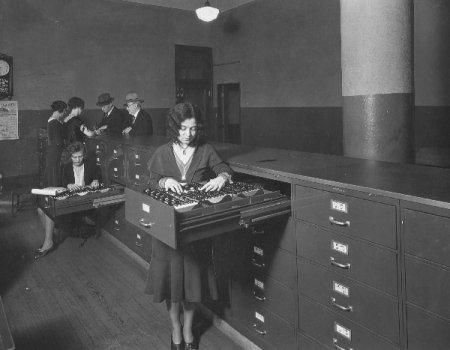 Jefferson County Armory, Registration Office
Photo by Caufield & Shook, Herald-Post Collection, University of Louisville
From the beginning, the armory served as a popular recreational and community gathering place. Sports activities such as basketball, tennis, badminton, roller skating, and ice hockey (a large sheet of ice was placed on the drill hall floor for a time) all took place there. Roller derbies and rodeos were other popular events which occurred at the armory.1
On November 8, 1911, President William Taft made a brief address at the armory advocating his policies looking toward international peace. The following year, ten thousand citizens attended a memorial service at the Armory following the Titanic disaster in 1912. Numerous entertainment acts graced the Armory's stage, including Ray Charles, Louis Armstrong, Frank Sinatra, Mary Wells, Igor Stravinsky, and a national broadcast of the Tommy Dorsey Orchestra in 1936. During the Ohio River flood of 1937 it was used for six thousand refugees who sought dry accommodations.2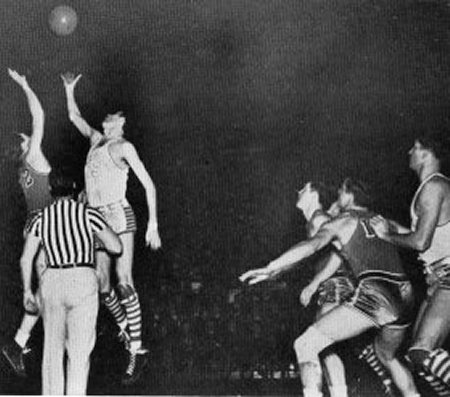 Mel Brewer of Kentucky tips off against Notre Dame in the Armory - Jan 4, 1941
Photo courtesy Kentucky Wildcat Basketball
On January 5, 1937 the University of Kentucky and Notre Dame would meet in Louisville, Kentucky in the Armory, the first of many meetings. The crowd of 6,352 people in attendance was the largest to see a basketball game in the state of Kentucky up until that time, and far larger than UK's Alumni Gymnasium, where they played their home games, could accommodate. Despite concern over the state of the playing surface, $5,700 was collected as gate receipts and the experiment was considered a success. The Southeastern Conference men's basketball tournament was held at the Jefferson County Armory from 1941-1952. Additionally, the Ohio Valley Conference men's basketball tournament was held there from 1949-1955 and again from 1964-1967.3

Photo courtesy Kentucky Wildcat Basketball
Over the years, community, sporting, and recreational events had eclipsed the building's main function as the home of the National Guard. The sheer number of activities which were held at the armory forced the Guard to find another location to drill. The Guard moved out of the armory into facilities closer to Standiford Field at the State fairgrounds and elsewhere in the county in 1946.1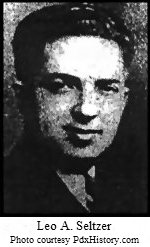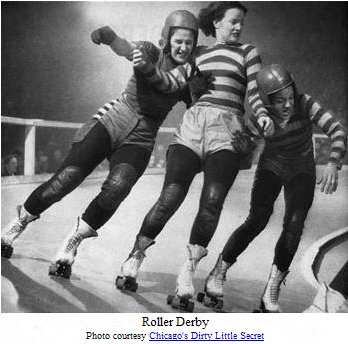 Leo A. Seltzer, a former film publicist, was only 26 years old when he owned a chain of theaters in Portland, Oregon in 1929.
In 1931, he helped organize and promote "walkathons", which at that time was another name for dance marathons, since most dancers ended up merely shuffling around for the duration of the contests, which could run as long as 40 days.4 He started the American Walkathon Company which was billed as the "Best Walkathon Organization" in the United States.5 He grossed $2 million before retiring, and moved his family to Chicago in 1933 citing that the events had become "vulgar." 4
In 1934 his organization was headquartered at the Arcadia Gardens Ballroom in Chicago and was also the owner of the Coliseum there.5 In 1935 he invented the sport of roller derby, initially as an endurance exhibition where skaters circled on a track traveling the equivalent distance of skating from coast to coast. While this version of the derby did prove to be popular, Seltzer quickly noticed that the spectators seemed to really enjoy when the skaters occasionally came into contact with each other and the crashes that ensued. In 1937, Leo Seltzer re-launched Roller Derby as a full contact sport, played on a banked track with teams competing against each other for points.5
In 1945 Seltzer leased the Armory in Louisville from Jefferson County with a 15 year lease as the Kentucky National Guard moved out. Irving Wayne was the manager at the Armory for Seltzer Enterprises and according to Billboard, would be instrumental in signing the Polack Bros. Circus to many successful exclusive (circus) engagements there setting attendance records.
On September 30, 1948, while campaigning during the 1948 Presidential elections, in what would be considered as the greatest election upset in American history, President Harry S. Truman spoke at the Armory. His 9 p.m. address was carried on a nationwide radio broadcast. So sure was he expected to lose that The Chicago Tribune erroneously announced his defeat by Republican candidate Thomas E. Dewey. The paper was printed before all the votes were counted.
In August of 1950, Billboard reported that the Federal government put a tax lien of property belong to Seltzer enterprises against a claim of $47,928.46 due the Federal and State as amusement tax on admissions collected from October of 1945 thru July of 1949. After successful audits it was found that "amusement taxes for events sponsored by the company itself were handled and paid properly and in accordance with government regulations." They were cleared of all charges.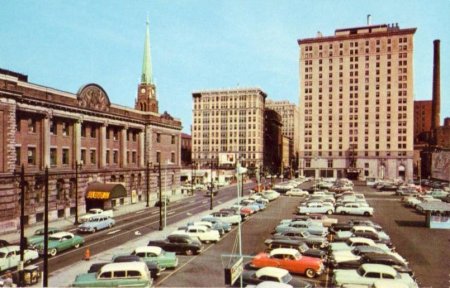 Walnut St. looking East showing the Armory and the Kentucky Hotel - ca 1950s
courtesy eBay
On November 25, 1956 Elvis, Scotty, Bill and DJ made their second appearance in Louisville when booked to perform two shows at the Armory. They had performed a year earlier in the City at the Rialto theater in an unadvertised show show for Philip Morris employees at the Rialto Theater a few blocks away. By this time though, they were national news, had been on network television and Elvis had completed his first movie, due to be released days before the show, at the very theater they performed at the year before.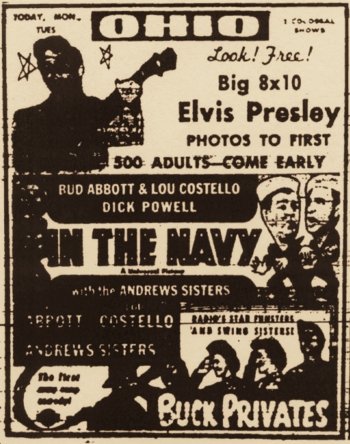 The Ohio Theater advertisement in the Courier-Journal
While Love Me Tender may have been playing at the Rialto, it didn't stop other businesses in town to capitalize on the excitement of the Elvis craze. While RCA was plugging the show and record sales down the street from the Rialto, the Ohio Theater across the street offered free 8 x 10's to the first 500 adults to show up to see an Abbott and Costello double-feature. Gay's department stores were giving a free ticket away to a show at the Armory with any purchase of $9.95 or more in addition to selling tickets to the shows.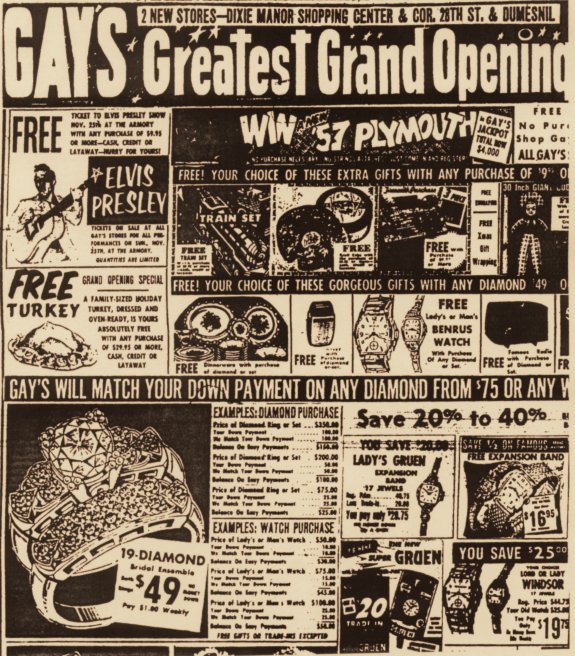 advertisement in Louisville Times
As excited as the fans were that Elvis was coming to Louisville, there were other factions that didn't share in the enthusiasm and saw the occasion as cause for concern. Coincidentally, Bill Haley and the Comets were scheduled to appear at the State fairgrounds across town the same day as the Armory shows. They had received reports reputedly of rioting in other parts of the country as a result of "simultaneous" rock and roll performances.





Clippings and memos from the F.B.I. files on Elvis
courtesy of the F.B.I. FOIA/Privacy Website
On November 7, the chief of the Louisville Police Department, Colonel Carl E. Heustis, contacted the regional F.B.I. field office in Louisville requesting any information on how to prevent any riots that might occur there, fearing a competition between Haley and Presley camps for "the attention of Rock and Roll fans." The regional office contacted Washington and Hoover responded saying they had no more information on the riots and that they be "tactfully suggested" to consult with the local police chiefs where the riots supposedly occurred. It was not the first time, nor would it be the last, that the F.B.I. had been contacted regarding Elvis Presley.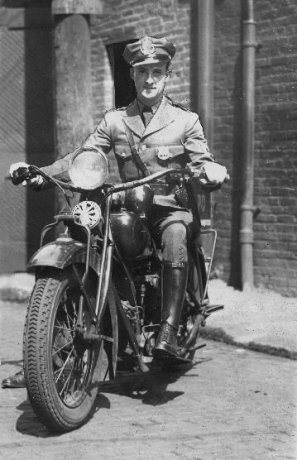 Carl E. Heustis before he was police chief - May 9, 1934
courtesy Photographic Archives, Ekstrom Library, University of Louisville
On November 14th, in an attempt at censorship and to thwart potential rioting, the chief announced that he was enforcing a "No Wiggle Ban" for Elvis' appearance at the show. The report in the papers the next day read, A no-wiggle restriction has been placed on Elvis Presley's appearance here Nov. 25. Police chief Carl Heustis said yesterday he wont permit "any lewd, lascivious contortion that would excite a crowd" when the long-sideburned, guitar-strumming singer comes to town. "As you can surmise," the Chief said, "I just don't happen to be one of his admirers." Ultimately, portions of the matinee show at the Armory filmed (reputedly by the police and most likely as evidence in case Elvis violated his restrictions), unfortunately for posterity, without sound.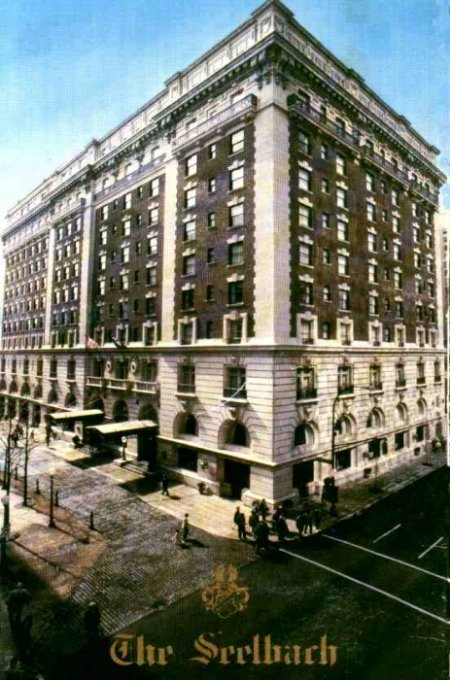 The Seelbach Hotel in Louisville - built in 1905
courtesy Roger Davis
The night before the Louisville shows, the boys had performed in Troy, Ohio. According to Lee Cotten, after driving all night, Elvis arrived in Louisville, Kentucky, and booked himself into the Seelbach Hotel. It did not take long before fans began roaming the corridors in search of their idol. At some point during the Louisville trip, Elvis visited with his grandfather, Jesse D. Presley, who lived in a small house in southern Louisville. When Elvis left, he gave his grandfather a new car, a television set, and a $100 bill. By that time, a crowd of 500 had gathered in front of the elder Presley's home. Later, J. D. and his second wife attended Elvis' matinee performance. When tickets for this show went on sale, mail orders came in from every county in Kentucky and more than 180 cities.7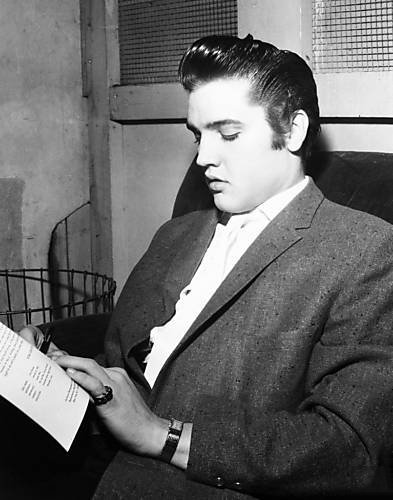 Elvis backstage at the Armory - Nov. 25, 1956
Courier-Journal Photo © Keith Russell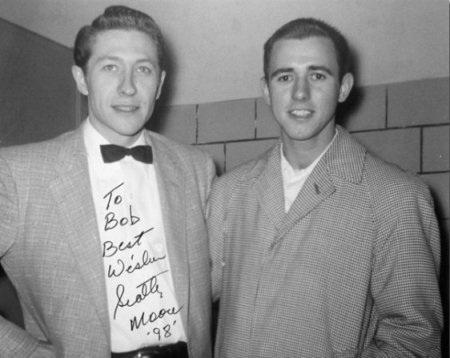 Scotty with local Bob Mitchell backstage - Nov. 25, 1956
courtesy Insider Louisville, added May 18, 2017
Elvis was introduced on stage at the shows at the Armory by WKLO deejays Beecher Frank, and by his account, Pat Cowley. At that time WKLO was basically a country music station and Beecher Frank was the night disc jockey who played pop music and thus built a huge teenage audience. At the show, Beecher was presented with an award for his promotion of Elvis' music in Louisville. Pat Cowley was hired as a backup to Frank in anticipation of his move to station WGRC.8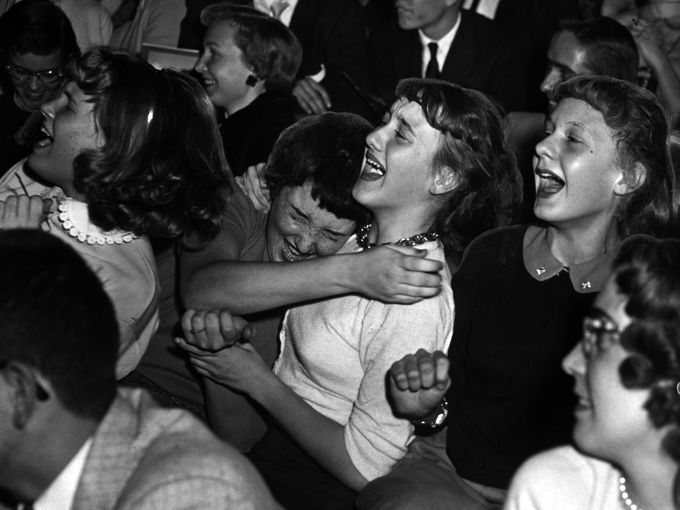 How Presley Affects Teen-Age Girls In Audience . . . He Stays Calm
Louisville Times Photos, by Cort Best courtesy The Courier-Journal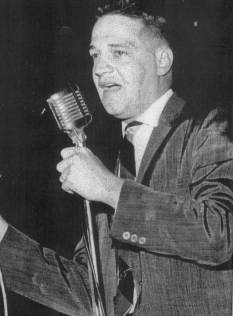 WKLO-DJ Pat Cowley introducing(?) Elvis
Photo courtesy WKLO

Elvis Presley takes the stage for a performance at the Armory in Louisville -Nov. 25, 1956
By Cort Best, The Courier-Journal, courtesy Robert van Beek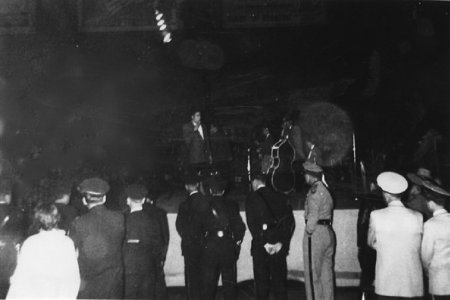 Elvis, Scotty, Bill and DJ onstage at the Armory in Louisville - Nov. 25, 1956
courtesy Robert van Beek
The reviews of the shows in Louisville's paper the following day were as follows:
Elvis Plays To Near-Capacity Crowds At Jefferson Armory
ON STAGE By Eugene Lees

Elvis Presley and about 15,000 dyed-in-the wool fans yesterday gave Louisville one of the most fascinating studies in mob psychology the city has ever had the questionable pleasure of witnessing.
The event was of course, Presley's appearance at Jefferson County Armory. Or rather, his two appearances, afternoon and evening.
Elvis was preceded by a vaudeville-type show that included a magician, a balancing act and a male quartet-a very good quartet, if anyone bothered to notice, the Jordinaires.


Elvis at the Armory - Nov. 25, 1956 By Cort Best, The Courier-Journal

Plaque Awarded
Then came Beecher Frank, a disc jockey, who was awarded a plaque in Presley's name for work in supporting the young singer from Memphis, Tenn. Frank referred to recent "newspaper articles" critical of Presley and said that in America, "it's not the cultural commissars, not the social snobs," who have the say in choosing stars, "but we the people."
"God bless America and God bless Elvis," he cried, and introduced the singer.
The north end of the armory went suddenly blazing white as kids fired flashbulb camera. So intermittent was the firing that it seemed a huge spotlight had been turned on.
Simultaneously a roar went up that seemed sure to blast the walls from the armory. And Elvis appeared in a Kelly-green, neon-bright jacket. The small combo of musicians to accommodate him wore dazzling red.
He stepped to the microphone. The teen-agers-girls far out numbered the boys-screamed. Elvis turned his head. They screamed again. He blew across the microphone (checking apparently if it was turned on.) The crowd screamed.
He sang. But one couldn't hear a word of it, though his hit tunes such as "Don't Be Cruel," were vaguely recognizable by by the dull chord changes behind Presley.
Presley kept bumps and grinds to a minimum, in compliance with an order issued some days ago by Col. Carl Heustis, chief of police. But there were occasional hints of the pelvis manipulations that are credited, as much as anything, with making Elvis Presley a household word. And those really brought the house down.
Girls of 14 and 15 would go glassy eyed, tense, and quiver all over before resuming their screaming.
Observers who remember the Frank Sinatra fad inclined to think it exceeded, in more ways, even that. The Sinatra crowds lacked this sense of hysteria.
Even at that, the Louisville crowd was described as more subdued than those the singer has encountered elsewhere.
The crowds at both performances were near the Armory's capacity. In the afternoon, there were 8311 present, with a few hundred seats left empty. At the evening show there were 8,349.
Elvis came, he saw, he conquered - those that were there, at any rate.
As Pogo would say, "Oog"

The Louisville Times - Nov. 26, 1956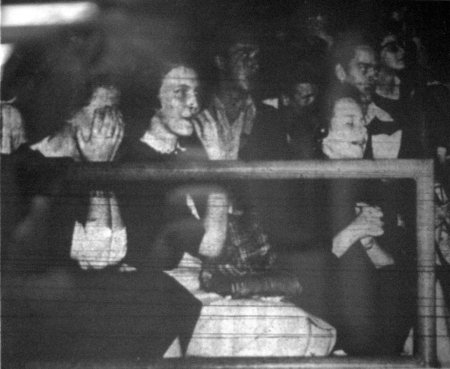 Barbara Kendal, 14, Sandra Thurston, 14, and Judie Noble, 15, all of French Lick, IN
Courier-Journal Photo
Teen-agers Squeal, Flash Bulbs Pop as Elvis Sings and Emotes for Two Shows Here
Well Guarded, He Slips Away From His Fans
by Don Freeman

Teenagers deliriously squealed, the flash bulbs of shutterbugs shot off all over-the whole armory suddenly felt like the inside of a heavily pounded drum.
Elvis Presley had sprung forth in all his glory, plus a green dinner-type coat and black slacks.
Elvis-the ideal of every red-blooded American girl.
He wheeled squeals out of his fans with 23 minutes of high emotion singing, then disappeared under heavy escort.
Unable to corner him, fans did the next best things.
A bevy of girls shriekingly touched the microphone he had used and some other girls kissed the palms of their hands after rubbing them over the stage dirt he hard trod, police said.


DJ, Elvis and Bill at the Armory - Nov. 25, 1956
Courier-Journal Photo © Keith Russell

Show is a sellout
All this was at the matinee show yesterday. It drew a sellout crowd of 8500, armory officials said.
Last night, by Armory count, Mr. Sideburns played to a crowd of 8349.
The night crowd being more adult, was slightly more sedate, but Elvis was even livelier this time, wearing a satiny gold coat and shaking hands with two girls seated behind the stage.
Police Chief Carl E. Heustis, who attended both shows as an observer and something of a cynic, said he generally was "well pleased" by the audience conduct.


Elvis at the Armory - Nov. 25, 1956
Courier-Journal Photo

Girl Wants A Button
One exception, he said, was a 20-year old girl who offered police to get a button off Presley's coat.
three men were arrested before the afternoon show for drinking in a washroom and two Illinois girls were arrested at night on vulgarity charges.
Heustis said Louisville's relative success in controlling the enthusiasm of Presley fans was due largely to police and fire precautions.
About 100 police and 60 ushers were on hand spreading cordons around the halls interior and exterior.
Heustis said this was a record number of ushers, but not of police-there were more policemen at a Duke Ellington performance years ago, for instance.
Presley drew a laugh from the crowd when he remarked good naturedly, "I never knew I had so many fans in the Louisville Police Department."


Elvis at the Armory - Nov. 25, 1956
Courier-Journal Photo

Wait Impatiently
The matinee crowd waited impatiently for Elvis through 75 minutes of tap-dances, impersonations, and the like.
Then, as he made his advent the bottled -up emotions burst the cork out.
He said, "Thank you," and there were shrieks from the crowd.
He panted briefly into the microphone. More shrieks.
He got into the first notes of that relatively early hit, "Heartbreak Hotel." Still more shrieks.


Elvis and the Jordonaires at the Armory - Nov. 25, 1956
Courier-Journal Photo © Keith Russell


Elvis, the Jordonaires and Scotty at the Armory - Nov. 25, 1956
Courier-Journal Photo ? courtesy Rock and Roll HOF and Museum

Shoulders Hunch Up
Through the whole-hearted singing and half-hearted guitar strumming (he had rhythm band accompaniment), he'd hunch up his shoulders like a football tackle ready to leap.
Or he'd stomp back and forth with the mike, his 6 foot frame firmly flexed, suggesting a Frankenstein's monster.
Every change of motion brought shrieks.
By moving back and forth rather than sideways, Presley adhered to the strict rule that police officials had laid down with his agents. Sideward motions, the police felt would have been lewdly suggestive.
The throng's "eeeeeeeehs" and "ohhhs" were so insistent that Presley's words usually were unintelligible even by his standards.
But the voice came through, even if the words didn't. Here was a clean voice, broad in range, sure in rhythm, and tender.
And the Presley spirit came through too. Here was the Presley of fast modernism and shiny Cadillacs mixed with the Presley of boyish simplicity, the hobby of collecting teddy bears, and the cotton-country origins.


Elvis at the Armory - Nov. 25, 1956
Photo courtesy Sheila Roth

Sings Recorded Hits
Here was a figure who seems both innocent and knowing, a 21 year-old who is both worldly and of the inner heart. That mixture of personality is part of his magic.
He went through many of his recorded hits - knifing the air with his hands in "Don't Be Cruel," sinking his voice and even choking in "Love Me Tender," pointing an accusing finger in his final number, "Houn' Dog."
In honor of his Louisville grandparents, Mr. and Mrs. J. D. Pressley, Elvis spells the family name with only one "S", who were in the audience, he sang the type of hymn he had sung with his church going family in childhood - "Peace In The Valley."
Many adults who had come out of curiosity and to check the overexcitement of their children, listened with respect.
A big help in preserving order was the mystic swiftness of Presley's entrance and exit.
A taxi whisked him to the Armory from a back door of the hotel where he had slept and breakfasted in near secrecy until due in the afternoon show.
Before show time a few girls had managed to find out what floor of what hotel he was in. But two special bodyguards, Billie Joseph and Nick Pinto, kept them out of reach of Presley.
After Elvis returned to the hotel, 100 girls followed him there, even looking for him in the basement. Again, no luck.
Armory officials tried to avoid selling tickets to youngsters not chaperoned by parents. Except for the press and police, no one was allowed to stand in front of the stage. all rows of seats were corded together to keep them- and the sitters- from getting tossed around.


Part of the film taken by Louisville Police - Nov 25, 1956
courtesy Keith Flynn

Along with the other public and private gendarmes yesterday, there were volunteers who have been studying at Southern Police Institute - policeman from Alabama, Florida, Louisiana and Texas.
Interviewed before his dash onstage Presley said of the criticism that has been leveled at him:
"You've got to accept the criticism along with everything else, no matter who you are."
There were some, he noted, who didn't like President Eisenhower or Adlai E. Stevenson.
Asked if he thought if his artistic style contributed to juvenile delinquency, he answered, "I've never shot anybody or robbed anybody."
Does he plan to switch more from rock 'n' roll to the ballad type singing represented by "Love Me Tender?"
"Well, I don't know, sire." he replied, pondering. "I'm just taking things as they come. I don't want to switch anything as long as people like it. It's if you've got a good complexion, you don't put any make up on it." With a chuckle he added, "That makes sense."
Presley had expected his parents to be here from Memphis, "but the folks got snowed in."
This, he noted, was not his first Louisville appearance. A year ago, he said, he did a show for employees of a cigarette firm here. "But there wasn't too much mobbing then."
Presley's big reputation had developed in the ensuing year. And as he good naturedly told yesterday's turnouts, "You bring a lump - to my billfold."

Courier-Journal - Nov. 26, 1956
The Courier-Journal implied that Elvis' performance of "Peace in the Valley" appeared to have won over some of the adults at the Armory show(s). It would have the same effect two months later on national viewers when he performed it on his last Ed Sullivan appearance. Ed would announce that Elvis was "a real decent fine boy." The Armory shows completed the last of the tours for 1956 and the boys would only make only one more appearance that year, in December, to fulfill a final obligation to the Louisiana Hayride.
In August of 1960, Seltzer's lease of the Armory expired and the Armory was taken over by the Jefferson County Recreation Board.
In 1963, a large-scale renovation of the Armory took place, and the Louisville firm of Wagner & Potts redesigned the interior. The Armory needed to be revamped and modernized because of its age, and to attract more events. The renovation cost $1,950,000, and included the addition of air-conditioning, the conversion of the drill hall into a 5,000 seat arena with a stage at one end, and a considerable change to the front facade of the building. The original arched entry was removed, and a marquee was added on the main floor. The gym that had been located on the 2nd floor was converted into a small arena. All of these changes were made in order to attract new businesses and organizations to Louisville to use the facility and to generate a higher income for the county. In order to facilitate this, the building was renamed the Louisville Convention Center.1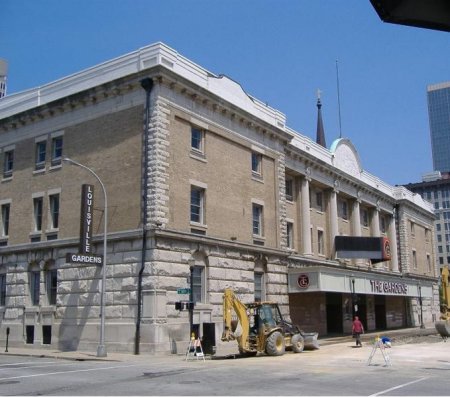 Roadwork in front of The Gardens of Louisville - May 2007
Photo courtesy Bedford
The renamed convention center assumed a different role in the community by hosting smaller meetings, musical acts, and sports while complementing the larger State fairgrounds and Freedom Hall. The name was changed again in 1975 to avoid confusion with the new Commonwealth Convention Center being constructed a few blocks away. Dubbed Louisville Gardens, the Convention Center Operation Co. chose the name to evoke images of the celebrated Boston Garden and Madison Square Garden. In 1980 the building was added to the National Register of Historic Places and beginning in 1991, was managed by the Kentucky Center for the Arts. In December of 1998, the name was changed to The Gardens of Louisville and underwent a $350,000 renovation.2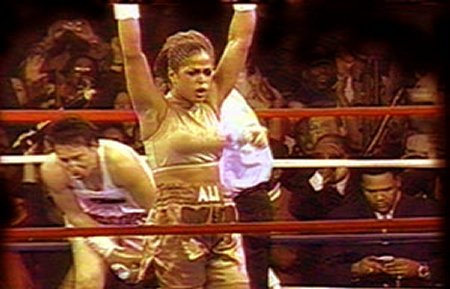 Laila Ali in Louisville Gardens - Feb. 14, 2003
Photo courtesy WBAN
In 1978, three years before Ali's permanent retirement, the city renamed Walnut Street to Muhammad Ali Boulevard, after one of its most famous former citizens. On February 14, 2003, fighting in her dad's original home town, Laila Ali TKO'd former world champion Mary Ann Almager of Midland, Texas at 1:55 in the fourth round at Louisville Gardens.9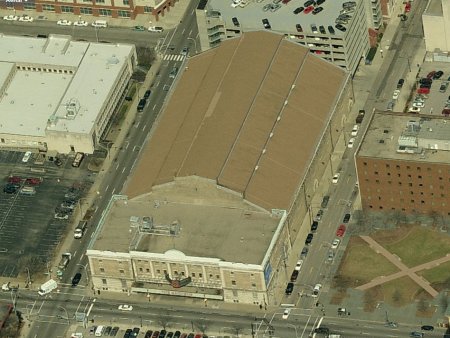 Aerial view of the Gardens at 525 Muhammad Ali Blvd. Blvd. in Louisville - 2009
Photo © Microsoft EarthData
In August of 2007, the Courier-Journal reported that Cordish Co. of Baltimore, owners of the 4th Street Live entertainment complex in Louisville, agreed to take over operation of "The Gardens" from the Metro Louisville Government as part of a $250 million development in downtown Louisville with plans to renovate the Gardens again into a performance and sports venue. That figure had jumped to $442 million in December when more detailed plans were presented to the tax commission for a preliminary vote.10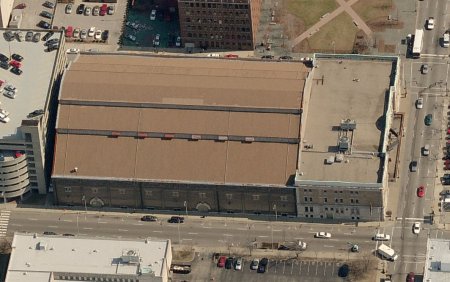 Aerial view of the Gardens at 525 Muhammad Ali Blvd. Blvd. in Louisville - 2009
Photo © Microsoft EarthData
page added December 8, 2009
All Louisville Times and Courier-Journal ads and articles are courtesy the Louisville Free Public Library. *Special thanks to Adam Taylor for his assistance with this page, and to Keith Russell for the use of his photos, quality prints of which can be obtained direct from him at

.
1 excerpted from Kentucky: National Guard History eMuseum
2 according to Craig M. Heuser in The Encyclopedia of Louisville by John E. Kleber
3 excerpts from "Kentucky-Notre Dame All-Time Series History"courtesy Kentucky Wildcat Basketball
4 according to Wikipedia:Leo Seltzer
5 according to "Walkathons-Dance Marathons" courtesy PdxHistory.com
6 excerpt from Chicago's Dirty Little Secret
7 excerpt from "Did Elvis Sing in Your Hometown" by Lee Cotten
8 according to Paul Cowley Remembers WKLO - Apr. 20, 2005
9 excerpt from Women's Boxing: Laila Ali Biography
10 according to "Incentives OK'd for downtown plan - State panel vote is unanimous" by Alex Davis, The Courier-Journal - Dec. 2007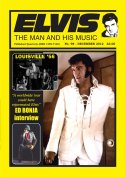 Portions of this story were also recently reprinted by our friends in the December 2012 issue of Elvis The Man and His Music, one of the finest publications on Elvis, available at www.nowdigthis.co.uk. Visit them also on Facebook.
---
The "Satiny" Gold Coat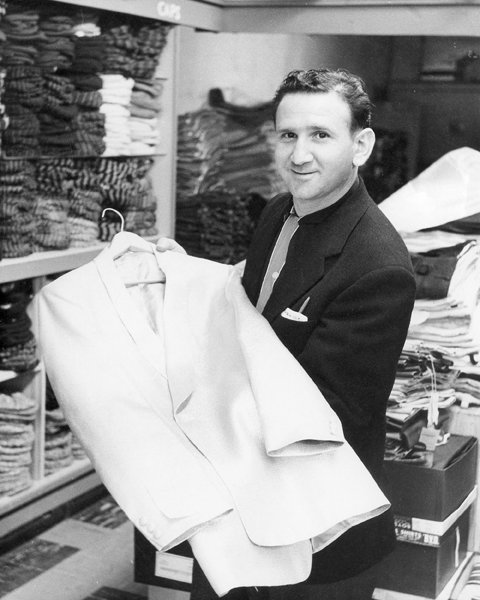 Bernard Lansky with Elvis' Gold coat - 1956
Photo courtesy Kuwait Times
The articles from the Louisville show mentioned Elvis wearing a "Satiny" gold coat for the second appearance. He also wore the same jacket days earlier at a performance in Toledo.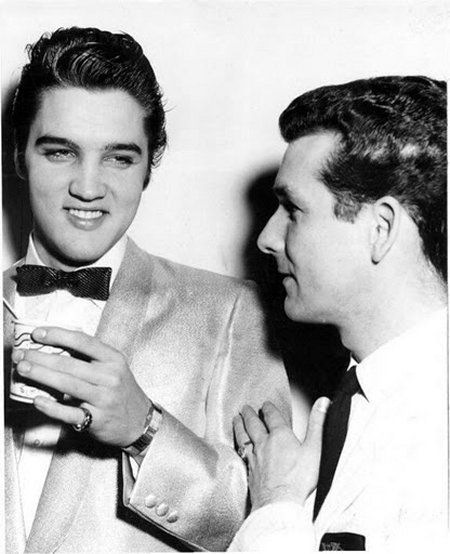 Elvis backstage in Toledo wearing the Gold "Satiny" coat - Nov. 22, 1956
Photo courtesy FECC/claude 91
This was just over 4 months before he would appear onstage with the Gold Lame' suit custom made for him by Nudie's of Hollywood, and quite likely the inspiration for it.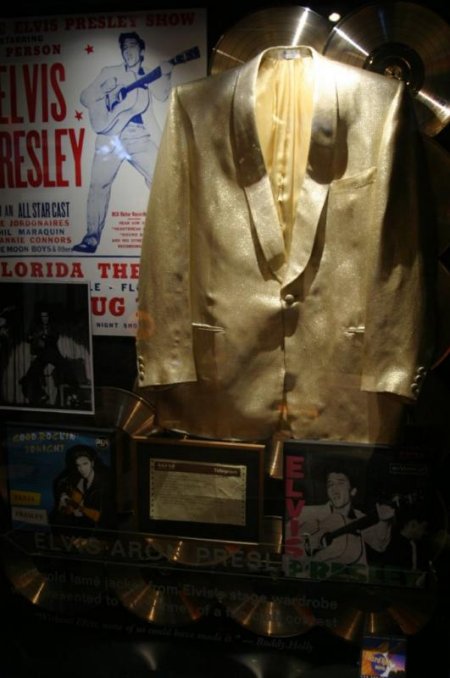 Elvis' "Satiny" gold coat on display in Nashville - July 2003
In March of 1973, the coat was a prize in a contest won by David Wheeler, a fan from Michigan. Along with the coat David received a congratulatory telegram from "Elvis and the Colonel."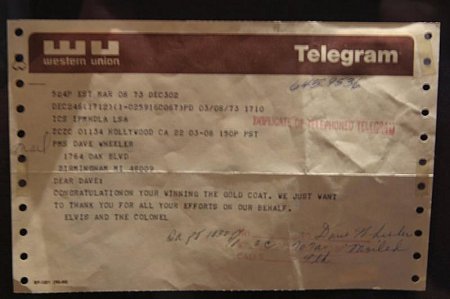 David Wheeler's congratulatory Telegram dated March 8th, 1973 - July 2003
added January 11, 2010