'Till I found myself in Mobile Alabama at ...*
Ladd Stadium
Mobile is a county seat and the only saltwater port in Alabama. Its greater metropolitan population of about half a million can boast a history that dates back to the early 1700's.

Ladd Memorial Stadium - Oct. 17, 1953
Ladd Memorial Stadium, located in downtown Mobile, at 1621 Virginia Street, was built in 1948 at a cost of $1 million. The stadium, which took nearly four years to build, is located on a 43 acre tract. It was constructed mainly to honor Ernest Fleetwood Ladd (1876-1941). A native of Mobile and the mentor of Finley McRae of Merchants National Bank, he was one of the South's leading businessmen and a great sports enthusiast and was often referred to as "one of the five great men in his generation of Mobile." No tax dollars were used to build the stadium; instead, a number of the city's civic and financial leaders, led by McRae, engaged in fund-raising efforts to have the stadium constructed. The only debt incurred when the stadium was completed was the cost to maintain and operate it.1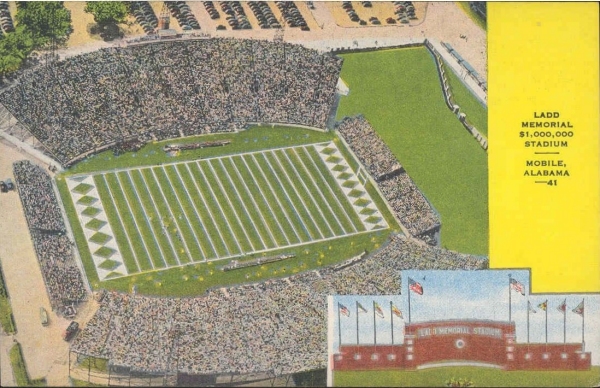 1948 Ladd Memorial Stadium postcard
With a seating capacity of 36,000, when the stadium was built, it was one of the top facilities in the state. One of its features was its elevator running to the press box located in the center tower of the west side. But, with the exception of high school football games, it had no permanent tenant. That changed when the group of businessmen who ran the stadium led the effort to bring the Senior Bowl to Mobile. The all-star game, which has been a fixture in Mobile since 1951, began in 1950 at the Gator Bowl in Jacksonville, FL. Mobile won a bidding war with Birmingham to become the site of the game after poor attendance in Jacksonville.1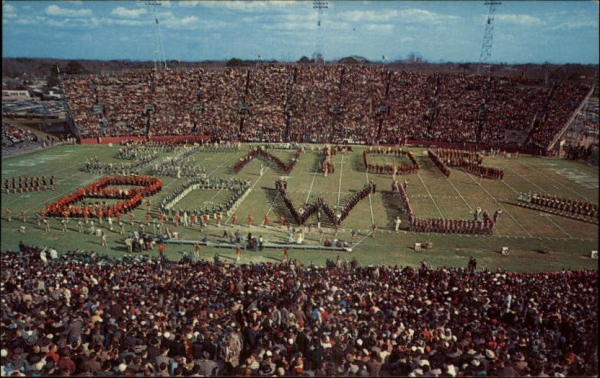 The Senior Bowl is the nation's most unique football game and football's premier pre-draft event, annually featuring the country's best senior collegiate football stars and top NFL draft prospects on teams representing the North and South which are coached by the entire coaching staffs from two National Football League teams.2
In addition to football, the stadium has also been host to other events such as wrestling matches and concerts. On May 4th and 5th, 1955, the fourth stop on a three week tour with Hank Snow's jamboree that had begun on the 1st in New Orleans, Elvis, Scotty and Bill performed at Ladd.
An ad that ran in Mobile's Press-Register on the first day of the show read: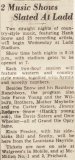 2 Music Shows Slated At Ladd

Two straight nights of country-style music, featuring Hank Snow and 25 recording artists, will begin Wednesday at Ladd Stadium.
Show time both nights is 8:15 pm., with stadium gates to be opened at 7.
Each two-hour session will feature western and country style music, together with hymns and novelty numbers.
Besides Snow and his Rainbow Ranchboys, the program also lists Faron Young and the Wilburn Brothers, Mother Maybelle and the Carter Sisters, Jimmy Rodgers Snow (Hank's young son), the Davis Sisters and Onie Wheeler—all of Grand Ole Opry fame.
Elvis Presley, with his sidekicks Bill and Scotty, will be here from the Louisiana Hayride.
Tickets are now on sale at Walgreen's in Mobile, and at McMillan No. 1 and 2, Prichard.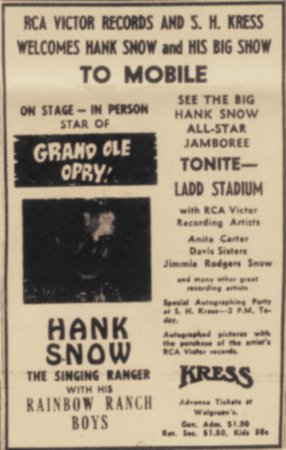 Press-Register ad for May 5, 1955
ad courtesy Amy Beach, Mobile Public Library
Jimmie Rodgers Snow, who roomed with Elvis on this tour, remembers that there were near riots almost everywhere they played. At Ladd, he remembered Elvis being chased by a pack of girls across the football field.3
Universities such as Alabama, Auburn, and Southern Mississippi, as well as NFL teams, have held regular season and exhibition games at the stadium. On Sunday, September 28, 1958, during the Alabama v. Louisiana football game, a section of wooden bleachers in the north end zone, softened by recent heavy rains, crumpled late in the first quarter under the weight of about 1,500 fans. More than 70 were injured, though miraculously none were in critical condition. It was coach Paul "Bear" Bryant's first game in charge of the Crimson Tide (University of Alabama). The game was halted for at least five minutes as players and fans watched people being pulled from the wreckage and carted away in ambulances. Alabama went on to lose 13-3.4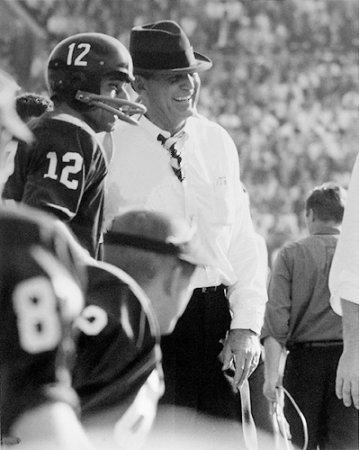 Alabama's Joe Namath and Coach Paul "Bear" Bryant on the sidelines
Photo courtesy AuthenticSportsCollectibles
Traditionally held the week before the Super Bowl, the first nationally-televised Senior Bowl was in 1958 by NBC, and the contest has been on national television each year since then. In 1965, Alabama's Joe Namath, and Florida A&M's Bob Hayes were South squad teammates in the Senior Bowl. Namath threw a 53-yard touchdown pass to Bob Hayes during the game and passed for a total 246-yards. Both are inducted into the Senior Bowl Hall of Fame, while Namath was named the quarterback on the All-Time Senior Bowl Team selected by fans in 1999.2

The Senior Bowl at Ladd
Photo courtesy SouthGAEagle fan
In 1997 the stadium was renamed Ladd-Peebles Stadium to honor E. B. Peebles, Jr. Mr. Peebles is a civic leader credited with revitalizing the Senior Bowl. In 1999 the stadium began to host a NCAA sanctioned Bowl game. Now known as the GMAC Bowl, it features teams from Conference USA and the Mid American Conference. It has rapidly risen to national prominence and in 2004 was the 6th rated Bowl according to Fox Sports. In late 2007 the University of South Alabama officially announced the start of a football program. The university will play their home games at the stadium. The first home game will be played in the 2009 season.5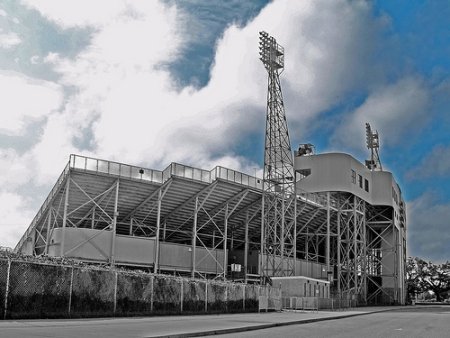 Ladd-Peebles Stadium - June 2008
Photo courtesy haldcottingham
Today, the stadium is one of the City of Mobile's valuable assets. It is debt free and has a replacement value of approximately $90 million. With a seating capacity of 40,646, Ladd-Peebles Stadium is the fourth-largest stadium in the state of Alabama and the largest outdoor facility on the Gulf Coast from Tallahassee, FL., to New Orleans, LA.5
added December 5, 2008
Advertisements from 1955 courtesy Amy Beach, Local History and Genealogy, Mobile Public Library.
* lyric from, "Guitar Man" by Jerry Reed (Mar. 20, 1937 - Aug. 31, 2008)
1 excerpt from "Stadium a symbol of community involvement" by Tommy Hicks, Mobile Press-Register, May 12, 2008
2 courtesy SeniorBowl.com
3 according to Peter Guralnick, in "Last Train To Memphis"
4 according to "Night to remember at Ladd Stadium" by Gentry Estes, Mobile Press-Register, May 12, 2008
5 courtesy Ladd-Peebles Stadium, Mobile, Alabama
---

Curtis Gordon
Photo courtesy Jim Hilmar and RCS
Curtis Gordon began his career on Radio Station WMGA, in his hometown of Moultrie, GA with Pee Wee Mills and his Twilight Playboys in the late 1940's. In 1949 he organized his first Western Swing Band and was heard regularly over Radio station WKTG, Thomasville. After winning a talent contest in Atlanta in 1952 he signed a recording contract with Steve Sholes and RCA Victor where he recorded until 1954. After 13 weeks performing on the Dixie Barn Dance in Mobile, he opened the biggest Night Club in Mobile, called 'Radio Ranch' on Cedar Point Road off the Dauphin Island Parkway.1
Don Davis, a pedal steel player who had played in Pee Wee King's band, played at the club regularly with his band the "Dixie All Stars" during the years he was in Mobile hosting the TV program "Alabama Jubilee" on Channel 5.2 Don, who at one time had been married to Anita Carter, youngest of the Carter sisters, has been quoted as saying of his experiences at the club, "that was where we got so good."
By the end of 1954 Gordon had signed with Mercury and his recordings became very different from his RCA sides, principally because the label let him cut a large number of originals, and because his Mercury contract coincided with rock & roll's rise to national prominence.3 He recorded rockabilly songs, including "Draggin'" and "Mobile, Alabama."
Elvis, Scotty and Bill performed at the Radio Ranch, sharing the bill with Gordon and his "Radio Ranch Boys" on at least three occasions while in Mobile. The first times were on June 29th and 30th, 1955 and the third was the following October on the 28th while performing shows at the Greater Gulf State Fair and Vigor High School.
Gordon's March 1956 sessions showed just how much the excitement surrounding Presley in the South, even before he'd broken nationally, had opened the way for him. Those recording dates, and the ones that followed in December of that year and October of 1957, showed Gordon plunging into the new music with total abandon and astonishing results.3
On November 6, 1958, Jerry Lee Lewis performed at the Radio Ranch. The paper advertised "The Jerry Lee Lewis Show. See the blond-headed ball of fire tonite at Beautiful Radio Ranch, Mobile's largest nite spot! Located on Cedar Point Road. Dance after the show to the music of Don Davis & the Dixie All Stars. Don't Miss It!"4
Gordon sold the Radio Ranch in 1959 and it burned down a few years later.5
added December 5, 2008
Elvis at Radio Ranch advertisement courtesy Ger Rijff.
1 excerpt from "Curtis Gordon" by Dave Travis, January 1995 courtesy RockabillyHOF.com
2 according to Alabama Hall of Fame
3 excerpt from "Curtis Gordon Biography" at Allmusic.com
4 from "Yesterday's News", Press-Register, compiled by Cammie East Cowan, Nov. 6, 2008
5 from "Country music figure Edward Curtis Gordon dies at 76" Associated Press article, May 4, 2005 courtesy TakeCountryBack
---
Vigor High School Auditorium
Prichard, AL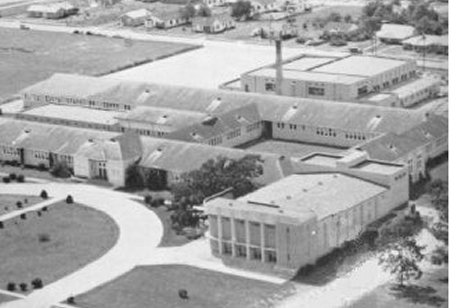 Aerial view of Vigor HS with auditorium at lower right - 1957
Photo courtesy Vigor High School ReUnions
The city of Prichard, is a suburb of Mobile located about 3 miles North, in the southwest corner of Alabama, in Mobile County. Vigor High School, at 913 North Wilson Avenue in Prichard, is part of the Mobile County Public School System. It started out as an elementary school in 1944. It was named after C. F. Vigor, an assistant superintendent of the Mobile County School system from 1910 to 1941. A lifetime resident of Mobile, he was also the first president of the Mobile Education Association. Not long after opening, additional grades were added and several years later the elementary grades were absorbed by other schools. Vigor's first High School graduating class was in 1952, when graduates did so after the 11th grade. That same year the Auditorium was added to the complex.1
The auditorium was used for school related assemblies, glee club, beauty revues, cheer leader trials, PTA meetings and occasionally outside entertainment. At 10 a.m., on October 21, 1955, while in the area that day to perform at the Greater Gulf States Fair, Elvis, Scotty and Bill were booked to perform at one such assembly at Vigor. A local radio station had him brought in and one of the DJs acted as emcee. It was their second appearance at a High School in less than a week. On the 20th they had performed at the High School in Brooklyn, Ohio, just outside of Cleveland, which was filmed for a proposed documentary on deejay Bill Randle. Though he had created quite a stir earlier in the year at Ladd Stadium, much like the case in Brooklyn, at least according to one student, "not many in south Alabama had heard of Elvis at that time."
Margaret (Williams) Burcham, then a ninth grader at Vigor, was in attendance at the performance. She recalls, "I remember the auditorium was full-we loved assembly programs because we got out of class! We had over 330 in my graduating class so I know the auditorium held many more than that. If I'm not mistaken the usual cost for a program was 10 cents-could have been 25 cents but I'm thinking a dime."2 The performance though was cut short when Elvis reputedly told an "off-color" joke.
According to Margaret, "there was a social studies teacher, Mr. Ed White, who was a bi-vocational minister. He was offended by the swivel hips and the cute little joke that Elvis told. Elvis joked, 'what happened to the farmer who was milking the cow that jumped over the moon? He was left holding the bag.' We roared but it was the last straw for Mr. White. They said he went to the office and insisted that the principal stop the show."2
Margaret is not sure if it was Mr. J. M. Laird, the principal or Mr. R. E. Faulk, the assistant principal, who actually came in and stopped the show but she remembers that "after Elvis and the band were asked to leave the stage Mr. Faulk started trying to "explain" why. One of the guys in our class stood up and said, 'We're out of here!' and everyone got up and left the auditorium. We were not given a refund on our admission."3
Charles Shaw though, a student at Vigor in 1955 and a member of the class of 1957, distinctly recalls that it was Mr. Laird who stopped the show. He remembers nothing of Mr. White being involved.4

Vigor High School Auditorium - 2008
Photo courtesy Melody Ardis
Another classmate, Hank Swindell, recalled, I remember seeing Elvis play at the Greater Gulf State Fair the day before he played at the school. The next day when he came to the school, instead of going to see him I went to the band room and just hung out. Of course I heard all about it the next day, when Mr. Laird preached to us about Elvis' disgusting carnal gyrations. I have since wished a million times that I had taken to trouble to go see him.3
While still another classmate, Jimmy Martin said, I attended the assembly program that day and the show that night at the National Guard Building in Chickasaw. I was told that Lamar Davidson borrowed 25 cents from Elvis to attend the show in Chickasaw.2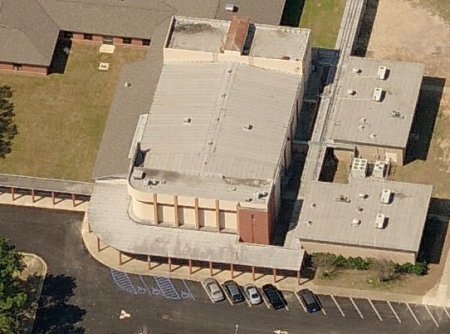 Aerial view of Vigor High School Auditorium in Prichard, AL - 2008
Photo courtesy Microsoft EarthData
The last 11th grade graduating class graduated from Vigor in the Spring of 1954. A 12th grade was added in the fall of 1954 and by 1956 Vigor was becoming an up and coming member of the Big Four in Mobile area high schools (Vigor, Murphy, University Military School and McGill). The crowning night of recognition in 1956 was when Vigor beat Murphy in football for the first time. The celebration at Ladd Stadium lasted long after the end of the game. In fact, Vigor beat Murphy for three of the next four years.1

Aerial view of Vigor High School in Prichard, AL - 2008
Photo courtesy The City of Prichard
Today Vigor High is still in use and recently underwent some major renovations though the interior of the auditorium is still somewhat structurally the same. The school has attendance of over 900 students in grades 9 - 12 and is ranked with the highest in the State of Alabama. Margaret Burcham, now lives in Saltillo, 5 miles from Elvis' birthplace in Tupelo.
added December 5, 2008
1 courtesy Vigor High Class of 1961 memories
2 courtesy Margaret (Williams) Burcham, Saltillo, MS
3 courtesy Hank Swindle
4 courtesy Charles Shaw, Vigor class of 57 standing class re-union committee chairman (added March 9, 2010)
---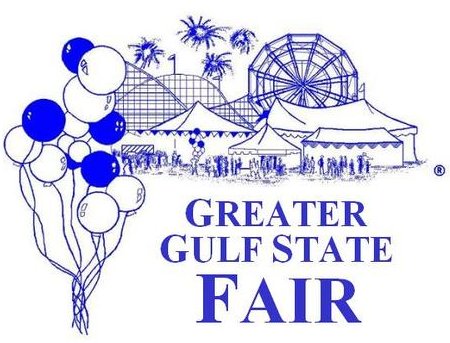 Logo courtesy Gr. Gulf State Fair Myspace
The Greater Gulf State Fair is a 10 day agricultural fair held each fall in Mobile, Al. It was incorporated by a group of members of the Mobile Junior Chamber of Commerce in 1955 to fill the void left by the "Gulf Coast Fair" which had ceased to exist years before. Traditionally they've held it at this time of year, after the end of most state fairs to capitalize on the more seasonable weather. Like most state fairs, the main theme is the showcase of agriculture and livestock but additionally provides multicultural entertainment: activities, food, rides and exhibits to appeal to the whole family.
On October 26, 1955, Elvis, Scotty and Bill were part of the entertainment at the first Greater Gulf State Fair. They performed two shows, one at 3:30 and one at 7:30.
In the beginning the fair was held on borrowed land on Blakely Island, but since 1970 it has been held at the Greater Gulf State Fairgrounds located in West Mobile at the intersection of Cody Road and Zeigler Boulevard. Today the fairgrounds are a ninety-acre site, purchased and owned by the Fair entirely with proceeds from the operation of the annual fair.
After 53 years, the tradition continues. Though the rides have changed the nature of the fair remains the same, still featuring local and regional entertainment. Annually it attracts over 300,000 people to view the exhibits, enjoy the entertainment and ride the midway rides.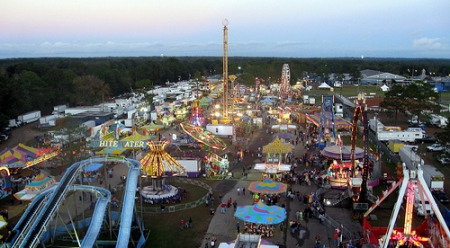 Greater Gulf State Fair Midway - Oct. 2008
Photo © courtesy jared422_80
added December 5, 2008
Special thanks to Billie Blackwell for his assistance with the history of the Greater Gulf States fair. Advertisement from Press-Register, Oct. 25, 1955 courtesy Amy Beach, Local History and Genealogy, Mobile Public Library.