S.S. Mount Vernon
Washington, DC


Brochure artwork of Wilson Line's Pier 4 and the S.S. Mount Vernon in Washington
The Wilson Line had its main office in Wilmington, Delaware and was founded in April 1881 by Captain Horace Wilson as the Wilmington Steamboat Company. They operated excursion boats between Philadelphia and Wilmington and then across the Delaware River to Riverview Beach in Penns Grove, New Jersey.1 Wilson himself would later serve a term as Wilmington's mayor.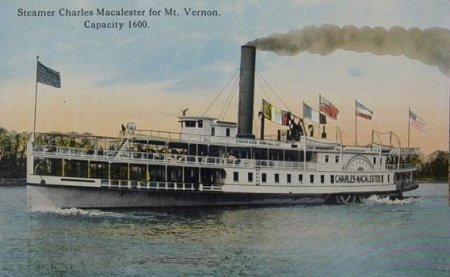 The Mount Vernon and Marshall Hall excursion steamboat "Charles Macalester"
courtesy Washington Kaleidescope
Marshall Hall initially was a mansion built in the early 18th century by Thomas Marshall on his estate on the bank of the Potomac in Maryland, almost directly across the river from Mount Vernon, the estate of George Washington in Fairfax, Virginia. In 1884 it was bought by partnerships interested in commercial ventures and sold in 1889 to the Mount Vernon and Marshall Hall Steamboat Company. They then operated the steamboat Charles Macalester twice a day and midsummer evenings from Washington down the Potomac to Mount Vernon and across to Marshall Hall.2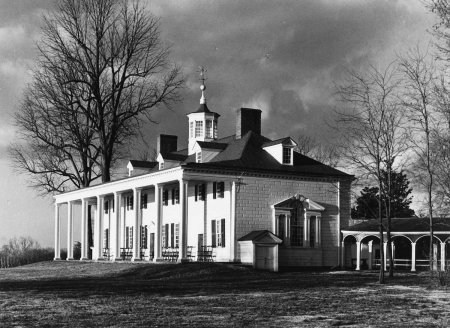 George Washington's Mount Vernon in Fairfax, VA
Photo courtesy Virginia Dept. of Historic Resoruces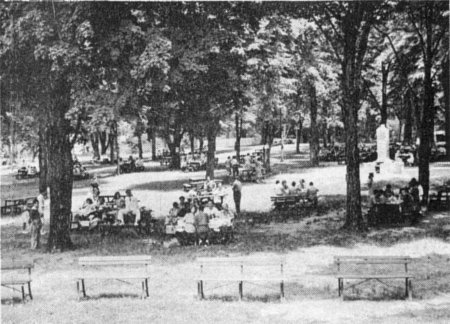 Picnic tables in the groves at Marshall Hall Amusement Park - ca. 1940s

Jousters at Marshall Hall annual tournament
National Park Service Photo courtesy Marshall Hall
With its 400 acres, largely undeveloped, and free admission, Marshall Hall became an area attraction and most of its traffic arrived by boat. It featured a small Victorian amusement park, beautiful groves and picnic tables, athletic fields and rest rooms and from the beginning of the park's history, annual jousting tournaments where mounted contestants charged and attempted to spear a dangling ring that gets progressively smaller in the course of elimination. The park was owned and operated by the shipping company, as were most of the rides while others were leased.3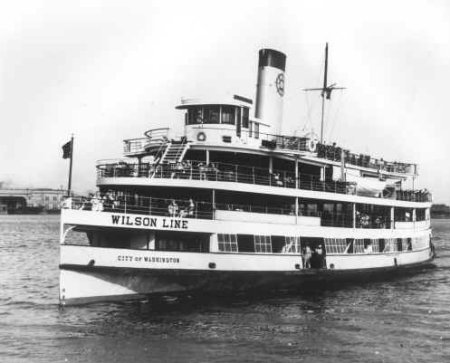 The Wilson Line's City of Washington
Photo courtesy of Janet Moulder and Old Chester
In 1929 the Wilmington Steamboat Company was purchased by a syndicate of Wilmington and Philadelphia interests headed by George B. Junkin and was renamed the Wilson Line, Inc. They became one of three companies at the time that ran excursion boats out of Washington on the Potomac.1 The cruises also featured nightly dancing to many of the local area bands and orchestras contracted in that area by people like Lester Lanin and Meyer Davis.3 During the '30s the Wilson line operated the City of Washington for its excursions from late April to September advertising that a "large ballroom on the observation deck makes dancing a feature of all trips."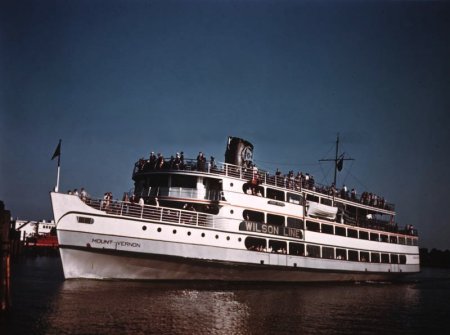 The Wilson Line's S.S. Mount Vernon ca. 1940s
Photo by Edward O. Clark © Steamship Historical Society of America

By the 1940 season the City of Washington was replaced by the S.S. Mount Vernon, an all steel ship reputed to have been originally built in 1916 as the City of Camden for the Wilmington Steamboat Company by Bethlehem Steel Company. Said to be "the Potomac's first streamliner," in 1939 it had been rebuilt from the hull up by Sun Shipbuilding at Wilson Line's own shipyard in Wilmington. It had a capacity of 2400 on its multiple decks and a glass enclosed main deck heated in the cooler months and air conditioned in warmer months. From May until September it made two trips daily to Mount Vernon and Marshall Hall in addition to evening cruises from Wilson Line's Pier 4 at Maine Avenue and N St. SW in Washington.4

In 1943, however, because of War rationing, the season saw only one of the three boats operating on the Potomac in service, the Potomac River Line's S.S. Potomac. It had been successfully converted to coal while their other boat, the Robert E. Lee and the Wilson Line's S.S. Mount Vernon were refused oil coupons by DC's Office of Price Administration (OPA). This also meant that Marshall Hall Amusement Park would be closed for its first season in 60 years.3

Passengers on board the upper deck of the S.S. Mount Vernon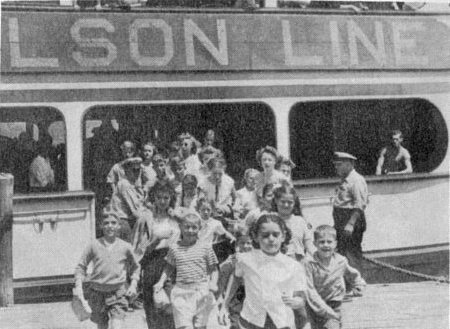 Passengers disembark the S.S. Mount Vernon

Passengers disembark the S.S. Mount Vernon on Marshall Hall Pier
They reopened, however, the following season on May 19th and the Wilson Line was granted sufficient fuel to run the S.S. Mount Vernon three round trips daily. With the addition of bus service to Marshall Hall from Indian Head, MD, the park broke all previous records in attendance and gross business.3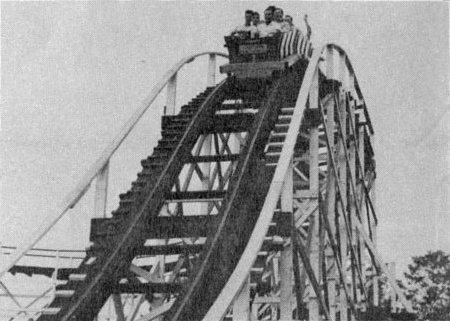 Rides at Marshall Hall Amusement Park - ca.1940s
National Park Service Photos (sides) courtesy Marshall Hall
The late '40s saw a large growth in business with the S.S. Mount Vernon experiencing some of its best seasons, especially in its moonlight bookings. The park saw the construction of a roller coaster and several new rides and by 1950 had installed a new water system, new wiring and paint and in addition to new rides boasted a Tilt-a-Whirl, Ferris wheel, miniature train, Kiddie Rides and Merry-Go-Round along with a shooting gallery and penny arcade. Most of the patrons still got there by boat though with parking for 2400 cars, about 30 percent came by car.3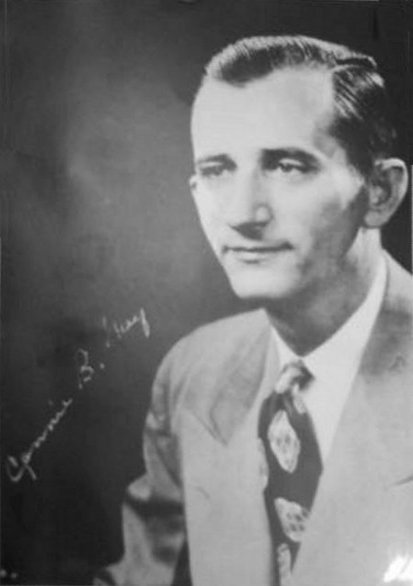 Connie B. Gay
Photo courtesy Kidshow.DCMemories
Connie Barriot Gay came from Lizard Lick, NC, and during WWII worked on the USDA's "National Farm and Home Hour," as a radio announcer when he discovered that half the residents of the nation's capital had transplanted from the South and that D.C did not have a radio station that catered to "hillbilly music." In 1946 he started a thirty-minute "hillbilly" show on WARL, in Arlington Virginia, the first devoted to that music in the area which soon became the "Town & Country Time" show running three hours daily." He registered "Town & Country" as his service trademark and is credited as one of the first to coin the term "country music," in place of "hillbilly." 5
In the late forties when television came in he started buying up little radio stations all over the country, establishing his Town & Country Network. He saw the music's entertainment potential for TV and tailored his product for the broadest possible audience. Gay saw the demand for live concerts and took country music to venues normally reserved for more uptown fare with live events featuring big name talent like Hank Williams, Ray Price and Hank Thompson. In 1947 he booked the DAR's Constitution Hall for two nights for a package show headlined by Eddy Arnold, then managed by Colonel Parker.5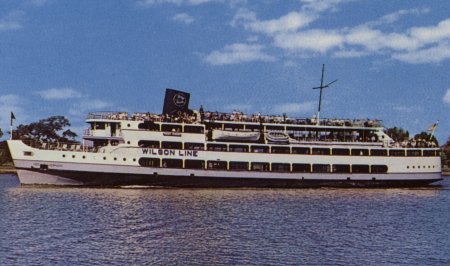 The Wilson Line's S.S. Mount Vernon in service on the Potomac - ca.1950s
Gay reputedly developed "a kind of unspoken gentlemen's agreement" with Jim Denny of the Opry, Colonel Parker and other powerful Nashville promoters like Oscar Davis and Joe Frank that gave Gay exclusive access to Opry acts in the Mid-Atlantic States, almost like a regional franchise. According to Gay, "I got Washington and the Northeast. They thought the East was the short end of the stick, but that was where the money was, in the media." He ran excursion trains from Washington, Baltimore, New York, Boston and Philadelphia to the Grand Ole Opry. By the early '50s he started booking the Wilson Line for his "Hillbilly Midnight Cruises" on the Potomac.5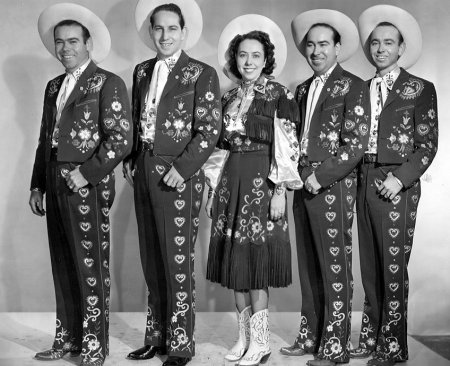 The Maddox Brothers and Rose
Photo courtesy Erik Hogstrom
Some of Gay's earlier shows on the cruises featured many Opry acts along with others that included The Maddox Brothers and Rose (stars of the Louisiana Hayride) with Marty Robbins, Ernest Tubb, Billy Johnson and newly signed Jimmy Dean.3 Dean, originally raised in Plainview, TX, after his discharge from the Air Force in 1948, remained in the Washington area to form the band the Texas Wildcats that at one time featured guitarist Roy Clark. Under a management contract with Gay and paid a weekly salary, he got a record deal with Four Star records and in 1953 his first single, "Bummin' Around," became a Top 10 hit. He soon was the host of Town & Country Time on WARL.6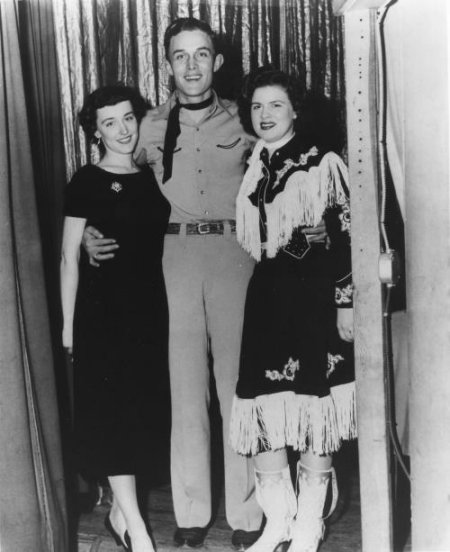 Dale Turner, Jimmy Dean and Patsy Cline - ca.1955
Photo courtesy Kidshow.DCMemories
In 1953 Dean and his band also backed Patsy Cline at The National Country Music Championship at Warrenton Fairgrounds in Virginia though she lost to Scotty Stoneman of the Stoneman Family. The following year she entered and won backed by Bill Peer's band, and caught the eye of Connie B. Gay, the events head honcho and emcee. Beginning that summer, Gay frequently booked Patsy as the girl singer with Jimmy Dean and the Texas Wildcats.5

Connie B. Gay's Town & Country Time - ca.1954
By 1954 he started filming Town & Country Time shows in color at Byron Studios in Georgetown for distribution to regional and local television affiliates. In January of 1955, after eight years on WARL, Town & Country Time became a live daily television show broadcast weekdays at 5:30 p.m. headed by Jimmy Dean and the Texas Wildcats and Mary Klick. At that time, WMAL's studios were located at the "Evening Star Television Center" at 4461 Connecticut Avenue NW, formerly the Chevy Chase Ice Palace. By October of that year he also had a weekly three hour country music show, the "Town & Country Jamboree," that aired on WMAL Channel 7 from Turner's Arena.3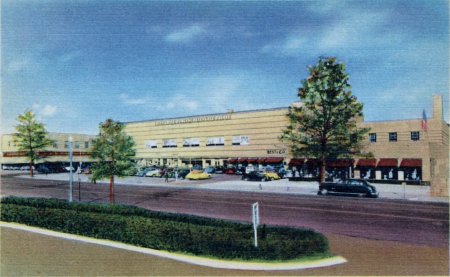 "Chevy Chase Ice Palace" at 4461 Connecticut Ave. NW - ca.1938
courtesy Streets of Washington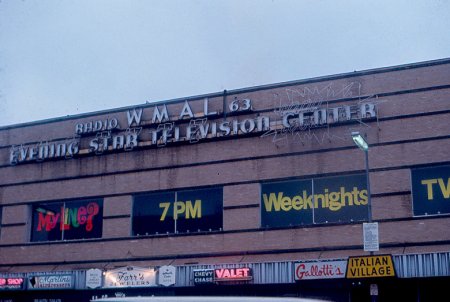 "Evening Star Television Center" at 4461 Connecticut Ave. NW - 1969
Photo © John in Montana
Also in 1955 the Wilson line fleet and wharves were purchased by the City Investing Company of New York in a deal that involved all physical assets of the line, its boats and properties, including Marshall Hall Park. By this time the line was operating eight boats serving the Philadelphia and Delaware area, Baltimore and Eastern Maryland shore, a Washington-Boston run, Boston to Nantasket Beach and to Provincetown and in the New York area to Rockaway Beach and for charter work.3

The S.S. Mount Vernon in service on the Potomac
Soon after, the company announced that Marshall Hall Amusement Park and the S.S. Mount Vernon were to undergo $250,000 in improvements and reconditioning. About $100,000 alone was spent on the boat to have Ballard & Company of New York paint the boat yellow with white accents, improve the dance floor, install several restaurants; new lighting and a steam calliope and replace stiff bench seating with comfortable foam rubber cushioned aluminum.3
By January 1956, "Town & Country Jamboree" was the most popular homegrown musical TV show in the region, with an audience estimated at more than half a million. By March Gay had severed all radio connections with Arlington, VA as he expanded ownership and Town & Country Time was broadcast on radio daily and television every night from 6:00 - 6:30.3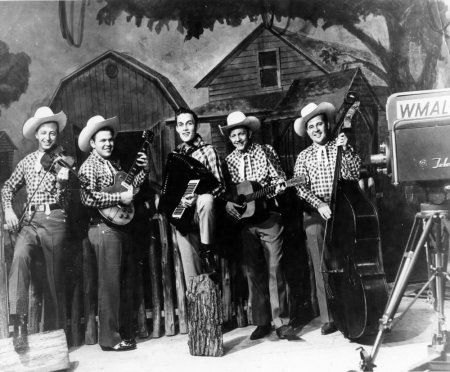 Buck Ryan, Billy Grammer, Jimmy Dean, Herb Jones, Marvin Carroll at WMAL-TV Studios
Photo courtesy Kidshow.DCMemories
As of March 15, 1956, Bob Neal's contract as Elvis' manager had run run out leaving the way clear for the Colonel.7 According to Patsy Cline biographer, Margaret Jones, Gay had been reputedly approached by the Colonel with an option to buy into a piece of Elvis' contract. The Colonel arrived at WMAL one day shortly after signing a booking arrangement with Elvis and Jamboree Attractions, the Madison, Tennessee, operation he ran with his main client, Hank Snow. "I've got a boy down here who wiggles his hips and everything. Don't sing too much or anything, but I'm going to give you a chance to get a piece of the action," he told Gay. Gay wasn't impressed. "No thanks," he replied. "I've got Dean and his boys. I've got my hands full. I don't need anything like that." 5
It's quite possible that the unspoken agreement between Gay, the Colonel and the Opry was a contributing factor that until this time Elvis and the boys had never played any dates in the Northeast and, aside from Philly the following year, would not again. Since their association with the Colonel began, they pretty much played the circuit of venues in the South established early on by promoters like Oscar Davis and others. In any case, on March 23, 1956 Gay had booked Elvis, Scotty, Bill and DJ for the season's first "Country Music Moonlight Cruise" on the S.S. Mount Vernon, which perhaps due to the new ownership of the line, appears to have started earlier than previous seasons. They had played in Richmond the night prior and were due in New York the day after.
Ads were run in the Washington Post and Times Herald newspaper as well as the Evening Star. Paul Herron in his On The Town column announced:
On The Town

By Paul Herron

Elvis Presley

Country music impresario Connie B. Gay must have been in the southern portion of Arlington County last weekend because he sent me a note speaking about a "light" snowfall before describing his scheduled antics aboard the S.S. Mount Vernon tonight.
Before you could say Jack Frost, he hastened to declare that the cruise ship is both steam heated and enclosed.
At any rate its to be the first Country Music Moonlight Cruise of the season and will feature the fabulous Elvis Presley, considered by many to be one of the most sensational country singers in the past decade.
Sensational or not, Elvis recently persuaded the entrepreneurs of Norfolk, Va., to dispense with $12,000 in order to lure him there for a one night stand.
Equally impressive is the $40,000 plus, said to have been paid to Elvis by RCA Victor for the privilege of an exclusive contract.
Accompanying Elvis will be the Blue Moon Boys with Melvin Price and the Sante Fe Rangers (from Easton, Md.).
Eddie Pierce Music will supply the dance music for the cruises featuring Frank Garner and his orchestra and Eddie tells me that on the Saturday night cruise the headliners will be the Spellbinders from the Patti Page TV show.

Washington Post and Times Herald - March 23, 1956 courtesy DC Public Library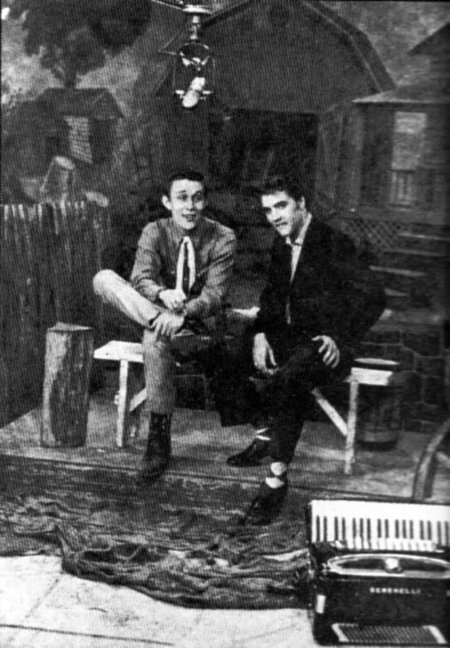 Jimmy Dean and Elvis on WMAL-TV's Town & Country Time set - Mar 23, 1956
Photo courtesy ElvisMatters - Peter Verbruggen
On the day of the show Elvis made a brief appearance at the WMAL-TV studio to promote the show that night on "Town & Country Time." Dean later wrote in his autobiography:
Elvis was the featured entertainer on the boat that night and was booked on our show to promote the cruise, apparently because it wasn't quite full. I had the excruciating task of conducting the interview with Elvis, possibly the worst I've ever done. It went basically like this:

Me: So, you're gonna be on the S.S. Mt. Vernon tonight, are you, Elvis?
Elvis: Yep.
Me: Have you ever worked on a boat before?
Elvis: Nope.
Me: I imagine you're looking forward to this, aren't you?
Elvis: Yep.

And that was it. "Yep, nope . . . " and that's all he would say. But I'm sure it didn't matter; all it would take would be for the gals who tuned in to that TV show to get a good look at him and he wouldn't have any trouble selling more tickets. Years later, when we were both playing in Las Vegas, Elvis would apologize profusely for leaving me hanging on that interview, He told me, "You know, Jimmy, I was so sorry about that but I was scared to death."

excerpt from Thirty Years of Sausage, Fifty Years of Ham by Jimmy Dean and Donna Meade Dean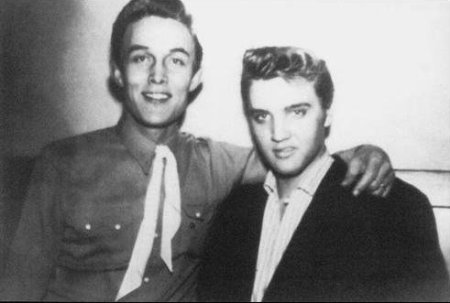 Jimmy Dean and Elvis at the WMAL-TV studio - Mar 23, 1956
Photo courtesy Cristi Dragomir
It is surprising that Patsy and Elvis never met, considering his visit to WMAL and their proximity at this time. According to Jones, Patsy was a fan. She loved Elvis's image and his power and his music and pasted his picture prominently on the back cover of the scrapbook she kept that tracked her life and her career. "Yeah, she loved him." said Pat Smallwood. "She used to bop and boogie and get down with all his first records." 5
The forecast for the 23rd was partly cloudy with a high around 48 degrees, though by evening it got much colder.8 Melvin Price, a country singer from Easton, MD, along with his band was the opening act that evening. He had recorded during the '50s for Regal, Starday and Dixie Records.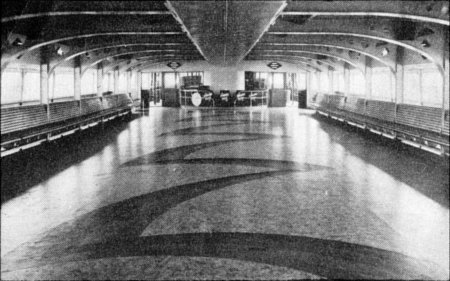 The S.S. Mount Vernon's glass enclosed main deck used for bands and dancing
According to Price, the deck was so packed, people couldn't dance; they could hardly move. Elvis came out with a policeman on either side. Maybe it was a touch dramatic, Price says, but maybe he did need the protection, even then. Price remembers getting trapped in the squeeze of the crowd between a steel guitar and a middle-aged woman. "She pinned me there," he said. "You couldn't move.…You simply could not move." Elvis broke three strings. "He just pulled the guitar off his shoulder, and it slid across the stage," Price says. "He just said, 'I'll be back.'…It was that little bit of attitude. The audience loved it." Between sets, the musicians shared a dressing room. Price couldn't do more than say hello, though, since the future king "was pretty well occupied with women hanging on him." 9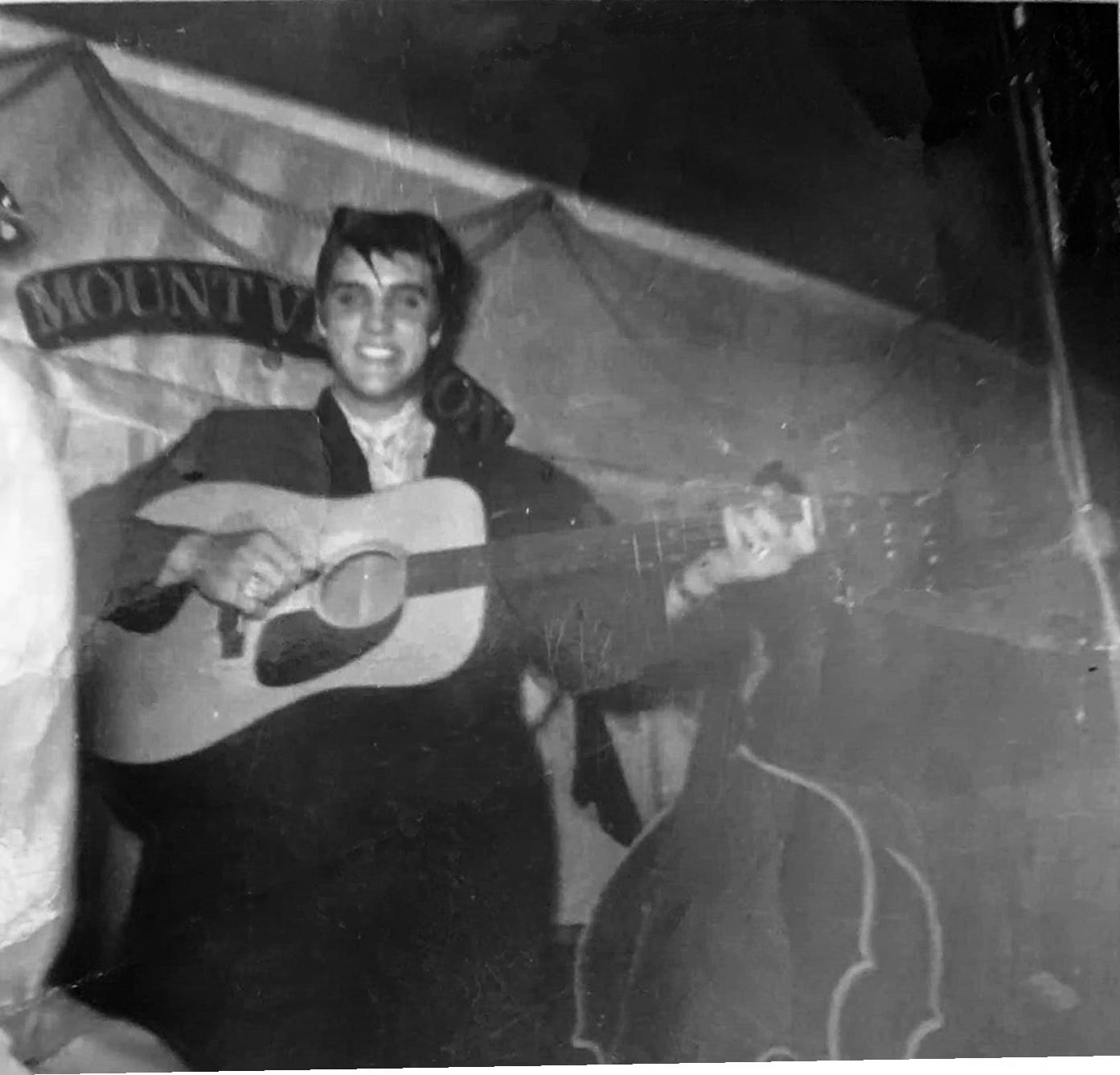 Elvis and Bill onstage on the S.S. Mount Vernon March 23, 1956
Photo courtesy Aki Korhonen
There were no formal reviews for the show(s) but Bill Gold in his column in the Washington Post and Times Herald on the 27th responded to readers who wrote in complaining that the S.S. Mount Vernon actually never left the dock that evening:
The DISTRICT LINE by Bill Gold

The Moonlight Cruise That Wasn't

Gold

SEVERAL young folks have sent me bitter letters denouncing the Wilson Line for running a moonlight cruise that never left the dock.
"Tickets were $2 each," one complainant wrote. "In exchange for the $4 I spent, I had expected to be able to cruise along the river and dance with my girl. But I was denied both of these pleasures, and refused a refund. It seems to me that I was unfairly dealt with, and I wonder if you can suggest what I ought to do about it?"
Yes, indeed. I suggest that you get all the facts surrounding this moonlight cruise that wasn't, and then review your judgment in the light of a better understanding of the incident.
The steamers high pressure valve began to cause trouble on Friday afternoon. As soon as the boat returned to its dock, repair work was begun.
Simultaneously, Wilson Line officials called Connie B. Gay, who had chartered the vessel for a cruise that night, and told Connie that it might be impossible to make the run. Connie was on the horns of a dilemma.
He had shelled out about $4500 to charter the boat and provide the entertainment. His headliner was Elvis Pressley of the Jackie Gleason show, in town for one night only and due in New York on the next morning. Hundreds of tickets had been sold in advance, mostly to teenagers who wanted to see the rock-and-roll sensation in person.
The rumor spread rapidly among those boarding the boat that there was something wrong with the engines and that the cruise might have to be canceled. At departure time an announcement was made that the repair work still had not been completed, and that it was doubtful if the boat would leave.
"But even if we don't cast off, we'll give you two shows instead of one, and we hope you'll all enjoy yourselves," the announcement added.
About a hundred persons weren't satisfied with that alternative, and decided to debark. Connie B. Gay stood at the gangplank and refunded their money.
Then the gangplank was pulled up, and the entertainment began. It was a bitter cold night, so the moonlight that bathed the open decks held little attraction. Most of those aboard crowded into the glass-enclosed main deck to watch the show.
As a result, the floor was too crowded for dancing, but the entertainment did last for almost three hours, and it does appear that an honest effort was made to keep the evening from becoming a total disappointment for the young folks.
The Wilson Line feels badly about the balky high pressure valve which kept the boat from leaving the dock, and tells me that it wants to make amends to any ticket holder who feels he did not get his money's worth.
' "Have them write to us," a spokesman said, "and we'll see that they're invited to come for a moonlight ride on any evening of their choice."
When I was a teen-ager, I was also very quick to form snap judgments. I had irrevocable opinions on all subjects, and like a baseball umpire I was seldom wrong and never in doubt.
It's remarkable how much less positive I've grown since I've learned that there are two sides to practically any story—except to those which have three or more.

Washington Post and Times Herald - March 27, 1956 courtesy DC Public Library
Following the show on the S.S. Mount Vernon, the boys left for New York for their sixth and final appearance on the Dorsey Brother's Stage Show and CBS Studio 50, delayed by a snow storm. From there Elvis remained in New York prior to flying to Hollywood for his screen-test. Scotty, Bill and DJ started the drive back south in the storm that night, but stopped in Dover, Delaware, to visit Carl Perkins and his brothers in the hospital. They had been involved in a car accident while driving to New York to appear on the The Perry Como Show.7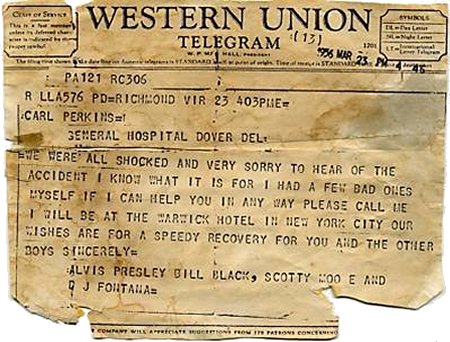 Telegram to Carl Perkins - Mar. 23, 1956
Photo courtesy eBay and Elvis Information Network
A telegram had previously been sent from Richmond on the 23rd, the day of the cruise, either by Elvis (misspelled as "Alvis"), or on his behalf along with Scotty, Bill and DJ to Carl wishing him and his bothers well. On March 26 the Colonel's new status as "sole and exclusive Adviser, Personal Representative, and Manager in any and all fields of public and private entertainment" was formally ratified and his 25 percent commission reaffirmed at the same time.7
Patsy's career didn't really take off until her appearance in 1957 on Arthur Godfrey's Talent show when she performed Walkin After Midnight. She would soon ditch the western attire too.5 That same year Dean would host a network television show on CBS called The Jimmy Dean Show (the first incarnation). In 1961, he released the single "Big Bad John," which hit No. 1 on both the country and pop charts and earned him a Grammy award.6 Both he and Cline were no longer with Connie Gay who himself had in 1958 become the founding president of the Country Music Association in Nashville.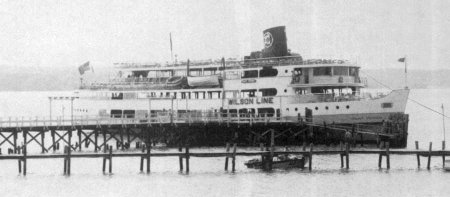 The Wilson Line S.S. Mount Vernon at Marshall Hall Amusement Park pier
Photo courtesy Kilduffs.com
By 1957 Wilson Lines had absorbed the Meseck Steamboat Co. and its service to Playland at Rye, NY and Pleasure Beach in Bridgeport, Conn. Though it sold its operations in Philadelphia, in addition to Marshall Hall, it was serving three other amusement areas; Rowes Wharf in Boston to Provincetown and to Paragon Park in Nantasket; Yonkers, N.Y., and Jersey City and New York, to Rockaway's' Playland, New York. At Marshall Hall Park they built an additional 200 foot long pier for the heavy traffic of private boats near the excursion boat pier, which itself had been rebuilt for the fourth time since its original construction. With the construction of a new highway with a right of way straight to the park, it saw increased auto business.3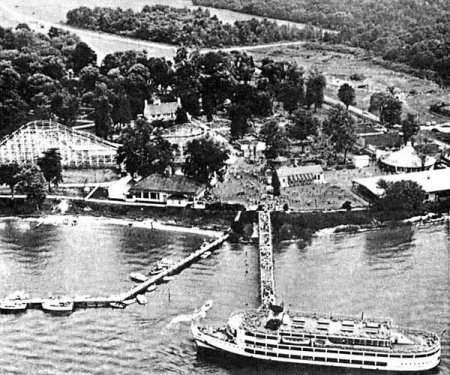 The S.S. Mount Vernon at Marshall Hall Amusement Park - ca.1962
Photo courtesy Peggy Marshall
Like several competing amusement parks in Maryland, and elsewhere at the time, Marshall Hall Park was segregated and by the sixties was under pressure by civic and community groups and also court order to desegregate. Because of this, in 1961, students at George Washington University voted to discontinue their annual "Colonial Cruise" aboard the S.S. Mount Vernon to Marshall Hall.10 1961 also saw the passing of a law protecting the historic setting of Mount Vernon and anything in its view against commercial and industrial development, though at the time it excluded Marshall Hall.2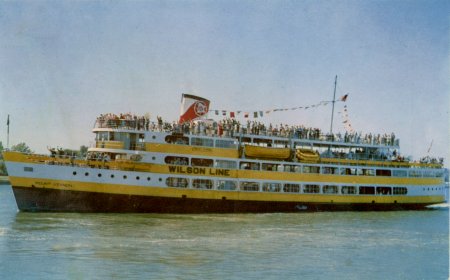 The Wilson Line S.S. Mount Vernon in service on the Potomac
The S.S. Mount Vernon would see service through 1963. On January 5, 1964, while docked for the winter a seacock (valve on the hull) aboard the vessel froze and cracked causing it to take on water and settle on its keel, partially submerged.* It stayed that way for several months before it was raised and never again saw service as an excursion ship. Salvage rights were sold to the Seafarers International Union in 1967 and it was renamed the Charles S. Zimmerman and converted for use as a floating dormitory at the Harry Lundberg School of Seamanship on Chesapeake Bay. It was believed to have been scrapped in the eighties.4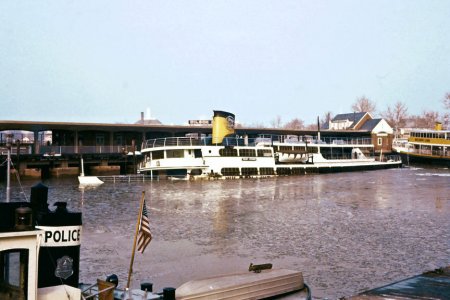 The S.S. Mount Vernon submerged at Pier 4 in Washington - Jan. 1964
Photo © Christopher Koberg, added July 27, 2016
The Wilson Line then replaced the S.S. Mount Vernon for its Potomac River cruises with its M.V. George Washington, formerly the steamer Hudson Bell. Like the S.S. Mount Vernon, it departed twice daily for excursions to Mount Vernon and Marshal Hall Amusement Park in addition to special charters and evening cruises.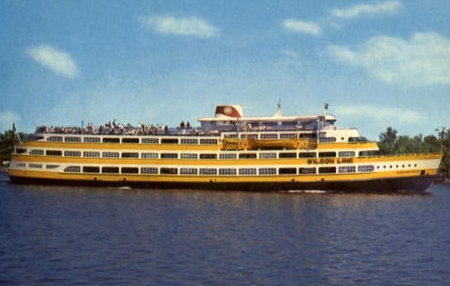 The Wilson Line M.V. George Washington in service on the Potomac
courtesy CardCow
The Wilson Line sold the Marshall Hall Amusement Park to Marshall Hall Development Corporation in 1966 which demolished most of the structures on it to make way for a modern amusement park. In 1969, it was sold to Joseph Goldstein and Star Enterprises with big plans to enlarge it to a theme park called "Spirit of America."2

1974 Commercial featuring the M.V. George Washington
In 1972 the US Government paid Goldstein $900,000 not to further develop the land and in 1974 authorized the National Park Service to purchase the 446 acres at Marshall Hall and an additional 179 acres with $4.9 million in funds appropriated in 1976. The 1976 bill set January 1, 1980 as the phase-out date for Marshall Hall Amusement Park. Unfortunately, in 1981, arsonists gutted the 256 year old plantation house on the property.2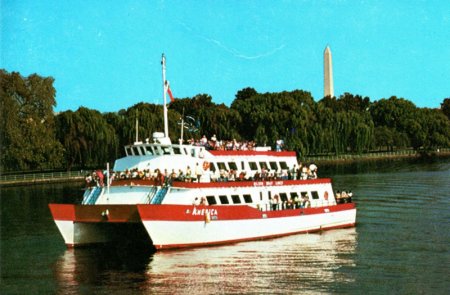 Wilson Line Catamaran on the Potomac - ca.1980s
courtesy eBay
By the eighties the Wilson line had replaced the steamships for excursions to Mount Vernon with three diesel powered catamarans each with a capacity of 394 people.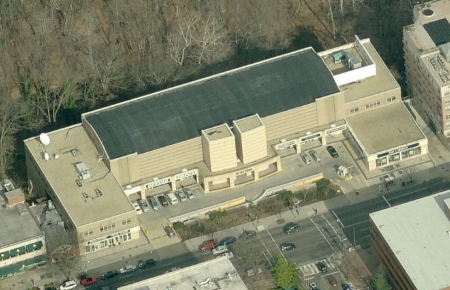 Van Ness Square at 4461 Connecticut Ave. NW - 2010
Photo courtesy Microsoft EarthData
WMAL-TV later became WJLA and in 1988 moved from the old ice palace building to the Intelsat Building several blocks south. The owners of the old building then embarked on an extensive renovation and remodeling of the space adding two large towers in the center. It has since operated as a mixed office and retail complex known as Van Ness Square.11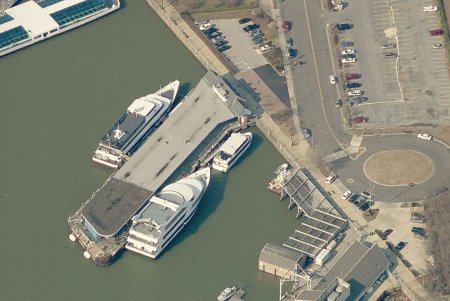 Contemporary Aerial views of excursion ships at the former Wilson Line's Pier 4 in Washington, DC
Photos courtesy Microsoft EarthData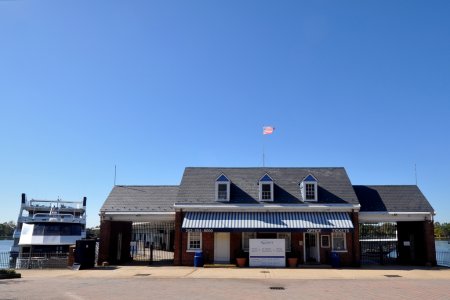 the former Wilson Line's Ticket Office at Pier 4 in Washington, DC
Photo by M.V. Jantzen
Today, the large excursion ships are back on the Potomac, though they no longer go to Marshall Hall. The original Wilson Line ticket office at the head of Pier 4 now serves excursion boats and Spirit Cruises on the Spirit of Mount Vernon to Mount Vernon from March to October. You can also choose from one-way excursions and 40-minute turnaround cruises from the Mount Vernon dock.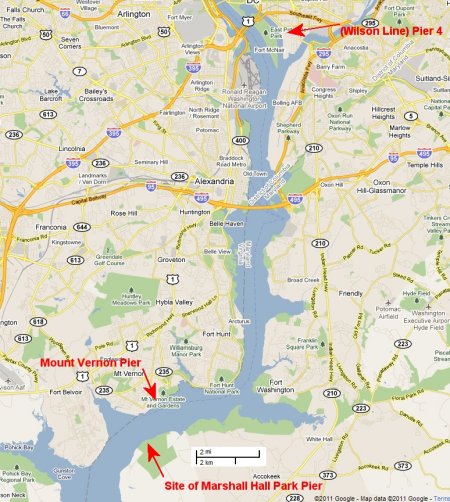 page added May 4, 2011

Special thanks to Kenneth Despertt of the Special Collections Library of the DC Public Library in Washington for his assistance with ads and articles for this page.
* We initially had believed and stated that the S. S. Mount Vernon had sunk while in winter storage at its home port of Wilmington, DE but thankfully B Dunlap noticed the error and gave us the correct location of Pier 4 in Washington in addition to a photo. July 27, 2016
1 according to or excerpt from Old Chester, PA: Transportation: The Wilson Line
2 according to or excerpt from The History of Marshall Hall by M. E. Marshall
3 according to or excerpt from Billboard Magazine - multiple issues 1943-1957
4 according to or excerpt from Victorian Secrets of Washington, DC and/or Bethlehem Steel Company, Wilmington, Del
5 according to or excerpt from Patsy: The Life and Times of Patsy Cline by Margaret Jones
6 according to or excerpt from Jimmy Dean Biography (1928-2010) courtesy biography.com
7 according to or excerpt from Last Train To Memphis: The Rise of Elvis Presley by Peter Guralnick
8 according to National Weather Summary - Washington Post and Times Herald - March 23, 1956 courtesy courtesy DC Public Library
9 excerpt from Elvis on the Potomac by Peter Golkin, Washington City Paper - February 16, 2007
10 according to The rise and fall of the pride of the Potomac by John Kelly - Washington Post - December 4, 2010
11 according to Streets of Washington: Chevy Chase Ice Palace