"Elvis – Six Weeks Only"
Release of ''Elvis Presley: Stage Show performances''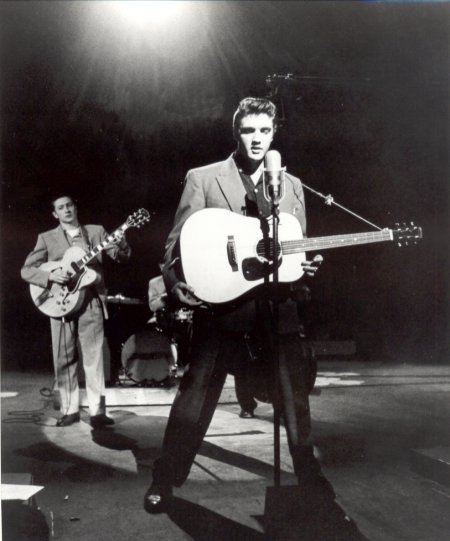 Scotty, DJ, Elvis and Bill on the Dorsey Brother's Stageshow - Mar 17, 1956
Photo © Alfred Wertheimer
WEEK 2, Available now!
"Elvis – Six Weeks Only" is the name of the newest video project being issued by Restoration Sound & Vision ( http://www.restorationsoundandvision.co.uk/ ), which documents Elvis Presley's first nationally-broadcast performances on Tommy & Jimmy Dorsey's "Stage Show" variety program. RS/V offered the first installment on March 5, 2009, which features the King's inaugural performance from January 28, 1956, exclusively at their download website.
Just ahead of the long-overdue induction of Bill Black & D.J. Fontana into the Rock & Roll Hall of Fame, Restoration Sound & Vision is pleased to announce the release of the second performance of Elvis Presley on "Stage
Show", as part of the ongoing "Elvis - Six Weeks Only" series!

Dating from February 4, 1956, the triumphant return of the boys to the national stage features blistering version of a couple of classic tunes: "Baby, Let's Play House" (one of the band's earlier Sun singles), and a cover of Little Richard's frantic rave-up, "Tutti Frutti". You can find Week 2 at: http://www.restorationsoundandvision.co.uk/whatsnew.html

A total of six different clips from January through March of 1956 (reflecting all of Presley's appearances on the Dorsey program) are scheduled to be released by the company throughout 2009. The first entry contains spirited renditions of "Shake, Rattle & Roll/Flip, Flop & Fly" and "I Got a Woman". Unlike Elvis' later appearances on "The Ed Sullivan Show", of the twelve songs performed on the six programs, only three are repeated— "Heartbreak Hotel" (his 1st RCA single, featured on three programs), and cover versions of Little Richard's "Tutti Frutti" and Carl Perkins' "Blue Suede Shows" (each featured on two programs).

The footage of each of the "Stage Show" performance clips has been collated and meticulously restored by archivist Kevin Segura ("Elvis – The Ed Sullivan Shows", "Dark Shadows – The Beginning"), utilizing the LiveFeed Video Imaging process. The LiveFeed system, which restores the original "live broadcast" look to vintage television programs, has previously been utilized on a variety of home video DVD projects and network television broadcasts.

UK-based Restoration Sound & Vision, in addition to the ambitious ongoing restoration of the Presley "Stage Show" material, has also commissioned a LiveFeed restoration of the legendary 1957 program "The Sound of Jazz"; toward that end, a polished edition of the live broadcast's original television soundtrack was released by the label in February of 2009.
As they're issued, the clips (each of which are about 5-6 minutes in length) will be available exclusively as full-frame .mp4 downloads from the RS/V website...(http://www.restorationsoundandvision.co.uk/ ) a full DVD release is still a possibility farther down the line, but at this point, they're still trying to secure some additional source material.

Should your experience any difficulties in playing the .mp4 files, we've also provided a link to the superior VLC Media Player on the download page. It's FREE, and is available in versions for either Windows or Apple (Mac) operating systems. We've tested the "Six Weeks Only" files with it, and can heartily recommend it.
paged appended March 27, 2009
text courtesy Kevin Segura