One Great Collection
1954 L5, 1956 Super 400 & 1968 J-200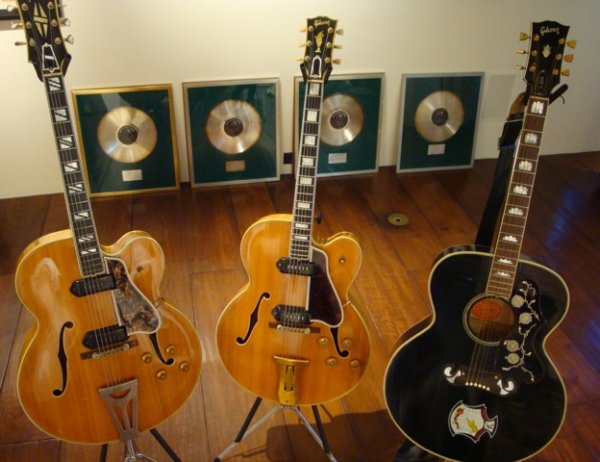 Scotty's original 1956 Super 400, 1954 L5 and Elvis' 1968 J200 (Elvis' record awards in rear)
Photo © H. Mozart
When we started this site nine years ago some of the first pages that went up were those about Scotty's instruments soon followed by those of Elvis'. At the time I knew of the collector who had purchased Scotty's 1956 Super 400 but lacking any direct communication I was reluctant to disclose that. I was recently contacted by her and was surprised (more like in awe) to find that she is quite an avid collector and also in the possession of Scotty's first L5 and the Ebony J200 owned and used by Elvis.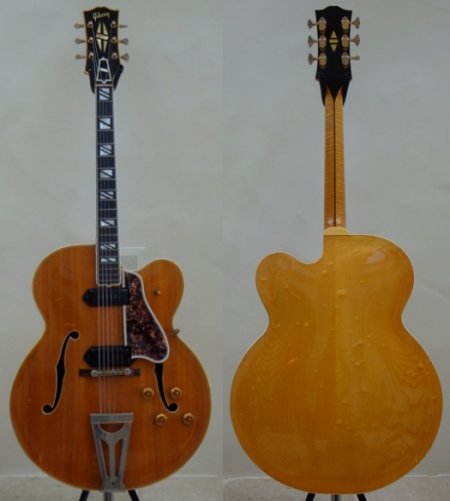 Scotty's original 1956 Super 400
Photo © H. Mozart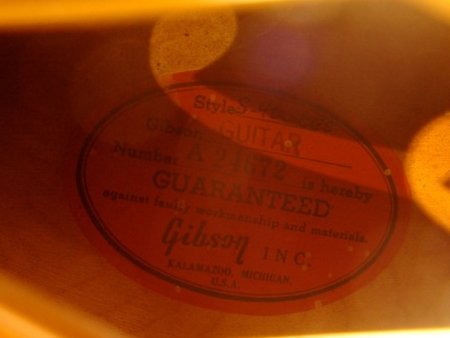 Label with serial #A24672 inside Scotty's 1956 Super 400
Photo © H. Mozart
Heather Mozart first purchased the 1956 Super 400 in 2000 at auction in London. At the time it had been owned by Chips Moman and is the guitar used by Reggie Young in sessions at American Studios in Memphis in 1969 with Elvis that yielded Suspicious Minds, In the Ghetto and many others. Scotty had received the guitar in 1957 from Gibson and used it on sessions, on their last tour in the '50s and the few shows they did in the early '60s as well as in the films Jailhouse Rock and King Creole. He traded it to Chips in 1963.

Elvis' 1968 J200
Photo © H. Mozart
Two years later Heather purchased Elvis' 1968 Ebony J200 from a Guernsey auction in New York. The guitar had previously been owned by Heather and Lawrence Long of Massachusetts who caught the guitar when it was tossed from the stage by Elvis during a concert at the Springfield Civic Center in Springfield, MA in 1975. Elvis had used this guitar on tour through most of 1974 until July of 1975.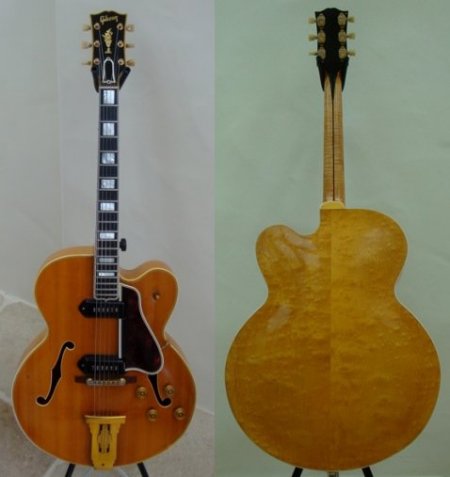 Scotty's original 1954 L5
Photo © H. Mozart

Label with serial #A18195 inside Scotty's 1954 L5
Photo © H. Mozart
Lastly, but certainly not least, Heather purchased Scotty's 1954 Gibson L5 in February of 2005. This guitar was first used to record Mystery Train at Sun in July of 1955 and can be heard on most of the subsequent RCA recordings through at least January of 1957. It was used in every network television appearance they made in the 1950s and used by Scotty on tour through the Spring of 1957. It was later owned by Robert Johnson in Memphis and had been on display for several years at the Rock 'N Soul museum there until 2004 when it was sold to a collector, John Collins in the UK. Heather purchased the L5 directly from John not long after he got it.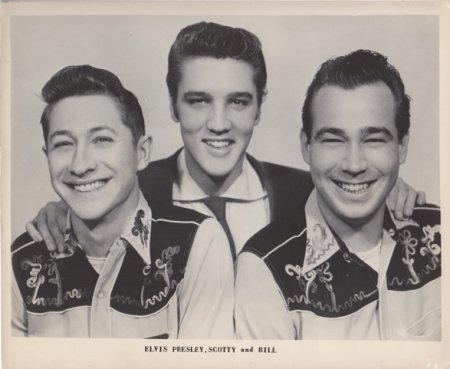 Original and rare 1955 Elvis, Scotty and Bill promo photo
Photo © H. Mozart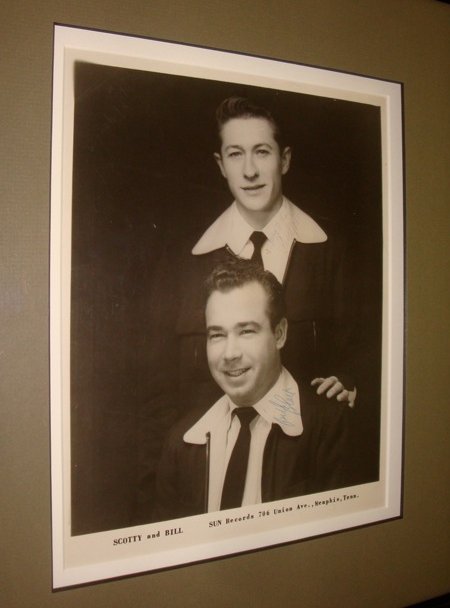 Original and rare (autographed) Scotty and Bill promo photo
Photo © H. Mozart
The bulk of Heather's collection is from the 1950's but also includes personal clothing from the '50s and jumpsuits from the '70s. She also owns gold records (Col. Parker), Elvis' 1956 initial and horseshoe rings, rare concert posters and autographed programs from the '50s, tickets and promo photos, autographed SUN 78's and over 100 candid photographs from '55-'56, and many other items.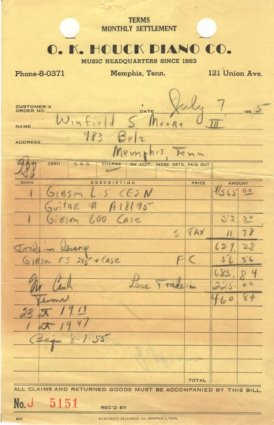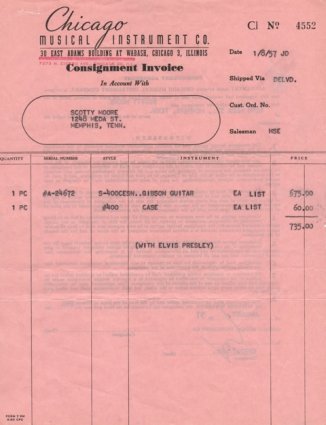 Scotty's original receipt and invoice for the L5 and Super 400
Photo © H. Mozart
Heather considers herself very fortunate to have so many fantastic Elvis owned and related items and has worked very hard to purchase great things that come from perfect or near perfect provenance, like the guitars. She subsequently bought the original invoice for the Super 400 from Scotty and the original receipt for the L5 from John, who got it from Scotty. Its good to know that these items are in safe hands and great to see the guitars together like this (Scotty, though, wishes the guitars got played). I personally would like to thank her for sharing these photos with us. .
Page added May 21, 2011