56 SUPER 400 CESN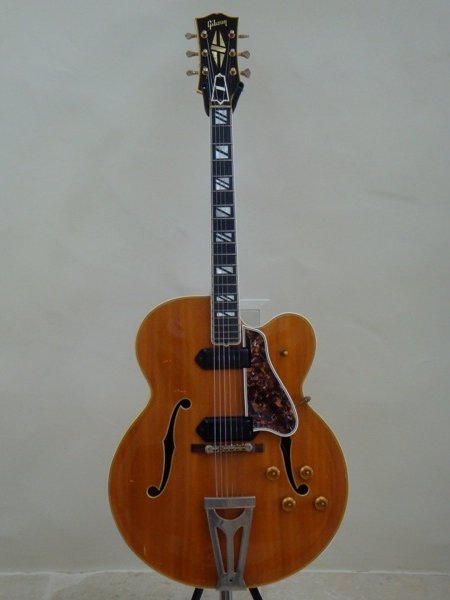 Scotty's 1956 Super 400 CESN #A-24672
Photo © H. Mozart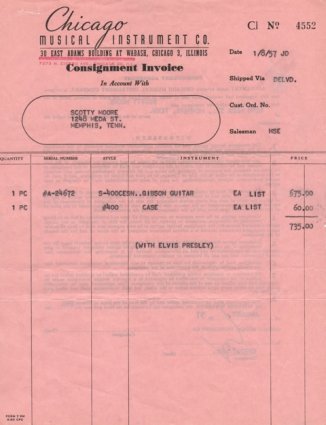 Scotty's original invoice for the Super 400
Photo © H. Mozart
Scotty received a blonde 56 Super 400, #A-24672, from Gibson in January 1957 as a result of his recent endorsement which essentially replaced his L5 as his principal guitar. The consignment receipt for it is dated January 8, 1957 and referred to in a letter from Gibson dated on January 18 so he received the guitar sometime around then, however, he did not use this guitar on tour until the end of August, 1957. According to Walter Carter of Gibson the guitar was logged (completed) on December 14, 1956. Strangely enough, the guitar was pictured without the pickguard in several scenes from Jailhouse Rock.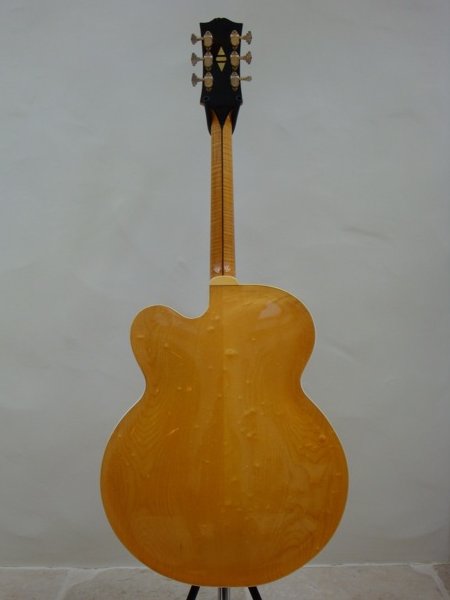 rear of Scotty's 1956 Super 400 CESN
Photo © H. Mozart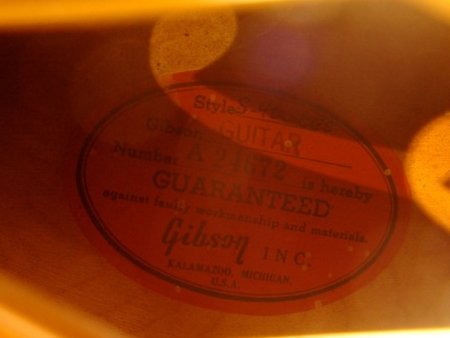 Label with serial #A24672 inside Scotty's 1956 Super 400
Photo © H. Mozart
He used Super 400s through the remainder of his career recording and performing with Elvis until 1968. He acquired a new one in 1963 and traded his 56 to Chips Moman who continued to play and record with it until he put it up for auction at Christie's in London. It sold as lot 191 for £58,000 (approx. $98,652) on April 27, 2000. Oddly enough, several years after trading it to Chip the guitar was again used for Elvis sessions on the recordings of "Suspicious Minds" and "Kentucky Rain" by Reggie Young at Chips' American Sound Studio. In the 80's and 90's when Scotty returned to recording and performing he would again use a Super 400.

rear headstock of Scotty's 1956 Super 400 CESN
Photo © H. Mozart

The neck rest in the #400 case
Photo © H. Mozart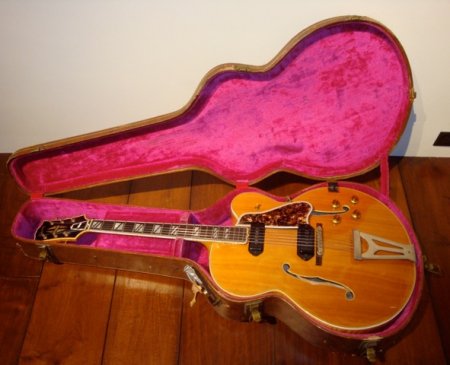 Scotty's 1956 Super 400 CESN in the case
Photo © H. Mozart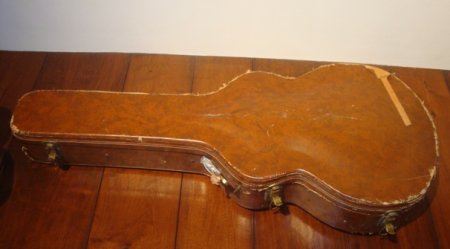 The #400 case for Scotty's 1956 Super 400
Photo © H. Mozart
The Super 400 CES featured a single round cutaway 18" grand auditorium style body, carved arched spruce top, bound f-holes, raised multi-bound mottled plastic pickguard, figured maple back/sides, multiple bound body, 3 piece figured maple/mahogany neck, model name engraved into heel cap, 14/20 fret bound ebony fingerboard with point on bottom, pearl split block fingerboard inlay, adjustable rosewood bridge with pearl triangle wings inlay, gold trapeze tailpiece with engraved model name, multi-bound blackface peghead with pearl split diamond/logo inlay, pearl split diamond inlay on back of peghead, 3 per side tuners*, gold hardware, 2 pickups (P90 single coil in 51, Alnico V in 54 and Humbucker in 57), 2 volume/2 tone controls, 3 position switch. Available in Ebony, Natural (Scotty's), Sunburst and Wine Red finishes. Mfd. 1951 to 1994.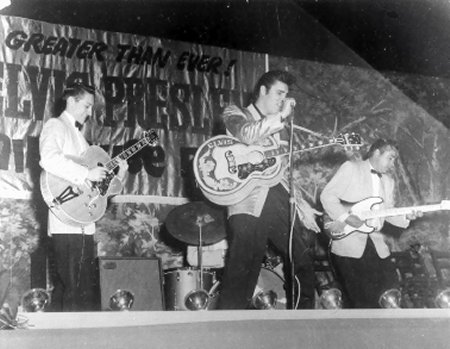 Scotty with Super 400 and Echosonic, Elvis and Bill - Sep. 1, 1957
Photo © courtesy Steve Bonner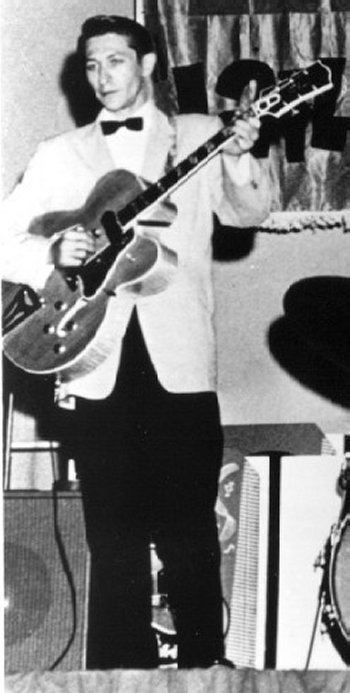 Scotty with his 56 Super 400 - Oct. 28, 1957
In the late 80's Chips brought the 56 Super 400 by Scotty to have him write a letter of certification. He said he cherished it too much to sell it but wanted to have it appraised. Scotty wasn't happy with the fact that Chips had kept it hanging on a wall and had let its maintenance slip. It was in dire need of a setup, adjustments and needed to be played again.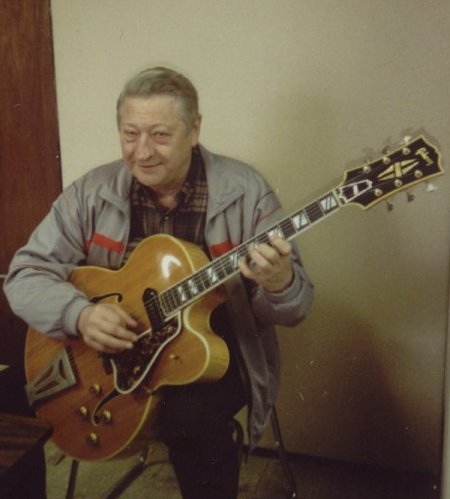 Scotty with 56 Super 400 before Chips Moman sold it
Photo © Gail Pollock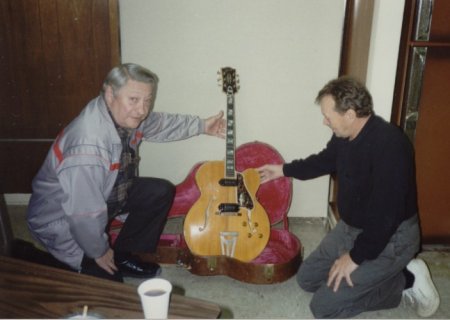 Scotty and Chips with the 56 Super 400
Photo © Gail Pollock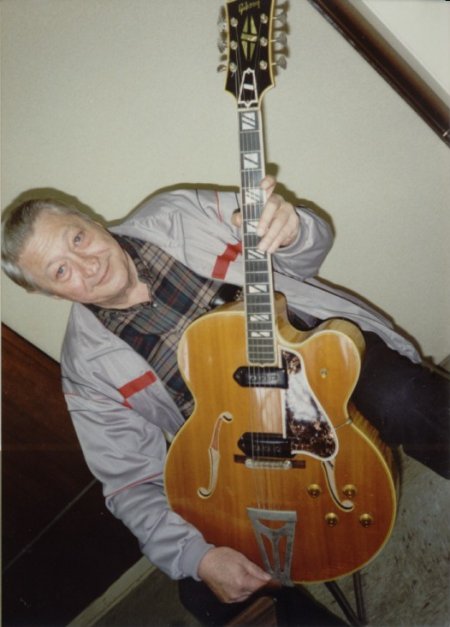 Scotty with 56 Super 400 before Chips Moman sold it
Photo © Gail Pollock
*These Super 400's had Grover Imperial tuners. Grover De Luxe turners were introduced in 1935 on select top Gibson models such as the L-5 and super 400. These tuners with their engraved, gold-plated die-cast stair-step buttons were later named Grover Imperials.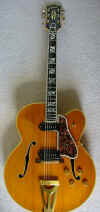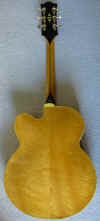 1956 Super 400 CESN #A-24670 (2 digits lower than Scotty's)
This guitar is identical to Scotty's and made the same day
Photo © courtesy Ron Cascisa
Note also that at some point prior to the filming of King Creole in 1958 Scotty had installed a Van Eps style damper on his 56 Super 400 that eventually found its way to his 63 Super 400. It can be seen on it in scenes from the film and in pictures from the Pearl Harbor Bloch Arena concert in March of 1961.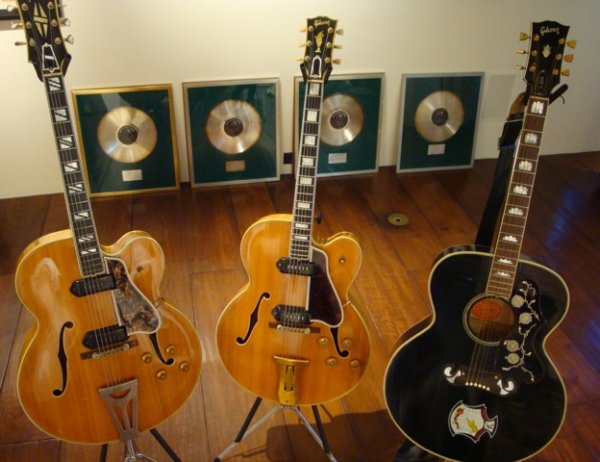 Scotty's original 1956 Super 400, 1954 L5 and Elvis' 1968 J200 (Elvis' record awards in rear)
Photo © H. Mozart
Scotty's 1956 Super 400 was purchased from Christies in 2000 by Heather Mozart. It, along with Scotty's 1954 L5 and Elvis' 1968 Ebony J200 and many other items remain part of her collection.