Ponderosa Stomp April 26, 2005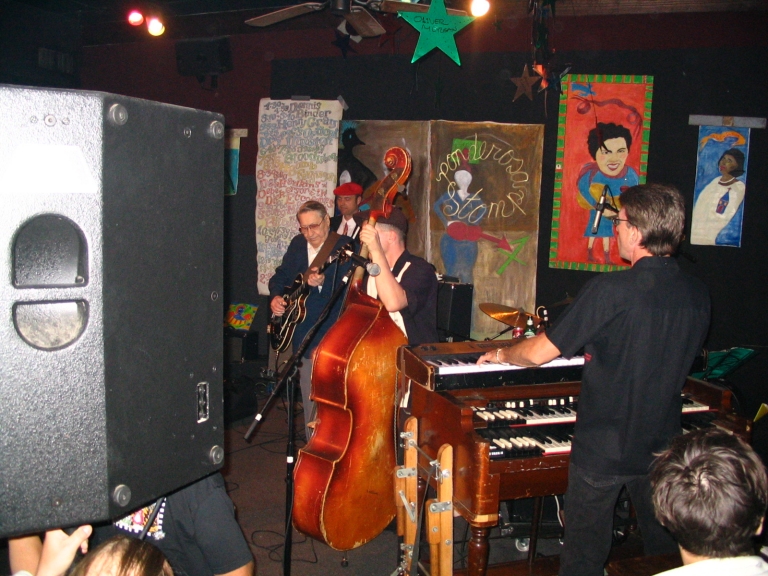 Billy Swan and Scotty Moore with Deke Dickerson and the Ecco-fonics
photo© courtesy P. Riley
Your intrepid Scottymoore.net music reporter just returned from ol' New Orleans where he was lucky enough to attend the 4th annual "Ponderosa Stomp." The Ponderosa Stomp is an annual 2 night event that takes place between Jazz Fest weekends, considered by many local music aficionados as the "alternative" Jazz Fest. The stomp is sponsored by the "Mystic Knights of the Mau Mau" and is accurately billed as "Two Insane Nights of Rock n' Roll."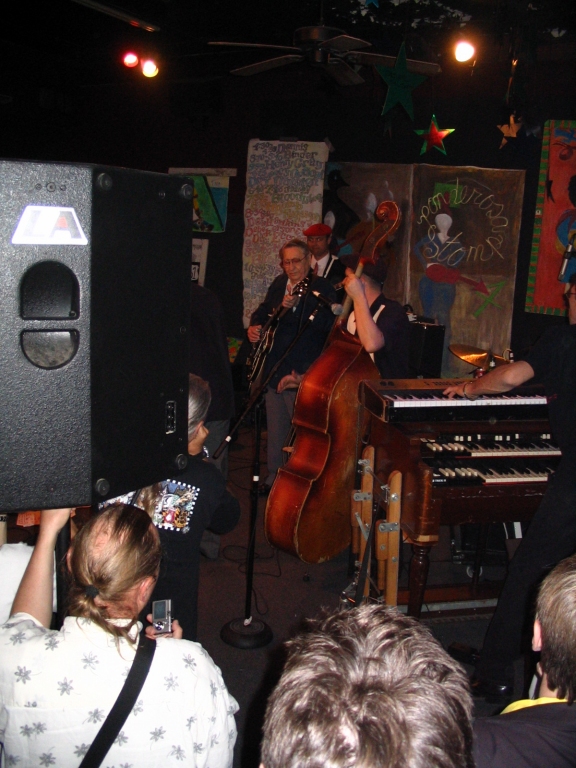 Scotty Moore and Deke Dickerson
photo© courtesy P. Riley
What this amazing show does is highlight dozens of relatively obscure artists and "unsung heroes" that play everything from Louisiana swamp pop and blues to rockabilly to soul, Zydeco and R & B. Some artists are famous sideman, some had 1 or 2 hits, some more, but suffice it to say these are not names the average music fan will know. The Mau Mau brings in superlative house bands to back up these (mostly) aging performers.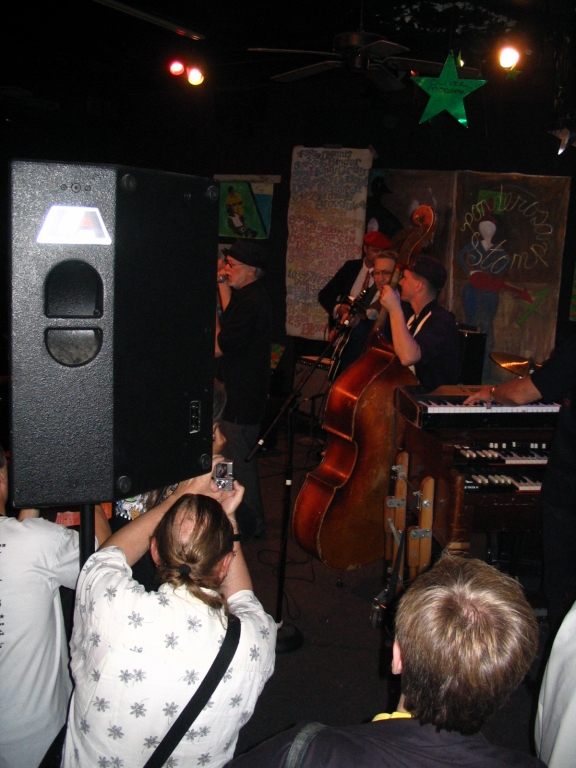 Billy Swan and Scotty Moore with Deke Dickerson and the Ecco-fonics
photo© courtesy P. Riley
The show takes place at the legendary Rock 'n Bowl in New Orleans. The Rock 'n Bowl is a huge club that covers 2 floors in a run down old shopping mall. The huge upstairs club actually boasts a number of 10 pin bowling alleys with a large stage, bar and dance floor beside it. The downstairs is a straight club and bar.

Billy Swan and Scotty Moore with Deke Dickerson and the Ecco-fonics
photo© courtesy P. Riley
The house band for many of the artists the first night was the great trio of Deke Dickerson and the Ecco-fonics from California. They were onstage with only short breaks for almost 10 hours and did one of the most amazing and sensitive jobs of accompanying these artists one could have imagined. We were downstairs for a large chunk of the first night and saw the great Dale Hawkins ("Suzy Q") who was wild and having a fabulous time playing with Deke and the band , many of his tunes were immediately recognizable to rockabilly fans.

Scotty Moore with Deke Dickerson and the Ecco-fonics
photo© courtesy P. Riley
Next was a trip to Memphis with a Sun records tribute with Scotty Moore and drummer DJ Fontana with Billy Swan ("I Can Help") handling vocal duties. With the help of Deke and the boys they romped thru a great set of all Sun Records era Elvis Presley material with Scotty doing all his famous guitar parts and ending with a rousing version of Swan's own hit "I Can Help."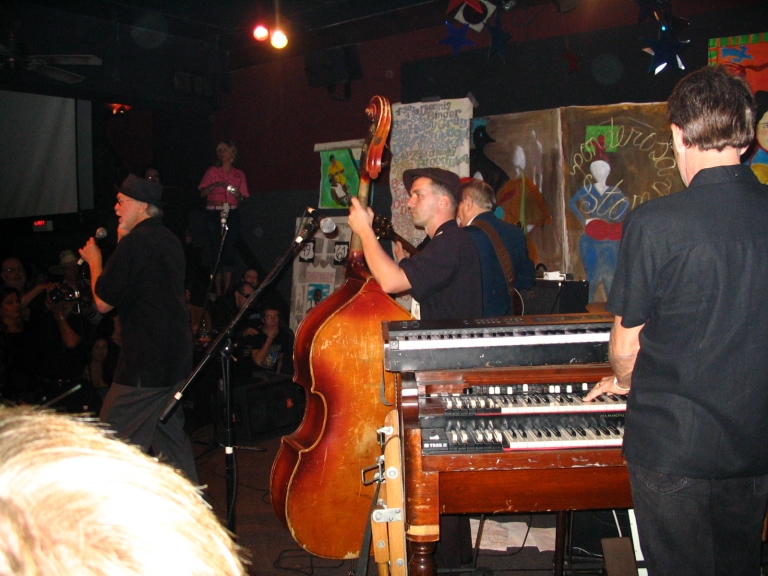 Billy Swan
photo© courtesy P. Riley
Along the way were standout versions of "Mystery Train" with Scotty playing the smoking' guitar intro that took you right back to that July day in 1955 in Memphis when he, Elvis and Bill Black recorded it. There were also great versions of "That's All Right," "Blue Moon, " and "Shake Rattle & Roll." Scotty and DJ were treated like returning heroes by the enthusiastic audience!
Peter J. Riley
May 5, 2005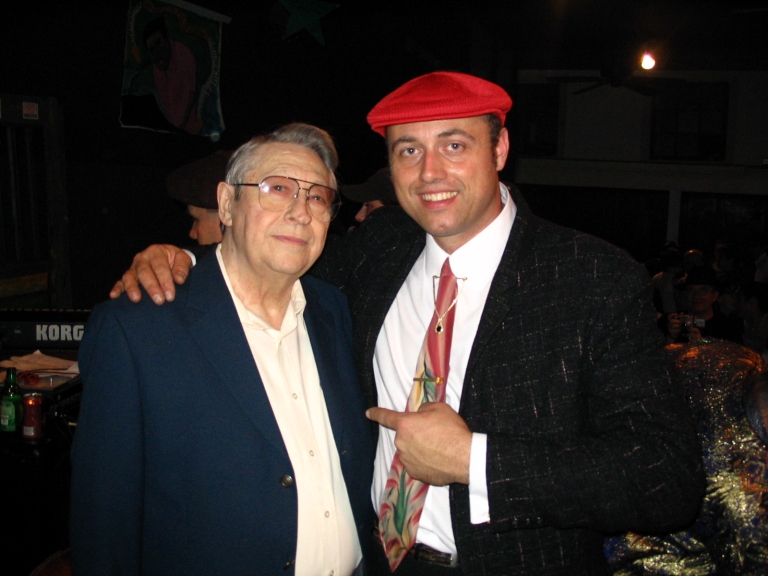 Scotty Moore and Deke Dickerson
photo© courtesy P. Riley
click here to check out Gail's review of the show