Bexar County Coliseum
San Antonio, TX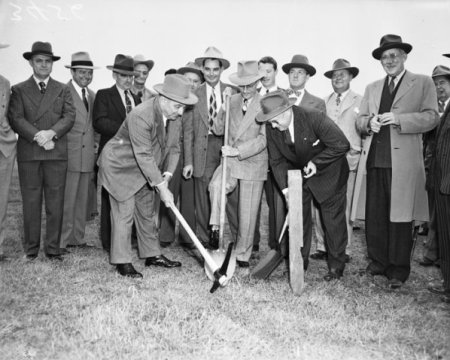 Mayor Alfred Callaghan, Joe Freeman and Judge E. W. Anderson
at ground breaking ceremony for the Coliseum - Nov. 1947
Photo © Institute of Texan Cultures, San Antonio Light Collection
Joe and Harry Freeman were longtime philanthropists who made their fortunes in Texas cotton, oil, ranchland and Chevrolet dealerships. They were weekend ranchers who liked to get away from the San Antonio business world to enjoy leisure pursuits on the land, such as hunting and hiking.1 In the early 1940s Joe's dream was to build a coliseum to be used for a number of events, but specifically, a livestock exposition for the youth of Texas. After assembling a number of volunteers, ranging from cattlemen to sports-minded citizens, the movement began to construct this multi-purpose coliseum and construction began in January of 1948.2




The Coliseum in various stages of construction - 1948
Photos © Institute of Texan Cultures, San Antonio Light Collection
The Bexar County Coliseum and grounds opened to the public in 1949 as a community-owned sports and event venue.3 The stands are poured concrete while the frame work is made of steel. The $250, 000 roof covering dome is made of 15' by 10' fireproof gypsum planks.4 The arena has a 125' by 250' asphalt floor and a 77' ceiling height. With 6500 permanent seats and 244 boxes seating 1500, the Coliseum had a seating capacity of 8000, more with when the arena floor was used for seating.5

Rodeo at the Coliseum - 1953
Photo by Gilbert Barrera © Institute of Texan Cultures, San Antonio Light Collection
In 1950 the first Annual San Antonio Stock Show & Rodeo was held in the Coliseum and entertained more than a quarter of a million visitors.2 Designed to host a multitude of functions from sporting events to conventions and trades shows, for several decades Rodeo was the primary revenue generator at the Coliseum, supplemented by horse and dog shows, cattle auctions and furniture auctions.6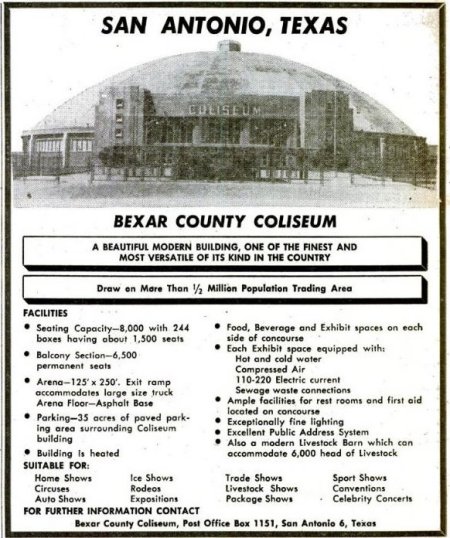 Ad for Bexar County Coliseum - Sep. 22, 1956
Photo courtesy Billboard
The Coliseum was also set up to host concerts and had seen performances by Lawrence Welk and Roy Rogers.6 On October 14, 1956 Elvis, Scotty, Bill and DJ made their last appearance together in Texas with two performances at the Coliseum. The show was to be the last stop on a four day tour that had include dates in Dallas, Waco, and Houston. Days prior the San Antonio News featured the following:
Elvis to Leave San Antonians Something to Remember Him By

When Elvis (moan) Presley (sigh) sings and gyrates in San Antonio Sunday (screams), he's going to leave his thousands of San Antonio fans something to remember him by.
In exchange for the bronze plaque which his myriads of teen-age admirers will bestow on him for favoring them with at visit, he'll present the presidents of the two local Elvis Presley Fan clubs, Sharon Porter and Linda Windham, with a shirt and a tie.
The shirt, presumably, will be one from right off his back. Where the tie will come from, no one seems to know. The 21-year-old rock 'n' roll performer is best known in fashion circles for his unbuttoned collar.
Elvis should be able to afford this demonstration of generosity. One of those helping to promote his appearance estimates that it will net around $10,000. "Of course," it was added, "that's just a conservative estimate. It could double that if the town really went wild."
And a large section of the teenage segment seems to likely do just that. Miss Georgia Young, in charge of ticket sales at her record shop at the Alamo Piano Co. says ticket sales are way up there, although she wouldn't give figures, because, she explained, A.V. Bamford of Hollywood, who is promoting Presley' four Texas appearance, mightn't like it.
"He's the greatest thing we ever had, says Miss Young. "Most of them buy a record along with the ticket. And they even kiss his picture on the ticket."
Ninety percent of the purchasers, naturally, are teen-agers, and the other 10 per cent are to adults who are (or pretend they are) going merely to accompany their sons and daughters.
The performances will be at 3 p.m. and 8 p.m. at the Bexar County Coliseum, and Miss Young is trying to discourage Presley devotees who say they will be at the coliseum at 6 a.,. to get a good seat, close up. "The doors won't be open that early," she says. Exact time of opening will depend on the size of the crowd, she added.
"There'll be plenty of Bexar County policemen to control the crowd," she said, "and special ones for Presley."
Elvis and his troupe probably will arrive Sunday from Houston, where they are scheduled to perform Saturday. Departure time has not been disclosed.

San Antonio News - October 12, 1956 courtesy Andy Crews and the San Antonio Public Library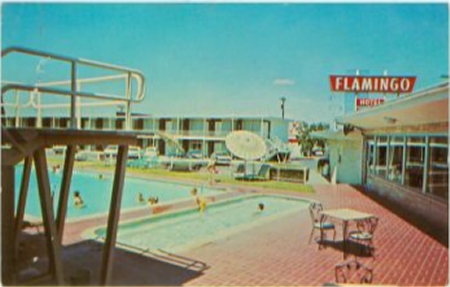 Flamingo Hotel at 1131 Austin Hwy in San Antonio, TX
postcard courtesy eBay
As reported in the paper the day of the show, where they would be staying while in San Antonio was not disclosed but for this show they stayed at the Flamingo Motor Hotel (now the Regency) on the Austin Highway.
Top Drawer Stuff
Presley Due at --Shh!
Elvis Presley will be in San Antonio Sunday, but when he arrives and where he'll stay was being kept very quiet Saturday.
Not even fan club officers who will be introduced to Presley were being briefed on when the exciting event will come off.
They're prepared for anything, however.
President Linda Windham reported pink and black uniforms are ready for wearing and a special gold plaque is ready for presenting.
She said: " I think we'll get to meet him before the 3 p. m. show, but we don't know yet. We hope we'll be able to present his plaque on the stage."
'SO NERVOUS'
The plaque, she declared is "just beautiful," and she added: "I'm getting so nervous. I've already made up my speech but it'll be short and sweet because I'm awful nervous."
Linda said plans are being made by a couple of local disc jockies to record the interview between Presley and fan club officers for their programs.
Queried on a rumor that Presley would present a shirt and tie to the local club, she said one of he officers had asked him for one but she had received no official word on the matter. She added:
"I will ask him for a souvenir, but I won't go as far as a shirt."
REASON FOR SECRET
The mobs of youngsters who have been trying to track Elvis down in other cities may be the reason no advance word is going out on his activities here.
It was reported, however, he would not even be in town before noon Sunday. Other than that no one's talking.
In fact its such a secret, reporters who are supposed to confer with the atomic-powered singer won't know when or where either until they get to the coliseum for the 3 p. m. show.
Second show is 8 p. m. and tickets are still available.
VOICES
This, and several calls like it, sighed through the phone Saturday night to The Light's city desk.
"Can you tell me where Elvis Presley is staying?"
A--No, that information hasn't been released.
"Well, you can tell me, I won't blab it to anyone."
Funny thing, not a single voice calling in was male.

San Antonio Light - October 14, 1956 courtesy Andy Crews and the San Antonio Public Library
When Elvis arrived at the Coliseum he was greeted backstage by the press and fan club members where he was presented a plaque from representatives of the fan club and a poem form a contest winner. Al Hickock of radio KEYS in Corpus Christi, TX recorded a brief interview with them and various members of the press: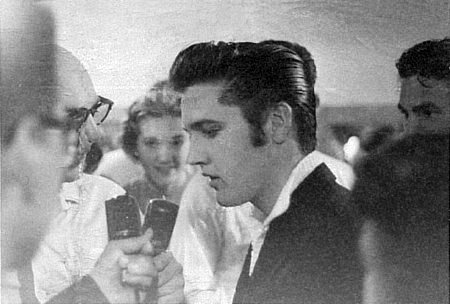 Elvis interviewed in the dressing room at Bexar County Coliseum - Oct 14, 1956
Click here if audio won't run in your browser
Photo courtesy FECC/LittleSister Audio courtesy Elvis.net

INTERVIEWERS: Al Hickock (host) with various media and fan club representatives.
SOURCE: Radio transcription made by KEYS radio, Corpus Christi, Texas.
[Al Hickock] Good afternoon. This is Al Hickock at the County Coliseum in San Antonio, Texas, where at this very moment the Elvis Presley show is going on, and being acclaimed by the shouts and stamping of many thousands of young Texans right here in San Antonio. Right now we'd like to bring you the one and only, the remarkable Mr. Elvis Presley.
Hello sir; how are you? Thanks for the big buildup. I remembered your face when I first walked in the door I really did but I'd forgotten where, you know.


Elvis and Marie Mendoza at Bexar County Coliseum - Oct 14, 1956
Photo courtesy FECC/LittleSister

[A.H.] How did you like the movies, Mr. Presley?
I loved it! I really enjoyed making it. It will be released Thanksgiving. . . Thanksgiving Day.
[Unknown] Do you have any plans for any more pictures?
Well, I have a contract. I have to do about ten more.
[Unknown] Ten more?
I don't know what they are or when they'll he. They maybe ten years from now, I don't know. But I have a contract for ten pictures.
[Unknown] How do you like picture work?
I love it!


Elvis poses with Marie Mendoza at Bexar County Coliseum - Oct 14, 1956
Photo by Gilbert Barrera © Institute of Texan Cultures, San Antonio Light Collection courtesy Andy Crews

[Unknown.] Oh good. I think you'll make a real good actor.
Well, I'm trying to learn. I'm not very good at it but I'm trying to learn.
[Unknown] Could You Tell us what type picture this is? Is it a Western or a musical, or what?
Its not a Western, honey, Its not a musical. Its a dramatic picture. Its a love story, hut it's not Western.
[Unknown] Who are the stars? Who plays opposite you, Elvis?
Debra Paget and Richard Egan. Its a very good cast. And they have a lot of big stars in the supporting cast.
[A.H.] When is your spectacular coming up, Elvis?
My spectacular?
[A.H.] Aren't you signed for a spectacular soon?
Spectacular? Not that I know of . .I haven't heard anything about it yet.
[Linda Wyndham] On behalf of the Elvis Presley Fan Club, the officers, and Sharon and myself; which we're both co-presidents, I'd like to give you this plaque to show how much we really like you. How much we really adore you, and how much we like your entertainment.
Thank you, darling.
[Linda Wyndham] And I wanna say, just keep up the good work, because we're so happy to give you this plaque. We've worked for it.
Bless your heart. I'll do my best, honey. I'll do everything I can.


Elvis autographs poem for Marie Mendoza at Bexar County Coliseum - Oct 14, 1956
Photo by Gilbert Barrera © Institute of Texan Cultures, San Antonio Light Collection

[Unknown Person] Is there one factor that you owe your success to, do you think?
I owe it mainly to the people.
[Unknown] Mr. Presley, what are you doing with your money, if it's polite to ask?
Oh. . saving it.
[Linda Wyndham] Mr. Presley; I'd like to ask a question.
Okay.
[Unknown] Just what are you trying to do? Are you trying to raise money, or are you trying to establish this type of music as a standard?
Am trying to raise money?
[Linda Wyndham] l mean, ah...just, ah (laughter). . .well naturally you're getting a lot of money out of it, but do you want to establish this type of music as a standard in the United States?
Honey, I'm just doing the best I can. I don't know what I'm trying to do or what I 've done. I'm just takin' every day as it comes along. I don't know what's gonna happen tomorrow.


Sherry Davis and Elvis in the dressing room at Bexar County Coliseum - Oct 14, 1956
Photo courtesy Steve Bonner

[Linda Wyndham] Mr. Presley, do you like just appealing to the teenagers or would you rather appeal to the whole crowd?
Honey, I'd like to appeal to the apes in Africa if I could (laughs).
[Unknown] Is "Love Me Tender" [recording] an indication of things to come?
Well if I can get another one that sells like "Love Me Tender". . . yeah.
[Unknown] Do you like slow music, as a whole?
Yeah.
[A.H.] How do you feel about your rapid success, Elvis?
Well it kind of scares you a little bit. Everything has happened so fast, as you know. I haven't had time to even think about it, really.
[A.H.] I've talked with some of your associates—people that work with you—and they say that you're still the same Elvis Presley that you were when you started out.
That's right.
[A.H.] I think that's a fabulous thing, Elvis. And thanks a lot for saying hello to us. I know you're pressed for time and your show's just about to start. Thanks a lot.
Thank you.

transcription courtesy Jerry Osborne's Elvis: Word for Word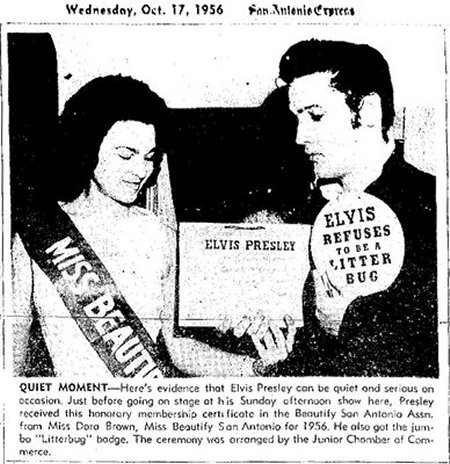 Dora Brown and Elvis at Bexar County Coliseum - Oct 14, 1956
clipping courtesy Brian Petersen

Elvis and Bill onstage at Bexar County Coliseum - Oct 14, 1956
Photo by Gilbert Barrera © Institute of Texan Cultures, San Antonio Light Collection courtesy Cristi Dragomir

By Connie Collum
Teen-Age Editor

Thousands of fans screamed, sobbed or gazed in a stony trance while Elvis Presley bumped around a raised stage in Bexar County Coliseum Sunday afternoon. Paid admissions totaled 6619 at the first of his two shows, in San Antonio Sunday.
Ninety per cent of his audience were teen-aged and female, but one middle-aged matron on the front row watched him with starry eyes.
Sunday night's performance, before a similar audience, was a repeat of the afternoon "concert."

Elvis Wiggles
"He's wonderful," she said, "I don't see anything wrong with him."


Bill and Elvis onstage at Bexar County Coliseum - Oct 14, 1956
Photo by Gilbert Barrera © Institute of Texan Cultures, San Antonio Light Collection

Elvis, in black suit with white tee-shirt and bucks, stood straddle legged, wiggling his hips, as fans fell to their knees before him and beat their palms and heads against the floor.
"Ahh, I want him. I want him," screamed one fan in a pink dress (Elvis' trademark is pink and black). Tears rolled down her cheeks. "I just want to touch him," she cried.
A girl collapsed on the floor. As police picked her up to carry her out, she struggled, ran, was recaptured and carried screaming out of view of her idol.


MAD FOR THE LAD - These teenagers, with Elvis written on their skirts and
engraved in their pounding hearts hear him out Sunday at Bexar County Coliseum
amid shouts, sighs and groans from many thousands of admirers
News Staff Photo courtesy Andy Crews and the San Antonio Public Library

Fan Weeps
Another fan sat on the floor and wept throughout Presley's part of the show. "I like him so much," she sobbed.
Elvis was the calmest person in the Coliseum. Once, as he leaned limply over the mike, arm swinging loosely and hair hanging over his face, Elvis looked out as his hysterical fans and laughed. The screams grew louder.
"I'd like to do a song," he said.
Only the beat of the music can be heard over the cries of the audience, but Elvis can be seen - and the faster he gyrates, the more frenzied his fans become.


GONE-Elvis Presley is whipped up to a lather here as he gyrates and tries to sing
above the thousands of screams and sighs at Bexar County Coliseum. He failed.
Express Staff Photo courtesy Andy Crews and the San Antonio Public Library

Fan Rush Stage
Several fans rushed the stage and were escorted out. One girl did not know her name. "Oh, oh, oh," she babbled incoherently, not taking her eyes off the stage, "I don't remember."
His appeal is indescribable, they say, "I'm not here to find out what it is," one girl explained.
"He just makes me feels so crazy," squealed another, hugging herself.
Screaming was at its height and fans were pressing closer to the stage as Elvis finished his last number. He gyrated off the stage on the last notes of the song and jumped into a waiting car. The car left rubber streaks as it squealed out of the Coliseum. The escape took eight seconds.

Mob Dressing Room
Hundreds of screaming young girls mobbed the dressing room door chanting, "We want Elvis. We want Elvis." They refused to believe he had gone.
Fifteen minutes after Elvis' departure, the Coliseum proper was almost deserted. Two girls sprawled across chairs.
"We're gonna rest awhile, man, we're tired," they said. They were coming back for his 8 p.m. performance, they added.
Seventy-five of Elvis fan club members were at the Coliseum at 7 a.m. Sunday. Others arrived as much as six hours before the show.


SENT?-Sobbing and vibrating with emotion, this bobby soxer screams loudly as Elvis
a particularly "gone" series of rock 'n' roll notes. Girl at right, who bought binoculars
to get a closer look at Elvis, finds her girl friend a bigger sight instead.
Express Staff Photo courtesy Andy Crews and the San Antonio Public Library

Friends of Elvis
"We've been here cheering for Elvis," they said. Hundreds chanted, "Hey, Hey, Ho, Ho, Come On Elvis, Let's Go!"
Fans were asked to give consideration to the acts preceding Presley's appearance.
The audience cheered when they were told that the performers were personal friends of Elvis' and clapped enthusiastically for the hour and one half variety show.
Besieged by the press (each San Antonio High School sent reporters) in the dressing room before his appearance, Elvis was calm, friendly and cooperative. "


Elvis and the Jordonaires onstage at Bexar County Coliseum - Oct 14, 1956
Photo courtesy Ana Fernández Sangil

"Really Nice"
"He's really nice," said a photographer.
He hugged fan club presidents and contest winner Marie Mendoza, Sharon Porter and Linda Windham, answered questions, posed for pictures and signed autographs quickly, then was rushed to the midst of his hysterical fans.
"I'm doing the best I can," he said of his music. "I let each day take care of itself."
Of his success he said, "kind of scares you."

San Antonio Express October 15, 1956 courtesy Andy Crews and the San Antonio Public Library

Elvis and Scotty onstage at Bexar County Coliseum - Oct 14, 1956
Photo by Gilbert Barrera © Institute of Texan Cultures, San Antonio Light Collection courtesy Brian Petersen
PRESLEY SINGS HERE, ESCAPES TO SING AGAIN
By Bill Freeman
Staff Writer

Elvis Presley, the rock-and- unholy-roller, turned Bexar County Coliseum into a bedlam of squealing, crawling, wild-eyed teenagers in two performances Sunday—and then made a successful escape.
Large portions of afternoon and evening integrated audiences, estimated at total of almost 12,000, went on uninhabited emotional binges at the sight and sound of the nations newest and most frantic teen-agers' heart throb.
In a far more startling performance than that of the Tennessee guitar-picker himself, bobby-sox girls moaned, wept, pulled their hair and crawled from arena chairs in efforts to reach Presley, whose bump-and-grind routines shocked at least some of the more mature members of the audiences.


MAN, SHE FLIPPED-Frenzied fan falls to the floor, struggles, runs, is re-captured and
carried out by stoic policemen at Elvis Presley's afternoon show in the Coliseum Sunday.
"That poor girl will miss the last Elvis," another fan moaned.--
Express Photo by Tarsikes courtesy Andy Crews and the San Antonio Public Library

At least one hysterical teen-aged girl swooned from excitement, and was carried from the arena by three policemen.
Elvis, perhaps the calmest person there, sang a dozen songs but only a couple were audible over the chanting, rhythm-clapping and feet stomping of the hard core of his audience seated in the arena directly in front of the stage at the rodeo-chute end of the arena.
Clad in a black suit, white sportshirt and white buckskin shoes, Elvis aimed all his charm at female teen-agers in the special section in front of him, Not once did he even favor other listeners with as much as a casual glance.
He changed to a green jacket, pink tie and green shirt for the evening show.
Once Presley looked at the writhing, shrieking youngsters and laughed.
Ninety per cent of his audience was female and teen-aged, but more matronly faces were visible here and there- including one in the front row at the afternoon performance.


THREE STEPS TO SWOON-Elvis Presley, boy wonder among the country's teen set,
shows above how he brings out a swoon among his young fans. In foreground. girl at
left kicks as she starts to receive his "message," in middle, girl glows before swoon hits
and girl at right is pictured in a deep "Presley Swoon." Presley appeared Sunday in
Bexar County Coliseum
News Staff Photo courtesy Andy Crews and the San Antonio Public Library

The frenzied set-—the young girls in the special section —- was clad for the most part in pink and black—well known as Elvis' favorite colors. They wore black skirts and pink blouses and waved colored pompoms. Reaction from boys wasn't as enthusiastic.
The daytime audience began arriving at the coliseum as early as 7:30 am., seven and one-half hours before the afternoon performance.
Half a dozen teen-agers - boys and girls - attempted to reach Presley's dressing room via a ventilation shaft at the rear of the Coliseum but were barred by policemen at a window. Angered at the officer's action, a girl kicked glass from the window and then stared defiantly at the guards.
Meanwhile, back at the arena, the audience was chanting, "Aaah. I want him," "He makes me feel just crazy," "He's wonderful," and "We want Elvis." From the evening audience of some 5,000, however, Elvis heard a dozen or so male-voiced "boos."


San Antonio News clipping courtesy Andy Crews and the San Antonio Public Library

Equal to the occasion, he stepped to the microphone and replied "Boo," touching off another female demonstration.
Elvis' handlers wouldn't permit him to get within grasp of a female teen-ager. when he posed for photographers, his managers allowed only young children or old ladies to pose with him.
At a press conference preceding the afternoon show, Presley was calm and cooperative. He answered questions and declared his success was the type that "kind of scares you."
He had a hug for Sharon Porter and Linda Windham, Presley fan club presidents, and Marie Mendoza, winner of a "Meet Elvis Presley" contest by a radio station.
A large number of Negroes who saw the performances were scattered throughout the coliseum. Twenty policemen were stationed at strategic points to hold the audience in check.
They couldn't control emotions though. A 12-year-old girl accidentally dropped a photo of Presley but retrieved it, whispering, "Of, Elvis! What have I done?"


Elvis fans peeking under metal door at Bexar County Coliseum - Oct 14, 1956
Photo by Gilbert Barrera © Institute of Texan Cultures, San Antonio Light Collection courtesy Andy Crews

Presley caught the audience unawares at the end of his afternoon performance. As he crooned the last words of his final number, he leaped form the stage and dashed through a gate where horses gallop in during rodeos.
The unbelieving audience was hushed momentarily. Then with new shrieks and cries, the bobby soxers sprang from the chairs to give chase. they went around and over automobiles parked on either side of the stage.
But Elvis leaped into a speeding Cadillac and was whisked away, the car's tire squealing like his own fans. He made what is perhaps the fastest getaway in the history of the coliseum. He was gone in an estimated eight seconds.
Refusing to believe he had deserted them, hundreds of young girls pressed around his empty dressing room. Some of them remained for the evening performance.
Monday, the song was over but nerves shattered by rock-'n-roll jittered on.


Elvis in the dressing room before evening show at the Coliseum - Oct 14, 1956
Photo by Sherry Davis courtesy Steve Bonner

TOP of the NEWS
By Paul Thompson
Associate Editor

They booed the one and only Elvis Presley at Bexar County Coliseum Sunday night. But it didn't last.
Elvis is unaccustomed to such treatment.
"Boo-ooo-oo," went a couple of dozen male throats when he was introduced to some 5,000 fans, mostly small females with high voices.
Presley, not a bit mad, grabbed the mike and said, "Boo." He then smiled, a white flashing thing.
This cause a vast wave of girlish shrieks and squeals and abdominal groans that lasted the rest of the evening. if any of the boys booed again, you couldn't hear them.

Same Old Body
Elvis was at his best for the San Antonio faithful. As usual, he got more body english into his songs than a Ubangi with doctor trying to cure pestilence. This was particularly true of his closing rendition, a tuneful little piece entitled, "You Ain't Nothin' But A Houn' Dawg."
Presley also sang, "Money Honey," "I Gotta Woman." "Don't Be Cruel," "Heartbreak Hotel," "Love Me Tender," and five or six other numbers peculiarly adapted to his roaring hillbilly style.
Each song was accompanied by violent wigglings of the hands, shoulders, navel and pelvis.
The ladies present went wild over Presley's voice. when his body began churning, they went stark nuts. Many of the smaller girls opened their mouths and left them open in one long, horrible scream.


1 - Barred from Presley's dressing room, girl and boy peer through window via
ventilation shaft at coliseum before policeman closed the window...
News Staff Photo courtesy Andy Crews and the San Antonio Public Library

Very Unbothered
Presley takes for granted the odd noises emanating from his teen-age girl worshippers. He is just as casual about some of the things they do, such as trying to mob him or falling flat on their little kissers in a swoon.
One innocent looking miss, who probably went to Sunday school in the morning, flew into a rage at night when police wouldn't let her talk to Presley in his dressing room. She had climbed down a cement wall to get at a window of the room.
Then she opened the window, spotted Elvis and let out a piercing yell.
A county officer pushed her back and shut the window. Whambo! She kicked out a reinforced pane.
The debonair Presley, old for 21, paid no attention to any of it.


2 - Moments later, young girl with eyes glazed, is pictured after she kicked out the
glass for a closer view of her side-burned hero
News Staff Photo courtesy Andy Crews and the San Antonio Public Library

Real Elegant
For the benefit of those who like classy garb, Elvis had on a green coat, green tie, pink shirt, white shoes and black pants. The pants set off his white shoes and the coat set off his white teeth.
For those interested in music, here is how Presley works:
Seizing a mike by the head, he yanks it at a 45-dgree angle backwards. right next to the mouthpiece goes his face, sort of caressingly. When he moves, the mike moves with him.
His voice hits the mike about two inches from his teeth.
There is no sense underrating the Presley voice, which sells over a million copies of practically all its records. Natural quality and sex appeal and the deftest of technique are in that voice.
Only trouble is you can't hear it. The screeching little girls won't let you.


He Bumps... He Grinds... He Kicks... He Twists... He Runs...
News Staff Photos courtesy Andy Crews and the San Antonio Public Library

Hard To Figure
Georgia Young of the Alamo Piano Company reports that 12,000 fans paid to see Presley in San Antonio. As to why a pair of shows by one hillbilly crooner from Tennessee should expect such a pull, she leaves that up to Psychiatrists, who seem to be going nutty on the subject.
Amateur observers at Bexar County coliseum saw the Presley show as a diluted sex experience for thousands of small girls who aren't supposed to know what sex is.
If Elvis and his pelvic writhings have nothing to do with sex, they could be tapping the old jungle instinct toward mass hootin' and hollerin,' a job normally left to revivalists among the poor and unlettered.

San Antonio News - October 15, 1956 courtesy Andy Crews and the San Antonio Public Library


DJ, Bill, Elvis and Scotty onstage at Bexar County Coliseum - Oct 14, 1956
Photo by Sherry Davis courtesy Steve Bonner
LOOKING AROUND
Elvis' Act Gets Tag Of 'Vulgarity'
By Carl Atkins

Elvis Presley gave two performances Sunday afternoon at the Coliseum and San Antonio teen-agers paid howling homage to their present day idol of entertainment.
From various other news sources it is abundantly evident that Presley shattered the calm Sunday climate of the Alamo City as no other set of straight pipes have been able to do before him.
Elvis Presley works in the atmosphere of a cheap carnival where art plays a poor second to blatant commercialism. Everything is on sale from 8-by-10 photos of the singer to a cheap charm bracelet, and seemingly like most everything connected with this young man value seems to have no relationship to price.
Amid all the hysteria and frenzy generated by this young man in the green coat, one question kept coming to mind--the question of talent.
That Presley has a voice of sorts is, of course, evident at most any hour of the day. That his singing is deserving of the adulation heaped upon it by his benighted fans is not so evident--during performances it is almost impossible to hear him.
It really doesn't matter whether he is heard or not because as far as could be seen, the audience comes to give vent to their own emotions, to get into the act.
And Presley serves only as a motivation for the release of emotion. He might even be a substitute for the more difficult business of thinking.
From his recordings it is possible to discover a fairly pleasant voice of no particular distinction, but in an era of entertainment where the criteria for judging a performer is mostly composed of sensationalism and gadgetry, Elvis Presley stands as a young man who has correctly assessed the needs and desires of his frankly unintellectual following and has proceeded to fulfill those needs and desires.
It is an appalling commentary on the taste of his audiences that he does it in such bad taste, fo his act as presented in San Antonio was the essence of vulgarity.
Any evaluation of Presley must invariably stand up against Frank Sinatra as the only other recent performer who has caught the teen-age fancy in such overwhelming fashion.
Sinatra came to his fame after some years of earnest, thoughtful work, and when he slipped, it was talent that brought him back as a better singer and a first-rate actor.
On the basis of his San Antonio appearance, his television performances, and his recordings, Presley does not possess anywhere near the talent belonging to Sinatra.
Whether Presley holds his previous position or falls into obscurity from which he seems to have emerged like Venus rising from the sea depends upon his ability to clean up his act and to increase his somewhat minor talent. Only time can tell what his course will be, but already rumblings have been heard in the distance.

San Antonio News - October 15, 1956 courtesy Andy Crews and the San Antonio Public Library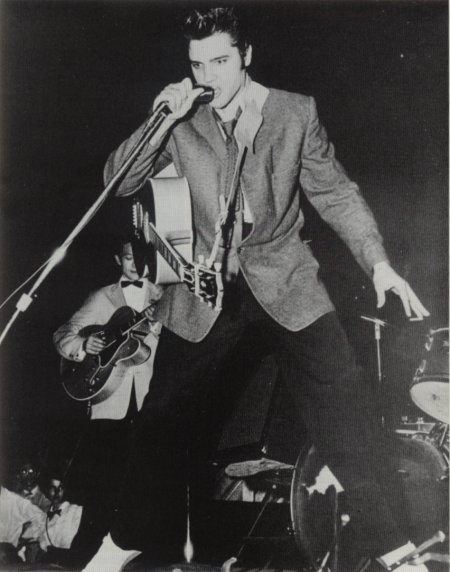 Scotty and Elvis onstage at Bexar County Coliseum - Oct 14, 1956
Photo courtesy Elvis Album
Barbara Ann Dupree, the attorney's secretary, and Bobbie Nell Klatt, the USAA staffer, are two Elvis Presley fans who figured out a way to get autographs last week. Shortly before the end of the night performance, they left the coliseum, drove outside the coliseum grounds and waited for the car which was to whisk Presley away to the Flamingo Motel. Earlier the girls attended a performance and familiarized themselves with the routine. They had a pair of white gloves and a photo they wanted Presley to autograph. First, they got one glove signed when his car stopped for a traffic signal light. Then, upon his arrival at the Flamingo, he autographed the other glove and photo.

San Antonio Light - October 22, 1956 courtesy Andy Crews and the San Antonio Public Library
In November, Billboard magazine reported that the total paid attendance at the two Elvis Presley shows staged at the Bexar County Coliseum was 10,517 and the box-office gross for the two shows was reported to be $17,378.7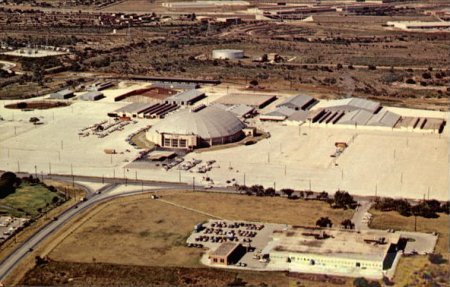 Joe Freeman Coliseum - c.1960s
By 1959 the Coliseum was renamed the Joe Freeman Coliseum. In the 60s, The Coliseum played host to a variety of events that included home and automotive shows, Holiday on Ice, Chamber of Commerce Annual Meetings, Ballet Folklorico de Mexico, Pittsburgh Symphony with Van Cliburn, Duke Ellington Review, Policeman's Benefit Ball, Ice Capades and the Harlem Globetrotters and in the 70s, Jack Orbin and Stone City Attractions brought in major rock concerts such as KISS and Rod Stewart.6

Joe Freeman Coliseum - c.1960s
From the late 70s to mid 80s significant physical changes to the building were made like the installation of air conditioning in order to provide comfort and accommodate additional events of interest to the community and in the 80s the Coliseum grossed its first million. Chairs from the Hemisfair Arena in the early '90s replaced the original red, yellow and green wooden chairs in the Coliseum and seating now is 9,500 for motor sports, rodeos and professional bull riding, 9,800 for basketball and up to 11,700 for concerts, boxing and wrestling.6&3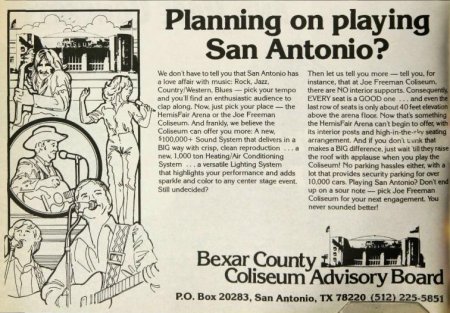 Music promotional Ad for the Joe Freeman Coliseum - Aug 18, 1979
Photo courtesy Billboard
The 80s saw acts by Rap and Rock stars such as Salt 'N' Peppa's "Wrappin Tour", a Run DMC concert, "Dope Jam", and other timely acts such as Milli Vanilli, New Edition and Menudo in concert and the '90s saw acts such as Green Day, Queensryche, Bush, and No Doubt.6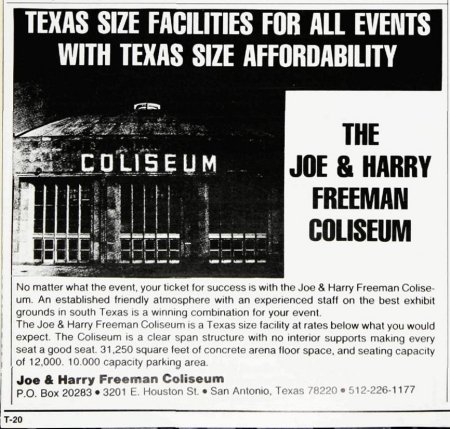 promotional Ad for the Joe & Harry Freeman Coliseum - Jul 5, 1986
Photo courtesy Billboard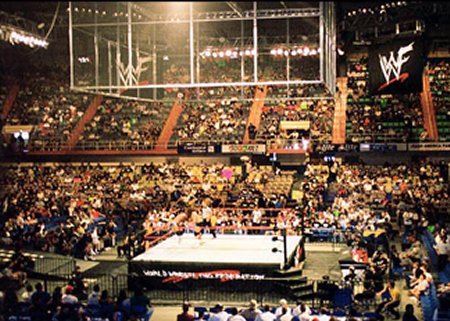 Wrestling in the Joe and Harry Freeman Coliseum
Photo © Freeman Coliseum
By 1986 it was renamed the "Joe and Harry Freeman Coliseum." The building hosted several professional wrestling events - The WWF's Tuesday in Texas in 1991 and the Survivor Series in 1994. The original San Antonio Iguanas were introduced at the Coliseum as San Antonio's first hockey team in 1994 and it was later home to the San Antonio Dragons from 1996-1998.6

Basketball in the Joe and Harry Freeman Coliseum
Photo © Freeman Coliseum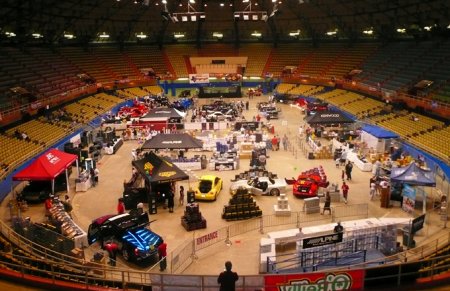 Heatwave Custom Car Show in the Joe and Harry Freeman Coliseum
Photo © Freeman Coliseum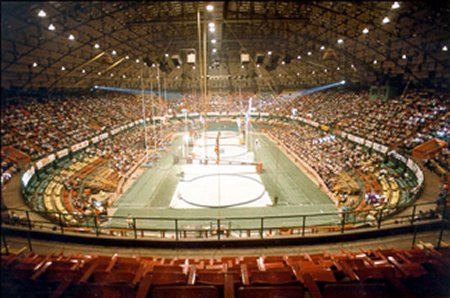 The Circus at the Joe and Harry Freeman Coliseum
Photo © Freeman Coliseum
In 1998 the Coliseum hosted the NABC All-Star Game in March as part of the 1998 NCAA Final Four. Other events held in the past and annually include low rider car shows, WWF Wrestling matches, religious ceremonies, Harlem Globetrotters basketball, arts & crafts shows and hunting and fishing expositions.6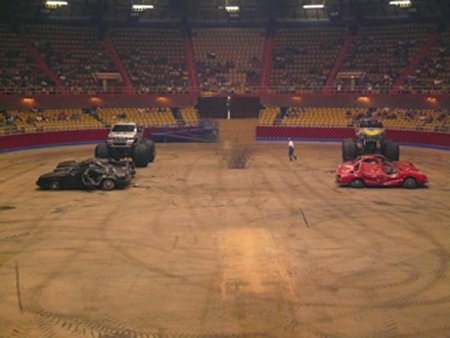 Monster Truck Show in the Joe and Harry Freeman Coliseum
Photo © Freeman Coliseum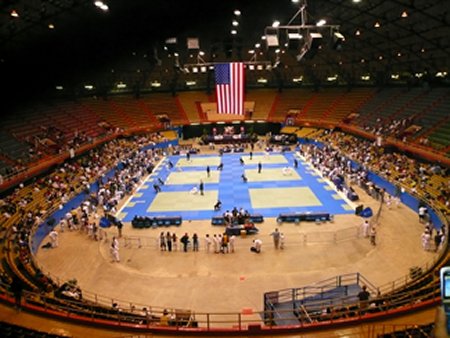 Judo championships in the Joe and Harry Freeman Coliseum
Photo © Freeman Coliseum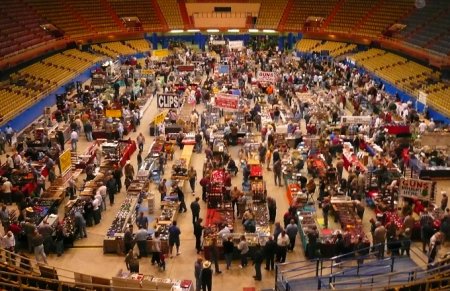 Saxet Gun Show in the Joe and Harry Freeman Coliseum
Photo © Freeman Coliseum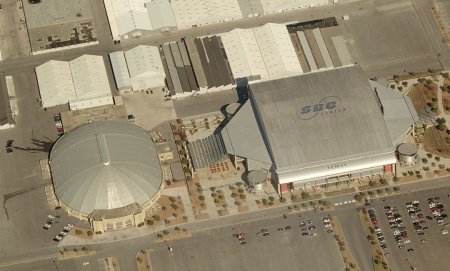 Aerial view Freeman Coliseum and the SBC (AT&T) Center - 2009
Photo © Microsoft EarthData
In 2003 the SBC Center (now known as the AT&T Center) opened next door to the Coliseum providing over 6,000 more seats and for the first time since 1950 the rodeo & concert performance of the San Antonio Stock Show & Rodeo was not held in the Coliseum. However, the Coliseum then became the home to hundreds of commercial vendors providing the perfect venue for rodeo patrons ready to shop.2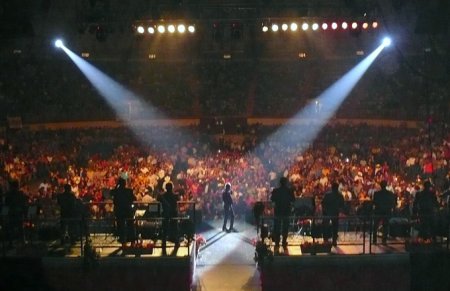 Vicente Fernandez Concert - Oct 28, 2005
Photo © Freeman Coliseum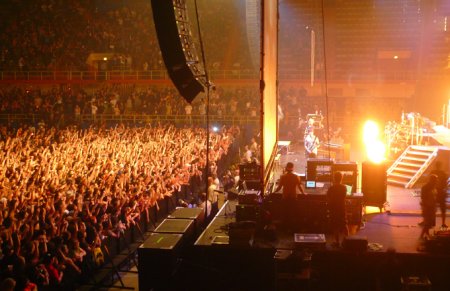 Taste of Chaos tour - April 5, 2008
Photo © Freeman Coliseum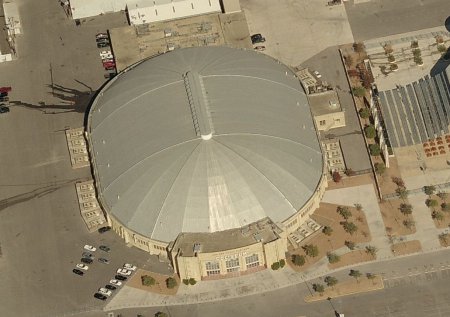 Aerial view Freeman Coliseum - 2009
Photo © Microsoft EarthData
Today the Joe and Harry Freeman coliseum it is still owned by Bexar County residents. The operations are still funded through event revenues and are overseen by a five member Coliseum Advisory Board (CAB) nominated and approved by Commissioners Court and serve a two-year term.8 In 2010, $10 million was allocated for building improvements which included replacing the lower seating section, upgrading to Adults with Disability standards, heating, ventilation and air-conditioning upgrades and a new sound system and stage.9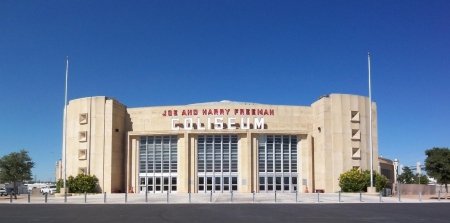 The Joe and Harry Freeman Coliseum
Photo by Browning courtesy Wikipedia
Elvis would later return to San Antonio with the TCB band to perform in the '70s, three more times. The first was on April 18, 1972. By then though he would perform at the 10,000 seat Hemisphere, with an additional 1,000 seats added to a sellout crowd of 11,000. He also appeared in San Antonio on October 8, 1974 and August 27, 1976.10
Page added October 5, 2010
All ads and articles except where specified are courtesy of the San Antonio Public Library. Special thanks to Andy Crews, CA Archivist/Librarian at the San Antonio Public Library for his assistance with this page.
1according to Freeman Ranch History: The Freeman Brothers
2 according to San Antonio Stock Show & Rodeo - Mission History
3 according to wikipedia
4 according to Institute of Texan Cultures
5 according to Billboard - September 22, 1956
6 courtesy FREEMAN COLISEUM: A TIMELINE OF MEMORIES By: Wendy McCauley
7 according to Billboard magazine - November 3, 1956
8 according to Bexar County: Frequently Asked Questions
9 according to Bexar County Community Venue Project - Overall Fund Summary Fund 911 FY 2009-10 Budget
10 according to Elvis Presley in Concert