Rockabilly Heaven
West Texas in The 50's
The untold story of the Cavaliers 1956-1964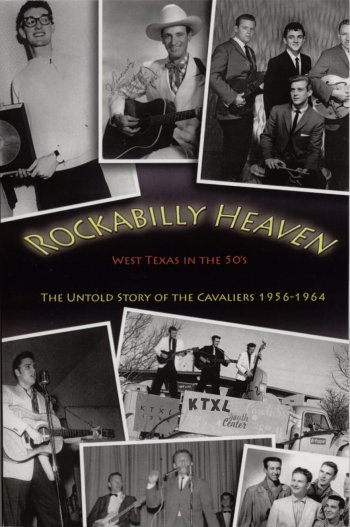 Rockabilly Heaven - ISBN 978-0-615-54048-1
Cover design by Gary Scott Holmes, Crowley, Texas
Ft. Phantom Lake Publishing - Ft. Worth, TX
Elvis, Scotty and Bill are often credited as being pioneers of a style of music referred to as "Rockabilly," and for many they were its first introduction. At the very least they were in great part responsible for altering the course of many young aspiring entertainers, several from West Texas, in particular, Buddy Holly and Roy Orbison.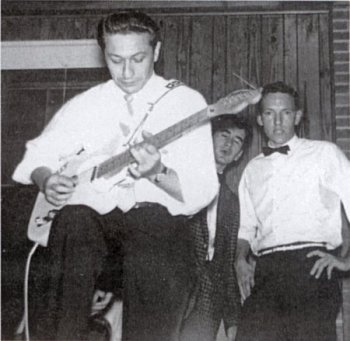 Scotty (with Sid's guitar), Tommy Ruble and Sid Holmes - 1959
Photo © Sid Holmes
One aspiring band from San Angelo, Texas that got its start in 1956 and would get to meet and perform with many of their idols was the Cavaliers. They were initially comprised of Alton Baird, Carroll Smith and Sid Holmes. Rockabilly Heaven is a book recently written by Sid and is basically told as the recollections and experiences of the Cavaliers, with chapters on the artists they met and were inspired by and their attempt to make it in music from 1956 to 1964.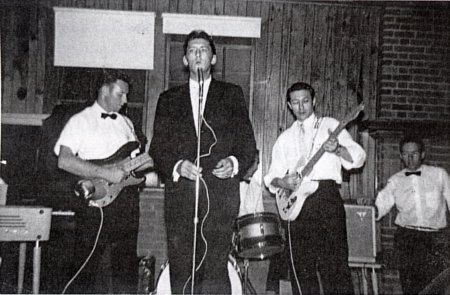 Carroll Smith, Thomas Wayne, Ron Stovall, Scotty and Sid Holmes - 1959
Photo © Sid Holmes
Not all of the details are completely accurate, at least regarding the minutia in histories of some of their idols, but what it lacks in that respect it certainly makes up for in the plethora of photos from that era. Some you've seen before and have been reprinted, but others are unpublished.

Thomas Wayne, Carroll Smith, Scotty (with Sid Holmes' guitar) and Ron Stovall - 1959
Photo © Sid Holmes
Three in particular that we liked were of Scotty and Thomas Wayne backed by Sid and the Cavaliers. Scotty especially liked these because he and Thomas were very close, like brothers and Scotty really suffered when Thomas was killed in an auto accident. Years ago while at a guitar show in Dallas, he had a few minutes to look at Sid's scrapbook and was mildly surprised seeing himself with Sid's Fender Telecaster.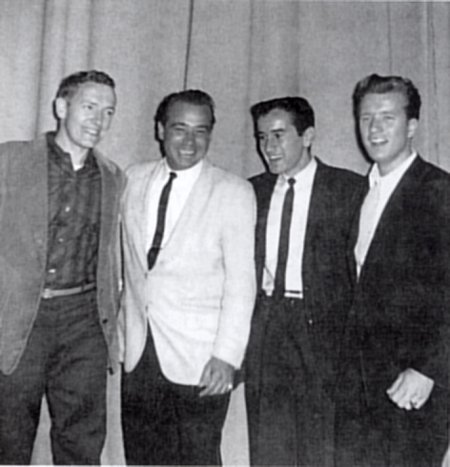 Sid Holmes, Bill Black, Tommy Ruble and Buzz Cason at Ellis auditorium
Photo © Sid Holmes
The first 100 copies of the book have been distributed with a bonus CD by the Cavaliers. Many copies were given to area school, college and town libraries in addition to former band members and artists' families. Copies of "Rockabilly Heaven" West Texas in the 50s...the Untold Story of The Cavaliers can be obtained through the West Texas Music Hall of Fame and Museum.

Arthur Smith's Guitar Boogie Shuffle by Sid Holmes and Cavalier Slideshow
Page added March 27, 2012

Special thanks to Sid Holmes for the use of the pictures and for our copies of the book.