Fernwood Records
Elvis left for the Army in March of 1958 and work for Scotty, Bill and DJ dried up with the completion of King Creole. Back in Memphis, Bill went to work for Ace Appliances and Scotty, collecting unemployment for about a week bought into in a startup recording studio and label, Fernwood Records. They stayed in contact however and occasionally worked together on recording projects.1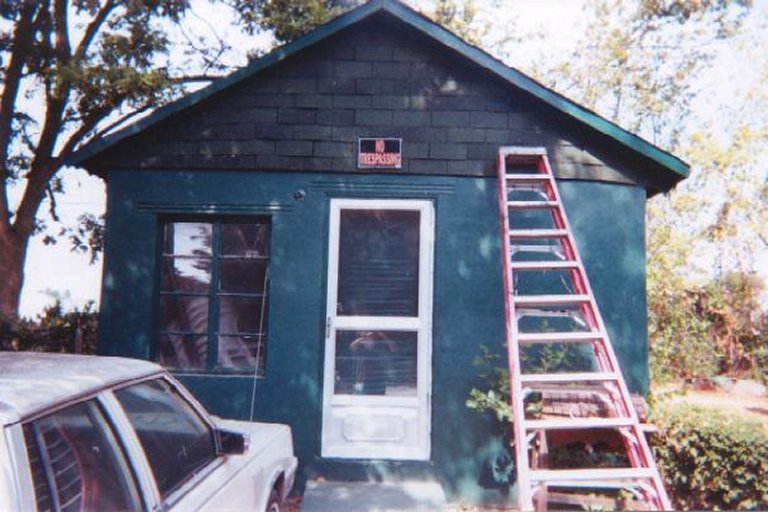 The garage at 158 Fernwood Drive in Memphis where Fernwood Records started
Photo by Sloppy Joe courtesy Juke 'n Jam
Fernwood got its start in 1956 when Ronald ''Slim'' Wallace, a part-time truck driver and night club owner, partnered with Jack Clement to start a recording studio in the garage behind his home at 152 Fernwood Drive in Memphis. They had played together in a western swing band called the Dixie Ramblers along with Billy Lee Riley. One of the first recordings they did was for Billy and after Jack brought it to Sam Phillips at Sun for mastering Sam offered Billy a contract and Jack a job which ended their association with Slim and Fernwood. Sam purchased the masters and issued Riley's debut single in May 1956.2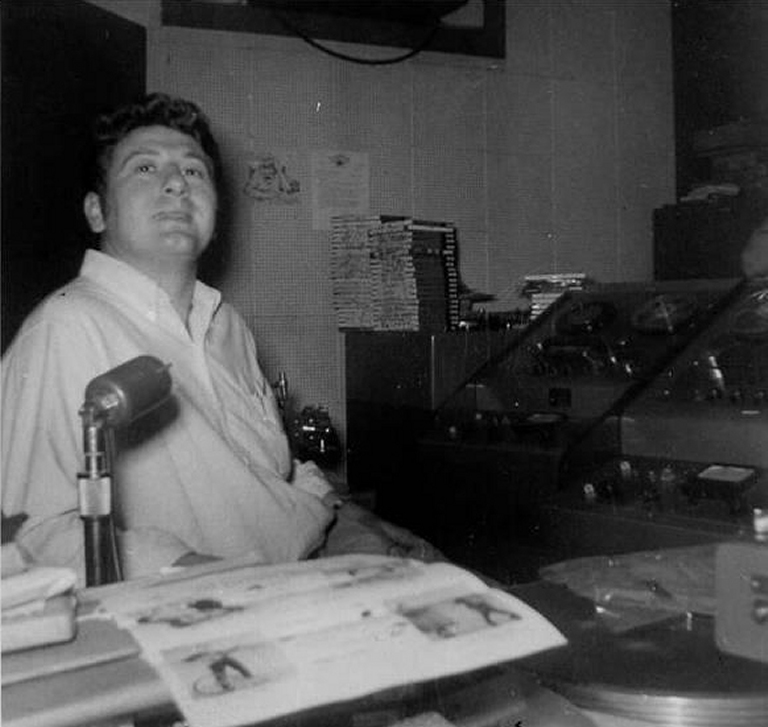 Jack Clement at Sun in Memphis - ca. 1958
Photo courtesy Martin Willis
Scotty, as Vice-President of Fernwood was also made studio producer. When he started he said, Slim had two or three microphones and a little mono tape recorder.1 The recorder was an older Magnacord tape recorder that had been bought from Sleepy-Eyed John Lepley, the WHHM disc jockey that ran the eight piece western swing band that Jack Clement played in at the Eagle's Nest and who had also booked Elvis, Scotty and Bill there. I took a few pieces of gear out and we started recording this and that, said Scotty.1&2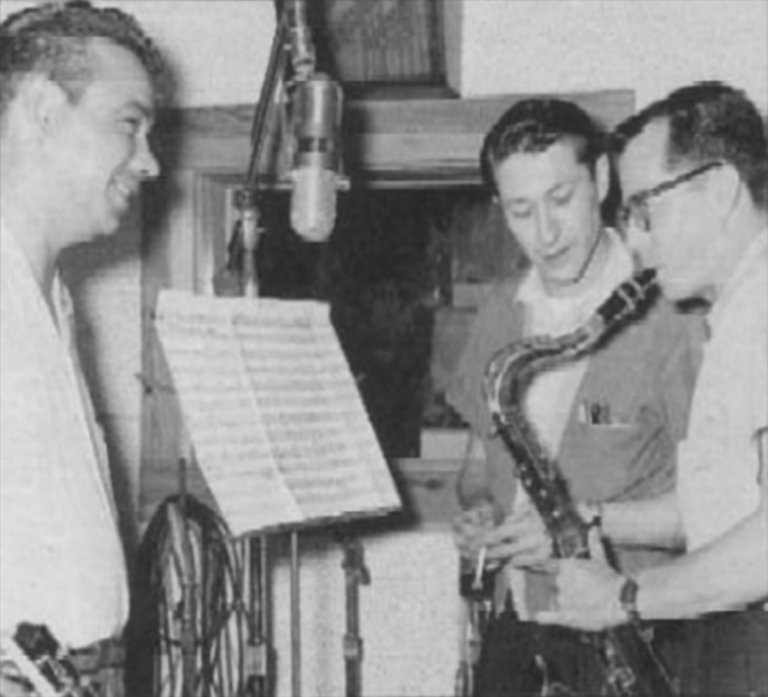 Bill Black, Scotty and Joe Lee
Among the sessions Scotty produced was one for Travis Wammack backed by Eddie Bond's Stompers which also had Reggie Young on guitar and Smokey Joe Baugh on piano.2 Scotty became good friends with Reggie and would often book him for sessions at Fernwood, which more often than not wound up with them drinking Thunderbird wine out on the curb.1 Scotty also recorded a single of his own, Have Guitar Will Travel, an instrumental that also included Bill on bass and Joe Lee on sax. The biggest, if not only hit however, for Fernwood was by Thomas Wayne.2
Thomas Wayne Perkins was originally from Batesville, Mississippi and was the younger brother of Luther Perkins who, along with Marshall Grant, comprised Johnny Cash's Tennessee Two. He used to deliver newspapers to Scotty when he lived on Belz Street next to Bill. While still a senior at Humes High School in 1958 he auditioned for Scotty at his home. Scotty liked what he heard and brought him to Fernwood. One of their first demos was a song written by a newcomer to Memphis, Chips Moman, called This Time. It was was picked up by the Mercury label though a deal signing Thomas with them never materialized.1
His next single, and the one that was the biggest hit was a song brought to and written buy a deejay from Kentucky that Scotty had met previously while touring, Gerald Nelson, and Fred Burch, a college student. The title came from a course Burch had been taking on Aristotelian tragedies. Chet Atkins had heard it heard it in Nashville first and liked it, as well as Sam Phillips but both declined to use it. Gerald played it for Scotty on the sidewalk with a Ukulele and Scotty immediately thought of it for Thomas. Instead of Slim's garage though Scotty decided to record it at Hi Records' studio on S. Lauderdale Street where they had recently installed new equipment. It was reputedly the first time the tape machine was used though Scotty later took the tape to WMPS, the station Bob Neal worked, where they had two Ampex recorders so that he could add echo ("slapback") like Sam used to. The song also featured Thomas' girlfriend Nancy Reed, and her two friends, Sandra Brown and Carol Moss, (the DeLons) singing backup. Scotty and Bill were the only musicians. In September Fernwood released it as a single, the B side to the up-tempo Saturday Date, also by Nelson and Burch.1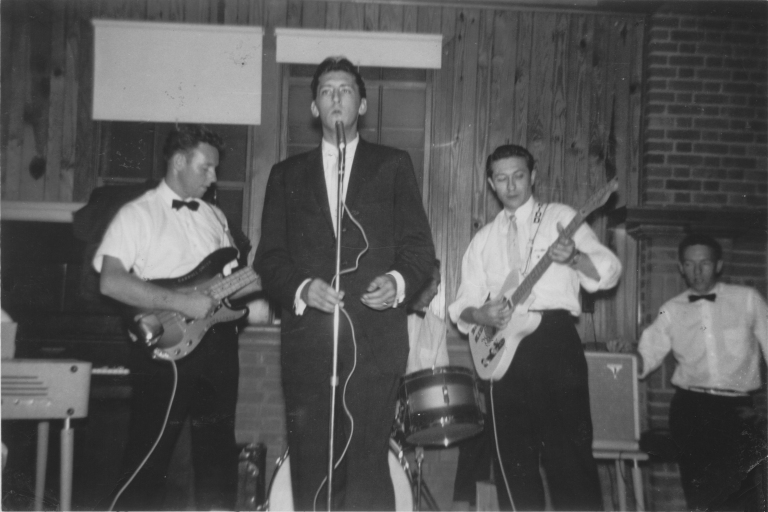 Carroll Smith Ron Stovall and Sid Holmes of the Cavaliers back Thomas Wayne and Scotty at a record hop in Poplarville, MS - ca. 1959
Photo © Sid Holmes
Though Saturday Date was not making much of an impact Scotty pushed the record, taking Thomas to regional radio stations and record hops.1 At one in Poplarville, MS, they were backed by Sid Holmes and the Cavaliers, who were promoting their own single. Sid's sister Sylvia was a disc jockey in New Orleans and she, Sid and Thomas rode together back to New Orleans getting a flat on the Pontchartrain bridge. Scotty put in a good word for her when he got back Memphis.3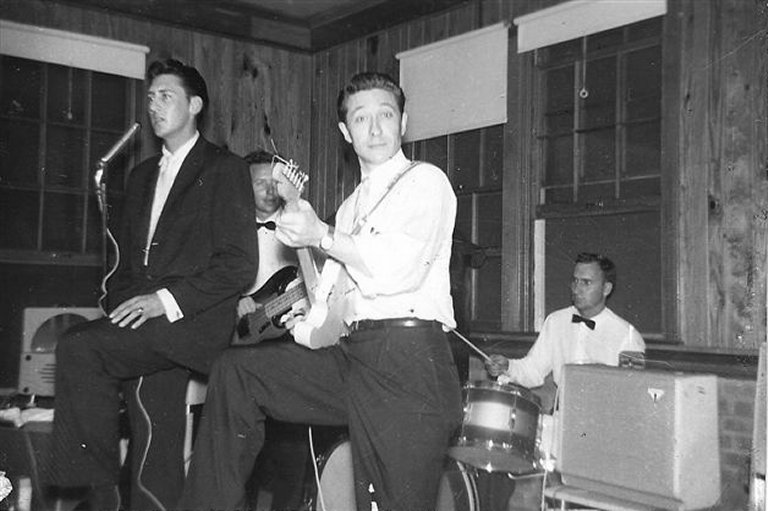 Thomas Wayne and Scotty (with Sid Holmes' guitar) backed by Carroll Smith and Ron Stovall of the Cavaliers - ca. 1959
Photo © Sid Holmes
Originally from West Texas, and then New Orleans, Sid and Tommy Ruble the lead singer for the Cavaliers had relocated to Memphis when Sylvia started there as a disc jockey. There he rebuilt the band with Memphis area musicians. Ace Cannon would sit in with their band on Sundays and then Ed Logan became their sax player. Both would go on to become part of Bill Black's Combo at times. The Cavilers would also record at Fernwood in 1960. Tommy Ruble eventually went on to become one of Memphis' popular club acts.3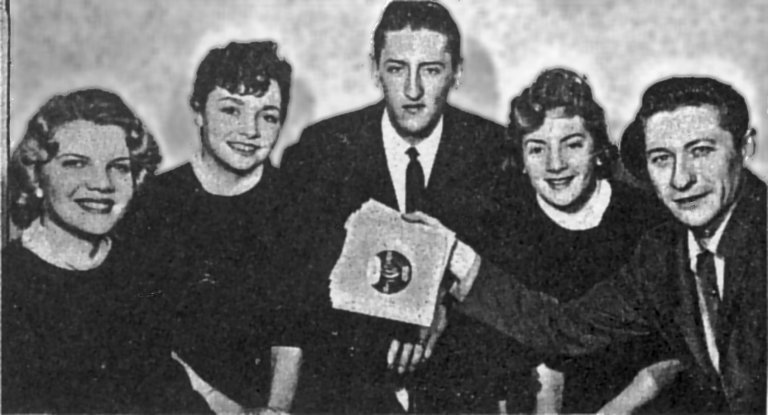 Carol Moss Calhoun Manzo, Sandra Brown (Wayne), Thomas Wayne, Nancy Reed and Scotty - 1959
courtesy Colin Escott's Good Rockin' Tonight
In the spring of 1959 a disc jockey in Kentucky started playing the B side in heavy rotations. By March, Tragedy had risen to #8 on the national charts. Lacking adequate means to promote it they hired Steve Brodie of Buffalo, NY, to push it nationally and paid him five cents a record. They added Memphis attorney Robert Buckalew as a third partner who along with Brodie convinced record pressing plants to give them credit. It eventually reached #5 in the Billboard Hot 100 and #20 in the R&B charts and Fernwood grossed about $600,000, of which $150,000 went to the pressing plants.1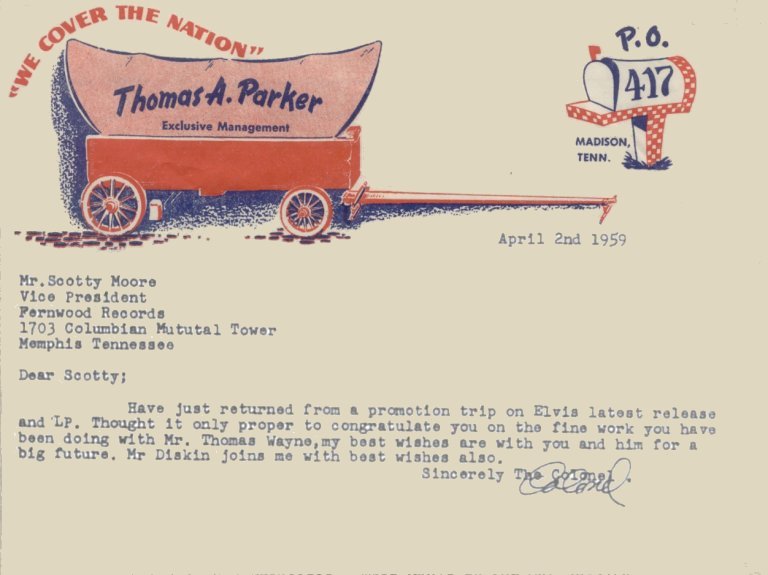 colorized reproduction of the letter sent from Colonel Tom Parker
courtesy Scotty Moore and That's Alright Elvis
Scotty sent a copy to Colonel Parker, who responded with a letter of congratulations. Most of the money was funneled back into Fernwood Records and they rented an office downtown in the Columbian Mutual Tower Building, at 60 N. Main (now called the Lincoln American Tower) where Bob Buckalew was located. They also built a fully equipped studio in a rented building at 297 North Main Street. It was near the river on the corner of Commerce Street, not far from Lauderdale courts.1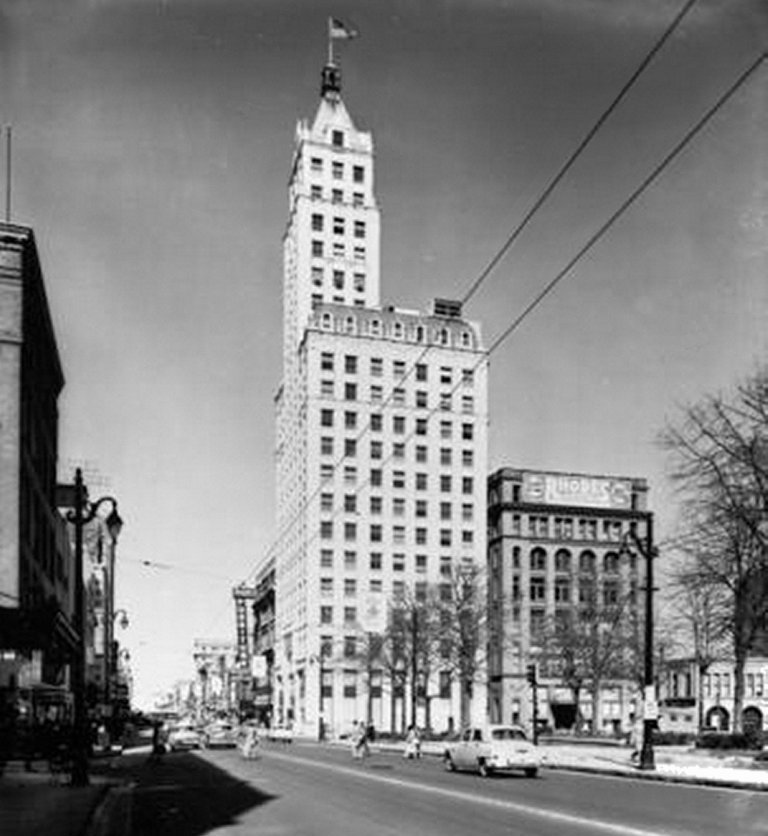 The Columbian Mutual Tower Building at 60 N. Main - ca. 1961
Photo © Mrs. Don Newman
Scotty then put together a touring band behind Thomas consisting of himself, Bill, D. J. and Reggie Young. Scotty was coming and going so fast, he sometimes lost his sense of direction. Reggie remembers one night when they returned to Memphis at three o'clock in the morning. We pulled up in front of Scotty's house, stopping out in the middle of the street, said Reggie. He just got out, left the car running, and went into the house and went to bed. Bill or someone slid over and took us home.1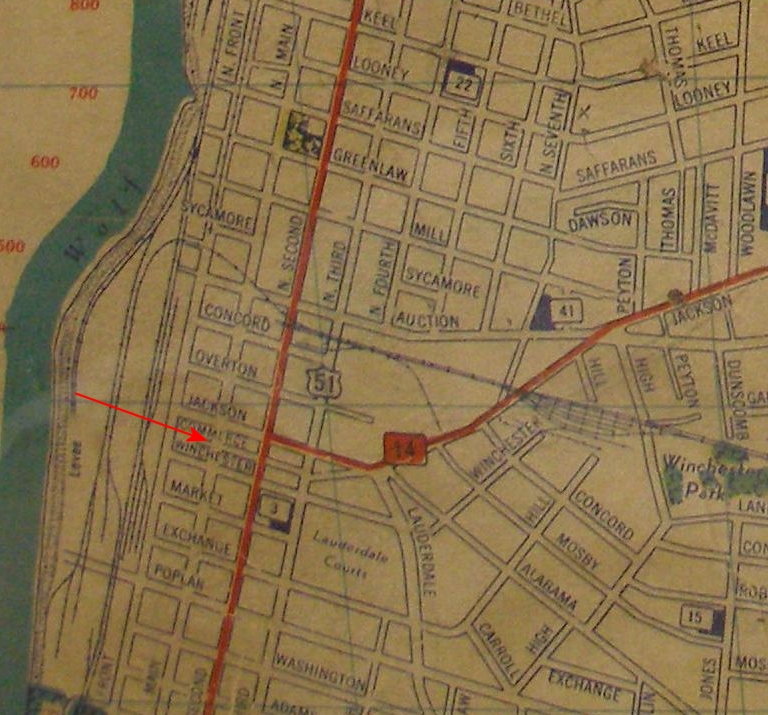 portion of map of North Memphis indicating location of Fernwood Studio on at 297 North Main - ca.1950
courtesy Michael Freeman
There were subsequent Fernwood releases by Thomas, including several more written by Fred Burch and Gerald Nelson who would later write several songs for Elvis and others, but none that were as successful as Tragedy. Scotty then recorded a couple of instrumentals from songwriter Sharri Paullus with Bill again on bass but Ace Cannon on Sax. The songs The Gambler and It's Not Fun Loving You were released on Rave Records, Sharri's husband's label, and were reminiscent of the style recorded later by Bill Black's Combo.1


Fernwood Records check to payroll account signed by Scotty - Oct. 21, 1959
Photo courtesy PFC Auctions
By the end of the year the money brought in by Tragedy was starting to run out and when Elvis got out of the Army in March Scotty had hopes of going back on the road with him. They had a session at RCA Studio B scheduled and an appearance in Miami on Frank Sinatra's special. Bill had been approached about returning as well but by this time was doing very well with Bill Black's Combo, the band he and Reggie had started with sessions at Hi Records. Though he very much enjoyed playing with Elvis he was still disappointed in the treatment they had received. Elvis also asked Scotty if he would run a studio a Graceland that RCA had offered to build but that too was something that never materialized or mentioned again.1

Thomas Wayne adjusts the microphone for Ringo Star during the recording of Beaucoups of Blues sessions in Nashville - 1970
Photo © Scotty Moore
By the summer of 1960 Scotty sold his interests in Fernwood and went to work for Sam Phillips at his new studio on Madison Avenue as studio production manager and chief cutting engineer where he produced Jerry Lee Lewis and others. Thomas Wayne released one single at Sun and eventually moved into production work.4 Elvis recorded a song written by Thomas, The Girl Next Door Went A Walking. He died in a car accident in Memphis on August 15, 1971.5

Where the studio at 297 N. Main Street in Memphis was - Aug. 2011
Photo © Google
After two years in the Army Reggie briefly rejoined Bill Black's Combo and then became one of the most sought after sessionists in Memphis and Nashville. Fernwood Records operated sporadically until 1968 when the Mississippi flooded destroying the facility at 297 North Main Street. Pilings for the Hernando Desoto (I-40) bridge built not long after now stand in that location. Fernwood's last release was made by Glenn Honeycutt, an original bandmate of Slim Wallace, Jack Clement and Billy Lee Riley.4
page added March 16, 2014
1 according to or excerpt from Scotty Moore and Jim Dickinson in That's Alright Elvis
2 according to or excerpt from David Travis - July, 1998 courtesy Rockabilly HOF
3 according to Sid Holmes and West Texas Music HOF
4 according to or excerpt from Good Rockin' Tonight by Colin Escott
5 according to Allmusic Artist Biography
---
A few cancelled checks from Fernwood from the collection of Larry Moss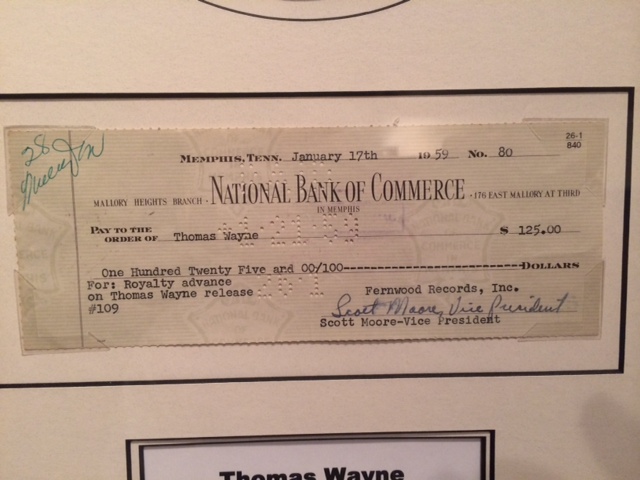 Photo © Larry Moss, added Apr. 9, 2014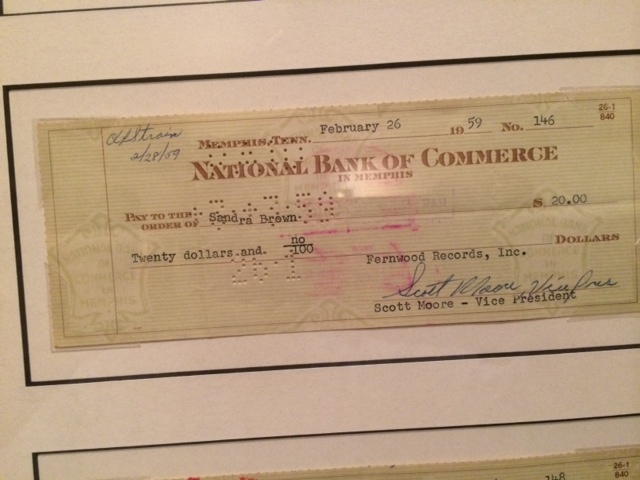 Photo © Larry Moss, added Apr. 9, 2014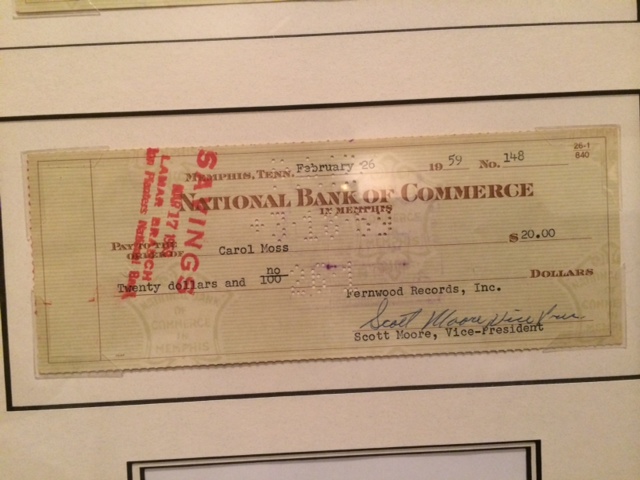 Photo © Larry Moss, added Apr. 9, 2014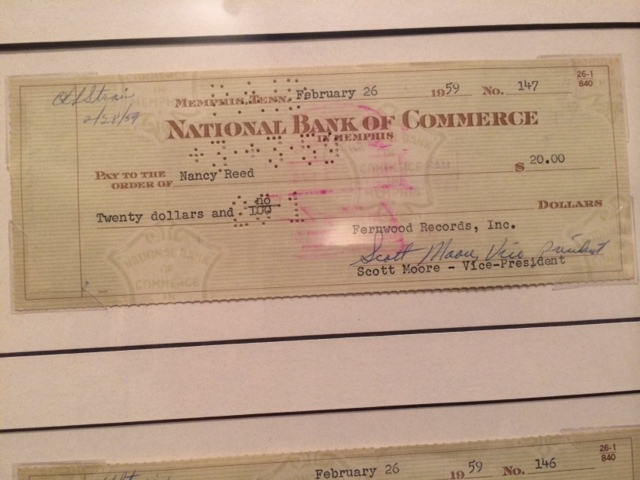 Photo © Larry Moss, added Apr. 9, 2014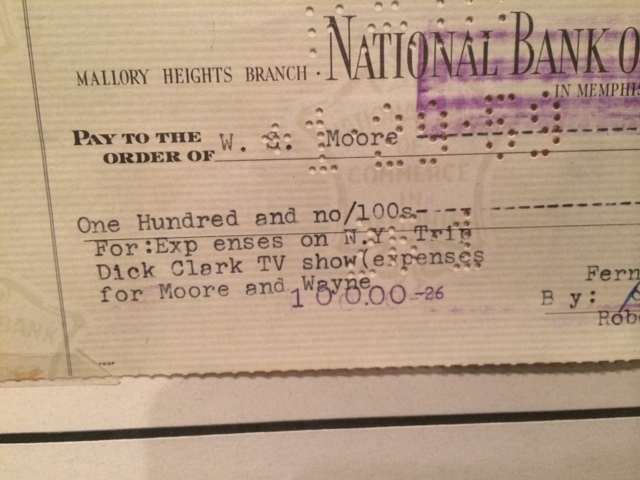 Photo © Larry Moss, added Apr. 9, 2014

Photo © Larry Moss, added Apr. 9, 2014
---
Last year I received an email from one of the DeLons that recorded with Thomas Wayne and for Scotty in the '50s. With her permission I've shared the correspondence here:
My name is Carol Moss Calhoun Manzo. I am 1/3 of the DeLons trio. We worked with Scotty in the late fifties and early sixties. I am now living in Cleveland, Tennessee. I have lived all over the world and have lost touch with some of my roots. I am still in contact with Sandra and Nancy who were the other 2/3 of the group. Please give a message to Scottie for me. I would love to talk to Scottie and perhaps come to see him in the near future when I am in Nashville.

I know that you must get tons of communication but I think that Scotty would like to know that he is still loved and thought of where we are concerned. When we were working with him, he was the one who beat the wolves off us and kept us in the right place at the right time.

Carol Ruth Manzo
December 12, 2013
I forwarded her contact info to Scotty and naturally responded with several questions. Ultimately it motivated me to complete the page about Fernwood I had planned years ago. Her latest response is as follows:
Hello James,

I was born in Memphis, Tennessee, July 12, 1941. I went to high school in Memphis at Central High School. That is where I met Nancy Reed and Sandra Brown (her maiden name). We started out the trio singing in churches and at social functions. Sandra met Thomas (Perkins) Wayne and they married and later had a set of twins. Thomas was later killed when he was in an automobile accident. He drove off an unfinished interstate highway as I am sure that you know.

We connected up with Scotty Moore. Scotty was always our hero. It was like we were part of his family. We were very young and I think he felt responsible for us. The music business at that time was not the best place for young girls to be. We were mature girls but we were still very young in our teens. Scotty had all the experience and knowledge that we lacked and quietly imparted to three young (new and green in the business) girls. We loved Scotty and still do and look forward to seeing him soon.

This experience with Scotty and the recording business was one of the most exciting rewarding times of my life. We met people we would never have come in contact with otherwise. I never met (that I can recall over 50 years later) anyone who was rude or out of place with us. Everyone was courteous and treated us like young ladies should be treated. The DeLons traveled with Thomas and Scottie on road trips. I was not able to go on the trips because I had enrolled in Memphis State College (at the time).


Nancy, Sandra, Carol and Thomas on the Wink Martindale Show
courtesy web


Thomas with gold record for Tragedy
courtesy web

We appeared on Wink Martindale's Dance Party and a couple of other television programs, which was a real treat for young ladies like Nancy, Sandra, and me. What an exciting time for us. All the Jukeboxes carried "Tragedy" by Thomas Wayne and The DeLons because it was a million seller which was unusual for that time. I had friend in El Paso, Texas and he said it was on the Jukeboxes there. Looking back on that time I think it was an extremely momentous time in all our lives.

I maybe able to get pictures of Nancy Reed later. However, we have lost touch with Sandra. Sandra is the one that was married to Thomas Wayne they had a set of twins. She is now married to a dentist in Louisiana, the last I heard.

Oh, by the way I have plans to go and see Scotty in Nashville in a few weeks. I have talked to him a couple of times in the last month and he said it was good for me to come. Shall we make some pictures while I am there.

Scotty was working with Thomas when we started recording. We made "Tragedy" and the flip side was "Saturday Date". We recorded in 1959. I remember doing some recording with Bill Black and D.J. Fontana but I don't think it was any of Thomas's recordings but I am not sure. At that time Scotty got us sessions to do background with two other people. I believe one was Dickie Lee and the other one was with a dentist who was recorded. I don't recall his name.

I remember Bill and D.J. and we worked with them some. I think that may have been early on shortly after the Elvis thing went south. And the thing I remember about Bill was that no matter where we were or what we were doing he could make us laugh with something he said or said. He could make some of the funniest faces that I ever saw. Honestly, Bill said and did funny things. But I honestly think he did not know how funny he really was.

I was always amazed at the hours it took to make a three minute record. We would sing and sing and then we redo what we had just done. In in my College English class I wrote a paper about it. I talked about the doing and redoing to make a 3 minute records. Actually, it may have been three and a half minutes...honestly, at the time I was having so much fun I really didn't care what the time was. And all that fun and they paid us too.

We made $750 each for all the work. But that was only if the record sold a million copies. And it did. There is no telling how much prayer time we spent during that time. I thought about a book on "How To Make A Million Dollars In Three Minutes". Of course, that would have been a farce because we spent months and months making those records and hours and hours and hours and hours going over and over the same material until it was perfect.

When you are with 15 + people there are mistakes and take overs. And it was not unheard of for someone to get tickled at something that happened and it was CUT TAKE OVER.... one...two...three go. Sometimes I wonder how Scotty did it with all the take overs. Of course, Scottie, was not completely innocent of the bloops. He did his share of them. But with Scotty, he did them so seldom no one would say a word or rase him about it.

And I must admit that the DeLons were sometimes the reason for the take over because we were clowns as much as the guys were. And sometimes we could get away with crazy things that the seasoned guys couldn't.


Carol Moss Calhoun Manzo, formerly of The DeLons - Feb. 2014

Thank you and God bless you,

Carol Manzo
February 20, 2014
added March 16, 2014
---
On April 2nd of 2014 Carol Manzo and Nancy Reed of the Delons drove to Nashville to visit with Scotty. Billy Swan and Chip Young also dropped by to visit and Billy sent these pictures he took with his ipod.
Around Christmas of 2013, Scotty received a call from one of the DeLons, the girl group that was the back-up group on Thomas Wayne's "TRAGEDY", recorded while Scotty was at Fernwood Studios while Elvis was in the Army. Scotty had not spoken to any of the DeLons since the time of the recording, which was in 1958.


Nancy Reed and Carol Manzo of the DeLons with Scotty - April 2, 2014
Photo © Billy Swan

Her name is Carol Manzo and she lives currently in East Tennessee. They chatted for some time and she asked if she and one other member, Nancy, could come and visit him. Nancy lives in Texas and would be visiting in the Spring. He said he'd love to see them. When they worked together, the girls were seniors in high school, Scotty was 28. They are now 72 and he is 82!


Gail Pollock, Chip Young and Scotty - April 2, 2014
Photo © Billy Swan

On April 2 they arrived around lunch time. On that day, Scotty and I were also having a visit from Billy Swan and Chip Young, our friends of more than 40 years. Chip and Billy got there first, then Gail came in from a doctor's appointment. The girls called and Gail and Billy went to pick up a bucket of chicken for lunch. When everyone got back, intros were made, lunch was fixed, and we all had a great visit. Scotty had copies of some 45's of Thomas's music, many of which the Delons were on, and we listened to some really good music. Although they had not seen each other in many years, Scotty and the girls just fell right back into an easy friendship as we have seen with many old musicians and singers. It was great to watch! Billy and Chip of course are also musicians (and singers) of many years, and they were just as at home as Scotty. I was the only outsider (I'm a bookkeeper) but was included in the group, too.


Chip Young and Scotty - April 2, 2014
Photo © Billy Swan

I gave them some cd's of Scotty's work and some copies of Thomas's material and they left after several hours of a visit which I hope they enjoyed as much as Scotty, Billy, Chip and I did! It was good to see Scotty and the girls so happy to see each other (Scotty LOVES women!) and we hope they can come again to see us.

Gail Pollock
April 8, 2014 (text added)
photos added April 3, 2014