Skyline Club
Austin, TX

Drawing of the Skyline Club in Austin
courtesy Copperfield Area - Northeast Austin Historical Notes
In the late 1940's country and western music was at a peak and in 1948 the Skyline Club opened two and a half miles north of Austin's city limits, on the old Dallas Highway, a roadway lit up by nightclubs. The club was jointly owned by Warren, Gerald and Margaret Stark and was a "roadhouse" in the traditional sense. Hank Thompson said, "It was a small place. You were right there with the audience, and they'd just all gang around. It was a fun place to play from that standpoint. The ceiling was low and the stage sat only a few inches higher than the hardwood dance floor. "At that time it would only hold about two hundred, maybe two fifty at the most. We'd always have it jam- packed with people. It was a very intimate place to play."1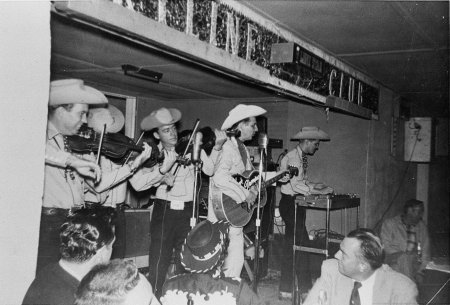 Hank Thompson at the Skyline Club
Photo courtesy Ger J. Rijff
Other accounts described it as large, with room for approximately 500 people, but concur with its popularity, often a crowded place on Wednesdays or Thursdays with "10 cent Beer Night." Cars would park not only near the Skyline Club, but also on the east side of the roadway, oftentimes creating difficulty for traffic.2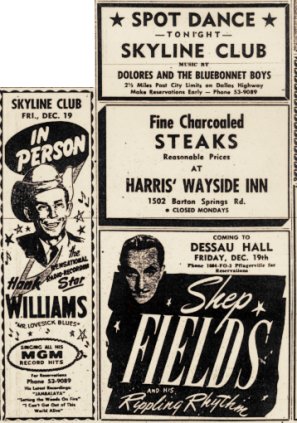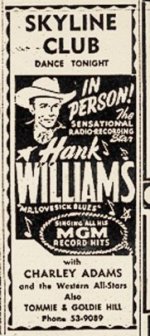 December 1952 ads for the Skyline and Dessau Hall in Austin Statesman
courtesy Copperfield Area - Northeast Austin Historical Notes
Aside from being a popular venue for a plethora of country music artists at the time, including many from the Louisiana Hayride, it is historically significant as the venue for the last public performances of both Hank Williams and Johnny Horton, albeit eight years apart. Hank made his last public performance on December 19, 1952.
Austin resident James Grabowske was a steel player in several prominent Austin bands and a member of the the Skyline's house band at the time. He had backed up Hank a number of times at both the Skyline and nearby Dessau Hall. He recalled, you had to close at 12 a.m. Back then they had the liquor laws. Normally, we would open the show, and then the guest headliner would make three special presentations. We would play 30 minutes or longer, they would come on and play 30 minutes, then they would leave, and we would play. They would come back three different times. He (Hank) barely made it to the first show. He tried to make the second stage appearance, but he was shaking too bad. And, of course, we all felt sorry for him, but then, evidently, Warren saw what was happening and came and got him.1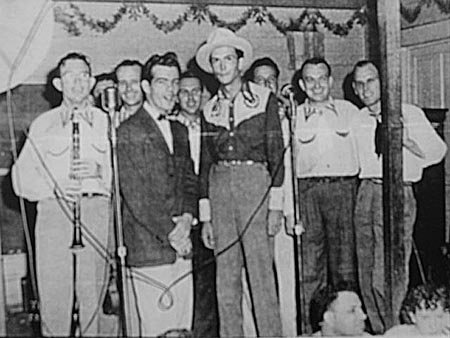 Hank Williams and James Grabowske in rear to his' immediate left at Dessau Hall - 1950
Photo courtesy Jim Grabowske and The Austin Chronicle
Just under two weeks later Hank would die in the backseat of his Cadillac on the way to a New Years gig in Canton, Ohio. He was only 29. Strangely enough it is reputed that he was wearing blue suede shoes at the time. Almost three years later, October 6, 1955, Elvis, Scotty and Bill made their only appearance at the Skyline. It was their third appearance in the Austin vicinity, having played the Sportcenter just over a month before.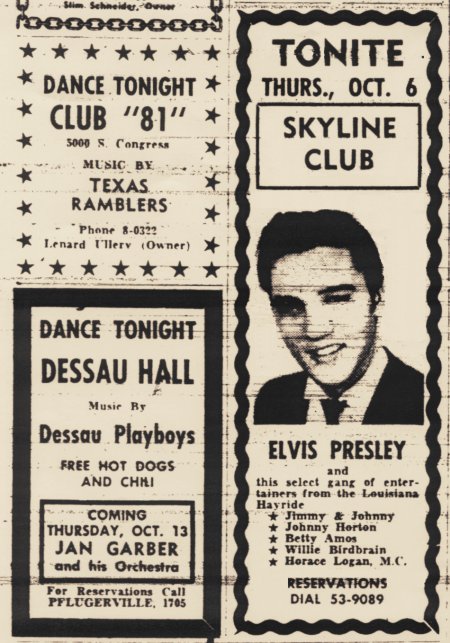 October 6, 1955 ads for the Skyline and Dessau Hall in Austin Statesman
courtesy Austin History Center
The show at the Skyline was their second appearance that day having played a show in the afternoon at Southwest Texas State University in San Marcos, about 30 miles south. Peter Guralnick, in Elvis Day by Day, wrote that the group's gross income for September was $3,300 and that starting in October the band was put on a fixed salary of $200 a week when they worked, with a retainer of $100 when they weren't.3 According to Scotty, Bob Neal told them it had been decided that their old verbal agreement, whereby Elvis received 50 percent and Scotty and Bill each received 25 percent, was no longer acceptable.4

Elvis at the Skyline Club - Oct. 6, 1955
Photo courtesy Ger Rijff
Scotty and Bill were devastated. It was the end of the Blue Moon Boys. They had begun with Elvis as partners. Now they were nothing more than salaried sidemen. They never had a written contract, so they didn't have a legal leg to stand on. They threatened to quit, in a quiet sort of way, but Neal was adamant: take it or leave it. Scotty and Bill blamed it on Parker, but Neal told them it was not Parker's doing, a story he has stuck to over the years.4
According to Neal: "The eventual basic decision [to put the band on salary] went back to Elvis. We talked about it quite a few times, talked about it with his parents, and finally decided that it had to be done. I had to handle that, and remember that there was quite a bit of unhappiness at that time plus threats that maybe they would quit, but as it worked out they went ahead in that particular situation."5 Despite Neal's protestations that it was not Parker - and evidence that the decision was indeed made by Elvis - to this day Scotty refuses to believe Elvis would betray him.4

There was no show booked for the following day so Elvis and Tillman Franks took a bus to Houston to see "Western Swing" king Bob Wills at Cook's Hoedown Club while everyone else relaxed and made their way back to Shreveport for Saturday's Hayride commitment. According to Franks, neither Elvis nor Wills were particularly impressed with the other.3 Together, Elvis, Scotty and Bill would make one more appearance in Austin the following January at the Coliseum.

Tillman Franks, Johnny Horton and Tommy Tomlinson - ca. 1960
Photo courtesy Rockabilly HOF
Johnny Horton was on the same bill as Elvis, Scotty and Bill boys at the Skyline appearance, in addition to their last date in Austin at the Sportcenter in August. He had been a member of the Hayride since 1952 and had become friendly with Hanks Williams but that year in 1955 Tillman Franks took over as his manager and his career started to take off. He would later have a hit with The Battle of New Orleans.
Like Hank Williams, his last ever appearance was also a show at the Skyline Club, on November 4, 1960. He was killed later that night driving to Shreveport in a head on collision with a truck driven by a drunk driver. Both Tillman Franks and guitarist Tommy Tomlinson were in the car and injured in the crash. If it isn't strangely coincidental enough, Horton also happened to be married at the time to Billie Jean Jones, Hank's second wife and widow.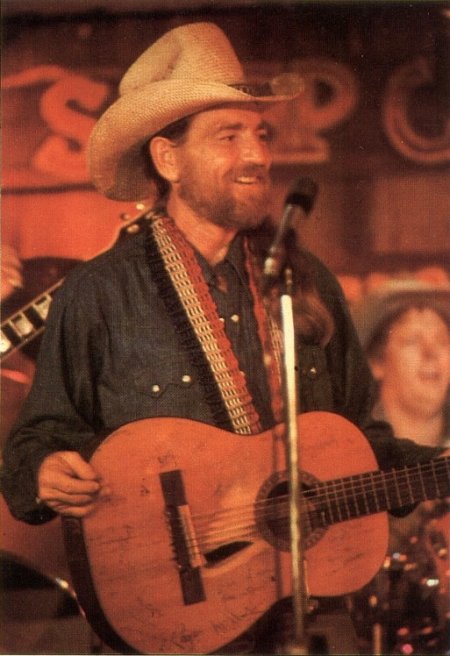 Willie Nelson onstage at the Soap Creek Saloon (Skyline) in Honeysuckle Rose - 1980
Photo © Columbia Records/CBS Inc.
James Grabowske, once again a member of the house band at the Skyline, just happened to be backing Horton that night too. Grabowske would play with Jody Meredith & the Roundup Boys at the Skyline until the mid-Sixties. By the Sixties, country-music audiences were in flux. Times were changing fast: Not only was the genre evolving into "countrypolitan"; progressive country was rearing its shaggy head. Even when Asleep at the Wheel kicked off the Western swing revival in the Seventies, it was regarded with cultish adoration and not the broad acceptance of audiences from the Forties and Fifties. The sun had set on an era.6
The Skyline was owned by the Starks until the early Seventies. According to Charles Stark, Warren's nephew, the new owners of the property bought it simply for a land investment. For a time it was rented out for use by another Austin nightclub, the Soap Creek Saloon. During that time several scenes from the film Honeysuckle Rose starring Willie Nelson were filmed there.7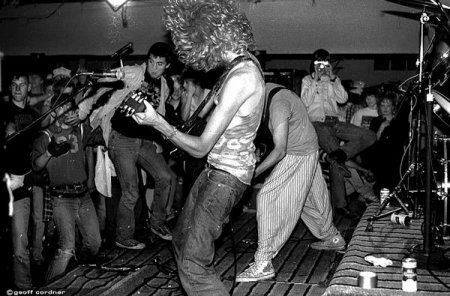 The Meat Puppets onstage at the Skyline c. 1984
Photo © Geoff Cordner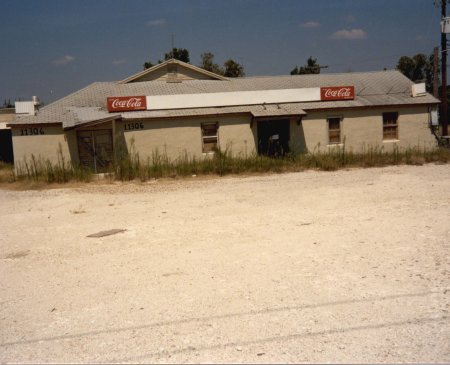 The Skyline Club on North Lamar Blvd. - ca. 1988
Photo © Steve Bonner
During the Eighties as the music changed, it became a popular venue for rock and punk music but by 1989 the club would be closed and Austin's urban sprawl had engulfed the area around it.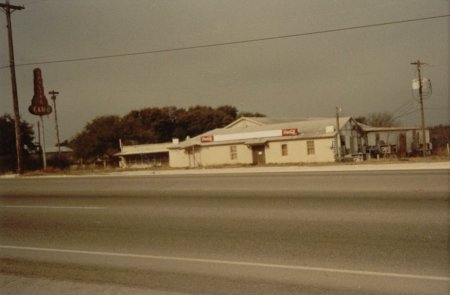 The Skyline Club on North Lamar Blvd. - ca. 1988
Photo courtesy Ger Rijff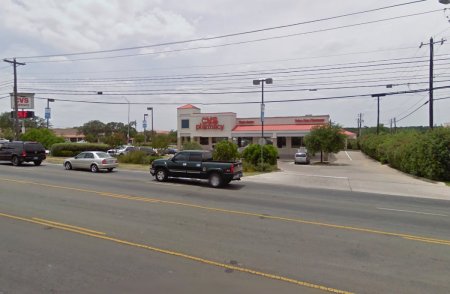 The CVS at 11306 North Lamar Blvd., Austin, TX
Photo courtesy Google Streetview
Today the old Dallas Highway is North Lamar Boulevard and a CVS now occupies the site at 11306 North Lamar where the Skyline once stood. All that remains of the Skyline is the large neon sign, that has since been relocated as a fixture to Hill's Café in Austin's trendy SoCo (South Congress) district. Of the original three owners of the Skyline, Margaret is the only that survives and recently celebrated her 88th birthday.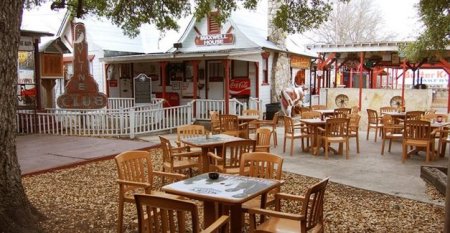 Skyline Sign at Hill's Cafe at 4700 S. Congress Ave. Austin, TX
Photo by Alexandra Richmond courtesy A.V. Club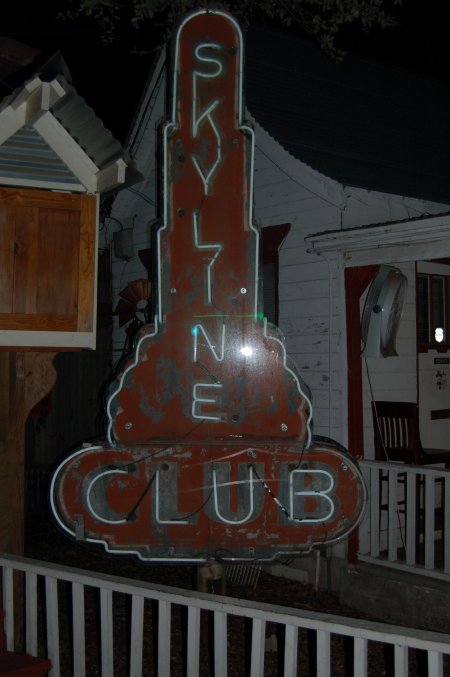 Skyline Sign at Hill's Cafe
Photo © Sarah Fortman courtesy Nurse Kitty Qat
page added December 15, 2010
1 courtesy "Separate truth from fiction in country icon Hank Williams' final days" by Rush Evans, Goldmine - April 21, 2010
2 according to "A History of North Lamar Boulevard" courtesy
3 according to "Elvis Day by Day" by Peter Guralnick and Ernst Jorgensen
4 excerpt from "That's Allright Elvis" by Scotty Moore and James Dickerson
5 excerpt from "Last Train To Memphis" by Peter Guralnick
6 excerpt from Hank, Harry, and Jesse James-Steel player Jimmy Grabowske saw it all by Margaret Moser, October 5, 2007 - The Austin Chronicle
7 according to "Groover's Paradise: The ballad of soap creek saloon" by Margaret Moser, October 12, 2001 - The Austin Chronicle
Special thanks to Charles Stark of the soon to be official website of the Historic Skyline Club in Austin Texas for his assistance with this page. In addition to those listed the histories of Hank Williams and Johnny Horton are available from more than a few online sources.