City Auditorium - Waycross, GA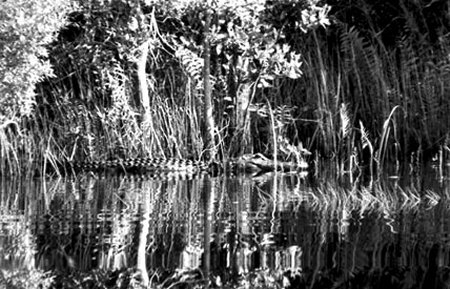 Alligator in the Okefenokee Swamp
Photo © Erik Gauger

Waycross, Georgia is located at the north entrance to Okefenokee Swamp, a 450,000 acre National Wildlife Refuge that has a one-of-a-kind ecosystem, found nowhere else in the world. Waycross began as a crossroads for southeastern travel. It was first a hub for stagecoach traffic, and then became a center for the railroad when it laid its tracks in the mid 1800's. After the Civil War, Connecticut entrepreneur Henry B. Plant built a network of railroads across southern Georgia and northern Florida. As the Plant System Railroad started to grow, so did the town surrounding it. Streets were placed in the pattern of the Maltese Cross which was part of the Plant System Railroad's logo, and a new city was born. It is said that someone traveling with the Railroad gave Waycross its name, because he stated that this was "where the ways crossed", others will claim that Waycross was so named because it was "the way of the cross", due to numerous churches being built there in those days.1

"We serve Everything from Sandwiches to Banquets"
Postcard of Green Frog Restaurant - Waycross c.1940s
Waycross was also home to "The Green Frog" restaurant, which was built in 1938 by the Darden brothers, Bill and Denham. This was the most popular place to eat and visit in Waycross, Georgia, for many years. The Green Frog was opened as a small cafe with ten stools and two booths inside and a drive-up window for curb service, then expanded and modernized over the years to a seating capacity for 200 persons. Teens especially enjoyed the curb service. Bill later went on to open a famous chain of restaurants called "Red Lobster."1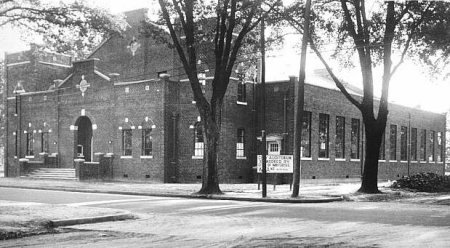 Waycross City Auditorium c.1937
WPA Photo courtesy Hargrett Library
With the assistance of the Waycross chapter of the Lions Club and funds from the WPA (Works Progress Administration) projects in Georgia the City Auditorium was erected sometime in the 1930s on Pendleton Street. The building was used for many actives such as basketball games, opera, dances, and school proms and graduations. It was in use almost every night.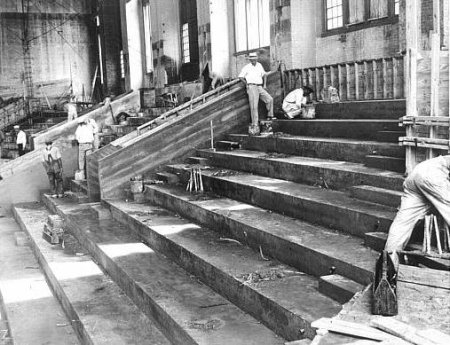 Balcony construction in Auditorium
WPA Photo courtesy Hargrett Library
Depending on the type of event the main floor could be set up with removable chairs for a seated audience or around the perimeter for dances and sporting events. Harris Atkins of the High School class of 1956 recalled, "If it had been a dance, then chairs would have been positioned around the perimeter leaving a large dance space in the front. I did attend some R&B performances there, e.g. Hank Ballard and the Midnighters, about that time. Although when black performers were involved, whites were seated in the balcony with no place to dance, blacks were seated on the main floor."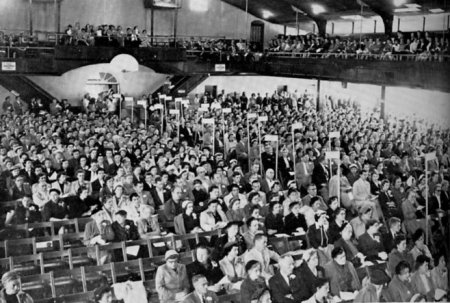 An audience in the City Auditorium in Nov. 1955
Photo courtesy Harris Atkins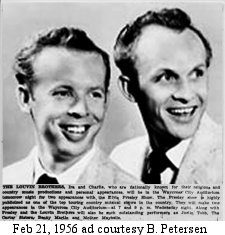 On Wednesday, February 22, 1956 Elvis, Scotty, Bill and DJ performed two shows there on a bill the featured the Louvin Bros, Justin Tubb, Benny Martin, Mother Maybelle and the Carter sisters.* The previous Saturday night they had made their fourth national television appearance on the Dorsey Brothers Stageshow, produced by Jackie Gleason.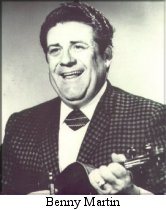 According to Brian Petersen in "The Atomic Powered Singer", Elvis, billed as the Memphis Fireball, came on stage wearing a lime green shirt with rhinestone cuff links and his dark hair slicked back into a ducktail. Pandemonium. Songs included "Baby Let's Play House," the popular "Tutti Frutti," "Heartbreak Hotel" and Carl Perkins' "Blue Suede Shoes." Elvis reported that Jackie Gleason was trying to out-do smooth Perry Como and added that Como had already outdone Gleason, and asked that fans write in to keep him on. He stressed that when the fans bought his records they "put a lump in my billfold."
Harris Atkins further recalled, "Elvis wasn't much of a name performer at that point, at least among my peers. Several of the girls from our class attended the performance and the rumors circulated that they met Elvis back stage and one of them dated him after the show. Whether it is true or not is a different story but she played it for all it was worth, in dress and becoming a very vocal fan."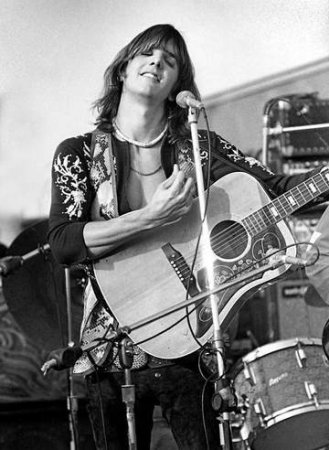 Gram Parsons at Altamont with the Flying Burrito Brothers
Photo courtesy web
In attendance also that day was nine year old Waycross resident, Cecil Ingram Connors III (Gram Parsons). "...if it's possible to have a turning point in one's life at age nine, Gram Parsons experienced his on February 22, 1956. Daphne and Diane Delano, fourteen year old twins, took Gram with them to the City Auditorium in Waycross. There, with no adults to restrain his joy, Gram saw Elvis Presley - only a few weeks before Elvis' first hit single, "Heartbreak Hotel" would go to number one. After the concert, as was the custom then, the kids waited outside the stage door for Elvis' autograph. Gram got his and was smitten.2 Following that performance, Gram decided to become a musician.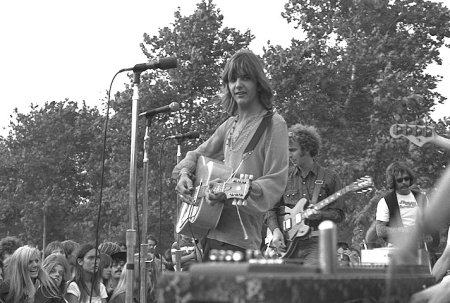 Gram Parsons, Bernie Leadon and Chris Hillman (off camera) with the Flying Burrito Brothers
Photo courtesy web

Flying Burrito Brothers - Christine's Tune
Gram, who later changed his name to that of his stepfather, Parsons, would later be referred to as the worlds first Country/Rock Star due to his efforts to blur the line between Rock & Roll and Country music during the late 1960's and early 1970's. He preferred to call it "Cosmic American Music". Gram's influence was key in the development of the sound of such bands as the The Flying Burrito Brothers, The Byrds, The Eagles and The Rolling Stones in the early 1970's. As a short time member of The Byrds he, along with Hillman were responsible for the Byrds' one and only Country album, Sweethearts of the Rodeo. Gram also arranged the version of Honky Tonk Woman that the Stones later called Country Honk and his friendship with Keith Richards and association with the band was also a key inspiration for The Stones' "Country-ish" movement following their Exile On Main Street album.3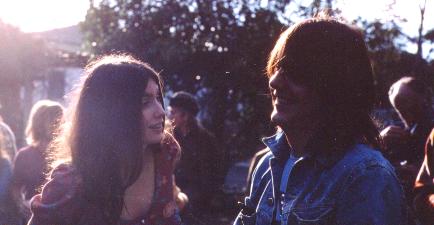 EmmyLou Harris and Gram Parsons
Photo courtesy EmmyLou.net
Chris Hillman of the Byrds brought Gram to hear Emmylou Harris sing in a small club in the Washington D.C. area in 1971. In 1972, Emmylou joined Gram in Los Angeles to work on his first solo album, GP which would employ Elvis' TCB band members, James Burton, Glen D. Harding and Ronnie Tutt as sessionists. She later joined his band "Gram Parsons and the Fallen Angels". Gram died at the age of 26 on September 19, 1973 in Joshua Tree, California, a part of the Mojave and Sonoran Deserts. After Gram's death in 1973, Emmylou retained many of the members of the Fallen Angels and many of the session musicians from the GP and Grievous Angel sessions to form her own "Hot Band".3

The Hot Band with EmmyLou Harris, Glen D. Harding, Ronnie Tutt and James Burton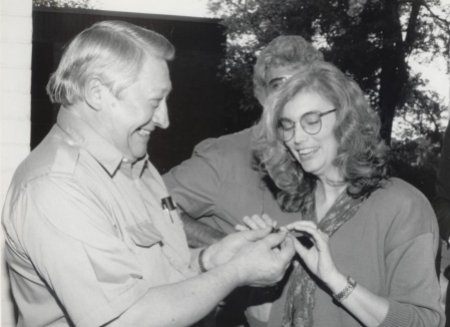 Scotty, Carl Perkins and EmmyLou Harris - Sept. 26, 1989
Photo courtesy Alan L. Mayor
Almost completing a circle of events, Scotty met EmmyLou at a party for Carl Perkins in 1989. Discussions with Carl there would lead to him and Carl returning to the studio to record their 706 ReUnion album and ultimately to Scotty's return to performing and the public eye.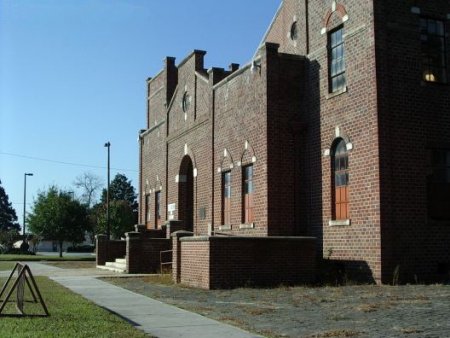 City Auditorium - Waycross, GA
Photo © waycross-online
Today, the railroad still plays an important role in the survival of Waycross. It is the number one employer for the county. It is also the largest CSX computerized rail yard on the East Coast, which means that Waycross is still the center of all rail traffic coming through the southeast area. Other historical facts about Waycross include being the child-hood home of Pernell Roberts and Ozzie Davis, the birthplace of Burt Reynolds, and home to two of the largest frozen food industries in the country.1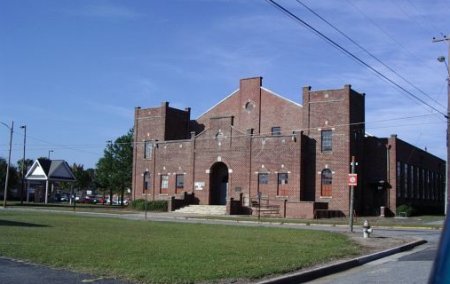 City Auditorium - Waycross, GA
Photo © waycross-online
On February 5, 2008 Ware County voters voted in favor of extending its special purpose local option sales tax for six years which could fund $53 million in projects, according to county projections. With $6 million of the tax revenue, Waycross plans to renovate the historic City Auditorium.
Page added March 6, 2008
*most biographies pertaining to Gram Parsons say that Elvis opened for Little Jimmy Dickins in Waycross at the time that Gram attended the show though no advertisement or Elvis related history seen supports that they shared a bill that day. None of the members of the Waycross High School class of 1956 in attendance that were asked recalled Little Jimmy Dickens performing that day either.
Show ad from the February 21, 1956 Waycross Herald Journal added March 5, 2010, courtesy Francesc and "Elvis Presley In Concert"
1 excerpt courtesy Waycross and the Okefenokee Swamp
2 excerpt courtesy Bill Dufour, from Twenty Thousand Roads; The Ballad of Gram Parsons and His Cosmic American Music by David Meyer
3 excerpt courtesy The Gram Parsons Homepage
---
On March 10, 2008, Harris Atkins wrote:
I did hear from several of my classmates. One who did not attend said that she "didn't go to Elvis' performance because I thought he had a funny name, and I've kicked myself ever since". Another girl who did attend the concert with several other girls confirmed the story that I told you and said that after the concert they were allowed to go back stage and meet Elvis. I asked her what she remembered about the event and she responded:
"I remember virtually nothing about the inside of the auditorium. I guess, as a girl, that was not something in which I was interested. I remember there was a lot of screaming by the girls there, but I was not impressed much, especially when we went back stage to meet him. He had on pink pants and a chartreuse jacket, badly wrinkled up close, and his hair was full of grease and slicked back like I remember "bikers" of that period. I believe the girls who opened for him were traveling with him and were country singers. There were several of them, but I don't remember much about them because of the screaming asking for Elvis to come on. I remember ----- knew somebody who knew one of the girls, and that's how we got tickets, but that part is a little sketchy. Of cause, I don't remember the band at all, as all eyes were on Elvis!
To this day, I love Elvis' music as long as I don't have to look at him too long, as later in his career there was hardly anything left of the "old" Elvis, but I still remember it. Sorry I can't be of much help on the actual concert and the inside of the auditorium.
My children and grandchild were awestruck when I told them the story. One of them did a "show and tell." It was more impressing to them than to the grandchildren, even though they knew him by reputation. It's just something for my memory book." (she had been invited out by Elvis, and declined to go).

I've been a little surprised that I haven't been able to find someone that took pictures at the performance, but no one as come forward with any. I imagine if it had been 6 months to a year later it would have been a different story.

Regards,
Harris