The Empire Builder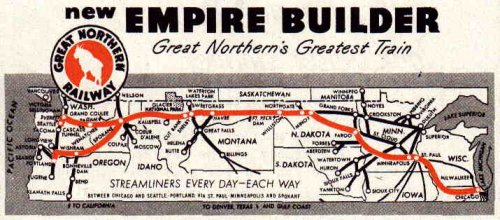 The Empire Builder is a cross country scenic railway that runs between Chicago and Seattle/Portland through the Northwestern United States. It was created and operated by the Great Northern Railway Co. beginning service in 1929 and named for the nickname given to GN's founder, James J. Hill. Before the age of jet aviation and interstate highways the train operated in both directions daily with scheduling arranged to provide daylight scenic views of the Cascade and Rocky Mountains and Glacier National Park.1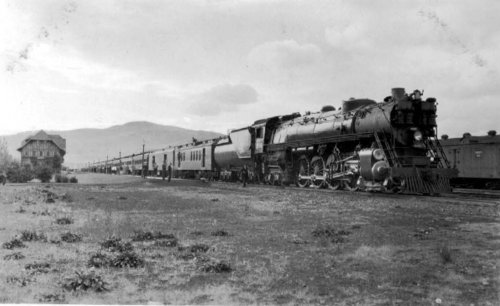 The Empire Builder at Whitefish Station, MT - ca.1940s
Photo courtesy Dale Jones and Railroads of Montana
The train ran between the Pacific Northwest and St. Paul on the Great Northern and on the Burlington Route between St. Paul and Chicago. The trains made stops along the route in Illinois, Wisconsin, Minnesota, North Dakota and Montana and in Spokane, Washington it separated, or joined depending on the direction, to complete journeys to/from both Seattle, Washington or Portland, Oregon. These luxury trains, initially steam powered operated on a 63 hour schedule westbound and 61 hour, 15 minute schedule eastbound.1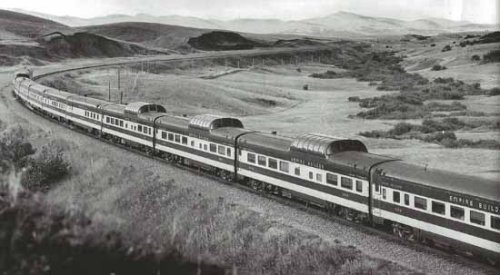 The Great Northern Empire Builder, East of Glacier National Park in Montana - ca. late 1950s.
Photo from Bill Yenne's Great Northern Empire Builder courtesy Trainweb
By the 1950s, reequipped to all diesel driven the trips were reduced to under 45 hours with average speeds about 50 mph. In 1955 the "Great Domes" were added, three Budd-built "short" dome cars and one full-length dome lounge for first-class passengers for each train, providing 150 dome seats for passengers. Like most transit by rail however, the Empire Builder was also beginning to feel the impact of transcontinental jet airplane business travel as the use of the private automobile continued to grow and the federal highways were improved, developing eventually into the beginnings of the Interstate Highway System by the end of the decade.1

Great Northern's Empire Builder descends from Marias Pass at Bison, Montana - 1957
courtesy GNR Historical Society
In 1957, at the end of August, Elvis, Scotty, Bill and DJ began their second of three, short, tours that year. This tour was in the Pacific Northwest and began in Spokane with dates also in Vancouver, Tacoma, Seattle and concluded in Portland. While Scotty, Bill and DJ drove from Memphis, Elvis and his entourage which included Gene Smith, Lamar Fike, George Klein, Cliff Gleaves, Tommy Young and Louis Harris, boarded the Panama Limited at Central Station on the 27th for the overnight trip to Chicago where they would board the Empire Builder. The Panama Limited was Illinois Central's sister train to The City of New Orleans with each immortalized in song, the former initially by Bukka White and Tom Rush and the latter by Arlo Guthrie.
Havre, MT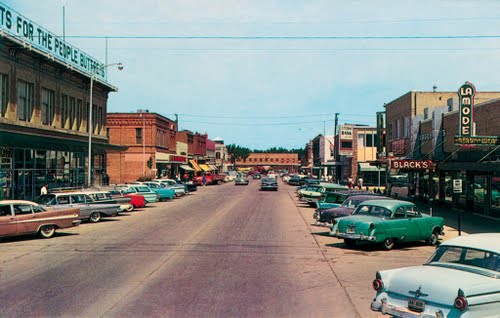 3rd Avenue looking north towards train depot in Havre, Montana - ca.1960
Photo courtesy panoramio.com
On the 28th they along with the Colonel and his entourage that included Tom Diskin, Lee Gordon the promoter who had booked this and the last tour, and likely Al Dvorin, who hailed from Chicago, and the rest of the opening acts boarded The Empire Builder for the trip to Spokane. The trip would take them through several cities that Elvis and the boys had previously performed in, like La Crosse, St. Paul and Minneapolis, not to mention Chicago itself where they had appeared only several months earlier. The Colonel, ever thinking of promotion, had likely tipped off the press ahead of time in several stopover towns along the way of Elvis' schedule through them. In several at least the crowds came out to greet him.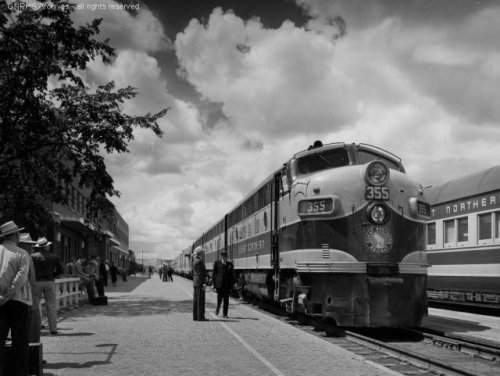 GN publicity shot of the eastbound Empire Builder at Havre, MT
Photo courtesy Great Northern Archive
Elvis Presley to Stop in Havre Briefly Thursday
Contain yourselves Elvis Presley fans. The sensational young singer who accompanies himself on a guitar and rotates his pelvis every which way is going to be in Havre for a few minutes on Thursday noon.
Idol of millions of bobby soxers and some oldsters too, Presley will be on the Empire Builder enroute from Minneapolis to Spokane.
There is no guarantee that the man who has wowed 'em will descend to the platform at the depot but chances are that he will be much in evidence and a large crowd is expected to be on hand to try and obtain his autograph and to see what he looks like.
It looks like sideburns will be in vogue for some time after Presley visits and the filberts who follow the progress of the ex-truck driver who became a big-time entertainer say you'll be nothin' but a hound dog if you
don't show up Thursday. The arrival time is 12:15 p.m. and departure time is 12:25 p.m.

Havre Daily News - August 26, 1957 courtesy Dave Martens


Rock 'n Roll Idol to Be Here
Elvis Presley. movie star, television and stage celebrity who did it all with a guitar and a movable pelvis and a unique style of revivalist type of singing, will be in Havre for about 20 minutes Thursday noon.
The youthful singing star will arrive on the Great Northern Empire Builder at 12:15 noon, enroute to keep a show engagement in Spokane.
Presley has made two motion pictures, both a success at the box office, it was reported, and cut any number of records, all of which together have sold into the millions.
His "All Shook Up" and "Ain't Nothin' But a Hound Dog"-—both records still in demand among the teenagers and adults—confirmed Presley's front - rank standing among popular singers and entertainers in this country.
Thursday noon, when Presley stops in Havre until departure time about 12:30, swarming crowds of Havre teenagers and curious older people ere expected to be on hand to meet him.
Presley, a tall, dark slim, handsome man in his early twenties, is said to have done as much as any top TV and stage artist to establish the Rock 'n Roll type of music in this country.

Havre Daily News - August 28, 1957 courtesy Dave Martens
Much to the dismay of the crowd that had gathered at the station in Havre hoping to see Elvis during the stop on August 29, 1957, he didn't leave his compartment.

WHERE'S ELVIS PRESLEY? -- This is part of the huge crowd that turned out this noon to see Elvis Presley, the famous singer, when the Great Northern Empire Builder with Presley aboard pulled into Havre for about 20 minutes. The hundreds of persons on hand were disappointed when the singer kept to his compartment on the train, too tired to meet his public. However, Sheriff Deputy Al Holladay of Havre got to meet Presley and obtained an autograph for a youngster.

Helmbrecht Studio Photo

Apparently Deputy Sheriff Only One to Get Presley Autograph
By L. A. BACH

Hill County Sheriff Deputy Al Halladay was the only person in Havre who got Elvis Presley's autograph and briefly interviewed the famous Rock 'n Roll singer at noon today.
The biggest crowd of Havre residents ever seen at the Great Northern Ry. Co, station turned out to see Presley, and was disappointed.
Halladey was able to see, Presley with the help of a conductor who took the deputy to meet the singer's manager in Presley's private compartment.
"I told the conductor that I wanted Presley's autograph for a kid, and then he took me to the compartment." Halladay told a Daily News reporter.
Presley was en route to Spokane to fulfill a show engagement:
The Empire Builder pulled into Havre at 12:30 noon sharp and took 10 minutes to come to a halt. By then crowds, standing 30 deep, had formed in front of car 312, when it was learned that was Presley's car on the train.
When Halladay asked Presley for the autograph for a child, the famous singer declared, "I'm pretty tired." But he obliged with the autograph, attired in dark robe over light colored pajamas, and bedroom slippers.
"He was having a glass of orange juice when I came up to him," the deputy explained.
Halladay offered Presley his fountain pen and the singer took up a coaster on his breakfast tray and scribbled "Elvis Presley" on the saucer base.
That satisfied Halladay, but Presley had second-thoughts, deciding that the first signature on the Great Northern coaster was too light in color. Bearing in mind that the autograph was for a child, as the deputy had mentioned, Presley took the coaster and again signed his name.
Halladay boarded the car in front of 312, where most of the waiting crowd was densely, packed hoping to catch a glimpse of the celebrity.
"I was taken through the car to 312 to Presley's compartment," the deputy stated. "What looked like strongarm men were posted outside the compartment."
Mayor James Davey was on hand to officially greet Presley if and when he debarked from the train. The mayor stood in front of car 312, on the station pavement, waiting to meet the Rock 'n Roll king.
H. A. Swisher, Whitefish, a Great Northern conductor, who was waiting to board the Presley Train to go on duty, was asked his opinion of the size of the waiting crowd.


Great Northern Railway drink coasters
courtesy ebay

"It's the biggest I've ever seen in the Havre station," Swisher said. He has been with the Great Northern 42 years as a conductor.
Three Havre police officers, Leon Davidson, Ed Divish and Woodrow McLain, who were on duty at the depot, to keep the huge throngs under control, after awhile were literally swallowed up by the packed crowds.
During the 22 minutes the train was in the station, with Presley still to appear on the car platform, the crowds took up the chant "We want Elvis!" at intervals.
One passenger aboard the train, on the platform of car 312, volunteered that Presley was asleep in his compartment. That was when the chant first went up in a high-pitched chorus.
About 50 percent of the crowds was made up of teenagers, about 40 percent being youngsters under teen-age, and some 10 percent comprised adults at the station.
Halladay, asked why Presley did not meet the waiting crowds in Havre, said Presley told him he was exhausted from the riotous greetings he received in Minneapolis.

Havre Daily News - August 30, 1957 courtesy Dave Martens
Though Elvis explained his reasons for being tired and not greeting the crowd on "riotous greetings" in Minneapolis, nothing found in any of the papers of the day reported this. The crowd at the stop at Whitefish around 6:00 P.M. later that day had better luck.

Great Northern Railway Whitefish Montana station sign
photo courtesy ebay


Elvis Presley fans were "All Shook Up" yesterday when he appeared in a white sport coat (no pink carnation) as his train, long as a "Hound Dog," stopped briefly in Whitefish. Fans yelled "Love Me Tender," but couldn't tell if he was wearing "Blue Suede Shoes" since he didn't leave the train. He was on the way to Spokane for a special show.

Photo courtesy FECC/pingpong

Elvis Excites Fans In Short Stopover

By TOM O'HANLON
Inter Lake Staff

Elvis Presley stopped for a few minutes in Whitefish last night and "the call of the wild" was heard for blocks.
But it was those on the other side of the cage that were giving the call. Presley, whose eccentric singing style has brought him to a unique position in American entertainment, came to the door of his railroad car to wave to the fans a few moments before his train, the Empire Builder, left.
He wisely did not step into the crowd to sign autographs.
A crowd, estimated at 800 composed mostly of teenage girls with a liberal sprinkling of jealous boy friends, small children, and curious mothers and townspeople jammed the station platform long before the train pulled in at about 6 p. m.
Pony tails and Italian cuts, skirts, sweaters, starched dresses and Bermuda shorts - the clothes were varied, but the girl's excitement was the same. Presley, a handsome young Mississippian, seemed to be used to mob scenes. He stayed on the steps of the railroad car and the only personal contact made was by a few high-jumping girls who managed to touch his hand. This apparently was enough to satisfy them and excite their friend's admiration and envy.
Whatever Presley has, it certainly seems to be in big demand by the bobbie sox brigade.

© Daily Inter Lake - August 30, 1957 courtesy Great Northern Railway Looking Back and Francesc Lopez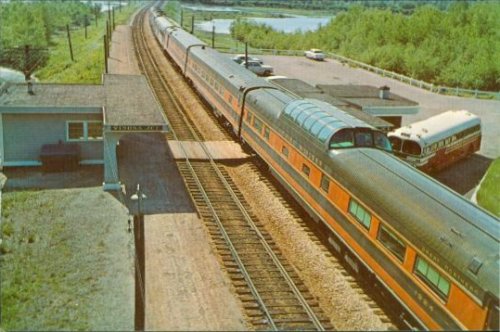 The Empire Builder stops at the Winona Junction, WI - June 1958
Postcard photo by Donald E. Smith courtesy wikipedia
In 1970 the Great Northern, along with the Northern Pacific, SP&S and Burlington, merged to form the Burlington Northern Railway which took over operation of the Empire Builder until the following year when Amtrak began operating most U.S. passenger train service. At that time Amtrak suspended the Empire Builder's service to Portland until 1981. In 1995 the Burlington Northern merged with the Sante Fe Railroad creating the Burlington Northern Sante Fe Railway.1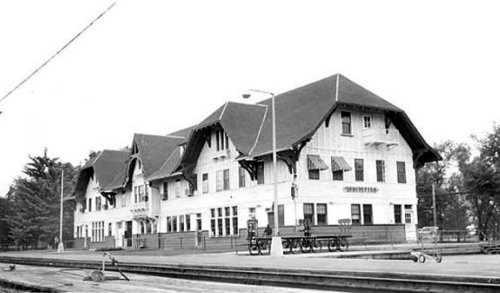 The platform and Whitefish Station, MT - 1971
Photo courtesy Dale Jones and Railroads of Montana
In 1979, The Empire Builder became the first long-distance train to be given the new bi-level Superliner equipment. At this time, the train runs with as few as two coaches, a diner, and one sleeping car on a tri-weekly schedule, the lowest point of available passenger-carrying capacity.1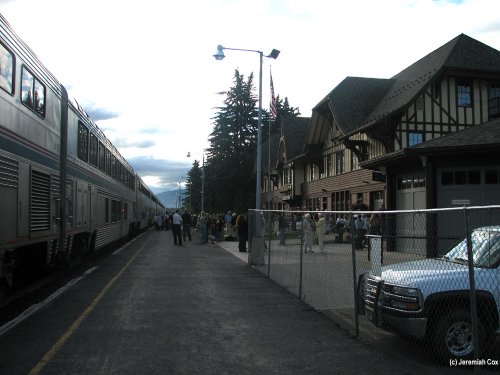 The station house and the Superliners of the Empire Builder at Whitefish, MT - July 13, 2006
Photo © Jeremiah Cox
Today, it is again operated daily and is Amtrak's busiest long-distance route, carrying more than 500,000 travelers annually from 2007-2010. The current route runs from Chicago, Illinois, to the Pacific Northwest.2

The Superliner, platform and the station house at Havre, MT - July 13, 2006
Photo © Jeremiah Cox
The train passes through the states of Illinois, Wisconsin, Minnesota, North Dakota, Montana, Idaho, Washington, and Oregon. Layovers (train service stops) are made in Saint Paul, Minot, Havre, and Spokane. Other major stops on the route are Milwaukee; Fargo; Whitefish, Montana; and Vancouver, Washington. Host railways include BNSF Railway's northern route from Seattle to Minneapolis, Minnesota Commercial from Minneapolis to St. Paul, Canadian Pacific from St. Paul to Glenview, and Metra from Glenview to Chicago.2
Page added November 30, 2012

Special thanks to Dave Martens for the Havre Daily News articles and inspiration for this page.
1 according to Great Northern Railway Historical Society
2 excerpt from Wikipedia's entry on The Empire Builder
---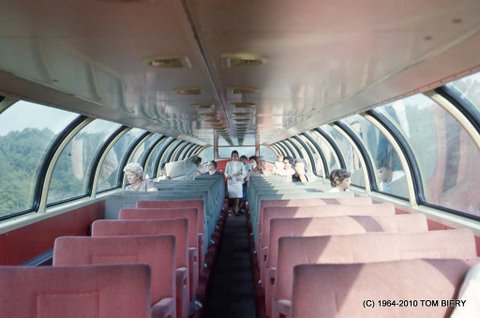 Check out views from the observation cars and other photos from a 1964 Empire Builder trip (and detour) courtesy of the Great Northern Archive.
---
This week I received email from a couple of fans in Lake Oswego, Oregon that I thought would be worth sharing with everyone.
Hi,

I am so pleased about this opportunity to share my story and tie!


Gene Smith, Lamar Fike, Louis Harris and Elvis at a stopover in Whitefish, MT - Aug. 29, 1957
Photo courtesy FECC/pingpong

Karen has done a wonderful summary of my story (see here). However, there are a few additional facts I would like to share. My name at the time was Dorothy (Dolly) Petersen and my two teenage companions (older than I) were: Barbara and Mary Lou Lenz.


Karen's friend Dotty Holm with the autographed tie given to her by Elvis in 1957
Photo © Karen Dill Bowerman

Elvis actually had a pen and a comb in his left jacket pocket ( you can see the top of the pen on the photo!). After signing his autograph on paper for us, one of my girlfriends asked for the pen. The other asked for his comb (also in the pocket). Elvis then said to me " I will give you my tie" ( as there was nothing left in his pocket... :). Of course, my 2 friends also wanted a tie, but he said they were packed. Then he asked one of his buddies for a knife so the tie could be cut into 3 pieces - and he signed each one! I got the best section!


Dotty's tie that Elvis gave her and him wearing it on the train

Elvis let us come back to his cabin at least 3 different times and was always kind and welcoming! He let us stand behind him when greeting fans at a later stop!


The rear of the tie, autographed
Photo © Dotty Holm

He also hugged each of us "good-bye" :)


autographed by Elvis
Photo © Dotty Holm

This was a very special and treasured memory for me and one that I have shared for many years with family and friends!


The tie was likely purchased by/for Elvis at Julius Lewis on Main at Gayoso in Memphis
1950s postcard courtesy flikr

Naturally, I am a big fan and am looking forward to my second visit to Graceland later this month with Karen and another girlfriend.

Dotty Holm
Lake Oswego, OR
September 4, 2013
Be sure to visit the Topeka page and read the email that initiated this correspondence.
section added September 4, 2013