St. Paul Auditorium
St. Paul, MN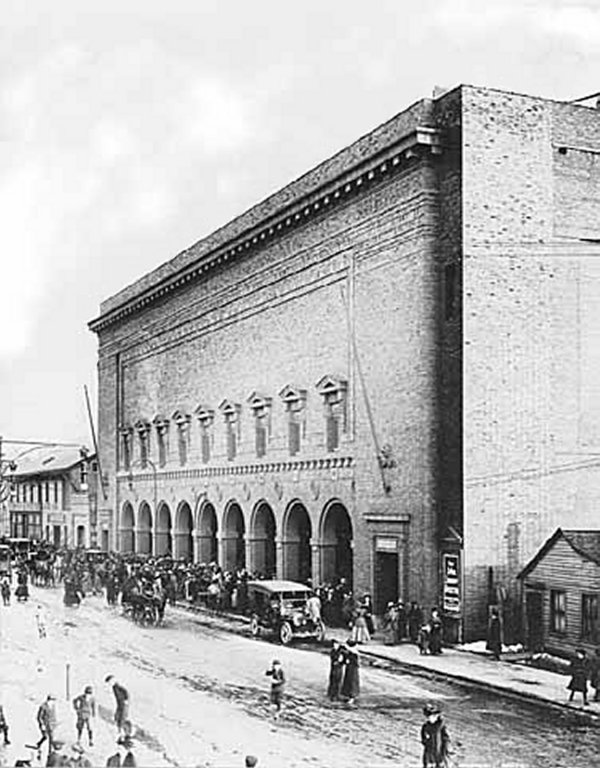 The St. Paul Auditorium on W 5th Street - ca.1908
Photo courtesy Minnesota Historical Society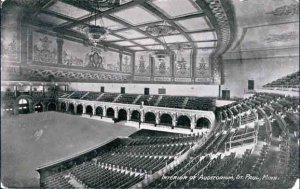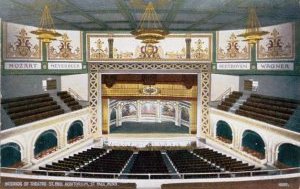 1907 and 1910 interior views of the Municipal Auditorium
Photos courtesy Minnesota Historical Society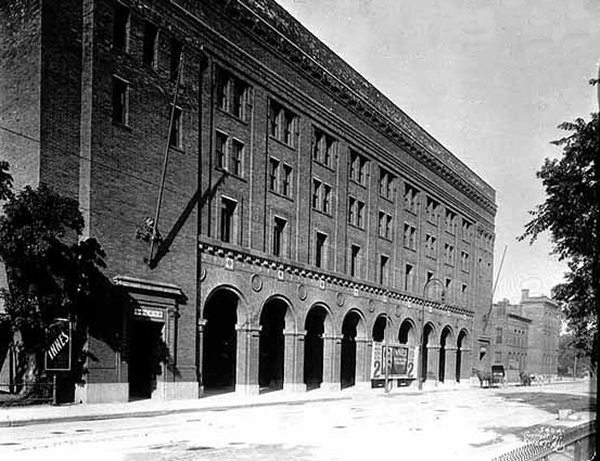 The St. Paul Auditorium, W 4th Street entrance - ca.1907
Photo courtesy Minnesota Historical Society
The St. Paul (Municipal) Auditorium in St. Paul, Minnesota was built between 1906 and 1907 and was located downtown between W 5th and W 4th streets west of the St. Paul Hotel. The W 4th Street side had a 2nd, 3rd and 4th level rows of windows while sometime after 1910 the W 5th Street side had a tall vertical sign that read "Auditorium." It was used for legitimate theater and conventions.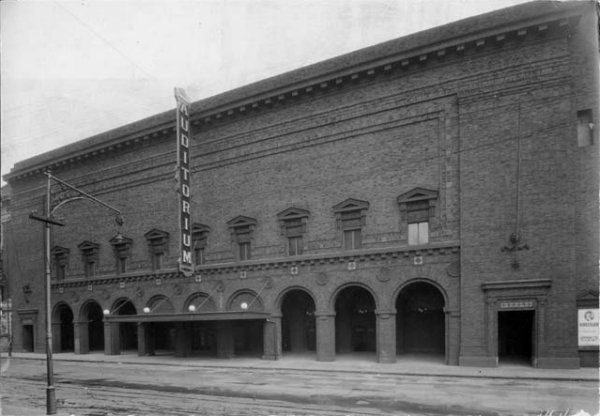 The St. Paul Auditorium on W 5th St. in 1922 prior to the addition
Photo courtesy Minnesota Historical Society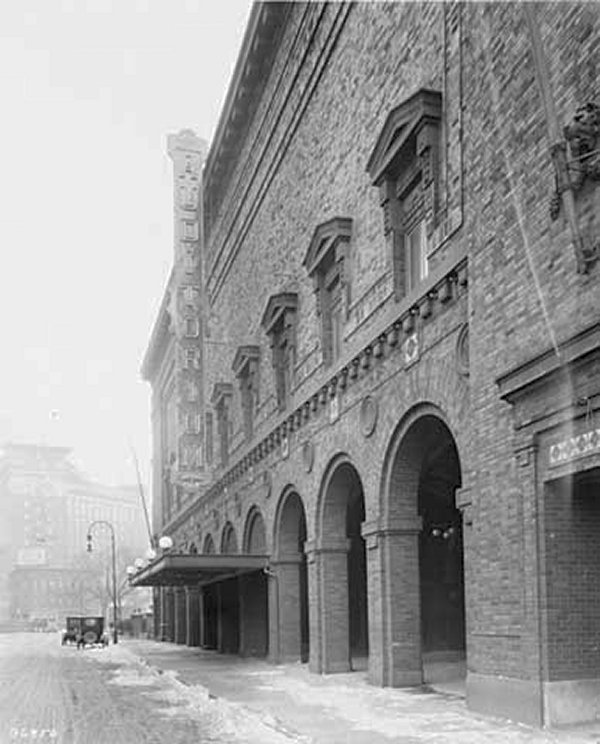 The St. Paul Auditorium, looking east on W 5th St. towards the St. Paul Hotel - 1925
Photo courtesy Minnesota Historical Society
Always in competition with nearby Minneapolis, the city began construction of an addition to the St. Paul Auditorium which would consist of a much larger arena adjacent to the existing building. The addition was designed by renowned African American municipal architect Clarence W. Wigington, and built between 1931 and 1932 as the Civic Center.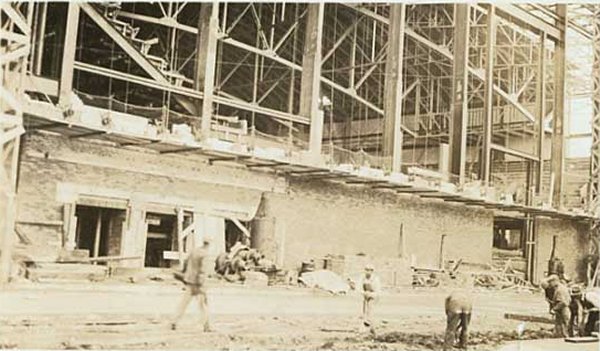 Construction of the St. Paul (Civic Center) Auditorium arena - 1931
Photo courtesy Minnesota Historical Society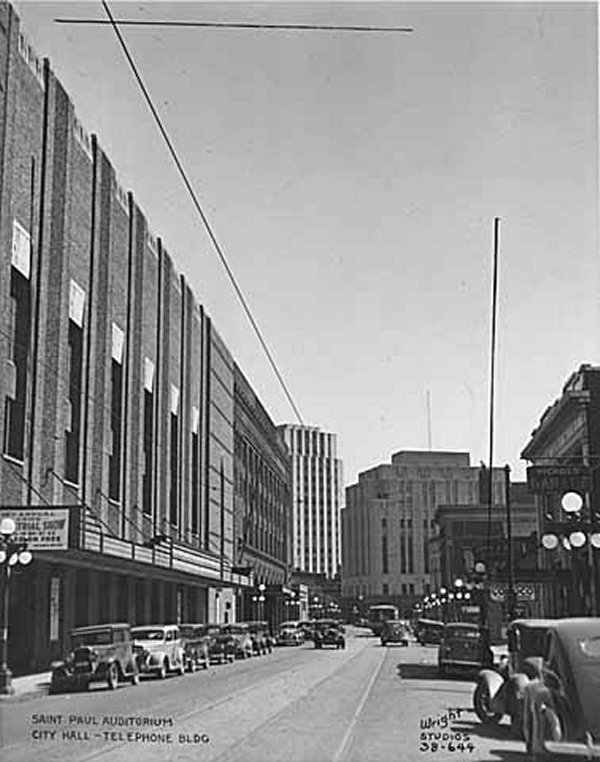 looking east to W 4th Street entrance to arena and St. Paul auditorium - 1934
Photo courtesy Minnesota Historical Society
Among other things, the facilities were used to host concerts, conventions, circuses, ice shows, rodeos and sporting events. It could accommodate seating from 8,000 to 15,000 with a secondary auditorium for legitimate theater and stage shows at 2800. The rink and floor space was 100 feet by 200 feet and a ceiling height of 88 feet. The legitimate stage had a proscenium opening 60 feet wide and 40 feet high with 53 feet from the foot lights to the back wall.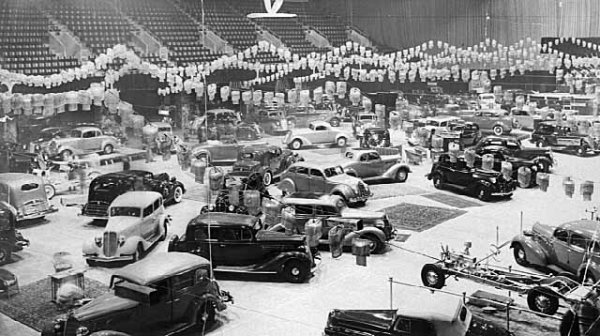 Auto show at the St. Paul Auditorium - 1935
Photo courtesy Minnesota Historical Society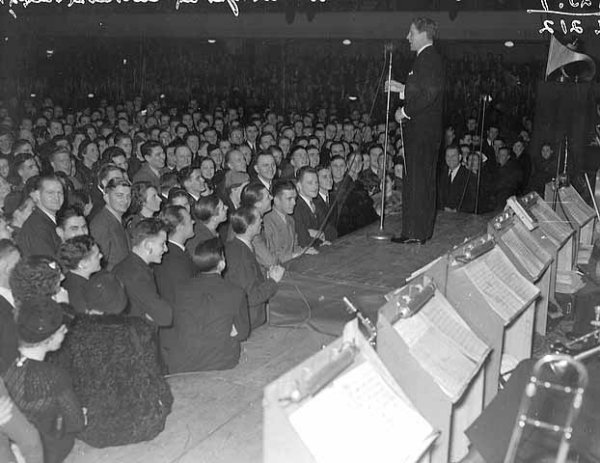 Rudy Vallee and orchestra at the St. Paul Auditorium - 1937
Photo courtesy Minnesota Historical Society
The Auditorium has hosted some of the most recognizable performers. As a hockey rink it had the city's first artificial ice rink and was one of the University of Minnesota hockey team's home rinks from the 1930s until 1950s. The Lakers used to also play basketball there when their regular home, the nearby Minneapolis Auditorium, was not available. In 1951 the general manager, Edward Furni, referred to it as somewhat of "white elephant" in the summer months but found much success with the resurrection of summer music series.

St. Paul Auditorium All-Tournament Team Award Ceremony - 1946
Photo courtesy Vintage Minnesota Hockey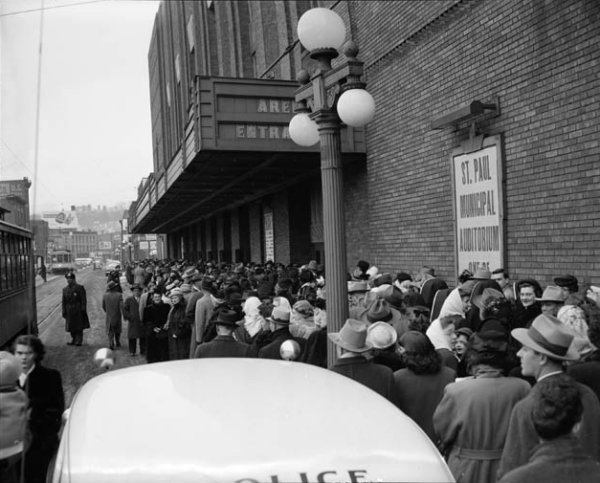 looking west at crowd entering the W 4th St. side St. Paul Auditorium Arena - 1948
Photo courtesy Minnesota Historical Society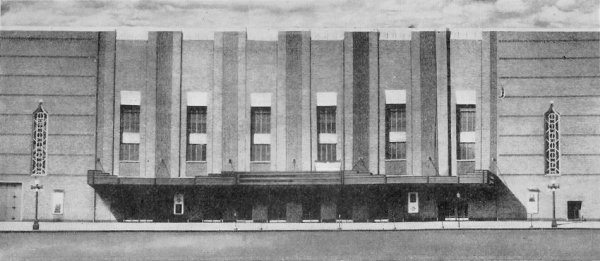 The St. Paul Municipal Auditorium addition
Photo courtesy Vintage Minnesota Hockey
On May 13th, Mother's Day, in 1956 Elvis, Scotty, Bill and DJ started their first Midwest tour with an afternoon appearance at the St. Paul Auditorium and later that evening in Minneapolis. The Twin City appearances were promoted by T. B. Skarning Enterprises of Minneapolis and according to Alan Hanson, the author of Elvis '57: The Final Fifties Tours, Skarning, anticipating a larger turnout, had booked the arena in St. Paul while also reserving the auditorium theater for overflow. Ads in the local papers began appearing on May 7th.1


Augie Garcia
Photo courtesy Minnesota Historical Society
Skarning had previously promoted and booked Opry and other country tours in the area and Midwest. The boys had just completed a two week appearance in Las Vegas at the New Frontier the previous week and were now touring with a six act five-star variety show supplied by Al Dvorin in addition to the Jordanaires. This show, as an opening act, also featured Augie Garcia, a popular local from St. Paul's West Side who performed in shorts. The opening was short lived because as Peter Guralnick has written, from this tour on the Colonel would not allow any other performer who might be considered a rival to appear on the show. The days of Elvis sharing a bill with contemporaries were over.

Elvis entertains the crowd in St. Paul - May 13, 1956
Photo © Bill Ray courtesy Elvis by Bill Ray, added Nov. 17, 2013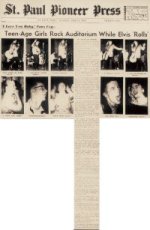 The St. Paul Pioneer Press review was as follows:
"I Love You Baby," Fans Cry--

Teen-Age Girls Rock Auditorium While Elvis 'Rolls'

By Allen W. Doerr

Elvis Aaron Presley, swarthy young singing idol of teenage rock and roll fans, held court for 26 minutes in the St. Paul auditorium Sunday.
There were no casualties.
Some 4000 present, mostly girls, greeted the 21 year-old former Tennessee truck driver.
They screamed, they cheered, they whistled, they clapped and they cried. Then they fought like demons for a touch or close-up glimpse of their king.
Another 4,000 persons, only slightly less exuberant, screamed and squealed through Presley's evening show in the Minneapolis auditorium.
Youths lined up at the doors before noon. They bought photographs of Presley for 50 cents, 75 cents and $1. They started screaming when Augie Garcia, local rock and roll idol, started playing at 2:30 p.m. By 2:50 p.m. they were standing on the chairs.

"I Love You, Baby"

"Now, When My Baby Went . . ."

Presley, in nondescript black shirt and slacks slipped in a side door at 3:15 p.m. A dozen patrolmen held back the mob.
In his dressing room Presley admitted in his southern drawl that he doesn't know how long his popularity will last. "Ah'm not worried. There were plenty of good 'rock and roll' men before I came along. "This is good. I hope it keeps on. Ah'll keep working as long as it does."

"Mmmmmmmmmmm"

". . . My Blue Suede Shoes"

He signed autographs and posed for pictures and explained he hopes to try serious acting in movies. It would be a career to fall back on if the rock and roll boom fades, he said.
Outside the crowd was chanting "We want Elvis." When he emerged in a Kelly green jacket and started for the stage, they began screaming again. Police formed a ring around the stage.
After the first words of his hit song "Heartbreak Hotel," the noise of the crowd drowned out the music. Only the beat carried over the loudspeaker system.

"Over Here, Elvis"

"I Got A Woman . . ."

"You don't need to know what he's saying," one girl shouted. "It's just to look at him."
Presley grabbed the microphone with both hands and tossed his head. He shook his shoulders in a motion that carried down through his body to his feet. He shuffled stiff-legged from side to side. He leaned his forehead on the microphone closed his eyes and twitched slowly through his body as he sang.

"Go, Man, Go"

". . . A Lonely Place . . ."

He threw his guitar from side to side and moved jerkily around the stage. The guitar gashed the side of his head and girls in the audience moaned and through their handkerchiefs to him as blood flowed.
"Over here, Elvis, over here," a 13-year-old shouted falling on her knees pleading in the front row.
"I love you, baby I love you. I love you," another girl chanted, tears streaming down her face.

". . . It's Heartbreak Hotel . . ."

"Ohhhhhhh, Elvis"

Police formed a flying wedge to take Presley in a waiting car after the show, but the crowd broke through. The Kelly green coat was half torn off.
Two stowaway girls were waiting in the car. Police pushed one into the street and the car drove away.
"Hey," screamed the girl. "My girl friend is in there."
She stood in the street crying and the pouring rain matted her hair down around her face.

St. Paul Pioneer Press May 14, 1956 courtesy Southdale-Hennepin Area Library
Though they performed later that night at the Minneapolis Auditorium, the reviews in both the St. Paul Pioneer Press and the Minneapolis Tribune basically covered the show in St. Paul with nearly only a mention of the Minneapolis show, the latter though, was heavily photographed. While one paper reported a crowd of 3,000, the other put it at 4,000. However, his most critical review of the Twin City appearances would come a week later (see Minneapolis Auditorium). The tour that month would also take them to La Crosse Wisconsin, back to Memphis then Little Rock, Springfield Missouri, Wichita Kansas, Lincoln and Omaha, Nebraska, Topeka Kansas, Des Moines and Sioux City Iowa, Kansas City Missouri, Detroit, Columbus and then complete in Dayton, Ohio.

The Auditorium and additional Civic Center/arena looking West on W 5th St - 1965
Photo courtesy Minnesota Historical Society
On August 30, 1968, an incident at a dance at the original Auditorium, also known as Stem Hall, erupted into a riot when a policeman responding to the call for assistance was wounded by gunfire. The incident sparked a full-scale riot that rapidly spread to the streets, where large numbers of citizens hurled bottles, rocks and other debris at police lines. The rioting continued in the Selby-Dale area well into the early morning hours resulting in extensive vandalism and property damage for area businesses and private citizens in the area. The disorder continued for the next 24 hours, eventually resulting in the wounding of three officers by sniper fire.2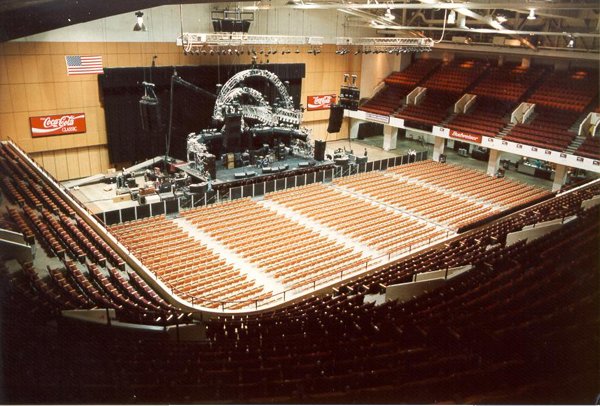 Concert seating in the Roy Wilkins Auditorium
Photo courtesy RiverCentre
In 1973 a new 16,000 seat Civic Center was built and the remaining arena became home to the Minnesota Fighting Saints hockey team in the fall of 1972. The following year they moved next door to the newer Saint Paul Civic Center. Elvis himself would return to St. Paul twice and perform several shows in the new Civic Center on October 2nd and 3rd in 1974 and April 30th in 1977.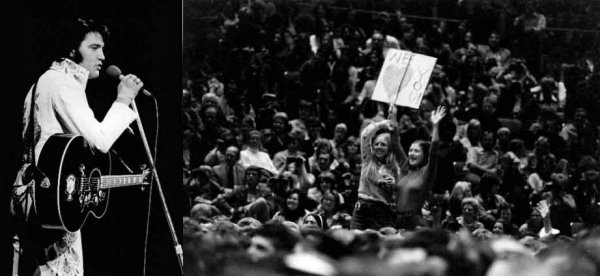 Elvis and the crowd in the newer St. Paul Civic Center - Oct. 2, 1974
Photos courtesy Minnesota Historical Society
The old Auditorium was razed in 1982. In 1984 the former and remaining arena was renovated and renamed for Roy Wilkins, a St. Paul native, Civil rights leader and former director of the NAACP. It has since hosted acts such as The Grateful Dead, David Bowie, KISS, Bruce Springsteen and Bob Dylan (himself born and raised in Minnesota) among others. On January 1st in 1985 the Ordway Center for the Performing Arts opened, built partly on the site of the original St. Paul Auditorium.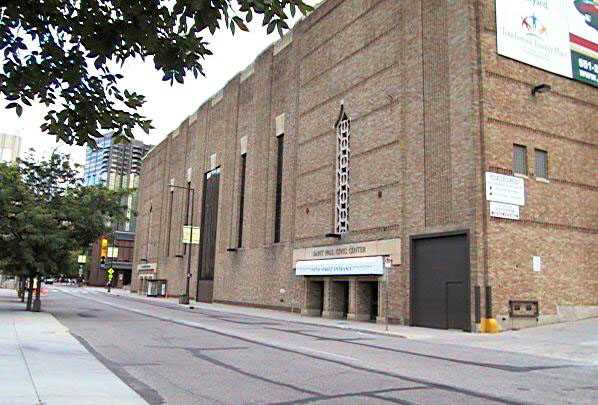 The Roy Wilkins Auditorium on W 5th St. in Saint Paul, MN - 2000
Photo © Chris Gregerson
The St. Paul Civic Center only lasted until 1998 and itself was replaced by the Xcel Energy Center in 2000. Today, the 5,500 seat Roy Wilkins Auditorium is part of the St Paul River Centre complex at 175 Kellogg Boulevard West and adjacent to it on its former W 4th St. side. It also currently hosts the Minnesota RollerGirls roller derby league.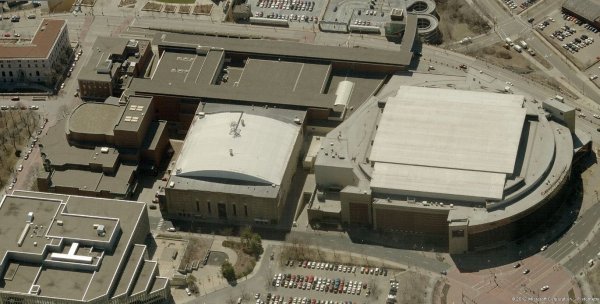 The Ordway Center, River Center complex, Row Wilkins Auditorium and Xcel Energy Center - 2012
Photo © Microsoft
Though the original St. Paul Auditorium is long since gone, a part of it, at least, is still making music and entertaining crowds. The Skinner Pipe organ that was installed in 1921 was salvaged, restored and reinstalled in Boston's Old South Church where it resides today.
Page added February 13, 2013

Much of the history of the St. Paul Auditorium presented here was compiled from several sources, including The Minnesota Historical Society, Billboard Magazine, the Vintage Minnesota Hockey History, the Legendary Roy Wilkins Auditorium and the Xcel Engery Center. Special thanks to Scott Hanson of the Southdale-Hennepin Area Library for his assistance with this page.
1 according to "St. Paul, 1956 … An Open Letter to Elvis Presley" courtesy Elvis History Blog by Alan Hanson
2 according to Saint Paul Police Historical Society