Ken and Elizabeth Moore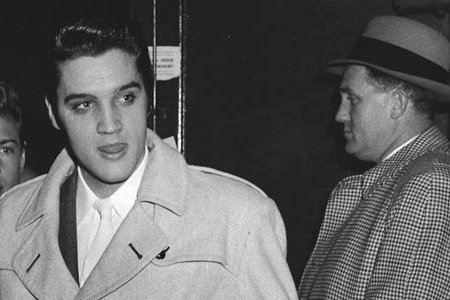 Elvis and Ken Moore in Cleveland - Nov. 23, 1956
Photo © Lew Allen
Earlier this year I was contacted by a relative of Elisabeth Moore seeking contact information for her. I previously had written about Ken, her husband, on several pages of the site regarding his employment and duties with Elvis' organization in the late 1950s through 1960 and I seemed to be a point of contact. Knowing only that Ken had passed away later that year I had previously been unable to contact Elizabeth or her family and could offer little assistance.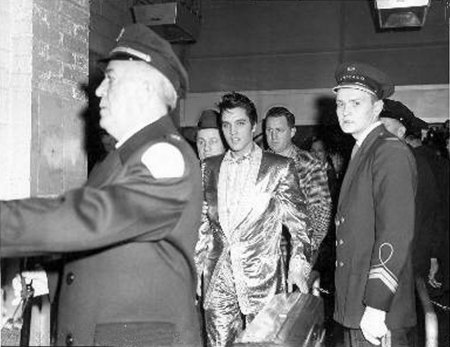 Ken Moore behind Elvis at the International Amphitheatre - Mar. 28, 1957
Photo courtesy FECC/Little Sister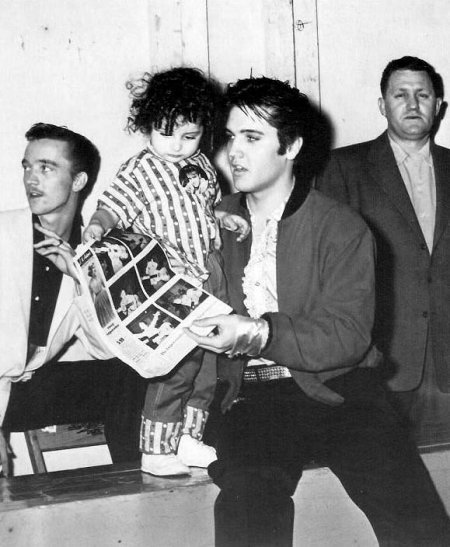 Gene Smith, Elvis and Ken Moore backstage with fans in Buffalo, NY Apr. 1, 1957
Photo courtesy FECC
Coincidentally I was contacted this past summer by other members of Ken's immediate family, initially by his grandson Russell and then his son Martin. Russell had run across a lot of his Grandmother's things that pertained to Elvis and he wondered about them. Having found the info about his Grandfather on the site he had wondered about the items, their value and sought more information, hoping also to contribute to Scotty's scrapbook.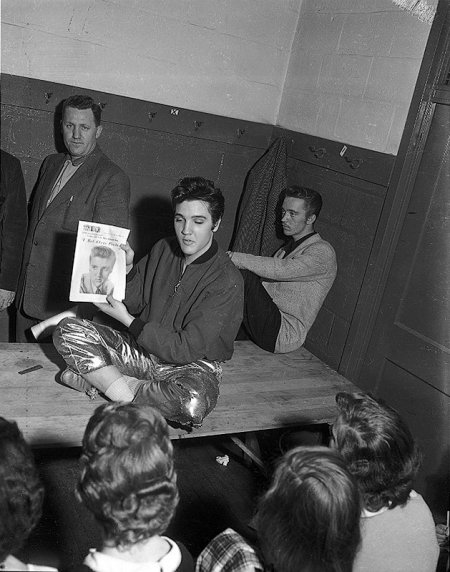 Ken Moore, Elvis and Gene Smith backstage at Maple Leaf Gardens - Apr. 2, 1957
Photo courtesy Sheila Roth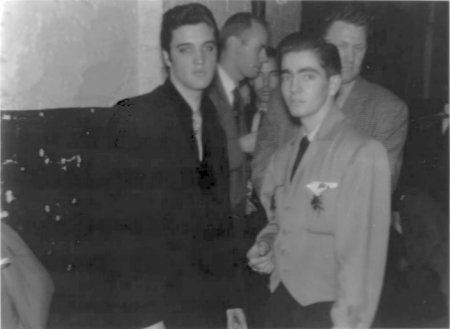 Elvis, Jimmy Velvet and Ken Moore backstage in Philadelphia - April 5, 1957
Photo courtesy Ana Fernández Sangil
Ken Moore's association with Elvis began around November of 1956, most likely as a result of dealings with his father-in-law, Russell G. (R.G.) McElyea, Elizabeth's father. R.G. was at the time one of the country's largest concessionaires with Texas interests that included the Cotton Bowl, Dallas Auditorium, Waco Coliseum, San Angelo Coliseum, Baylor Stadium and Texas Tech Stadium. As a promoter he started booking Opry acts like Roy Acuff, Kitty Wells, Minnie Pearl and Whitey Ford (the Duke of Paducah) in 1945. In the North Side Coliseum in Fort Worth, where he headquartered his company, he scheduled country-western music on Saturday nights, wrestling on Monday nights, and various other activities during the week and as early as 1955 was bringing Elvis, Scotty and Bill to many of these venues.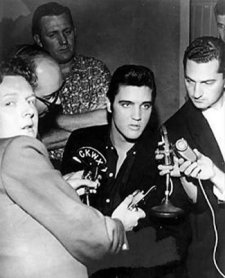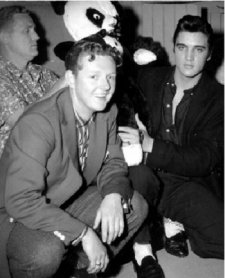 Ken with Elvis in Vancouver - Aug 31, 1957
Photos © Red Robinson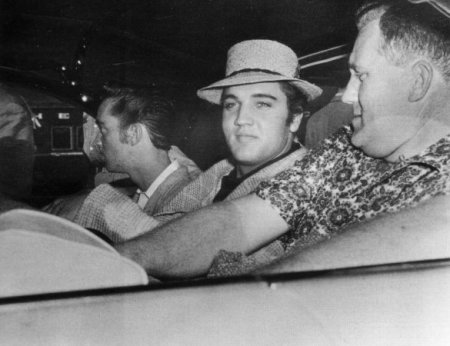 Gene Smith, Elvis and Ken Moore departing Union Station in Portland - Sept. 2, 1957
Photo courtesy FECC/LittleSister
Ken himself had been a wrestling promoter in Fort Worth since the early '40s and, along with Elizabeth, owned and operated Ken Moore Enterprises. Elizabeth, a fan of Elvis' along with her husband, has said she remembered her father one time irate and threatening to sue the Colonel and Elvis for breach of contract. Allegedly they defaulted on contract terms for four appearances in Fort Worth in March of 1956. That October Elizabeth was working concessions at the Cotton Bowl the night they were served papers.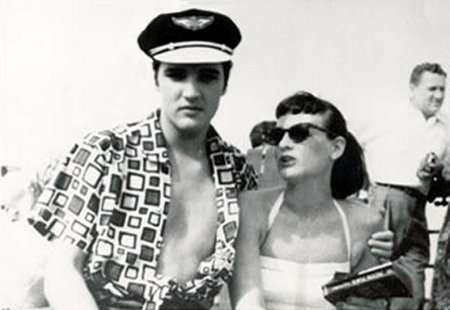 Elvis with Marilyn Waste, Ken Moore at rail on the Matsonia - Nov. 1957
Photo by Jim Waste courtesy Corby Waste

Elvis with Marilyn Waste and Elizabeth Moore in rear on the Matsonia - Nov. 1957
Photo by Jim Waste courtesy Corby Waste
The issue was resolved days later and the lawsuit was withdrawn. No further specifics were given but the following month Ken began working security for Elvis. He, and sometimes Elizabeth, would accompany Elvis on all further appearances in the '50s through the last ones in Hawaii, where they sailed with the entourage both to and from.

Elvis, Ken, Elizabeth and others on the Matsonia after docking in Honolulu - Nov. 9, 1957
Photo courtesy FECC/Desert Storm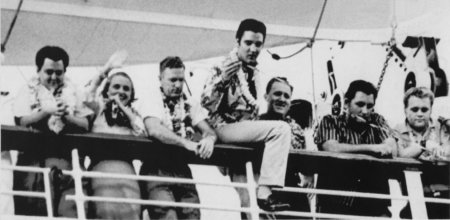 Lamar Fike, Mrs. Moore, Tom Diskin, Elvis, Ken Moore, ? and Arthur Hooten
on the deck of the S.S. Lurline - Nov. 13, 1957
Honolulu Advertiser Photo courtesy Jerry Hopkins' "Elvis in Hawaii"
Ken was with him through the filming of King Creole in 1958 prior to Elvis' entry into the Army and then picked up with him again after his discharge and arrival at Fort Dix, New Jersey in 1960 and subsequent return to Memphis but unfortunately passed away later that year.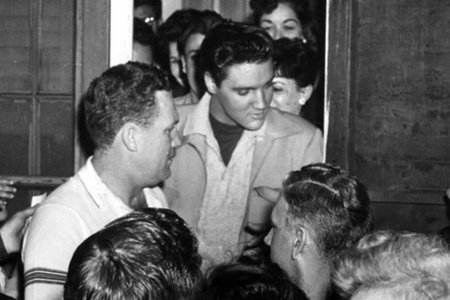 Ken Moore, Elvis and Tom Diskin filming King Creole in New Orleans - 1958
Photo courtesy Dr Macro's
Ken and Elizabeth had three children: Kenneth George, Martin and Russell. The family kept Ken Moore Enterprises running for years after Ken Sr. died with Elizabeth at the helm, though in later years the focus of the business was primarily catering. In February (19th) of 2006 Kenneth George passed away and two years later the company was sold.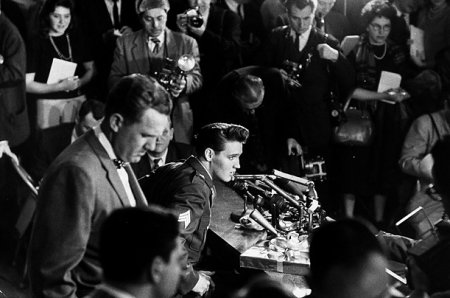 Ken Moore with Elvis at Fort Dix, NJ - Mar. 3, 1960
Photo by Al Fenn © Time Life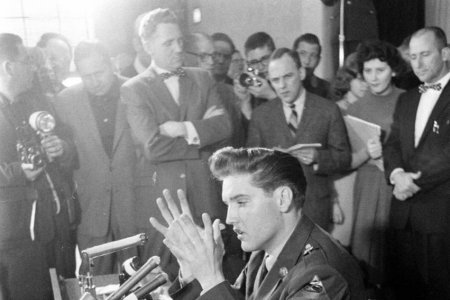 Ken Moore and Bitsy Mott with Elvis at Fort Dix, NJ - Mar. 3, 1960
Photo courtesy Time Life
I'm happy to say that their grandson Russell informed me then that at age 88, Elizabeth is still with us. According to him Elvis had apparently maintained contact for some years after Ken senior's passing and she has a collection of memoirs that includes over 1600 fan letters to Elvis, a guitar from him, autographed photos, a collection of personal candid photos and 8mm home movie film that includes the Hawaii trip. Russell said they had formerly contacted the people at Graceland about it but they expressed no interest.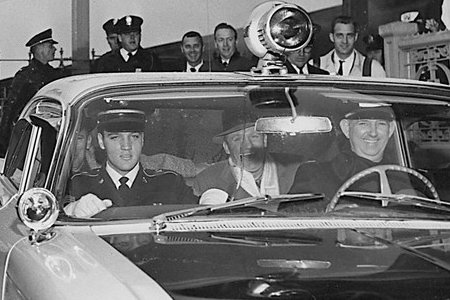 Bitsy Mott, Elvis, Ken Moore and Captain Woodward in Memphis - Mar. 7, 1960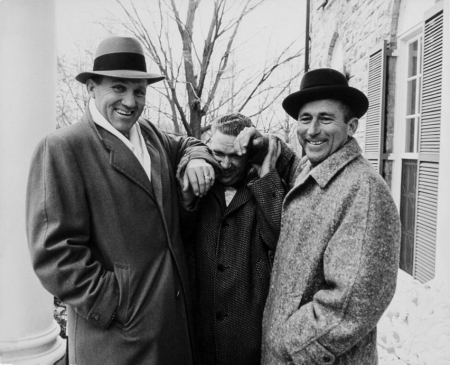 Ken, Tom Diskin and Bitsy at Graceland - Mar. 7, 1960
I was at least able to direct some collectors their way and evidently a bargain may have been reached with one or possibly even EPE itself since today they announced a new exhibit to open for the public in January in conjunction with the Elvis 2013 Birthday Celebration celebrating Elvis' love for Hawaii and the 40th anniversary of "Aloha from Hawaii." The exhibit features never-before-seen footage of Elvis on the boat [ship] heading to Hawaii in 1957 and color footage of Elvis' first Hawaiian concert.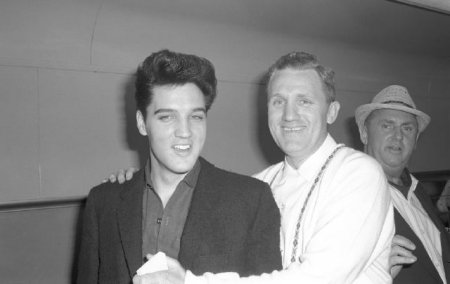 Elvis, Ken Moore and the Colonel on a train in Ft. Worth, TX - April 19, 1960
Photo courtesy David English
I want to thank Elizabeth, Russell and the family for confirming the information about Ken that we've presented previously and filling in some of the gaps.
James V. Roy
Page added December 6, 2012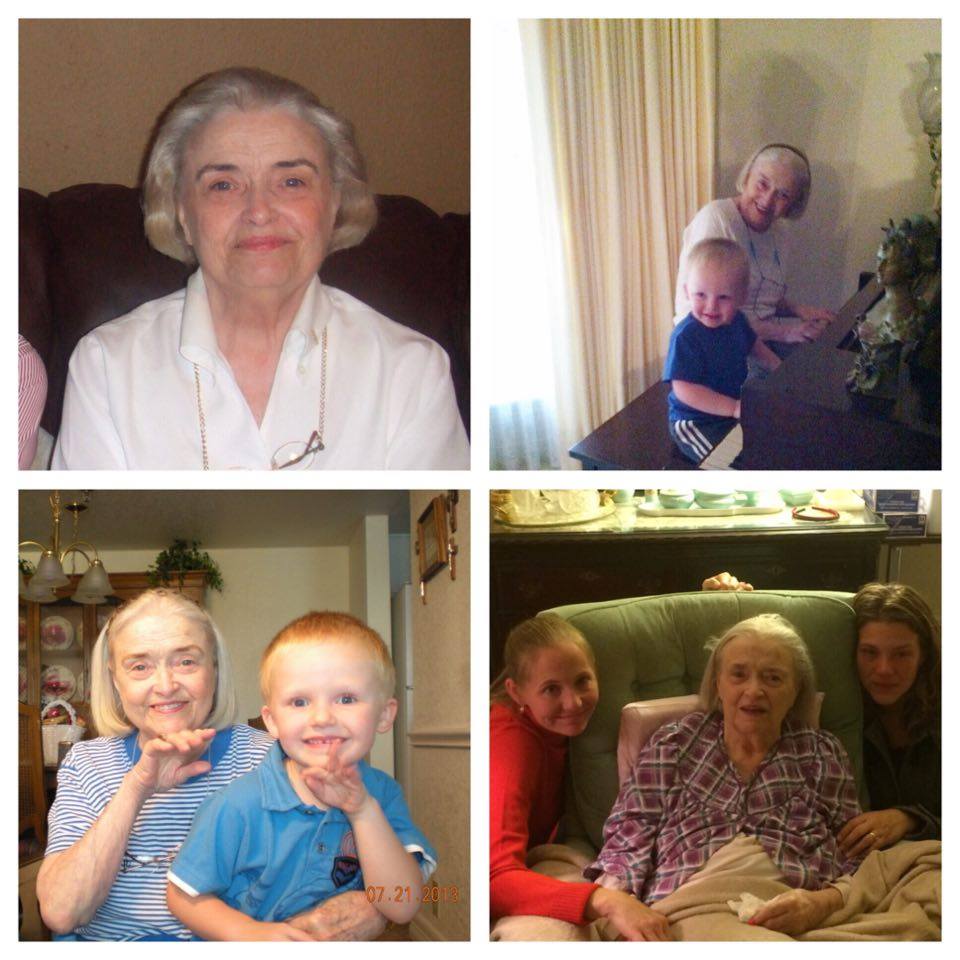 Elizabeth Moore on her 85th birthday and with great grandson Ben Howell and granddaughters Melissa (Howell) and Laurie (Cline), Kenneth George's daughters
Photos courtesy Melissa Howell
Sadly we are told that Elizabeth passed away at the age of 93 in Arlington, TX on February 7, 2017. In the company of family, she took her last breath as Elvis was singing "In the Garden."
updated Feb. 8, 2017
---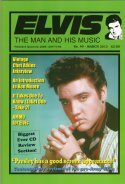 This story was also recently reprinted by our friends in the March 2013 issue of Elvis The Man and His Music, one of the finest publications on Elvis, available at www.nowdigthis.co.uk. Visit them also on Facebook.