North Side Coliseum
Fort Worth, TX
Fort Worth, Texas, was established in 1849 as an Army Outpost and named for Major General William Jenkins Worth. It became a stop along the Chisholm Trail and lays claims to be "Where the West Begins." The arrival of the railroad there in 1876 transformed the Fort Worth Stockyards into a premier cattle industry and Fort Worth became the westernmost railhead and a transit point for cattle shipment. The two biggest cattle slaughtering firms at the time, Armour and Swift, both established operations in the new stockyards.1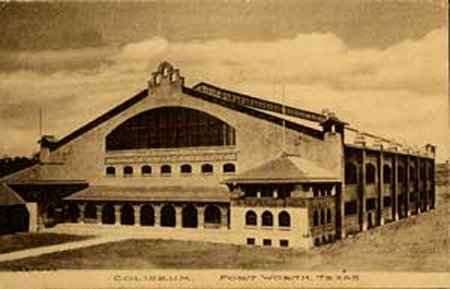 1908 postcard of Coliseum
courtesy Cowtown Coliseum
The Southwestern Exposition and Livestock Show, commonly known as the Fort Worth Stock Show, was born in 1896 along Marine Creek and was an immediate success. In 1907, it was decided to build a coliseum as a permanent home for the Stock Show.2 Its construction was financed in part by the Swift and Armour meat companies.3 Plans for the building called for it to be the "largest, most elegant, and perfectly appointed live stock auditorium in the South, and one without superior in the United States." Berkley Brandt was appointed as the architect, and Kennerly Robey, chief engineer and architect of the Fort Worth Stock Yards Company, was named project supervisor. The Texas Building Company was commissioned to do the construction.4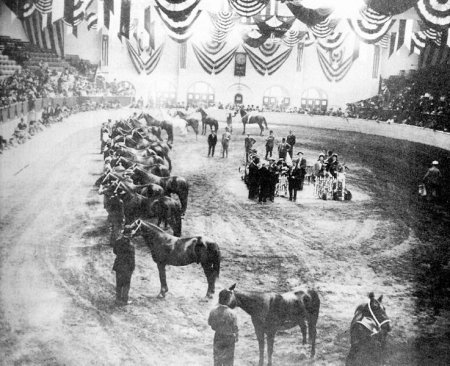 a halter class at the 1908 Southwestern Exposition and Livestock Show
Photo from The American Quarter Horse by Steven D. Price courtesy Wikipedia
Ground was broken on Exchange Avenue, immediately beside the Livestock Exchange Building and Marine Creek, and a foundation was laid by September 1907. On October 4, the cornerstone was set by the Grand Lodge of Masonic Order of Texas, with an impressive ceremony presided over by William James, past Grand Master of the Masonic Lodge of Texas, and Captain B. B. Paddock, who had presided over the felling of the large oak tree at the site of the first stock show on the banks of Marine Creek. The stone was laid, and "corn, wine, and oil, symbols of strength, good will and harmony, were poured upon it while the band played 'Auld Lang Syne.'" The building was completed in February 1908 at a final cost between $200,000 and $250,000.4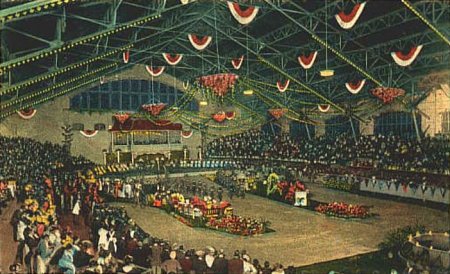 Horse show at North Side Coliseum Arena
Postcard courtesy Architecture in Fort Worth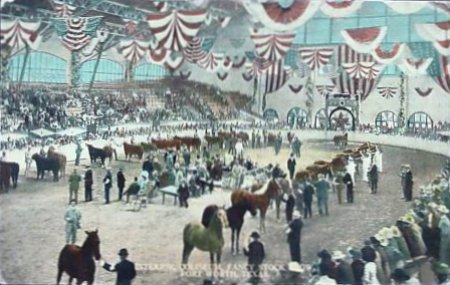 Southwestern Exposition and Livestock Show - ca. 1910
Photo courtesy eBay
Newspapers proclaimed the new coliseum—which would, over the years be called variously the North Side Coliseum, the North Fort Worth Coliseum, the Stock Yards Coliseum, and the Stock Show Coliseum—to be equal to the Great Exposition Hall at the International Live Stock Exposition Building in Chicago; and also reported that it "was of greater value to Fort Worth than the packing plants" themselves.4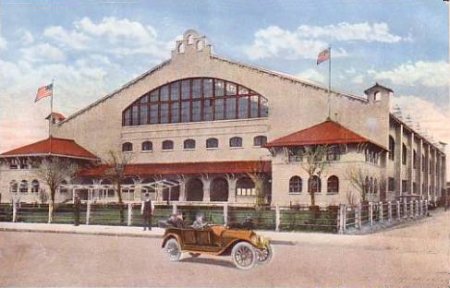 North Side Coliseum - Ft. Worth, TX
Photo courtesy eBay
The structure has a Mission Revival Style and features a one story arcade across the front. The north and south facades feature one large arched window. Below this window is the word "Coliseum" and the year "1908" in stucco relief. These walls are also adorned with Mission Style parapets. The east and west walls feature rectangular and arched windows. Buttresses adorn these walls, as well. A glazed monitor roof extending the length of the interior provides natural light to the arena.3 With it, the 1908 Stock show opened under the new name of National Feeders and Breeders Show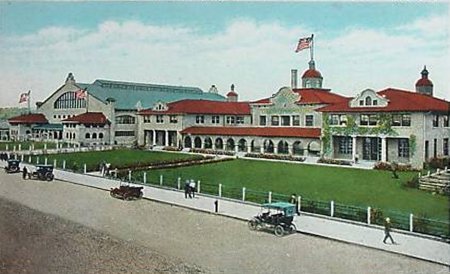 North Side Coliseum and Livestock Exchange Building - Ft. Worth, TX
Photo courtesy eBay
Over the years, the building would become famous not only as the home of the National Feeders and Breeders Show and its attendant events, but also as a cultural center. Madame Geraldine Farrar would perform Carmen and Il Trovatore there in 1916; Rosa Raisa would sing Aida in 1919; Tamaki Miura would stage Madame Butterfly. Thavius' International Band and Russian Dancers would perform in the coliseum in 1913; Diaghileff's Ballet Russe would dance under its roof in 1917; and the Chicago Opera Company would stage Faust and Luciadi Lammermoor.4 In 1917, it also served as the site of the World's first indoor rodeo.3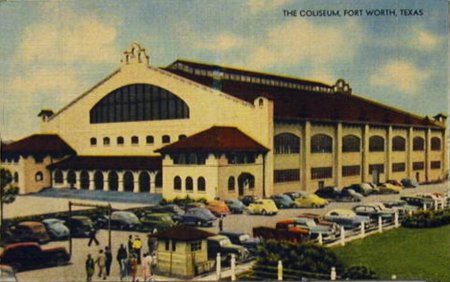 North Side Coliseum Ft. Worth, TX - ca. 1940s
Photo courtesy eBay
Enrico Caruso sang in the coliseum before a standing-room-only crowd in October 1920. The story goes that when the famous tenor heard he was to sing "in a cattle barn," he was "too upset to eat." Finally persuaded to visit the facility, he announced all the way there, over and over, "I will not sing." As he was escorted inside the arena, he shouted his refusal, paused, and was so pleased with the acoustics, he stated, "I will sing!" He was reportedly charmed by the "cowboy-hatted, heavily-booted audience's whistles, whoops, and stomps" in response to his performance.4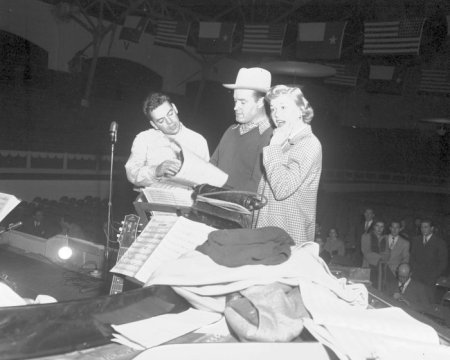 Bob Hope and Doris Day prepare for a show at the Coliseum
Photo courtesy University of North Texas Libraries, The Portal to Texas History
The Stock Show continued to meet every year in the heart of the stockyards district until 1942. With an accompanying carnival, it occupied the same ground every year just west of the coliseum. Because several of the exhibit buildings were serving as assembly plants for war production, producers cancelled the show in 1943. Gasoline rationing also made it difficult for people to come any distance to attend the event. When the show resumed in 1944 officials still could not use the exhibit buildings. Therefore, they held the event in the Will Rogers Complex which the city of Fort Worth had constructed in 1936 on the west side of Fort Worth.5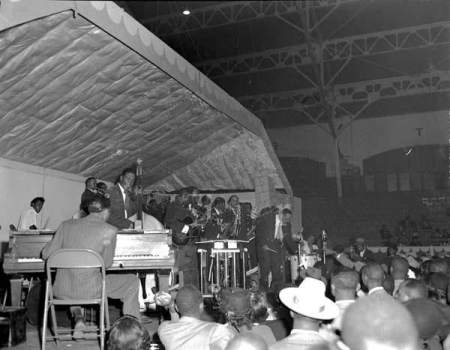 Lionel Hampton performance at North Side Coliseum - Oct. 12, 1948
Calvin Littlejohn Photographic Archive UT at Austin, Center for American History
The stock show promoters' decision not to move back to the North Side after World War II might have been reinforced by the Trinity River flood of 1942 which covered some of the North Side, including the floor of the North Side Coliseum. All the mud and dirt had to be removed before the building could be used again.5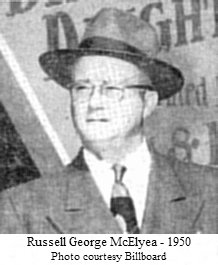 The task of cleaning it fell to R. G. McElyea, who rented the coliseum the next year from the city of Fort Worth, which had owned it since 1936. McElyea spent $75,000 to put the building back in shape. He added a hardwood floor so that he could have dances and then brought in big name bands from all over the country.5
According to Billboard, McElyea leased the coliseum in 1945 with plans as a night spot and dance pavilion. He headquartered his company, Amusement Enterprises of Fort Worth and Dallas, at the coliseum. He was one of the country's largest food concessionaires and was the concessionaire for the Cotton Bowl, Dallas Auditorium, Waco Coliseum, San Angelo Coliseum, Baylor Stadium and Texas Tech Stadium. 1945 was also the year he started bring Opry acts to the coliseum such like Roy Acuff, Kitty Wells, Minnie Pearl and Whitey Ford (the Duke of Paducah).
For many years, he scheduled country-western music in the coliseum on Saturday nights, wrestling on Monday nights, and various other activities during the week. He leased it for conventions, trade shows, and even a basketball tournament. It did not stand empty if McElyea could find an event looking for a space.5
High school and college commencement exercises, conventions of all sorts, circuses and carnivals were also staged there. Bob Wills performed there, among other singers, musicians, and performers, including Harry James: so did professional wrestlers, "big bands," and other attractions, events and performances throughout the years.4



Fort Worth Star Telegram ads for May 29, 1955 and January 20, 1956 Coliseum shows
courtesy Fort Worth Library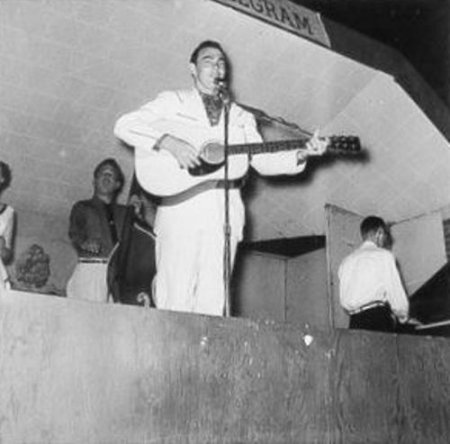 Jim Ed Brown backed by Scotty and Bill onstage in Ft. Worth - May 29, 1955
Photo courtesy Heritage Auctions, via FECC/dlc added Oct. 9, 2015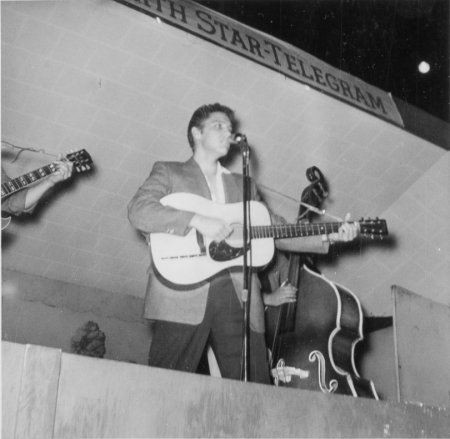 Scotty, Elvis and Bill onstage in Ft. Worth - May 29, 1955
Photo courtesy Heritage Auctions, via FECC/the fool added Oct. 9, 2015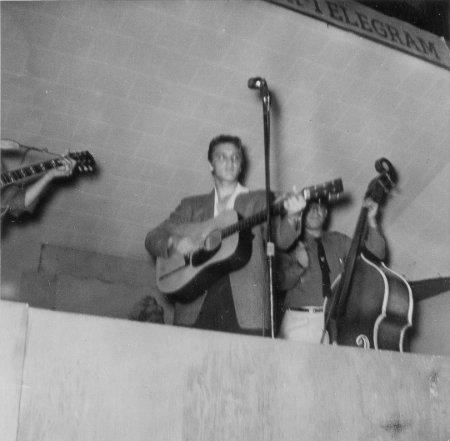 Scotty, Elvis and Bill onstage in Ft. Worth - May 29, 1955
Photo courtesy Heritage Auctions, via FECC/the fool added Oct. 9, 2015
Elvis, Scotty and Bill would make a total of three appearances at the Coliseum, two with DJ. The first was on May 29, 1955 while on tour with Opry acts like Martha Carson, Ferlin Huskey, the Carlisles and Jim Ed and Maxine Brown. It was a 4:00 show nestled between performances in nearby Dallas at the Sportatorium later that night and the night prior. Their second appearance there was the following January 20th, while touring Texas just over a week before their national Television debut.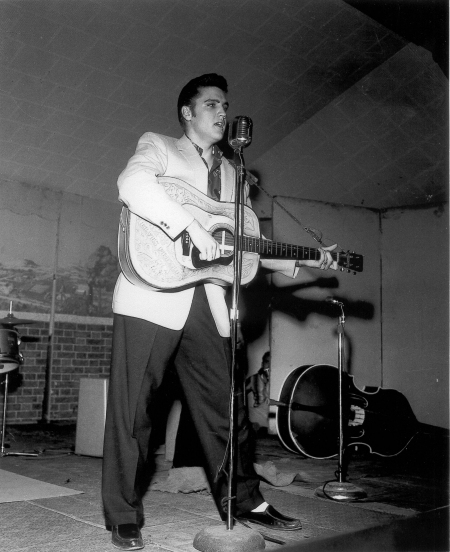 Elvis onstage at the North Side Coliseum - Apr. 20, 1956
Star-Telegram Photo courtesy Steve Bonner
By the time of their third appearance at the Coliseum on April 20th, 1956, for 2 shows, they had made their first appearance on the Milton Berle show, were set to make their debut in Las Vegas for a two week booking at the New Frontier Hotel and Elvis had signed a contract with Paramount Pictures. A week earlier Elvis had been presented with his first Gold Record for Heartbreak Hotel during their second RCA session in Nashville. Though he had until recently been performing with contemporary acts like Faron Young and Wanda Jackson, he was, at least on these dates, performing with relatively little known supporting acts. It was a practice that the Colonel would strictly adhere to in the coming months for the remainder of Elvis' performing career.
The review in the Fort Worth Star Telegram read:
Hysteria Grips Soxers
Rock'n Roll Presley Evokes Raw Display
By Elston Brooks
In one of the rawest displays of emotion for an entertainer since Franks Sinatra swooned his first bobby-soxer in 1942, a crowd of some 7,000 persons cried, grimaced and screamed for guitar-twanging Elvis Presley at North Side Coliseum Friday night.
In a word, it was utterly fantastic.
Mass hysteria completely gripped the crowd - mostly teenage girls - at two full house shows as it watched the drake-tailed young rock and roller who spiraled overnight from a $35 a week truck driver to a show business millionaire.
And all at 21.
The audience patiently sat through a pre-Presley offering by various artists, but by intermission one actually could feel the tension rising in the throng.
An animalistic roar split the coliseum as Presley sauntered on stage at last, guitar around his neck.
A cannon going off wouldn't have been heard when the shrieks rose as Presley pitched into his first number, "Let's Play House."
"Elvis, I'm going to die'" one girl shouted in ecstasy. She didn't.
"Elvis, I'm going to faint'" another threatened with closed eyes and clenched fists. She almost did.

* * * *

PRESLEY CLOSED HIS EYES, and began the sensual, almost vulgar swaying of his body that has made him a nationwide celebrity.
In a reaction better explained by Freud than Variety or Billboard, the girls collapsed on one another, moaning from side to side with closed eyes.
They screamed. Tears ran down their faces. They swarmed toward the stage.
Twenty policemen, imported for the Friday night show, shook their heads in amazement and ushered them back to their seats.
Forty girls from Dallas chartered a bus to attend the show. Two proudly displayed scars on their arms where they had carved the word "Elvis" with pocket knives.
Georgiana Blaylock, 16, and Dolores Orms, 16, both of Thomas Jefferson High School in Dallas, said their mothers called them "idiots" for carving their arms.
"I've done it four times - the latest one today," Georgiana said with a sigh.
"I've only done it twice," pouted Dolores.
As Presley moaned and swayed through "Heartbreak Hotel," "Blue Suede Shoes," "Long Tall Sally," "Only You," "I Was The One, Honey," and "I've Got A Woman," there was even a 3-year old boy mimicking him from the first row.
Earl Lloyd Bright Jr., whose parents live at 609 Crosby, came to the show with a child's guitar, and strummed and swayed along with the star.
The Brights' other child, 20-month-old Laura, clapped her hands to the rock and roll music while sucking a bottle.

* * * *


SING IT, ELVIS - These three 15-year old students at E. M. Daggett Junior High alternately wept and screamed as Elvis Presley contorted on the stage at North Side Coliseum Friday night. Left to right are Mary Hicks, Paula Egenbacher and Carolyn Faulkner.

Star-Telegram Photo courtesy Fort Worth Library

WE WISH TO GET ONE thing on the record this morning. Regardless of his act on the stage, Presley isn't the Marlon Brando-James Dean type some have reported him to be.
He's polite, well-mannered young man who says "sir" to every question asked, and who is tremendously humble at his fabulous success.
He doesn't wear motorcycle boots and black denim trousers. Instead, he was expensively attired in a lavender sports coat, black dress pants, a flashy sports shirt and black loafers. He wears his sideburns long and there's a bit of a duck-tail to his hair, but apparently the kids like it that way.
Today, he's the hottest new item in show business. His recordings of "Heartbreak Hotel" and "Blue Suede Shoes" are writing their own tickets on the Hit Parade. Next week he opens in Las Vegas at $20,000 for 14 days. He's just signed a seven year contract with Paramount Pictures.
His tour manager estimates this year he'll clear $500,000.
"Two years ago," Presley said in a backstage interview, "I was making $35 a week driving a truck in Memphis. Man, this is the greatest thing that ever happened to me. It's a dream come true."
He says he's always "sung this way" since he first picked up a guitar at the age of 12. His break came two years ago when a company decided to press a record of his after hearing a home recording.

* * * *


Scotty, DJ, Elvis and Bill onstage at the North Side Coliseum - Apr. 20, 1956
Star-Telegram Photo courtesy The Portal to Texas History, U of T at Arlington Libraries

HIS LATEST TOUR HAS been the fabulous one. After the show in Corpus Christi, the coliseum manager banned rock and roll forever. The troupe blames this on "blue" material by two singers, not on Presley's contortions.
"The roughest was in Jacksonville, Fla.," he said with a grimace. "The kids took my watch, ring, coat, shirts and shoes. I got out with my pants, but the cuffs were gone."
Presley, who doesn't smoke or drink, says he does like to ride a motorcycle. And he has three Cadillacs. He drove one of them to the coliseum Friday night from the Westbrook Hotel where he is staying.
"I ran out of gas on N. Main and had to walk some," he laughed. "Almost missed the show."
Presley says one thing hurts him - rumors that are cropping up in show business.
"I hear that I'm about to die in six months. That I've been pushing dope. That I've been to Alcatraz. I don't know how they start, but they're not true. I'm certainly not singing this way because I'm going to die."
As a matter of fact, Presley is really livin'.

article from Fort Worth Star-Telegram - April 21, 1956 courtesy Fort Worth Library
The following night the band played Houston. Billboard announced in their November 3, 1956 issue that Elvis was scheduled to appear twice more at the Coliseum before December 15th of that year as a result of an agreement between the Colonel and R.G. McElyea, the promoter for the Coliseum shows. In October, McElyea had attempted to sue the Colonel and Elvis for $38,000 for breach of contract and they had actually been served papers during a performance at the Cotton Bowl. Reputedly, Elvis had been contracted to perform the shows for $500, no doubt agreed upon before his popularity, and he or the Colonel felt it was now not enough. Billboard reported that the suit was dropped as a result of the agreement but whatever other settlement was ultimately reached, they never returned to the Coliseum. In fact, after the few dates in October following the Cotton Bowl, Elvis would not perform in Texas again until the '70s.

Coliseum and Livestock Exchange Building, Ft. Worth, TX - ca. 1980s
Photo courtesy eBay
McElyea died in 1964, but his daughter, Elizabeth Moore, operated the coliseum until the mid-l970s. At that time, Steve Murrin obtained the lease from the city and brought rodeo back to the North Side for the first time since 1942. He held eight seasons of a fall and spring rodeo circuit before 1983, when he suspended them because of renovation plans for the city owned coliseum.5

Cowtown Coliseum - Dec. 23, 2005
Photo courtesy Gojhawks
The Fort Worth Stockyards was named a National Historical District in 1976, 100 years after the arrival of the railroad made the Stockyards an important livestock center. The Coliseum was totally refurbished by the City and brought up to modern day standards in 1986, including heat, air conditioning, production, lighting and sound.

Cowtown Coliseum interior - Dec. 23, 2005
Photo courtesy Gojhawks
In 1986, the newly renovated structure was declared a historical in a ceremony with appropriate speeches and festivities by the mayor, the officials of the North Fort Worth Historical Society, and local historians. Rodeo returned in the summer of 1988, sponsored by the city.5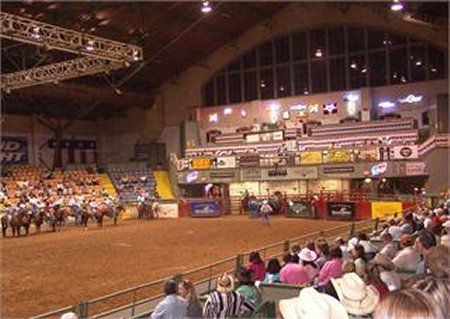 Friday nights Stockyards Championship Rodeo at the Coliseum
Photo courtesy Dallas Entertainment and Attractions
The arena is 171 feet long and 94 feet wide with an area of 16, 674 square feet. It has a concrete floor with 8 to 10 inches of mixed sand and dirt and seats approximately 3400 people, which includes 1000 seats on the arena floor.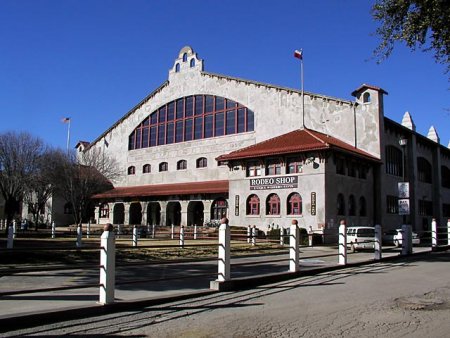 Fort Worth North Side Coliseum
Photo courtesy Architecture in Fort Worth





Aerial views of the North Side (Cowtown) Coliseum - Ft. Worth, TX - 2009
Photos © Microsoft EarthData
The Stock Show was renamed the Southwestern Exposition and Livestock Show in 1987 and today, the coliseum is called the Cowtown Coliseum.
page added November 18, 2009
All Fort Worth Star-Telegram ads and articles are courtesy Rene Gomez of the Fort Worth Library.
1 according to Wikipedia
2 excerpt from Texas-on-line
3 according to Architecture in Fort Worth
4 excerpt from "A Hundred Years of Heroes: A History of the Southwestern Exposition and Livestock Show" by Clay Reynolds
5 excerpt from "North of the river: a brief history of North Fort Worth" by J'Nell L. Pate
---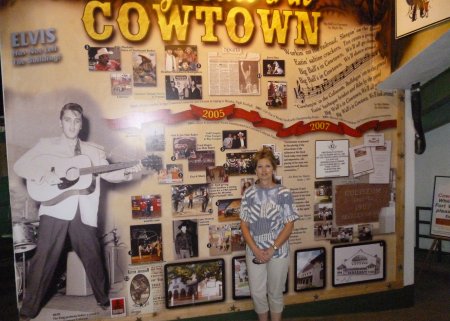 Sharon and Coliseum tribute on display at entrance - June 2012
Photo © Steve Bonner
Hey Jim,
I was recently at North Side Coliseum in the Stockyards in Ft. Worth and as you walk in they have recently added a tribute to Elvis playing there. That's my friend Sharon in the picture. Thought you might like this picture as it sure took a long time for them to get something as a tribute up.
Steve Bonner
June 28, 2012