In addition to Wanda, the April 13, 1956 appearance also featured Faron Young and Jimmy and Johnny. On April 14, the day after the show, Patsy Dinan, Entertainment Editor for the Amarillo Daily News reviewed the show as follows:

About an hour and a half before the evening show at the Municipal Auditorium
yesterday, these fans of Elvis Presley waited on the steps for the doors to open.
Teenagers crowded into the auditorium for both performances.
Daily News Staff Photo
A sleepy-eyed ex-truck driver undulated sensually against a stage microphone -- and thousands of teen agers rocked, rolled, shrieked and squealed. He lists his profession as "singer." But Elvis Presley earns his couple of thousand dollars a night arousing throngs of teen-age girls to fever-pitch excitement.
Elvis Presley drew a full house at the Municipal Auditorium twice last night. Teen age girls dominated the crowd.
Elvis Presley drew a full crowd began screaming. The soprano wails of delight rose the minute he appeared.
Accompanied by a three-man band (guitar, bass fiddle and drums), Presley started out his rock 'n roll concert with "Come Back, Baby." 5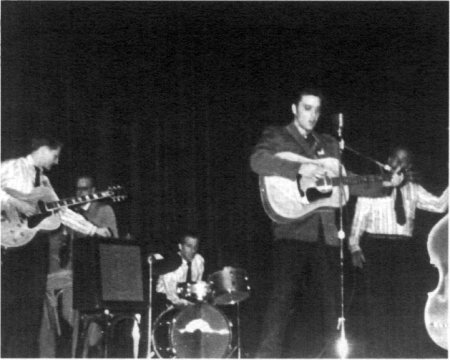 Scotty, DJ, Elvis and Bill onstage in Amarillo - April 13, 1956
Photo courtesy Barbara Welz Burns and "Elvis in Texas" by Stanley Oberst
He worked himself into an orgiastic rhythm, losing himself to the savage beat of his own guitar and his accompanying band. The air raid - siren scream of the crowd heightened as Presley's bumps and grinds grew more frantic.
He set a rhythmic pattern in his first song that he pursued for each succeeding number.
"Heartbreak Hotel," his current hit-parade number, followed. Then came "Long Tall Sally," "I Got a Woman," "I Was the One," "Only You" and, finally, "Blue Suede Shoes."5

Elvis fans at Amarillo Municipal Auditorium - Apr. 13, 1956
Photo by A. Y. Owen courtesy Time Life Pictures
What he sang didn't matter. The fascination was the provocative gyration of the singer, lighted by blue-and-red footlights.
The teen-age girls swarmed toward the stage, filled the aisles, lined the walls-drawn to the man who was throwing himself around on stage.
Stimulated by this sight and overcome by the beat, the little girls, too, set a pattern for their reactions. They giggled at the start of a song. They screamed. They stared wide-eyed. Some clenched their fists and closed their eyes--others covered their faces with their hands --at the climax of each song.
Presley stirred the crowd to a frenzy.5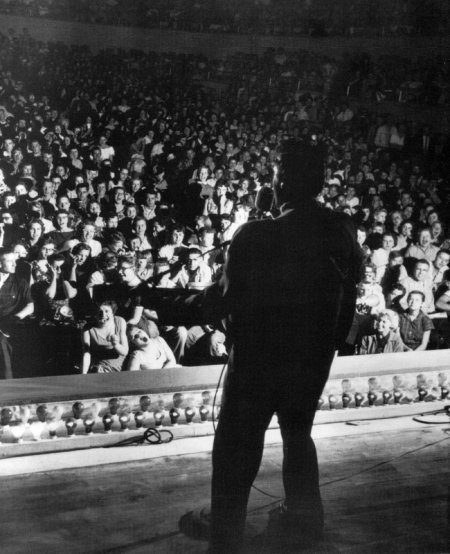 Elvis onstage at Amarillo Municipal Auditorium - Apr. 13, 1956
Photo by A. Y. Owen courtesy Joseph A. Tunzi's "Photographs And Memories"
Overwhelmed by the emotion let loose in the auditorium, the crowd swelled out after the first show to mob the stage entrance for a view of their idol.
Because a Life magazine photographer was covering his performance, Elvis had consented to sign autographs.
Only a minute or two after the curtain for the first of two performances last night, a near riot mushroomed at the stage door.
Having smashed an entire front door of the Municipal Auditorium at 5:30 p.m. yesterday, the Presley fans set to work on the stage door. One pane of glass went out before Presley reached the backdoor for his autograph party.
Members of the Amarillo Police Department and Auxiliary Policemen had been stationed around the auditorium to attempt to control the mob. (Its Presley's police-escorted exits after his shows that have started the rumors of his being jailed--in San Diego, San Francisco, Lubbock or anywhere that he has appeared).
Waiting for Presley to appear the stage -door gang set up a chant of "We want Elvis!"
He finally appeared -- in his mandarin-collared gray pink silk shirt, cerise swing-back jacket, black trousers and black moccasins.
The girls gave out a scream.
Policemen tried to take the jagged glass from the frame of the broken pane. The extraction was only half-successful. for about 15 minutes little girls thrust their hands through the jagged hole in the door. some of the teen agers were cut -- that, too, seemed to be a thrill.
Presley signed for programs, photographs, autograph books, lipstick-blotted napkins. He tried to return the programs to their owners, but some of them were snatched away by bigger stronger girls.
Presley even signed some of the girls' hands -- another thrill.
The stagedoor throng had already trampled the hoods of a couple of Cadillacs parked at the stage door. Then they started to trample each other.
"We better stop now, they're getting hurt," the idol told the Life Photographer. He took a few more pictures -- and the singer and the cameraman left the stage door. But the girls didn't. They stayed to break another window pane and cut a few more wrists.5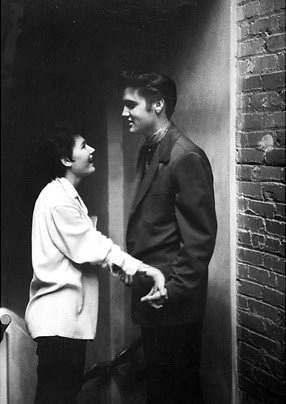 Elvis backstage in Amarillo - Apr. 13, 1956
Photo by A. Y. Owen courtesy Time Life Pictures
Presley went back behind the stage curtains, hugged a nearby blue jeaned teen age girl, paced the floor, told a questioner that he doesn't plan to get married because "why buy a cow when you can get milk through the fence."
Presley gave the teenage girl a long eye-to-eye stare apparently momentary mesmerism. He brushed from his forehead a few strands of his duck-tail-cut brown hair and flapped his long eyelashes.
His sensual lips in a pouty pose, he walked the girl over to a back stage piano bench, sat on the floor and sang a soft respectable harmonizing tenor to another singing guitarist's impromptu chorus of "We Will Have These Moments To Remember."5

Elvis fans at Amarillo Municipal Auditorium - Apr. 13, 1956
Photo by A. Y. Owen courtesy Time Life Pictures
(Meanwhile the auditorium was filling up with a second houseful of rock 'n' roll fans).
Presley said he likes his Cadillacs, but he likes his new three-wheeled Messerschmitt automobile better. But he never gets any time off--he's driven the new car only two days.
Last night, after the shows, he was to fly to Nashville for a recording session this morning.
Presley will play a two-week date at The Last Frontier in Las Vegas. Will he like that better than one night stands? He doesn't know. He says, "When I stay very long in one place I got restless--know what I mean?"
Asked about his new seven year contract with Paramount Pictures, the singer said he plans to "act." He said he took "an acting test" in Hollywood -- and he didn't use his guitar. He wants to keep up his singing and do acting, too.5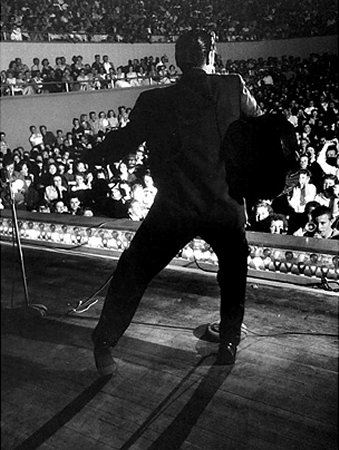 Elvis onstage at Amarillo Municipal Auditorium - Apr. 13, 1956
Photo by A. Y. Owen courtesy Time Life Pictures
He doesn't know the details of his movie contract. "Colonel Tom takes care of that," he says. "Colonel Tom," an honorary colonel named Parker, is manager for Presley and a string of other "country music artists."
Presley wandered around backstage--restless. He limped. He limps, he explained, because he "kicked a table in the middle of the night while I was asleep."
"You walk in your sleep, Elvis?"
"Yeah, man, I beat out windows and everything. I go to sleep thinking about something--you know what I mean -- and, man, I wake up swinging," he said flailing his fists in demonstration. "You know, I think someone's after me."5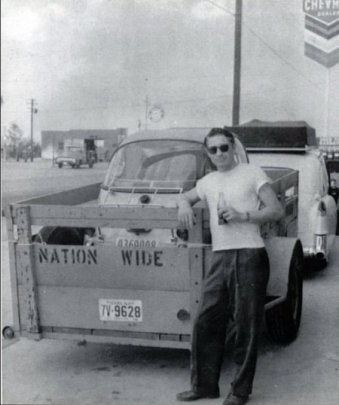 Scotty, on tour with Elvis' Messerschmitt in tow
As Patsy Dinan had reported, Elvis, Scotty, Bill and DJ flew to Nashville that night to record at RCA's McGavock Street studio (nearly running out of fuel mid air). Elvis was presented his first Gold Record for Heartbreak Hotel and they recorded "I Want You, I Need You, I Love You." They rejoined the tour in San Antonio on the 15th.
The Air Force base continued to train thousands of jet aircraft and engine mechanics and air-frame repairmen until 1968. The last class was graduated on December 11and the base was deactivated on December 31, 1968. Current ownership is now divided among the City of Amarillo, the State of Texas, and the US Government. The City of Amarillo owns the airfield structures (runways, hangars, fuel storage), most of which is being utilized for Amarillo International Airport.3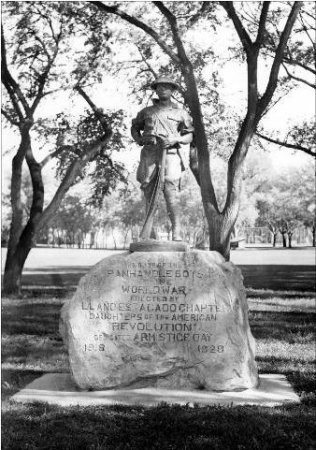 The "Dough Boy, Ready" monument in Ellwood park
photo courtesy Amarillo Public Library
The "Dough Boy, Ready" monument placed on the grounds of the Auditorium in 1928 had been moved on June 24, 1966, and the marker was set on a concrete foundation at the northwest corner of Ellwood park.2 1968 also saw the closing and demolition of the Auditorium. It was replaced by the Amarillo Civic Center.

David DeWald in the auditorium the day before demolition begins in 1968
photo courtesy AmaChron The Entertainers
In more recent years, Amarillo has become a major world force in the development of natural gas, providing pipelines to many large cities and towns throughout the U.S. Amarillo today boasts a diversified economy which includes heavy manufacturing, petrochemicals, farming, modern ranching, and a burgeoning tourism industry.1
page added October 28, 2008
(LaCreta Guy photos added July 22, 2011)

Special thanks to LaCreta Guy, nee Counts, from the Amarillo High School class of 1957 for the use of her photos taken by her sister Virginia, formerly of the Amarillo Globe-Times. All Sunday Globe Times and Daily News articles and ads are courtesy Gayle Brown of the Special Collections Department, Amarillo Public Library. All Amarillo Public Library Photographs are used with permission courtesy Rob Groman of the Special Collections Department, Amarillo Public Library.
1 excerpt from City Town Info, Amarillo, TX
2 adapted from descriptions of the Amarillo Public Library Photo Archive Collection
3 excerpt from Amarillo AFB, Global Security.org
4 according to Billboard courtesy Ger Rijff's "Long Lonely Highway"
5 excerpt from "Elvis Presley Comes To Town" by Patsy Dinan, Amarillo Daily News - April 14, 1956
---