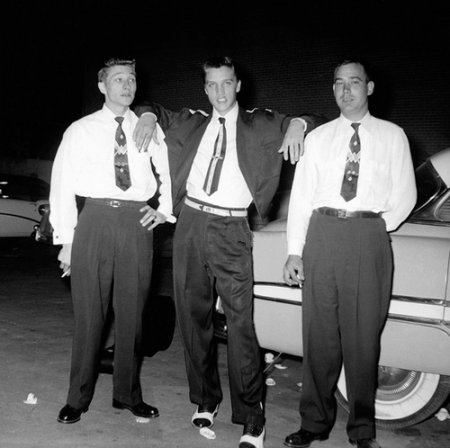 Scotty Moore, Elvis Presley and Bill Black in Memphis - Sept. 9, 1954
Photo © O. Walker

Amateur film from Lubbock, TX - April 29, 1955

In this interview Scotty is recorded talking about the very early days of meeting Elvis, recording and touring with the Blue Moon Boys. The following audio files are in MP3 and Windows Media Audio 8 (WMA) format to facilitate faster download times and require compatible players to enable you to listen.
Q: Scotty, How did you start out playing with Elvis, where did you first meet him?


.mp3 233 Kb

.wma 168 Mb
Q: What was he like when you first saw him, how was he dressed?


.mp3 109 Kb

.wma 81 Kb
Q: What were you and Bill Black doing musically before the gig with Elvis?


.mp3 71 Kb

.wma 54 Kb
Q: What kind of jobs were you guys doing during the day, before you started doing it fulltime?


.mp3 75 Kb

.wma 57 Kb
Q: Had Elvis done any recording before he recorded with you?


.mp3 157 Kb

.wma 115 Kb
Q: How long did it take after the first meeting before you met up again?


.mp3 104 Kb

.wma 78 Kb
Q: What was the first song you recorded together and how did you know which ones to do?


.mp3 122 Kb

.wma 90 Kb
Q: "That's Alright, Mama" was the song that pretty much changed history, how did you decide to pick that one?


.mp3 155 Kb

.wma 113 Kb
Q: When and what was next? How did you decide what to follow up "That's Alright, Mama" with?


.mp3 195 Kb

.wma 141 Kb
Q: When you cut that first record you and Bill were still with the Starlite Wranglers. How did Elvis fit in with that and where did he first perform?


.mp3 289 Kb

.wma 206 Kb
Q: When you started touring as the Blue Moon Boys where did you play?


.mp3 83 Kb

.wma 63 Kb
Q: How did you start getting dates outside of Memphis, who did the booking?


.mp3 127 Kb

.wma 94 Kb
Q: Elvis at that time was still pretty new to performing, compared to you and Bill. What were those first shows like?


.mp3 208 Kb

.wma 150 Kb
Q: When and where were most of the venues you played early on?


.mp3 95 Kb

.wma 71 Kb
Q: You played a lot around Louisiana and Texas, why that area so much?


.mp3 125 Kb

.wma 92 Kb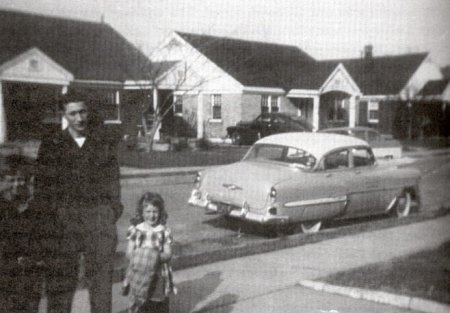 Scotty with Bill Black's children and Bobbie's 53 Chevy
Photo © Scotty Moore
Q :How did you guys get around to all these gigs?


.mp3 132 Kb

.wma 97 Kb

Bill Black, Jimmie Rodgers Snow and Elvis parade in Meridian, MS - May 26, 1955
Photo courtesy Jimmie Rodgers Snow
Q: What happened to that Pink Cadillac?


.mp3 130 Kb

.wma 95 Kb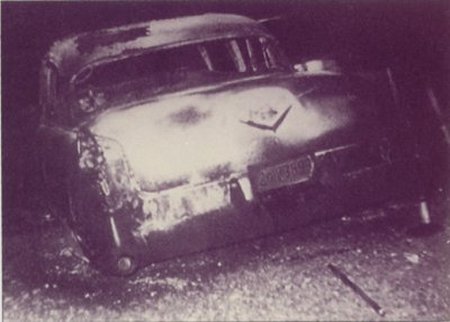 Elvis' first Cadillac burned - June 5, 1955
Photo by Shirley Searcy Delgado
Q: What happened when you played at the Grand Ol' Opry?


.mp3 83 Kb

.wma 63 Kb
Q: How did playing at the Hayride compare to the Opry?


.mp3 192 Kb

.wma 139 Kb