1034 Audubon Drive
Memphis, TN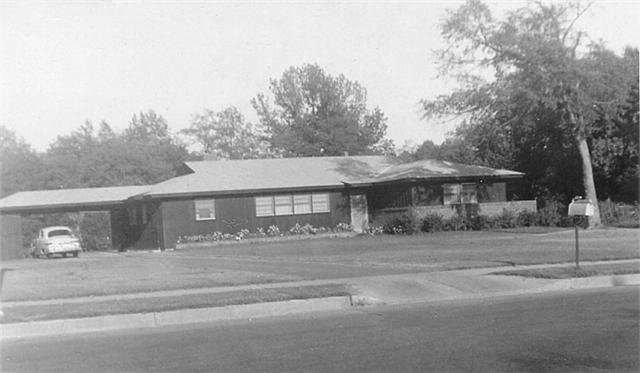 The house at 1034 Audubon Drive in Memphis that Elvis would later purchase - ca. 1954
Handwerker Family Photo © Jeanne Handwerker Brink
By March of 1956 when the big money started coming in Elvis purchased his first home, not far from his then current residence at 1414 Getwell Road. Next to Graceland it has become one of his more well known residences. It is a single family four bedroom, two and 1/2 bath ranch style house with a car port built in 1954. It is located in Memphis east of downtown in a quiet residential neighborhood south of Audubon Park and Park Avenue at 1034 Audubon Drive. According to Peter Guralnick in Elvis Day by Day, it was purchased for $29,500 from the Welsh Plywood Corporation on March 12, 1956.

The house at 1034 Audubon Drive in Memphis that Elvis would later purchase - ca. 1954
Handwerker Family Photo © Jeanne Handwerker Brink
The home was originally built for, and owned, by Ruth and Howard Handwerker for their family. Simple in design, the landscape was initially unfenced and was as accessible to area fans as was he at the time. Because of his schedule though it would be awhile before he got to spend a single night in it. When he was at home though it was not uncommon for fans to visit and congregate at times to the inconvenience of the neighbors. As his popularity grew he and his family were photographed there often, by the local press as well Phil Harrington for Look Magazine, Marvin Israel for Seventeen, Al Wertheimer during his visit in July of 1956, and Lloyd Shearer in August of 1956 for Parade Magazine.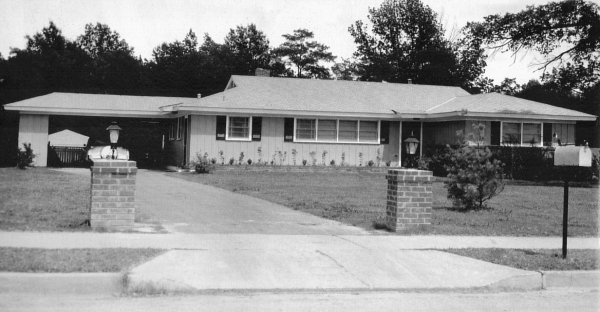 Elvis' house at 1034 Audubon Dr. in Memphis - 1956
Photo courtesy web
Christine Todd said her driveway was directly across the street. She and other community members watched him evolve into an icon. After he started making movies he entertained guests there from Vegas show girls to movies stars like Natalie Wood and Nick Adams. Neighbors said they couldn't cross the street without a police escort for most of the 13 months Elvis resided in the quiet neighborhood.1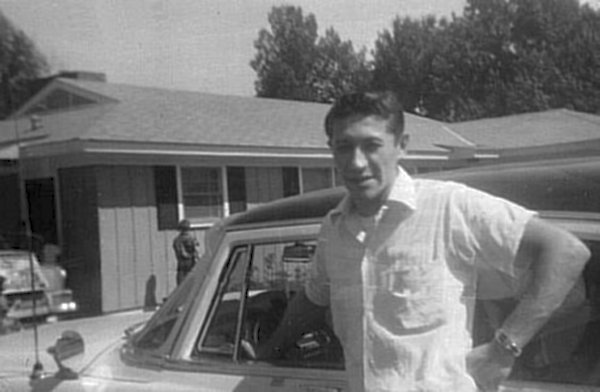 Scotty with what appears to be Elvis' 1956 Plymouth wagon at the Audubon Dr. home - 1956
Photo © Saralyn Epstein Singer
Larry Busby, owner of Front Street Deli, said he began his business endeavors with Elvis' move to the neighborhood. "We didn't realize the enormity of Elvis Presley, but we figured it out quickly… when you couldn't get through Audubon Drive with a car," said Busby. He said he began charging fans $1 to park in his driveway and front yard while his father was at work, but was unceremoniously shut down when his dad came home early one day and couldn't park.1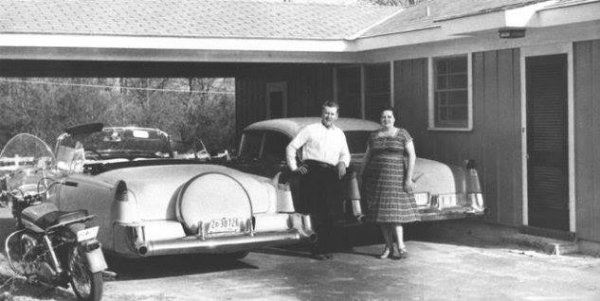 Vernon and Gladys Presley in the carport with the 1956 Harley, 1954 Series 62 and 55 Fleetwood 60
Photo courtesy web
Barb Metz-Steiner, former neighbor, said she had the best seat any girl of that time could've asked for — her bedroom faced the home. "I could lay in my bed, look out my window and keep track of what Elvis was doing," said Metz-Steiner. "He was just the cutest thing and the biggest flirt I've ever known." 1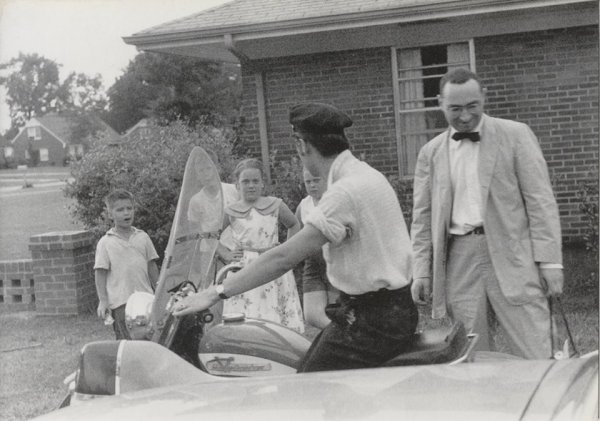 Elvis preparing to take a ride while neighborhood kids watch in the driveway - May 1956
Photo by Marvin Israel © Lawrence Israel courtesy "Elvis Presley 1956"
Beverly N. Lowe from Memphis remembers, my great grand father William E. Nickey moved on to Audubon Dr. after Elvis was already living on the street. He lived there until 1960. Elvis' house was 3 houses down toward Park. My grandfather took me to visit several times during that period. I was much taken with the music note fence and kept asking if I could go to the Fair, because I thought there must be some kind of carnival down the street to have music notes on the fence. When I ask my great grandfather's nurse who lived over there she said kind of scornfully" Oh, just some musician!" I wanted badly to go there even though I had no idea of who Elvis was at the time. It just looked like a fun place. I was around 3 at the time. I've of course regretted that I did not get over to Elvis' house when I was 3!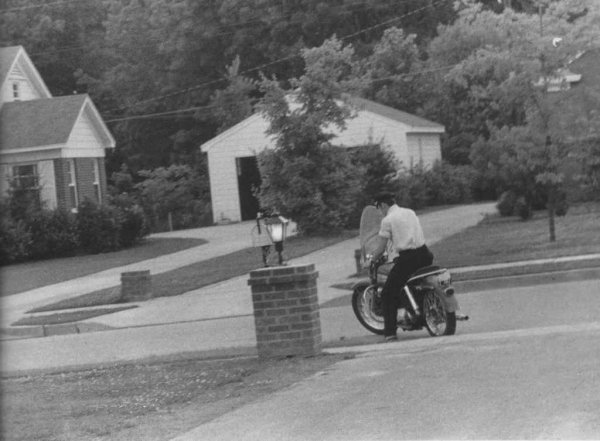 Elvis driving out of the not yet walled or gated driveway - May 1956
Photo by Marvin Israel © Lawrence Israel courtesy "Elvis Presley 1956"
Just over a year ago while researching the 1955 performances at Messick High School the boys played in support of Bob Neal's son, I was greatly assisted in part by members of its alumni group. Several months ago I noticed many of them reminiscing about the appearances there and also his early residences, including the one at Audubon Drive which several frequented. I decided to include a few of their posts here: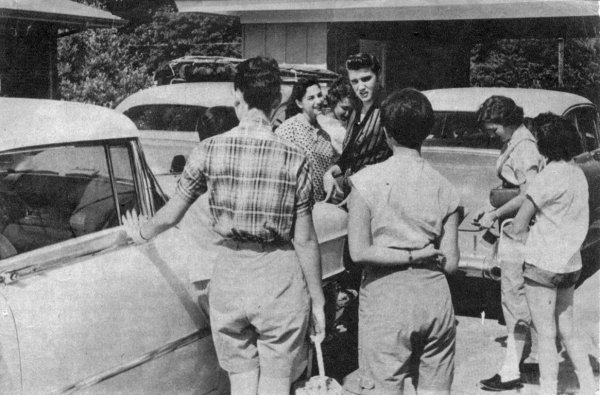 Elvis with fans in the driveway at Audubon Dr. - June 1956
Photo by Bob Williams Ger Rijff
Garnet Bridges - Someone said earlier they couldn't remember Bob Neal's sons names. One was named Tony, don't remember the other but the last name was Hobgood. They came to school selling 8x10 black and white autographed pics of Elvis for $1. and I didn't buy one. How many times have I kicked myself. Someone ought to get Ardath Werne Michaels to tell her tales of Elvis, also Angie Stamson Baker. She was friends with Elvis cousin and went to his home. Ardath had some stories about the old Rainbow Swimming Pool and the juke box with Elvis.


Elvis with fans on the patio at Audubon Dr. - June 1956
Photo by Bob Williams courtesy Ger Rijff


Elvis and fans in the carport and backyard at Audubon Dr. in Memphis - July 4, 1956
Photo ©, Al Wertheimer. All rights reserved.

Pat McDaniel - Elvis came to see Miss Kenner several times at Messick, seeking her advice.

John Green - I remember teachers walking out in protest of his wiggle and girls crying and screaming. Great time to be young!

Jeff Buchwald - The story goes that after one of the Messick performances, Miss Kenner said to him, "You sing well, young man, but you've got to stop all that shaking around!" to which Elvis answered, "It's what I do Ma'am."


Fans in the driveway at Audubon Dr. in Memphis - July 1956
Photo by Lloyd Shearer courtesy Ger Rijff''s Memphis Lonesome


The walled but not yet fenced front yard at Audubon Dr. - July 1956
Photo by Lloyd Shearer courtesy Ger Rijff's Memphis Lonesome

Franklin Plunk - of course all of us our age has an Elvis story. I lived at 3886 Philsdale within eyesight of Getwell location, we would see him at the service station, nice mannerly person would invite us over to play pool. I was more impressed with Scotty Moore, he had a brand new style.

Patricia Cockrell Hill - I used to see Elvis riding around in the neighborhood a lot.


Gladys and Elvis in the pre expanded family room at Audubon Dr. - July 1956
Photo by Lloyd Shearer courtesy Ger Rijff's Memphis Lonesome

Debi Islaub Mann - I remember seeing him on his motorcycle with his entourage in the Park Ave area. He always waved and roared off!!!

Karen Albin - He used to come into the record shop on Park in the Park/Belz Shopping Center, talk to whoever was there and sign records.


Fans inside the, now fenced, wall collecting blades of grass from Elvis' lawn - 1956
Life Magazine Photo source Jon Reed


Elvis with his 1954 tour limo and 1956 Harley in the carport at Audubon Dr.
Photo courtesy Ger Rijff

Glenn Rose Franklin - I remember when he had the duplex on Getwell close to your house with a small skill pool table...then he moved to Audubon drive where we would talk after one of his road trips.


Elvis with a fan at the driveway gate
Photo courtesy web

Phyllis J. Southall - Pretty sure it was Getwell and Kimball.

Patricia Cockrell Hill - Right at Getwell and Kimball. They moved the house around on Kimball when they built, I think it was an auto parts store. It was in the 1400 block of Getwell. I lived at 1591 Echles just 2 blocks west and south of his house.


Elvis on his new 1957 Harley-Davidson FLH in the rear driveway at Audubon Dr. - ca. fall 1956
Photo by Ted Bruehl


B. W. Barfield (Mr. B.) of the Memphis Harley-Davidson Co. and Vernon at Audubon Dr. - ca. fall 1956
Photo courtesy web

John Earhart - The house was on the east side of Audubon and had a brick wall with a musical scale and notes between brick columns. I wonder if the notes were from a song?

Patricia Cockrell Hill - I was close, the one on Getwell was 1414 Getwell. The one on Audubon was 1034. My sister's brother-in-law bought it after Elvis moved to Graceland.


Elvis at Audubon Dr. - Nov. 56
Photo courtesy web

John Earhart - My wife Kay used to live on Fizer Ave, about 5-7 blocks from Elvis's pre-Graceland home. They walked up to the side door in the carport as I recall and knocked on the door. A lady answered and when they asked if Elvis was home she said no and told them they better run along. That house was on the way between my home and Kay's.


Elvis talking to fans behind the fence from the front yard at Audubon Dr. - ca. Jan. 1957
Photo courtesy web

Theresa Mormino - My sister was at Messick when he did and she has her year book with the picture in it. One time, Barbara Fant and a bunch of us girls loaded up and drove to that pre-Graceland house and did the same thing. Knocked on the door and as I recall, Gladys answered and pretty much told us the same thing.


Elvis talking to fans behind the fence from the front yard at Audubon Dr. - ca. 1957
Photo courtesy web

Ester Hardesty - True story. Walked to Elvis' house when he lived off Park Ave. in the Audubon Park area with some friends. We walked around to his back yard. We could see the family having dinner through a sliding glass door. By this time a crowd was gathering. Elvis picked up a Gallon size glass milk bottle and started to drink from the bottle. One of the silly girls in the crowd screamed (not me). At this point Elvis came out to talk to us. He got one of his motor scooters out and started taking everyone for a ride. As it started to get dark, his Mom came outside and told him he should stop the rides as there was no lights on the scooter. I was very disappointed as I never got to ride with him. He then started kissing all the girls before he went back inside. So, I am proud to say that I got a KISS on the lips from Elvis Presley. That was much better than a motor scooter ride. Oh yes, I did get some blades of grass from his yard as a souvenir.


The home at 1034 Audubon Dr. when Mike Hazen and Cindy Freeman owned it - Aug. 2002
Photo © James V. Roy


The rear driveway and expanded living area where the patio was at Audubon Dr. - Aug. 2002
Photo © James V. Roy
Elvis had several modifications done to the home during his stay there. The carport became a garage with doors in the front and back with the driveway extending through to the rear of the house. The bricked patio became enclosed and part of an expansion of the living room. He had fences and a brick wall installed and the wrought iron gates and fencing, with musical notes encircled on a staff, on top of that. He also had a pool installed.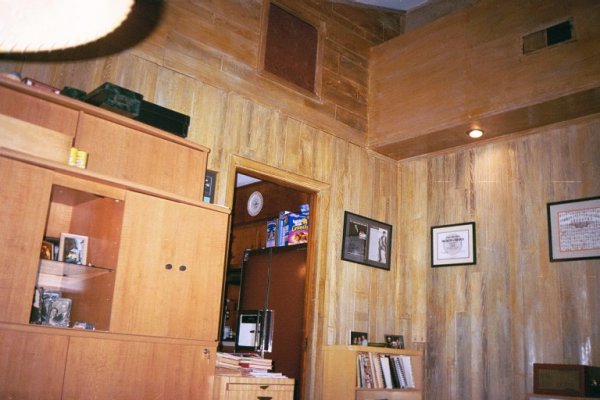 the front room just off the kitchen - Aug. 2002
Photo © James V. Roy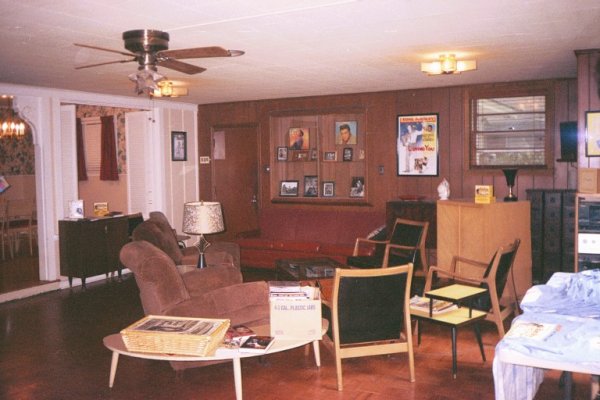 Elvis expanded the rear patio into this large family room at Audubon Dr. - Aug. 2002
Photo © James V. Roy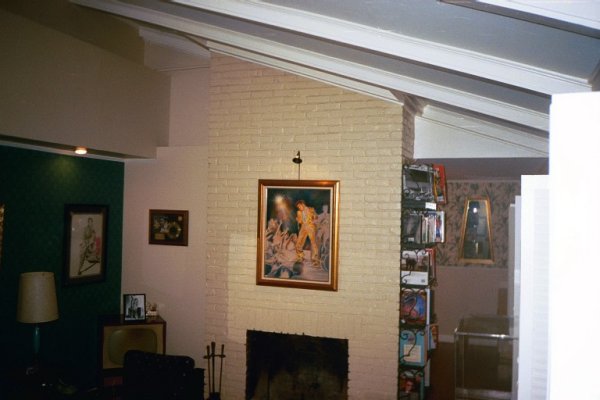 The fireplace and den at Audubon Dr. - Aug. 2002
Photo © James V. Roy
By March of 1957 his popularity was such that he sought privacy and found it, likely to the dismay of fans but to the relief of his Audubon neighbors, down highway 51 at Graceland, which at the time was virtually "out in the country." The Audubon Drive home was part of the purchase price and became the home of Ruth Brown Moore who had sold him Graceland, built by her husband in 1939 and named for her aunt Grace, the original owner of the property.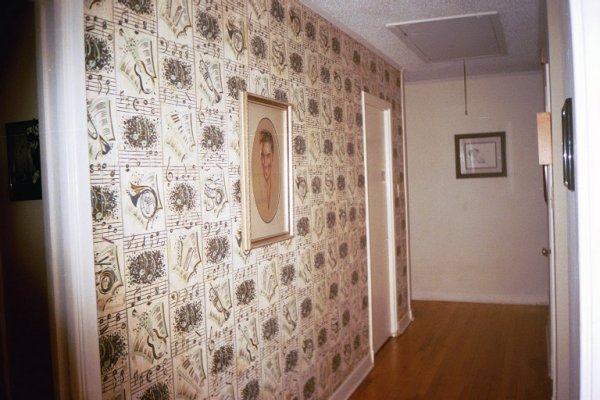 They removed several layers of wallpaper to reveal what was no doubt put in for Elvis - Aug. 2002
Photo © James V. Roy
The house had since sold about eight times at market value when it was purchased by Mike Freeman and Cindy Hazen, co-authors of Memphis-Elvis Style, for about $180,000. While living in it they attempted to maintain it and restore it to the look as when Elvis owned it. They opened it to the fans at times and during the summer would host pool parties during Elvis week. The musical notes on the fence had at some point bee removed.

One of the bathrooms at Audubon Dr. - Aug. 2002
Photo © James V. Roy
In 2006 after a controversial ebay auction the house was purchased by Mike Curb for $1 Million, whose foundation among other things also owns RCA Studio B. No longer open to the public it is overseen by the Mike Curb Institute at Rhodes College. They've since repainted it to a color similar to one when Elvis owned it, restored the brick facade and among the renovations, removed the pool.

1034 Audubon Drive in Memphis - May 10, 2006
Photo © James V. Roy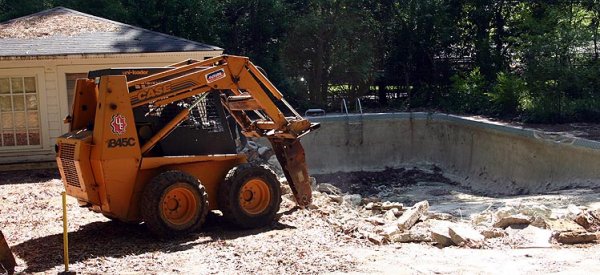 Removing the pool at 1034 Audubon Dr. - 2006
Photo courtesy eBay
John Bass, the director of the institute said, As stewards of the house we look for interesting things to do with the house. It's sorta the history of Elvis without Elvis in it.1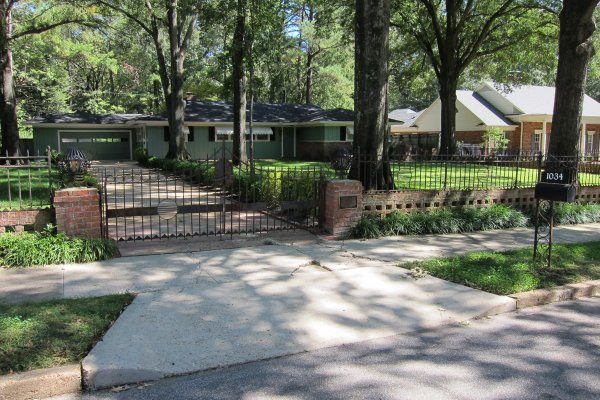 The house at 1034 Audubon drive as it looks today, musical staffs still in the fence but no notes - Sep. 30, 2011
Photo © Jon Reed
page added October 21, 2013

Special Thanks to the members of Messick High School Alumni Facebook group and Beverly N. Lowe for their input and allowing us to share some of their recollections on this page.
1 according to or excerpt from Elvis' former neighbors part of Rhodes College documentary By Timberly Moore, The Commercial Appeal - January 15, 2013
---
Larry Moss was kind enough to share copies of the documents he owns pertaining to the Elvis' Audubon Drive home and are presented here: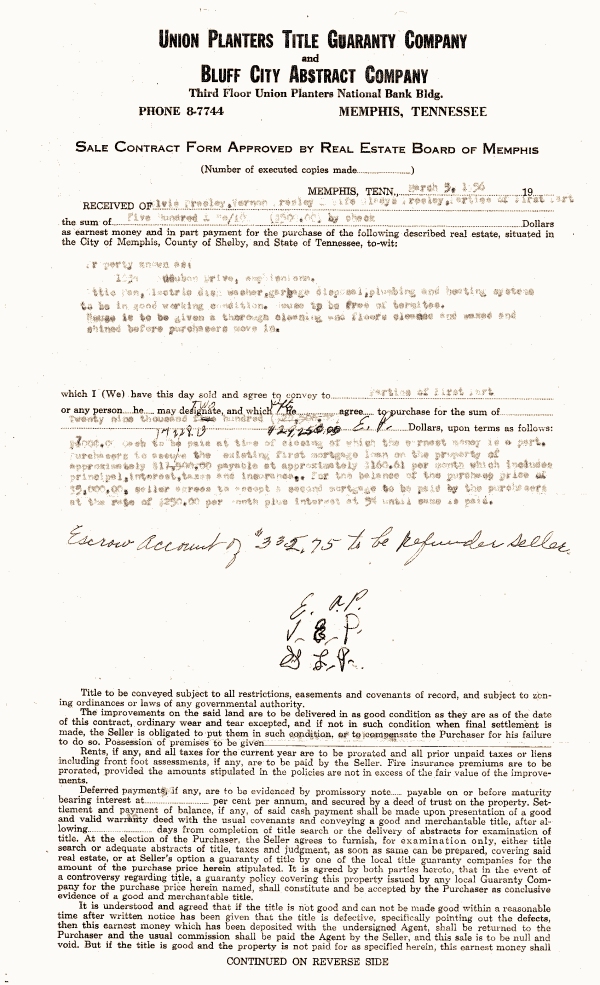 The front page of the sales contract signed March 5, 1956 upon receipt of $500 deposit
© Larry Moss
Transcription of the typewritten terms is as follows:
March 5, 1956

Elvis Presley, Vernon Presley and wife Gladys Presley, parties of First part

Five Hundred & 00/100 ($500.00) by check

for property known as:
1034 Audubon Drive, Memphis, Tenn.
Attic fan, electric dish washer, garbage disposal, plumbing and heating system to be in good working condition. House to be free of termites.
House is to be given a thorough cleaning and floors cleaned and waxed and shined before purchasers move in.

Parties of First Part

Twenty nine thousand five two hundred fifty ($29,500.00) $29,250.00 E.P.
$7,000.00 cash to be paid at time of closing of which the earnest money is a part.
Purchasers to assume the existing first mortgage loan on the property of approximately $17,500.00 $17,228.13 payable at approximately $160.61 per month which includes principal, interest, taxes and insurance. For the balance of the purchase price of $5,000.00, seller agrees to accept a second mortgage to be paid by the purchasers at the rate of $250.00 per month plus interest at 5% until sum is paid.

Escrow Account of $335.75 to be refunder seller.

E.A.P
V.E.P.
G.L.P.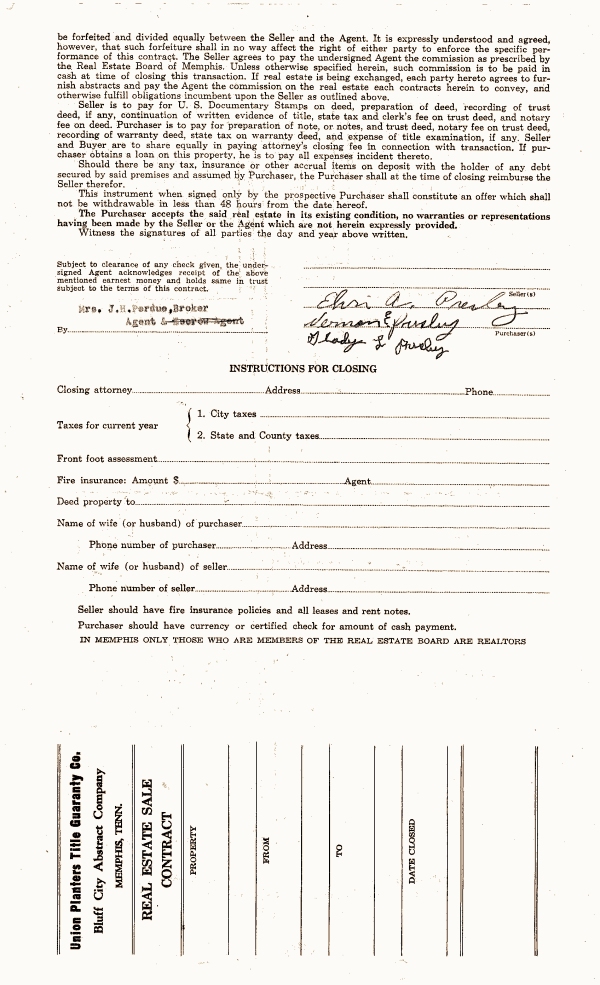 The back page of the sales contract signed March 5, 1956 upon receipt of $250 deposit
© Larry Moss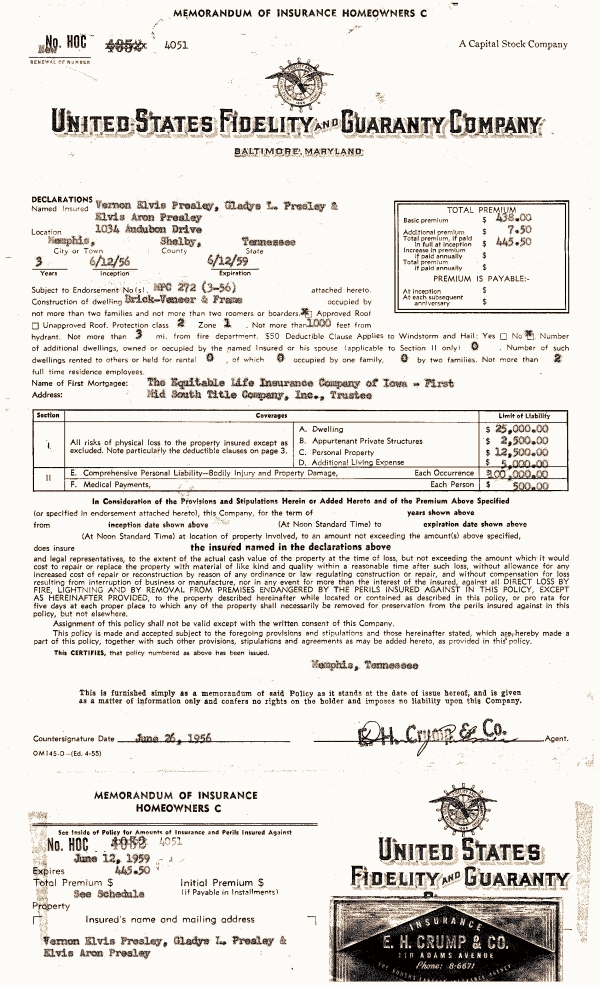 This is the Title insurance policy that was attached to the Sales Contract
© Larry Moss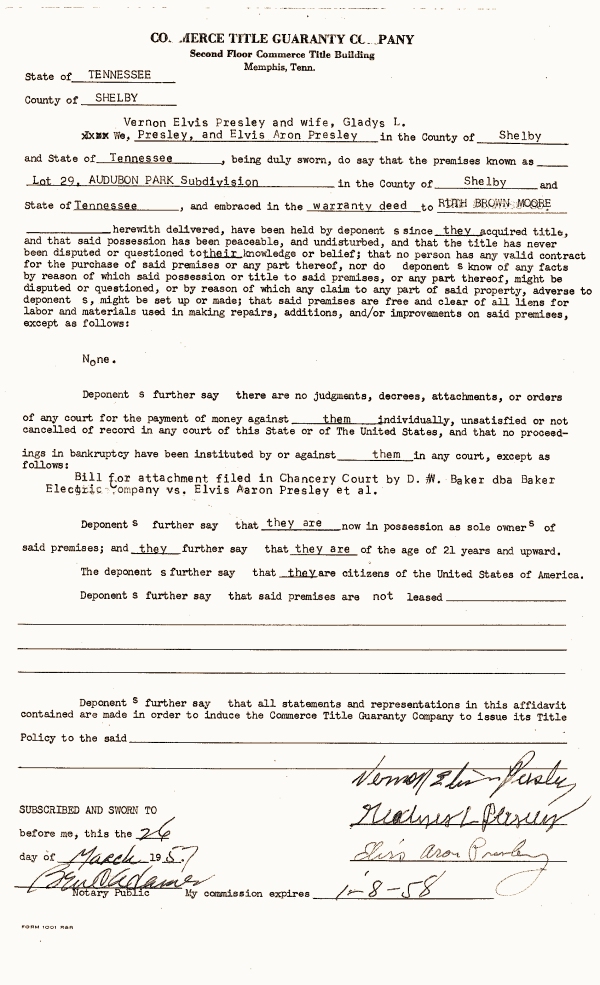 The title guaranty that the Presleys provided when the Audubon house was traded to Ruth Brown Moore
towards the purchase price of Graceland.
© Larry Moss
section appended October 21, 2013