G. Rollie White Coliseum
College Station, TX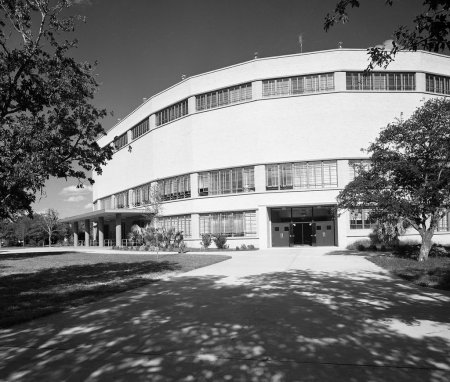 G. Rollie White Coliseum - ca.1958
Photo © Cushing Memorial Library and Archives, Texas A&M
The City of College Station is located in the Prairies and Lakes region of Brazos county Texas, four miles outside the city of Bryan. It began with the founding of Texas A&M College, the state's first institution of higher education inaugurated in 1876. The campus became the focal point of community development providing facilities for those associated with the college because of its isolation. The area was designated "College Station, Texas" by the Postal Service in 1877, derived from the train station located to the west of the campus. Growth of both the community and college influenced residents' desire to create a municipal government and the City of College Station was incorporated in 1938.1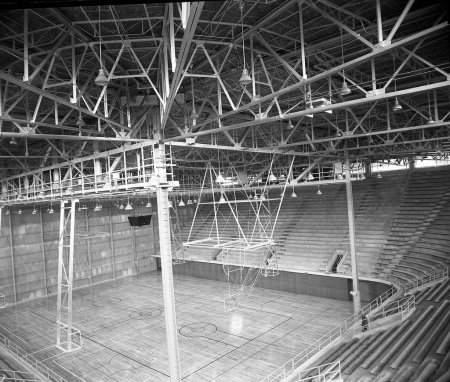 G. Rollie White Coliseum - ca.1954
Photo © Cushing Memorial Library and Archives, Texas A&M
When it opened in 1954, the G. Rollie White Coliseum at the corner of Houston Street and Joe Routt Blvd was the largest building on campus. It cost more than $1 million and sat 13,400.2 It was the home to A&M men's and women's basketball and sat about 7,800 when used for that.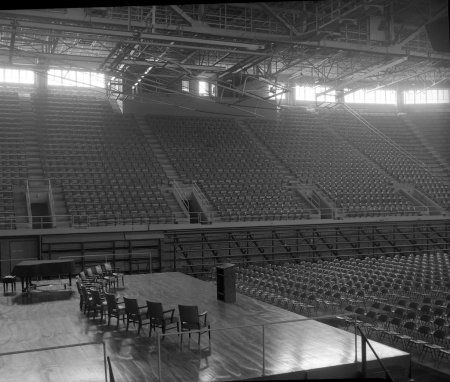 G. Rollie White Coliseum - ca.1955
Photo © Cushing Memorial Library and Archives, Texas A&M
Along with a dormitory, it was named for the then president of the board of directors. G. R. White, a civic leader, horse breeder and philanthropist, had graduated Texas A&M in 1895 and was first appointed to the board of directors of the school in 1926. He became president of the board in 1944 and served until January 1955.2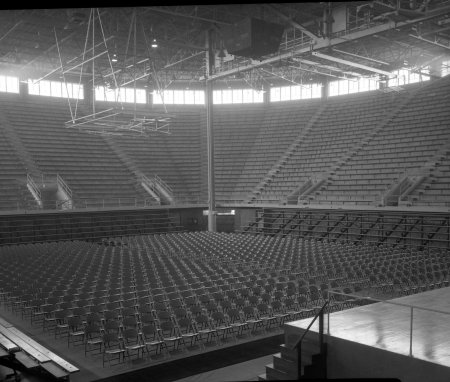 G. Rollie White Coliseum - ca.1955
Photo © Cushing Memorial Library and Archives, Texas A&M
Elvis, Scotty and Bill had performed in the area once before, on August 23, 1955 while on a tour with members of the Louisiana Hayride. The show was held at the Rodeo Arena in Bryan, TX, which was owned by the Bryan Saddle Club, a horseback riding and often called that. Billboard magazine reported that A.J. Winn, a performer and deejay from radio WTAW in College Station, guested.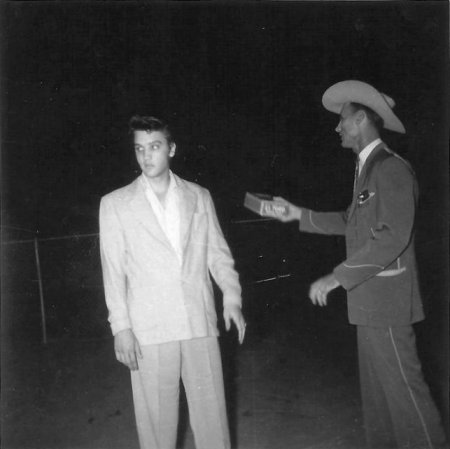 Elvis and WTAW deejay A.J. Winn in Bryan, TX - Aug. 23, 1955
Photo courtesy eBay and FECC/Mississippi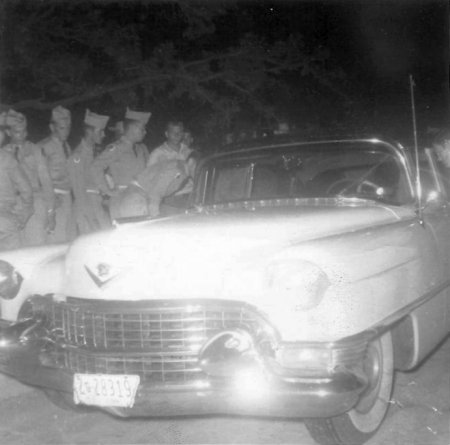 Cadets with the Texas A&M Corps of Cadets check out Elvis' Cadillac - Oct. 3, 1955*
with John David Crow(?) looking on
Photo courtesy eBay and FECC/Mississippi
On October 3, 1955, Elvis, Scotty and Bill started a four day tour of Texas that would hit five cities with a show at the G. Rollie White Coliseum. The tour consisted of Jimmy and Johnny, Johnny Horton, Betty Amos, David Houston, comedian Willie Birdbrain, and Dalton and Lulu along with Tillman Franks, who booked the tour, and Horace Logan, who acted as emcee.3

ad for October 3, 1955 show at the G. Rollie White Coliseum
courtesy Elvis in Concert
As advertised, the 7:30 show at the G. Rollie White Coliseum was sponsored by the Office of Student Activities with advance tickets costing .35 cents for children and .75 cents for adults and .50 cents and $1.00 at the door. From there they played shows in Paris, Greenville and then San Marcos and Austin on the sixth.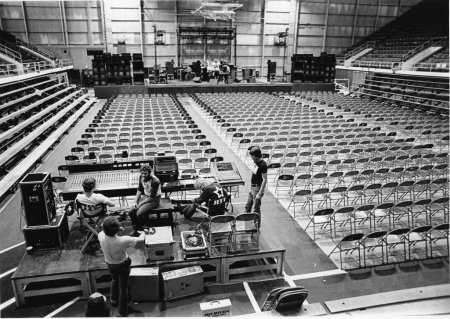 concert setting at G. Rollie White Coliseum - ca.1979
Photo © Cushing Memorial Library and Archives, Texas A&M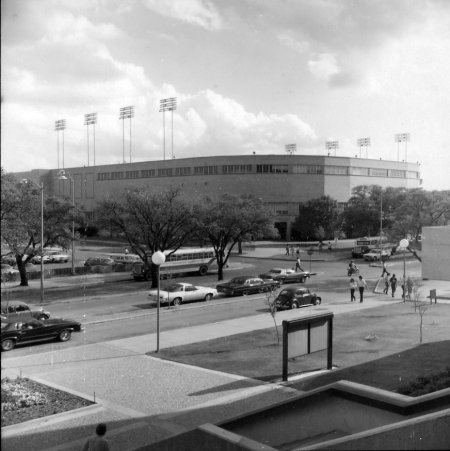 across from G. Rollie White Coliseum - ca.1979
Photo © Cushing Memorial Library and Archives, Texas A&M
Often referred to as "Jollie Rollie" or the "Holler House on the Brazos," G. Rollie White Coliseum was also home to Aggie (Texas A&M) volleyball since the 1975 season. The 7,800-seat coliseum underwent a $600,000 renovation prior to the 1992 season. The playing surface was replaced with a new wooden floor, and the lower level bleachers were replaced with arena-style seating that encircles the court. Other improvements included enhanced lighting and a facelift to the building's exterior.4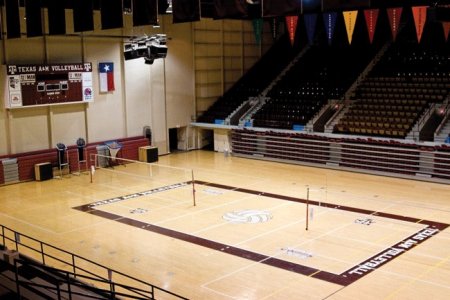 Coliseum's court now transformed and repainted for volleyball - Apr. 2008
Photo by Abbey Adkison courtesy THE BATTALION
When the basketball teams moved to the newly constructed Reed Arena in 1998 the Coliseum floor was repainted and transformed into a volleyball-only court. A large and extensive volleyball scoreboard, which displays scores by game and statistics of active players in addition to other enhancements, replaced the outdated basketball scoreboard prior to the 2001 season. In addition, the locker rooms formerly used by the men's and women's basketball teams were renovated and converted into a spacious volleyball locker room with an adjoining film room, computer and study area, and relaxing lounge.4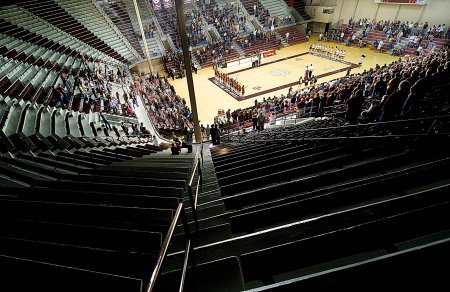 Texas A&M, Texas Tech, crowd stand for national anthem - Nov. 26, 2008
Eagle photo /Stuart Villanueva Texas A&M
The Coliseum was also the main building for the Texas A&M's Department of Health and Kinesiology and the Physical Education Activity Program's main office. It also houses several classrooms and the bulk of the PEAP faculty offices. In addition there are several activity rooms where classes such as self defense, dance, yoga, Pilates, and badminton are held.5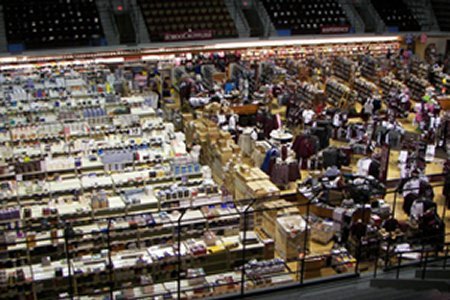 The G. Rollie White Coliseum temporarily housing the bookstore - ca. 2009
Photo courtesy Texas A&M University Department of HLKN
Beginning in the summer of 2009 the Coliseum became home to the University bookstore for the next several years while the Memorial Student Center across the street is renovated.5 During this time the Aggies volleyball team moved to the Reed Arena and school officials will decide whether or not to return to G. Rollie White in 2012.4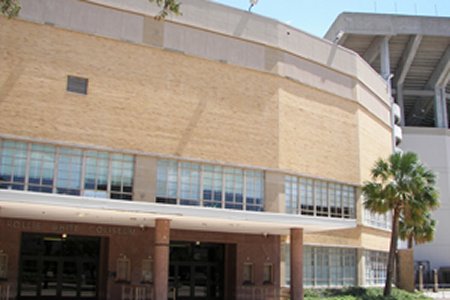 The G. Rollie White Coliseum in the shadows of Kyle Field - ca. 2009
Photo courtesy Texas A&M University Department of HLKN

Sorry to say that we are told that the building is scheduled for demolition, commencing on August 19, 2013 and expected to take 20 days to complete.

page added August 29, 2011
demolition notice added August 19, 2013


Special thanks to The BeatGear Cavern's lklel for his assistance with this page.

1 according to or City of College Station History
2 according to G. Rollie White, San Angelo Standard Times - April 5, 1964 courtesy Louann Hall and U.S. Biographies project
3 according to Did Elvis Sing in Your Hometown? by Lee Cotten
4 according to Texas A&M Official Athletic Site
5 according to or excerpt from Texas A&M University Department of HLKN

*According to Lisa Kalmus, curator for the Sam Houston Sanders Corps of Cadets Center at Texas A&M University, the photo of the cadets with Elvis' Cadillac is most likely from the October appearance since the school would not have been in session for the August show.
---
Months before publishing this page on the Coliseum in College Station I was contacted by Hugh Brown who helped clear up a myth about a reputed show here. The story, like many, had propagated over time and appeared in several "authoritative" publications, the tour dates section here included, all because of a forged poster.
Hugh's original email was as follows:
Hello,

My name's Hugh Brown and I was Creative Director of Rhino Records for 11 years. I had lunch with Scotty years back with my fellow Rhino James Austin at Chili Johns in Burbank. A friend sent me a copy of an Elvis poster that just sold for a lot of money and I realized it's fake. It was for Sat. March 19 (supposedly 1955) at G. Rolle (sic - it's Rollie), Coliseum in College Station, Texas and features Elvis.


Forged Hayride poster advertising a show that didn't exist
poster courtesy Hugh Brown

The date is on Scotty's calendar but it is not correct. According to Texas A&M Elvis didn't play there until October. He did play at Eagles Hall in Houston Texas on March 19, 1955 around 10:45 which is on Scotty's site. (Besides many things wrong with the poster, the drive from College Station to Houston was over 90 miles on a two lane road)


Mar. 18, 1966 ad from the Texas A&M student paper used as basis for forgery
The Battalion Ad courtesy Hugh Brown

Here's both the fake poster and the real ad from March 18, 1966 from the student newspaper.

Thought you'd like to know.

Sincerely,
Hugh Brown
May 20, 2011

One correction in regards to glaring error(s) in the fake ad should be noted, thanks to Stephen Galvin on May 20, 2017: Texas A&M was not called Texas A&M University until 1963.
section added July 24, 2012