Elvis' 1970s (1975) Martin D28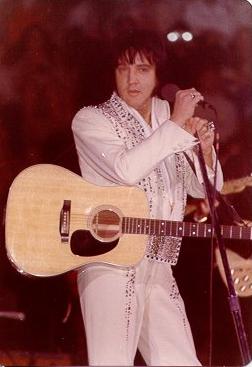 Elvis in concert Montgomery, AL February 16, 1977
Photo © courtesy Ms. Bay
The last guitar Elvis ever performed on stage with was a Martin D28, the same model he used during his climb to fame in the 1950's before switching to Gibsons. This one was a mid to late '70s model and unlike his 55 D28 that had a tortoise guard featured a solid black plastic pickguard. He began using it in February of 1977 after dropping and then giving away his Martin D35 on February 14th. According to Graceland Archives, there is a crack in it that happened at some point on one of the concerts. He used it through his final concert performance ever on June 26, 1977 in Indianapolis, IN and it was packed and ready to go on the road with him when he passed away on August 16 of that year.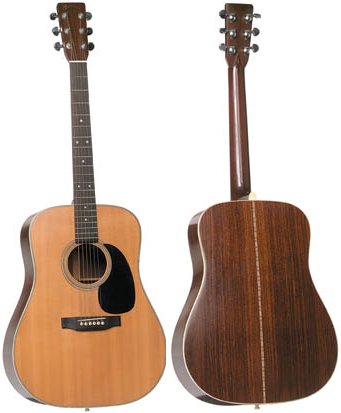 1974 Martin D28 (similar to Elvis')
The Martin D-28 has a 40 1/2" total length, a 20" body length, 15 5/8" body width and a 4 7/8" body depth. It features a solid Mahogany neck, 20 fret Ebony fingerboard with a 25.4" scale length, solid Spruce top, Rosewood back and sides, Ebony bridge, White Boltaron® endpiece and binding, White/Black top and back inlay.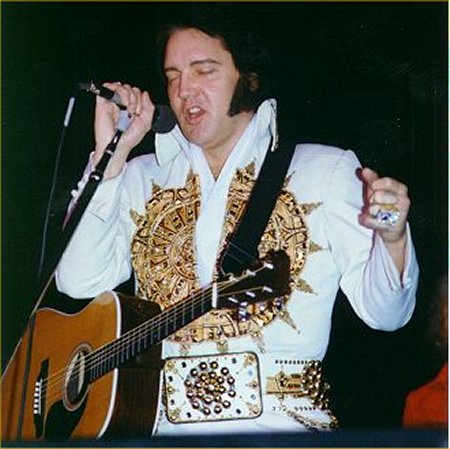 Elvis in concert Green Bay, WI April 28, 1977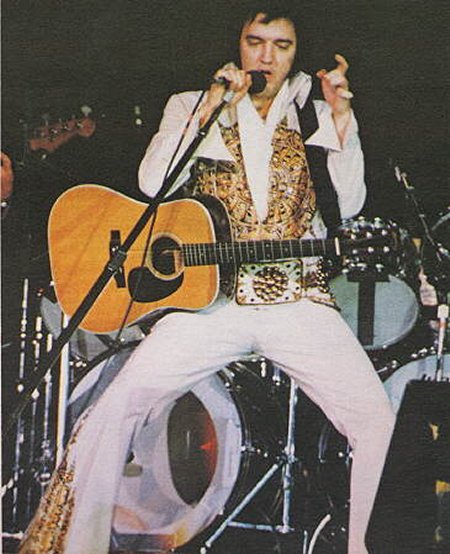 Elvis in concert Macon, GA June 1, 1977
Photo© courtesy Eter Silvester
The guitar remains part of his collection on display at Graceland to this day.
specifications courtesy C.F. Martin Co.
---
EPE Inc. recently had the Musical Instrument Museum in Phoenix Arizona do a partial restoration of Elvis' 1975 D28. Check out the video:
Clip added to this page February 2, 2012

Special thanks to FECC/N880EP for direction to the clip