Elvis' 1955 Martin D-28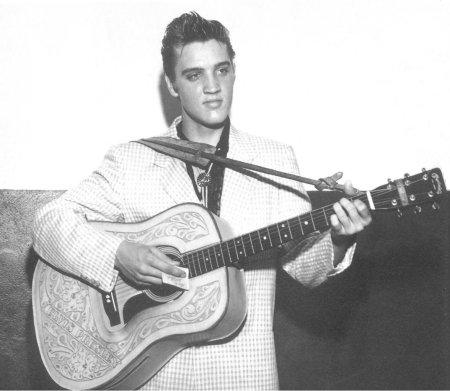 Elvis with his new(er) Leather covered Martin D28 in Tampa - July 31, 1955
Photo © EPE
Sometime after the 21st of June 1955 (at least) but by early July Elvis replaced his 1942 Martin D-18 for a Martin D-28 (believed to be a 55 or 54) purchased at the O.K. Houck Piano Co. in Memphis. Sid Lapworth, who sold it to him seems to think it may have been a used instrument and can not be certain if he took the D-18 in trade for it*. At the time, a D-28 sold new for $210, this one would have sold for less than that used. One of the earliest pictures of him with it is at the Joy Drive-In in Minden, LA in mid July.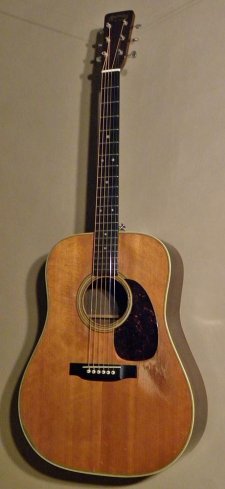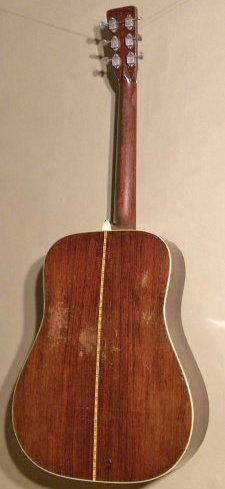 1955 Martin D-28 similar to Elvis Presley's
Photo © Greg Boyd
Not long after the purchase of this guitar, he also received and began using a custom made tooled leather cover with his name "Elvis Presley" blazoned across the front. According to Jimmy Rodgers Snow, Elvis had seen the one that his father, Hank Snow had and liked it. Hank had his made by a prisoner years earlier. Elvis' leather cover was made by Marcus Van Story in the basement of O.K. Houck's where he worked occasionally in the piano repair shop.

Elvis with D-28 backstage at Overton Park Shell - Aug 5, 1955
Photo by Robert Dye © EPE
One of the most famous pictures of Elvis with it and the leather cover was taken on July 31st in Tampa, Florida by William V, "Red" Robertson and has become known as the "Tonsil photo." Scotty has said that Elvis used this guitar most for performing and recording until he got the J200 in October of 56. Though he began using the J200 in October, he used the D28 on occasion at least as late as November 25, 1956.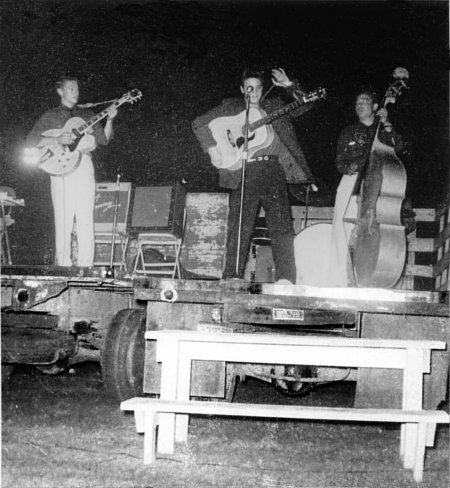 Scotty, Elvis (D-28 with trimmed cover), and Bill in Conroe, TX - Aug. 24, 1955
Photo © Mary McCoy Coker
Sometime during the week between August 13th and 20th in 1955 Elvis had the opening of the leather cover trimmed back, possibly by Marcus, probably as a result of interference with his strumming. Like the D-18 that preceded it, it soon had excessive wear due to Elvis' aggressive strumming style (Note the broken strings in the "tonsil photo").

Elvis' tooled leather cover (trimmed) and D-28 - Aug 5, 1956
Photo © Bob Moreland courtesy Ger Rijff's The Cool King
Around the time that he started using the J200, the D-28 completely dropped out of sight and remains unaccounted for to this date. According to Jimmy Velvet however, the tooled leather cover had been in the attic of the home of Alan Fortas, Elvis' friend and bodyguard, but is believed to have been sold sometime before Alan's death and is now in Japan.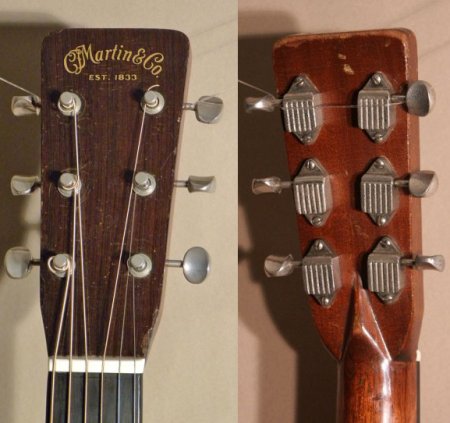 1950 Martin D-28 with Kluson Super tuning machines
Photos © Greg Boyd
Elvis' D-28 featured Kluson Super tuning machines as did many built in the 1950s.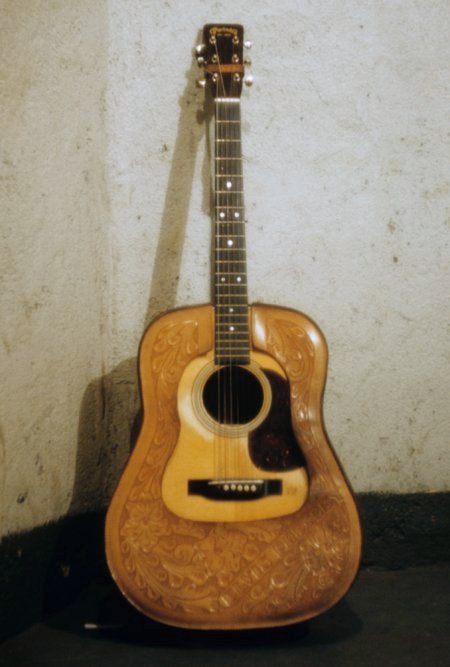 Elvis' D28 backstage at the Mosque in Richmond - June 30, 1956
Photo © Al Wertheimer, courtesy FECC/Mister Moon, added July 26, 2017

Jimmy Velvet and Elvis in Jacksonville, FL - Aug 10, 1956
Photo © J. Velvet courtesy Ger Rijff
The Martin D-28 has a 40 1/2" total length, a 20" body length, 15 5/8" body width and a 4 7/8" body depth. It features a solid Mahogany neck, 20 fret Ebony fingerboard with a 25.4" scale length, solid Spruce top, Rosewood back and sides, Ebony bridge, White Boltaron® endpiece and binding, White/Black top and back inlay.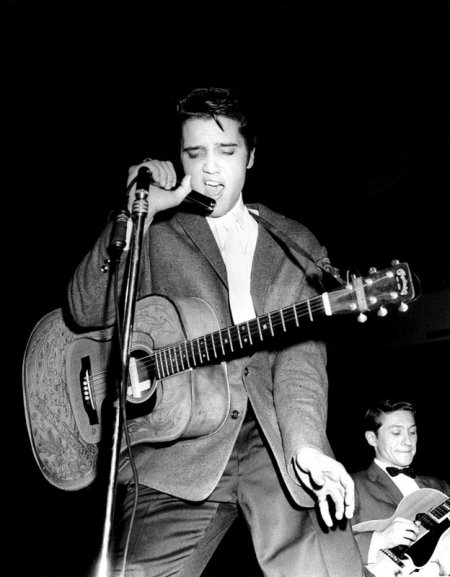 Elvis and Scotty at the Cleveland Arena - Nov. 23, 1956
Photo © Lew Allen
Page added 2003
specifications courtesy C.F. Martin Co.
*Elvis owned and traveled with a second D-18 for a time while regularly performing with his D-28. It seems to always be held on with a knotted string as a strap and identifiable by the bright spot in the pattern on the tortoise pickguard.