)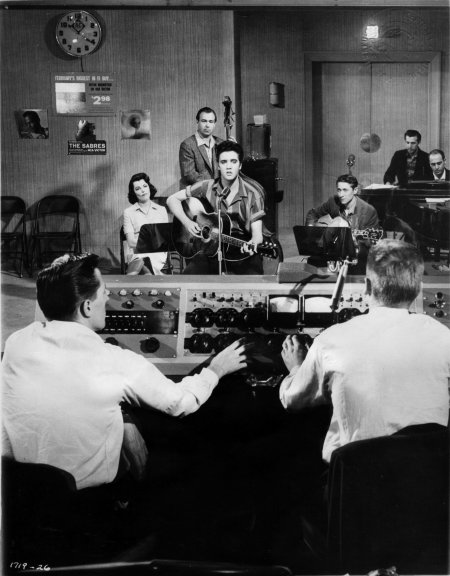 Judy Tyler, Bill, Elvis, Scotty, DJ and Mike Stoller in MGM's Jailhouse Rock - 1957
Photo courtesy Ger Rijff
In the 1957 release of Paramount's Jailhouse Rock, Elvis' character smashes a pawn shop Stella guitar and Judy Tyler's character loans him a guitar to use for a recording session. She brings along the band that performed during his unsuccessful club audition which consisted of his real life bandmates Scotty, Bill and DJ in addition to Mike Stoller of the song writing team of Leiber/Stoller.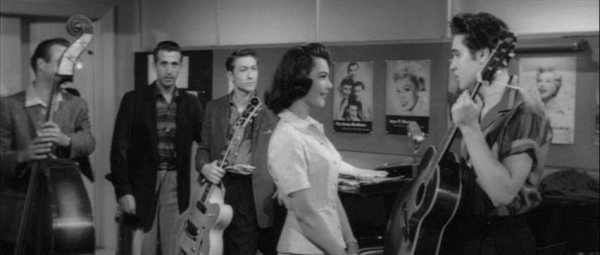 Bill, DJ, Scotty, Judy Tyler and Elvis in MGM's
Jailhouse Rock - 1957
Screen capture © Warner Bros. Entertainment Inc.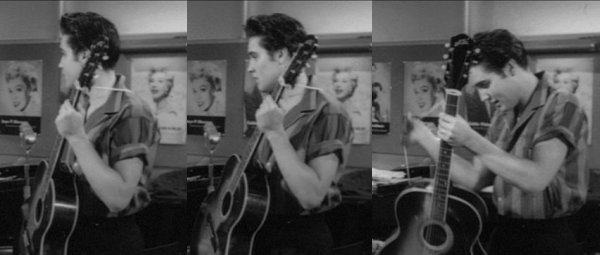 Elvis receives the Maton from Judy Tyler and in MGM's

Jailhouse Rock - 1957


Screen captures © Warner Bros. Entertainment Inc.

The guitar is a well worn 1950s Australian made sunburst Maton "hillbilly" acoustic flat top, apparently a HG100.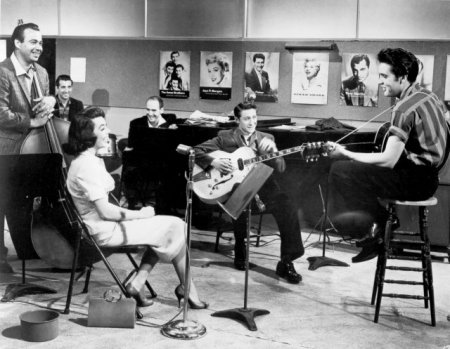 Bill, DJ, Judy, Mike Stoller, Scotty and Elvis in MGM's

Jailhouse Rock - 1957


Photo courtesy Steve Bonner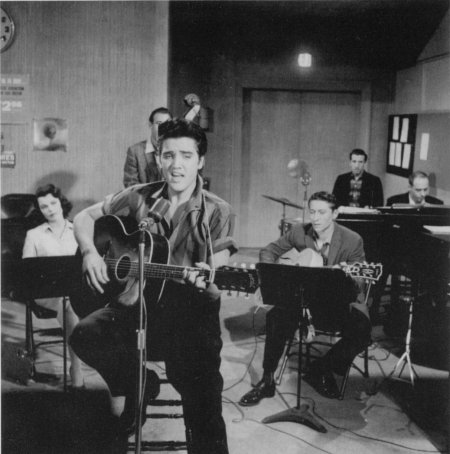 Judy Tyler, Bill, Elvis, Scotty, DJ and Mike Stoller in MGM's Jailhouse Rock - 1957
Photo courtesy Ger Rijff's Inside Jailhouse Rock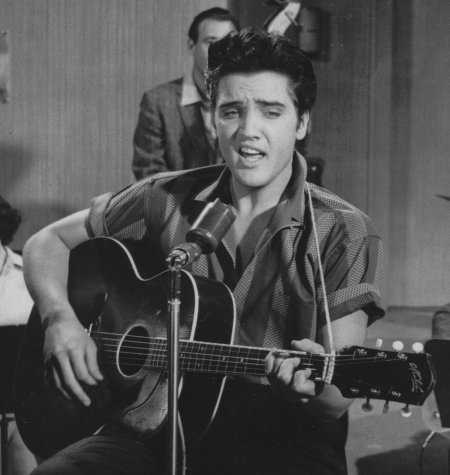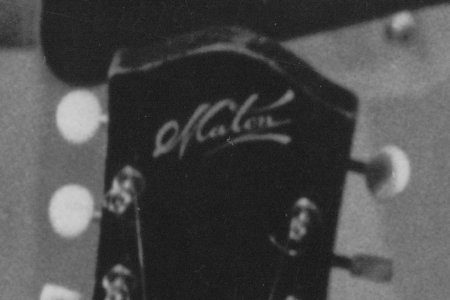 In the story, after recording a song and playing it back, Elvis' character soon decides that the guitar and his inability to play it properly somehow just gets in the way of his ability to express his feeling and puts it aside. Ironically, it's another element in the movie that almost reflects real life, since as Scotty has said, professionally, as Elvis' singing style developed his guitar became more of a prop.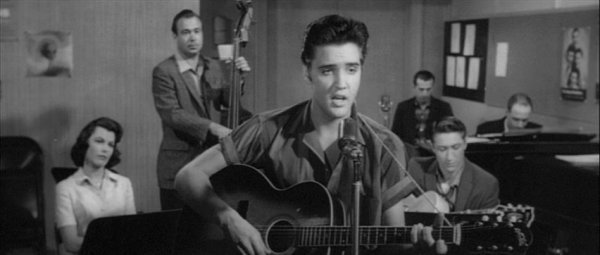 Judy Tyler, Bill, Elvis, DJ, Scotty and Mike Stoller in MGM's Jailhouse Rock - 1957
Screen capture © Warner Bros. Entertainment Inc.
As if it were actually an issue, the guitar later in the scene appears with the logo blacked out, which was pretty much the norm for many of the guitars Elvis used in his movies.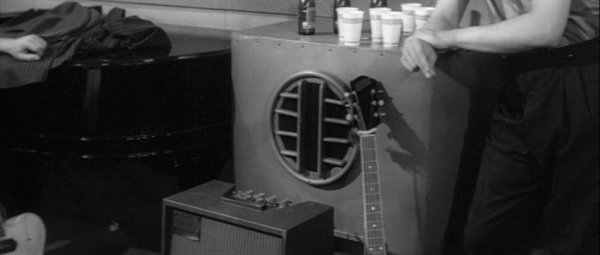 The guitar with masked logo next to Scotty's Echosonic amplifier in MGM's Jailhouse Rock - 1957
Screen capture © Warner Bros. Entertainment Inc.
An Australian guitar manufacturing industry was virtually nonexistent until the mid 1930s when good quality guitars were hard to find and the best guitars came from the U.S.A. During the early 1940s Bill May, a Melbourne-born jazz musician, woodwork teacher and luthier, regarded by many Australian luthiers as the founding father of their industry, established a custom guitar manufacturing and repair business in his garage known as "Maton Stringed Instruments and Repairs." The Maton name is a derivative of the words "May" and "Tone." By March of 1946 Bill's older brother, Reg, had joined him as a full time guitar maker and the "Maton Musical Instruments Company" was born.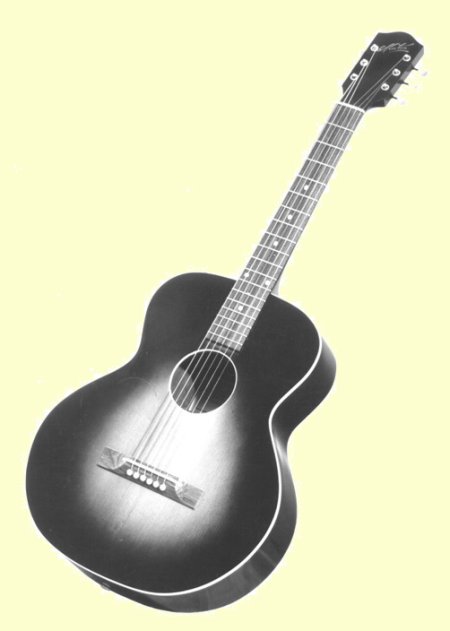 1940s Maton "Hillbilly Guitar" Model H5
Photo © Maton Guitars
In 1949 Bill opened up Australia's first major guitar making facility, in Canterbury, Melbourne, where over the next 40 years they would create more than 300 different models. Introduced in 1951, the HG100 models were based on their H5 hillbilly guitar introduced in the '40s. According to Maton, there were several different versions of this model, which include the Professional HG100, Professional Hillbilly and Professional Super Hillbilly.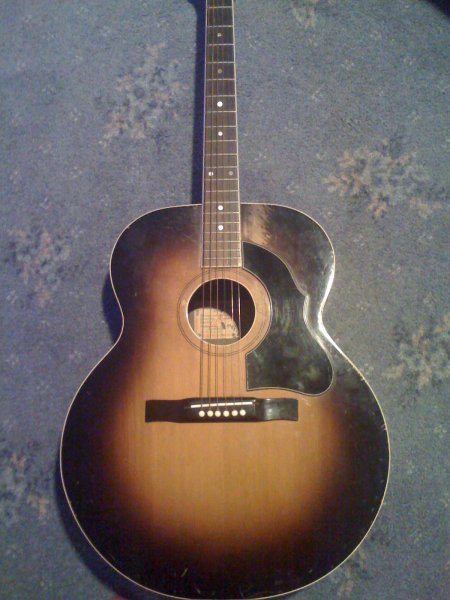 1950s Maton HG100 "Hillbilly" identical to the one used in Jailhouse Rock

Photo courtesy De'Arne Whitelaw © Maton Guitars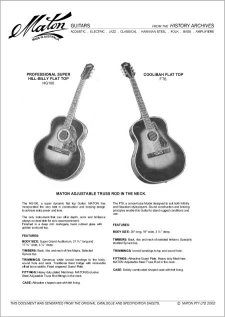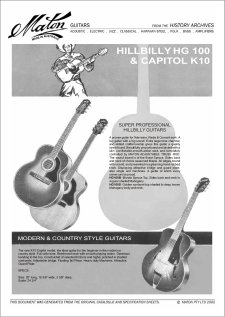 Reproduction Maton Catalog HG100 and HG100S spec sheets
courtesy Maton Guitars
They are a Super Grand Auditorium size at 21.75" long, 17.75" wide and 4.5" deep, Their bodies were ivoroid bound maple back and sides with a solid spruce top, maple necks with a bound rosewood fretboard. The finish was a deep rich mahogany with a golden sunburst top and came with heavy duty single unit plated tuners.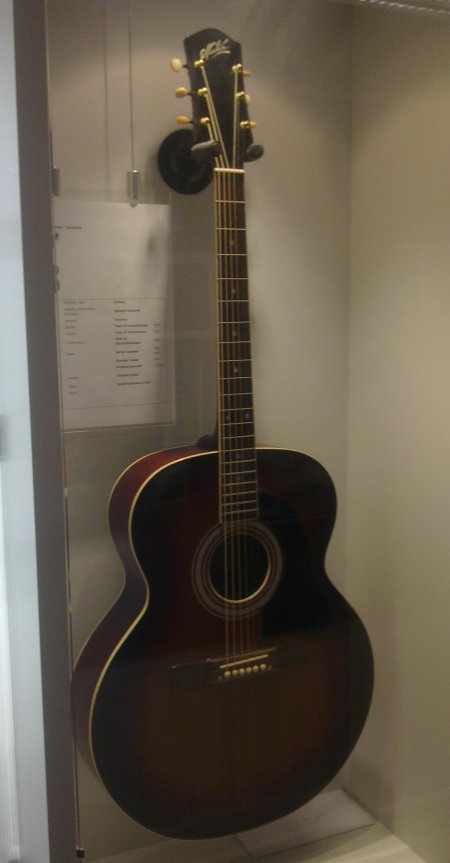 1950s Maton HG100S in Maton's museum

Photo courtesy De'Arne Whitelaw © Maton Guitars
Maton called the Canterbury factory home for 40 years until it was time to upgrade to a more modern and spacious facility in Bayswater, Melbourne, in 1989. In 2001 they relocated to an even larger state of the art facility in the inner Melbourne suburb of Box Hill. Maton is still a 100% family owned Australian company, now operated by Bill's daughter and son in law, Linda & Neville Kitchen.
Bill May's importance to the history of Australian music was recently recognized at the 2001 Australian Music Association Awards where he was posthumously awarded their highest honor and inducted into the hall of fame.
This page added August 15, 2010 is part of the section The Movie Guitars of Elvis Presley.
Special thanks to Peter Stoller, Vice President of Leiber/Stoller Productions, for his great assistance with this page and initially identifying this brand of guitar, and also to De'Arne Whitelaw and Maton Guitars for confirming the model. The history of Maton Guitars and the Hillbilly model specifications presented here are from and courtesy of the Maton Guitar site.