1950s Fender Stratocaster
(used in Viva Las Vegas)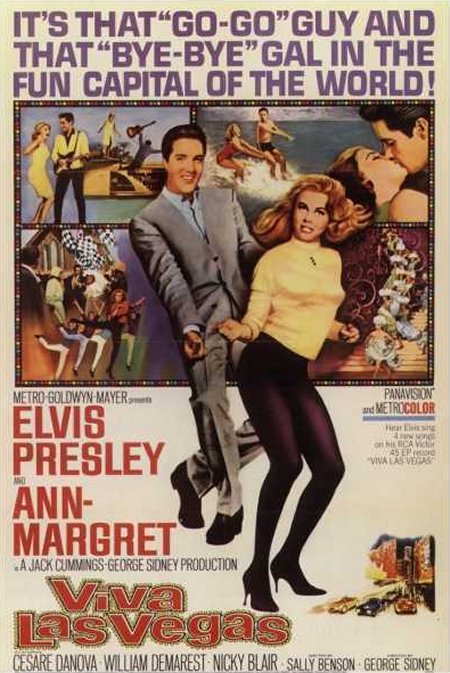 Poster for MGM's Viva Las Vegas - 1964
Photo courtesy web
In MGM's 1964 release of Viva Las Vegas Elvis is cast as a race car driver forced to work as a waiter in Las Vegas after losing his bankroll in the swimming pool he fell in complete with a Gibson LG-1 during his pursuit of Ann Margret. In several promotional shots and one scene of the movie where they cover Ray Charles' What'd I Say he is pictured playing a Fender Stratocaster.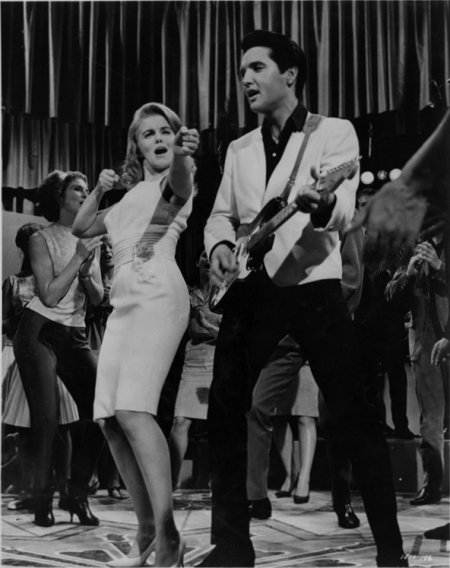 Ann Margret and Elvis with Strat in a promotional shot for Viva Las Vegas - 1964
Photo courtesy web
The visible distinguishing features of the guitar available suggest that the one used in the movie was a later 50s model, likely a 1957 or 1958, with a tobacco two-tone sunburst, alder body, vinyl pickguard and "butterfly" string retainer.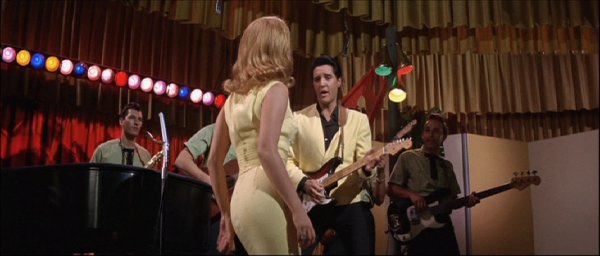 Ann Margret and Elvis with Fender Stratocaster in a scene from MGM's Viva Las Vegas - 1964
Screen capture © Warner Bros. Entertainment Inc.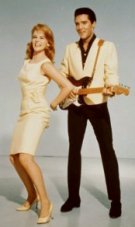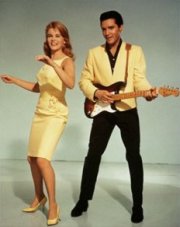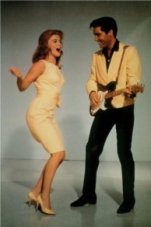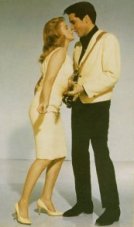 Ann Margret and Elvis with Stratocaster in promotional shots for Viva Las Vegas - 1964
Photos courtesy web, Alamy Images and Ger Rijff's Elvis Album
With the success of the Telecaster introduced four years earlier Fender introduced the Stratocaster in 1954 sharing some of the same popular features like an ash body with a one-piece maple 21 fret bolt-on neck, 25.5" scale length and 7.25" radius. Accessible components for ease of maintenance were always an intended feature of all their guitars.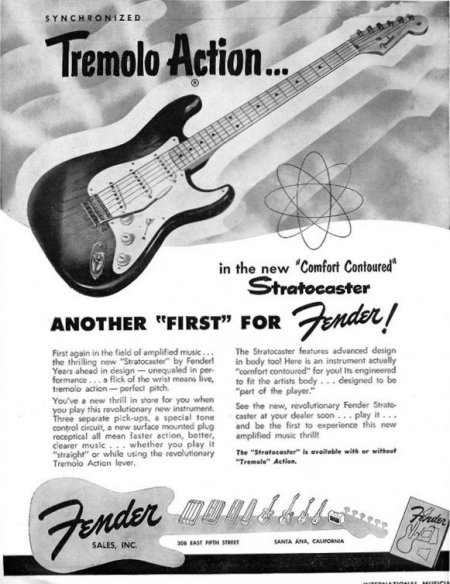 1954 Fender advertisement featuring Stratocaster with Tremolo Action
courtesy Vintage Guitars and Basses
After seeing and hearing about Telecasters from other musicians on the local circuit, Western swing guitarist Bill Carson visited the factory in search of one and eventually became a lifelong employee working everything from manufacturing and sales to artist relations. He collaborated on the development of the Stratocaster's final design, specifically its contoured body.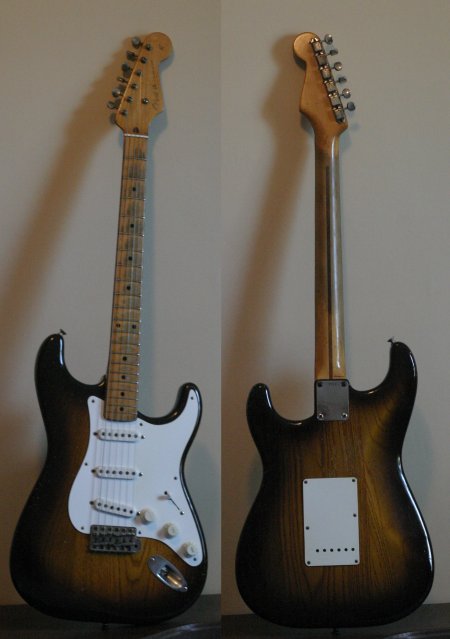 1954 Fender Stratocaster with Ash body
Photo © James V. Roy
Commonly referred to as a Strat, it featured double cutaway contoured body, 3 single coil pickups with 3-way switching, one volume and a tone knob for the middle and neck (rhythm) pickup. Players would eventually discover between positions in the 3-way switch that eventually led to the development of the 5-way switch. The Stratocaster was introduced with a new type of bridge, available in both Tremolo and non ("hardtail") that featured independent adjustable string saddles for proper intonation and height adjustment.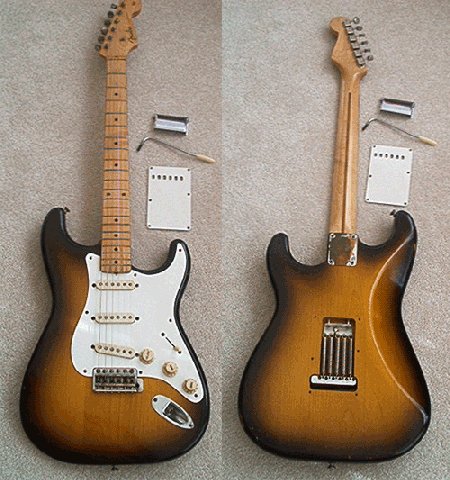 1957 Fender Stratocaster with Alder body and exposed rear tremolo spring cavity
Photo courtesy Strat Collector.com
Initially white polystyrene plastic was used for the pickguard (aside from the occasional anodized aluminum), pickup covers, knobs and rear tremolo cavity cover. This material proved to be fairly brittle and wore easily so by mid 1956 Fender switched to a white one piece vinyl. Around the same time they also switched from a round string retainer on the peghead to a "butterfly" shaped one. Though the grain of ash is attractive it was considered a premium wood and inconsistent in weight. By 1957 Fender began using alder, a lighter wood with a plain grain on all of their guitars and only using ash for some translucent and clear finished pieces. By 1959 necks with rosewood fret boards, multi-ply pickguards and 3-color sunbursts were introduced (custom colors were available very early on).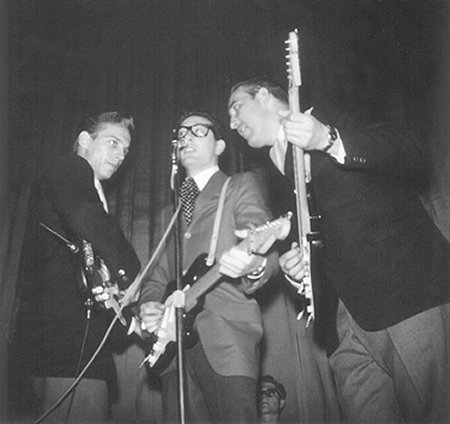 Waylon Jennings, Buddy Holly and Tommy Allsup - Jan 31, 1959
Photo courtesy Buddy Holly online
The Stratocaster was not an immediate success but then Buddy Holly played one in 1957 on national television and by the time Jimi Hendrix played one at Woodstock its legacy in rock history was assured. Since then many musicians have endorsed and been associated with the guitar like Eric Clapton, Jeff Beck and Stevie Ray Vaughan to name but a few. Like the Telecaster, Fender has continued to manufacture the Stratocaster and today offers many versions including vintage reissues and signature series.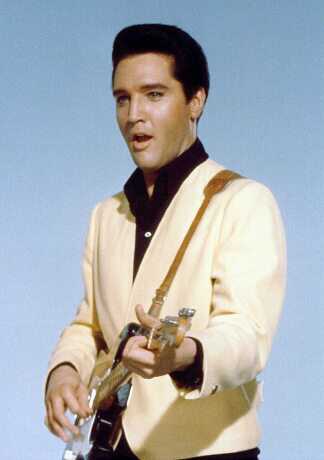 Elvis with Strat in a promo shot for Viva Las Vegas - 1964
Photo courtesy MPTV.net
I asked Bill Carson once in his role as artist relations on the west coast if he ever had anything to do with getting Fender guitars in an Elvis movie. He replied in the negative emphasizing that the Colonel would've wanted too much money. In spite of this though you only have to watch just about any Elvis movie from the 60s set in a pop scene to see something from Fender's catalog represented, if only pictured with the band.
This page added August 15, 2010 is part of the section The Movie Guitars of Elvis Presley.
FENDER®, STRATOCASTER®, STRAT®, TELECASTER®, TELE®, P BASS®, PRECISION BASS®, and the distinctive headstock designs of these guitars are registered trademarks of Fender Musical Instruments Corporation.