1950s Fender Telecaster
(used in Girl Happy)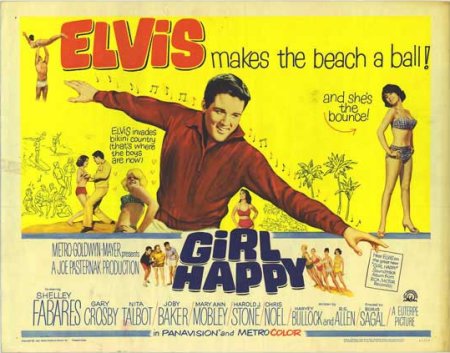 Original half-sheet poster for MGM's Girl Happy - 1965
Photo courtesy MoviePoster.com
Set mainly in Ft. Lauderdale Florida around Spring break/Easter vacation, Elvis' seventeenth movie, MGM's 1965 release of Girl Happy has Elvis in the role of a musician fronting a band on screen for the first time since G.I. Blues. His bandmates for this picture were Gary Crosby, the eldest son of Bing Crosby, Jimmy Hawkins and Joby Baker.*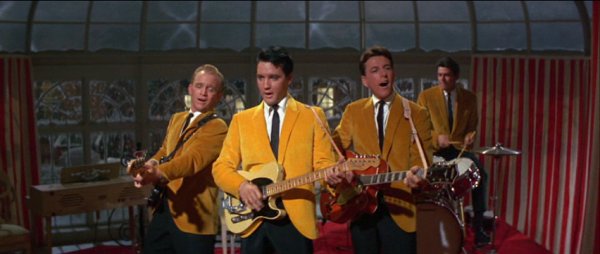 Gary Crosby, Elvis with Telecaster, Jimmy Hawkins and Joby Baker in MGM's Girl Happy - 1965
Screen capture © Warner Bros. Entertainment Inc.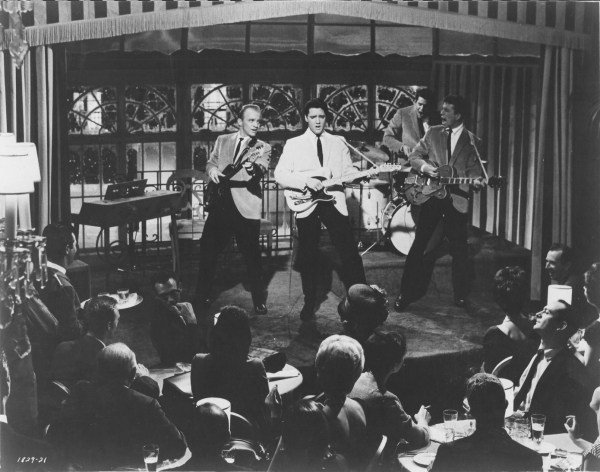 Gary Crosby, Elvis, Joby Baker and Jimmy Hawkins in Girl Happy - 1965
Photo courtesy ebay
The opening setting is a club in Chicago where the band is completing their final performance and convincing the owner, Big Frank (Harold J. Stone), to expense a trip under the guise of overseeing/protecting the over-protective owner's daughter played by Shelley Fabares, unbeknownst to her, during her vacation in Ft. Lauderdale. This was the first of three Elvis movies that would feature Shelley. She, along with Jimmy Hawkins, her onscreen boyfriend from The Donna Reed Show, would both return the following year in MGM's Spinout. The film also featured Mary Ann Mobley in her first film, in competition with Shelley as Elvis' love interest. She would also return as the love interest in Elvis' next movie, Harum Scarum.*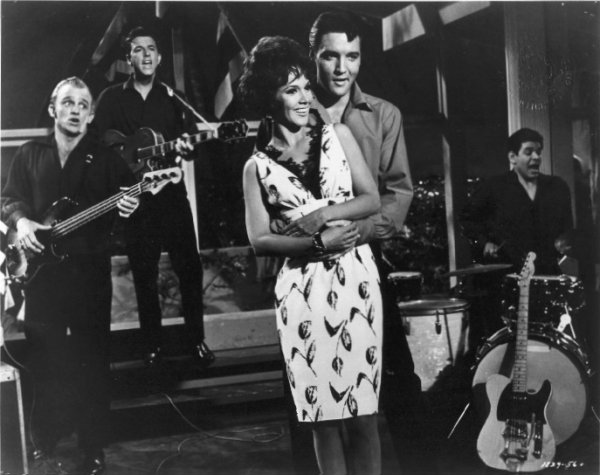 Gary Crosby, Jimmy Hawkins, Mary Ann Mobley, Elvis and Joby Baker in Girl Happy - 1965
Photo courtesy fan
Aside from one scene where Elvis is again playing the prop dept.'s Gibson LG-1, in this role as a musician/singer Elvis primarily plays a Fender Telecaster, and interestingly enough this is probably the first an only movie where he is shown performing with electric instruments that are "visually" plugged in. This particular instrument is an early 1950s "black guard" Telecaster finished in Butterscotch blond and modified with a Bigsby B16 vibrato tailpiece.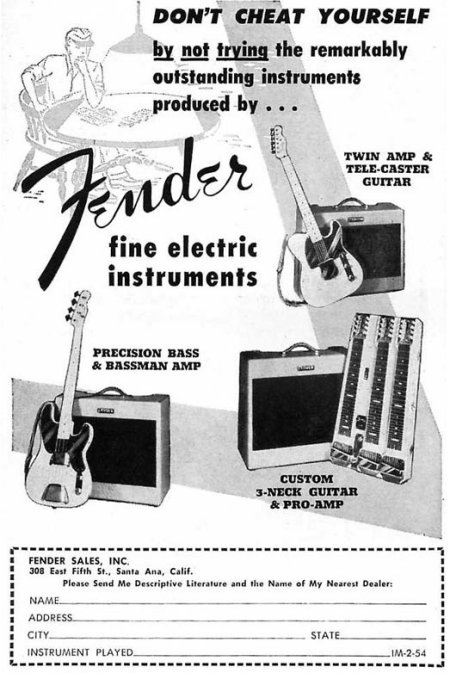 Early Fender advertisement featuring the Precision bass and Telecaster guitar
courtesy Vintage Guitars and Basses
Leo Fender introduced the Fender Telecaster in 1950 as what is considered to be the first solid body electric guitar to go into major production and revolutionized the industry. Initially conceived and designed in 1949 as a one-pickup model called the Esquire, it went into full production in its two-pickup configuration originally named the Fender Broadcaster. It featured a solid ash body with a 25.5" scale length 21 fret 7.25" radius bolt-on maple neck, single coil bridge and neck position pickups, volume and tone control and 3-way switch. Shortly after, the single pickup Esquire was reintroduced at a lower price. At the time Gretsch had a drum line out called the Broadkaster, albeit different spelling, so Fender renamed their guitar the Telecaster and it was one of Scotty's first guitars coming out of the NavyNot wanting to waste decals there were a small number of guitars released in the interim with the "Broadcaster" portion cut out and named simply "Fender" on the headstocks. These rare instruments are referred to as "Nocasters."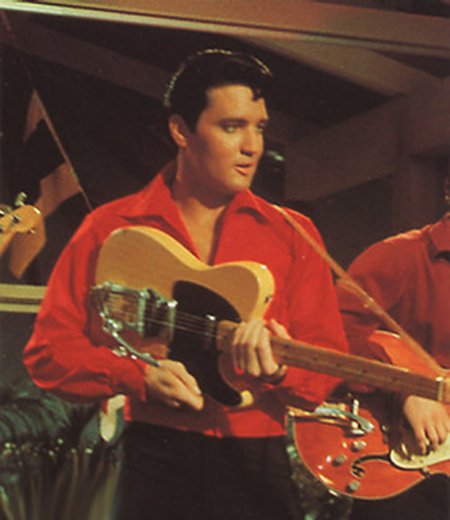 Elvis with Fender Telecaster in MGM's Girl Happy - 1965
Photo courtesy web.
Until around 1954 when the Stratocaster was introduced with white polystyrene plastic guards, the Telecaster pick guards were made of black bakelite. Noted for its twang and often referred to simply as a Tele, they are well established and extremely popular with many players in country music. It was/is the instrument of choice for many other players as well, including James Burton who would become synonymous with Fender's paisley model during the years he performed as lead guitarist in Elvis' TCB band, from 1969 to Elvis' death in 1977.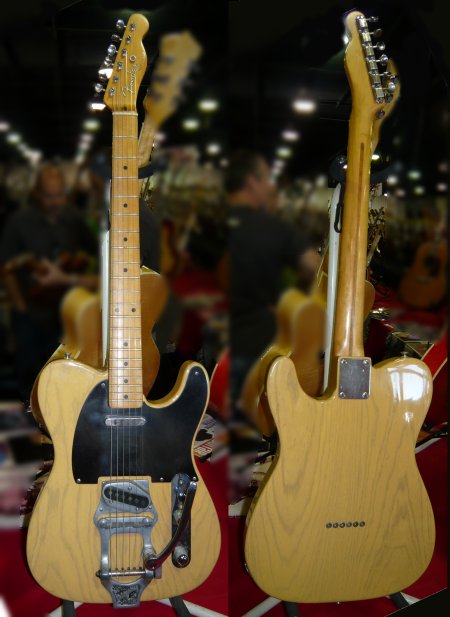 Refinished 1953 Telecaster in Butterscotch Blond with Bigsby B16
Photo © James V. Roy
Traditionally, the '50s Telecaster bridge is a steel rectangular ashtray type design with three individual height adjusting brass saddles with approximating intonation. The strings are anchored from the back of the body, load through it and across the saddles in the bridge. With a modified B16 vibrato tailpiece designed specifically for the Telecaster, the strings anchor at the bar at the end of the tailpiece and tighten or loosen when the bar rolls as the lever is pulled or pressed.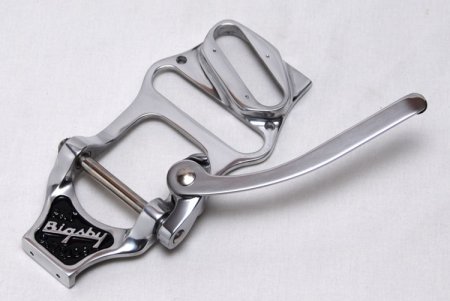 Bigsby B16 vibrato tailpiece (minus bridge)
Photo courtesy Allparts.com
Paul Bigsby, who had built some of the first solid body guitars in limited numbers for Merle Travis and others in the '40s and who designed vibrato tailpieces for many guitars, made the B16 model specifically for the Fender Telecaster in the 1950's. Initially the model was aluminum with a nickel finish and has a separate compensated height adjustable bridge. With a built in bridge pickup ring that normally sits higher than a pickup mounted in a conventional Telecaster bridge, the angle/pitch of the neck has to be adjusted to compensate.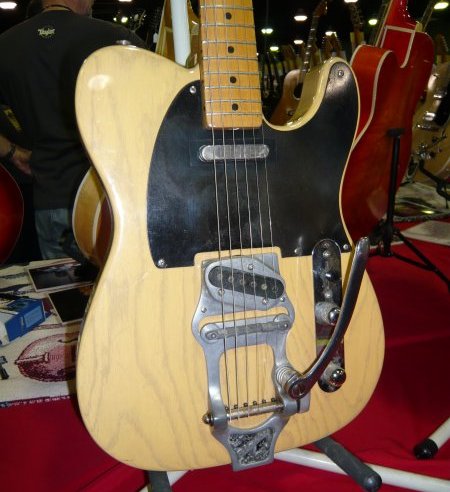 Refinished 1953 Telecaster in Butterscotch Blond with Bigsby B-16
Photo © James V. Roy
Today, Fender Musical Instruments Corporation still produces the Telecaster and now offers it in several versions, including vintage reissues of the '50s models, Custom Shop Broadcaster and Nocaster models in addition to a James Burton signature series and many others.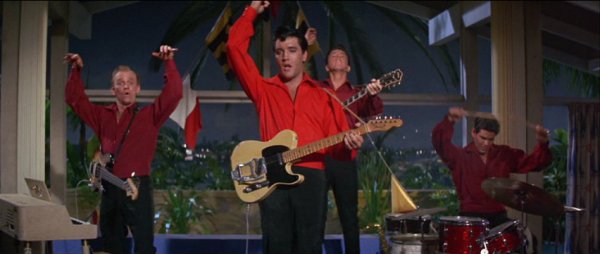 Gary Crosby, Elvis with Telecaster, Jimmy Hawkins and Joby Baker in MGM's Girl Happy - 1965
Screen capture © Warner Bros. Entertainment Inc.
Coincidentally, also starring in Girl Happy was actor Jackie Coogan in the role of a police sergeant who starred as Uncle Fester in The Addams family on television, which also starred Carolyn Jones, who costarred with Elvis in King Creole. Another coincidence, albeit tragic, was that the film was directed by Boris Sagal who also directed episodes of Combat! on television that starred Vic Morrow, another of Elvis' costars from King Creole. Both Boris and Vic would share separate, similar fates with accidental deaths involving a helicopter.
This page added August 15, 2010 is part of the section The Movie Guitars of Elvis Presley.
*courtesy Elvis Presley Film Society
FENDER®, STRATOCASTER®, STRAT®, TELECASTER®, TELE®, P BASS®, PRECISION BASS®, and the distinctive headstock designs of these guitars are registered trademarks of Fender Musical Instruments Corporation.
---
Bob Bain's 1953 Telecaster
(The Peter Gunn guitar)
Recently, Vintage Guitar magazine, in their May 2012 issue, published an interview with legendary musician and sessionist Bob Bain. On the cover was a picture of his 1953 Telecaster and the first thing that jumped out at me was the Bigsby B-16 it was equipped with. Reading more I discovered that it was a favorite session guitar of his and that Tiny Timbrell had worked on it. Tiny played on more than a few of Elvis' films beginning with Loving You, was the West Coast Gibson rep, in addition to selling and servicing instruments at Fife & Nichols' Hollywood store. I knew that Bob had done session work with Elvis, as early as Girls Girls Girls in 1962, probably earlier at Fox and on his last feature film Change of Habit at least, and I began to wonder if the guitar might have in fact been the one used by Elvis in Girl Happy. It's rare to see a 1953 Tele with a B-16 and the other associations just seemed conveniently coincidental.

Bob Bain and his '53 Tele
courtesy
Bob had been one of the sought after people for sessions and had started in the days of big bands when guitarists were relegated to playing rhythm. He had played on almost every early recording of Frank Sinatra's and only stopped because he was so busy it would've have been cost prohibitive to tour with him. His main guitar used for sessions was his 1953 Tele. It was the guitar used for the Peter Gunn theme, and Batman, the Pink Panther and The Munsters, to name just a few.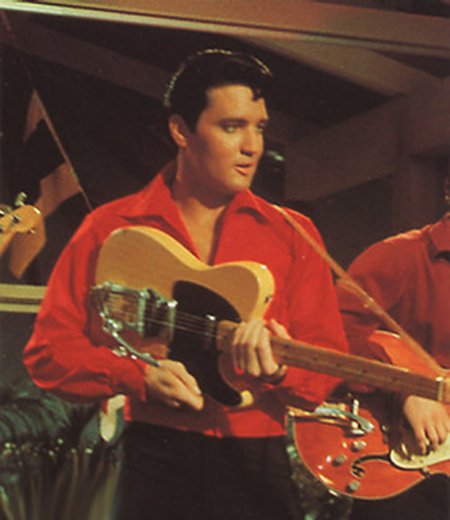 The big difference between Bob's and the one Elvis used was that Bob's had been modified with a humbucker pick-up in the neck position. In VG's interview Bob said ,"
I put a humbucker in the neck position because I might go to a studio and need a Chuck Wayne sound. I'd have a Gibson ES-150 with me and switch if I had to. But that meant I had to carry two electrics." Tiny Timbrell suggested installing the humbucker as a way to replace the ES-150; though he had to shim the fingerboard slightly because of the humbucker's height, "It turned out great. He also put a big Bigsby tailpiece on it, which I used all the time because you could simulate so many things."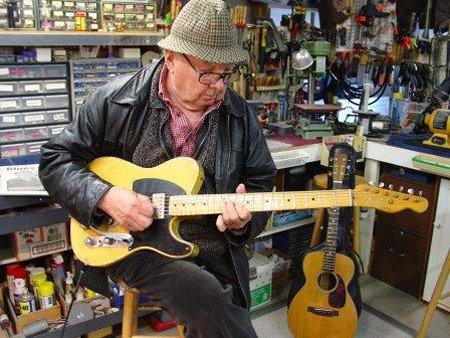 Bob Bain with his legendary modified 1953 Fender Telecaster
Photo © Tracy Longo
As luck would have it, Tiny's son Jay has recently been going through a lot of his father's old things and cataloging a lot of his guitars, records, photos and parts. In doing he found what is most likely the original bridge from Bob's Tele along with the neck pickup he replaced with a humbucker. The Bigsby bridge came with the original instructions and a set of strings.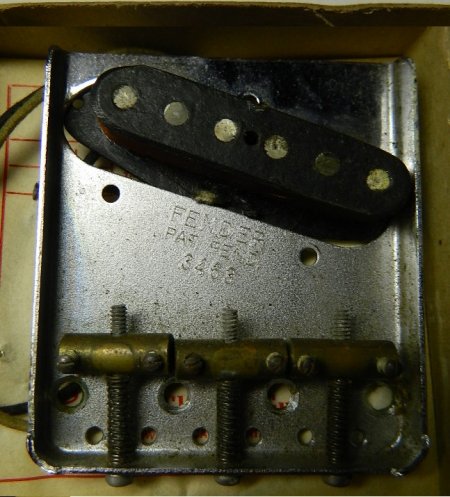 1953 era Telecaster bridge, # 3463, and neck pickup likely from Bob's Tele
Photo © Jay Timbrell
added May 12, 2012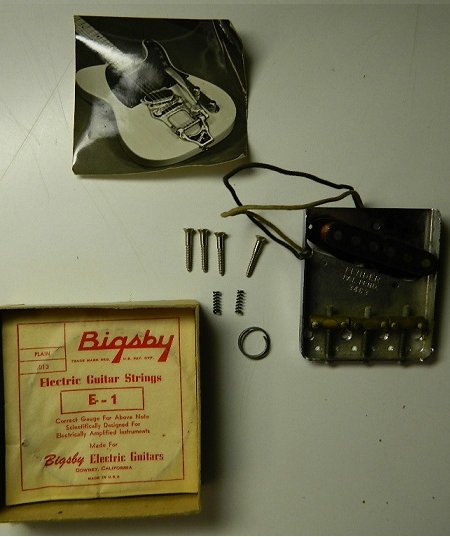 1953 era Telecaster bridge and neck pickup, likely from Bob's Tele and Bigsby strings

Photo © Jay Timbrell
added May 12, 2012

Original Bigsby B16 bridge installation instructions

Photo © Jay Timbrell
added May 12, 2012
He also found an old Charlie Christian pickup. The obvious question without knowing the history of the guitar which would at least eliminate the possibility of them being the same is when was the humbucker installed? The only one that could really shed any light on it now was Bob. I contacted both John Jorgenson and Albert Lee since I knew they had been associated with Bob. Albert at one time had even reputedly tried to copy Bob's Tele and John had once bought and owned a guitar that was formerly owned by Bob. He got it back to him after finding it had been previously stolen from him.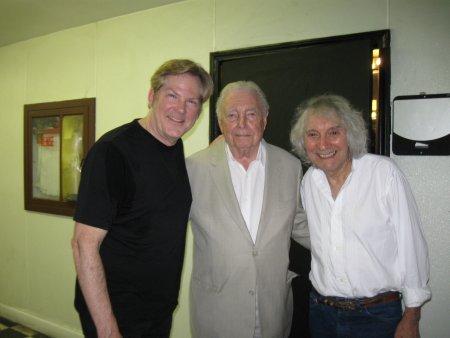 John Jorgenson, Bob Bain and Albert Lee at the Canyon Club - July 14, 2011

Photo © Tracy Longo courtesy John B. Field
John contacted Tracy Longo, at Guitar Tech Corner (GTC), who has been Bob's guitar tech for almost 19 years and he put in a call to Bob. Tracy said, Bob said
"the humbucker was put in by Tiny around 57-58" so it couldn't be the same guitar, but jokingly said to tell you "lets say it is." I said this article made you a rock star, and he said " well...just send the girls over and tell the guys to not to bother."
Elvis' prop or not, Bob's Tele is one cool guitar with one heck of a history!
added March 16, 2012
section updated May 12, 2012

Special thanks to John Jorgensen, Tracy Longo, John B. Field and especially Bob Bain for their assistance with this addition.
Read more about Bob on Classic Jazz Guitar and