The Polk Theater - Lakeland, FL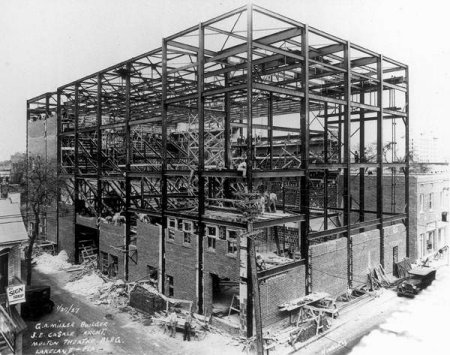 Construction of The Polk Theater - 1927
Photo courtesy The Lakeland Ledger
It was quite a leap of faith to build a vaudeville/movie palace in Lakeland, Florida in 1928. The population hovered at only 15,000 people and it was a rural community. Lakeland businessman John E. Melton planned a multipurpose building anchored by a grand movie palace. He had hoped that street front office and retail space would bring in the revenue needed to build the theatre. Unfortunately Melton was forced to sell the uncompleted theatre portion of his building to the Publix Theatre Corporation for approximately $300,000.1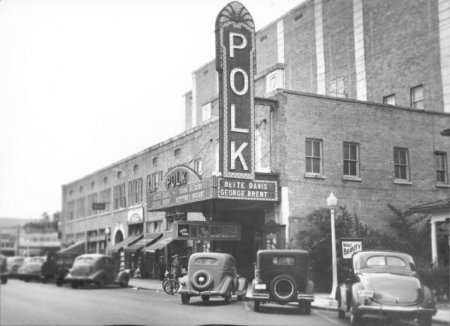 The Polk Theater and office building - 1939
Photo © Dan Sanborn courtesy Lakeland Public Library
Originally known as the Melton Theatre, the theatre at 121 South Florida Avenue was Lakeland's largest and most elaborate theatre. It was designed by the architect, J.E. Casale, as a 2200 seat vaudeville/movie palace. Casale, an Italian-born immigrant, recreated a Mediterranean village in the heart of Central Florida, flanked by Italianate walls with niches, sconces, and faux balconies and windows.1 Like the county, it was eventually named in honor of the 11th President of the United States, James Knox Polk.

View of the Stage from balcony
Photo courtesy The Polk Theater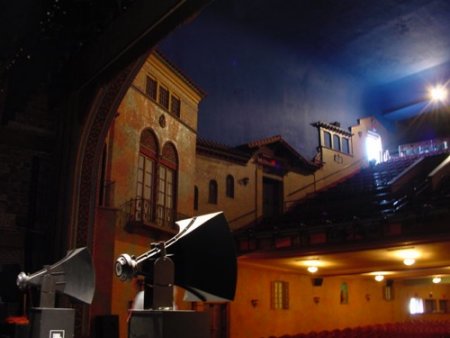 View of the balcony seating from Stage
Photo courtesy IAStage.com
The theatre opened on December 22, 1928 with Warner Brothers all-talking special, "On Trial." The two most impressive technological features of the Polk were the theatre's 100 ton air wash system to chill the air, and its Vitaphone sound on reel film system. The air conditioning system was such a drain on the city's power supply that during its early years of operation it caused lights to dim all across town when turned on. It also required an operator to turn it on and off. When it became too cold, an usher ran down to the basement to tell the operator to shut the system down.1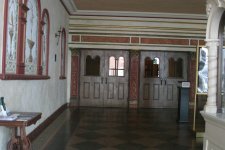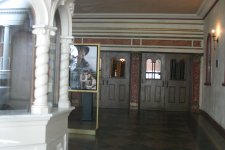 The Polk Theater lobby and ticket booth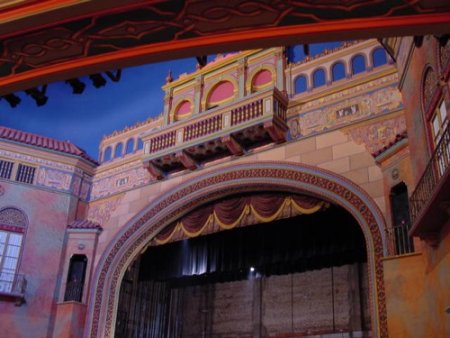 Upper Stage and curtains
Photo courtesy IAStage.com
The mezzanine lobby, accessible by ornately tiled staircases, featured twisted columns, delicate cornice and molding work, and brass banded terrazzo floors. All of this splendor sat under the watchful eye of a starry ceiling. Painted a deep, royal blue, it fascinated patrons with its twinkling stars and sunrise/sunset effect. Because this simulated a natural setting, it was called an "atmospheric" theatre.1

Sally Rand - 1934
Photo courtesy Bob Hope and American Variety (Library of Congress Exhibition)
There was a stage trap door that was particularly useful for magic acts. Enticing locals with the "Hollywood Scandals" were the McCord Dancers, the Sun-Tan Revue, and The Green Pastures. The Chinese Houdini, Li Ho Chang, also performed live on stage, and of particular note was Sally Rand with her famous fan dance. Other notables to perform through the years include, Tommy Dorsey, Harry James, Gene Krupa, Eddy Arnold, Tom Mix, Gene Autrey, Glenn Miller and Elvis Presley in 1956.1
On August 6, 1956, Elvis, Scotty, Bill and DJ performed three shows at the Polk. They were on what would be their last tour of Florida and had played Tampa the day before. The accompanying acts included singers Ray Brankey, Nancy Ford, Frankie Connors, the Jordanaires and comedian Phil Maraquin. The Lakeland newspaper, The Ledger, sent four reporters to cover the show.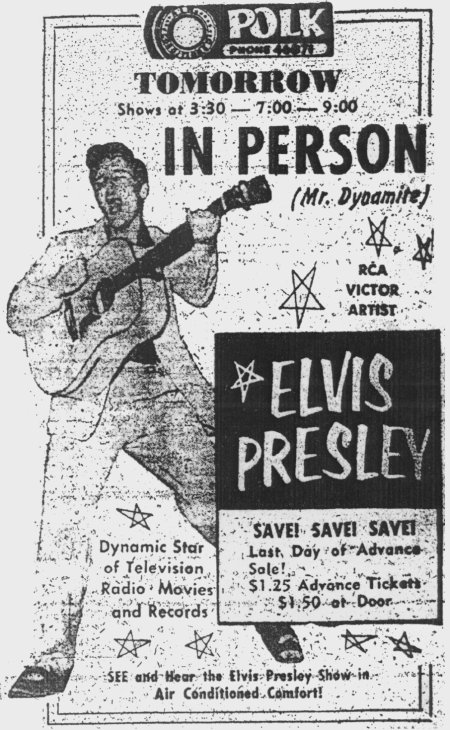 Ad in the Lakeland Ledger - Aug 5, 1956
courtesy Kevin Logan, Lakeland Public Library
Elvalee Donaldson was born in Kansas City, Missouri, and received her bachelor's degree from the University of Missouri School of Journalism. At the time, as a reporter for the Ledger, she had been tasked to write a piece every week, for seven weeks, prior to and about the coming of Elvis to Lakeland. "It is impossible for the young man to stand still and sing rock 'n roll," she in one piece wrote days before his arrival. "He says it shouldn't be sung without motion and claims all his wiggling only emphasizes the natural emotion which he feels."2
In her review published the day after the shows, she wrote, Well, its all over, even the shouting. Elvis Presley is real gone--gone from Lakeland at least. He arrived yesterday afternoon 15 minutes before the start of his first performance at the Polk Theater and left as quickly as he could after his third show last night, for a hotel in Tampa. Tonight he will be in St. Petersburg.3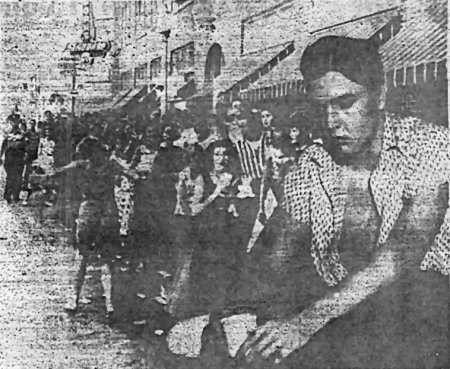 Elvis in the dressing room overlaid on photo of crowd in front of Polk - Aug. 6, 1956
Photo courtesy The Lakeland Ledger
Shrieking fans, men and women, but mostly women--young and old, but mostly young-- were lined up in front of the theater from 8 a.m. until after the start of the last show at 9 p.m. At least 6,000 persons watched his performances here. Elvis was on each 1 hour program only 15 minutes--the last 15 minutes-- after a stomping clapping combo, the Jordanaires and a slinky women singer had built the audience to a frenzied pitch.3

DJ, Bill and Elvis (believed to be the Polk Theater - Aug 6, 1956)
Photo source unknown
He lumbered from behind the curtain, wiping his mouth on the back of his hand and hitching up his trousers. Everybody screamed. He leaned back, grinned at the musicians and swayed. Everybody screamed again.3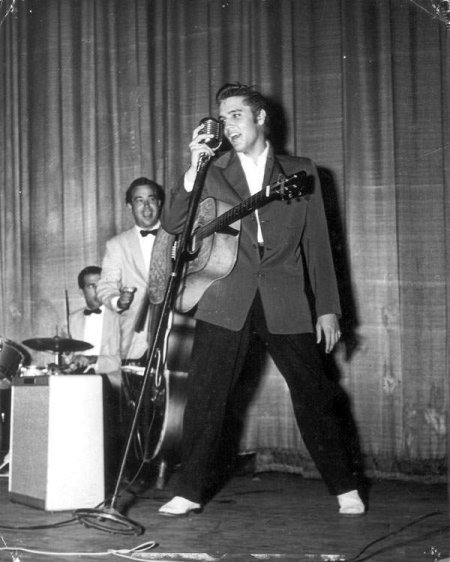 DJ, Bill and Elvis at the Polk Theater - Aug 6, 1956
Photo by Jerry Perkins courtesy Laura Milton - Polk Theater
By this time he was standing spraddle-legged, leaning on the microphone and wailing "Welll now, since my babee left me." Occasionally he would strum his guitar. The shrieking women never stopped and the singing was not even audible on the front row at the performance. A different public address system was demanded by his manager, Col. Tom Parker, for the other shows.3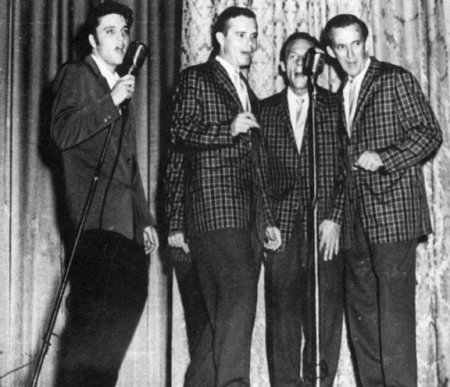 Elvis and the Jordanaires (believed to be the Polk Theater - Aug 6, 1956)
Photo source Ger Rijff''s Studio B Blues
The singing did not seem to be what the teen-agers particularly were interested in, for every time the sultry sideburned singer would bump his hip, the frenzy would mount. Often he would just shimmy without singing, without playing the guitar. Several times he clutched the curtain as he shook and once got down on his hands and knees, his long hair tossed in his face, and did his bumps toward the audience from that position.3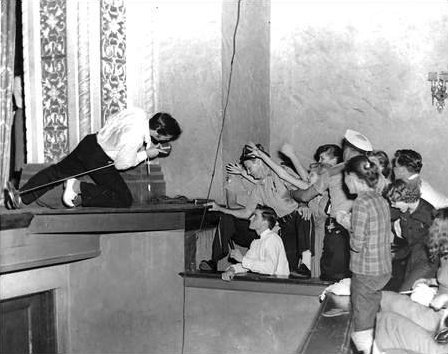 Elvis and fans at the Polk Theater - Aug 6, 1956
Photo courtesy The Lakeland Ledger
The strangest thing about Elvis is that he's apparently just a nice kid, caught in a tempest that is paying money. In the backstage interview (

) after his first show, he acted like a 21-year old boy being asked questions by reporters. Just a little afraid and certain that they were trying to press him into saying the wrong things.3
When he first arrived in his tan Lincoln Continental at the stage door, he bustled right out of the car and inside. I was waiting to snap just one picture of the arrival. He quickly flicked me aside and said "Honey, you'll have to come inside if you want to talk to me." 3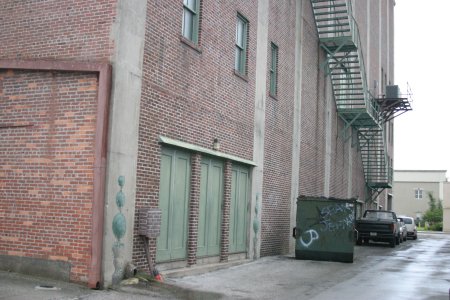 Rear of theater and stage door
He seemed to be immediately sorry for his abrupt treatment and consented to pose on the steps several times during my interview with him, he apologized for the way he had acted. "My managers tell me to just hurry inside as fast as I can," he said. "For all I knew you were just some little girl wanting a picture." I assured him I was just a girl wanting a picture, so he posed again to make up for the slight.3

Elvis on the backstage steps at the Polk - Aug. 6, 1956
Photo © courtesy Elvalee (Donaldson) Swift
Elvis admitted, usually with a good natured grin that occasionally turned into an out-and-out laugh, that most things written about him are untrue. "Just wild press stories and gimmicks," he said.3
June Juanico, 18-year-old girl who is accompanying him on his tour, brought him a paper cup of water. While she was getting the water, I asked, "Is June just one of your 25 regulars?" Elvis looked disgusted and said the press made it up. "She means more to me than any other girl has," he said, "but I haven't known her very long."3

Elvis and 19-year old Sharon Spencer Rosanne backstage at the Polk - Aug. 6, 1956
Photo courtesy OldSchoolCool and FECC/Jove
Elvis looked tired after his first show. He wiped the sweat from his face with his hands on his black denim pants. "I only get to sleep three, four hours a night. Pretty tired, you know." Sipping on his ice water and fumbling with the knot in the front of his black and white striped shirt, Elvis gradually lost his reserve and began joking with the reporters.3
When asked if he took vitamins to keep up his strength, he quickly answered, "No, do you?"3
"Well," came the reply, "I don't exactly cavort around like you do." "I bet you could if you tried," was the retort of Elvis the Pelvis.3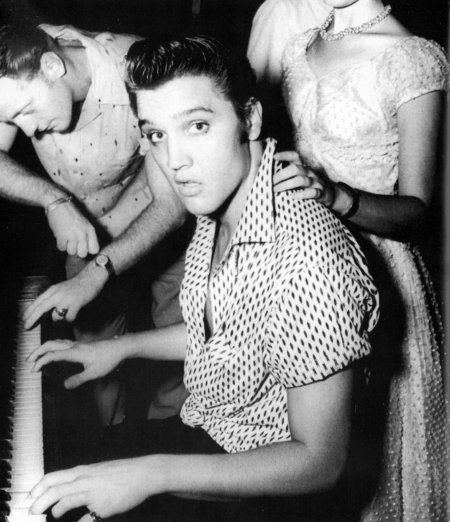 Red West and Elvis at the piano at the Polk - Aug. 6, 1956
Photo source Ger Rijff''s Studio B Blues
He denied that he ate only pork chops, mashed potatoes and gravy, as some of the magazines say, "I eat the same food everyone else does. I'll probably have soup for supper." "The Cat" isn't one of the nicknames he accepts graciously. "I ain't no damn cat," he said. "A cat's an animal." He also said the name "Elvis the Pelvis" disgusts him."3
Elvis looked rather sheepish when he talked about his gyrations on stage, which have been called "lewd, obscene and vulgar." Actually the description is perfect. "Surely, Elvis," I asked, "you don't honestly believe that all those motions simply are part of your feeling for the songs?"3
"Well, part of it is put on, you might say," he said, grinning and then throwing back his head and laughing.3
"And I don't collect teddy bears and I never bit a girl reporter. Those are press gimmicks, I guess. They must have made it all up because I don't know where they ever heard such things." 3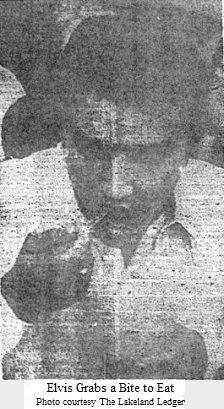 He doesn't believe the reports have hurt him, however, "I only do what I think is right. Now what's the harm in that?"3
Front page news in the papers only get a quick glance from Presley who claims, "I'm on a full schedule, ya know?" He had not even read of the 14 year old girl, who ran away from home because she was in love with him.3
He was more than unhappy with a Miami reporter who hurled questions about current events his way and then blasted him in the newspaper because he didn't know the answers.3
"Yeah, this guy comes in and starts asking me about the United Nations and the world situation in Pusan and ships. I didn't even know they had a shipwreck. If I knew all that stuff I'd be in politics in Washington."3
Elvis laughs during his performances because as he explained it, "I get tickled at those kids in the front row. And then, too, I get tickled at my own mistakes. I'm all the time forgetting words."3
He loves his fans and all the screaming doesn't make him nervous. His favorite record of his own is "Don't Be Cruel." While he was in Miami, he threw a pair of trousers out the hotel window to some fans. "No, I don't know if they tore them apart or not. When I left they were still fighting over them."3
On Sept. 9 he is scheduled for his first appearance with Ed Sullivan. Before he appeared on the Steve Allen show he was told to tone down his motions. "They told me to behave like a gentleman. I didn't know what they was talking about," he said.3
It's hard to make a clear-cut statement about the 21-year-old singer. Onstage, he is obscene, ridiculous and sullen, yet he gets $50,000 a week because of his onstage appearances. Offstage he appears polite and good-natured, only too eager to tell the truth about the way he acts and feels.3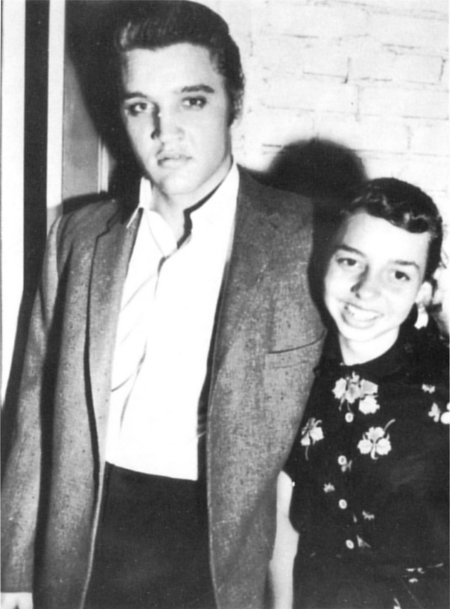 Elvis with fan Ginger Harrell who's sister dated a Ledger photographer - Aug. 6, 1956
Photo courtesy Ginger Cannon and The History of Lakeland High School - added July 26, 2012

In addition to Elvalee, the Ledger also sent three male reporters, Jack Skelly of the citrus and farm beat, Bob Jarrell of City Hall and Bob Swift, general assignment man. According to the Ledger they actually begged to go. Though their reviews weren't flattering, all seemed to agree that Elvis off stage was different and more likeable than Elvis on stage and each wrote separate reviews, criticisms and editorial observations.4
Bob Swift wrote, Elvis Presley is the first burlesque dance I've ever seen who didn't wear a rhinestone in his navel. Of course, he kept his shirt and pants on during his routines so its still a moot point. Presley sweated fiercely. He took off his coat and loosened his white tie. Everybody hollered. Presley grinned, pointed to the front row and bumped a wicked bump. Everybody whooped. Backstage he watered down to a mild-talking hillbilly guitar player who called a male reporter "sir" and a female reporter "honey." He spoke quietly answered questions politely, and admitted he didn't know much about world affairs.4
Bob Jarrell wrote, Here was an entertainer ...(with)... a new twist to the ancient art of burlesque... with an appeal not to men but to women. The Presley invitation . . . something better left somewhere else.4
Jack Skelly wrote, At the end of a two-hour show, they saw a man walk across the stage in a two-tone tuxedo, guitar slung across his shoulders, and utter the following vocal tones for 15 minutes: 'oh, ooo, ah, hee, oo, eee, ah, oo.' That was it.4
The only mention of Scotty, Bill and DJ was when Jack Skelly wrote, Presley chatted with the three boys in the band, and they all laughed, and Presley chuckled.4 Since January of 1956, RCA had begun to eliminate references to the Blue Moon Boys in promotion of its products. The Colonel began to follow suit to even further disassociate Elvis from his former partners. As fan magazines clamored to turn out special issues on Elvis, the Colonel monitored the reportage with an iron fist. Under no circumstances were they to publish photographs of Scotty and Bill. Those that didn't comply with his instructions would hear about it from the Colonel.5
According to Bob Swift, in an article about Colonel Parker, the manager of the Polk Theater at the time was Ed Smith, an old acquaintance of the Colonel's. The Colonel told him that he was born in West Virginia and he had worked for Ed about 25 years earlier in Tampa doing all sorts of jobs for $2 a day. He and Ed reminisced about the time he rode a mule dressed in a Ku Klux Klan outfit advertising a movie. They threw rocks at him and the mule. It got him a $5 bonus. During the show the Colonel sat in the lobby of the Polk theater and counted the money and sold Elvis Presley souveniers. 6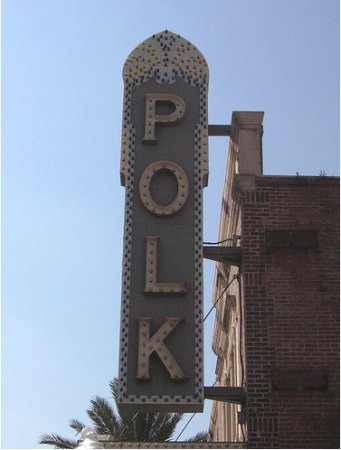 The Polk Theater - Oct. 7, 2006
Photo © Uh … Bob courtesy flickr™
By 1957 movie attendance had dropped 50 percent from its historically high mid-1940's level. Theatres across the nation closed as living rooms replaced theatres as entertainment centers. The Polk survived for three decades after the end of World War II, but it's luster faded as years passed.1

During the '60s and '70s as Lakeland grew and became an increasingly suburban town, the Polk's downtown location became a district liability. And, with the advent of multi-plexes old movie palaces were vulnerable targets for closure or worse. The Polk managed to stay operational into the '80s, but there was a growing possibility that the downtown landmark could be razed.1

The Polk Theater and office building
In 1982, a group of concerned citizens banded together to save the Polk from the fate of many other movie palaces. They formed a non-profit group (Polk County Landmarks, now Polk Theatre, Inc.), borrowed money, secured a grant from the state, and purchased the theatre for $300,000. As a non-profit, the Polk continues to rely upon grants and donations in order to meet its financial obligations. The theatre under went a major restoration which was completed in October, 1999 and the building is now individually listed on the National Register of Historic Places.1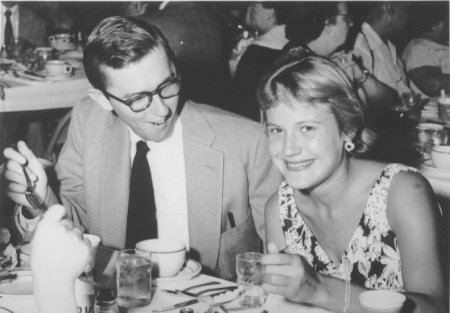 Bob and Elvalee (Donaldson) Swift at the Lakeland Country Club - 1956
Photo © courtesy Elvalee Swift
It is amusing in retrospect to read the comparisons of the day of Elvis' performance to "Burlesque." Rock and Roll was at the time still new and not yet really accepted by mainstream 'adult' America. Newspapers were still in the habit of sending "news" people and art critics to review shows (the citrus and farm beat?), generally, people that were more accustomed to singers that stood still while singing and audiences that just clapped politely. But as a writer for the Ledger put it in an article 52 years after his appearance there "Teenaged girls, of course, didn't care about critics. They simply loved Elvis."2
More often than not the appearances were covered for their 'phenomenon' aspect more than a musical one. Perhaps because in many cases it was almost impossible to actually hear the show over the audience. It wouldn't be until 1962 actually before the Cleveland Plain Dealer's Jane Scott became the first established rock writer when she began a teen music column.7 She unfortunately never got the opportunity to interview Elvis. And it was probably not until the Rolling Stones' performances sometime in or after 1969 before they finally started to figure out how to perform adequately, sound-wise, to large audiences.
During her career, Elvalee Donaldson was a reporter for five newspapers, the Miami Herald, Sarasota News, The Ledger, Maryville Daily Forum in Missouri and Norfolk Daily News in Norfolk, Nebraska. She eventually married fellow reporter Bob Swift and started her own public relations firm in Miami where she also handled the pr for the Criteria Studios and met many stars coming and going. Bob became an editor of the Miami Beach Sun, and also a columnist and editor for the Miami Herald for 35 years. They reside now in Winter Haven.8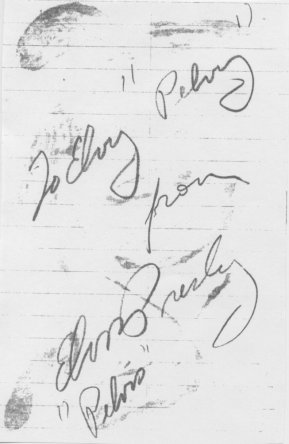 Elvalee's autograph from Elvis
Photo © courtesy Elvalee Swift
By the time of Elvis' appearance at the Polk the nick name of "The Pelvis" had seemed to stick. Though he had by then grown tired of it and thought it ridiculous he appeared to take in stride with Elvalee because he signed an autograph for her To Elvy "Pelvy" from Elvis Presley "Pelvis." She still has it to this day.

Elvis' signature on the dressing room wall
Photo © Scotty Wheeler - Lakeland Ledger
In a dressing room at the Polk there is another autograph by Elvis, on the wall, that he signed in 1956. They've placed plexi-glass over the signature and rarely let people go into the dressing area. In March 2008, water infiltrated dressing rooms, storage areas and the auditorium, forcing removal of carpets, drywall and ceilings. Repair crews cut out the section of wall with the signature and took it away for protection and drying. There is a little staining that, they hope, can be fixed.9 At the moment, the signature is in their administrative office awaiting repair of the dressing rooms. It will then be reinstalled backstage.
page added June 10, 2008
(

)Click to hear an interview of Elvis backstage at the Polk by Paul Wilder for TV Guide courtesy Elvis.net
Special thanks to Laura Milton of the Polk Theater and to Kevin Logan of the Lakeland Public Library for their assistance with photos and news articles, and of course to Elvalee Swift.
1 excerpt from "History of the Theater" - The Polk Theater Website
2 " Elvis' First Visit in 1956 Not Forgotten" by Cinnamon Bair, The Ledger - Mar 23, 2008
3 "Real Gone Presley is Really Gone But The Aroma Of His Day Lingers" by Elvalee Donaldson, Ledger Staff Writer - Aug. 7, 1956
4 according to article "Three Unbiased Males Give Views Of Elvis" The Ledger - Aug 7, 1956
5 according to "That's Allright Elvis" by Scotty Moore and James Dickerson
6 excerpts from "Presley's Manager Real Carnival Man" by Bob Swift, Ledger Staff Writer - Aug. 7, 1956
7 courtesy "Rock History", Positively Cleveland
8 "President of Women's Republican Club Stays Busy In All Aspects of Life" by Billie Ellis - Feb 3, 2005
9 excerpt from "A Walking Tour of Downtown Lakeland"
---
Coincidentally, the Polk is not the only venue that both Sally Rand and Elvis performed at. Though their paths probably never crossed she appeared in a run at Las Vegas' New Frontier hotel in 1954, two years before Elvis. She was also photographed in Memphis by local photographer Robert Dye, who also shot several photos of Elvis early on at Ellis and Overton Park.
---
TAMPA MORNING TRIBUNE, Tuesday, August 7, 1956
---
LAKELAND APPEARANCE--
Teen-Agers See Elvis, But Squeals Drown Out Songs
By Stan Moran
Tribune Staff Writer
LAKELAND, Aug 6--Teen-agers by the hundreds--nearly the 1800-seat capacity of the Polk Theater--saw, more than heard Elvis Pressley do his stuff this afternoon.
Two more audiences that were advanced sellouts heard the young ex-truck driver sing and gyrate onstage this evening. A better microphone setup was used, but yelling, screaming fans still drowned out his songs.
Elvis' frenzied performances drew choruses of screams throughout from girls who bounced in their seats.
Many of them had waited long hours for the theater doors to open and the show to begin.
Front Row Repeaters
Two girls who had been first in line for yesterday's Tampa appearance arrived at the theater at 8 A. M. and got front row seats.
Nila Shea, 17, and Anne Muncy, 18, both of St. Petersburg, got up at 5:30 to have Nila's mother drive them here. Then Nila's mother went on to Sebring to pick up her other children at a camp.
She made it back in time with Diane, 15, Dennis, 12, and Danny, 10. Diane got a front seat her sister saved against the onslaught of other anxious fans.
A queue of 100 youngsters, including 10 boys, stretched to a nearby corner at noon, over three hours before show time.
One Girl Faints
One girl fainted under glaring hot sun, and there was a constant parade to drug stores for cooling drinks.
Policemen and firemen on regular and extra duty maintained a vigilant patrol at the theater area and inside the auditorium.
Fans waited eagerly but in vain behind police barricades for Elvis to appear after the performances.
But he told the press backstage after his afternoon show that he never goes out between performances, but would have his dinner brought to him.
"Ah don't eat much. Ah'll just have some soup or somethin'."
How about all those antics onstage?
"Well, its what ah feel, ah guess. some of it's real, some of its made up."
Why does his mouth arch at one side like a fender sweep into a half-sneering smile, with a frequent sidelong glance and open laughter during a song?
"Lot's of times ah just get tickled at somebody in the first row," said Elvis.
A married woman who somehow got backstage after the show asked for his "Henry J," apparently meaning his autograph.
"Ah'll give you my Lincoln Continental," he teased.
(The Continental, incidentally, has no customary custom nameplate inside.)
Denies Biting Reporter
Elvis said many stories written of him are press gimmicks, and the one about his biting a girl reporter was "very untrue."
"Ah wasn't drunk because ah don't drink so ah know ah didn't."
Where do these stories come from?
"You tell me, you tell me," he said passing a hand wearily across his eyes.
At one point during the performance, the last 15 minutes of a two-hour show featuring other entertainers, Presley seemingly got so carried away he stepped across the footlights.
Steps Into Hole
Looking down, he spied an upright piano in the empty orchestra pit, and took one step onto its cloth-covered top. The top had been removed, and as his left foot plunged in, he recovered quickly.
His final act after dropping to one knee at the side of the stage was to lay down the microphone and with a wave, dash off stage.
Explaining he didn't get much sleep on tour -- "only about five hours last night" -- he said:
"Yo know, I'm not in a real big way all the time."
He wants a good role, something that suits him, in Hollywood, and is waiting for a call from the film capital now.
Elvis doubts whether he'll be recording another hit soon.
"Those things just come along, honey," he told a girl reporter, "you can't plan em."
article added September 8, 2008 courtesy Ger Rijff
---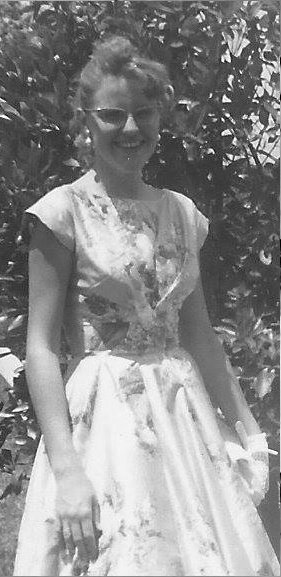 Linda Gail Ulrey, nee Akins, ca. 1956 and at the Polk Theater August 6, 1956
Photos courtesy Keith Ulrey and the Lakeland Ledger

Recently, we were in correspondence with a fan on Facebook who recognized and identified his mother in a picture from the performance in Lakeland after we posted it again. We asked for a contemporary photo and he complied:
James, attached is a scanned pic of my mother Linda Gail Akins (now Gail Ulrey) circa 1956. The photo of Elvis from the Polk Theater, him leaning down, her reaching out has been used in Lakeland media for years. There used to be a local restaurant that had a large mural photo of it displayed (which I've been on the hunt for for years).


Linda Gail Akins reaches out to Elvis at the Polk Theater in Lakeland, FL - Aug 6, 1956
Photo courtesy The Lakeland Ledger

My mom is alive and well and was interviews by a film crew last year at Polk Theater about the documentary.


The stage and corner where Linda and others reached out to Elvis as it appears today

Keith Ulrey
Tampa, FL
August 7, 2015
section added August 12, 2015