The Last Man Standing
August 15, 2007
On August 15, 2007 Scotty gave what he considers to be his farewell performances in 2 shows aptly titled, "The Last Man Standing" at the Peabody Hotel in Memphis, TN.
Soundcheck

Scotty and Bucky

Jimmy Russell

Scotty tunes up
For the performances Scotty's UK touring band, commonly referred to as the Grundy-Pritchard band were brought over to perform and also the members of Scotty's latest collaboration and project, "The Mighty Handful" were billed.

Jimmy and Fred

Fred Satterfield

Bucky, Fred, Billy and Steve

Liam Grundy
With most only arriving in Memphis on the 14th the day before, their schedule was tight. Around 10:00 AM everyone started gathering to unload and set up for a scheduled sound check at 11:00. Each band would perform a 45 minute set roughly for each show, one at 2:00 followed by one at 5:00.

Scotty and Dave Briggs
The Mighty Handful set up and did their sound check first followed by the Grundy Pritchard band. Scotty, as always, has been concerned with the proper mix of the band and the sound levels that the audience would hear and supervised almost every facet. He's done this from the very beginning and wasn't about to change now.

Bob and Scotty
The Grundy Pritchard band consists of Liam Grundy on keyboards and vocals, Pete Pritchard on bass, Paul Ansell on vocals and rhythm guitar, Dave Briggs on lead guitar and Jimmy Russell on drums. Scotty toured Europe on several occasions over the last few years with this very lineup. He performed what he considered his swan song in Europe with them exactly 2 years ago to the day at the London Jazz Cafe on August 15, 2005.

Denis Solee

Bob and Billy

Buddy Spicher
The Mighty Handful was comprised of Billy Swan on vocals, Bob Moore on bass, Bucky Barrett on guitar, Steve Shepherd on keyboards, Buddy Spicher on fiddle and Fred Satterfield on drums. Performing in place of Boots Randolph was Denis Solee who is a longtime Nashville sessionist and performer and a very good friend of Boots.

Red Robinson

Scotty, Darwin and Bucky

Scotty checking the sound from the board

Billy and the band do their sound check

Denis and Bob

Scotty checking the sound from the board

Scotty checks his sound

Paul Ansell

Dave and Pete

Liam, Jimmy, Dave, Pete and Paul

Pete and Dave

Liam and Pete
---
Showtime

Moore's Mafia members Ella and DJ hawking limited edition pre autographed CDs

Red Robinson

Darwin Lamm
Red Robinson emceed both of these shows that were presented by Darwin Lamm of Elvis International The Magazine. It was planned that after Red's introduction the audience at each show would see a short slide presentation on screen highlighting Scotty's career and the Darwin would bring Scotty out to address the crowd briefly. After answering a few questions and sharing a few laughs Scotty asked the crowd if they were ready to hear some good music and the Grundy-Pritchard band came out and did their set.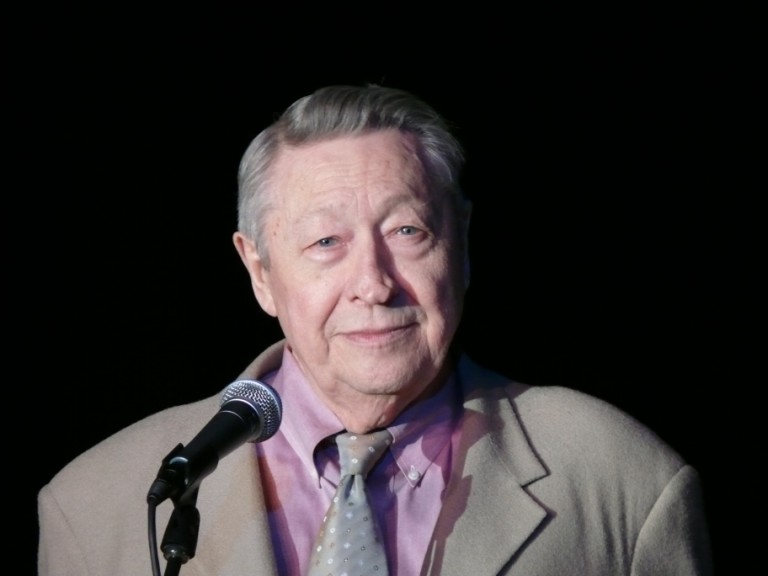 Photo © Jim Baumann courtesy Joni Raspa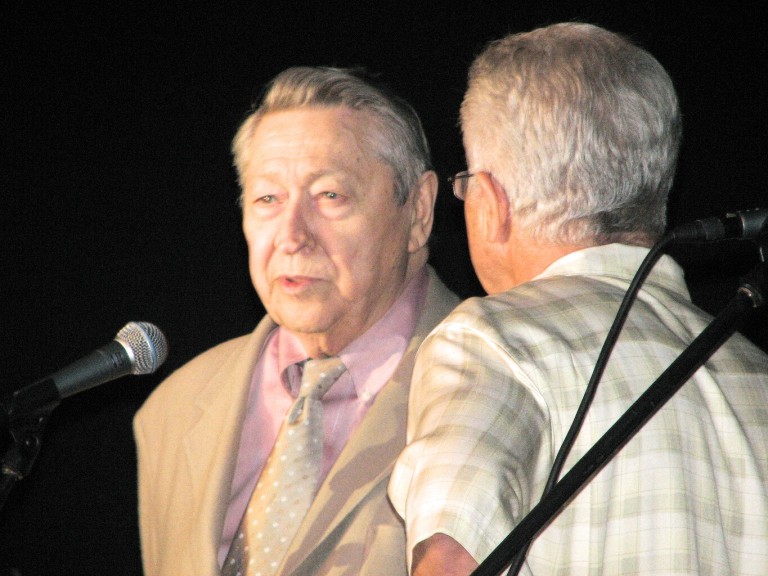 Photo © courtesy Ella Shepherd

The Grundy-Pritchard band

The Grundy-Pritchard band

The Grundy-Pritchard band
In between sets Gail came out and tearfully spoke to crowd her regrets at the recent loss of the Handful's friend and band mate Boots Randolph. She told of his great anticipation and intent to perform their today and how a performance with him 3 years ago in Memphis inspired the collaboration of the Mighty Handful. Then as tribute to Boots she introduced a video of him performing his classic "Yakety Sax" on the screens while the bands changed on stage .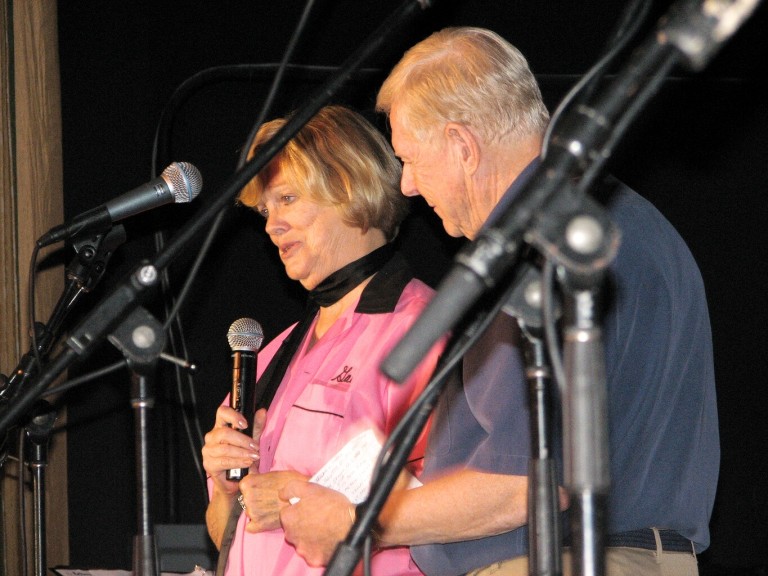 Gail and Red
Photo © courtesy Ella Shepherd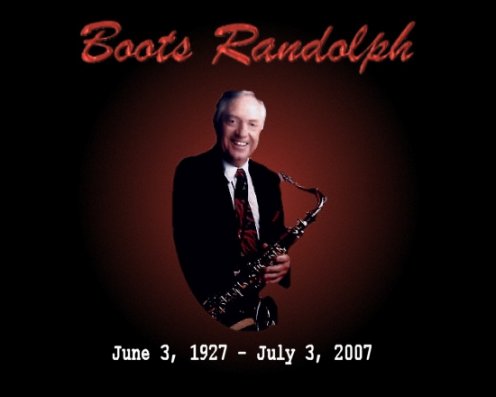 As the Mighty Handful performed, as a further tribute to Boots, they ran a short slideshow and video featuring Boots during the performance of "Reconsider Baby". This was the song performed by several of that lineup 3 years ago during the Legends show that inspired the collaboration. Scotty's arthritis no longer allows him to perform a full set but he came out and played the last two songs at each show.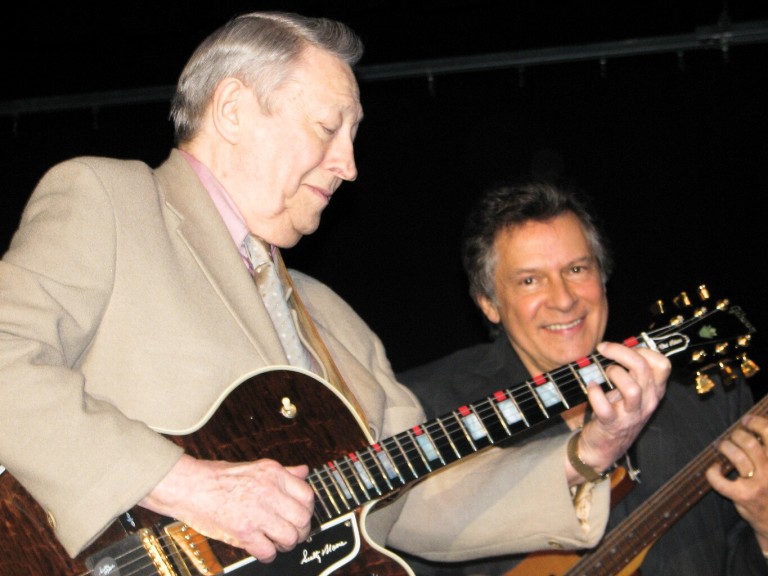 Photo © courtesy Ella Shepherd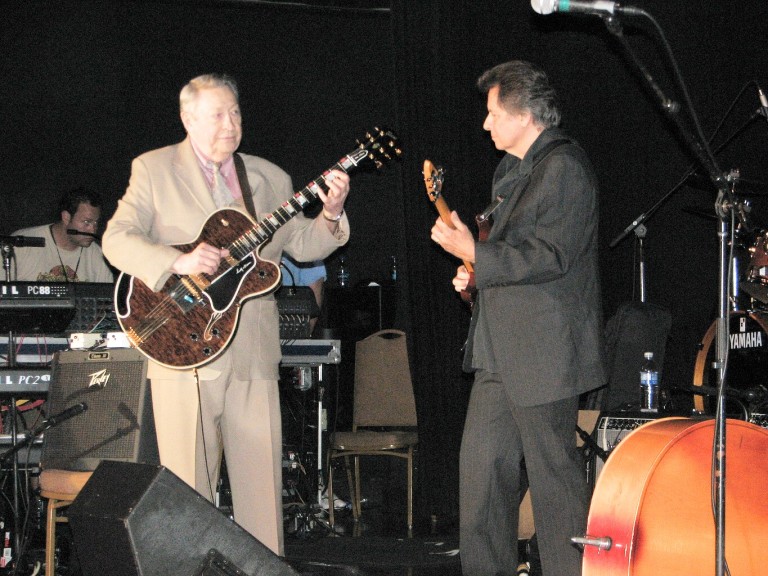 Photo © courtesy Ella Shepherd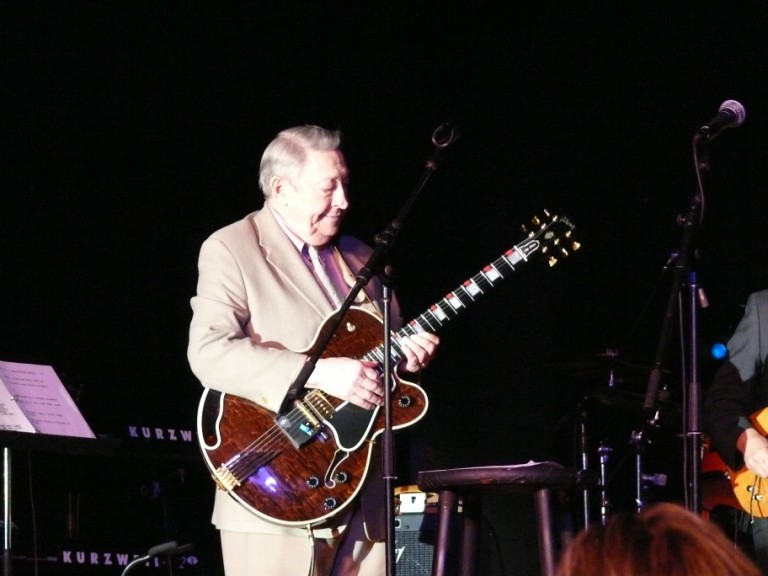 Photo © Jim Baumann courtesy Joni Raspa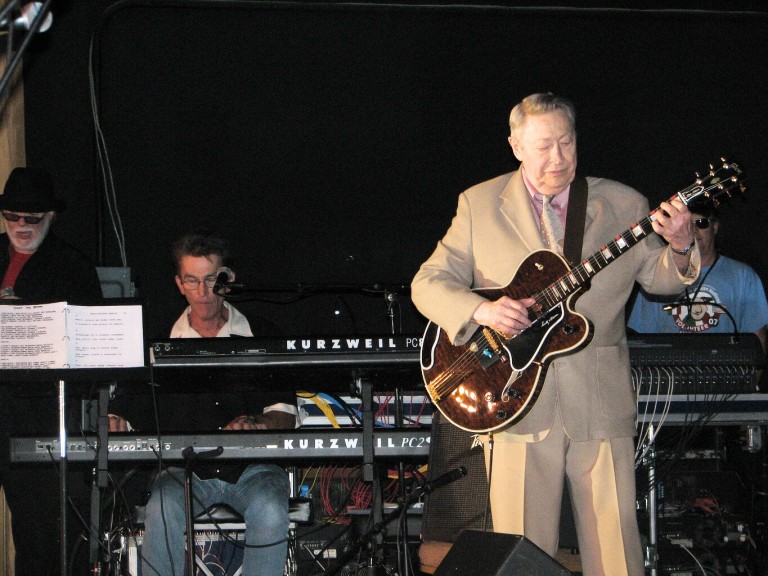 Photo © courtesy Ella Shepherd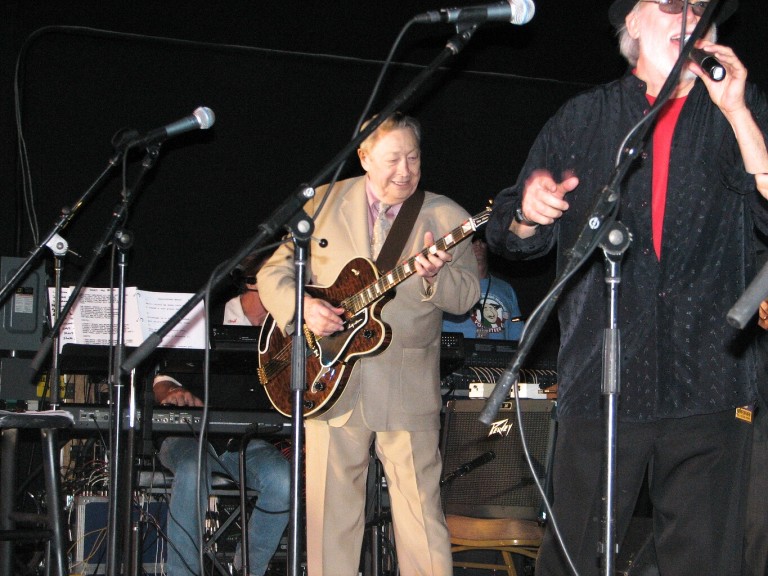 Photo © courtesy Ella Shepherd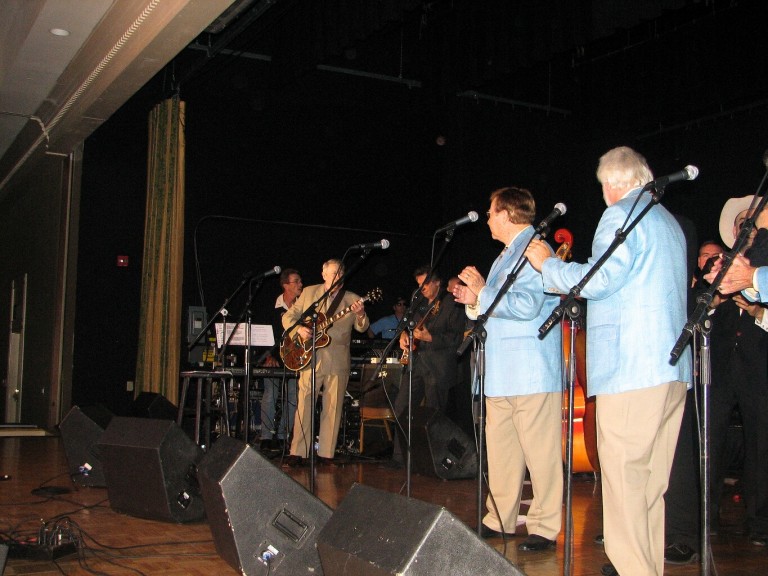 Photo © courtesy Ella Shepherd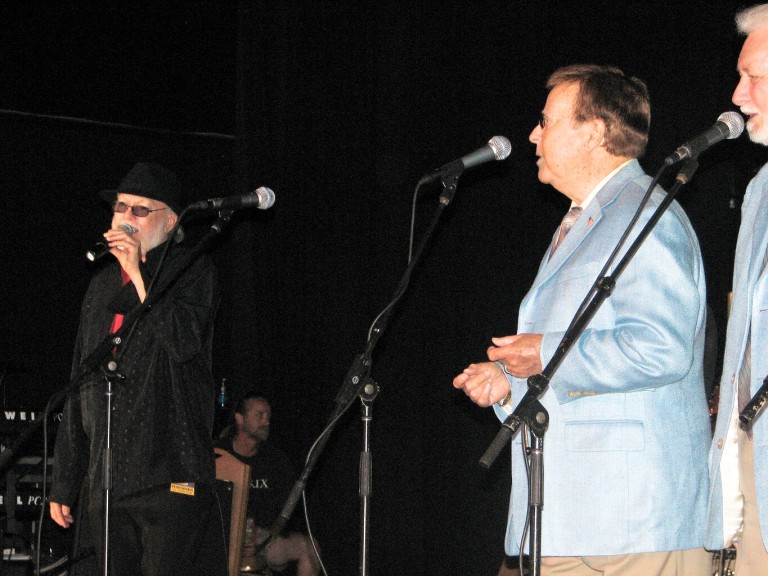 Billy and special guests, The Jordanaires
Photo © courtesy Ella Shepherd

The Finale - Shake, Rattle and Roll
Members from both bands joined together onstage for the last number of each show and did a roaring rendition of "Shake, Rattle and Roll". Scotty's performing career started in Memphis over 50 years ago and it was only fitting that he finish it there.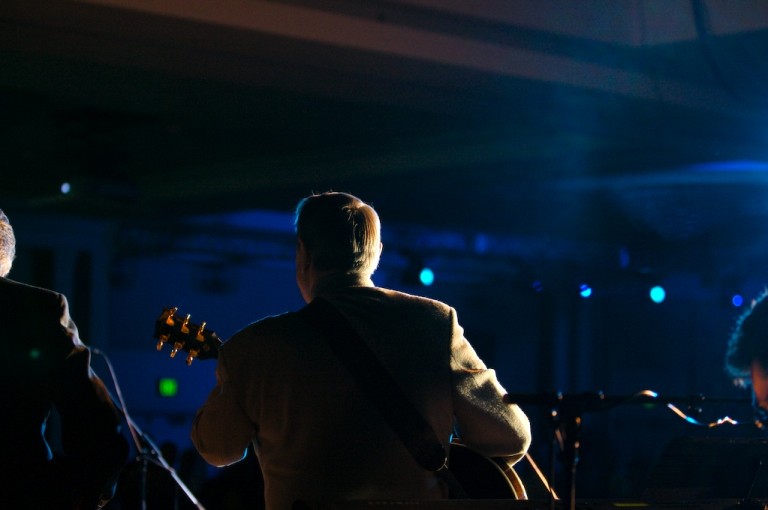 Scotty Moore, last man standing
Photo © courtesy Clayton Ball
Check out a review in the blog by Susan Graham who attended the 2:00 show http://seattlesusieq.blogspot.com/