YMCA Gymnasium
Lexington, NC
Lexington, North Carolina was named after Lexington, Massachusetts, the town where the first shot of the American Revolution was fired in 1775. That shot, figuratively speaking has since been referred to as "a shot heard round the world". The YMCA Gymnasium in Lexington, NC was built in 1954, only months before Elvis, Scotty and Bill would record at Sun in Memphis, figuratively firing another shot that would be heard around the world.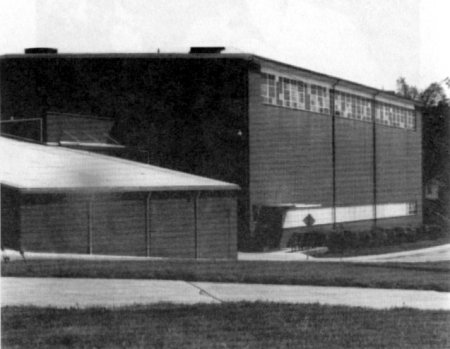 The Lexington YMCA Gymnasium - Lexington, NC
Photo courtesy "The Day Elvis Came To Town" by James D. Prince
The Lexington YMCA officially started in May of 1950. On March 22, 1954 a new multi-story building was opened. The structure was designed for various recreational activities with its prominent feature being a vast 4,000 seat gymnasium. The size of the building was monumental for its location, since at the time of its dedication the population of Lexington was only 13,562 along with the county's census of 62,625.1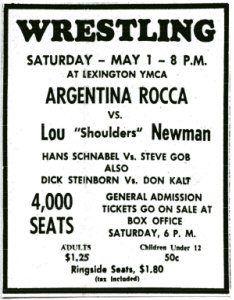 In the April 22, 1954 edition of The Dispatch, a Lexington newspaper, an article appeared with the headline: Top Notch Wrestling Bouts Here. The story described a visit to Lexington by well known matchmaker Jim Crockett who agreed to put on a wrestling show at the YMCA in May. The article described Crockett telling the reporter that he will stage a first class event, and if sufficient support was evidenced, other big shows would follow. The first professional wrestling matches were held at the YMCA Gymnasium on Saturday, May 1, 1954. The show was headlined by Argentina Rocca versus Lou Newman.1
The YMCA gymnasium was an impressive structure for hosting wrestling events. Its design of 4,000 seats could be expanded by several hundred ringside chairs for wrestling. Advance purchase of tickets topped 1,300 before the start of the Saturday card. The final attendance of 4300 for the debut of wrestling was much more than expected, with news reports describing fans as coming from various parts of North Carolina and some adjoining states. The amount of the sales brought indications to YMCA officials and Jim Crockett of a potentially lucrative long-term business partnership; therefore other matches were planned for upcoming weeks.1
For twenty years professional wrestling was by far the dominant form of any sports or entertainment offered not only in the YMCA arena, but anywhere in the immediate area. Different types of entertainment were featured throughout the years at the Lexington YMCA. The Harlem Globetrotters, professional ice skating shows, college basketball tournaments along with various acts of the theatrical world appeared in the arena. Only once did a performance draw an audience comparable to the largest crowd attending wrestling.1

In a booklet called "The Day Elvis Came To Town" by Lexington resident James D. Prince, James wrote that a show at the 'Y' featuring country singer Eddy Arnold was initially booked by Oscar Davis with Lexington's Civitan Club. Davis, who at the time was doing freelance promotion work for Colonel Parker, had met Elvis with Bob Neal at an Eddy Arnold show at Ellis auditorium in Memphis in October of 1954 after seeing his performance that weekend at the Eagle's Nest.
About a week prior to the upcoming Eddy Arnold concert, Colonel Parker contacted the YMCA's general secretary, Carl Link, and told him that Eddy Arnold would not be able to appear. Mr. Link notified Howard Fite, the chairman of the YMCA's committee and told him. When Dr. L.C. Harpe, the Civitan's president was informed, he contacted Colonel Parker who confirmed that Eddy Arnold would not be appearing, but that he was sending a young singer named Elvis Presley instead.2
Dr. Harpe expressed concern about whether they would make any money on an unheard singers performance. Colonel Parker told Dr. Harpe, "I'll tell you what. I'll give you fifty percent of the gate or I'll give you a guaranteed flat fee of two hundred dollars." Not having heard of Elvis, Dr. Harpe told Colonel Parker, "We'd better take the two hundred dollars. At least that's a sure thing."2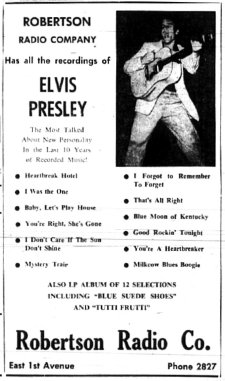 Ad for Elvis' Records - Mar 15, 1956
On March 15, 1956, The Dispatch reported: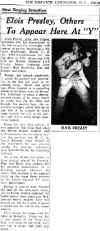 New Singing Sensation
Elvis Presley, Others To Appear Here At "Y"
Elvis Presley, great new singing sensation who has skyrocketed to the top practically overnight, will appear in person headlining a big show Wednesday, March 21, at the YMCA-Gymnasium for one big show at 8:00. Appearing with him are Mother Maybelle and the Carter Sisters, featuring June Carter; Rod Brasfield, Hal and Ginger and others.
Presley, just turned twenty-one, is called the greatest new personality in the last ten years of recorded music. About two years ago, Elvis stopped in a recording studio in his home town of Memphis, Tennessee, to make a demonstration record of his voice, which he could play for his folks and friends. Six months later, the recording manager called him up to ask him if he wanted to make some records for sale to the public--and that is when things started to happen.
From his very first release, it was apparent that Elvis had what the record buyers wanted, and each successive record release outsold the previous one. R. C. A. Victor Records, when advised of the excitement he was causing among the teen-age audiences, paid $40,000.00 for his recording contract.
He is one of the few artists to have records played by Country, Pop, and Blues disc jockies. On his personal appearances, he is breaking records wherever he shows. The reaction to his appearances on the stage show portion of the Jackie Gleason TV show were phenomenal.
Presley is said to have become the idol of the teen-agers today, just as Frank Sinatra captured the bobby soxers some years ago. Hollywood movie makers have not missed out, for he is soon to make a screen test for one of the major studios.
Elvis makes his home with his folks in Memphis, Tennessee. He is very proud of his Mom and Dad, and when on the road, does not fail to make that daily call home.
It's hard to believe that to the Civitan Club Elvis was an "unheard singer", especially considering that by then he had appeared on National Television (the Dorsey's Stageshow) and had already made several sold out appearances in the area within the last year. As early as the 12th, the Dispatch was running blurbs in the paper announcing his appearance at the 'Y', though they mistakenly reported that he had made appearances on the Ed Sullivan show, which he wouldn't until the following September. Nonetheless, as the day of the show approached, his popularity was evident and their fears unfounded when on the 20th, the day before the show, the Dispatch wrote:

Elvis Presley To Play - Large Crowd Expected For Big Show At "Y"
Advance sale tickets are moving at a fast clip and a big attendance should be on hand to "rock and roll" with Elvis Presley, youthful singing sensation at the YMCA tomorrow night.
Presley, the atomic-driven "Mr. Dynamite" of the entertainment world, heads an all-star show that starts at 8 o'clock.
Just turned twenty-one Presley is called the greatest new personality in the last ten years of recorded music. He has best sellers in a number of divisions of RCA recordings, has made many radio and television appearances and is soon booked for a trip to Hollywood to make movies.
His best selling record right now is "Heartbreak Hotel." Other favorites are "I Was the One," "I Forgot to Remember to Forget" Good Rockin' Tonight," "Tutti Frutti" and "Blue Suede Shoes."
A gay dresser and full of energy Presley is a great one of public appearances. His restless motions while singing have gained him acclaim from many sources. He is a favorite of the teen-aged set and scores of youngsters are expected to watch him work tomorrow night.
Presley appears here at the head of an outstanding show that also includes such favorites as Mother Mabelle and the Carter sisters and the comedy ace of Grand Ole Opry, Rod Brasfield. All of these stars have been seen on television many times.
Advance tickets are being sold at the James Harman Music Company on North Main Street and are moving at a good clip according to Mr. Hartman. The price range is a popular one. $1 for general admission and $1.50 for reserved seats.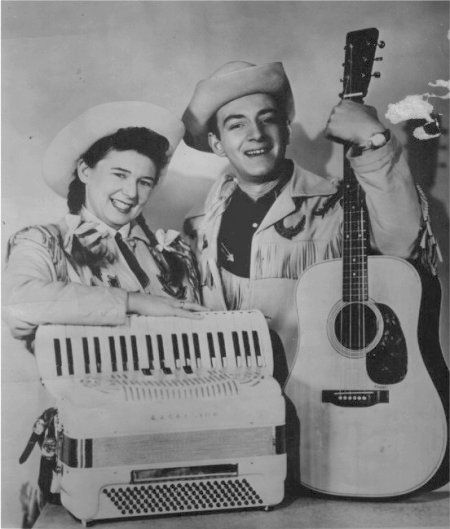 Ginger and Hal Willis
Photo © courtesy Hal Willis
Appearing on the bill along with the acts that Elvis had regularly toured with like the Carters and Rod Brasfield was the husband and wife act of Hal and Ginger Willis, an act originally from Canada who had relocated to Nashville in 1955. According to Hal, Hank Snow introduced them to Colonel Parker, who hired them to tour with Elvis which provided them with some recognition. Hal recorded his first session on Atlantic Records in 1956 and had an early Rock 'n Roll hit with My Pink Cadillac.
According to James Prince, the boys arrived in Lexington early in the morning on the day of the show with Elvis not feeling well. After checking into the New Lexington Hotel on North Main Street and sleeping for several hours they went to Leonard's Cleaners for laundry and Elvis also got a lesson in tying Windsor knots from the owner, Don Leonard. Back at the Hotel Elvis was examined by Dr. Milton E. Block, diagnosed with a mild case of the flu and given two prescriptions.

Note from Oscar Davis autographed by Elvis
Photo courtesy " The Day Elvis Came To Town" by James D. Prince
The show, in the meantime, had sold out and they had turned away more than 2000 more people. Dr. L.C. Harpe, Don Leonard and Haynes Sherron were waiting at the YMCA for Elvis. They were to serve as his bodyguards downstairs and in his dressing room. About 6:30 Elvis arrived and the men met him in the parking lot. The girls began closing in on him as he emerged from the car. The men were able to get him inside and down to his dressing room. Elvis then gave Dr. Harpe a note from Omar Davis. The note instructed Elvis, to see and talk to Dr. Harpe for a few minutes. Dr. Harpe asked Elvis to autograph a program for him. A photographer snapped a picture of Elvis posing with his body guards. While in the dressing room Elvis asked Don Leonard to help him with his necktie one more time. Mr. Leonard helped Elvis tie the Windsor knot and adjust it one last time.2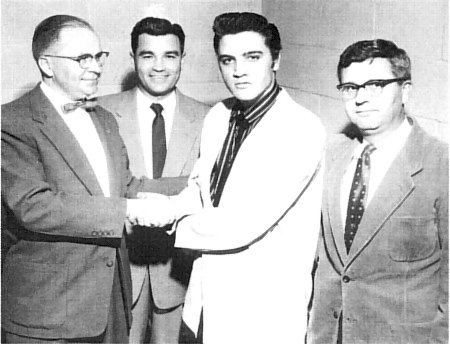 Dr. L.C. Harpe (Opthamologist), Don Leonard, Elvis and Haynes Sherron
Dispatch Staff Photo courtesy Lexington Public Library/Dewey Snider
In the hallway outside Elvis's dressing room it was becoming more hectic. Colonel Parker opened the door and said they would like to make some pictures and he started picking out some girls to pose with Elvis. He brought in cousins Edith and Bonnie Kennedy of High Point, Harriet Gilyard of Winston-Salem and Linda Shaver, Janice Snyder, Lorraine House, Bobbie Smith and Barbara Hull of Lexington. The lucky girls eagerly went inside. Elvis's cousin Gene Smith stood at the edge of the on looking crowd, awed by the adoring fans.2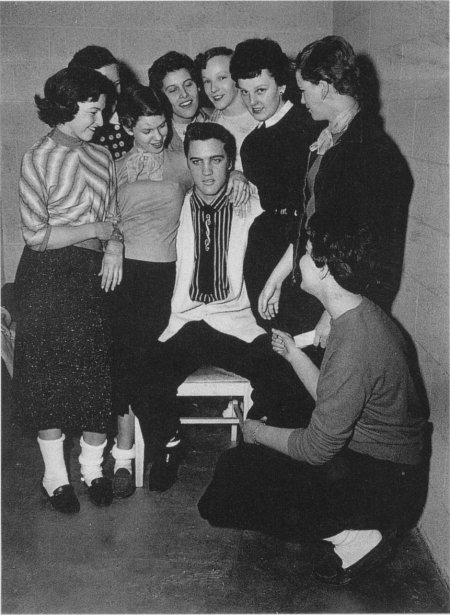 Edith Kennedy, Linda Shaver, Bonnie Kennedy, Janice Snyder, Lorraine House,
Harriet Gilyard, Bobbie Smith and Barbara Hull with Elvis backstage at the YMCA Mar 21, 1956
Dispatch Staff Photo by "Scoop" McCary courtesy Robert Gordon's "The King on the Road"
One of the girls in the picture, Barbara Smith Lohr, says she got backstage because her aunt was a friend of photographer "Scoop" McCary and he got them backstage. Barbara talked to Elvis and asked some questions. She remembers the different girls talking to Elvis about how the teenagers related to him. Elvis said he enjoyed the attention, but he wasn't used to it yet. Barbara described Elvis as being very shy, very nice and very polite. He said "ma'am" to all the ladies. Barbara got his autograph before she left.2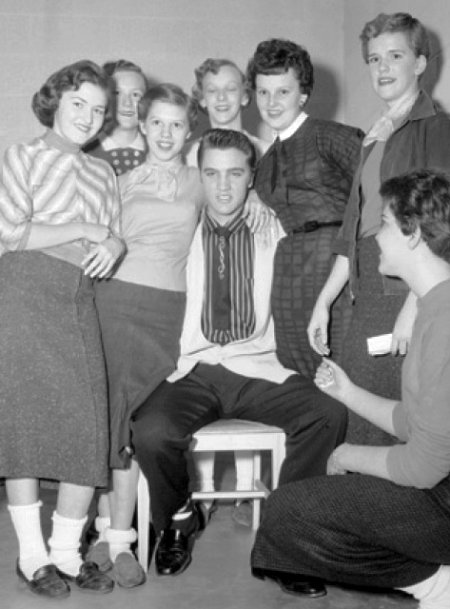 Edith Kennedy, Linda Shaver, Bonnie Kennedy, Janice Snyder, Lorraine House,
Harriet Gilyard, Bobbie Smith and Barbara Hull with Elvis backstage at the YMCA Mar 21, 1956
Dispatch Staff Photo by "Scoop" McCary courtesy web
Lorraine House Furr says she just pushed her way in to meet Elvis. She remembers the boys as being jealous of the attention Elvis got from the girls. Lorraine said the girls took turns kissing Elvis for the picture. She forgot to get an autograph.2
Barbara Hull Gates states she got to Elvis's dressing room because she was with a crowd of girls with a lot of nerve. Barbara remembers she didn't talk much to Elvis, she just looked at him. She says Elvis kissed all the girls. She described Elvis as being very nice and polite. Bonnie Kennedy Price says she had seen Elvis about a year earlier at the Center Theater in High Point and had gone crazy over him. Bonnie, her cousin Edith and a group of girls from High Point came to site Elvis perform again.2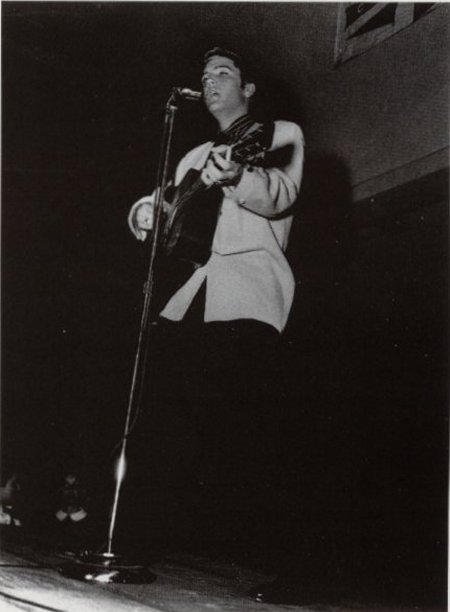 Elvis on stage at the Lexington YMCA - Mar 21, 1956
Photo courtesy Robert Gordon's "The King on the Road"
The review in the Dispatch the following day was as follows, A whirlwind blew into Lexington last night, attracted a record turnout of spectators at the spacious YMCA arena, and left this morning on the way to Richmond, Va., and another show. The whirlwind is Elvis Presley, 2l-year-old singing sensation of the nation who has what many experts describe as the "biggest drawing power in the entertainment world at present. Elvis came to Lexington yesterday morning slept most of the day in a hotel, woke up to find he was running a fever, called a local physician for treatment and went on as scheduled at the YMCA last night.3
"I have a mild case of the flu," the "Mr. Dynamite" of recording fame said last night in his dressing room. "I guess I should rest some but my friends are coming out to see me and the show must go on." And the show did go on. Elvis in natty attire, went to the stage to feature the second part of an all-star review. He had to be ushered from the dressing room by policemen who forced their way through scores of young girls seeking autographs, souvenirs or just a look at "their boy."3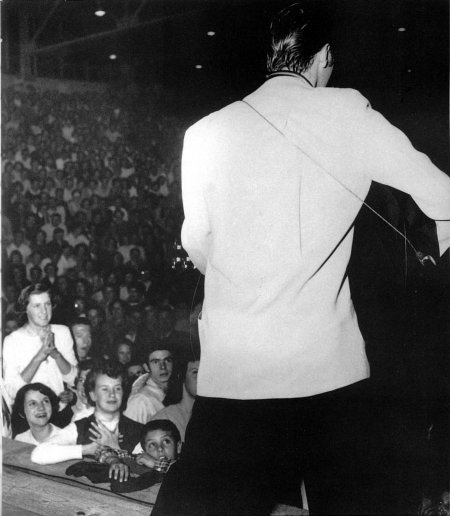 Elvis (breaking strings) on stage at the Lexington YMCA - Mar 21, 1956
Photo courtesy Robert Gordon's "The King on the Road"
As the young man from Mississippi who has skyrocketed to fame practically overnight took his position on the stage sighs and cries of the younger set, dominating the estimated attendance of 4,800 could be heard for many blocks. Elvis slouched his shoulders, wiggled them, spread his legs, wiggled them, and the sigh and cries grew even louder. When he talked it was louder cries. When he strummed his guitar the noise got louder and when he sang bedlam broke loose.3
Using all types of intricate motions as he delivered his songs, many of them top-selling RCA Victor hits, Elvis showed his audience what has gained him fame as the new "bobby-soxers" favorite of the nation, the young man who pulls in record crowds everywhere he appears. Backed by a good band Elvis sang on, wiggled on and danced on. Young voices rang high from the audience — "Sing to me, Elvis," shouted many a young miss. The din was so loud most of the time that one could hardly hear Elvis' voice but it kept up. All he had to do was to appear. That was what the crowd came for from points all around Lexington. The 4,800 estimated set a new unofficial attendance record for the YMCA.3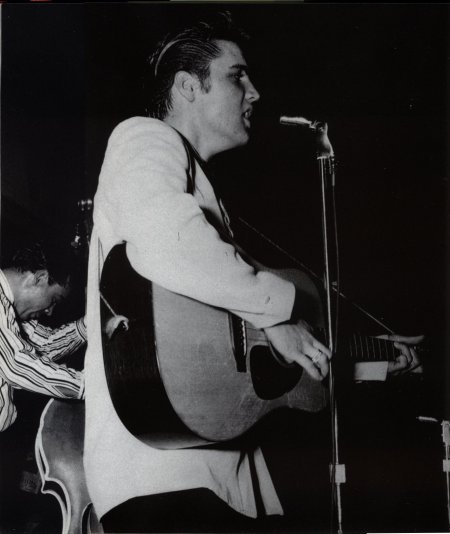 Bill and Elvis on stage at the YMCA - Mar 21, 1956
Photo courtesy Robert Gordon's "The King on the Road"
Presley headed an all-star show that brought some other favorites to Lexington as well, the Carter Sisters, Mother Mabelle, Rod Brasfield and others. The crowd was immense and crowded into the stands and chairs brought in for the occasion. Chairs were added to those already on hand but still people stood. The box office was closed as the crowd continued to press in. There were some misunderstandings about reserved seats but it was pointed out that tickets were sold for reserved sections and not reserved seats. With such a big attendance it's hard to handle the crowd, YMCA officials pointed out today. They also said that the Y's only part in selling tickets was in some assistance offered last night. No advance tickets were sold at the Y and the program was one that was sponsored by the visiting show which leased the building for the night.3
Young Presley, feeling a little low because of his illness, still greeted as many persons as he could. Elvis is a shy fellow who says he's ever thankful to the public for their "taking him in." "I'll never forget the folks who have made this rise possible, especially my mom and dad," he stated. "It just appears to be a dream to me. I hope I can continue to please the public." Elvis, although a hero to thousands of bobbysoxers, says he has no one girl. "Haven't had time to think about that," he explained in telling of one-night stands and other commitments he must keep up along with recordings.3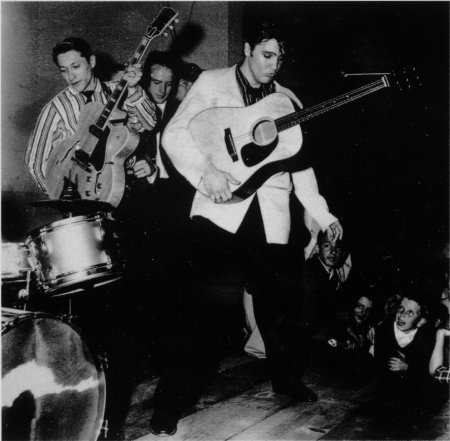 Scotty and Elvis (with 2nd D18) on stage at the YMCA - Mar 21, 1956
Photo courtesy Robert Gordon's "The King on the Road"
Tonight Elvis is in Richmond. Tomorrow night it will be Washington. On Saturday night he appears on the Jackie Gleason show on television. Sunday he will board a plane for Hollywood where he is to receive a screen test for a new Hal Wallis movie, "The Rainmakers," starring Burt Lancaster and Katharine Hepburn. After five days in Hollywood he comes back to the midwest for more one night stands. "it's a tough life but it's worth it," states Elvis.3
In the neighboring town of Salisbury, The Salisbury Post reported, Heaven was a big auditorium in Lexington last night for a few thousand teen-agers. A dreamy-eyed young man by the almost, impossible name of Elvis Presley, the country's newest singing sensation, was the attraction (to use the word mildly). In an appearance that couldn't have lasted 15 minutes Elvis sent the bobby-soxers in the packed YMCA into a frenzy.4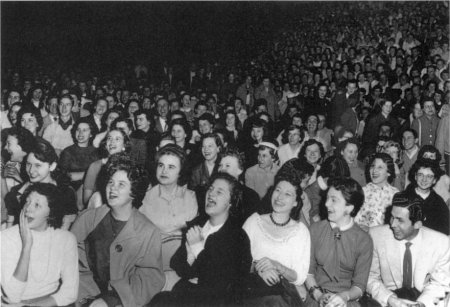 The crowd for the show at the Lexington YMCA - Mar 21, 1956
Dispatch Staff Photo courtesy Robert Gordon's "The King on the Road"
Far be it from this writer to say whether or not the man can sing because the screams of the predominantly female crowd drowned out everything. But whatever it was, to use the words of the popular music world, the major portion of the audience was not only "sent," man, it was gone. Gone. GONE.4
Less than six months ago, few people had even heard the name Elvis Presley. But that was before a disc jockey worked him in for a spot on the Dorsey brothers big Saturday night television production, "Stage Show." The Dorseys are bewilderedly shaking their respective heads. Five times since he first appeared his sweeping popularity has caused the Dorseys (who know a good thing when they see it) to bring Elvis back for reappearances.4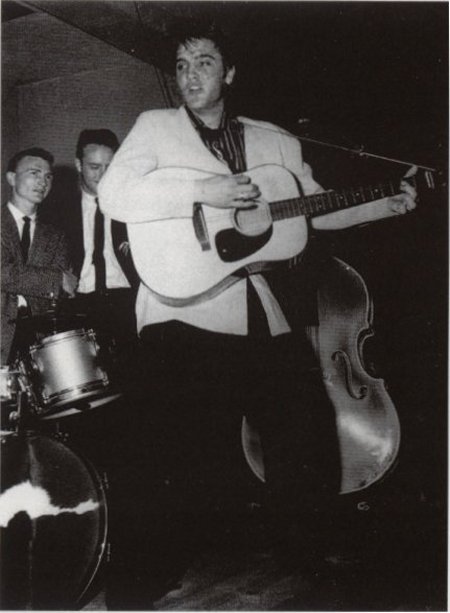 Elvis on stage at the Lexington YMCA - Mar 21, 1956
Dispatch Staff Photo courtesy Robert Gordon's "The King on the Road"
Presley who just turned 21 years of age is a tall handsome young man who sweeps his hair back to the rear of his head to modernized ducktail fashion, has a set of even white teeth (if that means anything) is of average weight and has a style with a microphone that is all his own. Sinatra sort of leaned into his. Johnny Ray looked like a Golden Gloves boxer who just before he fell flat on his face was trying to find his. But this Presley boy wonder. The way he makes love to the thing, caresses it, is something to see, but it is also something that could not accurately be described by a household publication of any sort.4
And on top of all that, he handles a guitar that must be reinforced because of the treatment it gets. And then Presley steps back, sweat pouring from his lace, his breathing heavy. With his shoulders twitching, hips swaying and legs moving in perfect rhythm, the house comes down. It one could put his finger on any particular thing that Presley does that has caused his sudden rise, it must be those body gyrations. Each tune he really got carried away with himself through his twisting and turning any audience applause needle would have popped right out of the glass.4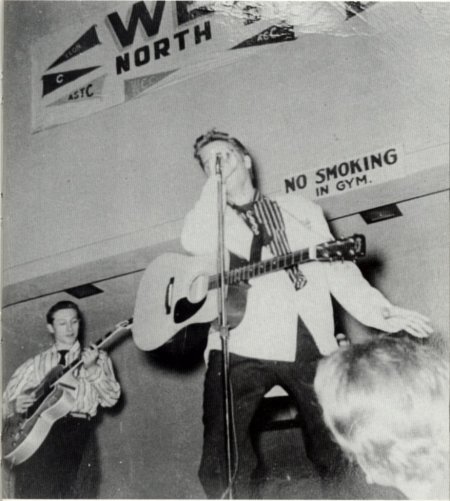 Scotty and Elvis on stage at the Lexington YMCA - Mar 21, 1956
Photo courtesy Ger Rijff''s "Long Lonely Highway"
The four policemen who had to surround the boy to keep him from being torn apart said the crowd of over 5.000 was the biggest ever assembled for any attraction in the spacious new YMCA there. The place seats around 5,000 and last night saw them standing in the aisles. They had converged from every city and town within 50 miles of Lexington. Presley is just about as bewildered about the whole thing as everybody else. But, nervously chomping on a piece of chewing gum before he went upstairs and onstage last night, Presley told this reporter, "I love it!"4
He said he decided on singing as a career about a year and a half ago. He had always liked it, but it was not until he and a small group got together and recorded a now-famous hillbilly song called "That's All Right Mama." The song went over big, and Presley has been at it ever since with the same combo, his and another guitar, a bass fiddle and a set of drums. Presley takes the hill-billy out of the hill-billy and in its place puts "rock and roll." He said his style just comes natural. How does it feel to be the idol of the bobby-soxers? Presley grinned sheepishly, shrugged and mumbled something to the effect that he himself can't quite realize what has happened, it's all been so fast. In fact, it appears that it hasn't thoroughly soaked in yet.4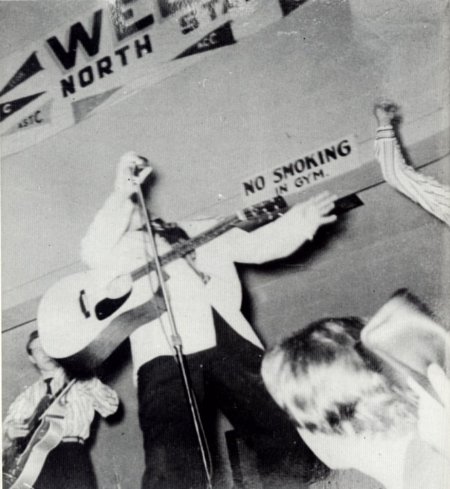 Scotty and Elvis on stage at the Lexington YMCA - Mar 21, 1956
Photo courtesy Ger Rijff''s "Long Lonely Highway"
Presley calls Memphis home, but he was born and reared in Tupelo, Miss. According to the publicity agents, he started singing when he used to listen to the "plaintive" songs of the field hands. He is an only child, and daddy was a truck driver who is not doing much of anything these days. He and mama are tickled pink, though, happy for their son. The Presleys moved to Memphis, the land of the blues, about eight years ago. Male reaction appears to be about nil to Presley. One man could be heard saying after it was all over, "I just can't see lt."4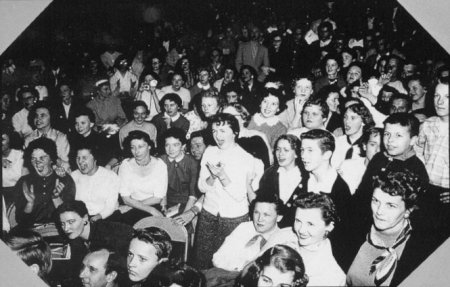 The crowd for the show at the Lexington YMCA - Mar 21, 1956
Dispatch Staff Photo courtesy Robert Gordon's "The King on the Road"
A freelance writer by the name of Jim Poling who began an assignment yesterday to do a feature on Presley for Pageant Magazine simply threw up his hands in amazement. He plans to stick with Presley and try to find the answer. Pageant wants the story around June.4
Standing quietly to the corner of the dressing room as the hundred or so bobby-soxers were trying to smash their way inside was a young man by the name of Gene Smith. Gene and Elvis are first cousins and grew up together. He drives Elvis' long Cadillac. The rest of the time he stands around wearing an expression that he would like to unobtrusively pinch himself every few seconds to really see if the thing is true. And then Gene fades aside as the screeching youngsters surge on Elvis for a touch or an autograph.4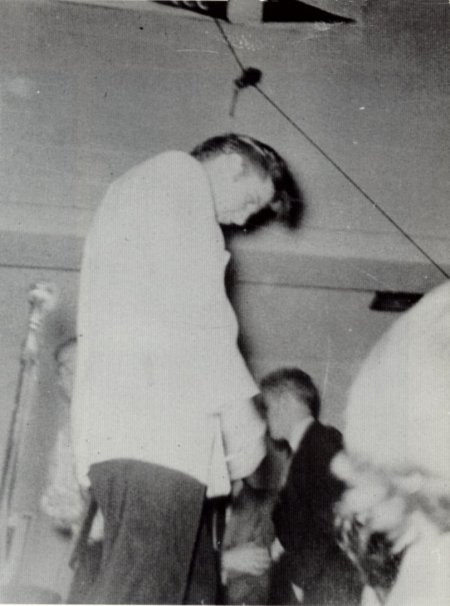 Elvis on stage at the Lexington YMCA - Mar 21, 1956
Photo courtesy Ger Rijff''s "Long Lonely Highway"
Presley, like the troupers of old, went on last night even though he had been suffering during the day from a touch of flu. It he had failed to appear, there is some doubt that there would have been anything left of the Lexington "Y." Also on the program were some of the Grand Ole Opry stars, but they were lost in the Presley.4
Current and hot: "Heartbreak Hotel," "Blue Suede Shoes," "Tutti-Frutti," "I Got a Gal" and "That's All Right Mama." By the way, nobody fainted last night. But many red-faced youngsters with tears streaming from their entranced eyes, would undoubtedly have done so if the program had lasted another five minutes.4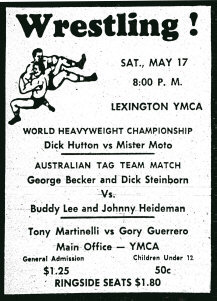 1958 Advertisement from Dispatch
courtesy Mid-Atlantic Gateway
On May 17, 1958 the World Heavyweight Wrestling Championship match was held at the YMCA. Dick Bourne of the Mid-Atlantic Wrestling Gateway, said it was the first world title match held there and a big deal to be sure, as the title was such a big deal then. The title defended that night in Lexington has a lineage that goes back into the early 1900s.

courtesy Johnny Weaver Blog
The YMCA continued to feature top level sports and entertainment into the early 1970s. Professional wrestling, however, was the major long-term attraction during those years, since the YMCA was the major structure of the region before the Winston-Salem and Greensboro Coliseums were built.1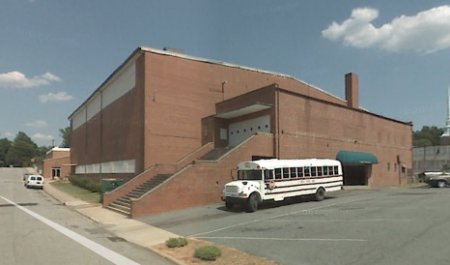 The J. Smith Young YMCA Gymnasium
courtesy Google Street View
According to Jimmy Holhouser, the Executive Director at the Lexington 'Y', the YMCA was renamed the J. Smith Young YMCA in 1993 after undergoing a three million dollar renovation project. Mr. Young was the CEO of Lexington Furniture Industries in Lexington. His three children have all been involved in the Y and Mr. Young and his wife gave a sizeable amount of money to help us reach our goal. The current facilities were totally renovated in 1994-95 and again in early 2001. The gymnasium was part of the original building built in the early 50's and is still very much a part of the facilities today. Renovations included removing the bleachers and also all the upper windows and A/C has been installed. They have some of the wood from those bleachers in different areas of the facility in honor of some of the history from events that were held in there including Elvis.
On March 21, 2006, 50 years to the day after Elvis' only appearance in Lexington, the Dispatch published an article that contained the remembrances of some of the local residents that had attended the concert.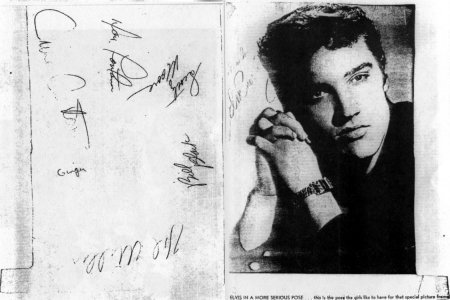 photo autographed by Elvis, Scotty, Bill, DJ (Dom), June, Hal and Ginger
Photo courtesy " The Day Elvis Came To Town" by James D. Prince
"Our mothers were interested in seeing Maybelle Carter," recalled Glenda Hartley, then a junior at Reeds High School, who went with her good friend, Janet Bame. "Of course, my friend and I were interested in seeing Elvis." Hartley laughed as she recalled Elvis' notorious hips and the reaction of the parents in the attendance. "I had never seen anything comparable," Hartley said. "Our mothers were shocked."5

"My friends were yelling and screaming, but I wasn't, because I wanted to hear," said Sue Kearns Haltom, who the next day would become the envy of her squealing pack of companions when she informed them that she had gotten Presley's autograph in the lobby of the New Lexington Hotel, where the performer and his entourage had stayed. "When the other girls found out, they could've killed us," she said.5

"I was just so excited," recalls Dorothy Radcliff. "I looked up, and there were girls falling at his feet."5

Tyro resident Doris Craver, now 73, remembers the young performer being flanked by police officers on his way to the stage. Even with that presence, the mob persisted, highlighting what has become a cardinal rule of event management since the heyday of the young King: Never take your eyes off screaming teenagers in a tizzy. "Girls were all trying to get up on stage with him," Craver recalls.5

"How they got past the policemen I'll never know, but they would just fall all over him," recalls Gladys Landreth, who went to the YMCA with her husband, William, and a few friends.5

"He was just like anybody else. It wasn't like he was better than anybody else," said Willie Lookabill, who got a round of autographs for his friends after the performance, though he admits the cacophony surrounding Presley kept the conversation short.5

Nancy Robbins and her friends were cruising the streets of Lexington after the show when they saw an incredible, unlikely sight: Elvis Presley, sitting at the counter of the March Hotel's coffee shop, all by himself. Her friends were too timid to talk to him, but Robbins, the brave one, stepped through the front door and introduced herself. After she "sort of cornered him," in her words, the two talked for about five uninterrupted minutes. "He wanted to know what grade I was in," she said. "He said he missed school, and he didn't know how he was going to like all this touring." And what was it like talking to a man who shaped the course of modern music? "He was shy. He was almost to the point of being bashful," Robbins said. She said farewell after getting his autograph on a small calendar she was carrying, got a kiss on the cheek and walked back into the cool March evening with an Elvis story for the ages.5

To James Prince, Elvis' importance as a pioneer couldn't be clearer. "Elvis changed the world of music from the big band sound with crooners like Frank Sinatra and Perry Como to the teenage sound of rock 'n' roll," Prince writes in his book. And that pivotal moment in music, whose effects can still be heard on the radio, wowed the youths in Lexington shortly before it permeated the rest of the world.5
page added August 15, 2008
All news clippings and 1956 ads from the Dispatch are courtesy Dewey Snider and the Lexington Public Library, Lexington, NC. The Salisbury Post review is courtesy Rowan Public Library, Salisbury, NC. All wrestling ads from the Dispatch are courtesy Dick Bourne of the Mid Atlantic Wrestling Gateway and Wayne Brower. Special thanks to Brian Petersen's "Atomic Powered Singer" for the leads on the 1956 reviews.

1 excerpt from Lexington YMCA 1954 to 1959 - A Historical Overview © by Wayne Brower
2 The Day Elvis Came To Town by James D. Prince - Southern Heritage Publishing 1995 Lexington, NC
3 article "Elvis Presley Show - Performer Draws Huge Attendance" - The Dispatch Mar 22 1956
4 From Tizzy To Frantic, Teenagers Dig Performer AT Lexington "Y" by Franklin Young - Salisbury Post Mar 22, 1956
5 excerpt from article "Local fans remember the day Elvis came to town" by Glen Baity, The Dispatch Mar 21, 2006
---

Judy Foster on the cover of Pageant Magazine - July 1956