Elvis' Second Martin D-18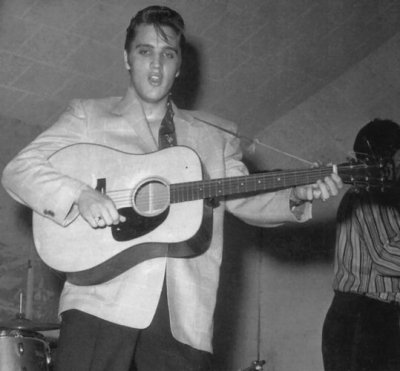 Elvis playing his 2nd D18 in Ft Worth, TX April 20, 1956
Photo courtesy Steve Bonner
In addition to his first Martin D-18, the 1942 model, Elvis owned a second, apparently early 1950s model, that he occasionally used on tour as a backup guitar to his D-28, at the very least from January through May of 1956. Little is known about the acquisition, disposition or year of this particular instrument beyond the fact that many photos exist of him with it. He is known to have used it at least on his 5th and 6th appearances on the Dorsey Brother's Stage show in NY though had it with him at least on the 1st, and various live performances including March at the San Diego Arena on April 5 and with Liberace in Las Vegas in late April.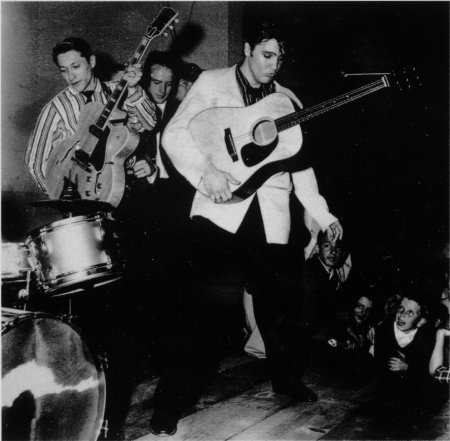 Scotty and Elvis onstage at the YMCA in Lexington, NC - Mar 21, 1956
Photo courtesy Robert Gordon's "The King on the Road"

1953 Martin D-18 #128708 identical to Elvis' with a similar tortoise pattern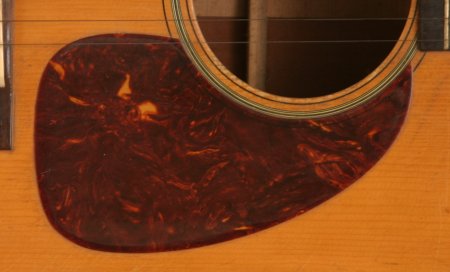 The bright spot on Elvis' pickguard is typical of the tortoise pattern of that era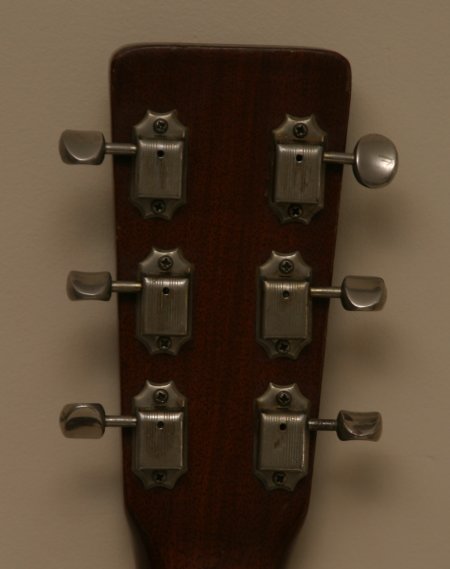 sealed Kluson tuners as used on D-18s of that era
Though it bears no letters spelling "Elvis" like his other one it seems to always be held on with a knotted string as a strap and identifiable by the bright spot on the tortoise pickguard. This guitar was also borrowed/played by both Buddy Holly and Sonny Curtis when they opened for Elvis on April 10, 1956 at the Fair Park Coliseum in Lubbock, Texas.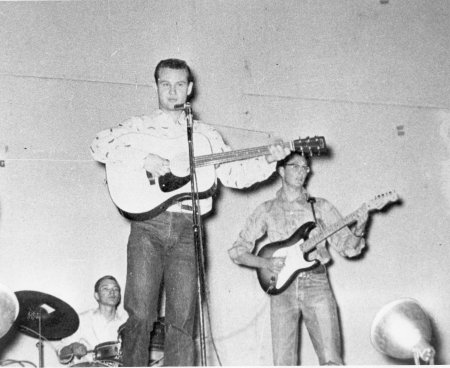 Jerry Allison, Sonny Curtis (with Elvis' D-18) and Buddy Holly - Apr. 10, 1956
Photo courtesy Steve Bonner
The C. F. Martin Guitar Company was established in the U.S.A. in 1833. Prior to that time Mr. C. F. Martin, Sr. had made guitars in Vienna, Austria, and in his hometown of Markneukirchen, Germany. From 1833 to 1839 the Martin Shop was located in New York City. In 1839 they moved to Nazareth, Pennsylvania, where the company has remained for over 150 years.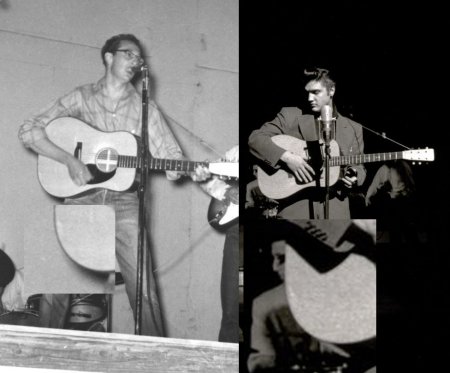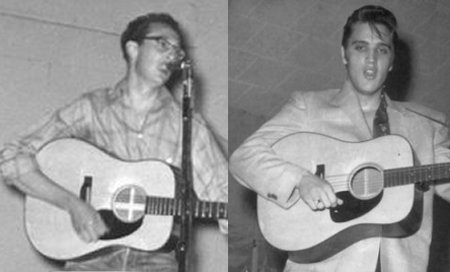 Buddy Holly on Apr. 10, 1956 and Elvis on Mar 17 and Apr. 20, 1956 with same guitar
Photos courtesy Steve Bonner and Al Wertheimer
Each "C. F. MARTIN" guitar is carefully handcrafted by a number of skilled workers, each of whom specializes in a specific phase of guitar construction. In this way we feel we achieve a greater degree of perfection than could be obtained if one person were responsible for building an entire guitar.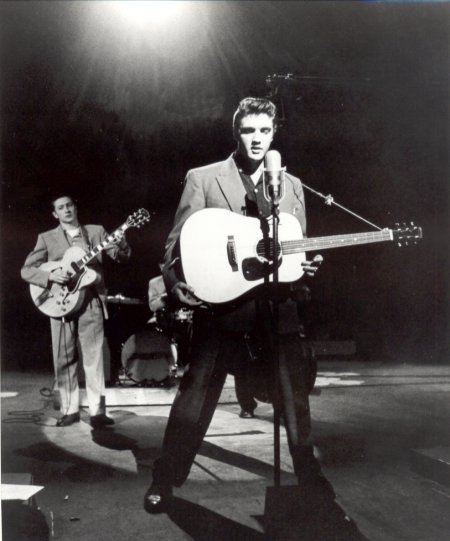 Scotty, DJ, Elvis and Bill on the Dorsey Brother's Stageshow - Mar 17, 1956
Photo © Alfred Wertheimer
The "D" designation on the D-18 guitar stands for DREADNOUGHT. The Dreadnought guitar originated as an idea suggested by Harry L. Hunt of the Oliver Ditson music stores of New York City, Philadelphia and Boston. Mr. Hunt wanted Martin to make a special line of guitars for the Ditson Company which was then a very large publisher of sheet music, and they had instruments made for them by other manufacturers to be marketed under the Ditson name.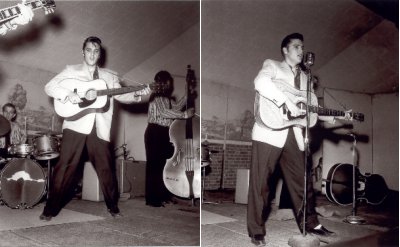 Elvis pictured playing both his D28 and a 2nd D18 in Ft Worth, TX April 20, 1956
Photos courtesy Steve Bonner
The Ditson guitars were made in three sizes, the largest of which was the Dreadnought. The guitar was very much oversized and considered somewhat homely for its time. The Dreadnought name was taken from a class of British battleships of that period. The first Dreadnought guitars were made for the Oliver Ditson Company in 1916. The original version of the Dreadnought guitar had rather sloping shoulders and a neck which joined the body at the twelfth fret.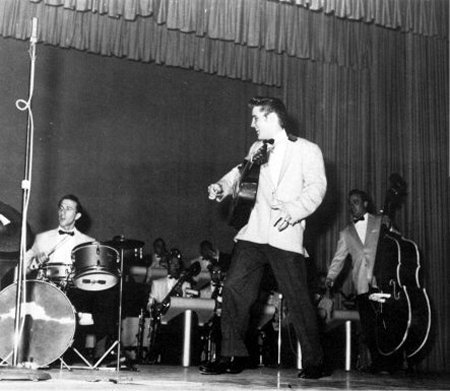 D.J, Elvis, Bill and the Freddie Martin Orchestra at the New Frontier
Photo © courtesy EPE, Inc.
The Ditson stores were dissolved in the late 1920s, and the model fell into disuse. During the Depression, the Martin Guitar Company decided to resurrect the design. The D-18 has a spruce top, mahogany sides and back, and dark body bindings. About 1934 the Martin Guitar Company slightly redesigned the guitar. The shoulders of the body were squared off so that the neck would join the body at the fourteenth fret. This is 5the configuration used on the D-18.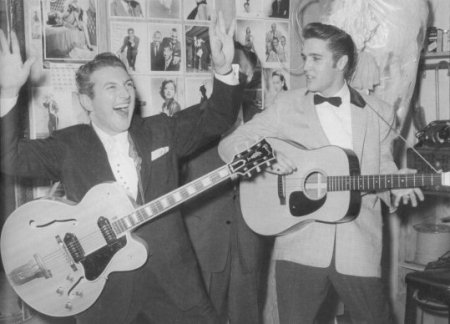 Liberace hams it up with Elvis and his 2nd D-18 backstage at The New Frontier
Photo © courtesy EPE, Inc.
The D-18 is one of the most popular Martin guitar models. Needless to say, we are most pleased to learn that Elvis Presley used this model.

Martin Historical notes courtesy Dick Boak, prepared by Mike Longworth (Historian and Consumer Relations Manager) C.F. Martin & Company, Inc. Nazareth, Pa October 5, 1991
Special thanks to fan Mark Lee Pringle who first made me take note of this D-18 several years ago
---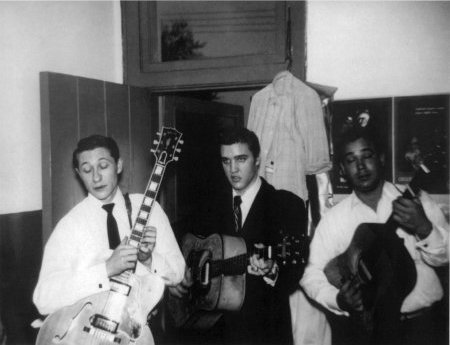 Scotty, Elvis and Bill (with D-18?) in Spartanburg, SC - Feb. 9, 1956
Photo courtesy George Klein
A photo of what appears to be this D-18 exists as early as February 9, 1956 from backstage at a performance in Spartanburg, SC, though it is believed to also have been used during a rehearsal for Stage Show on the 4th. Oddly enough Bill is posed with it and the guitar has a capo on it which suggests that it possibly belonged to or was used by someone else on the tour. At the time, both Mother Maybelle Carter and Charlie Louvin, who were on that tour also, both played guitars with a capo. Mother Maybelle was famous for playing her Gibson L5 and though it may have been played by one of the Carter sisters, none are pictured with it on the 12th.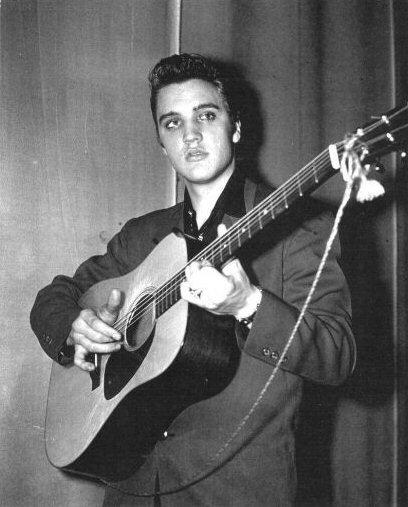 Elvis with his, or what will be his, D-18 in Charlotte, NC - Feb. 10, 1956
Photo courtesy Brian Petersen
Charlie Louvin, however, regularly played Martins, usually a D-28 in that era, and occasionally with a capo. We were not able to get input from him concerning it unfortunately and Scotty has no recollections about it. Elvis is pictured with it, believed to be, as early as February 4, 1956 in New York, and February 10, in Charlotte one day after the photo of Bill with it. The rope strap has not yet broken as pictured later in subsequent photos. How he actually acquired it and its ultimate disposition will likely remain unknown.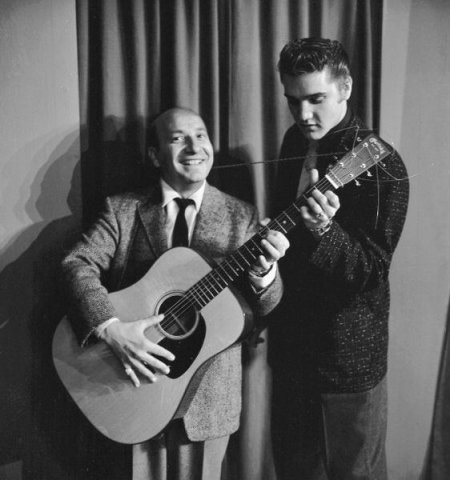 A CBS Exec with Elvis and the D-18 backstage at Studio 50 - Feb 4, (or Jan 28), 1956
Charlie Louvin passed way on January 26, 2011 as a result of complications from pancreatic cancer.