Musicians Hall of Fame and Museum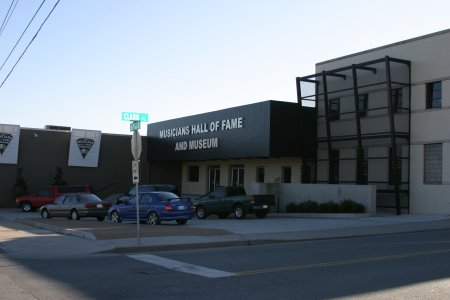 Musicians Hall of Fame and Museum in Nashville, TN
In June of 2006 The Musicians Hall of Fame and Museum held its Grand opening in Nashville, TN. Located in Downtown Nashville about 1 block west of the Country Music Hall of Fame it is the brainchild of Joe Chambers. The Musician's Hall of Fame and Museum is a 30,000 sq. ft. multipurpose complex. This unique facility includes not only stellar exhibits of superstar musicians but also studio musicians, producers and engineers who have created the music that has become the soundtrack of our lives.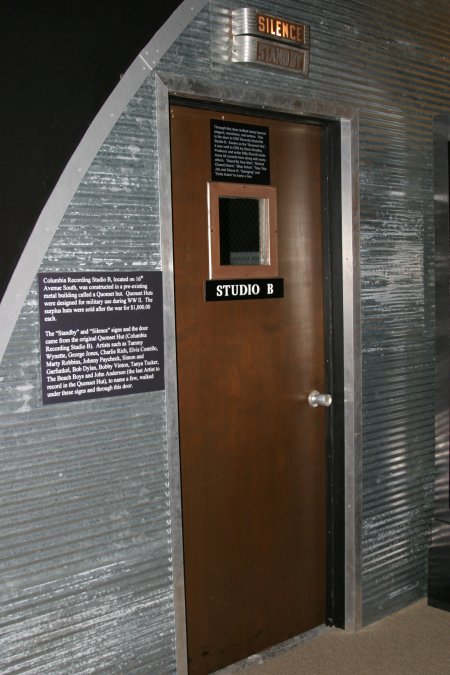 Original Quonset Hut Studio B door and light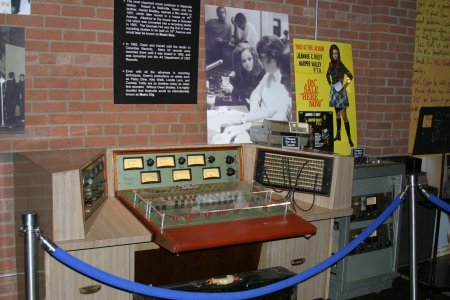 Mixing board from the "Quonset Hut"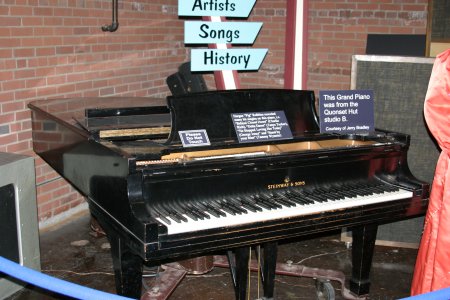 Grand Piano from the "Quonset Hut"
Owen Bradley's Quonset Hut built on 16th Ave was the first of many recording Studios built in what would later become known as Nashville's "Music Row". On display here are the mixing board and The Grand Piano from the Quonset Hut. The Piano was used by Hargus "Pig" Robbins on the recordings of "Behind Closed Doors" (Charlie Rich), "Delta Dawn" (Tanya Tucker) and "Stand By Your Man" (Tammy Wynette) among countless others.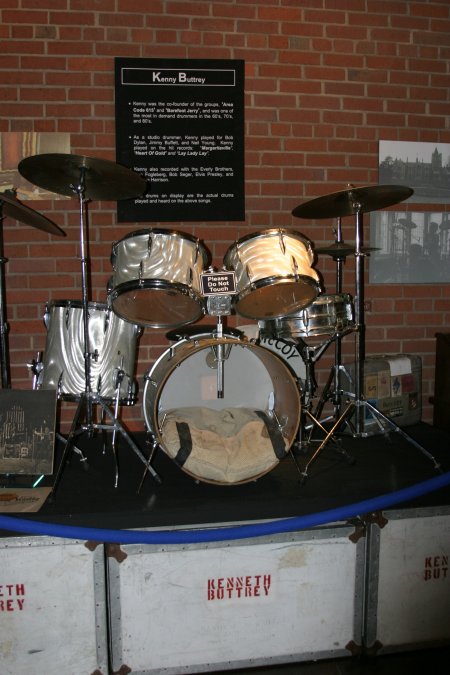 Kenny Buttrey's drums
As a sessionist Kenny Buttrey played these drums on many recordings including "Heart of Gold" (Neil Young), "Margaritaville" (Jimmy Buffet) and "Lay, Lady Lay" (Bob Dylan). He also recorded with The Everly Brothers, Dan Fogelberg, Elvis Presley and George Harrison.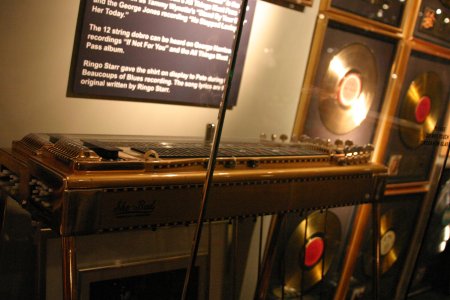 Steel Guitar used by Pete Drake on George Harrison's "All Thing's Must Pass"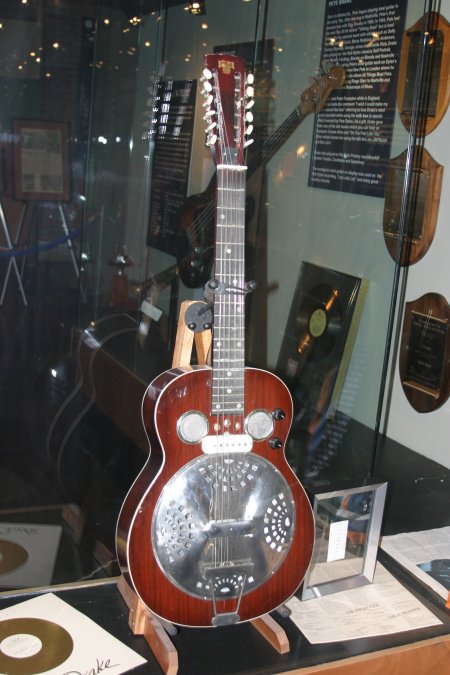 Peter Drakes Dobro used on "All Things must Pass"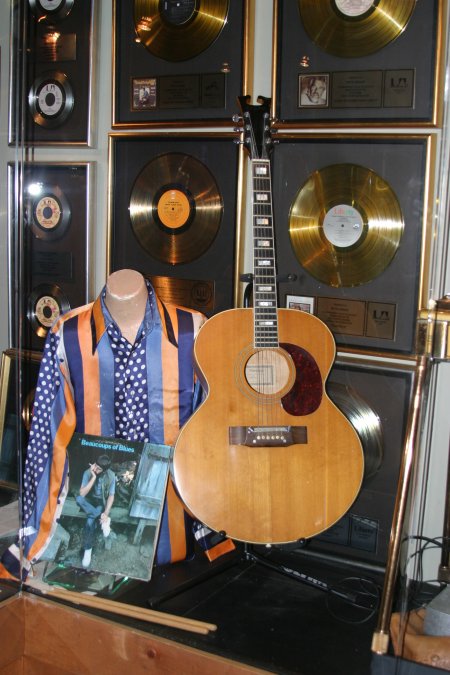 Ringo's shirt and Pete Drake's Harptone guitar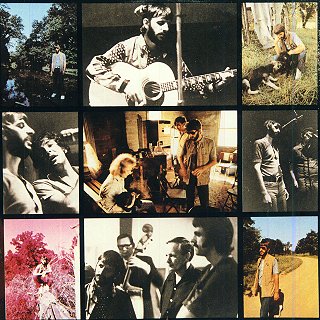 Beaucoups of Blues inside cover
The gold steel guitar, nicknamed "Old Goldie" is the one used on George Harrison's "All Things Must Pass" album as well as Tammy Wynette's "Stand By Your Man" by Peter Drake. The 12 string Dobro can be heard on George's recordings "If Not For You" and the "All Things Must Pass" album. Ringo gave the shirt on display to Peter during the recording of Beaucoup of Blues at Scotty's Music City recorders. There's a picture of Ringo wearing it playing the Harptone guitar also on display and in the inside cover to Beaucoup of Blues. Pete produced that album and later gave the Harptone guitar to George Harrison.

Ray Edenton's prototype Gretsch cutaway, 1938 Martin D-18 and Fender acoustic.
Ray Edenton, one of Nashville's original 'A Team' players, played rhythm on over 15,000 recordings using mainly these three guitars. Often using a style of rhythm called "Chink" that he credits to Chet Atkins, it is obtained by raising the tuning an octave on the G sting giving the top 3 strings a "chink" sound. Later they developed what was called "High String" which was tuning the low E, A, D and G strings up an octave using steel guitar strings instead of regular guitar strings. Ray's guitars on display used on most of his recordings are a prototype Gretsch on given to him by Chet, a 1938 Martin D-18 and a Fender Acuostic strung with unwrapped strings to get the "High String" sound. The Martin among others can be heard on the recording "I Never Promised You A Rose Garden".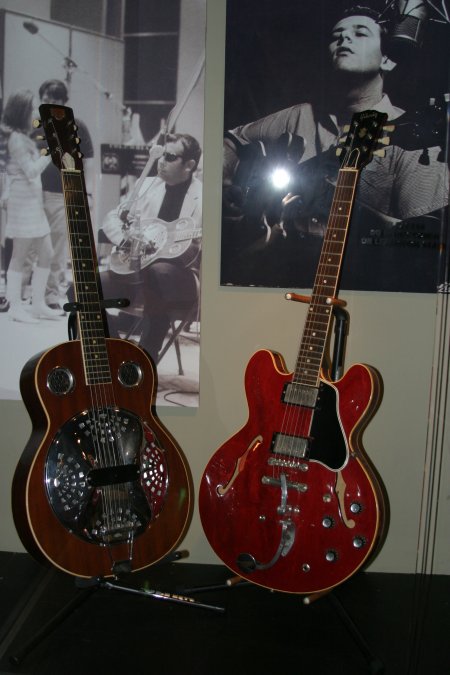 Jerry Kennedy's Dobro and ES 335
Originally from Shreveport, Jerry Kennedy relocated to Nashville at the urging of Shelby Singleton (owner of the the Sun Record label and catalog). In addition to scouting Talent for Mercury records Jerry produce and played on many sessions. He produced all and played on most of Jerry Lee Lewis' country records. His dobro on display he played on the recording of "Harper Valley PTA" the Gibson ES-335 he used to record with Elvis on "Good Luck Charm" and "Devil in Disguise", with Roy Orbison on "Oh Pretty Woman", Tammy Wynette's "Stand By Your Man" and Bob Dylan's Blonde on Blonde album. It was later used by his son Gordon on recordings by Garth Brooks, Peter Frampton, Faith Hill, SheDaisy, Jewel, Michael McDonald and Amy Grant.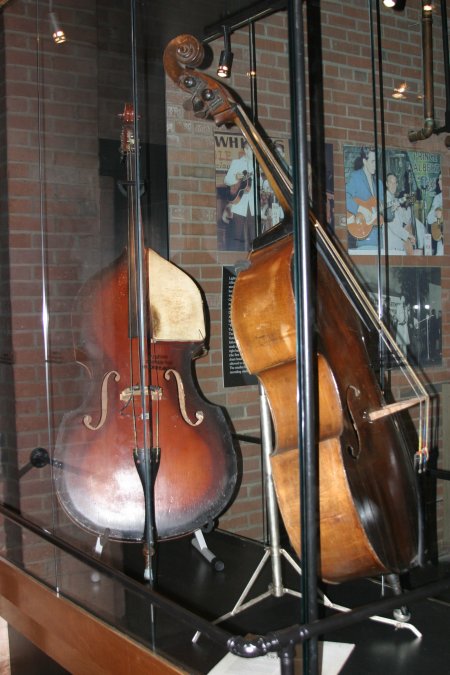 Lightnin' Chance's basses
Long time bassist for the Grand Ol Opry, Floyd "Lightnin'" Chance was also one of Nashville's session players and played for Marty Robbins, Patsy Cline, Johnny Horton and Ray Price to name a few. Most notably he played on Han Williams Sr's last recording session in 1952 which included "You're Cheating Heart" and "Kaw -Liga". He also played on Conway Twitty's "It's Only Make-Believe". Ones of his basses on display has a homemade drum head attached by wires to the shoulder. He would sometimes play this with a drum brush as he plucked the strings with his right hand creating the first drum played on the Opry. Even Buddy Harmon, the first staff drummer on the Opry had to stand next to Lightnin and play on that. Eventually they let Buddy use a snare but a full set was not allowed until the Opry moved from the Ryman in 1972. The other bass on display is the one used by Lightnin' on the songs mentioned.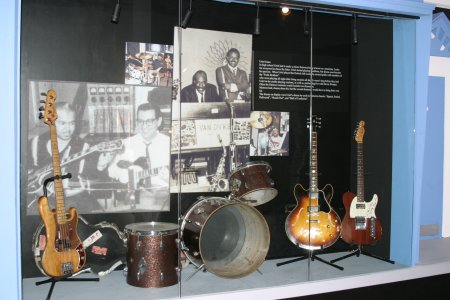 Instruments of Motown's "Funk Brothers"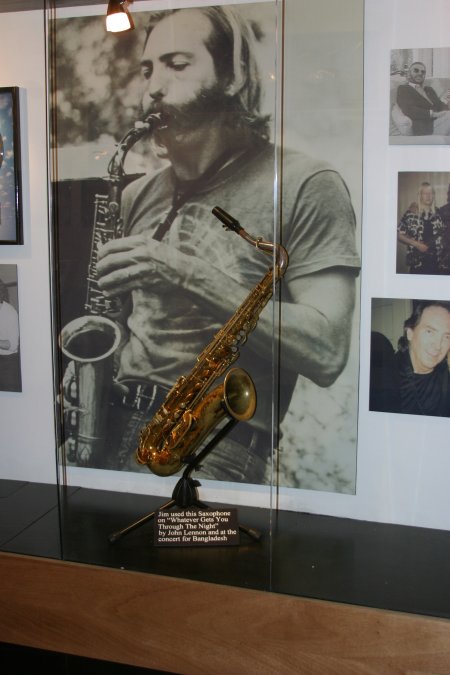 Jim Horn's Sax used on John Lennon's "Whatever Gets You through the Night"
Also on display are Uriel Jones' drum kit, used on Motown classics "Sign Sealed Delivered", "Reach Out" and "Ball of Confusion". Jim Horn's Sax used on John Lennon's "Whatever Gets You through the Night" and George Harrison's Concert for Bangladesh. In the '50s Joe Osborne played with Dale Hawkins and Ricky Nelson and in 1963 along with Hal Blaine and Larry Knechtel played together in LA as a group of sessionists that would eventually become know as "The Wrecking Crew". His Fender bass on display can be heard on the Monkee's "Last Train To Clarksville", the Grass Roots' "Midnight Confessions", Mama's and the Papa's "California Dreamin" and Simon and Garfunkel's "Bridge Over Troubled Water" to name but a few.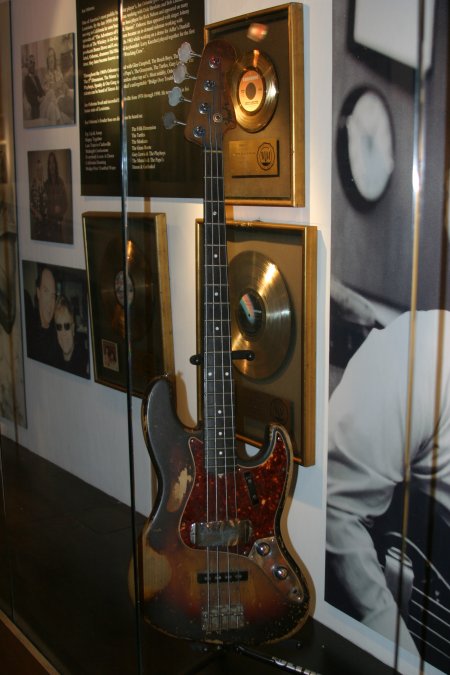 Joe Osborne's Fender Bass

Tommy Tedesco's nylon string guitar used on the TV Show "M.A.S.H."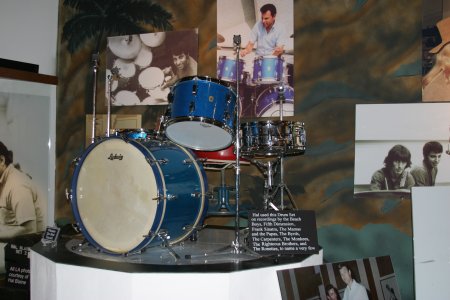 Hal Blaine's Drumset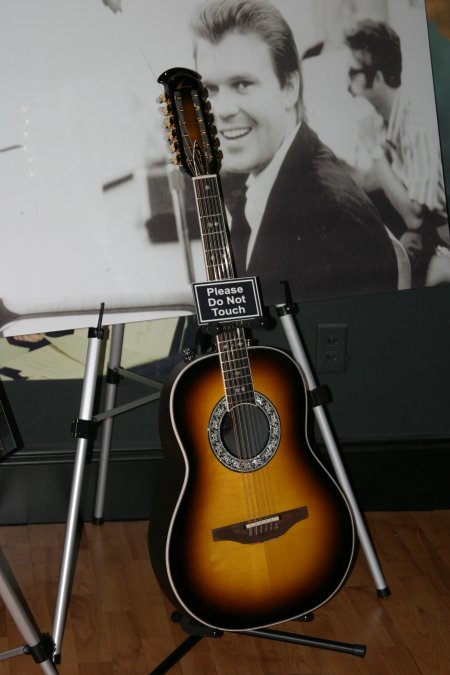 Glen Campbell's 12 string Ovation
"The Wrecking Crew" was a group of studio musicians located in LA starting in the early '60s. They got the name from the original session players from the '30s, '40s, and '50s. These older musicians did not want to play that new Rock and Roll and felt that by doing so this younger group of musicians would wreck the industry, thus they became known as 'The Wrecking Crew'. Most of the group of musicians would also be known as legendary producer, Phil Spector's 'Wall of Sound'. Although virtually unknown to the public, these musicians played on most of the hits associated with the West Coast Sound. That sound consisted of artists such as Sonny and Cher, The Association, Ricky Nelson, The Beach Boys, The Fifth Dimension, The Byrds, Heb Alpert, Johnny rivers, Jan and Dean, Andy Williams, Frank Sinatra and The Mamas and The Papas to name a few.
In addition, when Berry Gordy moved 'Motown' from Detroit to LA, 'The Wrecking Crew' became part of the 'Motown' sound. Just like the Nashville 'A Team' and the Detroit Funk brothers, 'The Wrecking Crew' had a nucleus of players who played on more hit records than the Beatles and Elvis combined. The nucleus consisted of Hal Blain, Glen Campbell, Larry Knectel, Leon Russell, Tommy Tedesco, Don Randi, Earl Palmer, Carol Kaye, Joe Osborne, Billy Strange, Julius Wechter, Lyle Ritz, Al Casey, Plas Johnson and Ray Pohlman.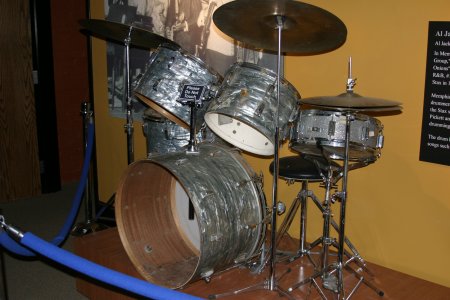 Al Jackson's drums
In Memphis, the Stax studio house band, Booker T. & the MGs (short for "Memphis Group", not the car), featured Booker T. Jones, Steve Cropper, Donald "Duck" Dunn and Al Jackson Jr. on drums. They played on all of the classic soul hits that came out of the Stax studio- hits by such artists as Otis Redding, Sam & Dave, Eddie Floyd, Wilson Picket and many more. The drum kit on display is the one used by Al throughout his Stax Record career on songs such as "Soul Man", "Knock on Wood" and "Sitting on the Dock of the Bay".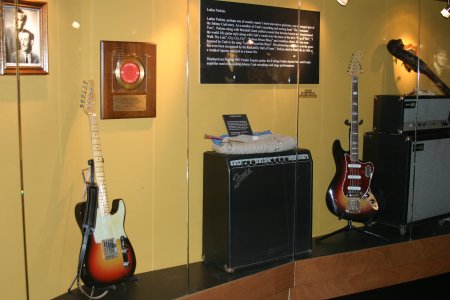 Luther Perkins' 1963 Fender Esquire, 6-string bass and Fender amp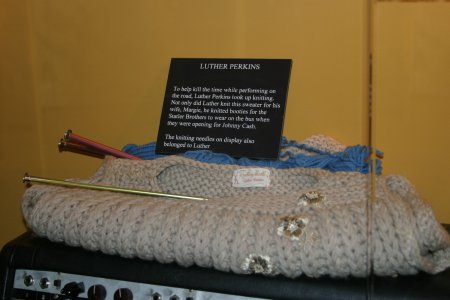 Luther Perkins' knitting needles and a sweater for his wife
Luther Perkins, perhaps one of country music's most innovative guitarists, was an integral part of the Johnny Cash story. As a member of Cash's recording and touring band "The Tennessee Two", Perkins along with Marshall Grant crafted a sound that became known and loved around the world. His guitar style along with Cash's vocals were the basis of the hits "ring of Fire", "I Walk the Line", "Cry Cry Cry", "Folsom Prison Blues" and countless others. He was even honored by Cash in the song "Luther Played the Boogie". His pioneering contribution to the genre has even been recognized by the Rockabilly Hall of Fame.
To help kill the time while performing on the road, Luther Perkins took up knitting. Not only did Luther knit this sweater for his wife, Margue, he knitted booties for the Statler Brothers to wear on the bus when they were opening for Johnny Cash.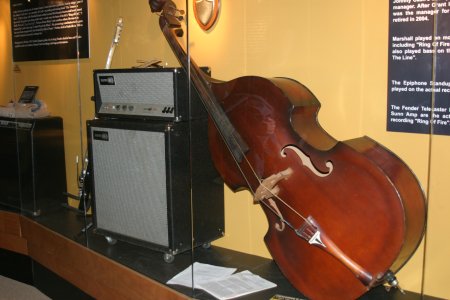 Marshall Grant's Epiphone bass and Sunn Amp.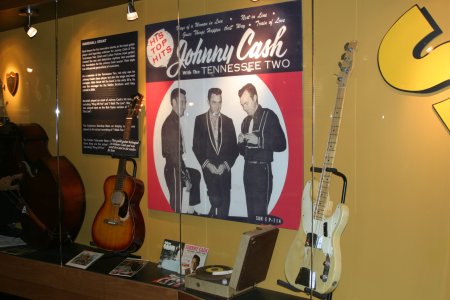 Johnny Cash's Guild guitar and Marshall Grant's Fender Telecaster Bass
Best known for his innovative talents as the bass guitar player and legendary sideman for Johnny Cash & The Tennessee Two, Marshall Grant, along with Luther Perkins created the raw and distinctive rhythms that provided the foundation for the Johnny Cash sound. Their style has influenced generations of musicians. As a member of the Tennessee Two, he was also the stage and road manager for the band. After he left the band in the early '80s he was the manager for the Statler Brothers until they retired in 2004. In addition to most of Johnny's recordings, Marshall also played bass on Bob Dylan's cover of "I Walk The Line".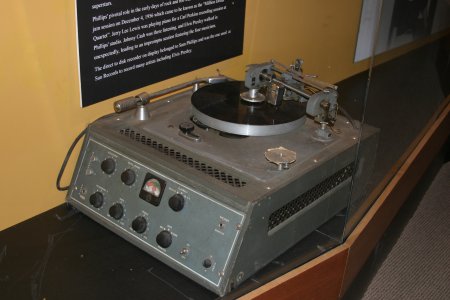 Sam Phillips' direct to disk recorder, reputed to be used to first record Elvis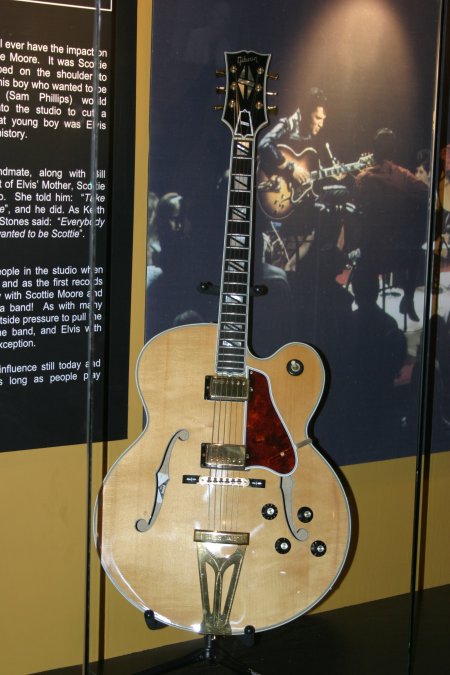 Scotty's 83 Super 400
Perhaps no musician will have the impact on popular music as Scotty Moore. It was Scotty who Sam Phillips tapped on the shoulder to audition a young Memphis boy who wanted to be a singer before he (Sam) would personally take him into the studio to cut a record. Of course that young boy was Elvis Presley and the rest is history. There were three people in the studio when that sound was created and the first recording was made, Elvis, Scotty and Bill Black. They were a band! As with many bands there's always outside pressure to pull the front man away from the band, and Elvis with Scotty and Bill was no exception. You can hear Scotty's influence still today and probably always will as long as people play electric guitars.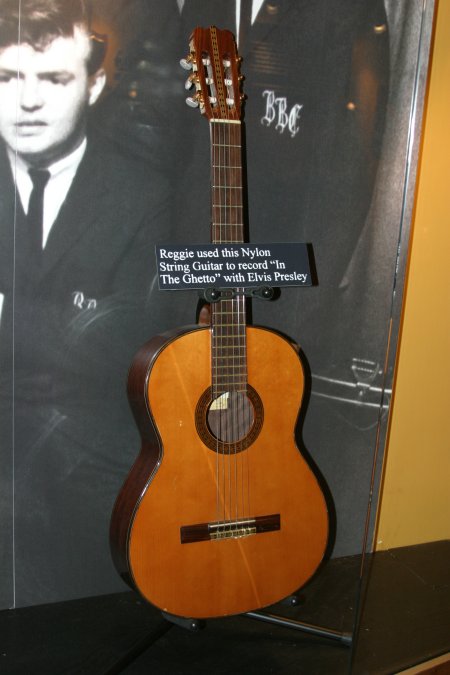 Classical guitar used by Reggie Young on "In the Ghetto"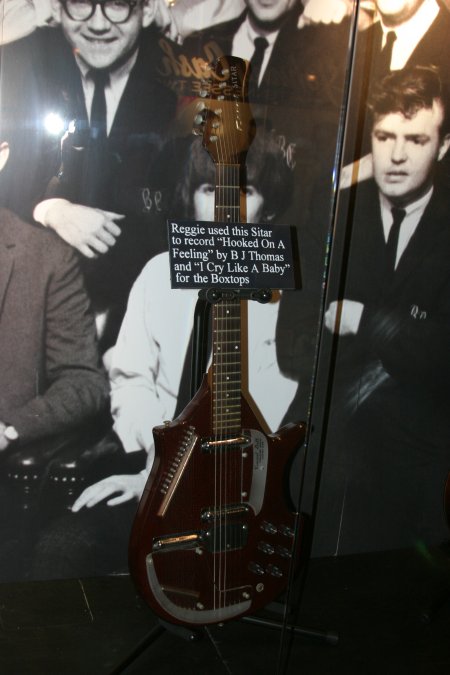 Electric Sitar used by Reggie Young on" Hooked on a Feeling" and "Cry Like a Baby"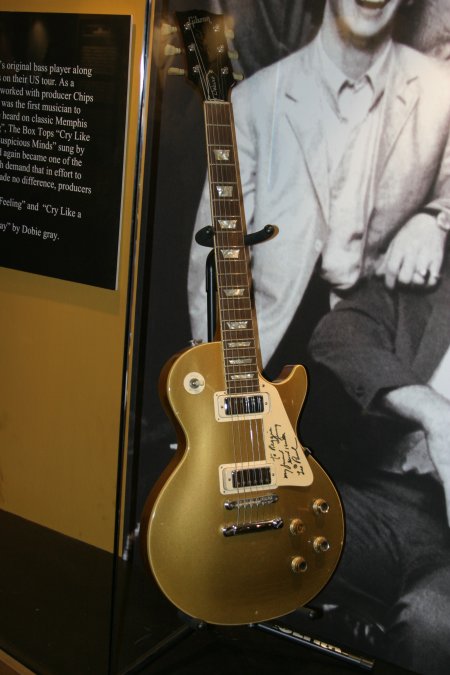 Gold Top Les Paul played by Reggie Young on "Drift Away"
As a member of Bill Black's Combo, Reggie Young opened for the Beatles on their US tour. As a session player Reggie was one of the "Memphis Boys" who worked with producer Chips Moman at American Sound Studio in Memphis. Reggie was the first musician to record with an electric sitar. Reggie's signature sound can be heard on classic Memphis recordings such as the B.J. Thomas hit "Hooked on a Feeling", The Box Tops "Cry Like a Baby", Dobie Gray's "Drift Away", and "In the Ghetto" and "Suspicious Minds" sung by Elvis Presley. In the mid '70s Reggie moved to Nashville and again became one of the most sought after session players in town. Reggie was in such demand that in an effort to reduce his workload he started charging double scale but it made no difference, producers were glad to pay it.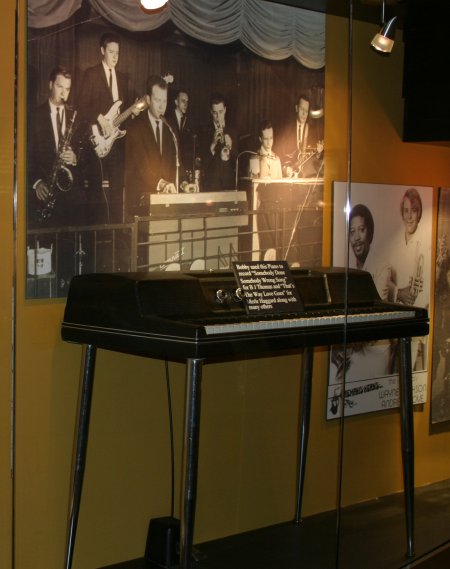 Bobby Wood's keyboard
A former member of one of the most successful studio groups ever, the 827 Thomas Street Band, keyboardist Bobby Wood has been influential in both Memphis and Nashville, playing on some of the most vital soul and country records ever released, as well as writing several #1 country hits. Among the artists Wood backed were Elvis Presley, Dusty Springfield, Herbie Mann, Wilson Pickett and the Sweet Inspirations. Wood soon found himself on Nashville's list of "First Call" musicians, playing on sessions by Kris Kristofferson, George Jones and Tammy Wynette. In 1989, through mutual friend Allen Reynolds, Wood and Garth Brooks met and formed a musical partnership. Wood has played keyboards on all of Garth's releases.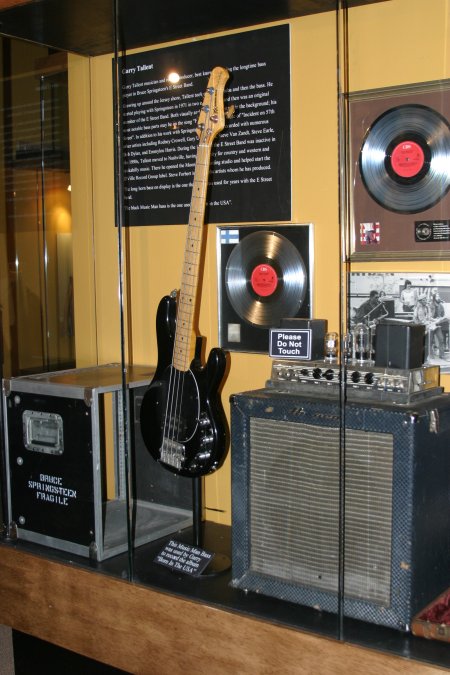 Gary Tallant's Music Man bass and Ampeg amp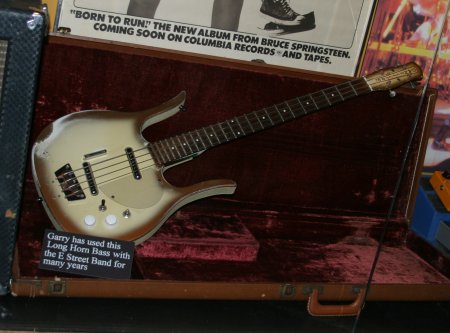 Gary Tallant's Long Horn Dan Electro bass
Garry Tallent musician and record producer, best known for being the longtime bass player in Bruce Springsteen's E St. Band. Growing up around the Jersey shore, Tallent took up first the tuba and then the bass. He started playing with Springsteen in 1971 in two earlier bands and then was an original member of the E St. Band. Both visually and musically he stays in the background; his most notable bass parts may be on the song "Fire" and the last verse of "Incident on 57th Street". In addition to his work with Springsteen, Tallent has recorded with numerous other artists including rodney crowell, Gary U.S. Bonds, Steve Van Zandt, Steve Earle, bob Dylan, and Emmylou Harris. During the long time the E Street Band was inactive in the '90s, Tallent moved to Nashville, having an affinity for country and western and rockabilly music. There he opened the MoonDog recording studio and helped start the D'Ville Record Group label. Steve Forbert is among the artists whom he has produced. The Long Horn bass on display is the one Gary has used for years with the E Street band. The black Music Man bass is the one used on "Born in the USA".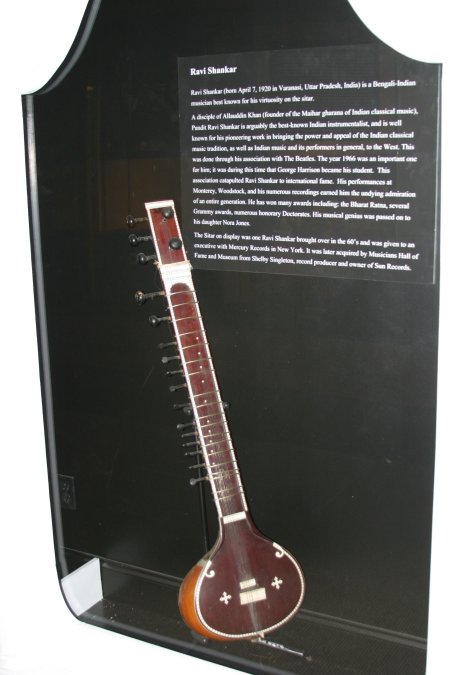 Ravi Shankar's sitar
The sitar on display was one Ravi Shankar brought over in the '60s and was given to an executive with Mercury Records in New York. It was later acquired by Musicians Hall of Fame and Museum from Shelby Singleton, record producer and owner of Sun records. The year 1966 was an important one for him; it was during this time that George Harrison became his student. This association catapulted Ravi Shankar to international fame. His performances at Monterey, Woodstock, and his numerous recordings earned him the undying admiration of an entire generation. He has won many awards including the Bharat Ratna, several Grammy Awards, numerous honorary Doctorates. His musical genius was passed on to his daughter Nora Jones.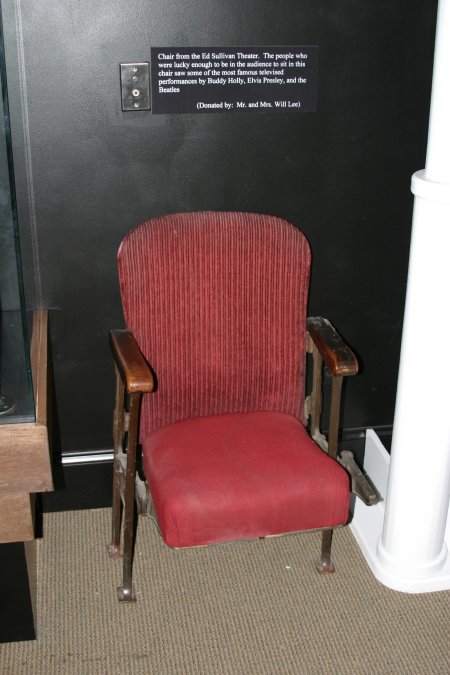 Chair from the Ed Sullivan Theater
The people who were lucky enough to be in the audience to sit in this chair saw some of the most famous televised performances by Elvis Presley, Buddy Holley and the Beatles to name a just a few.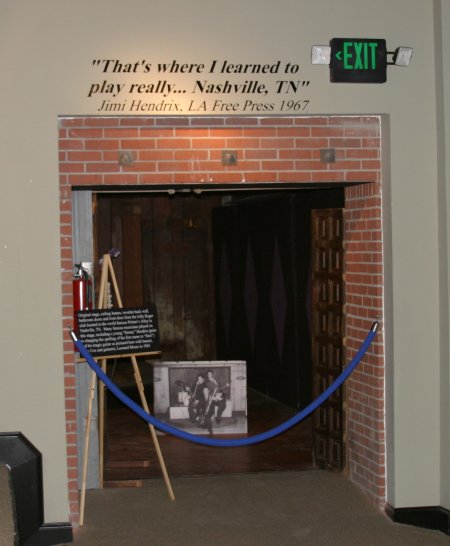 Room dedicated to Jolly Roger interior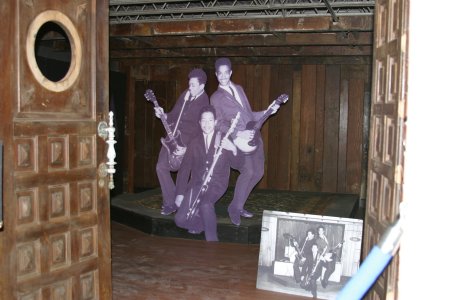 Room dedicated to Jolly Roger interior
Original stage, ceiling beams, wooden back wall, bathroom doors and front door from the Jolly Roger club located in the world famous Printer's Alley in Nashville, TN. Many famous musicians played on this stage, including a young "Jimmy" Hendrix (prior to changing the spelling of his first name to "Jimi") and his magic guitar as pictured here with bassist, Billy Cox and guitarist, Leonard Moses in 1963.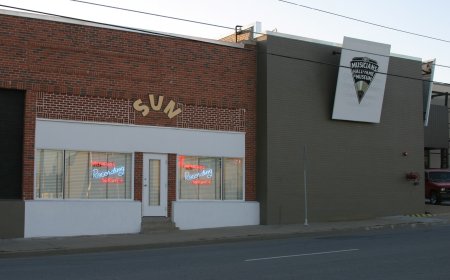 Outside facade of Memphis' Sun Studio built into the museum's wall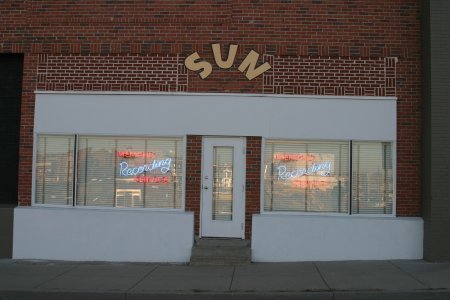 Outside facade of Memphis' Sun Studio built into the museum's wall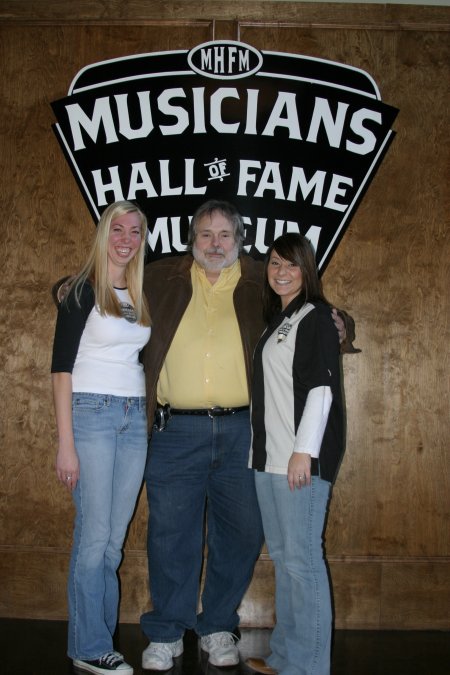 Jessica Duty, Joe Chambers (CEO) and Brooke Sommer
December 2006
All of the text used to describe the musicians and their instruments on this page is courtesy of Joe Chambers and the Musician's Hall of Fame and Museum.