Municipal Auditorium
Oklahoma City, OK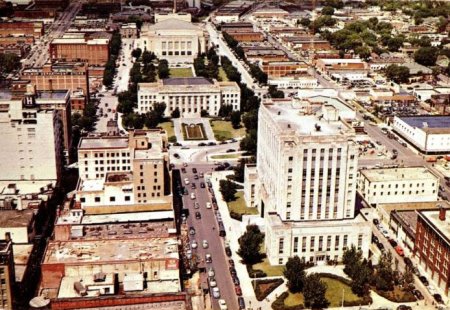 Municipal Auditorium, City Hall and Oklahoma County Courthouse - ca.1950s
Photo by Sid Lane courtesy uzeste.com
The Oklahoma City Municipal Auditorium at 201 N Walker Avenue was originally planned in 1927 as part of a comprehensive City plan developed by the Kansas City-based firm of Hare & Hare. The city and Chamber of Commerce jointly purchased land that was the site of railroad tracks and a depot from the Rock Island and Frisco railroads to relieve the traffic congestion caused by having a railroad depot and tracks in the heart of the city. Voters approved a $4 million bond for the site as the City's civic center that would also include the Oklahoma County Courthouse, a new City Hall / Municipal building and a police station and jail. President Franklin D. Roosevelt's New Deal programs in the 1930s contributed to 45 percent of the building costs through the Public Works Administration (PWA), the Work Projects Administration and the Civil Works Administration.1 & 2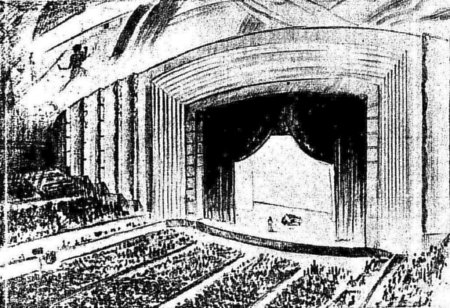 Architectural drawings main lobby, stage and auditorium and of small meeting room - Aug. 1935
courtesy NewsOK
The Municipal Auditorium, budgeted at $1.25 million, was designed by J. O. Parr of Parr, Frye and Aderhold, and features a 6-story building of both neoclassical and Art Deco design faced with Bedford limestone. Initial plans called for a seating capacity of 8200 with 3800 on the main floor and 4,400 in the balconies.3 By 1935 the Roosevelt Administration announced that all PWA projects had to break ground by December 1935 or risk losing federal support. W.S. Bellows Construction became the primary contractor for the Municipal Auditorium and it was completed in April 1937.1 The main entrances face East with five sets of four doors each, topped with tall clerestories and a massive window divided into 60 rectangular panes. Leading to these entrances is a full-width set of six stone steps.4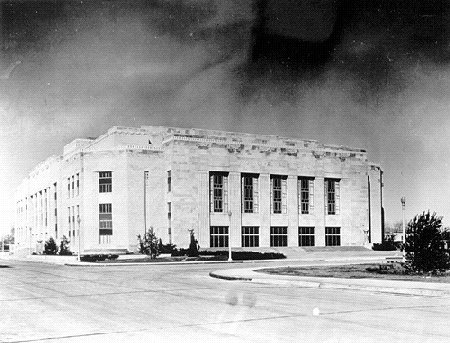 The Oklahoma City Municipal Auditorium in Oklahoma City, OK - ca.1937
NARA Photo courtesy New Deal Network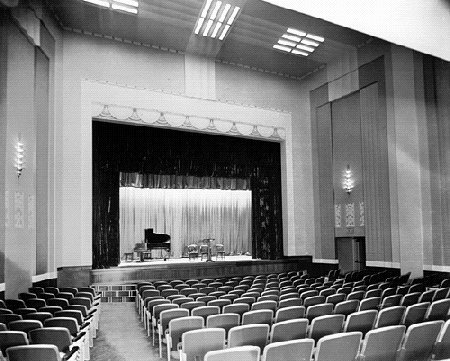 The 390 seat "little" theatre in the Oklahoma City Municipal Auditorium
NARA Photo courtesy New Deal Network
Ultimately though, when completed it sat 6,200 in the main hall and also had a smaller 390 seat theater. In addition to the main auditorium and small theater the Municipal Auditorium had a convention hall seating 900. There were five galleries for art exhibits, 22 committee rooms, and an exhibit hall with 38,000 square feet of floor space and a 5300 square foot ballroom.4 The main floor could be cleared of seating for sporting athletic events and other uses.3 The first performance, "Rhapsodic Rhythms" took place on October 4, 1937.1

WPA Federal Art Center at the Municipal Auditorium in Oklahoma City - 1941
Photo courtesy FDR Library and Museum

WPA Federal Art Center at the Municipal Auditorium in Oklahoma City - 1941
Photo courtesy FDR Library and Museum
It staged events that included boxing tournaments, wrestling bouts, basketball and ice hockey games, indoor tennis and track events and automobile shows. Among the activities carried on there was the work of the Oklahoma WPA Art Center and the WPA Music Program.4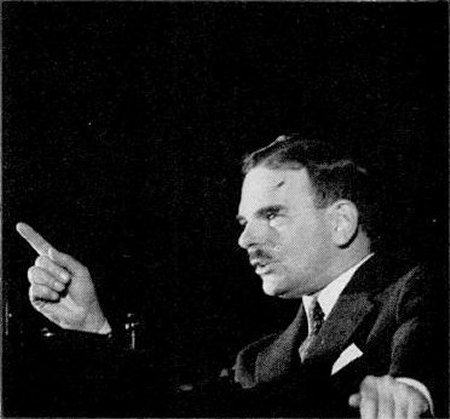 Dewey answers the President in the Municipal Auditorium - 1944
Life Photo
During the 1944 Presidential campaign, Governor Thomas E. Dewey of New York was the Republican candidate running against FDR. The Republican were campaigning against "The New Deal," and Dewey gave a speech in on national radio from Oklahoma City in which he accused Roosevelt of being "indispensable" to corrupt big-city Democratic organizations and American Communists; he also referred to members of FDR's cabinet as a "motley crew".5 He lost the election in 1944, and again in 1948 to Truman.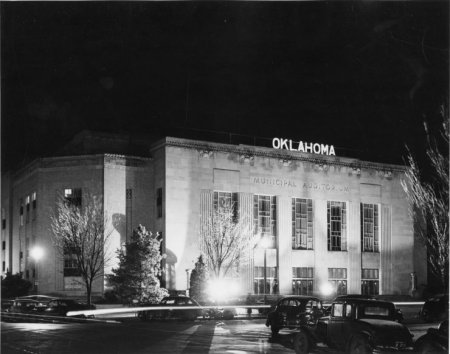 The Auditorium during the celebration of the 1000th Broadway performance of Oklahoma! - 1946
Photo © Johnny Melton courtesy NYPL
In November of 1939 RCA conducted a WKY-sponsored demonstration of television in the Municipal Auditorium. Crowds poured in to see the Harlem Globetrotters at the Auditorium in 1946, as they did the same year Gov. Robert S. Kerr made a guest appearance on a special broadcast of the nationally popular Charlie McCarthy Show from the Auditorium. Eventually there was even a roller skating rink in the basement.6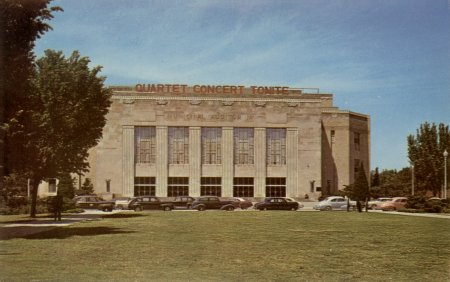 Oklahoma City Municipal Auditorium - ca.1950s
In October of 1955, Billboard Magazine reported:
Pop-Country Combo to Hypo 1-Nighter Biz
Parker's Jamboree Attractions Sets 'Em For C&W Loop

MADISON, Tenn., Oct. 1.-Col. Tom Parker, of Jamboree Attractions here, one of the nation's foremost bookers and promoters of country and western talent, is instituting a new formula of combining pops with country music to stimulate grosses on the one-nighter country music circuit.
To kick off the new idea, Parker has teamed Bill Haley and His Comets, pop group sporting the Decca label, with the c.&w. name, Hank Snow, RCA Victor artist, for an extended one-nighter swing opening in Omaha October 10. The double impact, hitting at both the pop and country fans, should do much to hypo b.o. takes, Parker feels. Low admission prices and augmented promotion to include both pop and hillbilly disk jockeys should give further impetus to the box office, Parker says.
Following Omaha, the Haley-Snow combo plays Topeka, Kan.; Lincoln, Neb.; Wichita, Kan.; Oklahoma City, and Lubbock and Amarillo, Tex., with other bookings still in the making. Also in the unit will be Jimmie Rodgers Snow (RCA Victor), who will team with Haley in Lubbock and Amarillo while Hank Snow hops to Nashville to appear on "Grand Ole Opry's" national TV hook-up October 15.
Elvis Presley, another solid name in the country field, joins the Haley-Snow talent line-up in Oklahoma City. Working with Parker on the undertaking are veteran promoters A. V. Bamford and Hap Peebles.

Billboard Magazine - October 8, 1955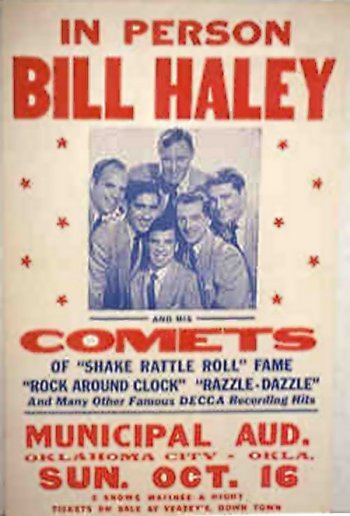 Poster for Bill Haley in Oklahoma City - Oct. 16, 1955
courtesy Dr. Dennis Hickey

Ad - Oct. 16, 1955
courtesy NewsOK
The Colonel, not yet managing Elvis, had approached Bill Haley's manager to team Bill and the Comets with a Hank Snow tour. At the time, he was attempting to procure Elvis' contract, as were others, and it ultimately was an attempt to capitalize on exposure and make him more lucrative to RCA. Among other venues, the tour took them to Omaha, Nebraska and Lubbock, TX though Elvis, Scotty and Bill only joined them for one date, in Oklahoma on the 16th. Buddy Holly had opened for each of the acts in Lubbock, where each of the acts had appeared on consecutive days.
Elvis Presley

Young Star On Bill Today

Elvis Presley, a 20-year- old fireball from "Louisiana Hayride," will be an added started Sunday when Bill Haley, Hank Snow and many other top-notchers put on two western music hoedowns at Municipal Auditorium.
Shows are scheduled for 4 p.m. and 8 p.m. Admission at the door will be $1.75 with children under 12 admitted for 50 cents.
It is hard to pick an individual standout from the array of stars scheduled for appearance Sunday, but Presley might be the one the teen set will be watching most closely. his combination of country music and bop has captured the fancy of the younger set in a way few stars have managed, and his extreme youth and good looks add to his popularity.
However, Presley will have plenty of competition on the two shows today. There will be, for example, Bill Haley and his comets, a rock-and-roll aggregation that is another major sensation with the younger set. the troup includes six young whizzes in vocal and instrumental arrangements, and is making recording history.
After the show's appearance in Omaha. Neb., earlier this week a reviewer noted: "the spectators really cut loose when Bill (Shake, Rattle and Roll) Haley and his comets took over the stage. These seven musicians produced some of the wildest jazz Omaha has ever heard--and the Arena practically shook with the screams, whistles and applause.
Hank Snow and the Rainbow Ranch boys, Little Jimmie Rogers Snow, Sleepy McDaniel and others also are tabbed for steady appearance.

The Daily Oklahoman - October 16, 1955 courtesy NewsOK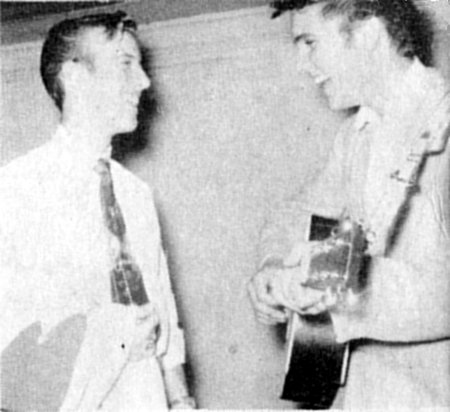 Jimmie Rogers Snow and Elvis - ca.1955
Photo courtesy Elvis Album of Juke Box Favorites
The following week the boys shared a stage with Haley and the Comets again in Brooklyn, OH and Cleveland. By the time they returned for their second and last appearances at the Municipal Auditorium in Oklahoma City the following year, they would be headliners and starting the day before in Tulsa, they would no longer appear with any acts that could be considered similar or contemporaries. Their last had been at the Coliseum in Waco, TX on April 17, 1956. As Lee Cotten wrote, virtually all of these entertainers were refugees from the days of vaudeville and night club circuits.7 Effectively though, they would also no longer be sharing a bill with a "country," act, or more recently referred to as "hillbilly."

Ad - Apr. 15, 1956
courtesy NewsOK
Presley, Disc Star, to Sing

Elvis Presley, looked at with awe by the recording trade now, will give one of his sensational singing routines at Municipal Auditorium here Thursday night, April 19. Curtain time will be 7:30.
Presley, 20 years old, is currently the boy wonder in the field of recorded music. RCA Victor recently shelled out a cool $35,000 to buy him away from a smaller recording company, and he quickly justified the deal by moving near the top of the best-seller list.
His latest release "I Was the One" passed the 300,000 mark after three weeks on the market. He has starred on the Jackie Gleason show, has also starred with Milton Berle.
Seats, all reserved, are on sale now at the Winn Agency in Veazey's, 135 W Main and at Sheen's drugstore in Capitol Hill. Prices are $2, $1.50 and $1.

The Daily Oklahoman - April 8, 1956 courtesy NewsOK
The week prior to their appearance at the Auditorium in April there was a 'Grand Ole Opry' Show there that featured many of the acts the boys formerly toured with, including Kitty Wells, Roy Acuff, Johnny and Jack, Rod Brasfield, June Carter and Mother Maybelle and the Carter sisters. The Daily Oklahoman accidentally ran the ad again the following week with a correction in the same issue acknowledging their mistake and that the Opry show would not be appearing Sunday but that ad for Elvis' show on Thursday the 19th should have run instead.
Ad - Apr. 15, 1956
courtesy NewsOK
Elvis Presley


Elvis Presley Here This Week

Armed with a new Columbia contract and undoubtedly the current No. 1 guy with the teenage set, Elvis Presley, just turned 21, has the world by the proverbial tail with a downhill pull. all of which he will use to the fullest advantage when he comes to Municipal Auditorium here Thursday night.
Judging by the advance clamor for tickets, the 7:30 curtain time will find the house pretty well jammed with teen-agers- and a good delegation of adults, too, to here the new singing sensation.
Seats for the show, all reserved, are on sale now at the Winn Agency in Veazey's, 135 W Main, and at Sheen's drugstore in Capitol Hill. Prices are $2, $1.50 and $1.
Presley is one of those vocal rarities who seems to know instinctively what recording fans like. From his very first release, made by a small disc company, sales rocketed and within a few months giant RCA bought up his recording contract for $40,000.
He is one of the few artists to have recordings played by pop, country and blues disc jockies. on his personal appearance tours he is breaking records everywhere. The combination of his vocal talent, his showmanship and his youthful good looks make him an instant hit. And of course, his fame was not diminished any when he scored successfully as a star on Jackie Gleason's network shows.
Unmarried, he lives, when not on the road, with his parents in Memphis. well established now on stage, TV and the record players, Hollywood is the single field he has yet to crack--and that is assured by screen tests he already has made.
All the Presley charm will be turned on full blast here when he takes the auditorium stage Thursday.

The Daily Oklahoman - April 15, 1956 courtesy NewsOK

Ad - Apr. 18, 1956
courtesy NewsOK

Initially only booked for one appearance, as written in the paper, the promoter of the show, Mrs. Delbert Cravens quickly added a second show as the first sold out.
Police Will Patrol 'Swooner's' Show

Teen-agers better not get too "carried away" at the Elvis Presley show Thursday night in the Municipal Auditorium. There'll be 15 husky policemen stationed inside to see that the auditorium stays intact.
Mrs. Delbert Cravens, who is bringing the recording artist here, said she's hiring the police on the advice of promoters in other towns where Presley's show has caused near riots.
It seems the youngsters' "swooning" sometimes erupts into violence where objects are thrown, people are hurt and seats are damaged.
Meanwhile the "sold out" sign went out briefly Tuesday for the show, but it was yanked back in by Mrs. Cravens, who announced she's scheduling two performances instead of one. All 5,618 tickets have been sold to the 7:30 p.m. performance, so tickets on sale now are for the 9:30 p.m. show. Mrs. Cravens said.

The Daily Oklahoman - April 18, 1956 courtesy NewsOK

Ad - Apr. 19, 1956
courtesy NewsOK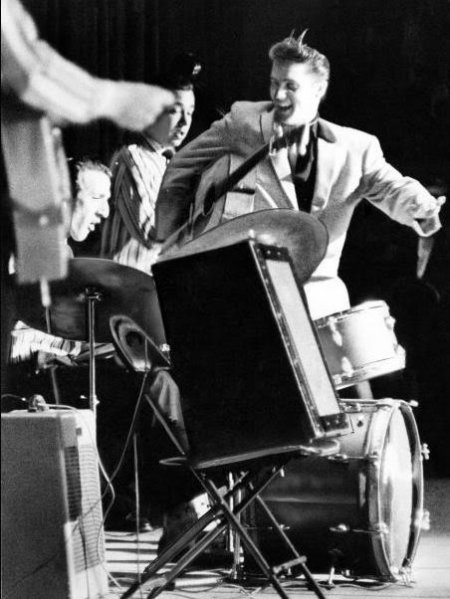 Scotty, D.J. Bill and Elvis onstage at the Municipal Auditorium - Apr. 19, 1956
Oklahoma City Times photo courtesy NewsOK

Elvis, Scotty, Bill and DJ in Oklahoma - Apr. 19, 1956
The WKY KTVY KFOR Archives courtesy the Oklahoma Historical Society, added Jan. 6, 2014
Lee Cotten wrote that, during his first appearance at 7:30 p.m., Dr. Rupert Nancy, a Baptist minister and member of the local censorship board, sat in the Municipal Auditorium, prepared to stop the show if he witnessed any repeat of the Tulsa gyrations. Dr. Naney, an astute observer of juvenile antics, was critical of Elvis' act, but allowed the 9:30 performance to continue.7

Here's how three members of the teen-age set reacted to the "cat" idol, Elvis Presley

Daily Oklahoman Staff Photo

Elvis Presley

Youngsters Wild About 'Cat' King

By Jack Jones
You'ld have to see Elvis Presley to believe it.
Not since the swooning craze of Frank Sinatra days have Oklahoma City teen-agers given an entertainer the reception they gave Presley in Municipal Auditorium Thursday night.
While 6500 youngsters packed the auditorium for his first show, another 6500 youngsters waited impatiently outside to get in for his second performance.
The moment the young rock-and-roll singer leaped onto the stage and grasped the microphone, the youngsters started screaming. And they kept screaming until two shows were over.
Some 40 policemen watched the screaming teen-aged audience anxiously as Presley whipped them up into frenzies with such songs as "Long Tall Sally," and "Blue Suede Shoes."
He's King of Cats
Presley is sort of a cross between Marlon Brando and Johnny Ray. Last September nobody outside of Grand Ole Opry promoters had ever heard of him.
They picked him up, decided he wasn't exactly suited for the hillbilly type songs, and built a new show around him. Since then he has become a king of the teenaged "cats."
"I give them what they want," Presley, who has just turned 21, told newsmen backstage Thursday night. "I just let myself go and they like it and I love them for it."
Long Sport Coats
He has his hair cut "cat style," wear long sport coats with padded shoulders. The coat he was wearing for one performance Thursday night was yellow trimmed with black velvet lapels and collar. He had bought it earlier in the day in Tulsa.
As his show starts he leaps out onto the stage with a guitar slung over his shoulders and hunkers at the microphone animal fashion.
As he sings he bounces and wiggles every limb, stands on his toes, crouches as if he is about to leap out into the audience, waves his hands in the air and sways backward and forward.
Teenagers Love It
To those not in tune with the rock-and-roll craze he appears to be having some sort of seizure. While singing ,"I Have a Woman," he became so violent he broke the strings on his guitar.
But the teenagers love it. As he gyrated about the stage Thursday night his audience danced in the aisles, trembled as if in a trance, screamed until they were hoarse. At one point during the show he had to threaten to pull down the curtain if his audience didn't stay in their seats.
Presley's songs are accompanied by a band that includes only a drummer, a bass fiddler and another guitar player.
'He's A Natural'
But they manufacture the rock and roll rhythms and provide beats cued to Presley's convulsive jerkings as he sings.
Presley's handlers say they are just as surprised as anybody at his success. The name "Elvis" itself violates all the press agent's rules for show success, they say.
"From his first show he has had the kids acting like this," his manager said. "He's a natural. He never had any formal training for this stuff at all. He has recently signed a 7-year contract with Paramount."
Since his shows have been attracting national attention Presley has been sharply criticized for his effect on the teenaged set. One critic has described his performances as "Juvenile delinquency set to music."
Presley thinks this sort of criticism is unfair. "It's a healthy thing," he said. "You don't have to be doped up to enjoy it."
Offstage Presley is a shy young man who addresses his elders as "Mister," doesn't smoke and doesn't drink. Born in Tupelo, Miss., he recently purchased his parents a $30,000 home in Memphis.

The Daily Oklahoman - April 20, 1956 courtesy NewsOK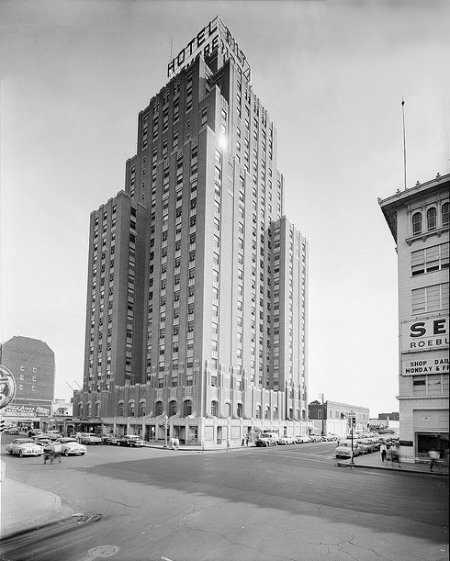 Hotel Biltmore in Oklahoma City, OK - 1952
Photo © Oklahoma Historical Society
Cotten also wrote that following the show, fans broke down a door and smashed several windows trying to get to Elvis for an autograph. Elvis received a police escort out of the auditorium and was ferried to the Biltmore Hotel in a police scout car.7 At that time the Biltmore Hotel stood at the corner of Grand and Harvey. The following day they performed in Fort Worth, TX. As controversial as Elvis may have been, that year when Billboard Magazine asked auditorium managers for their most unusual booking over that year Oklahoma City only responded that the National Square Dance Festival must "be the most colorful and enthusiastic convention ever."8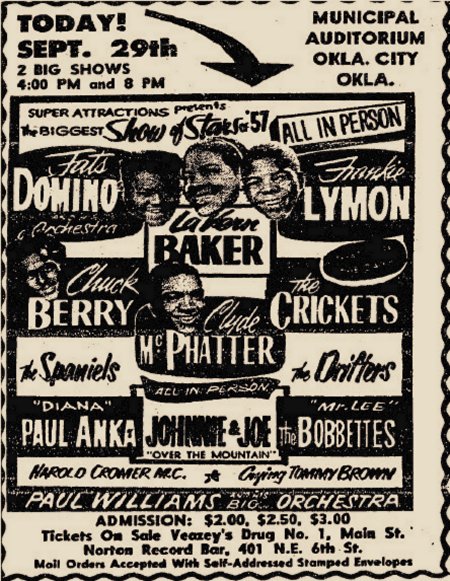 Ad for the Show Of Stars of '57 at the Municipal Auditorium - Sep. 29, 1957
courtesy NewsOK
Only a few weeks later more of Elvis' contemporaries would play the Auditorium when a Grand Ole' Opry show returned on May 6th. The show, headlined by Faron Young, also featured Ray Price, Red Sovine and June Carter. A special added attraction was Carl Perkins.9
The following year Buddy Holly and the Crickets played at the Auditorium with "The Biggest Show of Stars of '57" tour. They had driven from Tulsa the night before to record at the Officers club at Tinker AFB where Norman Petty's trio had played and in the early morning hours of September 29, 1957, they recorded, Maybe Baby, You've Got Love, An Empty Cup, and Rock Me My Baby.10


courtesy NewsOK
The following year, on October 26, Johnny Cash with Carl Perkins and Sonny James performed on a show packaged by Lee Gordon who had promoted some of Elvis' last shows in the Northwest and Hawaii the year before.11

The seating in the auditorium after the 1966 remodeling - ca.1980
courtesy NewsOK
Not every show could fill the auditorium the way Elvis did and from a performance perspective the hall was always thought to be larger than most of the events there required. In 1966 the municipal auditorium received a $500,000 renovation and was renamed the Civic Center Music Hall for its reopening in 1967. It was reduced in size to 3200 seats. The original floor plan was covered with sloped seating with the majority of seats on one floor. The top balcony was retained because engineers said the construction of the building would not allow its dismantling. A third difference was the addition of rectangular box like organ chambers jutting into the hall from the fluted walls on each side of the stage. It featured a new sculptured ceiling with indirect lighting. The seats on the floor were removed and Seating was reduced to 3,200.12 In 1971, the basement was converted into office space and later converted back to the theatre space and dressing rooms. 4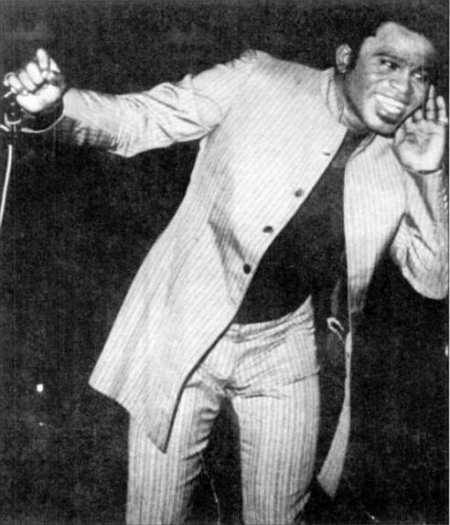 James Brown at the Civic Center Music Hall in Oklahoma City
Photo courtesy Oklahoma City Music:: Deep Deuce and Beyond
The 70s would see such acts as Lou Rawls, the Supremes, Joe Simon, and James Brown, all brought to the venue by former local KBYE deejay Ben "The Tall Man" Tipton. Damaged from old age, abuse and fire, the little theater was closed in 1985 but later renovated and reopened.13


Architectural drawing shows plan for three balconies and boxed seating along the walls
courtesy NewsOK
Les Miserable was the last performance in the auditorium in 1998 before it closed once again, this time for a $49 Million dollar renovation by Flintco, a Native American owned contractor, that would take three years to complete. Renovations involved gutting the 1967 renovations completely and a complete redesign of the interior and lobby. 580 piers were installed in the basement, drilled 13 feet into the bedrock to support the new auditorium.14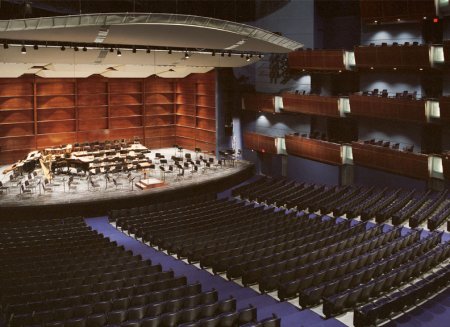 contemporary view of the stage from left balcony
Photo by Joseph Mills courtesy The Civic Center Music Hall

contemporary view of the stage from rear
Photo by Joseph Mills courtesy The Civic Center Music Hall

contemporary view of the stage and auditorium from balcony
Photo by Joseph Mills courtesy The Civic Center Music Hall
The rear wall was moved in making space for a five story atrium and the main hall, the Thelma Gaylord Performing Arts Theatre, was reduced by one half million cubic feet of space, 40 feet in width and 10 feet in height, though the stage was expanded by 12 feet. Seating now is 2477 with half in three new rear balconies and a series of new box seats that line each side wall.14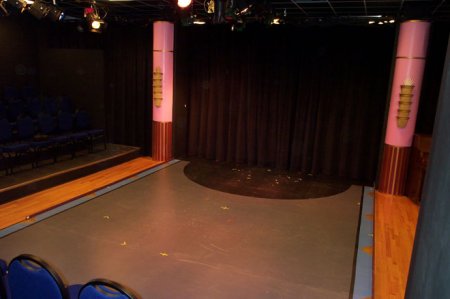 the 100 seat CitySpace Theatre in the basement on the north end of the music hall
Photo courtesy The Civic Center Music Hall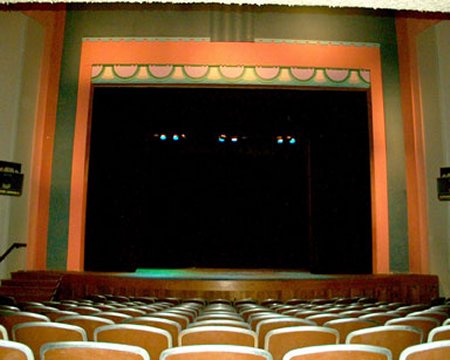 The historic Freede Little Theatre offers seating for 286
Photo courtesy The Civic Center Music Hall
The Civic Center Music Hall reopened in September 2001 and today is Oklahoma City's premier performing arts facility. The Freede Little Theater seats 286, and the CitySpace theater in the basement is perfect for audiences less than 100.15

Civic Center Music Hall in Oklahoma City, OK - 2010
Photo © Cameron Brewer
The only work to the exterior included removing a handicapped ramp from the main east entrance and putting ramps at the south and north entrances.14 The Art Deco style building makes up the westernmost anchor of downtown Oklahoma City's Arts District, which also includes the Oklahoma City Museum of Art, Stage Center, the Myriad Botanical Gardens, and the Oklahoma City National Memorial and Museum.15
Elvis would return to Oklahoma City with the TCB Band four times in the seventies; on November 16, 1970, July 2, 1973, July 8, 1975 and May 29, 1976.16 By then though it was to larger venues.
---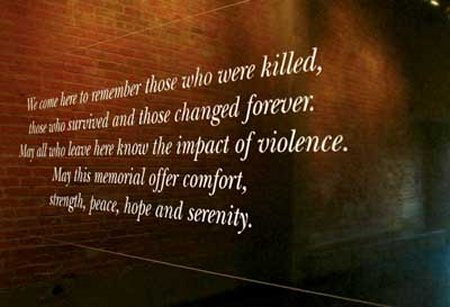 The Memorial Mission Statement guided the memorial's meaning, design, and development.
Photo © Oklahoma City National Memorial Foundation courtesy TLC
Though events discussed here are mutually exclusive, no significance of one on April 19th in a history of Oklahoma City I feel can respectfully be made without the acknowledgment that on this date in 1995 at 9:02 a.m. the detonation of a bomb only blocks away at the Alfred P. Murrah Federal Building took the lives of 168 people. The memorial later built on that site is a stirring, visceral reminder of the damage done by violence, the resilience of the human spirit and inspiration for hope and healing.
Page added April 18, 2011

Special thanks to Jana Hausburg and the Oklahoma County Metropolitan Library System for their assistance with articles.
1 according to or excerpt from Civic Center Music Hall continues to go strong by John A. Williams, The Oklahoman - Dec. 28, 2010 courtesy NewsOK
2 according to Oklahoma City Municipal Building Print Article courtesy uzeste.com
3 according to or excerpt from The Daily Oklahoman - August 4, 1935 courtesy NewsOK
4 according to or excerpt from Municipal Auditorium - Oklahoma City, OK courtesy Waymarking.com
5 according to United States Presidential election, 1944 courtesy wikipedia
6 according to or excerpt from Oklahoma Historical Society's Encyclopedia of Oklahoma History and Culture
7 according to or excerpt from Did Elvis Sing in Your Hometown? by Lee Cotten
8 according to Billboard Magazine - November 3, 1956
9 according to or excerpt from Grand Ole Opry Will Return Loaded With Top Talent, The Daily Oklahoman - April 29, 1956 courtesy NewsOK
10 according to The Day the Music Died: The Last Tour of Buddy Holly, the Big Bopper, and Richie Valens by Larry Lehmer
11 according to Billboard Magazine - October 20, 1958
12 according to City Music Hall to Open 13 Days Late by Joe Broady, The Daily Oklahoman - November 29, 1966 courtesy NewsOK
13 according to or excerpt from Oklahoma City Music:: Deep Deuce and Beyond by Anita G. Arnold
14 according to Hall - The Daily Oklahoman - February 14, 1999 courtesy NewsOK
15 according to The Civic Center Music Hall - Visitor Information
16 according to Francesc Lopez and Elvis in Concert