City (Municipal) Auditorium
Pensacola, FL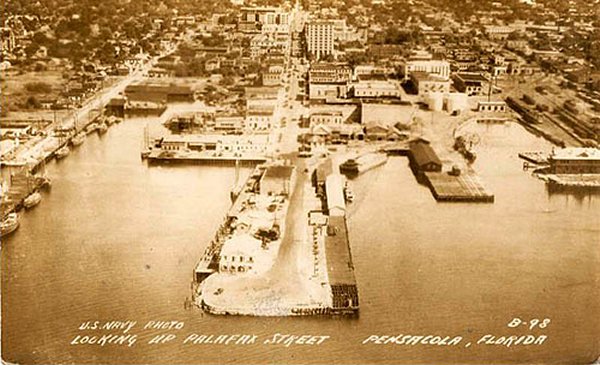 Pensacola Florida and the Municipal Auditorium - ca. 1930s?
Photo courtesy flickr
Pensacola is the western most city in Florida's panhandle and claims to be the site of the oldest European settlement in the United States. Spanish explorers first made landfall there nearly five centuries ago. In August of 1559, Spanish explorer Tristán de Luna sailed into what would one day be known as Pensacola Bay. Spain's viceroy of Mexico, Luis de Velasco, had charged Luna with establishing a settlement on the bay, reconnoitered by Spanish navigators the previous year. On September 19, 1559, only weeks after he dropped anchor, a powerful hurricane blew in from across the bay, sinking all but three of Luna's ships and by the spring of 1561 the site was abandoned.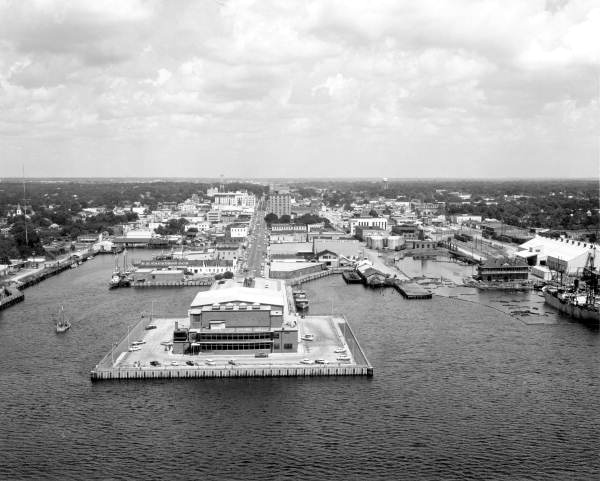 Pensacola Florida and the Municipal Auditorium - ca. 1959
Photo courtesy Florida Photographic Collection
Over the next several hundred years possession would change hands five times between the French, Spanish, British and then Spanish once more until Spain ceded Florida to the US in 1821. A shipyard was established there in 1821 on the southern tip of Escambia County. It was replaced in 1914 by what is now the Naval Aviation Station.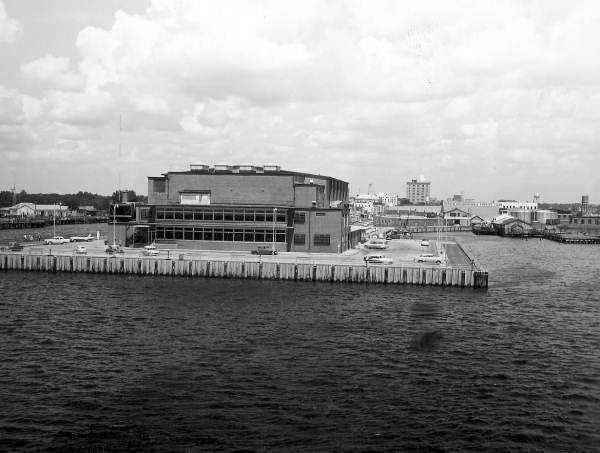 Pensacola Florida and the Municipal Auditorium - ca. 1959
Photo courtesy Florida State Archives
The City Auditorium that was located at 900 South Palafox Street was constructed on man-made land in the early 1950s at a cost of $820,000 and dedicated on February 8, 1955. Referred to at times as both the City Auditorium and Municipal Auditorium, the development faced early opposition by competitive businesses paying amusement taxes levied to fund its construction.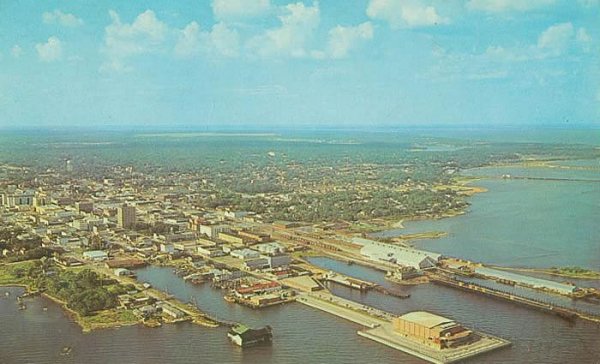 Pensacola Florida and the Municipal Auditorium - ca. 1955
courtesy Panicstream
It was a mutli-purpose venue had a formal theatrical stage which featured bands, orchestras, ballet and other musical events and the facility was also used to host ice shows, circuses and sporting events. With a balcony, the seating capacity was approximately 2500. The modern, air-conditioned auditorium was erected on a man made pier overlooking the large natural harbor. The land was constructed of Granite from Sweden, broken tile from France, Chalk from Wales, blue stone from Italy, dredgings from the Scheldt and Thames and blue Granite from South America.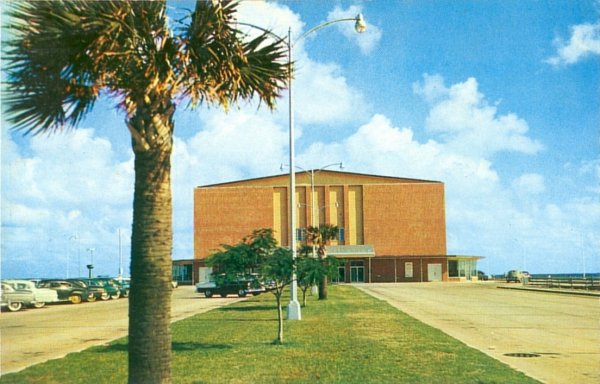 The Pensacola Municipal Auditorium - ca. 1955
courtesy Etsy
The Auditorium was managed Walter Wicke, a former mayor of Pensacola and events there benefited from the proximity of the air bases and the areas industrial growth. As most touring companies worked the south or Florida many made stops in Pensacola before heading West. The auditorium also saw Opry acts almost once a month booked by either John Kelly of A.V. Bamford. The Phillip Morris country also brought their country music show there. During segregation, blacks were forced to use a side entrance and sit in the balcony.

Jazz at the Auditorium: Harold Andrews, Mylen Bates, Frank Edwards and Albert Ashley - ca. 1955
State Archives of Florida, Florida Memory


Jazz at the Auditorium: Ida Goodson, Harold Andrews, Mylen Bates, Frank Edwards and Albert Ashley - ca.1955
State Archives of Florida, Florida Memory
Despite apprehension, Pensacola radio WNVY deejay Ron Touton and Marion Jones successfully introduced rock and roll there playing records in a series of teen record hops on Sundays. On February 26, 1956, Elvis, Scotty, Bill and DJ made their first and only appearance there. They performed three shows and topped a bill that included Mother Maybelle and the Carter sisters with June Carter, The Louvin Brothers, Justin Tubb, and Benny Martin.

Scotty, DJ, Elvis and Bill (believed to be) onstage at the City Auditorium in Pensacola - Feb.. 26, 1956
Photo courtesy Bill E. Burk's Early Elvis: The Sun Years
It was the last stop of a 3 week tour with these acts that had started in Richmond on February 5th. Interrupted only for Elvis' Stage show and one Hayride commitments on Saturday nights, the tour took them to Greensboro, High Point and Raleigh, NC, Spartanburg, SC, Charlotte, NC, Norfolk, VA, Wilson, Burlington, and Winston-Salem, NC, Tampa, West Palm Beach and Sarasota, FL, Waycross, GA, Jacksonville, FL and finally the Auditorium in Pensacola. Several incidents occurred on this tour, first between the performers and the Colonel and then between Elvis and Ira Louvin and this was the last time that either Tubb or the Louvins would share a bill with Elvis.

The Municipal Auditorium at 900 South Palafox St. in Pensacola, FL - 1974
Florida Photographic Collection
Over time more landfill was added in the vicinity and the building would host many other musical acts that included Patsy Cline, Jerry Lee Lewis and B.B. King and Wicke Managed the place until 1966. The attendance record of 3,000 was set by Charley Pride in 1971 and then the seventies saw acts such as Ted Nugent, Foghat, Rare Earth and Lynard Skynard. In 1976, the city spent $75,000 to modernize the building in hopes of targeting convention business.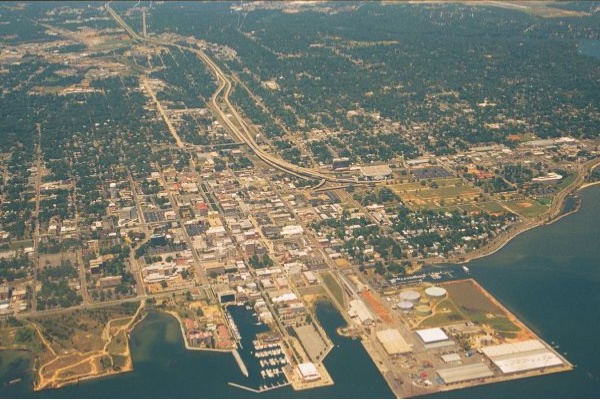 Aerial Photo of Pensacola - ca.2000
Photo by Henry Doenlen, M.D.
The building was renamed the Bayfront Auditorium in 1988 and continued to host acts such as Bob Dylan, Jethro Tull, No doubt Rage Against the Machine and the Foo Fighters. As larger, more modern venues with better acoustics opened in the area like the Civic Center and Saenger Theatre with better accessibility the auditorium lost its appeal and fell into disrepair and the City of Pensacola was losing more than $100,000 every year to keep it open.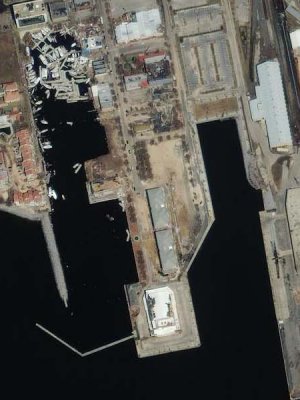 Before and after Ivan - January 4, 2003 and September 18, 2004
Images courtesy Space Imaging
Initially saved from demolition in 2004 by a voter referendum its fate was sealed on September 16th of that year when Hurricane Ivan struck Alabama and Florida. With winds of 130 mph and a storm surge of 10 to 15 feet Pensacola was one of the cities hardest hit. The auditorium received extensive damage and was again scheduled for demolition.

Demolition of the Bayfront Auditorium in Pensacola - July 2005
Photo © Pensacola News Journal
The demolition was completed July 24, 2005 by the Big Dog Demolition company and Pensacola Community Auction auctioned off seats, bricks and ticket boxes and other items to benefit local charities. Debris from the demolition was used for offshore fishing reefs and for Project Green Shores, Phase II. A new park, Plaza de Luna, named for the Spanish explorer charged with establishing the first settlement, was built on the site of the auditorium in 2006 and opened in 2007.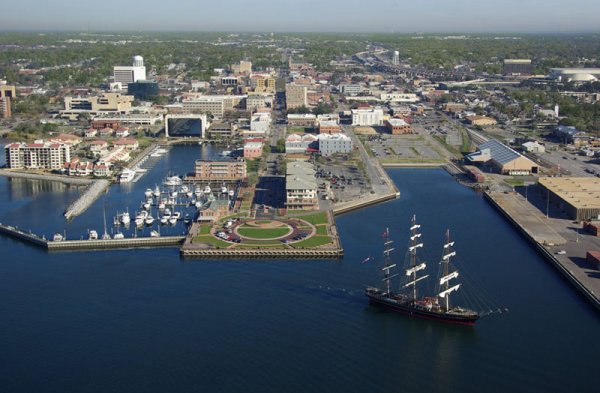 Aerial view of Plaza de Luna, the bay and Pensacola - ca. 2010
Photo courtesy The Weather Blog
Page added May 14, 2013

Much of the information concerning the history of the Pensacola Municipal Auditorium and area was compiled from various online sources, including Pensapedia: Bayfront Auditorium, Pensacola News Journal, CNIC//Naval Air Station Pensacola, Smithsonian Magazine's Harboring History in Pensacola and articles in Billboard Magazine.
---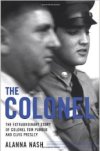 An interesting footnote from Alanna Nash, author of The Colonel: The Extraordinary Story of Colonel Tom Parker and Elvis Presley
James, many people do not know this, but Colonel Parker transferred to Fort Barrancas in Pensacola from Hawaii in the U.S. Army. It was in Pensacola that he went AWOL, was declared a deserter, and after five months, was found and put in confinement back in Pensacola, and eventually sent to Walter Reed for two months for psychiatric reasons, which got him discharged--honorably, by the way. The Walter Reed personnel concluded that since his desertion had been brought about by illness, his discharge could not be considered dishonorable.

Interesting to me also is that as part of Headquarters Battery of the13th Coast Artillery, stationed at Fort Barrancas, just outside of Pensacola, he was only 55 miles from where he had come ashore at Mobile as an undocumented immigrant. Folks can read much more about this in my book.

Thanks.

Always enjoy your emails!

Alanna
May 14, 2013