"That's All Right" Gold Record Awards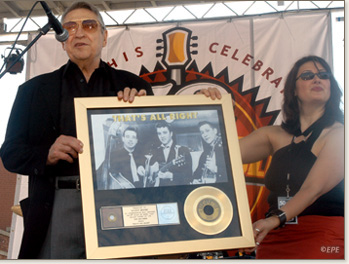 Scotty accepting his award - July 5, 2004
Photo © courtesy EPE Inc.
On July 5th, 2004, prior to the "Global Moment in Time" event, plaques were presented from BMG/RCA in recognition of "That's All Right" reaching gold status by the Recording Industry Association of America (RIAA). The RIAA is the trade group that represents the U.S. recording industry and also also certifies Gold®, Platinum®, Multi-Platinum™, and Diamond® sales awards. The song was Elvis, Scotty and Bill's debut on Sun on that date in 1954 and the presentations coincided with the other 50th Anniversary celebration festivities that day.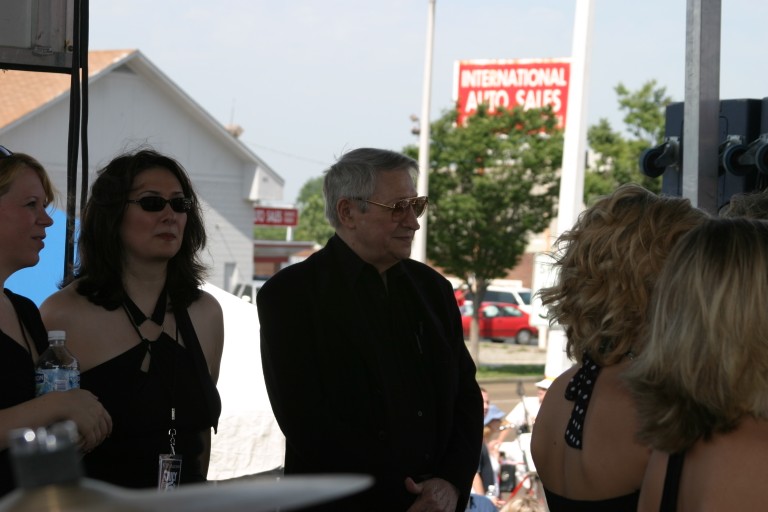 Scotty - July 5, 2004
Photo © James V. Roy
The recipients were Scotty, Elvis, Bill Black, Sam Phillips and Arthur "Big Boy" Crudup. Arthur wrote and recorded the original version (Elvis would eventually record two more of Arthur's songs: "So Glad You're Mine" and "My Baby Left Me"). In addition to Scotty, accepting the plaques for the others were the families of Arthur Crudup, Bill Black, Sam Phillips and the Elvis Presley Estate.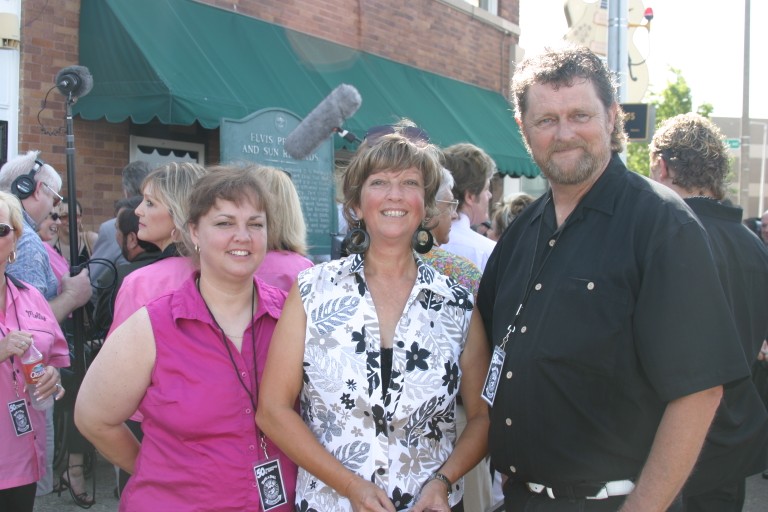 Leigh Ann, Nancy and Louis Black - July 5, 2004
Photo © James V. Roy
Bill, who passed away in 1965 doesn't get nearly enough of the credit and recognition that he deserves. His children are proud and always very happy to receive awards for their father. Most recently they accepted one on his behalf at the Memphis Music Heroes Awards. They take turns four months at a time displaying the awards in their homes. Leigh Ann, being only a baby when her father passed, probably has the fewest memories of him but Scotty says she reminds him of Bill the most.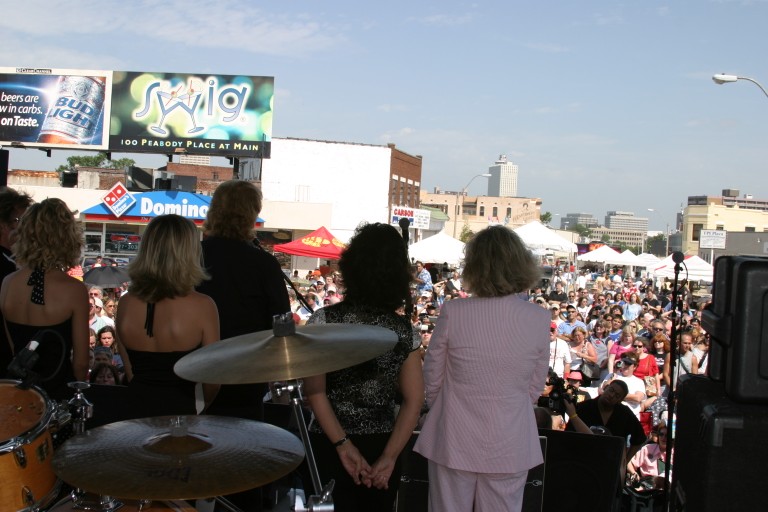 Sam Phillips' family - July 5, 2004
Photo © James V. Roy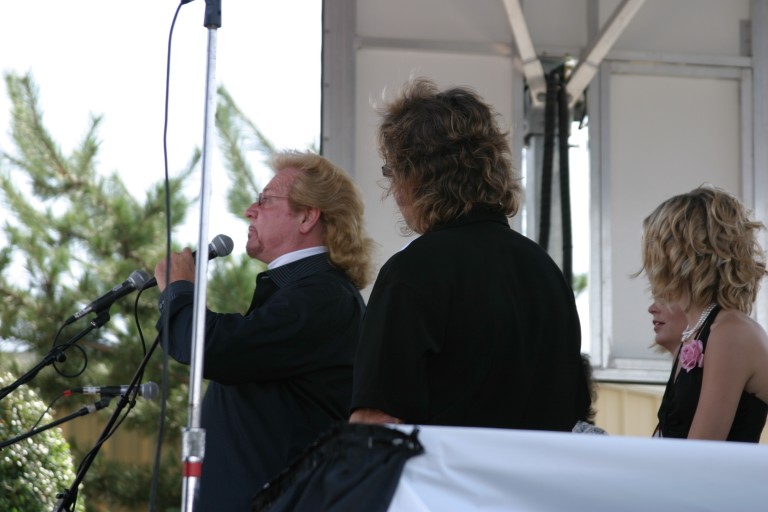 Knox Phillips - July 5, 2004
Photo © James V. Roy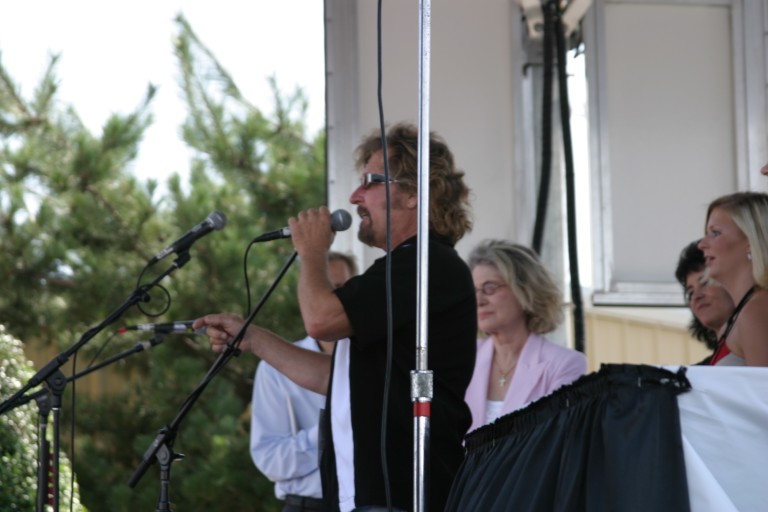 Jerry Phillips - July 5, 2004
Photo © James V. Roy
BMG's Matthew Stinger said "'That's All Right' is the first of five Sun singles to be certified Gold", with "Good Rockin' Tonight" to be next to be certified within the next few months. To be considered Gold a record must have 500,000 sales and the problem with certifying gold records from the '50s was that sales weren't as carefully tracked. However, recording industry trackers have known for years that "That's All Right" and other Elvis hits were easily Gold records.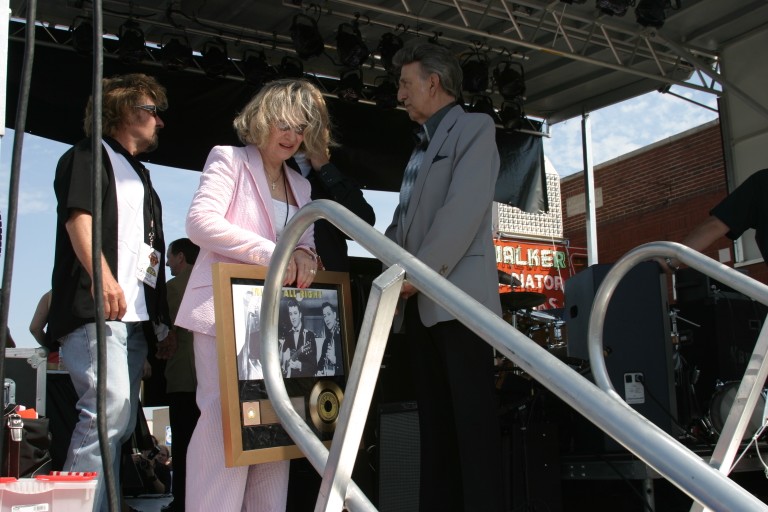 Jerry and Sally Wilbourn (Sam's companion) and DJ Fontana - July 5, 2004
Photo © James V. Roy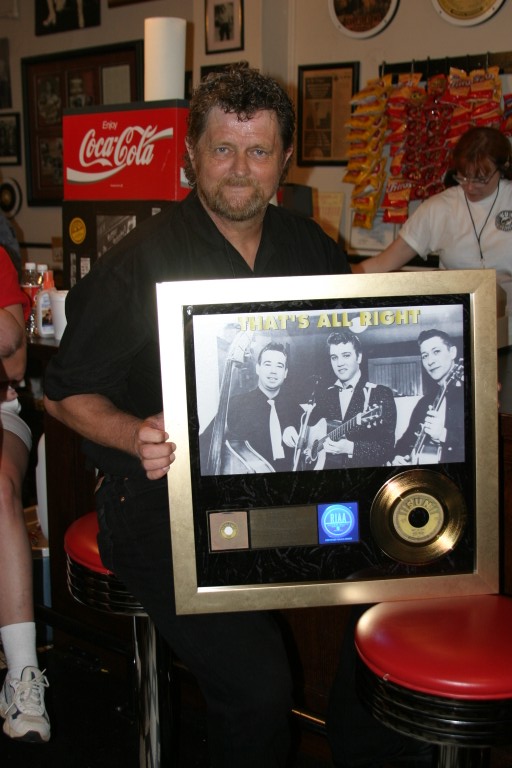 Louis Black with the Award for his father, Bill - July 5, 2004
Photo © James V. Roy