The Dempseys in "Walk The Line"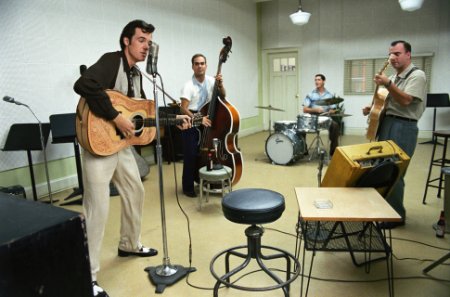 Tyler Hilton, Joe Fick, Ron Perrone and Brad Birkedahl from "Walk The Line" 2005
Photo © courtesy MPTV.net
Last year The Dempseys were picked to perform and portray in the roles of Scotty, Bill and DJ in the soon to be released Johnny Cash biopic "Walk The Line" which stars Joaquin Phoenix and Reese Witherspoon as Johnny Cash and June Carter. They are a Memphis area based Rockabilly trio that have been a staple in recent years at the varied Elvis related activities in the area and are well known by both Scotty and DJ. Comprised of Joe Fick on bass, Brad Birkedahl on guitar and Ron Perrone on drums (though by no means limited to those positions) they regularly perform with a busy schedule in Memphis, Nashville and Little Rock, AR among other venues.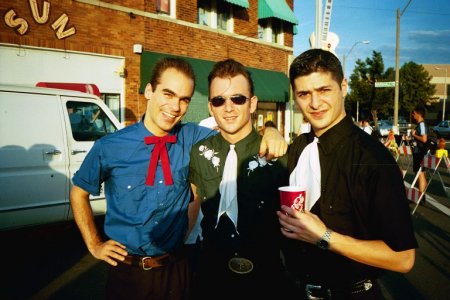 Joe Fick, Brad Birkedahl and Ron Perrone - August 2002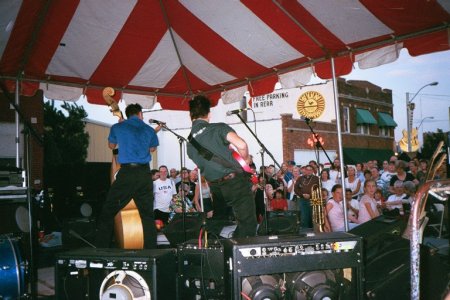 The Dempseys performing at the Sun Block party - August of 2002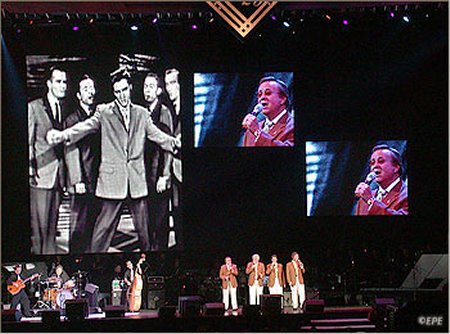 The Dempseys with DJ Fontana and the Jordanaires at the Pyramid - Aug. 16, 2002
Photo © courtesy EPE, Inc.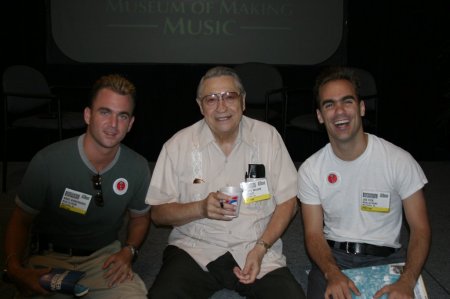 Brad Birkedahl, Scotty and Joe Fick at NAMM in Nashville - July 2003
In August of 2002 they performed at a Block party held downtown at Sun Studios and later that week Brad and Joe performed live along with DJ to prerecorded video and audio of "Elvis the Concert" for the 25th Elvis Anniversary Concert at the Pyramid. They were also the opening band at the Sun 50th Anniversary Commemorative concert on July 5, 2004. Performing in the film they play backup to Tyler Hilton's portrayal of Elvis.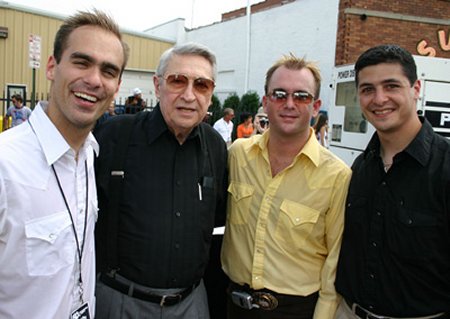 Joe, Scotty, Brad and Ron at Sun - July 5, 2004
Photo © courtesy Rollin Riggs - Resource Entertainment Group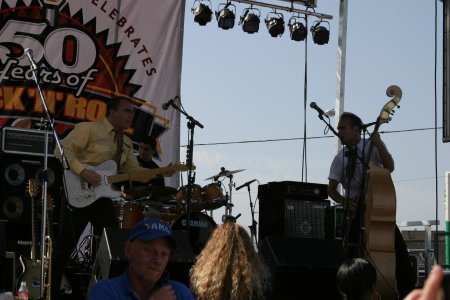 The Dempsey's performing at the Sun 50th Anniversary Concert - July 5, 2004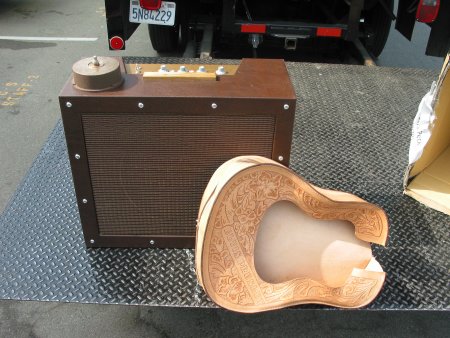 Props of Scotty's Echosonic and Elvis' leather cover
Photo courtesy Mike Eldred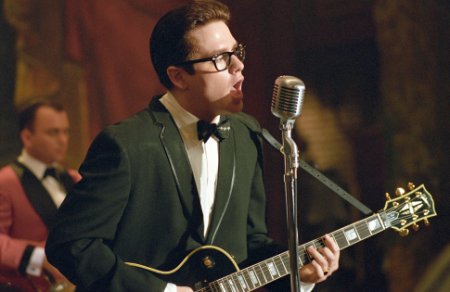 Brad Birkedahl as Scotty backs up Jonathan Rice as Roy Orbison
Photo © courtesy MPTV.net
The Dempseys appear in several parts of the film, not surprisingly since Johnny, his band and many of the other Sun artists toured together at times. Some scenes evidently are not true to life and the writers no doubt exercised some poetic license. For example in one picture at Sun DJ is depicted recording with the band but in actuality never did record at Sun. Also in the picture above Brad as Scotty is seen backing Roy Orbison which was not the case though he played guitar on Roy's "Candy Man", the flip side to "Crying", and it went to #25 on the charts in October of 1961.

Joaquin Phoenix, Dan John Miller and Larry Bagby as JC and the Tennessee Two
Photo © courtesy 20th Century Fox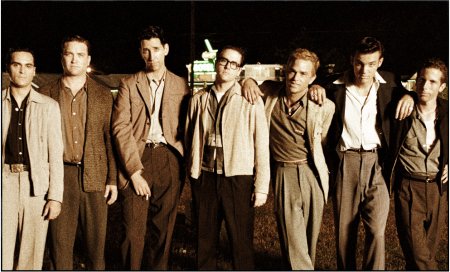 The Sun Alumni
Joaquin Phoenix, Larry Bagby, Dan John Miller, Jonathan Rice, Waylon Payne, Tyler Hilton and Johnny Holiday III as
Johnny Cash, Marshall Grant, Luther Perkins, Roy Orbison, Jerry Lee Lewis, Elvis Presley and Carl Perkins
Photo © courtesy 20th Century Fox
"Walk the Line" tells the Johnny Cash story, at least the first half of his life and especially his rise through the Sun era. Many of the other Sun artists are also depicted: Carl Perkins, Roy Orbison and Jerry Lee Lewis to name a few. Here's a little bit of fun trivia though about the film. Robert Patrick portrays Ray Cash, Johnny's father, who also portrayed Elvis' father Vernon in the CBS mini-series "Elvis" earlier this year. Clay Steakley who portrays W.S. 'Fluke' Holland also portrayed Bill Black in "Elvis" ('Fluke' was Johnny's drummer and originally Carl Perkins'). Waylon Payne who portrays Jerry Lee Lewis was named after his godfather Waylon Jennings. Waylon Jennings is actually portrayed by his son Shooter Jennings. Lastly, the Gibson L5 that Scotty's character uses in the film was the same one loaned by Gibson for use by Scotty's character in "Elvis".
November 15, 2005
---

"Walk the Line" opens in theaters across the U.S. on November 18, 2005.