The Arena (aka Glacier Garden)
San Diego, CA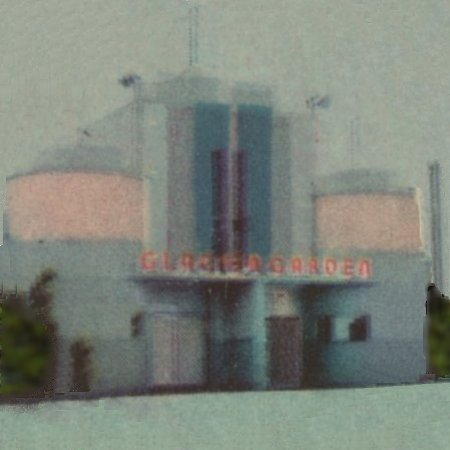 Glacier Garden in San Diego - ca.1940s
(retouched) crop from postcard
Initially billed as an open air ice skating rink, Glacier Garden, on Harbor Drive at the foot of Eighth Avenue in what was San Diego's Industrial section opened on June 16, 1939. Described as a modernistic structure with a regulation size, 91 by 190 foot rink, its opening event was a limited engagement of the Hollywood All-Star Ice Skating Show under the direction of Hugo Quist, the manager of Sonja Henie, and featured a cast of internationally famous skaters.1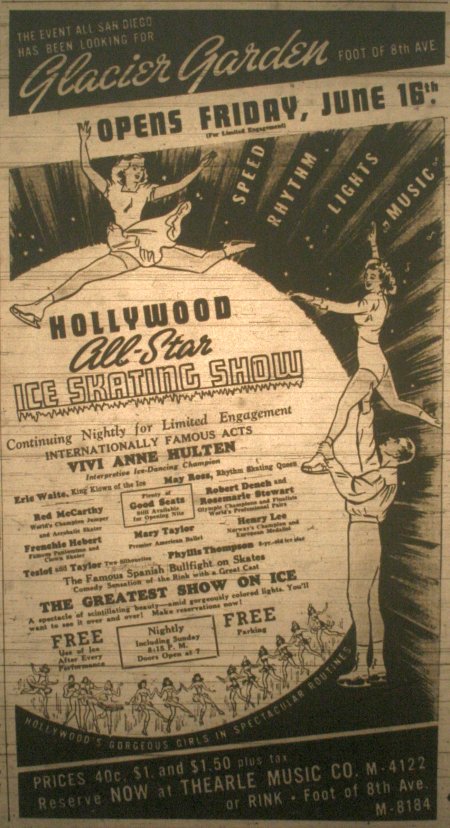 ad for All-Star Ice Skating Show and Glacier Garden opening - June 1939
courtesy San Diego Public Library
The production was staged with lighting effects, illuminated with colored arcs and a background of scenery depicting the Swiss Alps and the ice was free for use after each performance. The seating capacity was around 4,000 and after the run of the show, as planned, the facility was used for public skating, hockey games and other ice sports and spectacles. Unlike anything known before to "the children of the sun in San Diego," the debut drew a capacity crowd of civic, social and professional leaders, turning away many for the opening night.1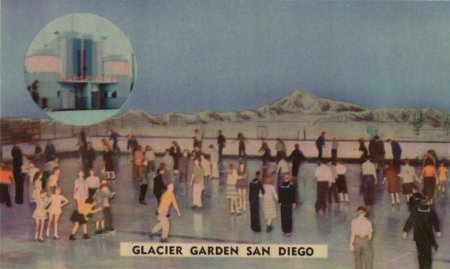 Postcard showing Glacier Garden entrance and skaters - ca.1940s
Through the 40s Ice shows there continued to draw capacity crowds and at that time the San Diego Figure Skating Club was founded. Many of the local skaters would feature in the shows sponsored by the club.1 Then came professional Hockey. California had led the country in building artificial ice arenas during the 1930s and 1940s, however, most of the arenas were not specifically built for hockey. Glacier Garden's visiting team's dressing room was an add-on reached only by going outside first. The ice for the rink, infamous for water and fog, was pumped underground from San Diego Ice and Cold Storage across the street.2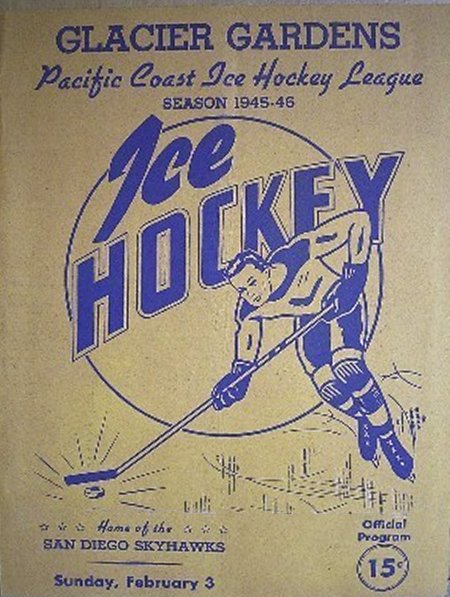 San Diego Skyhawks program - Feb. 3, 1946
Photo courtesy San Diego Skyhawks Wiki
Albert 'Bert' Forsyth played hockey for Seattle and opened two nightclub bars there with his brother Jim and wife Mary Ann in the 1940s. In 1946 he and his brother bought Glacier Garden where he owned and coached the San Diego Skyhawks of the Pacific Coast Hockey League. The team was called the Skyhawks because the players were employed making aircraft in San Diego during WWII. The Forsyths sold their interest in the rink and the team after two seasons in 1948.3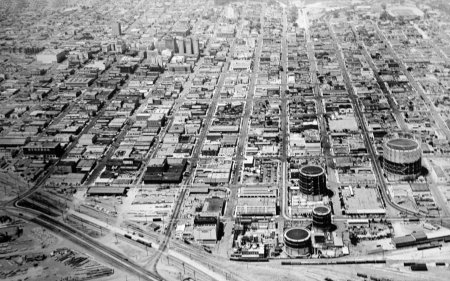 View North of Industrial area across Harbor Drive and bottom of 8th Ave. - ca.1945
Photo courtesy San Diego: Views of Past and Present
The Skyhawks were in the PCHL from 1945 to 1950. As teams in the PCHL dwindled it merged with the Western Canada Senior Hockey League and became the Western Hockey League (WHL) in 1952, however, (semi) pro hockey did not return to San Diego until 1966 with the Gulls when the new Sports Arena was built.

View East of city from the Harbor, El Cortez and Balboa Park in distance - ca.1950
Photo courtesy eBay
By 1956 Glacier Garden(s) was simply called the Arena. On April 3, 1956 Elvis, Scotty, Bill and DJ made the first of two appearances on the Milton Berle Show with this one broadcast from the deck of the USS Hancock Aircraft Carrier while docked in San Diego. The following two nights they performed nearby at the Arena, their first public appearances in the State of California. By this time Elvis' fame was starting to sky rocket, he was weeks away from receiving his first gold record and a movie deal was imminent.

Ads for the shows started running in the morning and evening editions of San Deigo's Union-Tribune on April 2, 1956 with minor blurbs on the 3rd and 4th: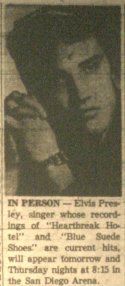 The San Diego Union-Tribune April 3 & 4, 1956
courtesy San Diego Public Library
IN PERSON - Elvis Presley, singer whose recordings of "Heartbreak Hotel" and "Blue Suede Shoes" are current hits, will appear tomorrow and Thursday nights at 8:15 in the San Diego Arena.
and:
ELVIS PRESLEY The frantic young singer who is said to be pressing Frank Sinatra and Johnnie Ray for honors with the bobby sox trade, headlines the big musical show which comes tonight and tomorrow night to the San Diego Arena, 8th and Harbor Drive.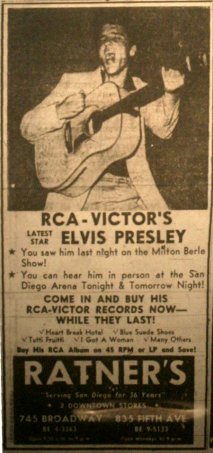 Union-Tribune record and show ads April 4, 1956
courtesy San Diego Public Library
Tickets for the 8:15 p.m. shows were $1.25 in advance and $1.50 at the door. In addition to the Arena box office, tickets were available at either of the two Ratner's Electric Company retail outlets in downtown San Diego where his records were also on sale. Peter Guralnick in Last Train To Memphis wrote that Elvis made an appearance the day of the first show at a local record shop (Ratner's?).
Elvis was also said to have been introduced at the shows by local DJ "Happy Hare" Harry Martin of radio KCBQ. By some accounts a floating blockade behind the venue was set up by the Shore Patrol and police presence was said to be heavy.4 Apparently though, not heavy enough. Peter also wrote that "at one point Elvis had to admonish the crowd mildly to "sit down or the show ends" and the girls went back to their seats, and that the first show concluded with a riot.

Fans chase Elvis backstage at the San Diego Arena after the show - Apr. 4, 1956
courtesy Keith Flynn
Raquel Welch, though not born in San Diego, had attended Bay Park Elementary School and graduated high school in La Jolla in 1957. At age 14 she got tickets to the first show and sat eagerly waiting among thousands of screaming teenage girls when Elvis hit that stage. He was like a sexual hurricane, a force of nature, she recalled.5
While Scotty was in San Diego he looked up John Bankson, a former shipmate of his from the USS Kent County (LST-855) and who he had played with in one of his first bands, the Happy Valley Boys, later in Bremington, Washington. John attended the first show at the Arena and visited backstage.6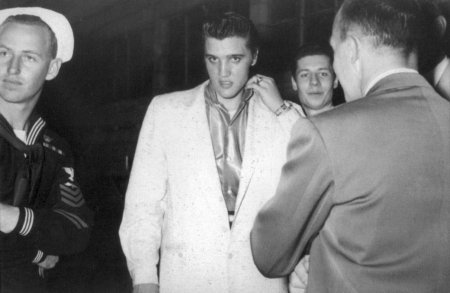 John Bankson, Elvis, Glen Glenn and ? backstage at the San Diego Arena - Apr. 4, 1956
Photo courtesy Glen Glenn and ETMM/TrevorCajiao
Glen Troutman first heard about Elvis from Fred Maddox, the bass player for the The Maddox Brothers & Rose country band who had played with Elvis at the Louisiana Hayride. Glen, also trying to be a country singer, and his guitarist, Gary Lambert, made the drive from San Dimas to San Diego to see Elvis at the Arena on April 4th. I knew he was popular in the South but I had no idea he'd be so popular on the West Coast, said Glen. There was about five thousand girls at the show and he drove them crazy! 7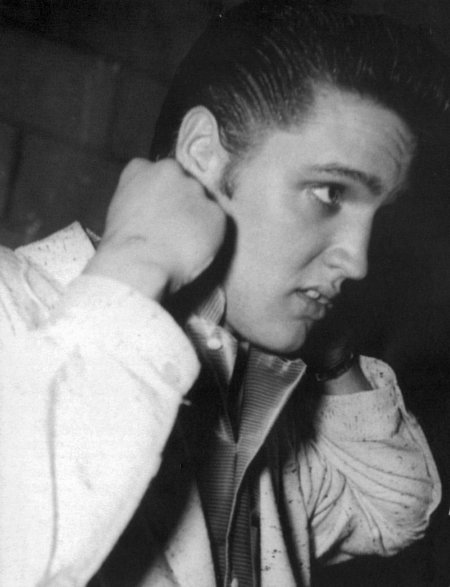 Elvis backstage at the San Diego Arena - Apr. 4, 1956
Photo courtesy Glen Glenn and ETMM/TrevorCajiao
They were accustomed to country singers who stood stock-still onstage, Glen recalled of the San Diego show, but "he came out and shook for about five minutes like his body was crawling with spiders while D.J. (Fontana) played the drums behind him. People went crazy when he walked out there." Then Elvis launched into his songs - although "you could barely hear him, the girls were screaming so loud," Glen notes.8

Elvis and Glen Glenn backstage at the San Diego Arena - Apr. 4, 1956
Photo courtesy Glen Glenn and ETMM/TrevorCajiao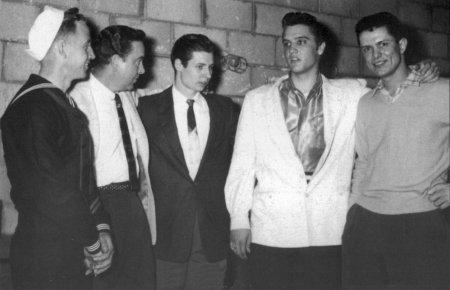 John Bankson, Fred Maddox, Glen Glenn, Elvis and Gary Lambert - Apr. 4, 1956
Photo courtesy Glen Glenn and ETMM/TrevorCajiao
Fred Maddox was there and took us backstage to meet Elvis after the show. He was very nice to talk to but he was very nervous; I don't think he'd played to such a big crowd before. I remember him biting his bottom lip a lot, drinking Coke and just buzzing with nervous energy.7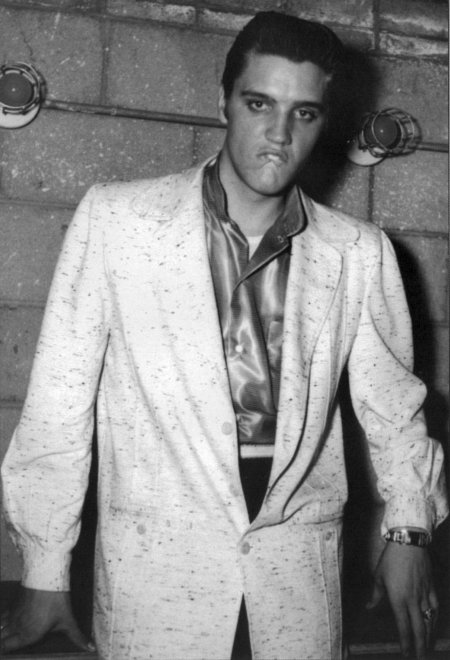 Elvis backstage at the San Diego Arena - Apr. 4, 1956
Photo courtesy Glen Glenn and ETMM/TrevorCajiao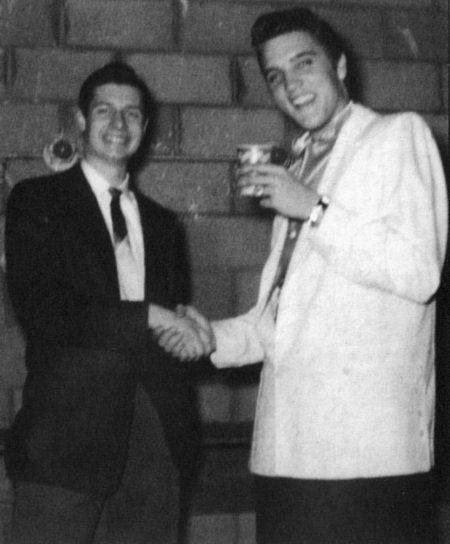 Glen Glenn and Elvis backstage at the San Diego Arena - Apr. 4, 1956
Photo courtesy Glen Glenn and ETMM/TrevorCajiao
The jacket he was wearing was drenched in sweat because he'd worked so hard on stage. We spent a fair while talking to him because they couldn't get him out of the building due to all the screaming fans outside. In the end they had to get the San Diego Shore Patrol to escort him back to his hotel room.7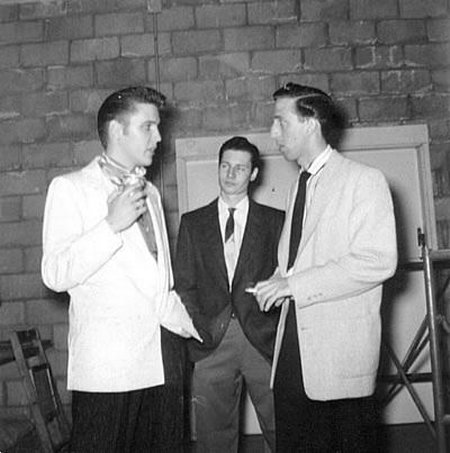 Elvis, Glen Glenn and DJ backstage at the San Diego Arena - Apr. 4, 1956
Photo courtesy Glen Glenn and ETMM/TrevorCajiao
After Elvis, Glen forgot about being a country singer and went rock. His record company changed his name to Glen Glenn. Recorded in the rockabilly style of early Elvis, his songs were "Laurie Ann," "Everybody's Movin"' and "One Cup of Coffee and a Cigarette."8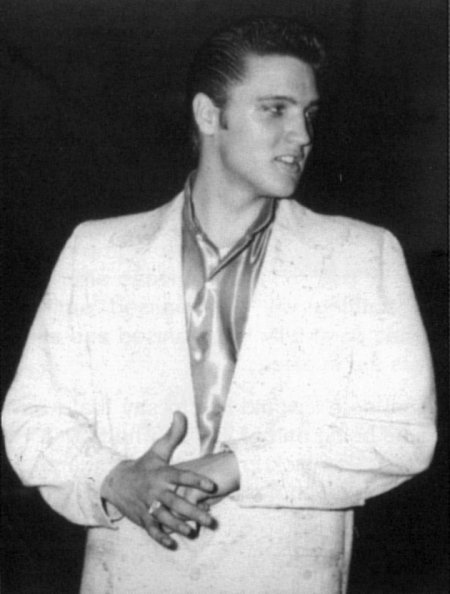 Elvis backstage at the San Diego Arena - Apr. 4, 1956
Photo courtesy Glen Glenn and ETMM/TrevorCajiao
Bankson's wife Analee, recalled that "when he got home, he told me he had helped Elvis tune his guitar. I said, 'Oh, you did.' Of course, we didn't know who Elvis was at that time."6
Aside from a short announcement and an advertisement in the Union-Tribune about the second night's show on the following day, there was no other mention of the first show or any incidents surrounding it.
Presley To Sing At Arena Tonight

Elvis Presley, the new singing star, will appear again tonight, headlining the music show at the San Diego Arena.
Just as Frank Sinatra captured the bobby soxers some years ago, Presley has become one of the favorites of teen-agers today.
Television and radio offers from all over the country and personal appearances, have now lead to Hollywood film offers. Following his San Diego appearances Presley will make a screen test in the film capital.
Music stores here report heavy sales of his latest records, "Heartbreak Hotel" and "Blue Suede Shoes". He concludes his two-night engagement tonight at the San Diego Arena.

San Diego Union-Tribune April 5, 1956 courtesy San Diego Public Library


Elvis onstage at the San Diego Arena - Apr. 5, 1956
courtesy Keith Flynn
The review in the paper on the 6th, following the second night's appearance read:
SCREAMS, CHEERS
Teens Yell For Songs By Elvis


WEAR IT ALWAYS - Elvis Presley autographs the arm of Barbara Shepherd, 12, 2335 Seabreeze Dr. last night at the Arena as another admirer, Kathy Rawlings, 13, 5530 Bolivar St., watches.

(cropped) Evening Tribune Staff Photo courtesy Cristi Dragomir

Elvis Presley, a 21-year-old singer from Tennessee, rocked and rolled for 5,000 teen-agers last night as he ended his two-night stand in the Arena on Harbor Drive.
Both nights were sellouts.
Presley pumped his guitar, slapped it, and made it play accompaniment to his octave sliding voice.
The Presley part of the show was brief. He followed a woman vocalist, an acrobatic dance team, a comedian, and a xylophone player.
The audience stomped their feet. "We want Elvis."
And then he appeared. The boys cheered and whistled. The girls screamed, jumped, and clapped.
Presley played and sang six tunes. The crowd was too noisy for most of the numbers to be heard.
But it made no difference. The teenagers knew them by heart.
Who is Elvis Presley?
Eighteen months ago he was driving a truck in Memphis, Tenn., for $35 a week.
So far this year as a singer he has earned more than $50,000.
He's a handsome youngster, about 6 feet, with blue eyes and light-brown hair - which, following the current vogue, he wears long, wavy and with sideburns to his jaw line.
Elvis' start in show business has a legendary twist to it.
Just after he graduated from high school, his dad bought him a guitar, and after mastering the manipulation of it, he says that he went into a record store to make a disk of "My Happiness" to give to his mother.
"A man in the store heard me, and he said he liked the way I played and sang, and he'd get in touch with me.
"He did, a year and a half later," Elvis said. "I didn't know it, but he was Sam Phillips, head of a record company.
"I'd forgotten all about it," Presley added. "The guitar was in a closet, gathering dust, and I was out working, driving the truck."
Well, from then on it was one grand whirl, which Presley confesses still has him agog. He made five records for Phillips on the little known Sun label. Then RCA Victor bought his contract for $40,000, and Presley was on his way to national fame.
He has been barnstorming the country since, appearing on national TV shows, cutting more records, and earning more money than he dreamed existed.

San Diego Union-Tribune April 6, 1956 courtesy San Diego Public Library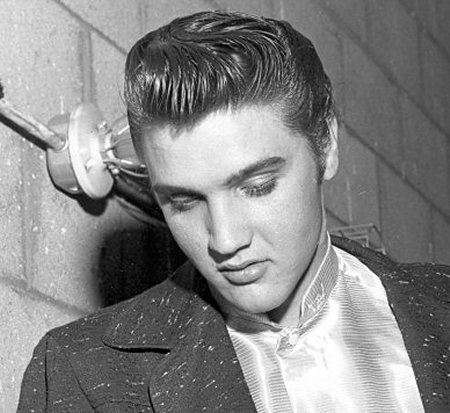 Elvis backstage at the San Diego Arena - Apr. 5, 1956
Photo courtesy unknown
According to Peter Guralnick in Elvis Day by Day, Elvis received $15,000 for the two-night appearance at the Arena and the following night flew to Las Vegas for a one-night stay at the New Frontier, where the Colonel had begun discussions about a booking. Scotty, Bill and D.J., however, drove to their next gig in Denver, Colorado.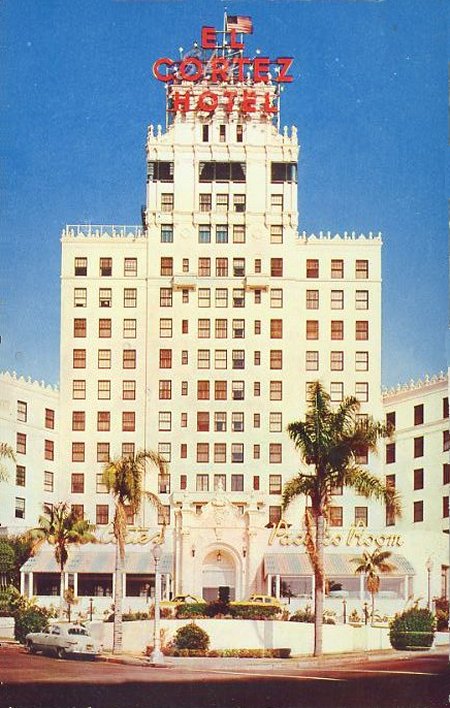 El Cortez Hotel - ca.1955
Photo courtesy eBay
For his appearances in San Diego, at least the ones in April, Elvis was said to have stayed at the El Cortez Hotel. The El Cortez Hotel opened in 1927 and became San Diego's top place to stay with its sweeping views of the bay. In the 1950s, its new owner, Harry Handlery, added a glass elevator and rooftop restaurant and bar, giving the hotel even more status as the place to be.9 At the time it was also a popular location for proms and wedding receptions. The outside glass elevator is said to be the world's first.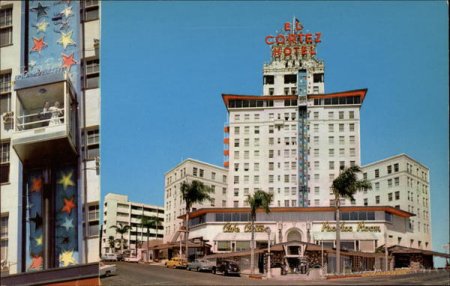 El Cortez Hotel - ca.1956
Photo courtesy Cardcow
Reputed turmoil surrounding the concerts, over time, have been greatly exaggerated. While the enthusiasm of the crowd, young females in particular, was no doubt as frantic as many of his other appearances of the time, and deemed vulgar by several of a more reserved generation, there were no reports found in the press that substantiate recollections by local deejays, Hare Martin and Don Howard, of sordid behavior that would be quoted in interviews years later.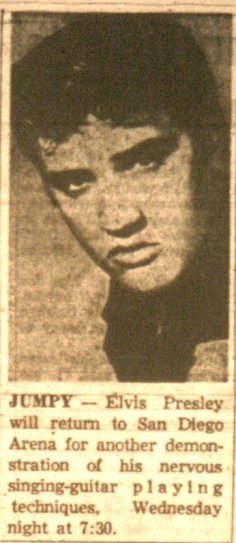 Ads in San Diego Union-Tribune for June 4 and 5, 1956
courtesy San Diego Public Library
There would be stories of enhanced police details, young girls arrested for running naked through the El Cortez and sailors arrested for lewd behavior. Martin would go so far as to say he protected Elvis' hair color secret after seeing him naked backstage before covering himself with his "gold lame' suit" and a story would reference a quote in an article from the Chief of Police Adam Elmer Jansen threatening arrest if Elvis' next show was anything like the April shows.4 & 10


Ads in San Diego Union-Tribune for June 5 (eve) and 6, 1956
courtesy San Diego Public Library

Their next, and final appearance, in San Diego came on June 6th, and this time there was a slight price increase. They advertised 2500 advance tickets available for $1.50, again at Ratner's, while tickets at the door went for $2.00.


June 6, 1956 video Courtesy CBS 8 San Diego
note there are several innacurracies in the CBS report

This show again immediately followed an appearance on Milton Berle's show the night before, also their second and final. It was one that was condemned and criticized heavily in the press across the country. This in all likelihood facilitated the ease of propagation of exaggerations and fabrications and at the very least may have fueled parent's concern. The subsequent review of the Arena show though revealed the minimal interest of the police, the minimal "outrage" and the full extent of arrests in San Diego.
Presley Sings; Parents Irked

Kids rocked and rolled as parents complained last night when Elvis Presley, singer, brought his show to the San Diego Arena.
Police said more than 4000 persons, many of them squealing juvenile girls, attended the performance.
There were reports some "exhibitionist" girls feigned swoons but nobody was carried away unconscious, police said. One sailor, 21, was arrested on suspicion of being drunk.
Lt. Pershing W. Devereux said no parent filed a formal complaint with police. But he said some made remarks to officers they saw when leaving the arena.
The remarks ranged from "not the type of show for juveniles to see" to "why do police allow this to go on?"
No special details were assigned to the show but patrol officers working the area were told to keep a close eye on the arena during the performance.

San Diego Union-Tribune June 7, 1956 courtesy San Diego Public Library
The next day the boys played in Long Beach at the Municipal Auditorium followed by a show in LA at the Shrine. They would not perform in concert in California again until their last tour the following year, finishing at the Pan Pacific Auditorium. That show too would eventually spawn stories far more ridiculous than the shows in San Diego.
The article quoting Chief Jansen was from Sept. 12, 1956, three months after Elvis' last appearance in San Diego. It had less to do with issues pertaining to earlier appearances there than it did to notoriety from reviews of their first appearance on the Ed Sullivan show days earlier on September 9th, which was viewed by 80% of the national audience. Jansen's statement was in context to an attempt by the city's Social Services Department to ban Elvis, or at least censor his performances, though none had witnessed any of the live performances. By then though the days of steady touring were over and subsequent shows would require larger venues. There were likely no plans at that time to return to San Diego.10
Further, Elvis didn't die his hair black until that September, after the filming of Love Me Tender, and the gold lame' suit didn't debut until March of 1957, which indicates Hare Martin's statements to be fictitious.
On January 20, 1960, the Harbor Commission revoked the lease of the California Sport Service on the San Diego Arena, owned by the Harbor Dept., claiming a lease violation. The lease had specifically provided for its use as ice skating, hockey, and other recreational sports purposes and cited that the lessee had sub-rented it for retail sales and auctions.11
In April of 1960 William P. Crofton, owner of the Crofton Marine Engine Co., entered into negotiations to buy the Arena and willing to pay $55,000 rent on the two acre property during remaining 4 years of lease held by California Sports Service, Inc. By 1961 the Crofton Company was making their Crofton Bug, Brawny Bug and Crofton Tug there.11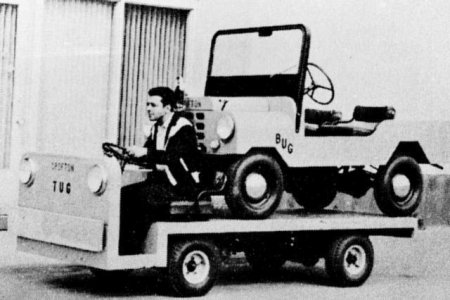 A Crofton Bug on a Crofton Tug - ca.1960s
Photo courtesy Crosley Automobile Club
The Crofton Bug was essentially a slightly modified version of the Crosley Farm-O-Road built in 1950, a miniature jeep essentially. The Brawny Bug was an upgrade with a 6 speed transmission and the Tug was essentially a much more industrial type unit based on Bug components. Crofton, a successful GMC and Detroit Diesel products dealer saw a potential market for a small utility vehicle and produced them there in San Diego, California until around 1962.12
In 1965, the lease on the property was up and the Arena became an item of conflict between commissioners and Crofton, who had invested over $100,000 into it. Essentially, the lease was not subject to renewal and the commissioners wanted ownership of the 45,000 foot square foot building so they agreed to extend for three years the two-acre lease, but insisted that they should gain title to the Arena at the end of the new lease. By now it was only used to house an engine sales, repair and boat building facility . Crofton sought a seven year lease extension with option to remove the former sports arena though present terms of the expiring contract allow to remove the facility or to abandon it to the port, which could then demolish it at Crofton's expense or keep it. The land though was worth more than what Crofton was paying and recommendations were that the commissioners renew the lease on a year to year basis with the port to have the option of keeping the building on lease termination.13

The El Cortez luxury condos - Jan 12, 2011
Photo © James V. Roy
Eventually the old arena came down and the whole area that was the industrial section of San Deigo was redeveloped. Elvis returned to San Diego with the TCB band for three more sold-out performances; November 15, 1970, April 26, 1973 and April 24, 1976, in the new Sports Arena built north of downtown near Mission bay in 1966. The El Cortez ended its hotel days in 1978 and was closed for several years and almost demolished. In 2000 it was renovated and today contains luxury condos.9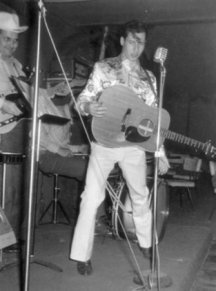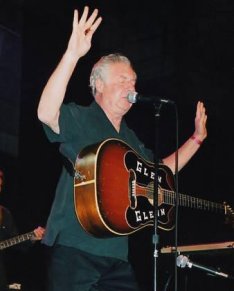 Glen Glenn onstage - ca.1950s and 2007
Photos courtesy Glen Glenn
Days after recording his first single, Glen Glenn was drafted. Unlike Elvis, two years of military service ended his career. Stuck on an Army base in Hawaii, he watched helplessly as his records stiffed. By the time he got out in 1960, music had passed him by so he hung up his guitar, got married, bought a home in Ontario and spent the next three decades working for General Dynamics. Glen was rediscovered in the 1980s with the Rockabilly revival and has since opened a show for Bob Dylan, performed concerts in Europe, and his records have been re-released on CD anthologies.8
Raquel Welch began acting in 1964 and coincidentally would later play a small role in Roustabout.
After selling their interests in the Garden, the Forsyths later bought a tiny bar and taco stand in Coronado called the Mexican Village that would grow to became a popular attraction for Navy officers. Celebrities, including Dan Blocker, Walt Disney and Liberace, also were customers over the years.3 Less than 25 years after the shows, John Bankson succumbed to Cancer, believed to have been the result of service aboard a ship used in Hydrogen bomb tests in the Pacific in the '50s.6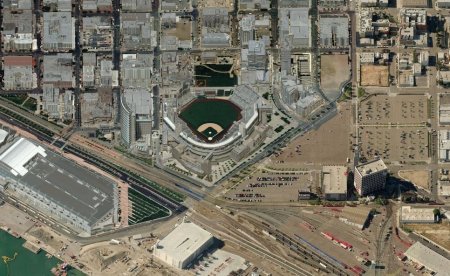 Convention Center, Petco Park and parking garage on Harbor Dr. - ca.2007
Photo courtesy Microsoft EarthData
Today, Petco Park, home of the San Deigo Padres, which opened in 2004, occupies the area at the bottom of Eight and Ninth Avenues.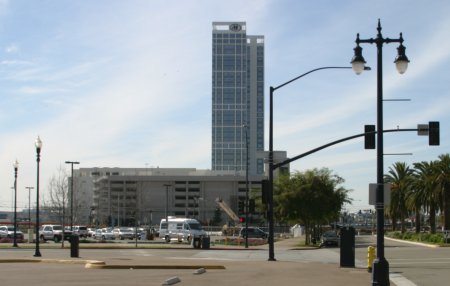 Harbor Drive, parking garage and Hilton San Diego Bayfront Hotel - Jan. 18, 2009
Photo © James V. Roy
There is a now a parking structure and the new Hilton San Diego Bayfront Hotel across Harbor Drive near the Convention Center about where the old Arena/Glacier Garden was located.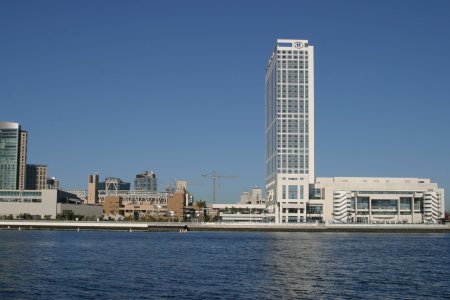 Convention Ctr., Petco Park and Hilton Bayfront Hotel from the Harbor - Jan. 17, 2011
Photo © James V. Roy
Page added February 18, 2011
All period ads and articles from the San Diego Union Tribune are courtesy the San Diego Public Library. Please note that though the same paper, at the time the Union was the morning edition and the Tribune was the evening edition.
1 excerpt from or according to articles in San Diego Union-Tribune June 7-17, 1939 and varied 1944 -1948
2 excerpt from or according to Ice warriors: the Pacific Coast/Western Hockey League, 1948-1974 By Jon C. Stott
3 according to Obituary: Albert 'Bert' Forsyth By Blanca Gonzalez, San Diego Union-Tribune, December 30, 2008
4 see Trouble In Paradise - Sordid Celeb Stories - February 1, 2007 and 50 Greatest Concerts in San Diego History 1917 - 2005 - October 9, 2008 by Jay Allen Sanford
5 according to Raquel: Beyond the Cleavage by Raquel Welch
6 excerpt from or according to "That's Alright Elvis" by Scotty Moore and James Dickinson
7 excerpt from Hanging Out With the King courtesy Elvis The Man and the Music, Issue No.54 - December 2001
8 excerpt from Elvis Left Glen Glenn All Shook Up By David Allen Columnist - Jan. 6, 2005 courtesy RHOF Glen Glenn
9 according to San Diego: Views of Past and Present by George R. Jezek
10 see They fought the law: Rock star run-ins with San Diego police by Scoop Stevens - July 30, 2003
11 excerpt from and according to San Diego Union-Tribune, January 20 and April 6, 1960 and August 1, 1961
12 according to The Crofton Story
13 excerpt from and according to "Old Sports Arena Lease Stirs Row" San Diego Union-Tribune January 27, 1965