Hank Garland's 1955 Gibson #3 Byrdland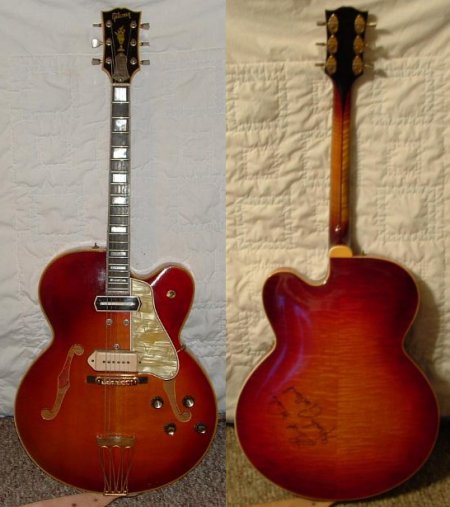 1955 #3 Gibson Byrdland
Photo courtesy Allen Arnold
In 1955 in collaboration with Nashville guitarists Billy Byrd and Hank Garland, Gibson developed the Byrdland guitar, the name of which is derived from their last names. Only three were produced in 1955. Billy is assumed to have got #1, Hank #2 and then a third with a Cherry sunburst finish was ordered by Hank.

1956 Gibson Byrdland N with Alnico V pickups
Photo courtesy Vintage & Rare Guitars
Designed with jazz players in mind, the Byrdland featured the same 17" wide, 21" long spruce top body of the single cutaway L-5 CES, but with a shallower body, 2 1/4" deep as opposed to the full 3 3/8 " of the L5. The headstock has the flower pot emblem like the L-5 but has a narrower, 22 fret neck with a 23 1/2" scale length, 2" shorter than the L-5. Initially, production models were released equipped with the Alnico V pickups introduced on most high end Gibson models in 1954 but spaced closer together because of the shorter scale length, giving the Byrdland its distinctive sound. Humbuckers replaced the Alnico V pickups in 1957, along with the rest of Gibson's line.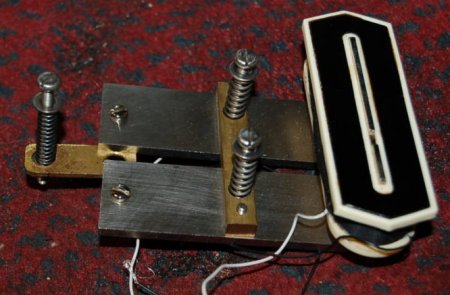 Gibson Charlie Christian (reissue) Pickup
Photo courtesy eBay
Hank's, and possibly Billy's guitars were custom ordered with a single coil P90 pickup in the bridge position and like several of his other guitars, a Charlie Christian in the neck. Their guitars because of the pickup had only 20 fret necks.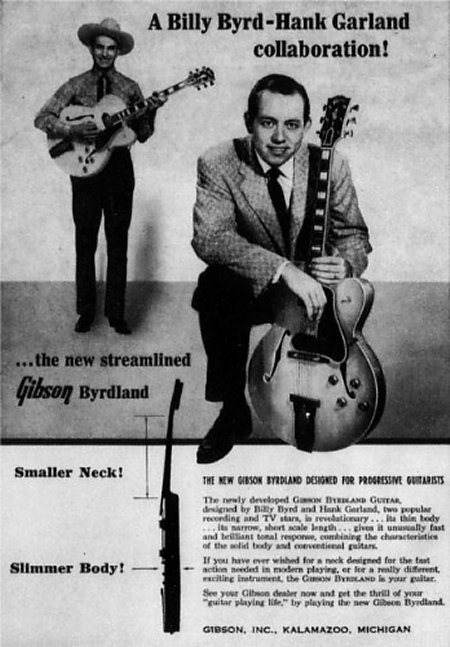 Gibson Byrdland advertisement
Photo courtesy web
Though Hank is pictured in early advertisements with what appears to be his #2 Byrdland N (natural finish), it features an L-5 tailpiece and a tortoise pickguard. His guitars when delivered would have the standard special designed three loop, gold-plated tailpiece engraved with BYRDLAND and a white perloid pickguard.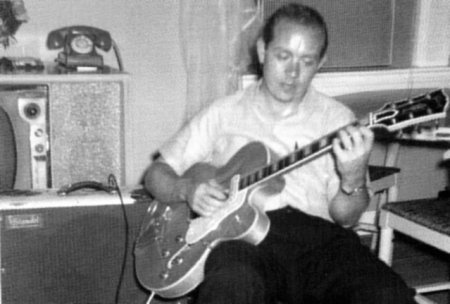 Hank with his 1955 Gibson #2 Byrdland-N
Photo courtesy tdpri

Hank's 1955 Gibson #2 Byrdland N
Photo © Favored Nations
In 1956, the following year, 60 units were sold, compared to 41 electric Super 400s and 55 L-5CES models. Comparing prices, the Super 400CES listed in 1957 for $675.00 in sunburst, $700.00 in natural (blonde); the L-5CES was $600.00 in sunburst, $615.00 in natural. By 1957 the number of Byrdlands sold was nearly double the combined number of Super 400 and L-5 electrics sold.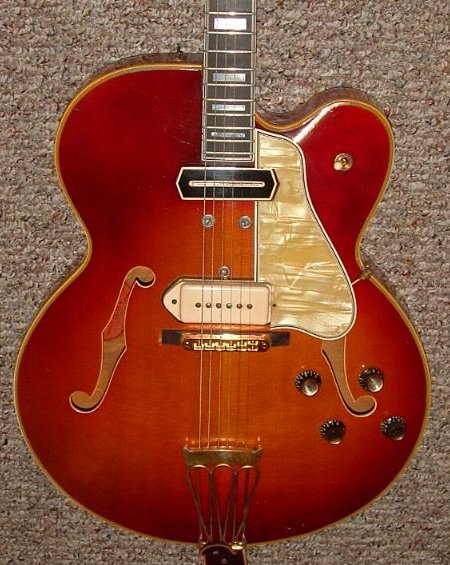 1955 #3 Gibson Byrdland
Photo courtesy Allen Arnold
Allen Arnold, who is brokering this guitar said to be Hank's #3 Byrdland, contacted Gibson about the serial number (A217XX) and was told that they don't have records of ownership only manufacture, but it was order number "3" in 1955. He said that when Hank custom ordered the #3, Gibson was reluctant to build it thinking no one would buy a cherry sunburst Byrdland.

Elvis and Hank with Byrdland on stage in Tupelo, MS - Sep. 27, 1957
Photo courtesy Michael Ochs Archives/Stringer
This is quite likely the guitar played by Hank with Elvis when they performed in Tupelo, MS on September 27, 1957 during the period when Scotty and Bill had left the band, though at the time the guitar had a black P90 in the bridge position, not the current cream colored one.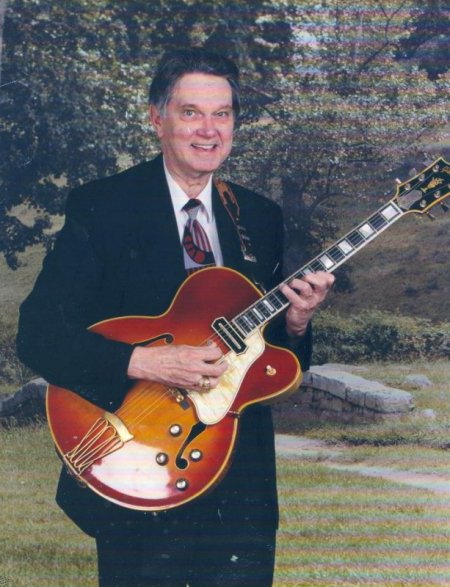 Charlie Chambers with 1955 #3 Gibson Byrdland
Photo courtesy Allen Arnold
According to Allen, Hank owned it until 1957 when Gibson took it back to put it in their archives but accidentally delivered it to Allen Music in Chattanooga for store stock. Charlie Chambers, a former Nashville sessions player in the 1950's and 60's and a teacher at Allen Music bought the guitar.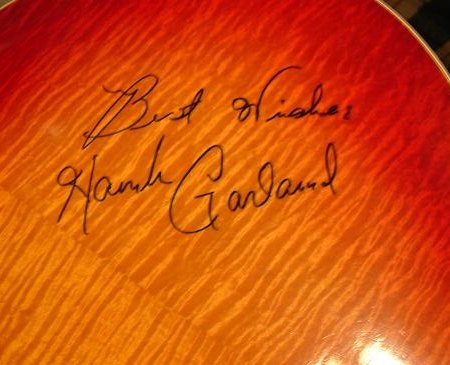 rear of 1955 #3 Gibson Byrdland signed by Hank Garland
Photo courtesy Allen Arnold
When Gibson realized the mistake they were unsuccessful at getting it back from Charlie, who went straight to the sessions with the guitar. Hank saw the case, asked him how he got that guitar and Charlie told him. Hank said, "Well you bought it, so it's yours," signed the back of it and told him the history of the guitar.*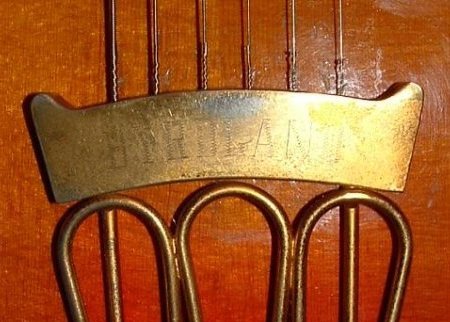 tailpiece on 1955 #3 Gibson Byrdland believed to have been Hank Garland's
Photo courtesy Allen Arnold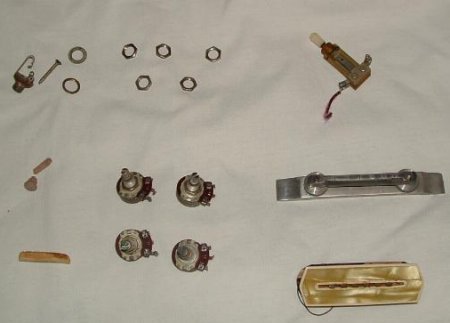 original parts from 1955 #3 Gibson Byrdland
Photo courtesy Allen Arnold
The guitar has been in Charlie's family since. Charlie changed several parts on the guitar but kept most of the original parts except the truss rod cover. Charlie lost the guitar to his ex-wife 30 years ago. It has stayed untouched except for times his ex-wife let him record with it though now they have plans to put it up for auction.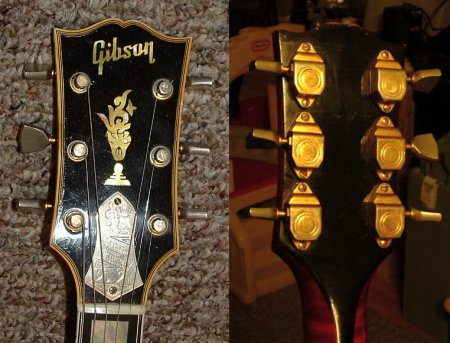 headstock of 1955 #3 Gibson Byrdland believed to have been Hank Garland's
Photo courtesy Allen Arnold
Oddly enough, the guitar has a unique personalized metal truss cover almost identical to one on the Gibson SG used by Elvis in Easy Come, Easy Go except Charlie had his name on his.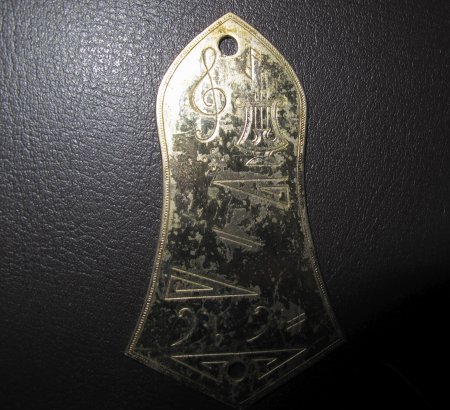 custom truss cover like Charlie's, and the movie SG from the Gibson banjo - Feb 5, 2011
Photo courtesy Trevor Rice
The truss cover appears to have been an aftermarket accessory and has since showed up on three guitars, one, though not stock, on a '50s Gibson banjo.
page added August 30, 2010
Please note that neither I nor Scotty Moore have anything to do with the sale of this guitar and though we've no reason to suspect its authenticity we can in no way attest to it. If and when we have further information or particulars about its sale we will post it. All info on the specific history of this #3 Byrdland is courtesy of and according to Allen Arnold. The history and specifications of the Gibson Byrdland guitar in general is courtesy Gibson and George Gruhn.
---
* Hank Garland was Charlie's idol since he was nine years old. At eighteen Charlie was a B sessions player in Nashville when he bought the guitar. In 1997 he attended a big party for Hank and brought the guitar. Hank smiled, said he remembered the guitar and signed it then.
Allen Arnold
September 1, 2010
---
Hank Garland was Charlie Chambers idol. When Charlie was nine years old (1945) he went to the Ritz Theater to hear Hank Garland play (Hank was 15). Once he heard Hank play he decided "I'm gonna play like Hank", from that point on Charlie did everything he could to "play like Hank".

At 18 years old Charlie was a "B" sessions player in Nashville, Hank was on the "A" list sessions player. Every chance Charlie got he would try to watch and hear Hank play. Charlie was also a guitar teacher at Allen Music in Chattanooga TN.

In 1955 Billy Byrd and Hank Garland designed the Byrdland for Gibson, Billy Byrd received the first Byrdland Guitar in 1955 (#1), Hank Garland got the (#2) Byrdland in 1955 ( a honey/natural finish). Hank contacted Gibson and put in a order for a completely custom #3 guitar, He wanted the guitar Cherryburst finish, made out of curly maple with a very thin neck (20 frets about as wide as a tenor banjo). Hank said Gibson was reluctant, Gibson said nobody would ever be interested in a cherryburst Byrdland. Hank finally won with Gibson and they made the #3 Byrdland.


courtesy Youtube

Hank played the #3 at the sessions and later used it in a performance with Elvis in Tupelo. In the video of that performance the guitar has either a Charlie Christian or a Oscar Moore in the neck position, with a black cover on the P90. Not long after this Gibson contacted Hank Garland and told him they wanted to put the Cherryburst into the Gibson Archives. To our knowledge, Hank had the original Custom pickup put back on the neck position and put a cream/white cover on the P90. Gibson then sent the Gibson salesman for that area to pick up the guitar.

In the 50's the salesman made all the deliveries, not via a big truck like today. The salesman still had store deliveries to make, before returning to the factory. One of his deliveries was, Allan Music in Chattanooga, TN. When the delivery there was made, somehow the salesman helper grabbed Hank's guitar and brought it in to the store (it was a major mistake because, the case was covered with airline stickers), but because of the mistake, the salesman sold the guitar to Allen Music.

Charlie was at home eating lunch when the delivery was made. One of Charlie's friends was in the store and called Charlie and described the guitar hanging on the peg. Charlie came to the store and bought it immediately.

Charlie bought the guitar in October of 1957. In November of 1957 Charlie went with the guitar to The Maxwell House in Nashville, Hank saw him with the Guitar (knowing his case), he asked Charlie how did you get my guitar, Charlie said, a salesman delivered to the store I work at and I bought it, Charlie said Hank acted as if he was glad it didn't go back to Gibson, he told Charlie "I'm glad you got it, have a seat and I'll explain you the history about it", that's when Charlie learned everything described above about the guitar. Charlie and Hank got to know each other that day. In 1997 there was a big party for Hank, Charlie came with the Byrdland, Hank smiled and said "I remember my guitar". He then signed the guitar for Charlie.

In 1977 Charlie and his wife divorced, she got the guitar in the divorce, so for the last 36 years the guitar has literally lived in the case (climate controlled environment). Over the years his ex-wife let him borrow the guitar for cutting cd's or special occasions (Hank Garland's Party). So the guitar has lived 95% of it's life in the case, the guitar does have finish checkering (expected for a 58 year old guitar), a few dings, a few scratches, the finish is 100% original, machine head keys are original. Charlie said Hank told him when got the guitar he didn't like the sound of the custom pick-up in the neck position (had a bass sound), Hank replaced it with a Charlie Christian (back then they called them Oscar Moores?). When the guitar was put back to original condition and Charlie bought it, he felt the same, then replaced the custom pick-up with a Charlie Christian, but the white/cream cover on the bridge pickup is original from 1957, when Charlie bought it. Anything that is not original on the guitar is included with the guitar (minus original truss cover and case). Charlie put his own custom truss cover on the guitar.

The original case was in rough shape because of all the travel it had been through. Charlie replaced it with a new Byrdland case in 1957, later the original case along with the nut cover were stolen. Charlies wife is interested in selling the Guitar, once again it is a 1955 #3 of 3 made in 1955, (actual production started in 1956). Custom made for and designed by Hank Garland, played on stage by Hank Garland for Elvis, owned by Hank until 1957. Since 1957 it has been in the same family. I can be contacted at guitaral63@yahoo.com
section added May 3, 2013

Please note that neither Scotty Moore or anyone affiliated with his website have anything to do with the sale of this guitar or the authenticity of its history presented. We are glad though to present it here for any and all interested parties.