Hotel Chisca
(and Chickasaw Ballroom) Memphis, TN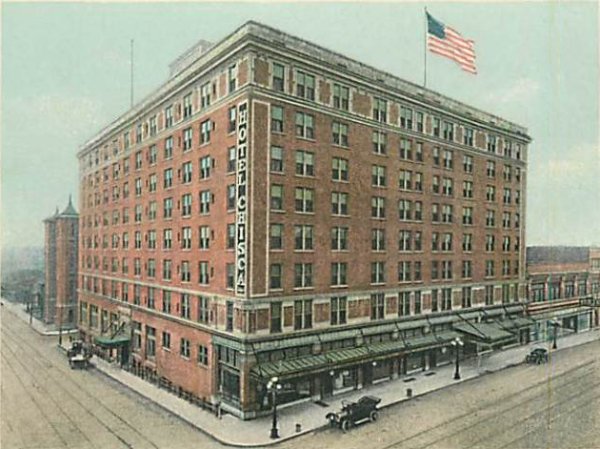 postcard of the Hotel Chisca, southeast corner of Main and Linden - ca. 1913
courtesy Historic Memphis
The Hotel Chisca on S. Main Street opened on Christmas day in 1913. Constructed of concrete with a red brick facade, the nine story hotel sits at the Southeast corner of South Main Street and Linden (Dr. Martin Luther King Jr.) Avenue.1 It was named for Chisca, chief of the Chickasaw Indians who had lived in that area since before Hernando De Soto discovered the Mississippi river.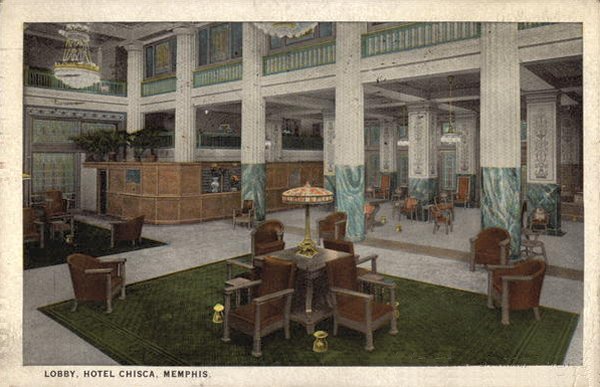 early postcard of the Hotel Chisca Lobby, note the spittoons
courtesy Mike Freeman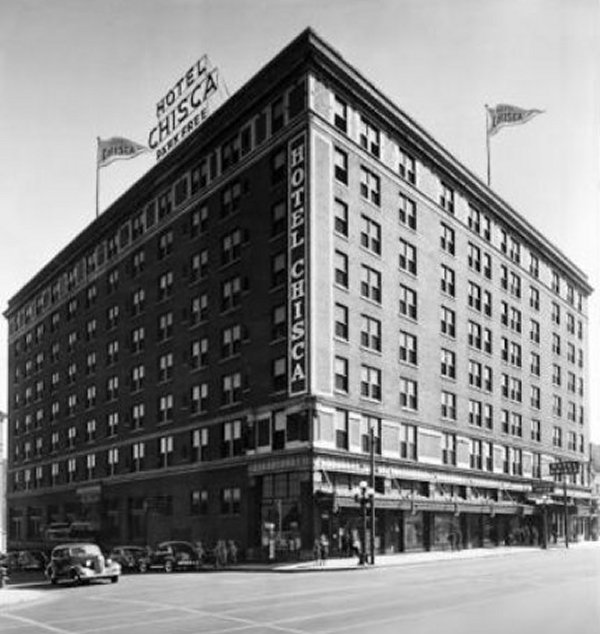 Hotel Chisca, southeast corner of Main and Linden - 1944
Photo © Newman Collection
It was located in the downtown area of Memphis not far, and across, from the Gayoso Hotel, in a district that was born during the height of the railroad era and surrounded by both Union and Central stations.1 At that time the original Peabody Hotel was also located on Main, though further north at Monroe Street. The current one didn't open on Union Avenue until 1925.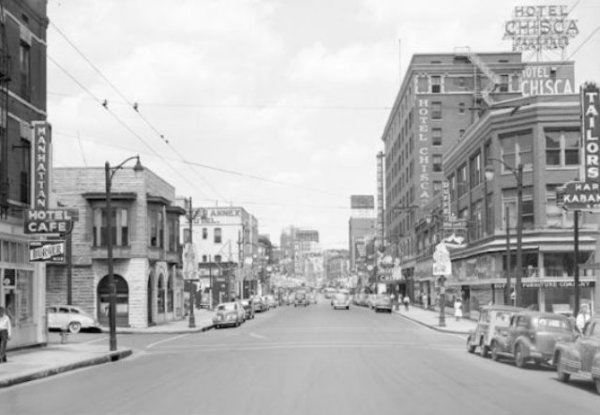 South Main Street (viewing north) South Main St. and Pontotoc Ave. - 1948
Photo © Newman Collection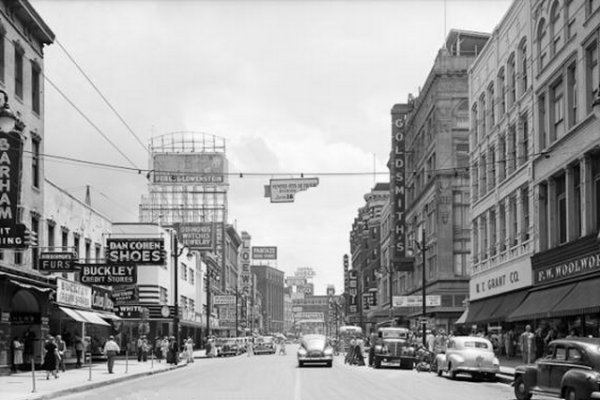 Main Street viewing south across Jefferson, Hotel Chisca in center, W. T. Grant on right - ca. 1947
Photo © Newman Collection
Unlike the Peabody and Gayoso, the Chisca was considered a "second-tier" property, said to be simple, yet sturdy, solid and well done. Billed as a "popular priced" hotel, it boasted 400 rooms, a dining room, ballroom and meeting rooms and catered to Railroad travelers, and employees, and mule dealers, as well as entertainers.1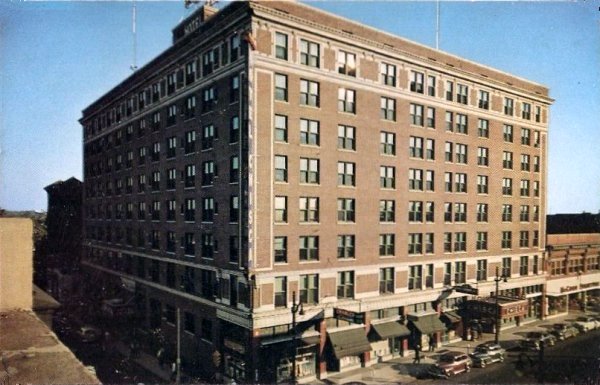 Hotel Chisca on the southeast corner of Main and Linden - ca. 1950
Photo courtesy From Memphis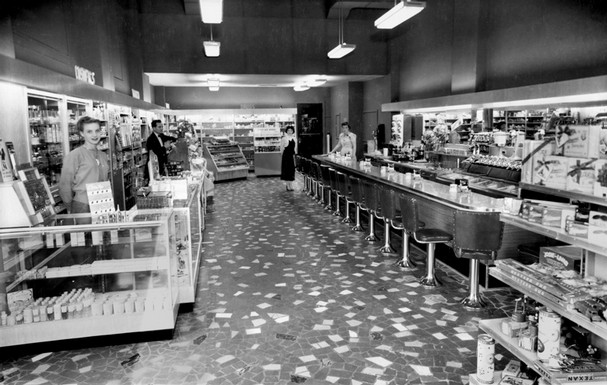 Hotel Chisca Sundry Shop - December 30, 1953
Photo © Commercial Appeal
Dewey Phillips started in radio at Memphis' WHBQ in 1949. The station, originally located in the Claridge Hotel on N. Main, had moved to the Hotel Gayoso in 1942.4 From there Dewey hosted his Red, Hot, and Blue program for two hours six nights a week, and three on Saturday while working days running the record department at W. T. Grant.5 In 1953 WHBQ relocated to the Hotel Chisca when they built studios off the lobby on the mezzanine floor.4 Their space contained a reception area, offices and three glass-windowed broadcast booths clustered around a producer's booth. A steep ramp and handrails led to the producer's booth, which had windows looking into each broadcast booth.2 From there, in July of 1954, Dewey debuted Elvis' first recording, "That's All right, Mama" during Red, Hot and Blue and conducted the first on-air interview with him.6

Dewey Phillips at WHBQ in the Hotel Gayoso - ca. June 1950
Photo by Bob Williams courtesy Mike Freeman
Sam Phillips (no relation) had played the record for Dewey after recording it and Dewey had requested two copies and played it on the air around 9:30 or 10:00 the following night, believed to be July 8th. Peter Guralnick wrote, "the response was instantaneous. Forty-seven phone calls, it was said, came in right away, along with fourteen telegrams — or was it 114 phone calls and forty-seven telegrams? —he played the record seven times in a row, eleven times, seven times over the course of the rest of the program. In retrospect it doesn't really matter; it seemed as if all of Memphis was listening as Dewey kept up his nonstop patter, egging his radio audience on, encouraging them to join him in the discovery of a new voice, proclaiming to the world that Daddy-O·Dewey played the hits, that we way uptown, about as far uptown as you can get, did anybody want to buy fur-lined duck? And if that one didn't flat git it for you, you can go to. . . And tell 'em Phillips sent you!" 6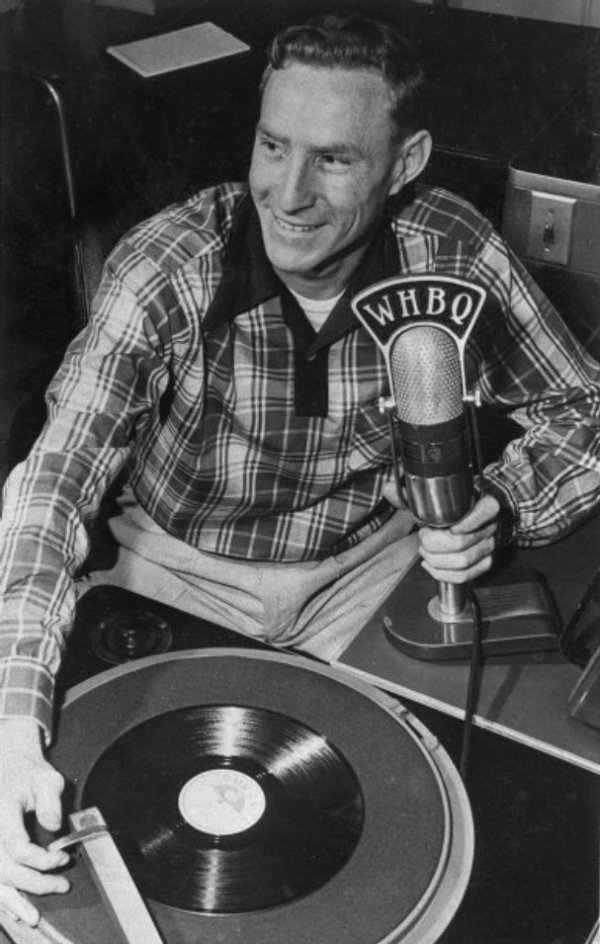 Dewey Phillips at WHBQ in the Hotel Gayoso - ca. June 1950
Photo by Bob Williams © Commercial Appeal
Elvis, fearing rejection had gone to a movie that night knowing that Dewey would play it. "I thought people would laugh at me, Elvis told C. Robert Jennings of the Saturday Evening Post in 1965. "Some did, and some are still laughing, I guess." When fetched from the theater by his parents after Dewey called for him down at the station for an interview, Peter also wrote, "I was scared to death," Elvis said. "I was shaking all over. I just didn't believe it, but Dewey kept telling me to cool it, [this] was really happening.6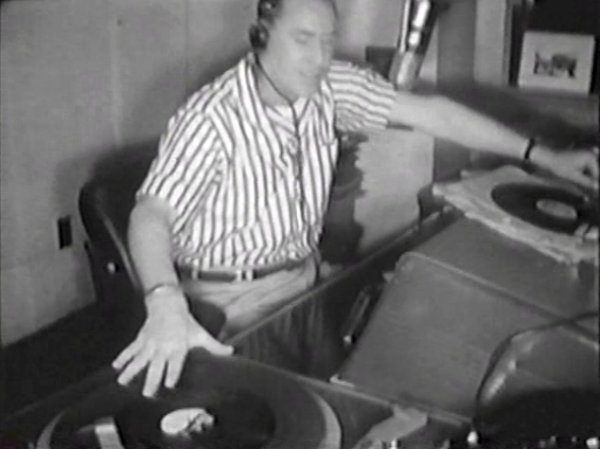 Dewey Phillips at WHBQ in the Hotel Chisca - ca. 1956
capture courtesy A&E Biography's Sam Phillips: The Man Who Invented Rock 'n' Roll - 2000
"Sit down, I'm gone interview you" were his first words to the frightened nineteen-year-old, Dewey told writer Stanley Booth in 1967. "He said, 'Mr. Phillips, I don't know nothing about being interviewed.' 'just don't say nothing dirty,' I told him. He sat down, and I said I'd let him know when we were ready to start. I had a couple of records cued up, and while they played we talked. I asked him where he went to high school, he said, 'Humes.' I wanted to get that out, because a lot of people listening had thought he was colored. Finally I said, 'All right, Elvis, thank you very much.' 'Aren't you gone interview me?' he asked. 'I already have,' I said. 'The mike's been open the whole time.' He broke out in a cold sweat." 6

Elvis and Dewey Phillips at WHBQ in the Hotel Chisca - Oct. 31, 1956
Photo courtesy FECC/rizzy56
Elvis would later visit the station several times and Dewey always made a fuss, announcing on the air that he was in the studio.6 He hosted several local events that Elvis appeared, including those at Ellis Auditorium and Russwood Park. On March 8, 1956, the Commercial Appeal advertised that Elvis would make an appearance in the hotel in the Chickasaw Ballroom on the 9th backed by the Sy Rose Orchestra. However, pictures believed to be from there show Scotty, Bill and DJ performing with him. Sy Rose, a piano player turner trumpet player was actually Seymour Rosenberg and in addition to being an area musician became a noted criminal defense attorney in addition to later managing Charlie Rich and others and representing Stax Records and Isaac Hayes.7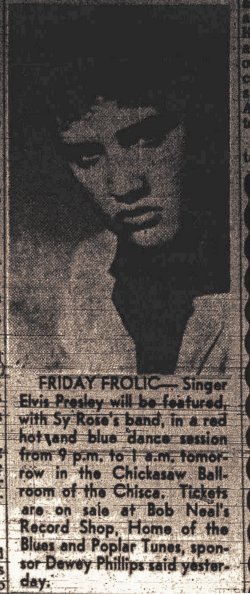 Commercial Appeal advertisement - Mar. 8, 1956
courtesy Mike Freeman
The Chickasaw Ballroom, according to Memphis Mafia member and Elvis associate Jerry Schilling, was the hotel's basement lounge and since they served alcohol that night it was closed to minors. Years before he went to work for Elvis he had heard about this show. Though too young at the time but determined none the less, Jerry said he and a friend found a way to sneak around and managed to see Elvis and the show via a side hallway with a door to the stage. He wrote, "We watched as much of the first show as we could through the crack in that door, but the biggest thrill came after Elvis finished his first show, when he headed offstage right toward us. We scattered from the door just as he came through." 8

Elvis at the Chickasaw Ballroom in the Hotel Chisca - Mar. 9, 1956
Photo courtesy Ger Rijff
"He was sweating something fierce and a little out of breath—looking like he'd gotten a more intense workout than he did at any of the football games. I don't know if he nodded at us or if he was just getting his hair back in place, but he acted like it was the most natural thing in the world for Frankie and me to be in that basement hallway. There wasn't a place to sit, so he just leaned up against one of the big basement pillars. He said to Jerry, "Get me a Pepsi, would you?" 8 In contrast to the pictures from at least one show, he described Elvis as wearing black pants and "red" jacket.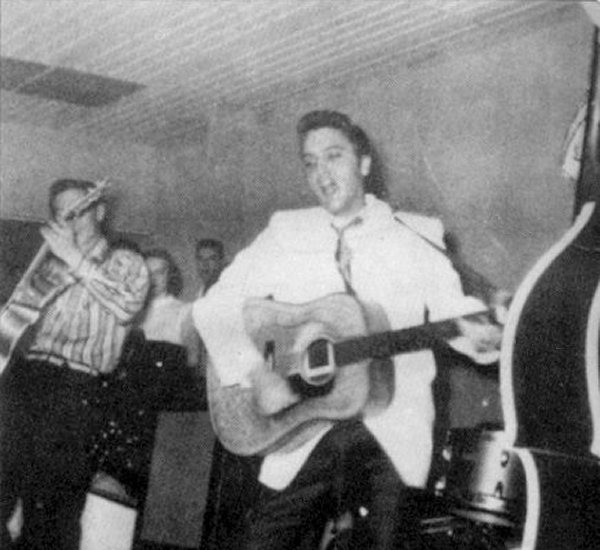 Scotty, Elvis, DJ and Bill (reputed to be) at the Chickasaw Ballroom in the Hotel Chisca - Mar. 9, 1956
Photo courtesy Brian Petersen's Elvis Corner

Dewey Phillips, Scotty, Elvis and Bill onstage at the Chickasaw Ballroom - Mar. 9, 1956
Photo by Patsy Presley © Mike Pfister (retouched, added July 23, 2015)
Elvis didn't say much to Frankie and me, but he seemed perfectly comfortable to have us around. We hung around for the whole break between shows, and after a while there were other people around who wanted to talk to Elvis. He talked to them, but if he wanted another Pepsi, he got it from me or Frankie. The moment seemed special because it wasn't special—just him and us, standing around drinking soda. He'd just walked away from a screaming audience to stand out here in the hallway, Frankie and I were in the hallway, and it was no big deal.8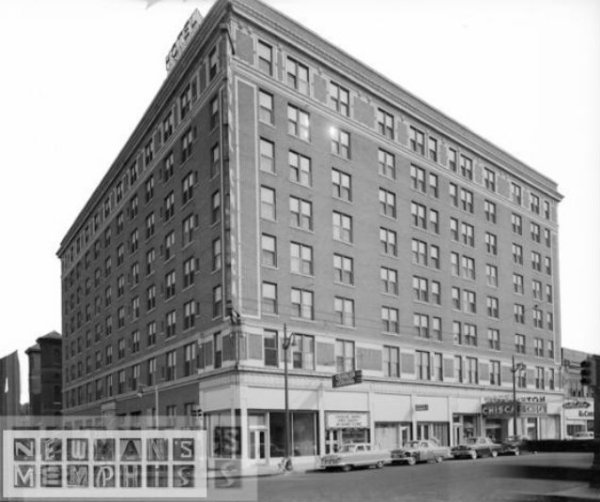 Hotel Chisca - 1958
Photo © Newman Collection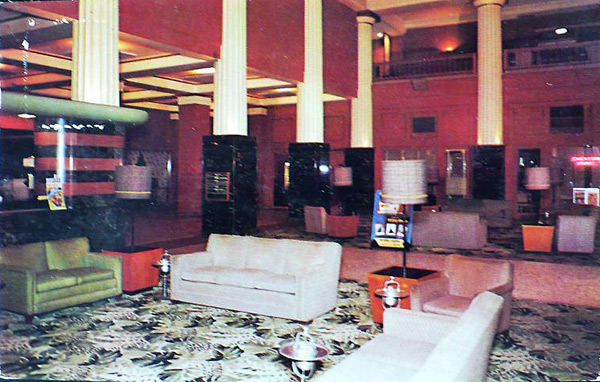 Hotel Chisca Lobby
Photo courtesy Historic Memphis
Several other locals have said they also remember an appearance at the Chisca, one reputedly the niece of Elvis' 7th grade teacher, though she described the crowd there as small and no alcohol. Scotty though, has said he has no recollections of ever playing at the Chisca, in the basement or elsewhere.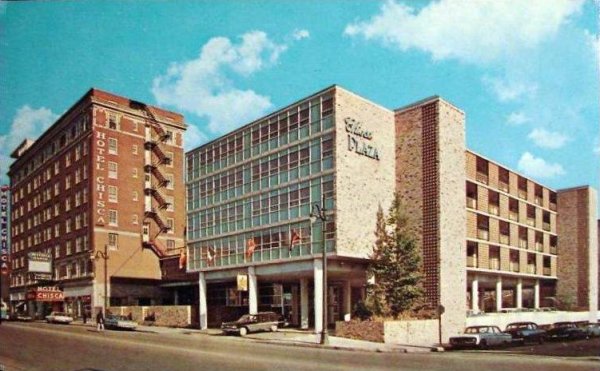 The Chisca Plaza Motor Lodge at S. Main Street and Pontotoc Avenue - ca.1960s
Photo courtesy From Memphis
In 1961 a larger Ballroom was constructed on the second floor of the hotel, the Grand Gold room, and many high school formals were held there. Additionally a swimming pool with sundeck was added and the adjacent 90 room Chisca Plaza Motor Lodge was built on the Pontotoc Avenue side. It offered ground and sub level parking and four floors of hotel rooms above.1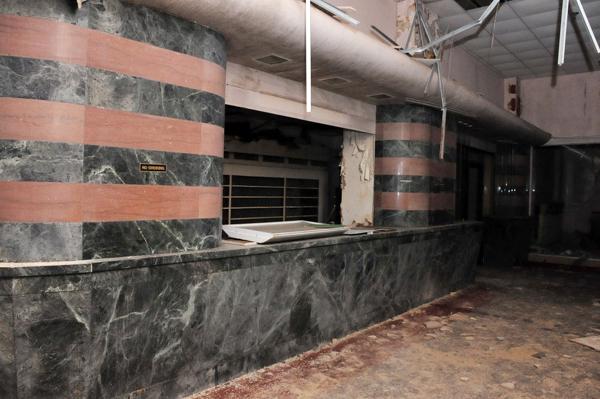 Hotel Chisca Lobby in decay - 2012
Photo © Alan Howell courtesy Historic Memphis
Another Memphis Mafia member, former classmate and friend of Elvis', Marty Lacker, said that WHBQ was located in the Chisca until the early 1960s when he worked there. It later moved to the WHBQ-TV building that had been built on Highland Avenue, an area referred to as east Midtown. He doesn't recall a ballroom in the basement, but was in the Army stationed in Germany in 1956. After an unsuccessful try at TV for WHBQ, Dewey was dismissed from the station in 1958. His relationship with Elvis, much like his career and also health from substance abuse, deteriorated over time. He died in 1968, coincidentally at the same age as did Elvis 9 years later, 42.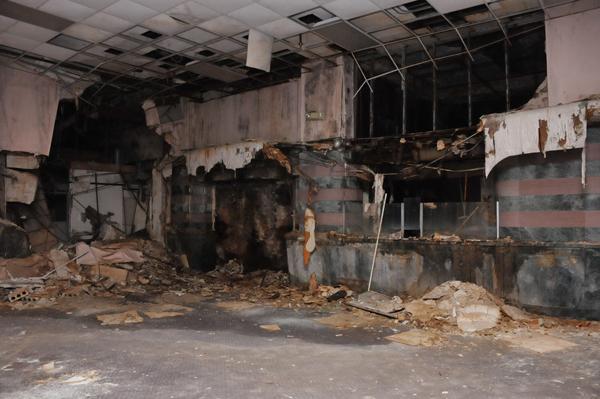 Hotel Chisca Lobby in decay - 2012
Photo © Alan Howell courtesy Historic Memphis
In the 60's the area deteriorated and by the early 1970s the Hotel closed. The property and a newer addition called the Chisca Plaza Motor Court became a virtual gift from the Snowden-Todd family to the Church of God in Christ in 1972.2 They had originally planned to redevelop it along with other downtown properties but instead only used lower floors of the hotel for their headquarters. Unfortunately the upkeep was expensive and they allowed the upper floors and main structure to deteriorate. By the late 1990s it was abandoned and had remained since.2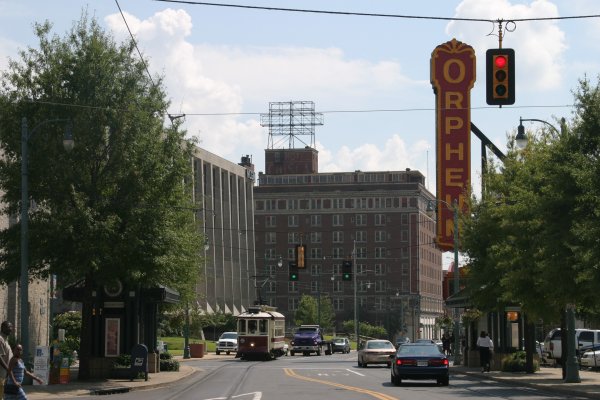 View south down S. Main Street from Beale St. - Aug. 10, 2003
Photo © James V. Roy
The area is now part of the city's South Main Historic District which has been listed on the National Register of Historic Places since 1982 for its historic and architectural importance to Memphis. Several attempts at plans for restoration of the hotel and property had failed and the Neighborhood Association has been opposed to its demolition. Fortunately in 2012 the building was saved when after more than a year of negotiating the Church of God in Christ sold the properties for $900,000 to Main Street Apartment Partners, LLC. A local public-private partnership, they are in the process of a twenty-plus million dollar project to restore and convert it into 150 to 195 apartments with street-level retail.2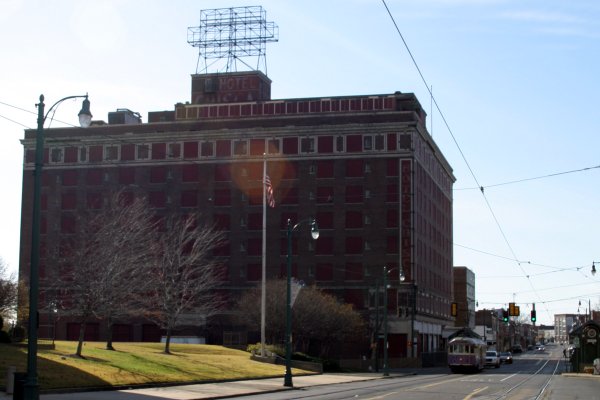 Hotel Chisca on southeast corner of Main and Dr. Martin Luther King Jr. Avenue - Dec. 11, 2011
Photo © James V. Roy





contemporary aerial views of the property - ca. 2012
courtesy Microsoft
Considered unsalvageable, developers plan to take out the ballroom and replace it with an urban-style landscaped courtyard.1 There had been hopes however to preserve the original booths that housed WHBQ. Through the efforts of volunteers and people like Mike McCarthy, the artist and filmmaker turned preservationist, this has been realized.9 The original broadcast booths, stripped down to acoustic tile walls and ceilings, were intact in the recesses of the mezzanine that once housed the radio station. Though they weren't sure which booth was used to air by Phillips' show in 1954,2 Sam Phillips and George Klein had previously identified the actual one for Peter Guralnick around 1998. McCarthy and volunteers have since meticulously removed the booths and stored them until they can be reconstructed in an exhibit that would be more accessible to the public, possibly somewhere in the Chisca.10

Sam Phillips and George Klein revisit WHBQ in the Hotel Chisca with Peter Guralnick - ca. 1998
courtesy A&E Biography's Sam Phillips: The Man Who Invented Rock 'n' Roll - 2000
Page added May 24, 2013


1 according to the Project Narrative for the Historic Hotel Chisca Renovation for the Downtown Memphis Commision - March 20, 2013
2 according to From old to bold: Developers' vision would bring Hotel Chisca back from brink by Wayne Risher, The Commercial Appeal - August 12, 2012
3 according to Chisca Hotel faces uncertain future by Ken Armstrong, the Keystone courtesy Memphis Heritage, June - July 2006 Vol. 9 Issue: 3
4 according to Dewey and Elvis: The life and times of a Rock 'n' roll Deejay by Louis Cantor
5 according to "Phillips Sent Me" by Ida Clemens, The Commercial Appeal - June 9, 1950
6 according to or excerpt from Last Train to Memphis, by Peter Guralnick
7 according to Lawyer/musician Seymour Rosenberg lived 'interesting' life, by Jody Callahan - The Commercial Appeal - July 26, 2011
8 according to or excerpt from Me and a Guy Named Elvis: My Lifelong Friendship with Elvis Presley, by Jerry Schilling, Chuck Crisafulli
9 according to Saving Dewey's Booth by Chris Davis, The Memphis Flyer - March 7, 2013
10 according to Elements of Dewey Phillips' WHBQ sound booth have been salvaged and stored, by Chris Davis, The Memphis Flyer - May 8, 2013
---

Red, Hot and Rescue


Saving Dewey Phillips' Booth
---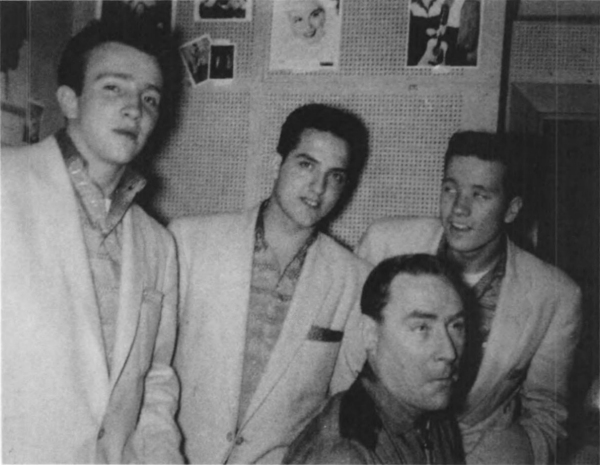 Chester Power, Richard Williams and Buzz Cason with Dewey Phillips in the WHBQ studio - 1957
Photo Buzz Cason collection courtesy Living The Rock 'N Roll Dream

Buzz Cason has been a friend of Scotty's for many years. In 1957 he formed The Casuals, one of the first rock bands in Nashville. While promoting their record they drove to Memphis and met George Klein and Wink Martindale. Wanting to meet their idol Elvis, George arranged an interview with Dewey Phillips assuring them that Elvis would be there, and he was.

Chester Power, Richard Williams and Buzz Cason with Elvis outside the WHBQ studio in the Hotel Chisca
Photo Buzz Cason collection courtesy Living The Rock 'N Roll Dream

After their interview with Dewey they ran into Elvis in the corridor of the Chisca where he posed with them for a few photos, talked for awhile and wished them luck with their "new jobs." He also told them about the house he had just purchased on Highway 51 in Whitehaven, Graceland, and invited them over to view it with instructions to tell Uncle Vester to let them up. They drove over the next day and did just that posing on the steps and peeked into the windows. Later they drove by his home on Audubon Drive also.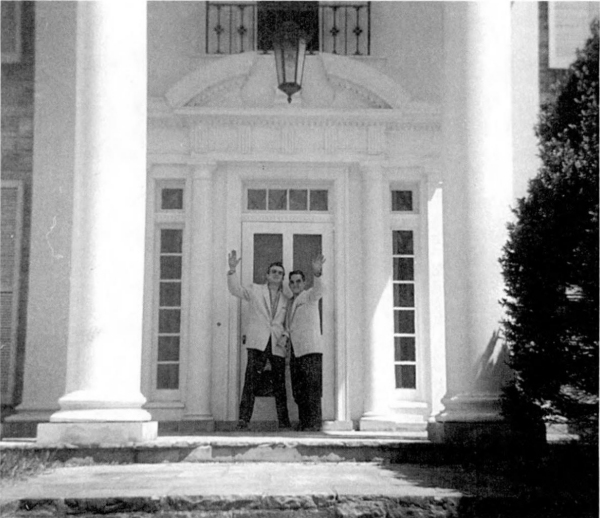 Buzz Cason and Richard Williams visiting Graceland at Elvis' invitation before the family moved in - 1957
Photo Buzz Cason collection courtesy Living The Rock 'N Roll Dream

Over the next four decades, Buzz worked successfully as a performer, songwriter, producer, actor and recording studio pioneer. He wrote the hit song Everlasting Love, published the award-winning songs Honey and Little Green Apples, sang with Roy Orbison, Kenny Rogers, Brenda Lee and Jimmy Buffet, and recorded with such artists as Olivia Newton-John, Emmylou Harris, Merle Haggard and The Gatlin Brothers.


Billy Swan and Buzz Cason covering Buddy Holly

section added April 7, 2015
---
Sandra Boettcher's photo
rare from the Chickasaw Ballroom

Yesterday I saw a photo making the rounds on Facebook and received an email from Mike Pfister about it that I didn't read until today. With Mike's permission we've shared it and his Mother's story here:
I own this picture. Patsy Presley and my mom went to Central High together and Patsy sold this photo to my mom in '57 or so. My mom, Sandra (Boettcher) Pfister kept it in her wallet for years then it went into our family photo album. Finally about 10 years ago she gave it to me. I believe it is a very important piece of Rock and Roll history at least where Elvis and Scotty are concerned. I've scanned it in several different qualities.


Dewey Phillips, Scotty, Elvis and Bill onstage at the Chickasaw Ballroom - Mar. 9, 1956
Photo by Patsy Presley © Mike Pfister

I'm the one posting the low-res scan of it on Facebook on some Elvis pages just in an effort to tell my mom's story. I kept coming upon your Scotty Moore site whenever I'd research the Chisca. I figured since you've already stock-piled all of the known existing photos of that Mar 9, 1956 show, you and Scotty would probably want this one too.



Sandra Boettcher was a teen in 1950's Memphis at the same time Elvis Presley's star was rising. Enjoy her personal recollections of several encounters she had with Elvis, his cousin and the memories she has of Memphis and the birth of Rock And Roll music.

Thank You,
Mike Pfister
July 22, 2015

PS. My mom also dated David Moore (Scotty's nephew) for a while back in the 50's.
After posting this Mike said, Thank you so, so much. I am SO happy that this photo found it's rightful place after all these years. And thank you for being upstanding and trustworthy about it. I think it's awesome. I just phoned my mom and she is extremely grateful! On behalf of Scotty and the fans we want to thank him and his mom for sharing it with us.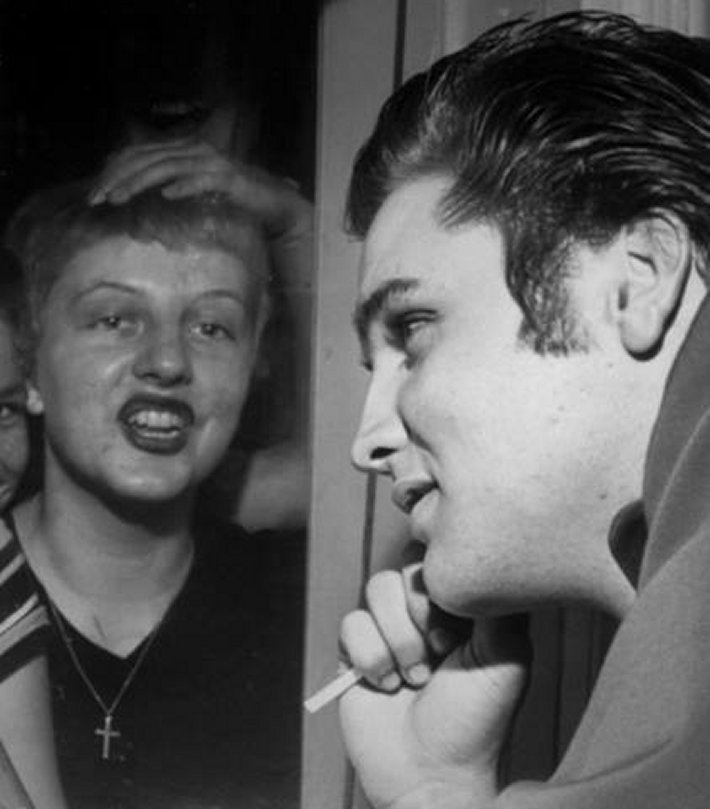 Sandra Boettcher peers at Elvis through the window at WMC Radio in Memphis - Oct. 1956
Photo courtesy FECC/Jove, added July 24, 2015

section added July 23, 2015