Scotty in "Backstreets"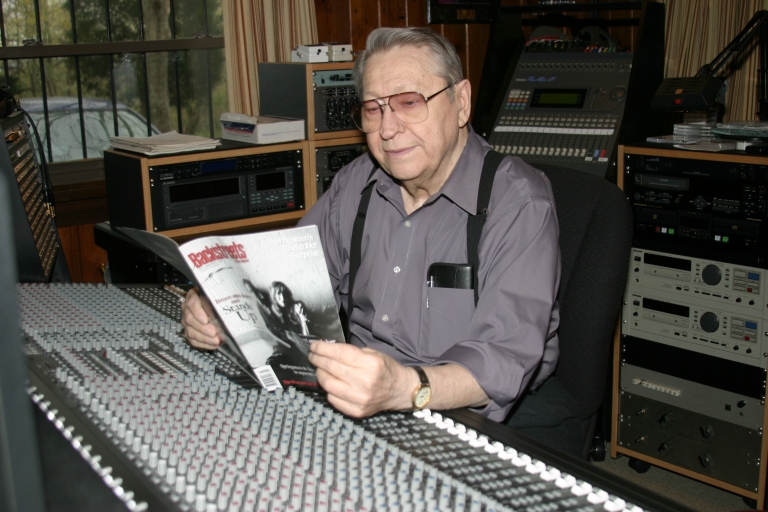 Scotty reading the Summer/Fall 2004 issue of "Backstreets"
Photo © James V. Roy
Issue #80, Summer/Fall 2004 of the premier Bruce Springsteen fan magazine 'Backstreets' - The Boss Magazine' had a special feature section of articles on the connections between Elvis and Bruce. The articles detail Bruce's Elvis fanship, recordings by Bruce that reference Elvis, a detailed account of the night Bruce jumped the wall at Graceland, and more. One of Bruce's hits later recorded by the Pointer Sisters, "Fire", was even said to have been written with the intentions of having it performed by Elvis.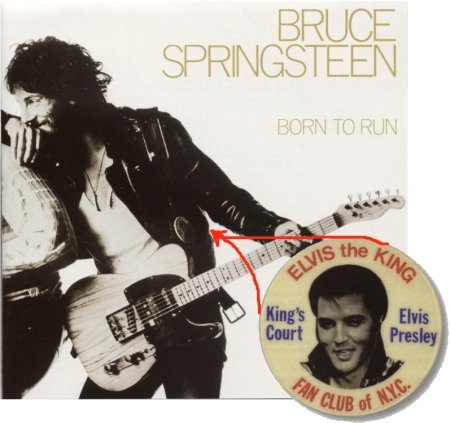 Elvis fan club button worn by Bruce on the cover of "Born To Run"
The people at backstreets we were told worked long and hard on this feature, and one of the reasons they waited until the summer of 2004 to publish it was to have its appearance coincide with the 50th anniversary of the recording and release of "That's All Right". They were kind enough to send us several copies of the issue to read so we sent them a photo of Scotty reading one which they then published in their current issue, the 25th Anniversary issue of Backstreets.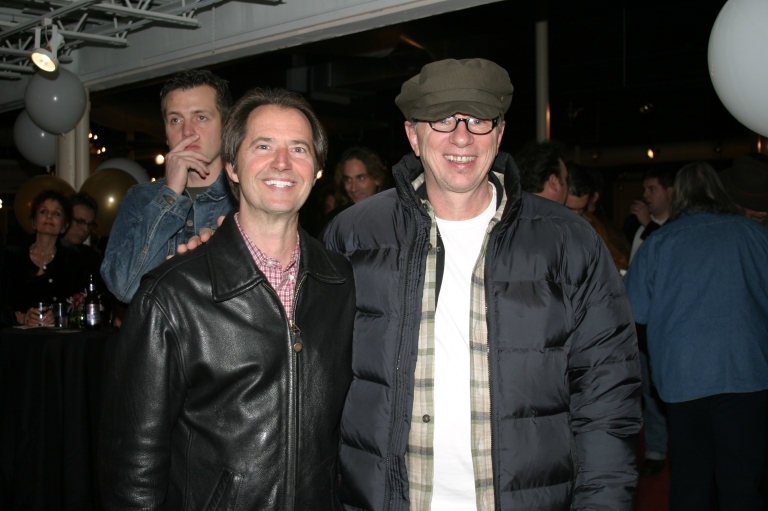 Gary Tallent on left at Scotty's 50 years with Gibson party
Photo © James V. Roy
Though Scotty and Bruce have never actually met (almost a couple of times), Scotty's association with some of "The E St. Band" members goes back to 1994 when bassist Gary Tallent produced an album for Sonny Burgess and requested Scotty play on it. Gary is the bass player for "The E St. Band", and also engineered and played bass on a track on Scotty and DJ's "All the King's Men" album. When "All The King's Men" was nominated for a Grammy Award in 1998, while in New York for the presentation Scotty and DJ performed with "The Max Weinberg 7" on the "Late Night with Conan O'Brien" show. Max is also the drummer for "The E St. Band".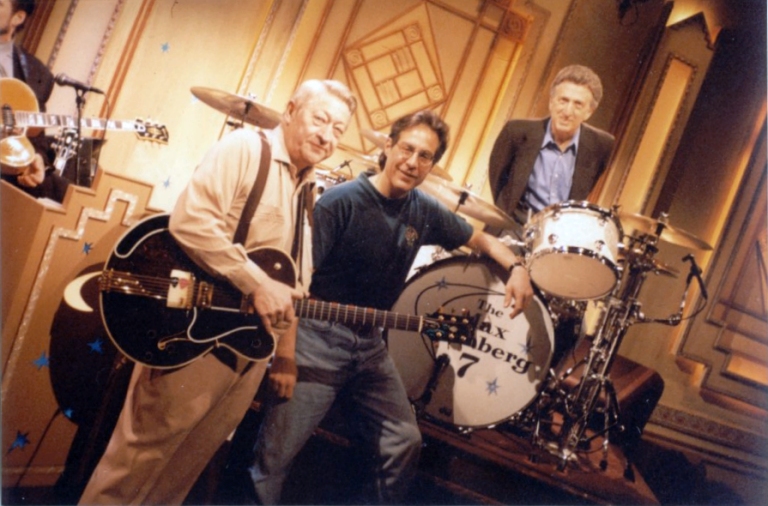 Scotty, Max and D.J.
The issue of "Backstreets" currently on the stands is a double issue and with it they are celebrating their 25th anniversary of publication. Shawn Poole, a freelance writer for Backstreets and the main person responsible for assembling the large 2004 feature on Bruce Springsteen and Elvis Presley wrote to us to say "I just wanted you to know how thrilling it was for me to open up my copy of the latest issue of BACKSTREETS and find a photo on page 21 of Scotty Moore himself reading the issue that contained my/our article. It was such a wonderful surprise and honor to see the last surviving architect of the record that's been called rock-and-roll's "Rosetta Stone" (along with so many more enduring and influential recordings) reading through our work."
With that we say thank you and want to wish Shawn, feature contributors Paul Trimble, publisher/editor Chris Phillips and the rest of the folks at Backstreets a Happy 25th and many many more.
James V. Roy
February 7, 2006
Issues and back issues of 'Backstreets' - The Boss Magazine' are available at www.backstreets.com