Scotty's 50th year with Gibson Celebration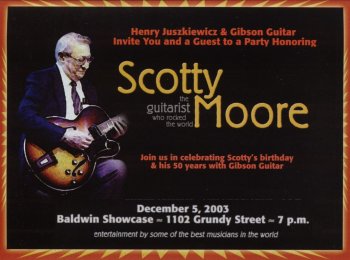 Invitation
On December 5, 2003 the family, friends and associates of Scotty Moore gathered at the Baldwin Showcase in Nashville to honor Scotty and to celebrate his 72nd birthday and his 50 years of playing Gibson Guitars. This was an event that had been long planned for and for which he looked forward with much anticipation in attending. Sadly, only days before, he was admitted to the hospital and on the day of the party underwent surgery for a subdural hematoma which naturally prohibited his attendance. His desire was that the party should proceed as scheduled and that everyone should have a good time. In that spirit, that is exactly what we did.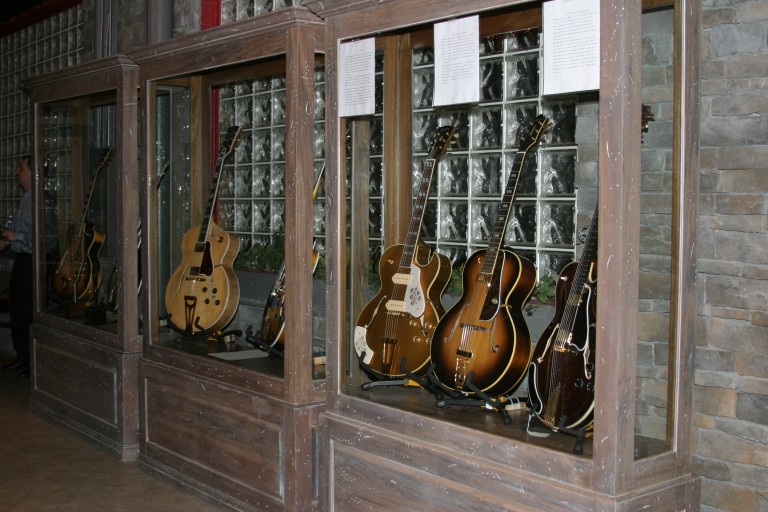 Scotty's guitars on display
Photo © James V. Roy

Get well, Birthday and Congratulation card
Photo© courtesy Chip Smith
The Baldwin Showcase located on Grund St. just behind the Valley Arts guitar building is where Gibson houses their Baldwin Pianos for display. The room is also equipped with a full stage and sound and was the ideal location for the party which featured, as the invitations read, "entertainment by some of the best musicians in the world". Mickey Butler, formerly of Gibson in conjunction with Gail Pollock and others did a phenomenal job of putting this event together. Upon entering the building people were first greeted with a showcase of most of Scotty's current guitar collection that had recently been on display at the Valley Arts store. There also was an enormous card for Scotty that the guests could sign.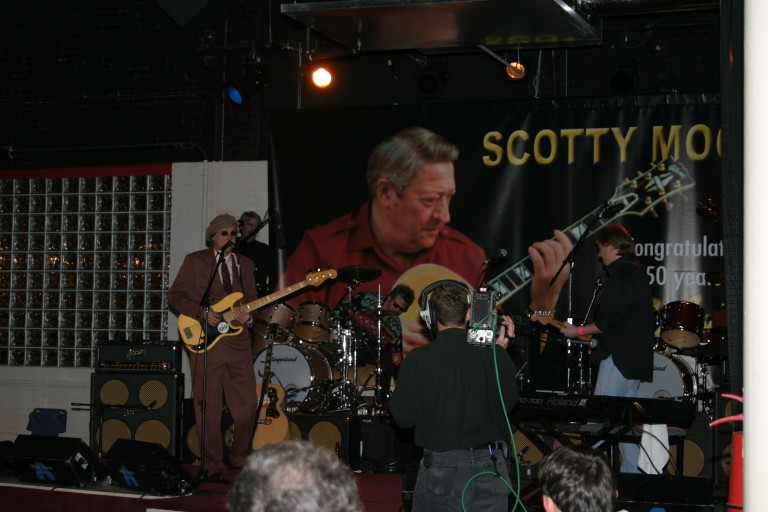 The Fred Satterfield Trio
Photo © James V. Roy

Tracy Nelson and Emily Sanders
Photo© courtesy Chip Smith
The opening band for the evening was the Fred Satterfield Trio. They started about 7:00 as many of the guests were still arriving and meeting each other. Though many knew each other, many had only known of each other but naturally the common link was Scotty. Tracy Nelson was there as was Emily Sanders, Scotty's 3rd wife. Tracy had known Scotty since 1969 when her band "Mother Earth" had first relocated to Nashville.

Kevin Woods, Steve Shepherd, Molly Blanks, Ella Shepherd and D.J. Gross
Photo © James V. Roy
Long time friends and frequent band-mates of Scotty's with Ronnie McDowell's band, Kevin Woods and Steve Shepherd were there as was Steve's wife Ella. Two friends of Ella Shepherd came with her to the party, Molly Blanks, and D.J. Gross who are also both good friends of Scotty's. Molly is from Mississippi and became friends with Scotty through the Shepherds and at Ronnie's shows. D.J. is Ella's dearest friend from Missouri from their teenage years and has become very close to Scotty over the last couple of years. Scotty jokingly refers to her as the good "D.J."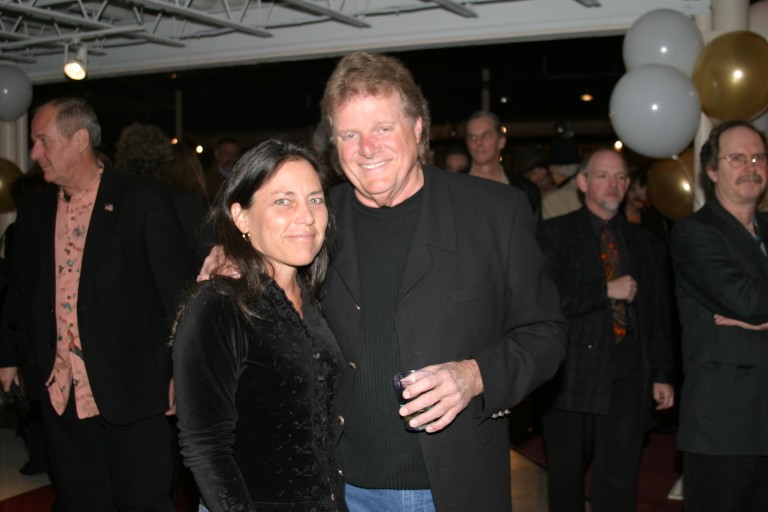 Reggie Young with his fiancé Jenny Lynn Hollowell
Photo © James V. Roy
Reggie Young was there. He was one of the founding members of Bill Black's Combo and he and Scotty go back to the days of Fernwood Records when they used to sit outside drinking cheap "Thunderbird" wine. Reggie recorded with Elvis in the studio in 1969 when he played guitar on "Suspicious Minds" and "In the Ghetto", using the guitar that Scotty used to own. His work can also heard on Dusty Springfield's "Son of a Preacherman" (not to mention several hundred other hits). He came with his fiancé Jenny Lynn Hollowell. She's a great fiddle player and was a member of Waylon Jenning's band during the last two years he was on the road.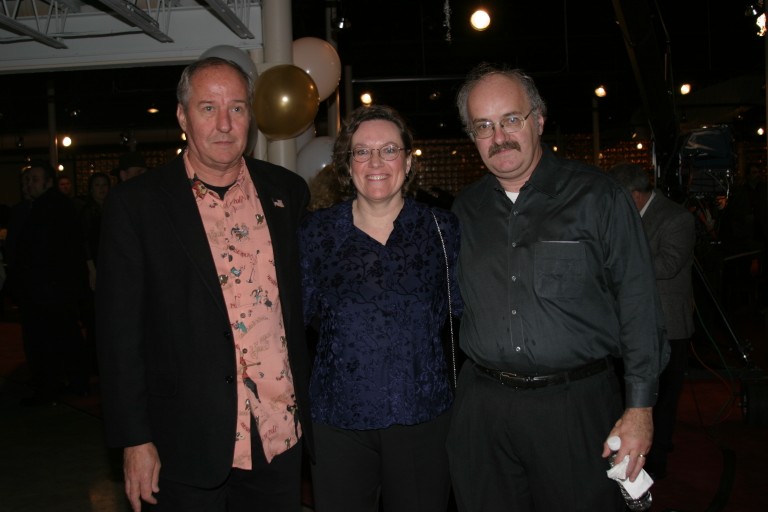 Jimmy Page, Cindy Hazen and Mike Freeman
Photo © James V. Roy
Longtime friends Jimmy Page (not that one), Cindy Hazen and Mike Freeman came. Jimmy is a Lawyer in LA and Cindy and Mike own the house that Elvis bought before Graceland, at 1034 Audubon Drive in Memphis.

Stella and Pete Pritchard, Fiona and Liam Grundy
Photo © James V. Roy
Pete Pritchard and Liam Grundy along with their wives Stella and Fiona were among the English contingent that crossed the pond to be here. They play bass and keyboards with Scotty when he tours in the UK and were also to play with him on this occasion. Pete said he had talked to Scotty that morning before surgery and Scotty, ever the professional, wanted to be reassured that Pete had his Double Bass alright and jokingly instructed him to tell the soundman to "turn Sonny Burgess down cause he plays too Goddamn loud!"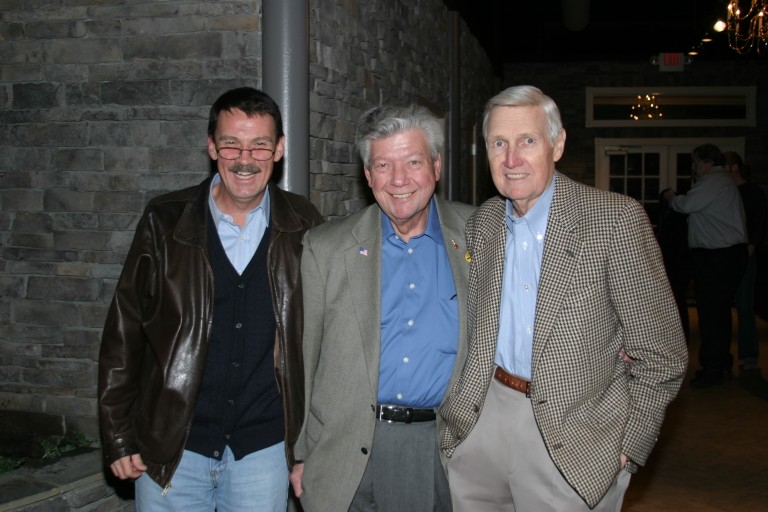 David Conrad, Shelby Singleton and Don Light
Photo © James V. Roy
David Conrad is the head of A & R at Universal, MCA and Mercury records. He was indirectly instrumental in getting Scotty back playing guitar again after years of retirement. While head of Almo-Irving music in 1989 he invited Scotty to a presentation for Carl Perkins of an award for a number one song he had written for the Judds, knowing Scotty and Carl had been friends for a long time. It was there that Carl and Scotty first talked of recording together. Record executive Shelby Singleton had bought Sun Records (not the studio) from Sam Phillips in the '60s and talent manager Don Light has managed such acts as The Oak Ridge Boys and Jimmy Buffett to name a couple.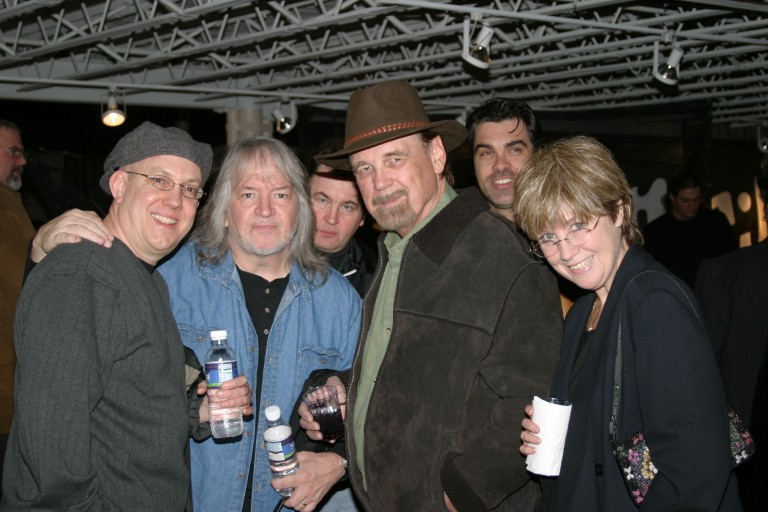 Andy Ellis, Seymour Duncan, Duane and Deed Eddy
Photo © James V. Roy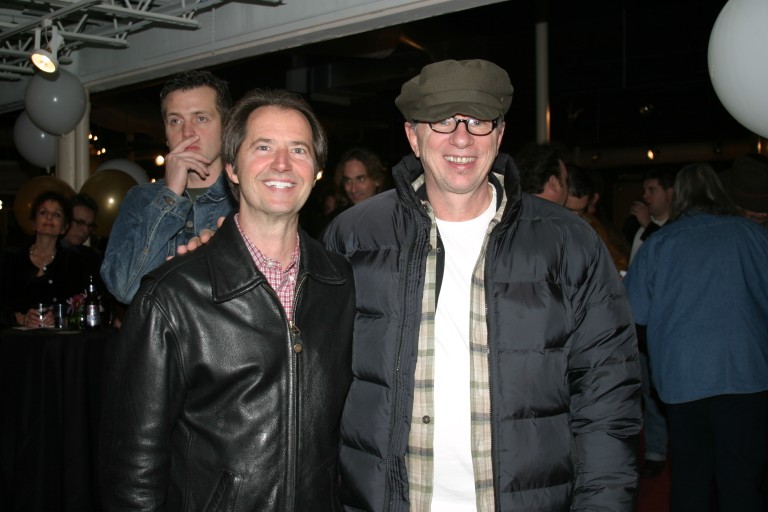 Gary Tallent on left
Photo © James V. Roy
Andy Ellis, a senior editor for Guitar Player hoping to do a feature on Scotty for the magazine was there as was Seymour Duncan, the man who designs pickups for just about every kind of electric guitar on the market. Guitar legend and virtually the inventor of 'Twang" Duane Eddy was there along with his lovely wife Deed. Gary Tallent, you may know as the bass player for "The E St. Band", was on hand. He had produced a record for Sonny Burgess a few years ago and had Scotty play on it. He also engineered and played bass on a track on Scotty's All the King's Men album.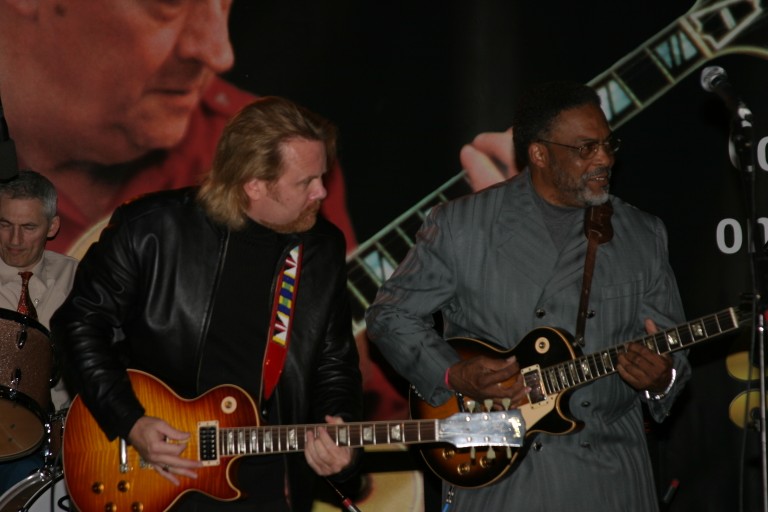 Lee Roy Parnell and James "Nick" Nixon
Photo © James V. Roy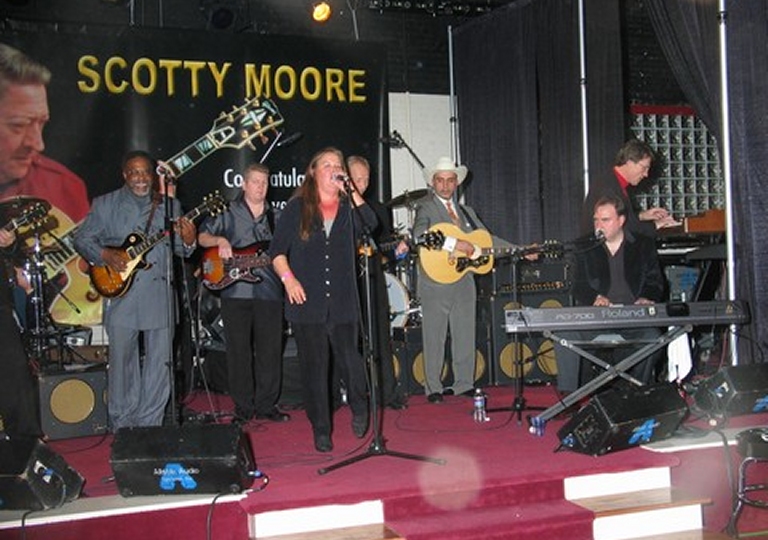 Tracy Nelson
Photo© courtesy Chip Smith
After a set change Tracy Nelson took the stage backed up by James "Nick" Nixon, Lee Roy Parnell and members of Scotty's U.K band.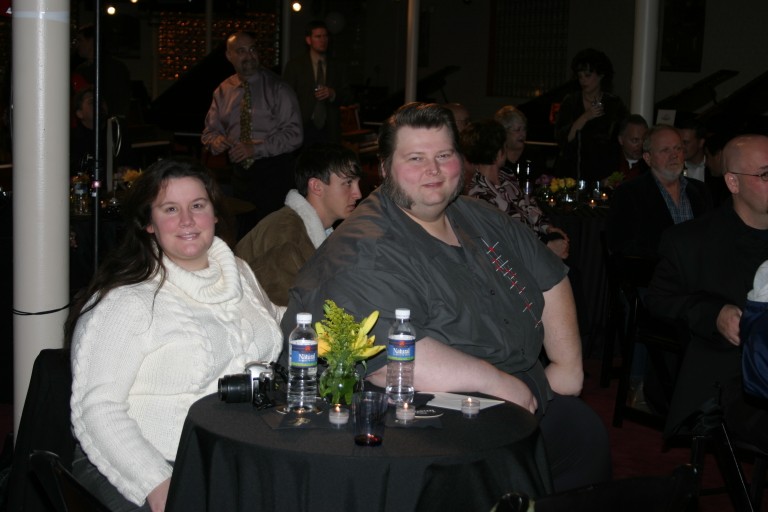 Mandy and Danny Thompson
Photo © James V. Roy
Mandy and Danny Thompson drove out from Indianapolis to be here. They've been friends with Scotty for several years now since Danny bought one of Scotty's amps.

Duane Eddy and Nick Sulcer
photo courtesy Buck Sulcer
Buck Sulcer and his son Nick came out from Maryland. Buck was a vintage guitar dealer and met Scotty in the early '90s through Kevin Woods. One of Scotty's favorite guitars, his 76 L5, he got from Buck.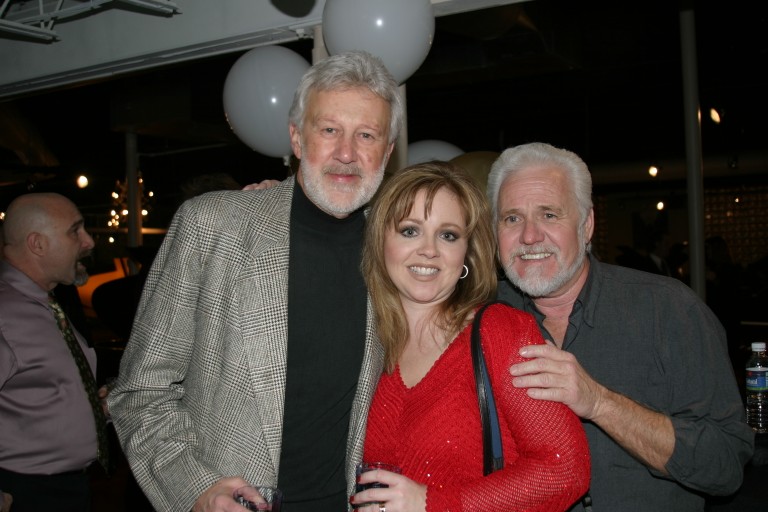 Joe Meador, Angela Justice and Jerry Townsend
Photo © James V. Roy
Joe Meador is a performer, songwriter and manager and as producer has credits on many albums including eight Ronnie McDowell albums, as well as works by The Jordanaires, Scotty Moore and D.J.Fontana. Jerry Townsend and his daughter Angela Justice came out from Little Rock. Jerry, a songwriter in his own right, has also done a lot of work helping to build Scotty's home studio.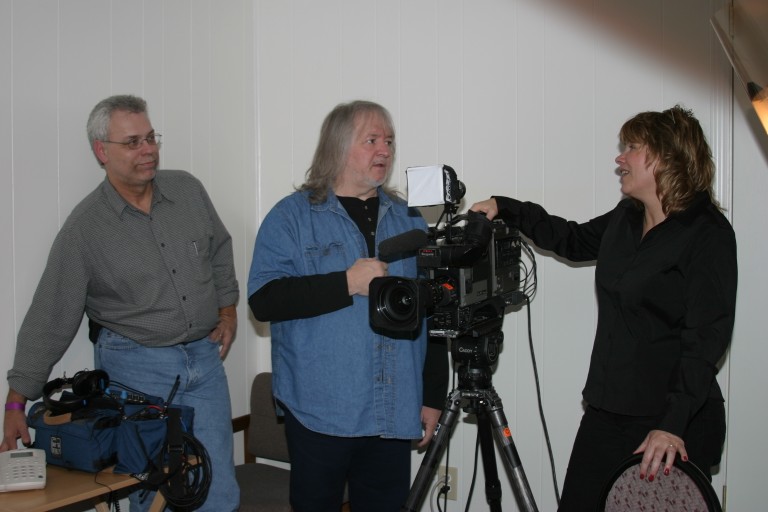 Keith "Cracker" Durham, Seymour Duncan and Susan Rhett
Photo © James V. Roy
While the party was going on Keith "Cracker" Durham and Susan Rhett of MTV Networks were set up taping in one of the back rooms. Individually, a lot of the guests were brought in and interviewed where they talked and expressed their well wishes and congratulations for Scotty. The whole performance at the party was also taped since there is also a documentary about Scotty in the works. Its quite possible that some of this footage may end up in it.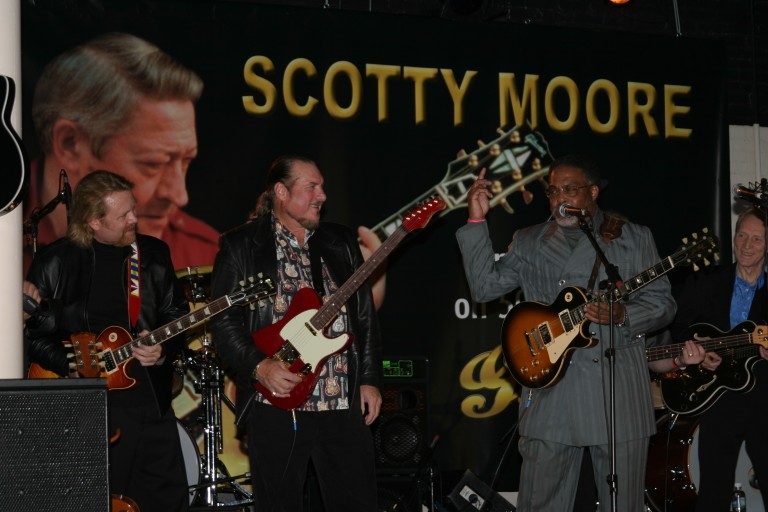 Lee Roy Parnell, Steve Cropper, James Nixon and David Briggs
Photo © James V. Roy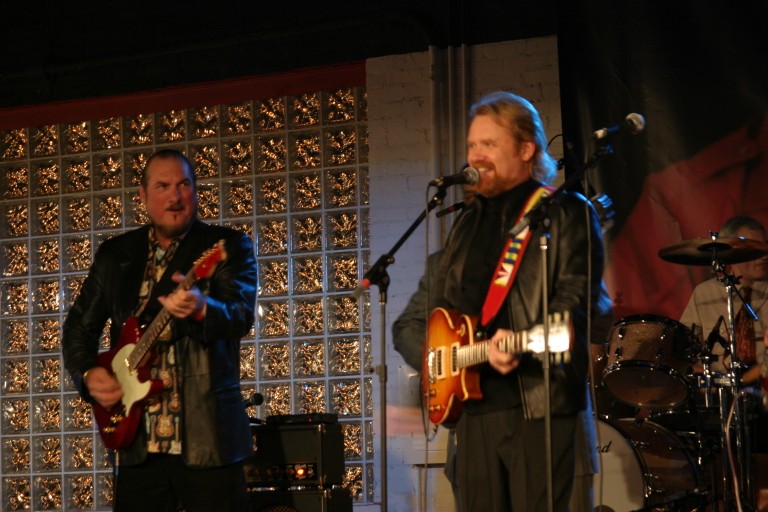 Steve Cropper and Lee Roy Parnell
Photo © James V. Roy

Pete Pritchard and David Briggs
Photo © James V. Roy
After Tracy performed Steve Cropper went up to play with James and Lee Roy. It was a real thrill to hear Steve's signature style. My friend Peter Riley who was also in attendance summed it up best when he said "if you removed the recordings that Steve wrote, played on and produced there would a gaping hole in the catalog of American Popular music".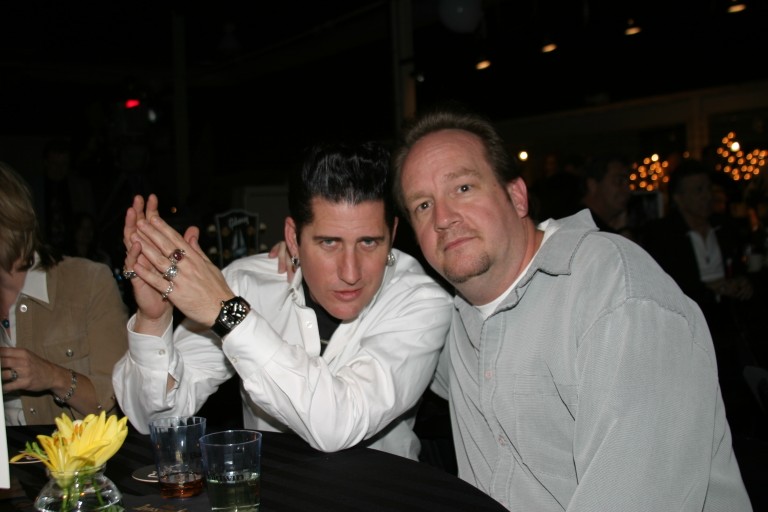 Lee Rocker and Mike Eldred
Photo © James V. Roy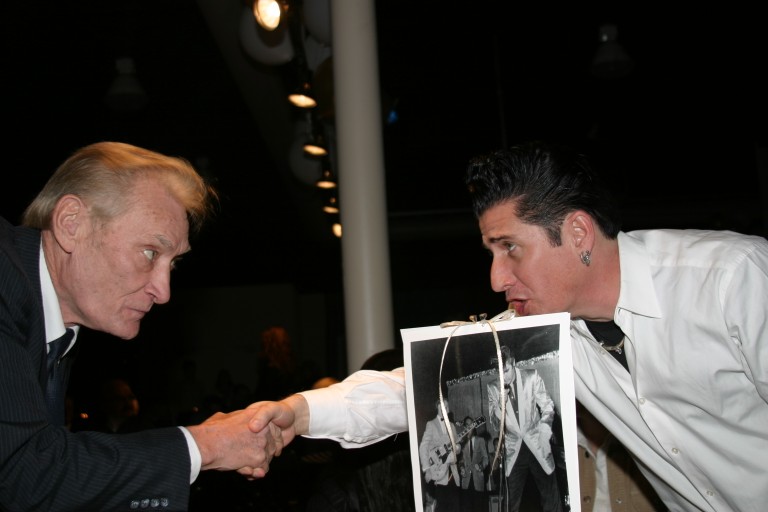 Don Dean and Lee Rocker
Photo © James V. Roy
Lee Rocker and Mike Eldred came out from California with their wives Debbie and Karin. They both have known Scotty since 1993 when playing together in "Big Blue" they invited Scotty to record with them in Memphis. Scotty affectionately refers to Lee and his current band as "The Little B***tards" and Mike as his "illegitimate son". Don Dean and Kim Boleyn, long time friends of Scotty were also there from Kentucky. Don who has been in the musical instrument business all his life and is a picker in the style of his old friend Merle Travis has done work on several of Scotty's guitars and has himself about 200 in his personal collection.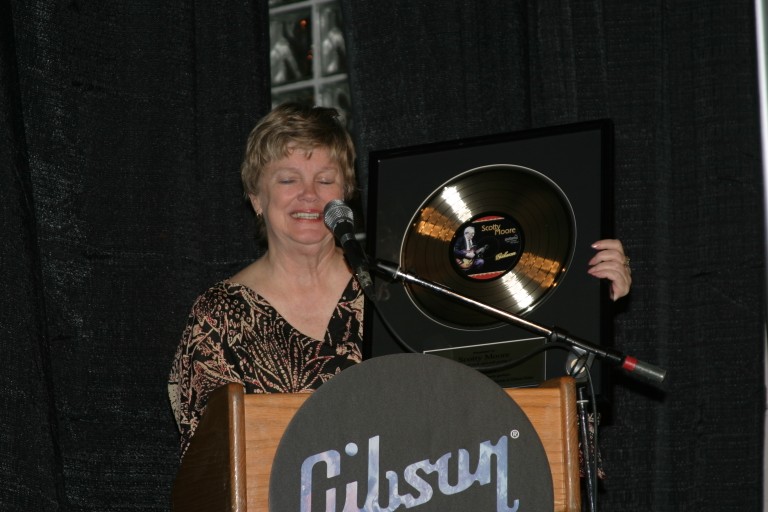 Photo © James V. Roy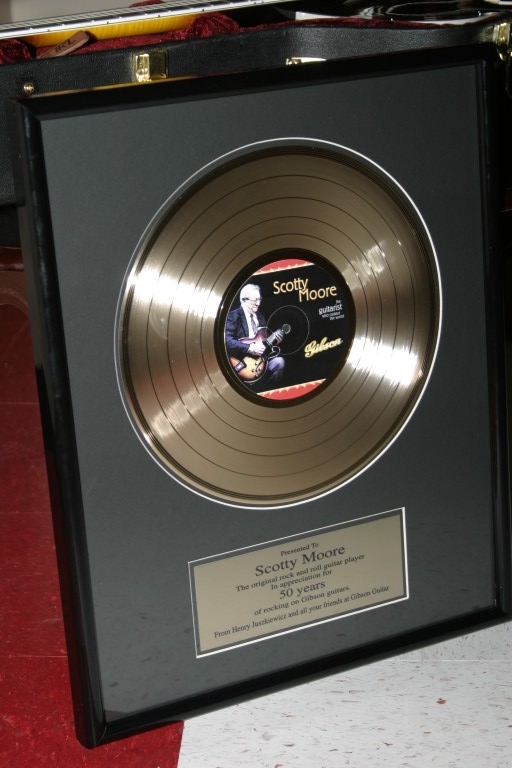 Photo © James V. Roy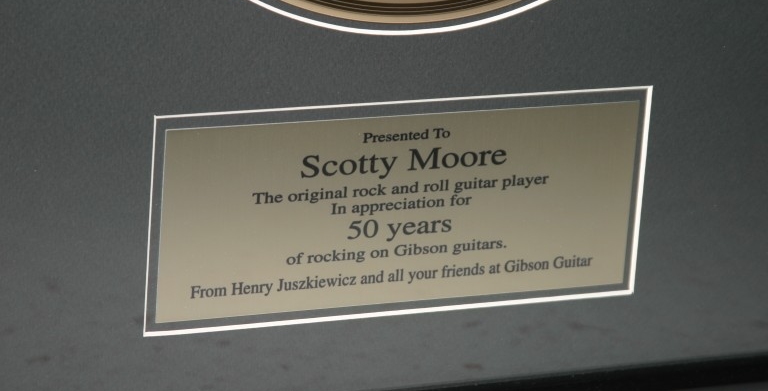 Photo © James V. Roy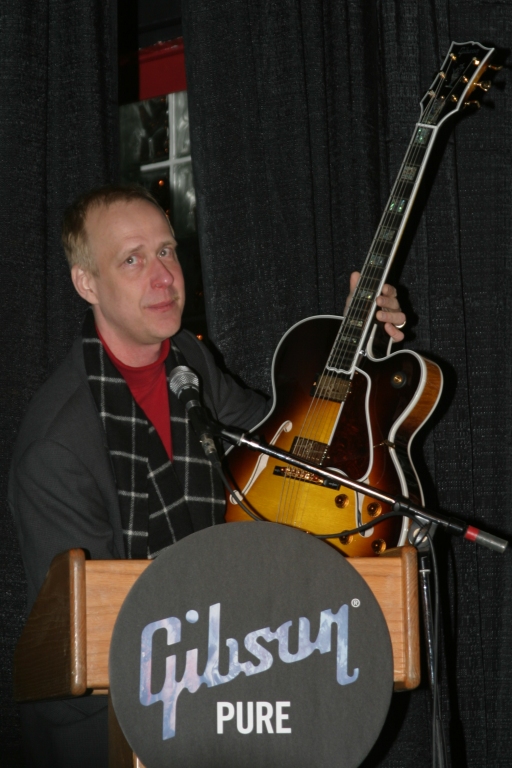 Gibson CEO Henry Juszkiewicz presenting Scotty's L5 CT
Photo © James V. Roy
At one point in between sets Henry Juszkiewicz, the CEO of Gibson took the podium and acknowledged Scotty's contributions to the music world and to Gibson guitars by presenting him with a plaque and a new Gibson L5CT guitar. Gail accepted these on his behalf.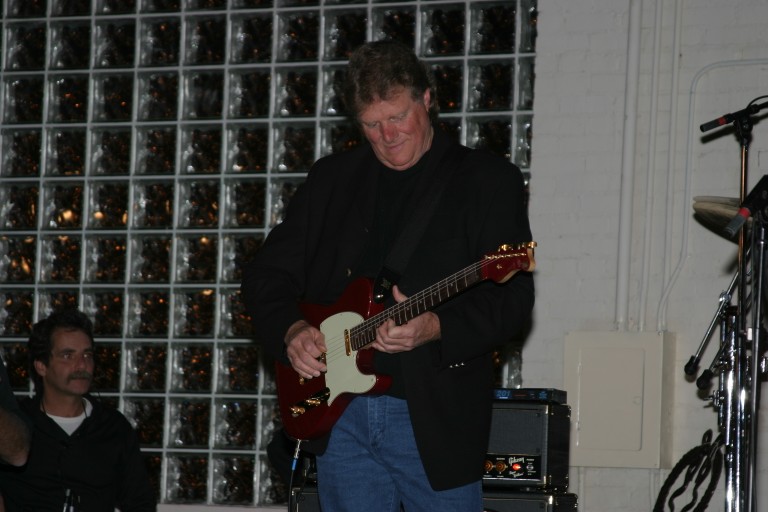 Reggie Young
Photo © James V. Roy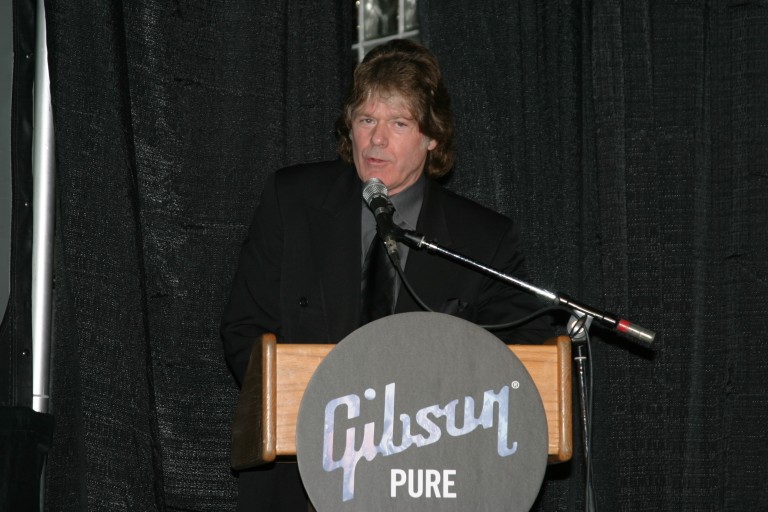 Jerry Schilling
Photo © James V. Roy
After Reggie Young got up and played Jerry Schilling spoke a little while they set the stage for Sonny Burgess and the Pacers. Sonny Burgess was a recording artist for Sun Records and leader of a group called The Pacers, one of the most sought after Rockabilly bands of the 50s. He was known for his Sun recordings of "Red Headed Woman" and "We Wanna Boogie". Scotty had only just played with these guys last June in Tupelo at the Elvis festival. The Pacers are Bobby Crafford on drums, Fred Douglas on bass, Jim Aldridge on sax, Kern K. Kennedy on piano and Charles Watson II on fiddle.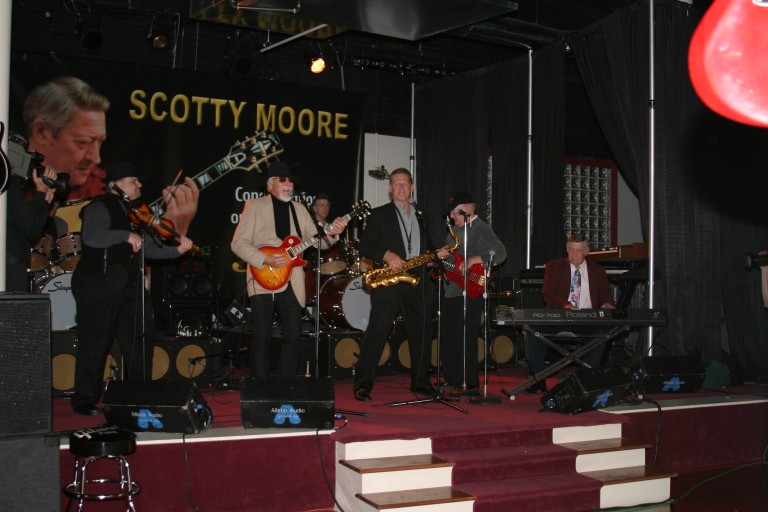 Sonny Burgess and the Pacers
Photo © James V. Roy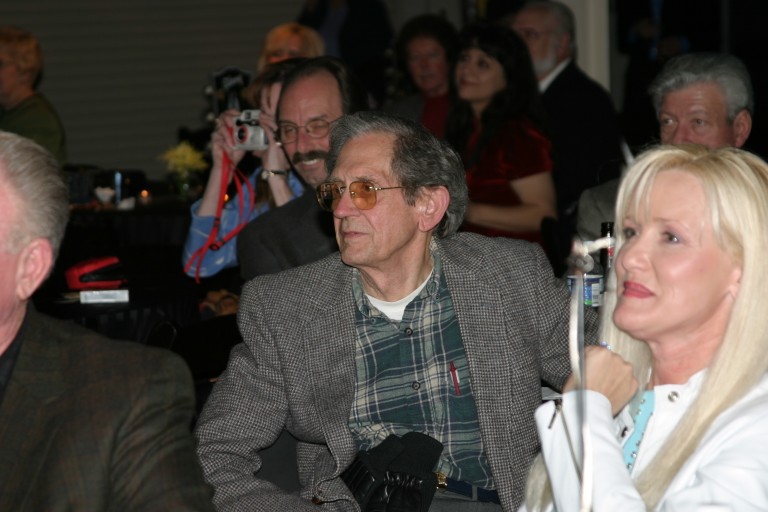 Stan Kesler
Photo © James V. Roy
Stan Kesler, another Sun Alumni was there also. Stan was a staff musician and songwriter for Sun Records, playing steel guitar or Bass on many Sun sessions with artists such as Carl Perkins, Roy Orbison, Jerry Lee Lewis and many more. He wrote five songs for Elvis including "I Forgot To Remember To Forget" and also produced "Wooly Bully" and Lil Red Riding Hood" by Sam The Sham and the Pharoahs.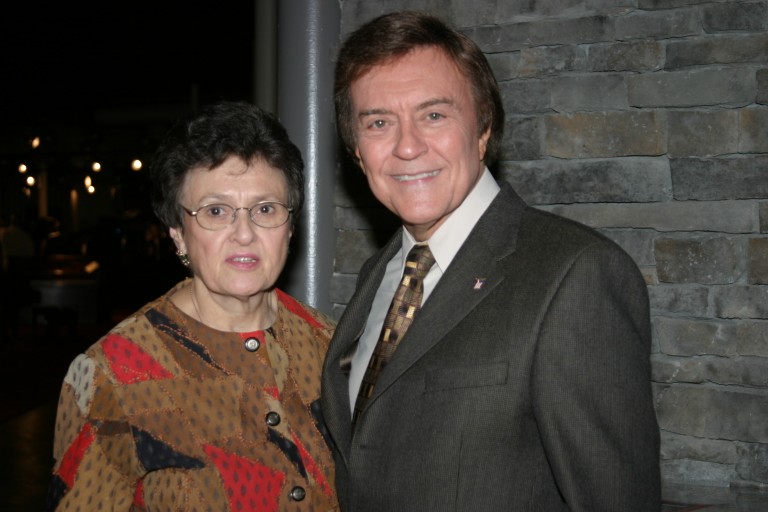 Marilyn and Ray Walker
Photo © James V. Roy
Only two members of the Jordanaires and their wives were able to attend. Ray Walker and Louis Nunley. Next to Gordon Stoker, Ray Walker has been a Jordanaire the longest, since 1957 and all of them remain active with a busy performing and recording schedule. They play quite frequently with Scotty and D.J. when they perform with Ronnie McDowall, the last time being in Branson. MO.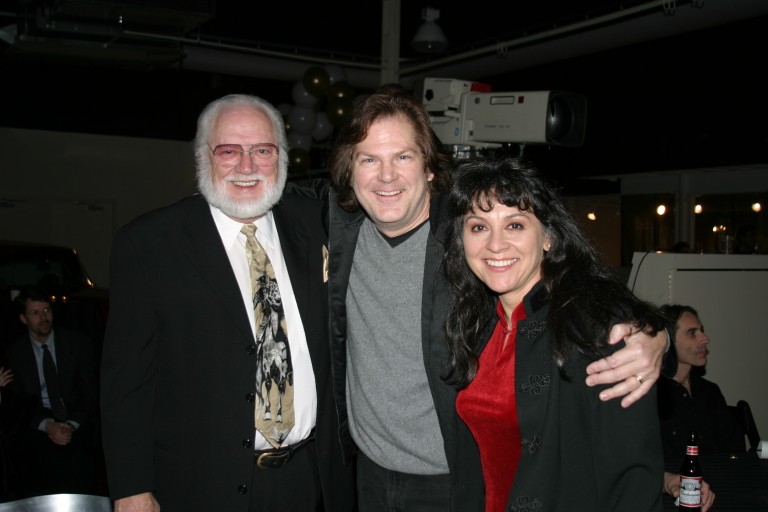 Bob and Kittra Moore with John Jorgenson
Photo © James V. Roy
Nashville A-Team member Bob Moore was on hand with his wife Kittra. Bob has played on more records out of Nashville than you can count, from Patsy Cline to Elvis. Before meeting Bob, Kittra used to sing with a band in California called "The Cheatin' Hearts" which featured fellow guitarist John Jorgenson. After meeting Bob she left and the band went on to become the highly acclaimed Desert Rose Band. John has since had a solo career, played with Elton John and is also one of the members of the Hellecasters. John met Scotty for the first time years ago when he was playing at the Chet Atkins Appreciation Society convention. He was brought in to play alongside gypsy guitarist Romane. While playing he was surprised to look up and see Scotty standing beside him (a little unnerving).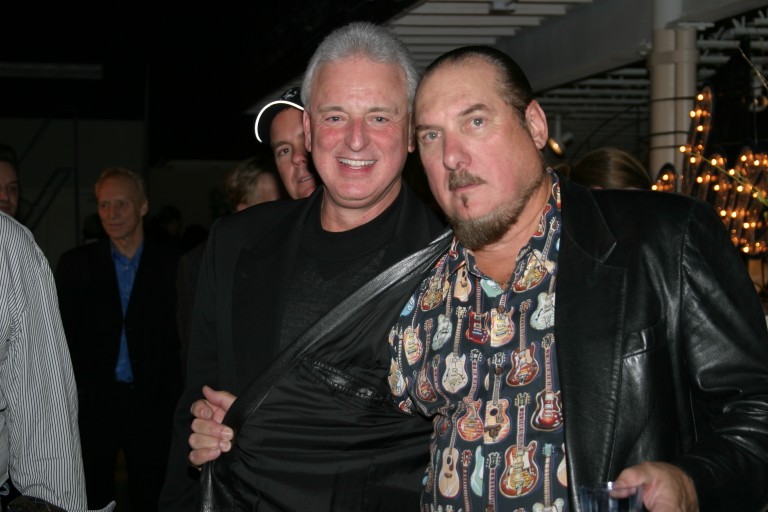 Mickey Butler and Steve Cropper
Photo © James V. Roy
Mickey Butler, no longer with Gibson, recently was head of Valley Arts Guitar in Nashville and before that was in charge of the Gibson Memphis factory. He is the one most responsible for such a successful party. We all owe him a big Thank You.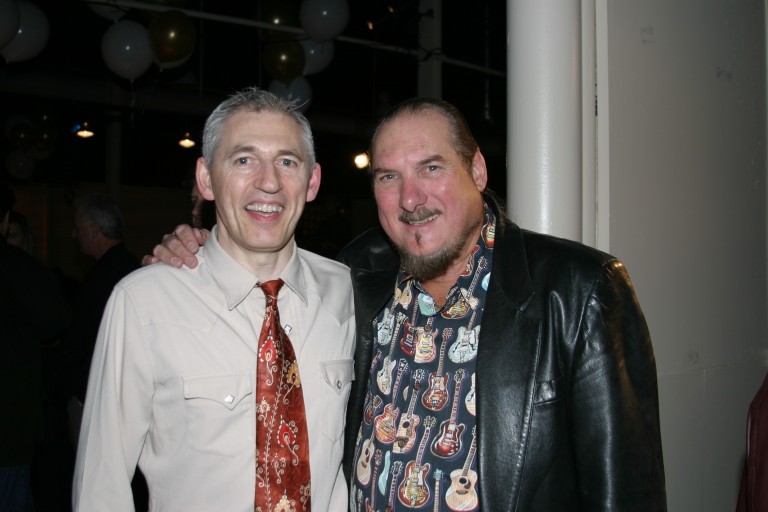 Jimmy Russell and Steve Cropper
Photo © James V. Roy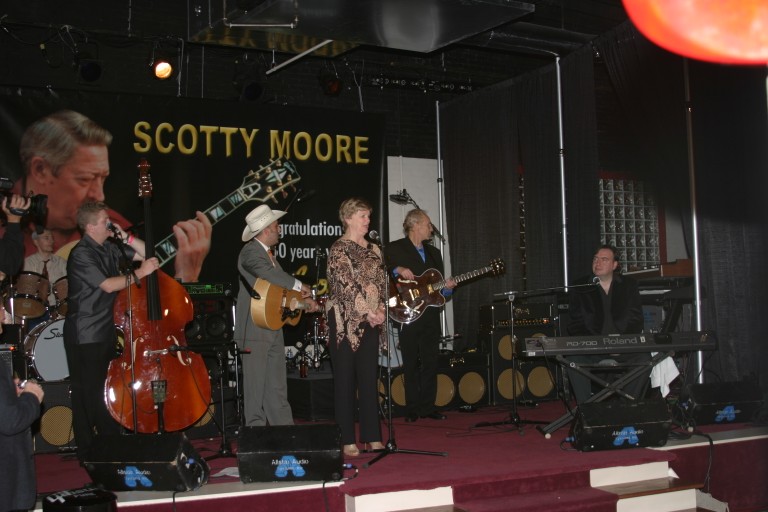 Gail introduces Scotty's U.K. band
Photo © James V. Roy
As mentioned before, when Scotty tours in Europe he has done so with pretty much the same group of guys since 1992. They came over from the UK to attend and were actually scheduled to perform as a unit tonight with Scotty. The members are Jimmy Russell on drums, Pete Pritchard on bass, Paul Ansell and David Briggs on guitar and Liam Grundy on keyboards. In addition to performing their own set they backed up many of the other performers of the night. One song in particular they did was a favorite of Scotty's that he liked to play and had actually recorded it with them on their album was Charlie Rich's "Who Will The Next Fool Be?"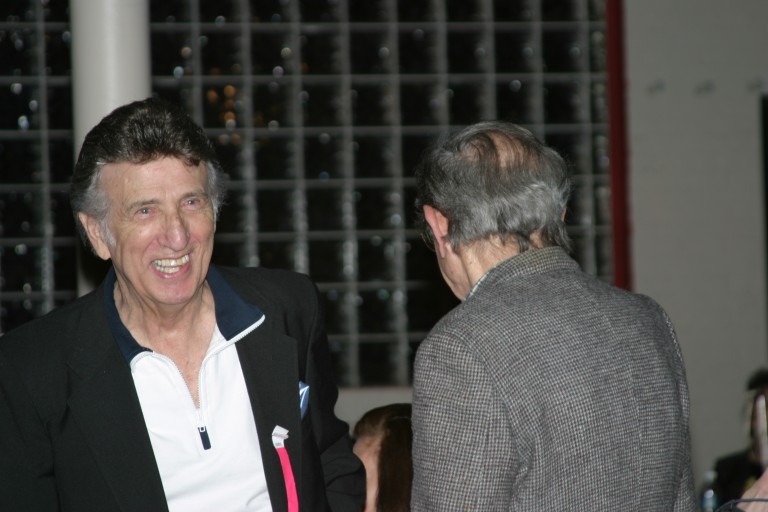 D.J. Fontana and Stan Kesler
Photo © James V. Roy

Kenny Lovelace, Sonny Burgess and Kittra Moore
Photo © James V. Roy
DJ was there with Karen, his wife. He played with several of the bands that night. Kenny Lovelace is another longtime friend. He's played with Bob Moore and James Burton to name a couple and for the longest time now has played guitar and fiddle Jerry Lee Lewis.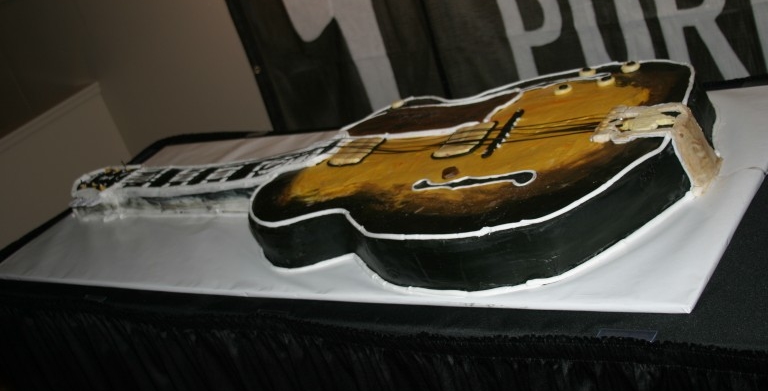 The cake
Photo © James V. Roy
They even made a cake shaped like the L5 they gave him but I don't remember anyone ever cutting into it.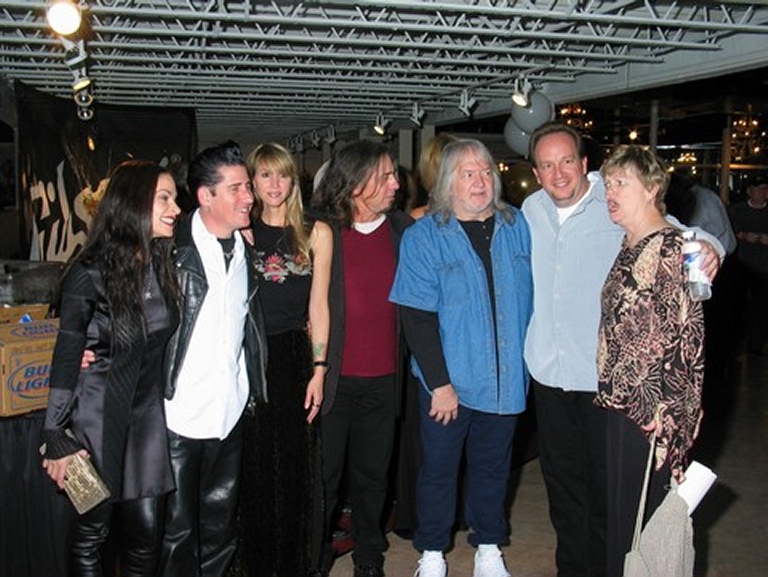 Debbie, Lee, Roseanne with friend, Seymour, Mike and Gail
Photo© courtesy Chip Smith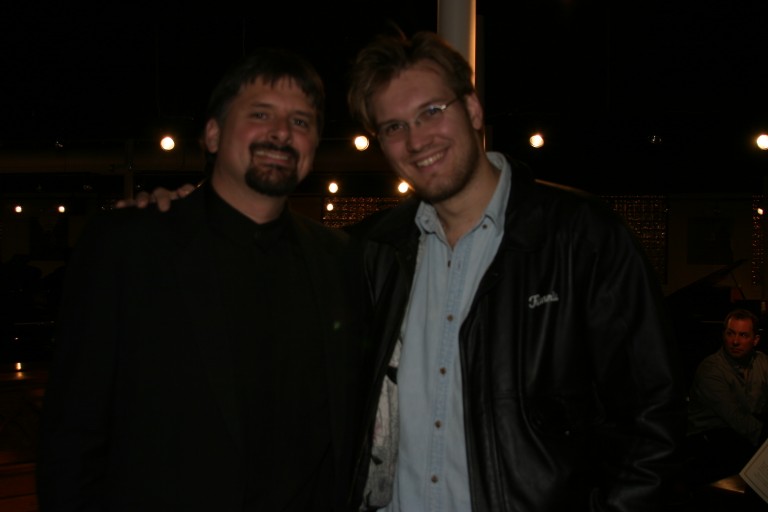 Frank Michaels and Ronnie Dean
Photo © James V. Roy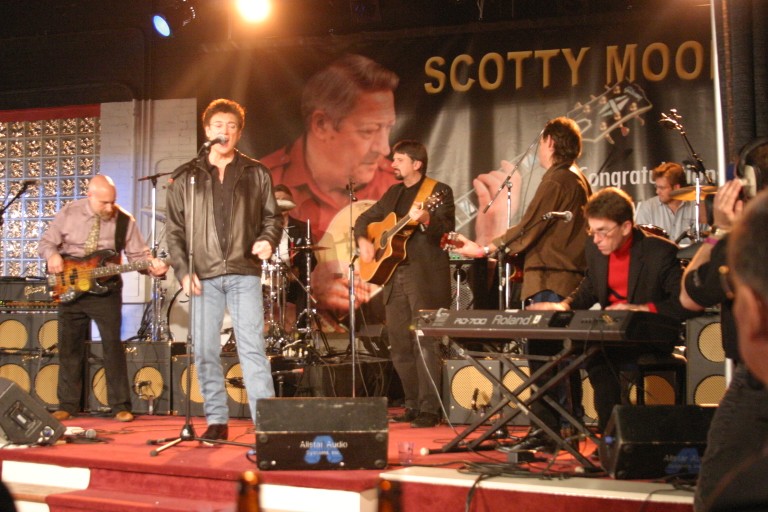 Ronnie McDowell and the Rhythm Kings
Photo © James V. Roy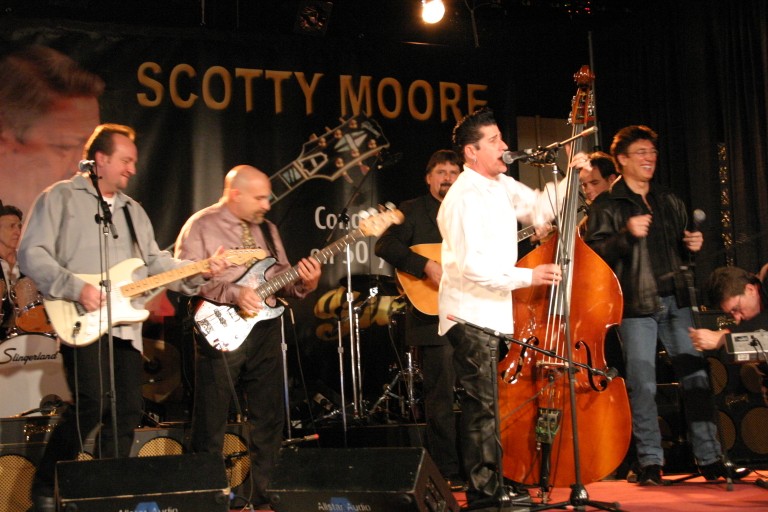 Mike Eldred and Lee Rocker join Ronnie McDowell
Photo © James V. Roy
The last band of the night was Ronnie McDowall and the Rythym Kings. They are Ronnie on vocals, Steve Shepherd on keyboards (he's also the road manager), Kevin Woods on lead guitar, Frank Michaels on guitar, Ronnie Dean McDowall on drums and Wade Bernard on bass. D.J. played with them as the second drummer. After a couple of songs they were joined onstage by Lee Rocker and Mike Eldred and then the joint got hoppin. After Bob Moore coaxed everyone out on the dance floor they shook the place till the end of the night.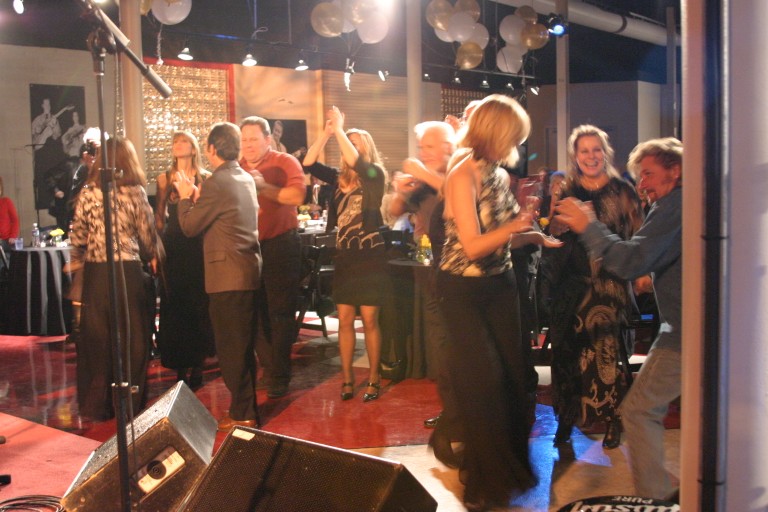 Photo © James V. Roy

Photo © James V. Roy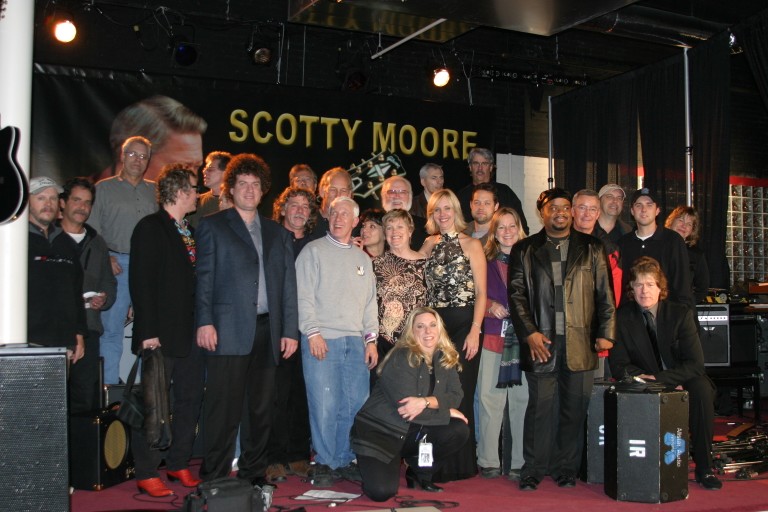 Photo © James V. Roy

Happy Birthday and Thanks Scotty, from all of us, for the last 50, and the years to come. Wish you could've been there, it was the only thing missing.
James V. Roy
December 2003