The Circle Theater
Cleveland, Ohio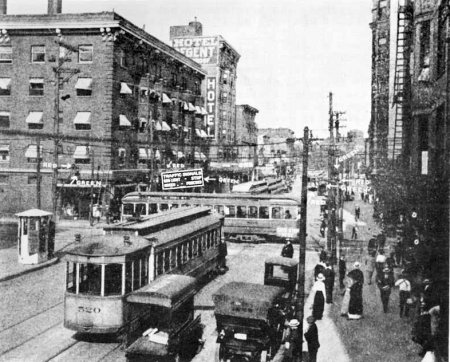 View east up Euclid Avenue at East 105th St. in Cleveland, OH - c1914
Photo courtesy The Motorist - Aug 1914
The Doan's Corners area of Cleveland were the corners of Euclid Avenue and what are now 105th and 107th Streets. Its named for an 18th century settler named Nathaniel Doan who built a log hotel and tavern on the northwest corner of Euclid Ave. and Fairmont Street (E. 107th) and also later a store and blacksmith shop on the southwest corner. By the early 20th century, the area was surrounded by hotels, theaters, banks, commercial buildings, and apartment houses.1 The intersection of Euclid and 105th has also been argued to be the location of the nation's very first traffic light, clicking, green to red for the first time at 5 p.m. on August 5, 1914.2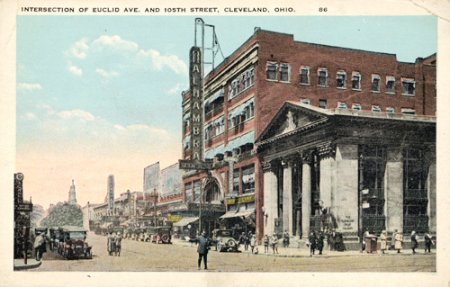 Circle Theater marquee in lower left across Euclid from the Alhambra - c 1927
Postcard from Postcards of Cleveland courtesy Cleveland State University Library
The Hoffman theater was built in 1920 by Clara A. and Graham Hoffman on property they had leased at 10208 Euclid Ave., west of 105th.1 The theater was known as the Circle by 1927, when Loew's Ohio Theaters, Inc., assumed operation and installed capabilities for the showing of talking motion pictures. It was one of five theatres in the Euclid and East 105th Street area, the others being Loew's Park, Kieth's 105th Street, the University and the Alhambra. The Circle had a balcony, and seating totaled 1975. There was a full stage, with dressing rooms.3

View west down Euclid Avenue at East 105th St. in Cleveland, OH - 1942
Photo from the Cleveland Press Collection courtesy Cleveland State University Library
In the 1920s, vaudeville theaters located in the area, and later motion pictures, brought thousands to the thriving business and entertainment district that had become Cleveland's "second downtown."1 This was also the neighborhood where Bob Hope grew up. He used to attend vaudeville shows in the Alhambra theater, across Euclid from the Circle, with his mother and hustled pool in the billiards parlor and bowling alley housed in the same building.4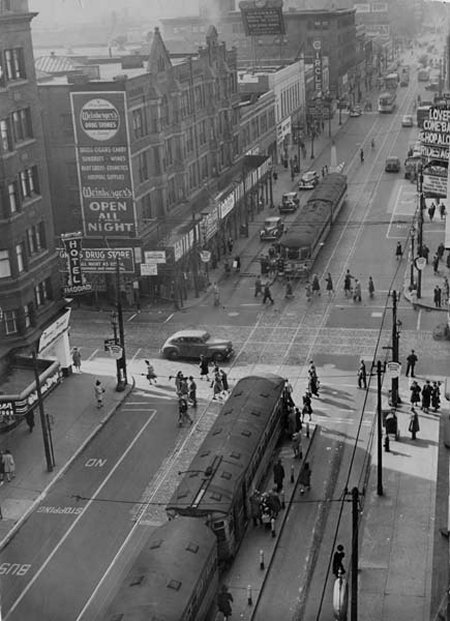 Circle Theater on Euclid Ave just past the intersection of E. 105th - Nov. 8, 1946
Photo from the Cleveland Press Collection courtesy Cleveland State University Library
In 1935 the Circle was owned by Max Marmorstein, a real estate operator who also had other theater interests with Max Lefkowich and Henry Greenberger. Mamorstein reopened the temporarily darkened theater with a policy of combined stage and screen shows.1 In the 1940s, Marmorstein, among many, was the subject of investigations into organized crime in interstate commerce and in 1943 had his telephones removed from his office at 9th and Chester because they were connected with gambling operations.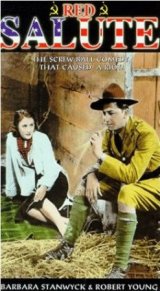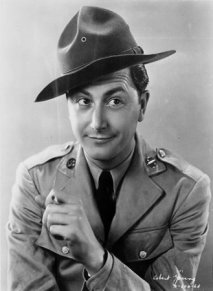 "Red Salute" starring Barbara Stanwyck and Robert Young
Photos courtesy web
The showing of the movie "Red Salute" at the Circle in 1936 attracted pickets from Western Reserve University and other nearby schools, who protested that the film misrepresented the radical youth movement. Located in an adjoining building, the Circle Ballroom was a popular venue for local swing bands in the late 1930s. Following World War II, the theater came under the management of Emanuel (Mannie) Stutz, who varied its film fare in the mid-1950s with live country and black music shows.1 A Hillbilly Jamboree on Saturday nights was emceed by the local radio station WERE disc jockey, Tommy Edwards.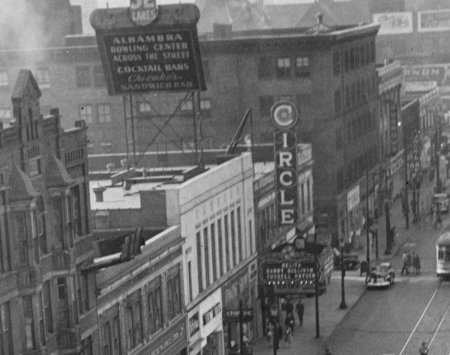 Circle Theater Marquee advertising "Suspense" and "North of the Border" - Nov. 8, 1946
closeup from the Cleveland Press Collection courtesy Vern Morrison of the CSU Library
Edwards's interest in country music as well as pop tunes involved him in the North Coast success of several early '50s artists. His radio show aired weekdays from 10:00 A.M. to 2:00 P.M. and succeeded in filling a void for country music lovers. He also began staging many of the early sock hops that took place in the area highs schools where he would also project slides onto a screen to accompany the music.5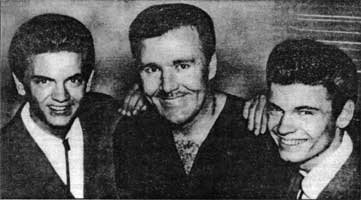 Tommy Edwards and the Everly Brothers
Photo courtesy TommyEdwardsRecords
Originally from Milwaukee where he worked at stations there and in Iowa, Edwards started at WERE in 1951. He was the first deejay to provide a weekly music newsletter, the TE Newsletter, a publication distributed to more than two hundred agency men, music publishers, columnists, and deejays across the country. A September 1955 article in the RCA DeeJay Digest entitled "Nearly Everybody in New York Reads Tommy Edwards' Newsletter" called it a "weekly newsletter which is read as carefully by the entire music business as the big trade papers are read." In a 1980 Scene article, Edwards said of the newsletter, "I chronicled everything that happened during the week; who was in; what artists; what records looked strong; what promotion men called on us. And the letter had some impact. If a promotion man was in town and he wasn't mentioned in the the letter he was most often called on the carpet when he returned to base."5
According to Peter Guralnick, Edwards had been playing Elvis' records on WERE since the fall of 54 and was an unqualified fan; there was a big market for this music in Cleveland, he assured (Bob) Neal. With all of the southerners who had flocked to town looking for work after the war, in addition to the large black population that occupied the Hough district and a diverse ethnic population, Cleveland was a real music town. The jamboree had unearthed so many hillbillies that Edwards had invited them to educate him as to what they wanted to hear.6


Cleveland Plain Dealer ad - Feb. 26, 1955
ad courtesy Denise Sanders, Cleveland Public Library Microform Center
On Saturday, February 26, Elvis, Scotty and Bill made their first trip north to perform at the Circle. Bob Neal accompanied the boys in hopes that this might lead to even further exposure, that through the contacts he made at radio stations along the way, or just by being on the scene, something might happen. Other than that, he had no firm expectations — they didn't even have a definite place to stay.6
They performed shows at 7:30 and 9:30 that had gone over fine. Elvis remained largely unheralded in Cleveland (his records were little more than "turntable hits" there, since Sun's distribution did not extend effectively that far), but if Bob Neal had been apprehensive about a northern audiences receptivity to this new music, his fears were quickly put to rest. Elvis went over the same as he had throughout the South: the young people went wild, and the older folks covered their mouths. Bill's souvenir photo sales were brisk, as he mixed easily with the fans and made change from his money belt, and Tommy Edwards sold a fair number of their records (which they had carried up from Memphis in the trunk of Bob's car) in the lobby.6

Scotty, Elvis and Bill at the Circle - Oct 19, 1955
Photo by Tommy Edwards courtesy Chris Kennedy's 1950s in Color
After the show Edwards took them back to WERE to meet Bill Randle, a fellow deejay there who in addition to broadcasting five hours every weekday for WERE also hosted a Saturday-morning show for CBS in New York. It was through Tommy Edwards that Randle had first heard Elvis Presley's music, but while Edwards played "Blue Moon of Kentucky" for his country audience, Randle heard something in the blues.6 Randle was impressed with Elvis, and with Bob Neal. He gave Neal the name of a contact in song publishing who he thought could help get Elvis a tryout on Arthur Godfrey's Talent Scouts in New York.
The following October, Elvis, Scotty and Bill were back in Cleveland for another show at the Circle. This time Tommy booked them as an added attraction for shows on the 19th, a Wednesday night, the second night of an Opry Stars show headlined by Roy Acuff and Kitty Wells. There were shows at 7:30 and 10:00 p.m.

Ad for Circle theater appearance - Oct 18, 1955
courtesy Ger Rijff's "Long Lonely Highway"
After his brief career as a baseball player was abruptly ended by severe sunstroke, Roy Acuff became one of the Grand Ole Opry's most popular entertainers. Hailing from the Smoky Mountains of Tennessee, where he learned fiddle as a child, Acuff joined a medicine show in 1932 after recovering from the heat-induced illness. By 1936 Acuff and his Crazy Tennesseans had recorded what would become one of his most famous songs, "The Great Speckled Bird." Two years later he was an Opry star, scoring a massive hit with his version of the Carter Family standard "Wabash Cannonball." The next year his group was renamed the Smoky Mountain Boys, and throughout the 1940s Acuff and company scored smash after smash. Dubbed the King of Country Music, Acuff also co-founded one of Nashville's biggest music publishers, Acuff-Rose, which signed Hank Williams among many other songwriters.7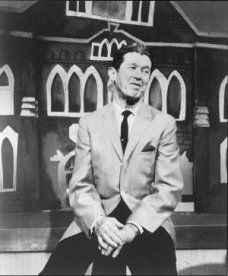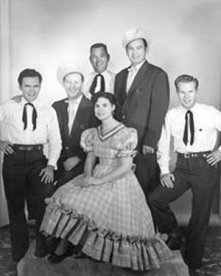 Roy Acuff and Kitty Wells, Johnnie and Jack and the Tennessee Mountain Boys
Photos courtesy Goldmine Magazine, and The Weekly Wire
Veterans of the Louisiana Hayride, Kitty Wells, born Muriel Ellen Deason, was married to Johnnie Wright, and had performed as the "girl singer" with the duo Johnnie and Jack (Anglin) since 1939. In 1952 she recorded "It Wasn't God Who Made Honky Tonk Angels" which made her a star and broke the industry barriers for women. A string of hits from the '50s to the early '70s earned her the title Queen of Country Music.8

Scotty, Elvis and Bill at the Circle - Oct 19, 1955
Photo by Tommy Edwards courtesy Chris Kennedy's 1950s in Color
Jane Scott, a writer for the Cleveland Plains Dealer and one of, if not the first legitimate rock 'n roll reporters, would in an article years later quote Bill Randle in a Cleveland Press column, which described Elvis as a "…sensational young singer whose style is a combination of hillbilly nasalities, rock-n-roll, Johnnie Ray, and a peculiar sound all his own. The new phenomenon looks like Tony Curtis and drives a pink and black Cadillac. Watch him roar!"9

Elvis signing autographs at the Circle Theater - Oct 19, 1955
Photo by Tommy Edwards courtesy Chris Kennedy's 1950s in Color
The following day, the 20th, Elvis, Scotty and Bill appeared and performed at the Brooklyn (Ohio) High School Auditorium on a bill that included Pat Boone, The Four Lads and Bill Haley and the Comets and then later that night at Saint Michael's Hall in Cleveland. Portions were filmed for a planned documentary about Cleveland DeeJay Bill Randle, called The Pied Piper of Cleveland. They would return once more as a band to Cleveland a little over a year later, in November of 1956 when they appeared at the Cleveland Arena, no longer an added attraction or an opening act.
Along with his radio success, Edwards also recorded two songs himself, both in January 1957. "What Is a Teenage Girl" and the follow-up "What Is a Teenage Boy," made a noticeable, albeit small, dent on the national charts. In 1960, new management at WERE took over and subsequently released Edwards and other deejays, including Bill Randle. After abiding by a clause in his contract that barred him from working at any other station within a hundred-mile radius for two years, Edwards joined Akron station WADC. Soon after, however, he grew disillusioned with the radio industry and returned to Cleveland in 1962, not as a deejay but as a record store owner. He opened Tommy Edwards' Hillbilly Heaven on the corner of W. 25th Street and Denison Avenue.5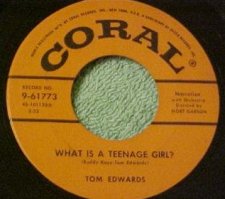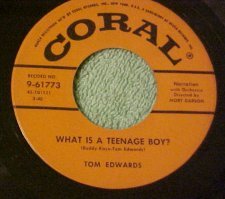 Tommy Edwards' recordings of "What is a Teenage Girl / Boy?"
In 1973 Edwards moved his shop to 4237 Fulton Road, and changed the name to Tommy Edwards' Record Heaven. In June of 1981 Edwards suffered a stroke and died a month later on July 25, of a heart attack at fifty eight. The family sold the store to Chuck Rambaldo, a regular at the store who has followed in Edward's footsteps by supporting local bands and recording artists.5 The Rambaldo family has continued to operate the store and today it is located at 5171 Wallings Road, in North Royalton, Ohio.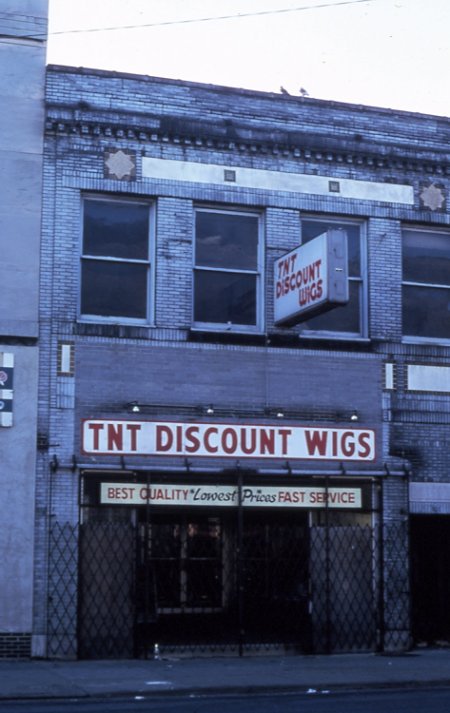 The Circle Theater building as TNT Discount Wigs - Nov. 1979
Photo © courtesy American Classic Images
The Circle Theater closed around 1959 though the building would see other uses. The theater's name briefly resurfaced a decade after its demise, on the marquee of an adult movie house a few blocks down the street.1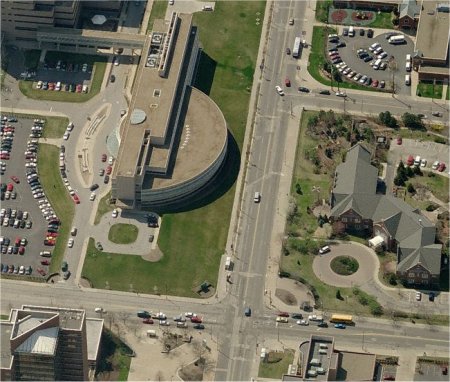 Euclid Ave at the intersection of E. 105th - 2008
Photo courtesy Microsoft EarthData
By 1970 Doan's Corners was overcome by the epidemic urban blight that claimed the surrounding neighborhoods of the east side. Virtually no remnant of Doan's Corners remained by 1994, the area having been cleared for expansion of the Cleveland Clinic Foundation west of E. 105th St. and for the W. O. Walker Industrial Rehabilitation Ctr. on the south side of Euclid Ave. between E. 105th and E. 107th streets.1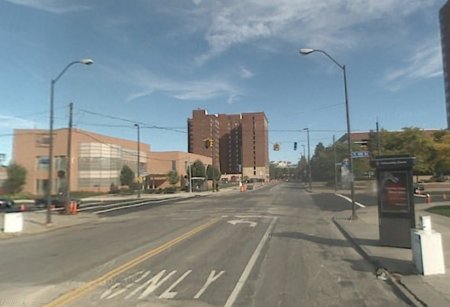 View west down Euclid Avenue at East 105th St. in Cleveland, OH - 2008
Photo courtesy Google StreetMaps
page added December 30, 2008
(updated with Christopher Kennedy's Photos July 25, 2011)

special thanks to Vern Morrison of the Cleveland State University Library for his assistance with photos and to Denise Sanders of the Cleveland Public Library Microform center for research assistance for ads.
Be sure to check out 1950s Radio in Color: The Lost Photographs of Deejay Tommy Edwards.
1 excerpts from The Encyclopedia of Cleveland History courtesy CWRU History Department
2 according to The Motorist - Aug 1914
3 according to Cinema Treasures
4 according to Bob Hope and American Variety by the Library of Congress
5 excerpt from "Rock 'n' Roll and the Cleveland Connection" by Deanna R. Adams
6 excerpt from "Last Train to Memphis" by Peter Guralnick
7 excerpt from PBS - American Roots Music: The Songs and the Artists - Roy Acuff
8 according to "Encyclopedia of American Gospel Music" by W. K. McNeil
9 according to Jane Scott, Cleveland Plain Dealer - August 14, 1987 courtesy Tommy Edwards Records
---
Arthur Godfrey's Talent Scouts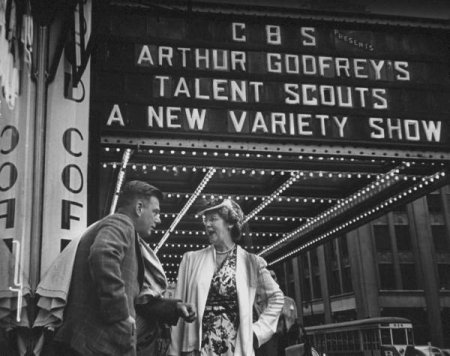 Arthur Godfrey talking to mother of girl who appeared on Godfrey's radio program
Photo by Cornell Capa © Time Inc.
In December 1948, after more than a decade on radio, principally for CBS, Arthur Godfrey ventured onto primetime TV by simply permitting the televising of his radio hit Arthur Godfrey's Talent Scouts. On TV Arthur Godfrey's Talent Scouts ran until July 1958 on Monday nights at 8:30 P.M. for a half hour and proved Godfrey's best venue on television.1 Not long after, a second show, Arthur Godfrey and His Friends debuted on Wednesday nights broadcast from the same theater. In addition to these, he also had a hour and a half television show each weekday morning.

CBS Publicity Ad published in the 1950s
Both of Godfrey's night time shows were shot in Studio 50, which would eventually be known as The Ed Sullivan theater.2 CBS headquarters were at 485 Madison Avenue in New York but Godfrey's office and radio programs emanated from a studio in CBS's nine story building at 49 East 52nd street. The building, originally known as the Astor Town House, was used by the Julliard School of Music. CBS bought and sound-proofed it in 1939.3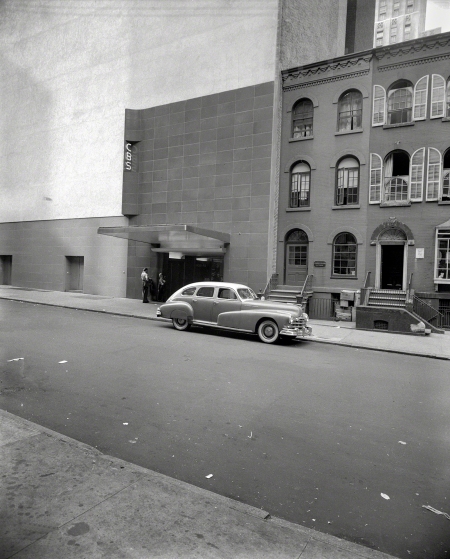 WCBS studios, 49 East 52nd Street - ca. 1948
Photo by John M. Fox courtesy Shorpy
The formula for Arthur Godfrey's Talent Scouts was simple enough. "Scouts" brought on their discoveries to a converted New York theater to perform before a live studio audience. Most of these "discoveries" were in fact struggling professionals looking for a break, and so the quality of the talent was quite high. At the program's conclusion, the studio audience selected the winner by way of an applause meter.1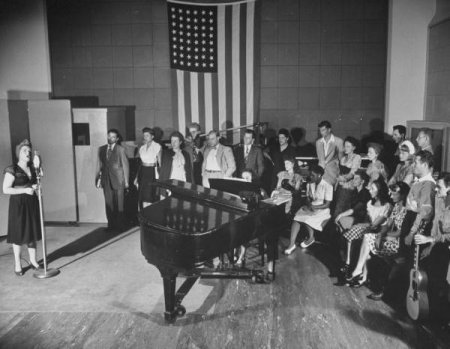 People auditioning for the "Talent Scouts" radio program - Aug. 1946
Photo by Cornell Capa © Time Inc.
In February of 1955 after Elvis, Scotty and Bill made their first appearance in the North, at the Circle Theater in Cleveland, deejay Bill Randle gave Bob Neal the name of one of his CBS affiliates, probably Max Kendrick, suggesting they try out for Godfrey's Talent Scouts. Earlier that same month they had began their association with Colonel Parker and Hank Snow to assist with booking and promotion.
Peter Guralnick and Ernst Jorgensen in Elvis Day by Day wrote that on March 7th, William Morris agent Harry Kalcheim telegrams Colonel Parker to inquire if Elvis can audition for Arthur Godfrey's Talent Scouts, the same show that Bill Randle has recommended so enthusiastically just a short time before. Parker replies blusteringly that he is willing to pay for the trip to New York only if Neal and Elvis agree to give the Colonel the right to represent Elvis on "any bookings that may arise [from] the appearance." The audition was set for March 23, and should Elvis win first place, he will appear on Godfrey's morning TV show for the following three weeks.4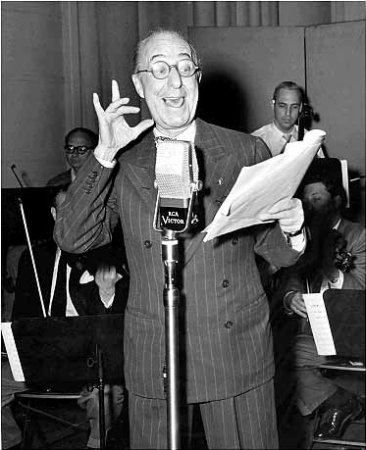 Ed Wynn
Photo courtesy Prof. S.O. Coutant and Microphones
According to Guralnick, however, the audition (supposedly) took place in a studio on the 14th floor at 501 Madison Avenue for Godfrey's female assistant at 2:30 p.m. on March 23, 1955.5 In 1933, comedian Ed Wynn, while still under contract to NBC, decided to start his own radio network, ABS. He built studios at 501 Madison, just across 53rd street from CBS headquarters at 485 Madison in the Rockefeller Center area of New York, the hub that was referred to as Radio City. The building was renamed the Amalgamated Broadcasting building. It lasted just more than a month and the facilities were sold the following year for a new station, WNEW.6
Neal was convinced television was the key to breaking them to a national audience.5 According to Scotty, Neal had been to New York before, but none of the boys had. The trip took on added significance when it was learned that neither Bill nor Elvis had ever flown. Once they arrived, they took in the sights; then, with Bill acting the clown, cracking jokes, making faces, and poking fun at the bustling crowds of city folks around them, they rode the subway to the television studio, where they performed live for the show's talent scouts.7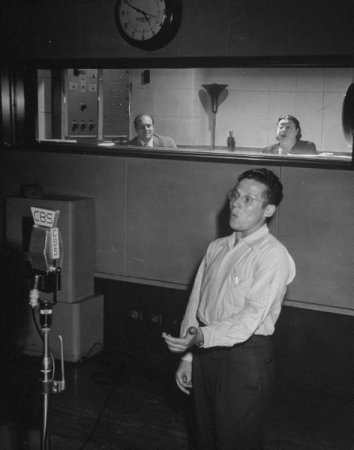 Ted Healy and Bessie Mack audition a man for the "Talent Scouts" radio program - Aug. 1946
Photo by Cornell Capa © Time Inc.
The reaction was not what they hoped for: "Don't call us, we'll call you," they were told. Elvis didn't take the rejection well. A new side to his personality was beginning to emerge. The youthful, super-polite teenager they had started out with was beginning to display signs of developing an ego. He was still playful and self-effacing, but for the first time it was becoming apparent that he really did care what people thought about him. Scotty wasn't as bothered by the rejection. "I wasn't too impressed with any of it, to tell you the truth," he says. "None of us ever liked television. That eye is so unforgiving." 7
Guralnick wrote, it was very disappointing to them all not least to Bob Neal, who had been building this up as an opportunity to break into the big time -- television was a national market, and Arthur Godfrey was the vehicle by which the Blackwood Brothers had become nationally known. ... Bill Randle's friend Max Kendrick reported back to Randle somewhat indignantly that this new kid just wasn't ready for the big time - he showed up for the audition badly dressed and seemed nervous and ill prepared - and Randle felt that Kendrick was a little distant as a result for some months thereafter.5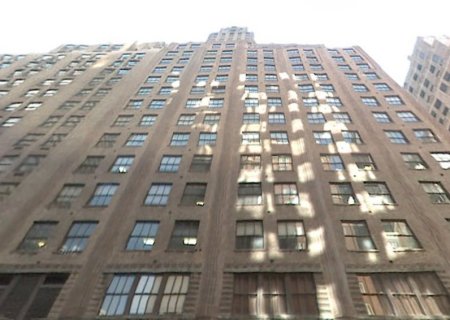 501 Madison Avenue, New York, NY - 2008
Photo courtesy Google StreetMaps
In his day Godfrey significantly assisted the careers of Pat Boone, Tony Bennett, Eddie Fisher, Connie Francis, Leslie Uggams, Lenny Bruce, Steve Lawrence, Connie Francis, Roy Clark, and Patsy Cline. His "discovery" of Patsy Cline on January 21, 1957 was typical. Her scout, actually her mother Hilda Hensley, presented Patsy who sang her recent recording Walkin' After Midnight. In addition to Elvis, Godfrey's show also turned down Buddy Holly.1

501 Madison Avenue, New York, NY - 2008
Photo courtesy Google StreetMaps
Some sources have written that during this trip, or possibly others, Elvis saw Bo Diddley perform at the Apollo Theater in Harlem.8 Scotty has no recollection of this ever happening or of Elvis mentioning it after trips with Parker alone, which he is sure he would have.
"Arthur Godfrey's Talent Scouts" went off the the air in 1958 and "Arthur Godfrey and Friends" in 1959. He broadcast a daytime Radio variety daily on CBS from 1960 until 1972.
page added December 30, 2008
1 excerpt from "Arthur Godfrey" courtesy The Museum of Broadcast Communications
2 according to Sincerely, Andy Rooney by Andy Rooney
3 excerpt from POSTINGS: Home of the Arthur Godfrey Show; Old CBS Studios Sold by The New York Times October 23, 1993
4 excerpt from "Elvis Day By Day" by Peter Guralnick and Ernst Jorgensen
5 according to "Last Train to Memphis" by Peter Guralnick
6 according to "The Airwaves of New York" by Bill Jaker, Frank Sulek, Peter Kanze
7 excerpt from "That's Allright Elvis" by Scotty Moore and James Dickerson
8 according to "NOT READY FOR PRIME TIME Elvis Comes to Town, 1955", by David Hinkley, The Daily News May 10, 2004