50 Guitars and All That Jazz
Photos from the collection of Tiny Timbrell
Hilmer J. "Tiny" Timbrell, the West Coast Gibson rep, tech and salesman, was also a photographer and collector of photographs. As a sessionist he belonged to a group of LA based guitarists that did the majority of session work around town for both the movie studios and the labels. Long before select groups nicknamed "The Wrecking Crew," or Motown's "Funk Brothers" and Nashville's "A-team," they were essentially the first wave of professionals that got the calls. They consisted of players like George M. Smith, Alton "Al" Hendrickson, Bob Bain, Al Viola, Barney Kessel, Howard Roberts, Tommy Tedesco and Dennis Budimir to name but a few among them, the latter not arriving on the scene until the '50s when jazz became popular.

Standing L-R: Unrecognized, Unrecognized, Vince Terri, Howard Heitmeyer, George Smith, Al Viola, Professor Elloriagia, Howard Roberts, Laurindo Almeida, Nick Bonnie, Tommy Tedesco, Bob Bain, Barney Kessel, Tony Rizzi, Joseph Robert "Bobby" Gibbons, Tiny Timbrell, René Hall
Kneeling L-R: Milt Norman, Bill Pitman, Vito Mumolo at United Western Recorders Studio A, Sunset Blvd. Hollywood, CA - Feb. 1961
Photo © Jay Timbrell
Bob Bain got his start in film session work at MGM with Andre Previn, one of the first film composers to write parts for the electric guitar. He said that George M. Smith, one of the guitar greats of the '30s and '40s that he described as brilliant, was responsible for the studio guitar player really being recognized as a musician. "He was the guy who laid the groundwork for us all. Prior to that, guitarists were only thought of as rhythm players who played ukulele-type chords." In 1942 Smith wrote the book "Modern Guitar Method for Rhythm and Chord Improvising."1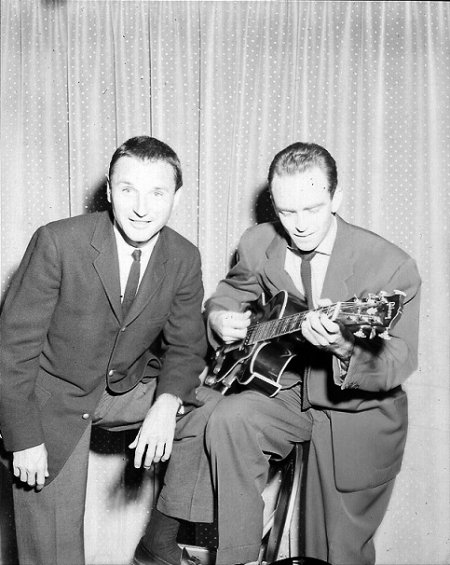 Bobby Troup and Howard Roberts (Aug 12, 1956?)
Howard Roberts used to play with Bobby Troup 6 nights a week at a club called the Encore. Bob Bain said that because of that schedule he and all the other guys would occasionally fill in for Howard with Bobby.
Photo by Gerald Smith © Jay Timbrell
Bob said that in the early studio days, "most of the composers were not used to writing for guitar and the average orchestra would not have one. If they used one, it would be almost as a solo instrument for a certain scene an likely the only time they did it was for a sequence that would require a banjo, or for a Western sequence." Smith, who had played on all the John Ford movies like Grapes of Wrath and Tobacco Road said that he made the major part of his "living before World War II with the banjo. Electric guitar was out completely. If you were a jazz player before the war, you really didn't work except when they wanted jazz guitar. That was a bad reputation to have! There were three teachers, and they knew nine chords – three each!" he replied. "That's about the way it was. I had to do all the research myself. See, those days, no one could read – it was all by ear – so they hired the guitarists and mandolin players a week in advance to teach them their parts."1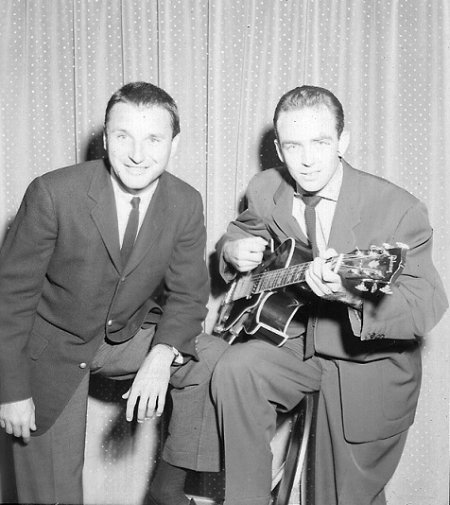 Bobby Troup and Howard Roberts (Aug 12, 1956?)
Photo by Gerald Smith © Jay Timbrell
Smith recalled the before World War II he had to learn to read piano parts or he wouldn't have worked. "I started looking at Gershwin's and Ellington's music, and I saw the beautiful voicings. I remembered all the good jazz tunes that Jack Teagarden played and noticed these beautiful changes kept reoccurring all the time. That was the basis of the book – it was based on bass notes." Further, "you paid a hell of a price playing in those days. Sometimes they'd call you in for a $30 session, and you'd work one hour with the orchestra and then they'd make you stay around and play solos for two hours. They'd use those solos any way they'd want to – you didn't even know what picture they used them in."1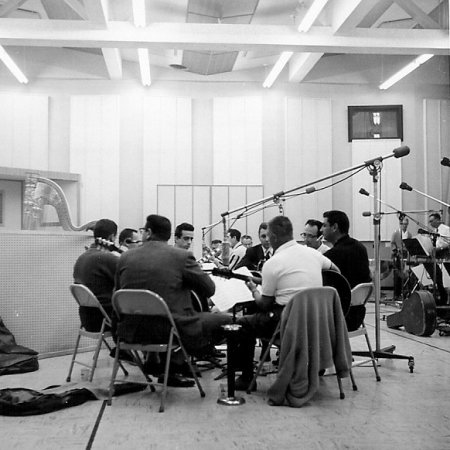 Recording The 50 Guitars of Tommy Garrett at United Western Recorders - Feb. 1961
Photo © Jay Timbrell
The situation began to change when Hendrickson, Bain, and Tony Rizzi demonstrated their sight-reading abilities. Bain said that once composers found a guitarist who could read they began to use him. In the 1950s, The Adventures of Ozzie and Harriet became the first show to prominently feature guitar parts. At the time, there were so few guitarists able to play the music that the union had to give Bob Bain permission to play into overtime. "Ozzie and Harriet was a hard show, with the only guitar book in town," Tommy remembered. "In those days, once you ran out of the five or six guys who could read, it was all over. When I finally subbed for Bob on Ozzie and Harriet, I was like a hero in this town because I was able to do it. That's how astounding it was at the time for a guy to be able to do something."1

Recording The 50 Guitars of Tommy Garrett at United Western Recorders - Feb. 1961
Photo © Jay Timbrell
According to Tedesco, "in the'50s I found it was kind of hip playing jazz, like when Barney Kessel, Howard Roberts, and a few of the guys came in. They were featured, like when Bob [Bain] started playing on the Peter Gunn show with Henry Mancini. That was a big turnaround for jazz-type guitarists in this town. All of a sudden there was jazz work and jazz sounds. At that time, having a jazz score was as far removed as it would be to have somebody come up and tell you that all the music next year is going to be Hawaiian. When the tune 'Peter Gunn' took off, people said, 'Oh, my God – I don't believe that.' That's how far out it was to score that music."1

Recording The 50 Guitars of Tommy Garrett at United Western Recorders - Feb. 1961
Photo © Jay Timbrell
When Elvis began making films in Hollywood with Love Me Tender, Vito Mumolo, a staff guitarist at Fox, was the first LA guitarist to record with him. That was the first film to not use either Scotty, Bill or DJ for any of the soundtrack work. For the next few films Elvis insisted on his own band and the majority of recording was done at Radio Recorders. A sight reader, Tiny Timbrell, was the only LA studio guitarist on the sessions that also included Dudley Brooks on piano. Howard Roberts was the first of the jazz players to record with them with the film Flaming Star in August and October of 1960 though he didn't start to make a name for himself in the jazz world until around 1962.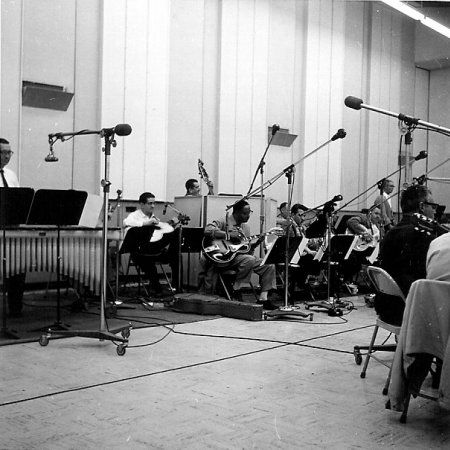 Recording The 50 Guitars of Tommy Garrett at United Western Recorders - Feb. 1961
Photo © Jay Timbrell
Bob was brought in by Tiny to work on several sessions with Elvis. He said he normally didn't play a lot of that type of music then but Tiny said he wanted him around if they were handed lead sheets so that he would have someone else that could read and transcribe. Bob remembered recording at Radio Recorders as early as the '40s when many of the labels didn't have their own facilities. John Palladino at the time was the engineer there and was the first to run Bob's guitar with a patch cable direct into the board so he had complete control. Bob was also a staff guitarist for Fox studios, in addition to MGM and Universal, and worked on sessions when Elvis made pictures for them and recalls one of the first times in particular when they were called into Radio Recorders. They got there around 9 o'clock at night and Elvis was sitting at the piano. Elvis told them that he was just working on something and suggested they go across the street to the Formosa, a small bar and restaurant, for an hour for a drink. He said when they came back he still wasn't ready. They didn't start to record until around 11:30 and Elvis was very courteous and professional, knew exactly what he wanted and they wrapped around 3 a.m.3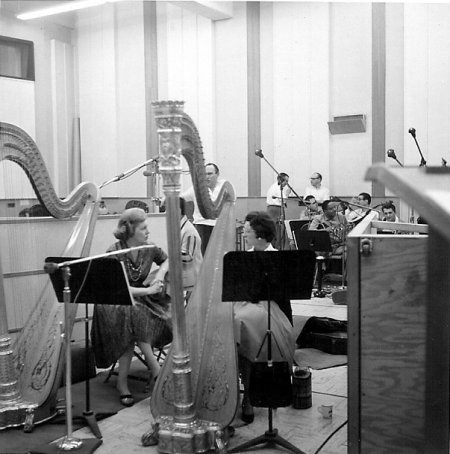 Dorothy Remsen and Ann Mason on harp, recording The 50 Guitars of Tommy Garrett at United Western Recorders - Feb. 1961
Photo © Jay Timbrell added May 18, 2012
According to Bob Bain, Dorothy Remsen was considered the best harpist in town and could read anything. Bob said she was like a jazz player and could improvise in that if they didn't have a part written for harp they could hand her the parts written for guitar and she would come up with something using that. Ann Mason was the staff harpist at Fox Studios, the first chair, initially starting with Al Newman and others after him.3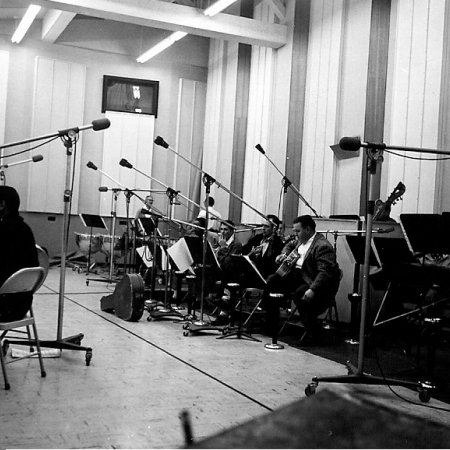 Recording The 50 Guitars of Tommy Garrett at United Western Recorders - Feb. 1961
Photo © Jay Timbrell
Thomas Lesslie "Snuff" Garrett was originally from Oak Cliff, Texas and got his start at KILF in Dallas. He used to setup and sell records at the Sportatorium and remembers when Elvis, Scotty and Bill were playing area gigs. After working as a broadcaster in Wichita Falls he relocated to LA to work in promotions for Liberty Records, ultimately as both a producer and an A&R man. His first was Dreamin for Johnny Burnette, a top 10 hit, followed up with Bobby Vee's Devil or Angel. He then produced Burnette's classic "You're Sixteen," and scored his first No. 1 hit in February 1961, with Vee's Take Good Care of My Baby. He contracted with a childhood idol of his, producer/arranger Ernie Freeman, to help him arrange string—section parts, perfecting "a sound that glued together."2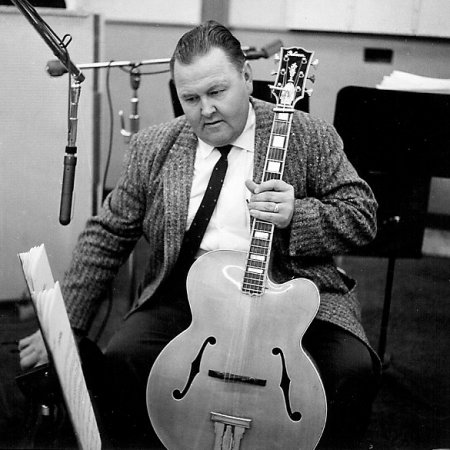 Tiny Timbrell with his Gibson L5PN at United Western Recorders - Feb. 1961
Photo © Jay Timbrell
In February of 1961 Garrett also produced the first of several guitar based instrumental albums entitled The 50 guitars of Tommy Garret. Ernie Freeman wrote most of the arrangements and Tommy Tedesco was the lead guitarist for the sessions. Bob Bain recalled that Ernie often wrote many arrangements for guitar on the fly including a lot of the stuff that Tommy later used and was renown for. The album was recorded in three night-long sessions at United Western Recorders' Studio A on Sunset Blvd. The idea was to use as many of the top session players (guitarists) in town that weren't otherwise busy and the lineup varied due to availability between the albums.3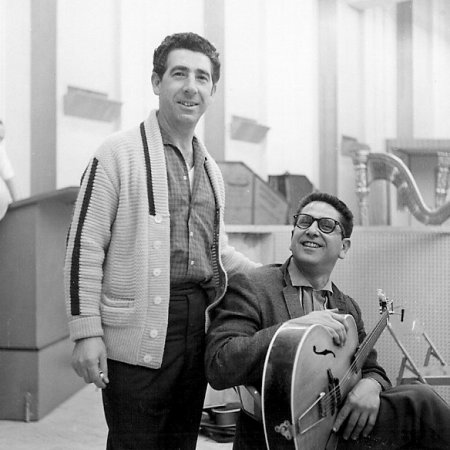 Al Viola and Tony Rizzi at United Western Recorders in LA - Feb. 1961
Photo © Jay Timbrell
The theme of the first album was South of the Border, and was all acoustic. Snuff said all of the guitars used were Gibsons, archtops, in addition to classical and traditional mariachi instruments. An array of Gibson headstocks feature prominently on the album cover.3 Bob Bain was quoted, "We're so used to playing the electric, where everything kind of comes out easily. To play an acoustic guitar solo with a good sound, you have to really concentrate. It's an entirely different technique."1 The Guitarron players were locals that played regularly in Mariachi bands in the Alvera Street section of LA. One had recorded previously with Bob on a record for Peggy Lee.3

Larry Bunker and Laurindo Almeida at United Western Recorders - Feb. 1961
Photo © Jay Timbrell
Included in the sessions were guitarists Vince Terri, Howard Heitmeyer, George Smith, Al Viola, Professor Elloriagia, Howard Roberts, Laurindo Almeida, Nick Bonnie, Tommy Tedesco, Bob Bain, Barney Kessel, Tony Rizzi, Joseph Robert "Bobby" Gibbons, Tiny Timbrell, René Hall, Vito Mumolo, Bill Pitman and Milt Norman. Most were jazz players. Larry Bunker, the percussionist, played with Chet Baker and on a lot of Bill Evans' early albums.3

Larry Bunker at United Western Recorders - Feb. 1961
Photo © Jay Timbrell
Hall, though, was noted more for his rock recordings. Originally a sessionist in New York, he had relocated to LA in the mid 50s and played guitar on Larry Williams' Dizzy Miss Lizzy, Chan Romero's Hippy Hippy Shake, and Johnny Burnette's Cincinatti Fireball. He also played bass on Richie Valens' "La Bamba." As a talent scout for King Records he discovered Billy Ward and the Dominos, whose members at one time included Clyde McPhatter and Jackie Wilson.4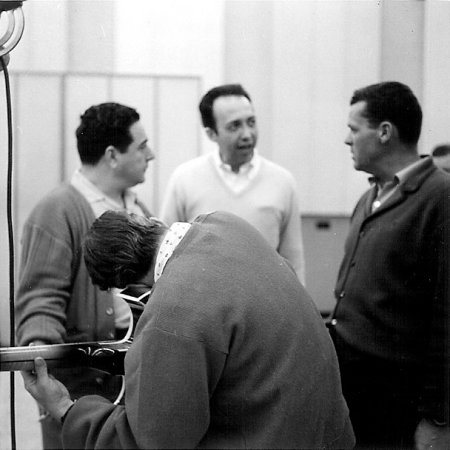 Vince Terri, Barney Kessel and Bobby Gibbons converse while Milt Norman plays the Gibson Barney Kessel model - Feb. 1961
Photo © Jay Timbrell
Bob Bain used his 1928 L5 that he's used on thousands of sessions. It had originally been built for Frank Victor of Victor and (Harry)Volpe. Several of the other players used L5s and Super 400s and Tiny Timbrell his pre war L5PN, by then equipped with a string damper. Though Barney Kessel was pictured there with his new signature model, probably one of the first produced by Gibson, it was not used on the recordings.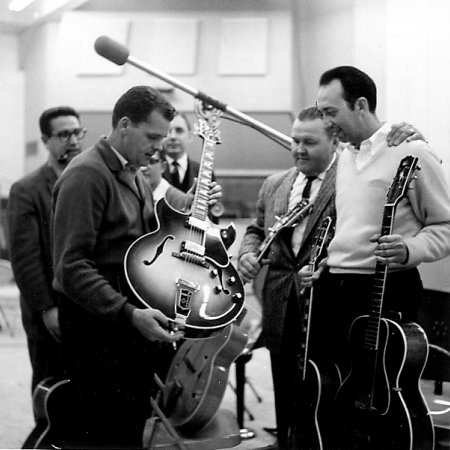 Tony Rizzi, Bobby Gibbons, Milt Norman, Bob Bains, Tiny Timbrell and Barney Kessell check out the Gibson Barney Kessel model - Feb 1961
Photo © Jay Timbrell
The Kessel guitar was based on an experimental prototype developed in 1960 and officially released in 1961. It came in "Custom" and "regular" versions, featured a 17-inch wide, 3 inch deep double Florentine cutaway body with a laminated spruce top and laminated maple back and sides finished in cherry sunburst.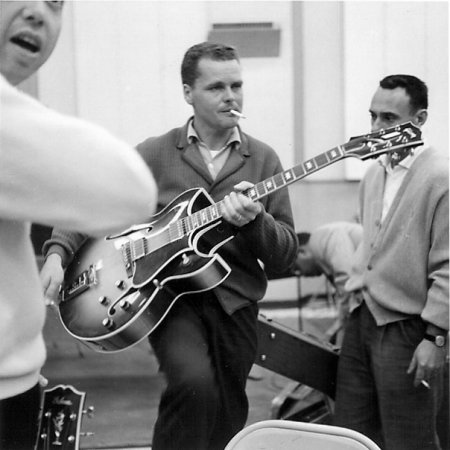 Barney Kessel, Bobby Gibbons with the Gibson Barney Kessel model and Bill Pitman - Feb. 1961
Photo © Jay Timbrell
The Custom, like Barney's, originally sported a two-piece maple neck, a quaver inlay on the 400 size peghead, bow-tie banjo like inlays on the fingerboard, bound f-holes, Grover Roto-Matic tuners, a Tune-O-Matic bridge and gold plated parts. The tailpiece was enhanced with a rosewood shield carrying a plastic nameplate. Prior to 1963 the neck joined the body at the 14th fret resulting in an uncomfortable heel but was later moved back to the 17th fret to facilitate better access. Barney was not known to use them often.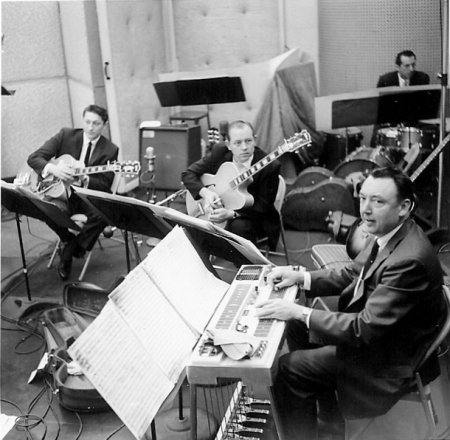 Scotty Moore, Hank Garland with Tiny's L5P, Alvino Rey and DJ Fontana during Blue Hawaii Sessions at Radio Recorders - March 21-23, 1961
Photo by Tiny Timbrell © Jay Timbrell
The following month, March, sessions began for the film Blue Hawaii. By this time Elvis had been recording with Nashville A-teamers since entering the Army in addition to Scotty and DJ after his return. According to Peter Guralnick, Elvis flew out to the Coast on March 18 in preparation for the Arizona benefit on the twenty-fifth and the start of shooting on Blue Hawaii two days later. Elvis was scheduled to record the Blue Hawaii soundtrack in Hollywood, and he had flown the whole band out from Nashville for the session and the concert. They relaxed and rehearsed at the house on Perugia, then went into Radio Recorders on March 21 to record a full fourteen-cut soundtrack album under the watchful eye of Hal Wallis over the next three days.5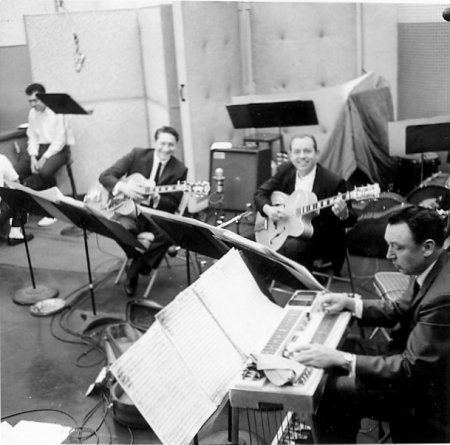 Ray Walker, Scotty Moore, Hank Garland with Tiny's L5P and Alvino Rey
March 21-23, 1961 - Blue Hawaii Sessions at Radio Recorders
Photo by Tiny Timbrell © Jay Timbrell
In addition to Scotty, DJ and the Jordonaires, the band hand been rounded out by A-teamers Bob Moore, Hank Garland, Boots Randolph and Floyd Cramer. In addition to Tiny, for the sessions at least, the A-teamers were augmented by LA sessionists that included Hal Blaine, Bernie Mattinson, Dudley Brooks, George Fields, Bernie Lewis, Fred Tavares and Alvino Rey.6 Snuff said he remembered recording with Hank in Nashville, and was with him the night before Hank's career ending accident. He said he recalled him being sort of hyper, or "squirrelly" then and surprisingly, a vibe of contempt from the management in Nashville if you also recorded in LA.3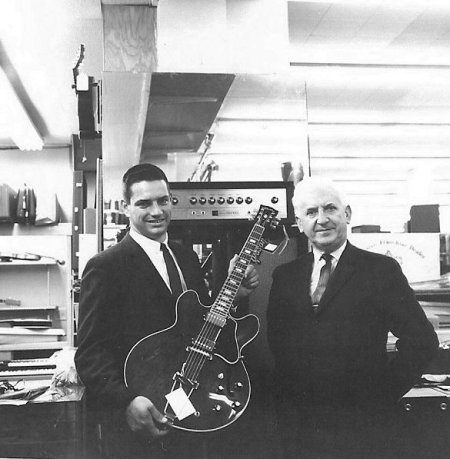 Fife & Nichols Hollywood Music Store - ca.1966
Photo by Tiny Timbrell © Jay Timbrell added May 18, 2012
Fife & Nichols Music Store in Hollywood was started by Al Fife and originally located in Hollywood on Vine St. When Wallich's Music City opened on the corner of Sunset and Vine they relocated upstairs, which is around the time that Tiny started there. There was a downtown location too, which was run by Uley Aptel, but most of the studio guys preferred the Hollywood location because of the parking and traffic. Milt Owen worked in repairs at Fife and Nichols for years then later at Barney Kessel's Music World on Yucca and Vine. Still later, he worked at Stein On Vine until his death.3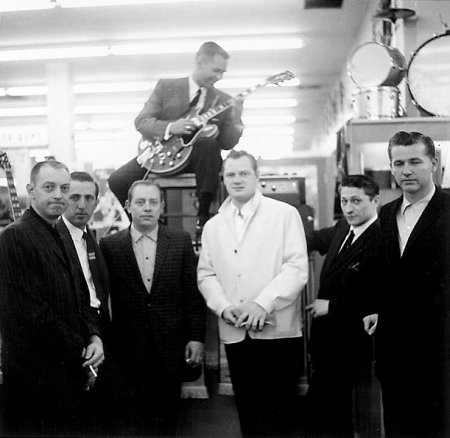 Boots Randolph, DJ Fontana, Hank Garland, Andy Nelson with ES355, Bob Moore, Scotty Moore, Floyd Cramer at Fife & Nichols - Mar. 1961
Photo by Tiny Timbrell © Jay Timbrell
At some point while in town, before leaving for Hawaii, Scotty, DJ and the A-teamers paid a visit to Tiny at the store. There they posed for several photos with Andy Nelson. As a seasoned and accomplished player, Nelson had been working for Gibson/Epiphone since 1955 promoting products and conducting clinics across the country. He had also been very involved in the design of various models, like the Gibson L5CT associated with George Gobel, and the ES-355, a model adopted later as B. B. King's Lucille. In 1957 he was instrumental in getting Howard Robert's endorsement with Epiphone and in 1962 helped design Robert's signature model, produced first by Epiphone, and then Gibson.7

Hank Garland, Andy Nelson and Scotty at Fife & Nichols - Mar. 1961
Photo by Tiny Timbrell © Jay Timbrell
Garrett's use of strings on Burnette and Vee's records had formerly caught the attention of newcomer Phil Spector and Garrett offered him a job at Liberty as head of A&R on the East coast. His stay at Liberty was said to be stormy and he left amid suspicions that he was saving his best work for his own label. Later, in 1962 Spector produced He's a Rebel, which served to define his "wall of sound" of the '60s. Further, it ushered in a new era of "first call" sessionists, Tommy Tedesco among them, that would play on a plethora of hits that followed, including records by/for the Byrds, the Fifth Dimension, Simon & Garfunkel, Johnny Rivers, the Carpenters and others.2 They would later be nicknamed The Wrecking Crew, though Garrett, who considered Tedsco one of his best friends, has no recollection of ever hearing a reference to it during his years producing in LA.3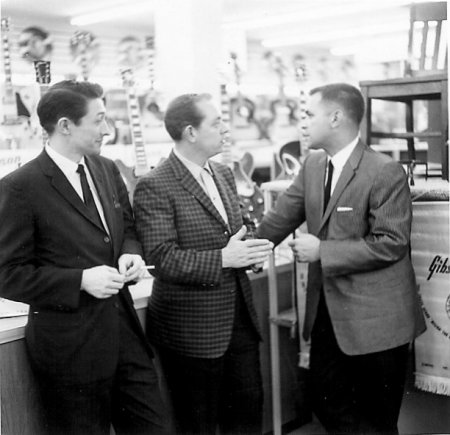 Scotty, Hank Garland and Andy Nelson at Fife & Nichols - Mar. 1961
Photo by Tiny Timbrell © Jay Timbrell
Snuff would go on to produce hits by Gary Lewis and the Playboys, the Monkees and others, later Cher. In all, he produced a total of 14 of the "50 Guitars" albums, at a rate of two a year.2 Elvis' soundtrack sessions in LA would continue to use a mix of Nashville and local players over the next few years that in addition to Tiny, at times would include Bob Bain, Al Hendrickson, Barney Kessel, Bobby Gibbons, Tommy Tedesco, and also Billy Strange and Glen Campbell, until June of 1968. Aside from the sit-down segments, the NBC Singer Special featured all LA musicians as did all the remaining soundtrack sessions on the West Coast.6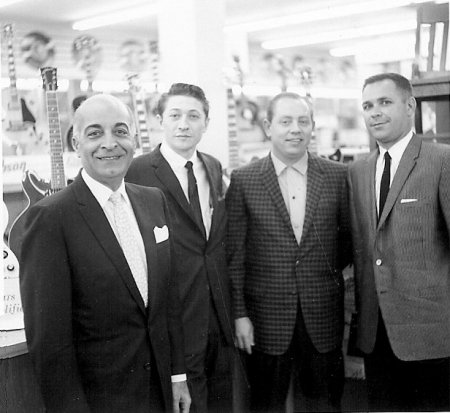 ?, Scotty, Hank Garland and Andy Nelson at Fife & Nichols - Mar. 1961
Photo by Tiny Timbrell © Jay Timbrell
In 1972 Bob Bain left the studios and joined Doc Severinsen's band when Johnny Carson and "The Tonight Show" moved to the West Coast. The popularity of jazz guitar held until the early 1970s, and then according to Hendrickson "the jazz reputation got real bad again." Tedesco attributed the change every few years this way, "A rhythm section will stay hot for three or four years, and then it's who are the next musicians? And then a few years later it changes again. The rhythm chair is a monstrous one. You just have to be a good musician, get the sound, read, and then it's all over. With the guitar you gotta be a rocker, a fusion, or whatever. Whatever style is in, that guy's going to be hot and just tear it apart for a few years."1
Page added May 10, 2012
updated May 18, 2012

Special Thanks to Jay Timbrell for the photos, to Bob Bain and Snuff Garrett for identification and their help with this page, and to Andy Reiss for the lead to Andy Nelson. Much of the history and information presented here concerning the early studio sessionists was obtained by by Jas Obrect and documented in his article listed below. The specifications for the Gibson Barney Kessel model guitar are courtesy Gibson Electrics: The Classic Years : An Illustrated History from the Mid-'30s By A. R. Duchossoir.

1 according to or excerpt from Tommy Tedesco and Friends on the Golden Age of Studio Guitar by Jas Obrecht - March 7, 2011
2 according to or excerpt from Happy Trails: Legendary record producer Snuff Garrett turned his back on Hollywood for a piece of the Arizona cowboy myth by Gilbert Garcia - originally published by Phoenix New Times, September 3, 1998
3 according to Bob Bain, Snuff Garrett or the liner notes to The 50 Guitars Of Tommy Garrett Go South Of The Border
4 according to Wikipedia and its entry on René Hall
5 excerpt from Careless Love: The Unmaking of Elvis Presley by Peter Guralnick
6 according to Recoding Sessions database at Keith Flynn's Elvis Presley Pages
7 according to The Jazz Guitar Stylings of Howard Roberts by Mitch Holder
---
Bob Bain and his 1928 Gibson L5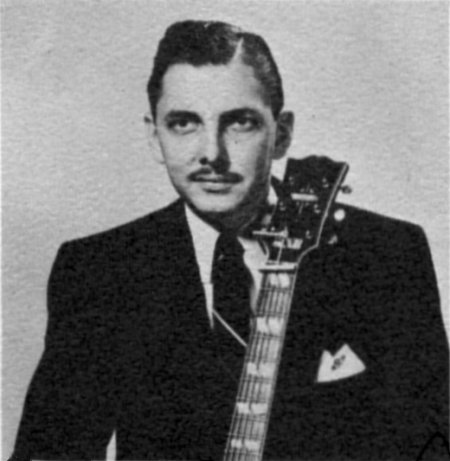 1962 Gibson Catalog photo of Bob Bain
Photo courtesy Tracy Longo
Bob Bain started playing professionally before World War II, during which he toured Europe and North Africa with the U.S.O. and actor George Raft. In 1945 he replaced Dave Barbour in Tommy Dorsey's band which at the time also included Nelson Riddle on trombone, Buddy DeFranco on clarinet and Buddy Rich on drums. Later, while playing with the Phil Moore band, they recorded a bop record, Bop! Goes My Heart, with Frank Sinatra. He did more records with Sinatra, including Young At Heart and I've Got You Under My Skin, but was eventually replaced by Al Viola when opting not to tour Europe. It would've been cost prohibitve given his non-stop work at Capitol at the time. In addition, he also played on albums by Mel Torme, Peggy Lee, and Rosemary Clooney. Among the records he did with Nat King Cole included Unforgettable and the guitar intro section to the song Mona Lisa Bain essentially wrote, but didn't play.*

Les Paul at a NAMM show - ca. 1968
Photo from the collection of Tiny Timbrell © Jay Timbrell
However, in these great bands, the guitar was restricted to rhythm parts. Bain has always believed Les Paul was responsible for bringing guitars to the forefront. Bain's own band, The San Fernando Playboys, made recordings in Les' living room. He later played local gigs and recorded with Harry James and his big band and then with Andre Previn and his trio.*

Les Paul at a NAMM show - ca. 1968
Photo from the collection of Tiny Timbrell © Jay Timbrell
"Originally, in motion pictures, the only things you played were rhythm parts, which were chord symbols. A banjo part might have the melody written out. You would rarely get a mandolin part because most of the time, a violin player would double on the mandolin. Most guitarists tuned their mandolins like the first four strings of the guitar."* Bob also played mandolin on Dean Martin's That's Amore.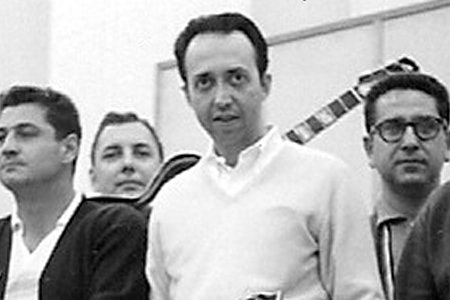 Tommy Tedesco, Bob Bain with his 1928 L5, Barney Kessel and Tony Rizzi - Feb 1961
Photo © Jay Timbrell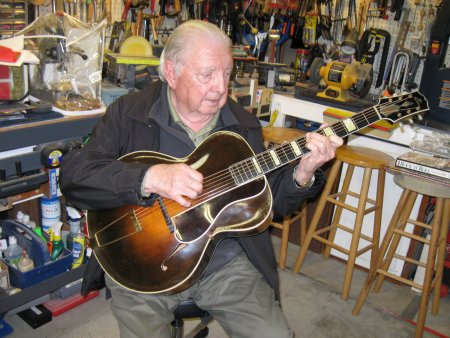 Bob Bain with his 1928 L5 in Tracy Longo's shop at Guitar Tech Corner
Photo © Tracy Longo
His credits in Television include Ozzie and Harriet, Mission Impossible, Bonanza, Peter Gunn, Batman and the Munsters among many others. With the big bands Bain played a blond Gibson L5, with high action because its sound cut through the orchestra, and with Previn his ES-150 Gibson Charlie Christian model.* In 1953 Bob bought his 1928 sunburst Gibson L5. It was the one used on Garret's 50 Guitars album and on thousands of other sessions. It originally belonged to Frank Victor, renowned for his guitar duets in the '30s with Harry Volpe. Bob bought it in New York from his widow. 1928 was only the second year of that model to feature block inlaid fret markers instead of dot.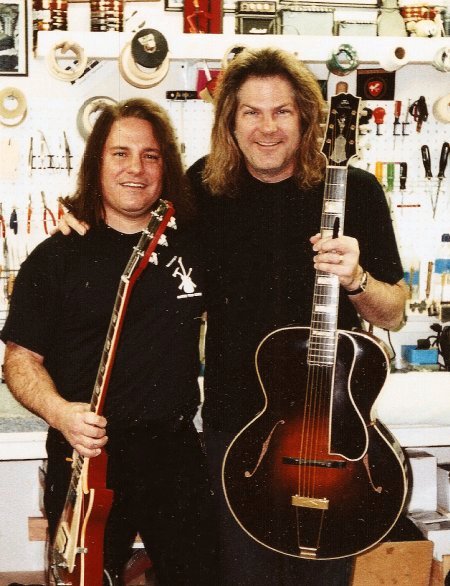 Tracy Longo and John Jorgenson with Bob's 1928 L5
Photo © Tracy Longo
In 1972 the guitar was stolen from his home during a break-in along with other guitars and equipment, including a Coral Sitar. Most of it was soon recovered though, all but the L5. When Bob mentioned it and asked about it he was advised not to pursue it. Evidently someone, possibly of rank, recognized it for what it was and decided to keep it for themselves. As fate would have it though, years later John Jorgenson found it for sale rather cheap, $600, bought it and in 1984 while playing on The Tonight Show with Roger McGuinn, he met Bob and arranged to get it back it to him. John said Bob gave him $750 for it, since he had already received about that from the insurance company.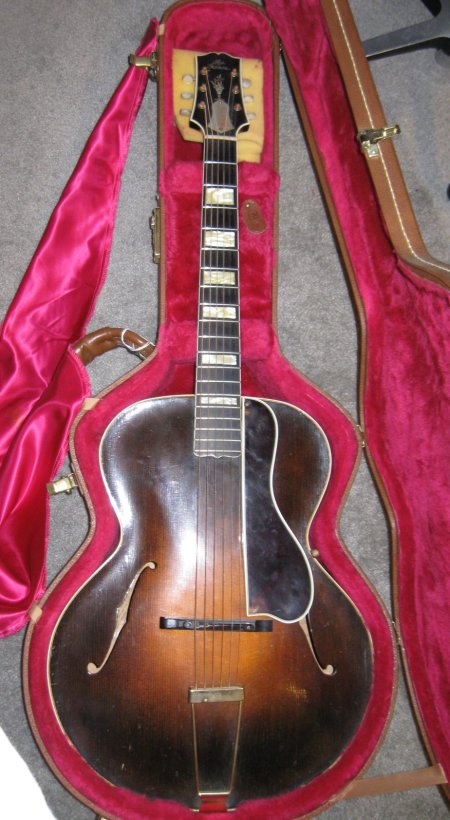 Bob Bain's 1928 Gibson L5 #86949 - April 2012
Photo © Tracy Longo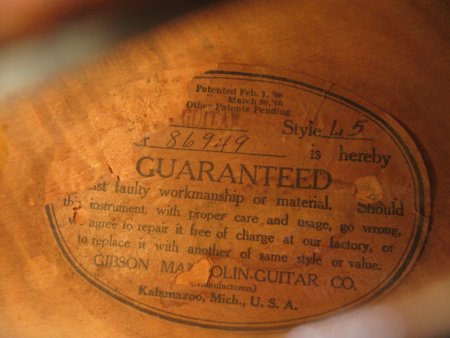 The label in Bob's 1928 Gibson L5 #86949 - April 2012
Photo © Tracy Longo
John was able to identify it as Bob's because of the custom truss rod cover still on it that was given to him by Tiny Timbrell, inscribed with his name. These covers at one time must have been a custom accessory available through Gibson. Several of the same type have shown up on instruments over the years, some, like Bob's, personalized with the owners name. Elvis played an early Gibson SG with one in Easy Come, Easy Go, and the owner of Hank Garland's 1955 #3 Byrland also has one.

The headstock custom truss cover on Bob's 1928 L5 - April 2012
Photo © Tracy Longo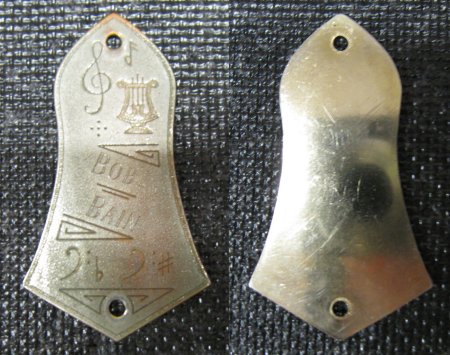 The customized truss cover engraved with Bob's name - Apr. 2012
Photo © Tracy Longo
Recently, Chris Hillman was visiting with Bob and was able to bring the 1928 L5 by Tracy Longo's shop so he could get us some additional close-up photos. Tracy, Bob's guitar tech, was currently doing some work on another of Bob's guitars, an L-4 cutaway that belonged to Barney Kessel. It had a humbucker he was replacing with a Charlie Christian pickup, a Seymour Duncan humbucking variant.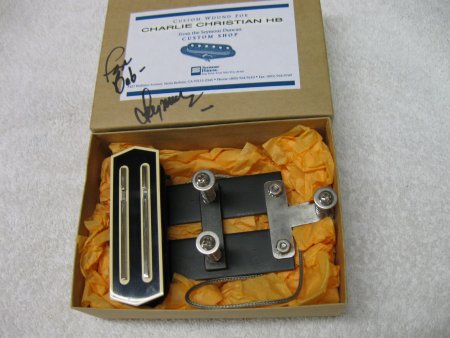 Seymour Duncan Charlie Christian custom wound Humbucker "for Bob" - Apr. 2012
Photo © Tracy Longo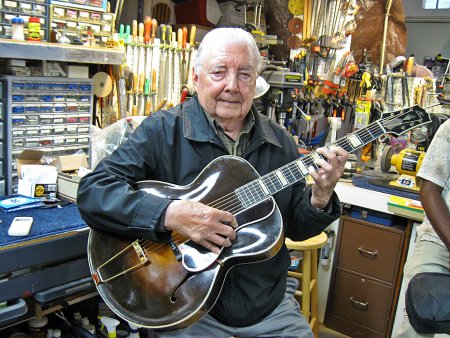 Bob Bain with his 1928 L5 in Tracy Longo's shop at Guitar Tech Corner
Photo © Tracy Longo
Bob continued working in the studios until 1972, when they got word "The Tonight Show" with Johnny Carson may come to the West Coast. A few of the original members were Pete Chrislieb and Tommy Newsom on tenor, Ed Shaughnessy on drums, Ross Tompkins on piano, Jimmy Zito on trumpet, and Joe DiBortolo on bass, all under the direction of Doc Severinsen. Bain played with "The Tonight Show" band for 22 years. Today, he continues to write, record, and produce.

Section added May 10, 2012
Special Thanks to Jay Timbrell and Tracy Longo for the photos and to Tracy and Bob Bain for their help with this section. Thanks also to Carl Grefenstette at Pittsburgh Guitars for his assistance dating the photos of Les Paul at NAMM. For a more complete biography on Bob Bain see both All About Jazz's profile on Bob Bain and The Silent Giant by Jim LaDiana on Classic Jazz Guitar and also the 2004 interview by Forrest Pattern, courtesy The Robert Farnon Society website.
* excerpt from or according to Bob Bain Unforgettable courtesy all about jazz - published June 8, 2011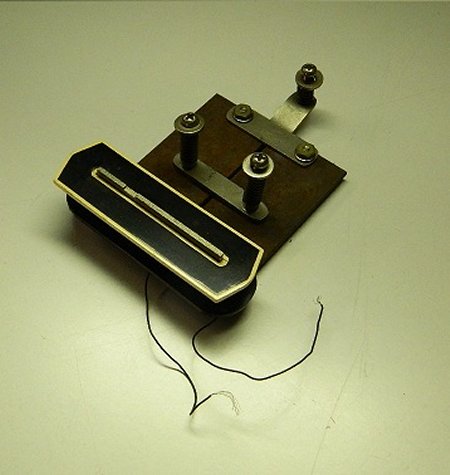 An old Charlie Christian Pick-up from Tiny Timbrell's collection

Photo © Jay Timbrell
added May 12, 2012
Recently, Jay Timbell found some parts in his Dad's collection that we believe were originally from Bob Bain's 1953 Telecaster. He also found a Gibson PAF Humbucker and an old Charlie Christian pickup. Tracy Longo believes it too may have been from Bob (see above). He said, Bob did have his Charlie pup taken out of his ES-150 his dad bought him, and had a Humbucker put in for a while. The CC I replaced it, with I believe, was from Barney Kessells L-4 cutaway. Bob has the Kessel guitar here and is picking it up next week with the Custom Seymour double blade CC PUP I just put in.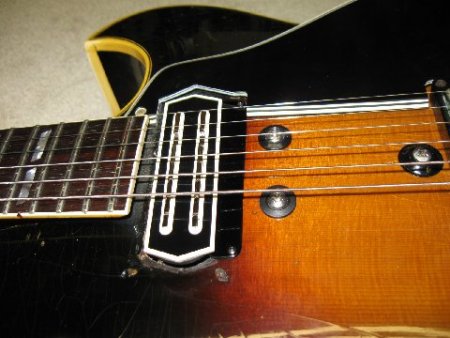 Bob's Gibson L-4 cutaway, formerly Barney Kessel's
Photo © Tracy Longo
added May 12, 2012
---
Recently I heard from a fan that pointed out a mistake I had in the captions in the photo(s) above of the 50 Guitars sessions. I've since corrected my mistake and decided to include his correspondence here to provide some more insight and background of one of the players.
Hi James,

Thanks for posting. I must point out that in the pics, Milt Norman is incorrectly named as Vito Mumolo.
Milt was a friend of mine, and, by the way, the best guitarist of the fifty shown here.


Standing L-R: Professor Elloriagia, Howard Roberts, Laurindo Almeida, Nick Bonnie, Tommy Tedesco, Bob Bain, Barney Kessel, Tony Rizzi, "Bobby" Gibbons, Tiny Timbrell
Kneeling L-R: Milt Norman, Bill Pitman, Vito Mumolo at United Western Recorders Studio A, Sunset Blvd. Hollywood, CA - Feb. 1961

Photo © Jay Timbrell

Milt Norman is on the left with the glasses. He is holding his Stromberg Master 400 which he bought as a young man for his extended gig with the Tony Pastor Orchestra. I believe he was Joe Pass' predecessor in that band. Later in the 1960's Milt toured as Bobby Daren's guitarist. Tommy Tedesco has cited Milt as the fastest player he had encountered, but that hardly tells the story of this master musician.

Earlier this year, I was at a bar in San Francisco with Ned Boynton, and Marc Schwartz after a gig. All three of us had studied with Milt, and 20 years after his passing were still reflecting on the influence he had on us. It was life changing.

Here's an album cover where you can see a young Milt and his Master 400:

I just wish there were more information available, and of course recordings.

His family would have those, I know he had a son named Mark and lived in Florida at the end of his life. Rosemary Clooney wrote about their affair in her book "Girl Singer

." Yup, what a life!
... and by the way, I got to play that Stromberg (yikes!)

Thanks,
Don Yaffe
October 10, 2013
section added October 10, 2013