Tupelo Fairgrounds
Tupelo, MS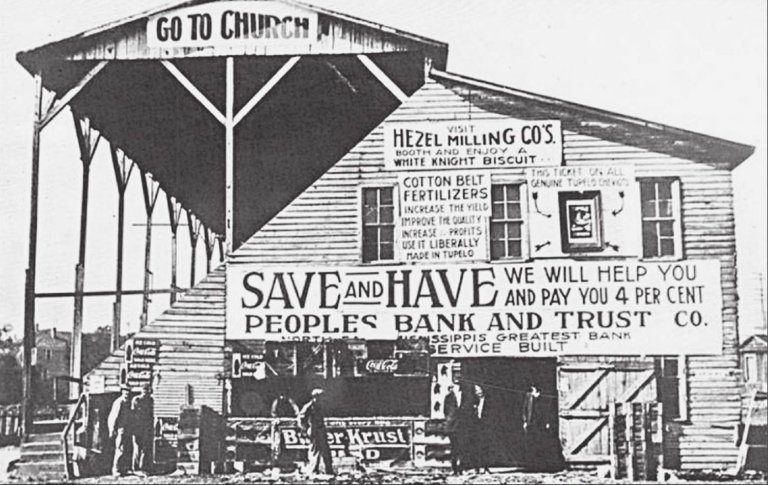 The original grandstand at the Tupelo Fairgrounds - ca. 1909
Photo courtesy Tupelo (Images of America)
Tupelo, Mississippi is located in the northeast part of the state in Lee County. It is about midway between Memphis, TN and Birmingham, AL. It is renown to most fans for being the birthplace and childhood home of Elvis. The fairgrounds in Tupelo were located on the Eastern outskirts of the city not far from the hardware store where Elvis got his first guitar. The first fair was held there in 1909.1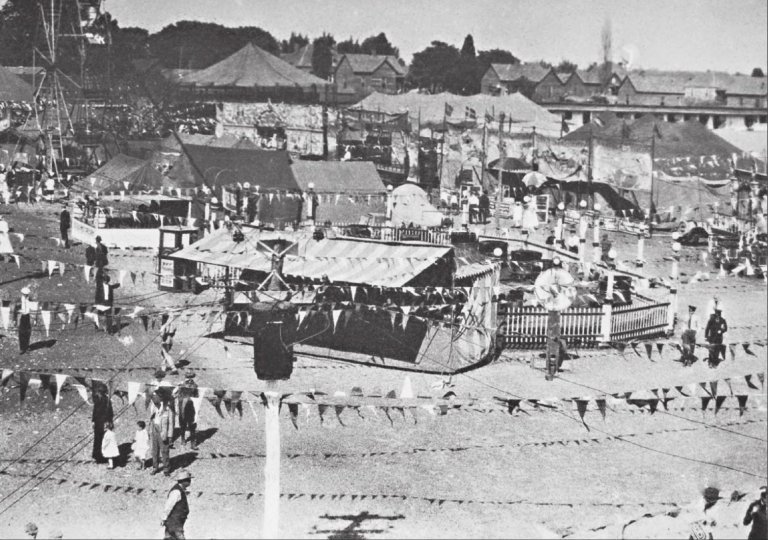 The Mississippi-Alabama Fair viewed from the midway looking north - ca. late 1920s
Photo courtesy Tupelo (Images of America)
Running for several days each fall it was originally called the Lee County Fair but later became the Mississippi-Alabama Fair and Dairy Show. No fair was held during the first three years of the Depression but it resumed in 1933 and continued each year after.1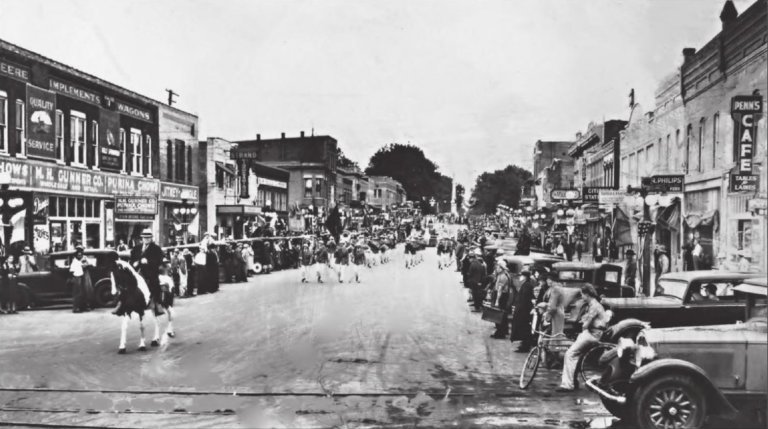 This view looking west on Main Street shows a fair parade on October 5, 1934, the original Tupelo Hardware visible on the right
Photo courtesy Tupelo (Images of America)
The fair was always a popular event with evenings and weekends filled with rides, displays, events and entertainment. The opening was always celebrated with a parade through the city.1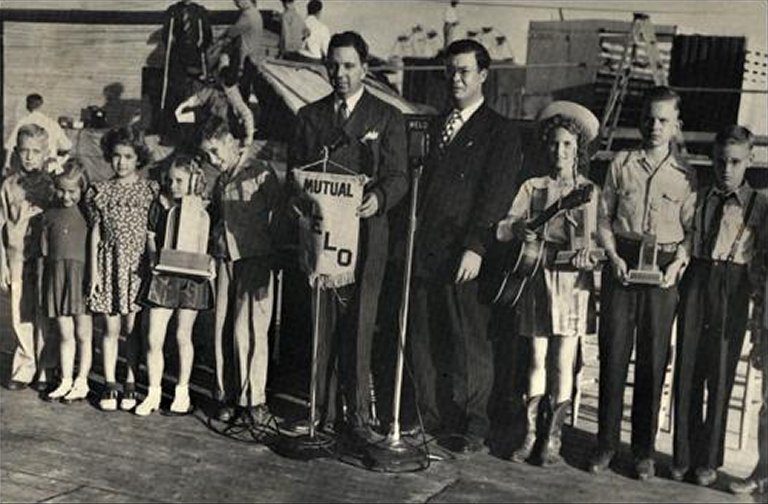 Graham Dawson and Charlie Boren of WELO, Elvis on far right at the Fair and Dairy Show in Tupelo - Oct. 3, 1945
Photo courtesy Lee County Courier
In 1945, at the age of ten, Elvis was encouraged by his fifth garde teacher, Oleta Grimes, to participate in a talent contest at the fair sponsored by Station WELO. He sang "Ol' Shep" and won 5th place. The following year he got his first guitar and by the end of 1948 his family moved to Memphis.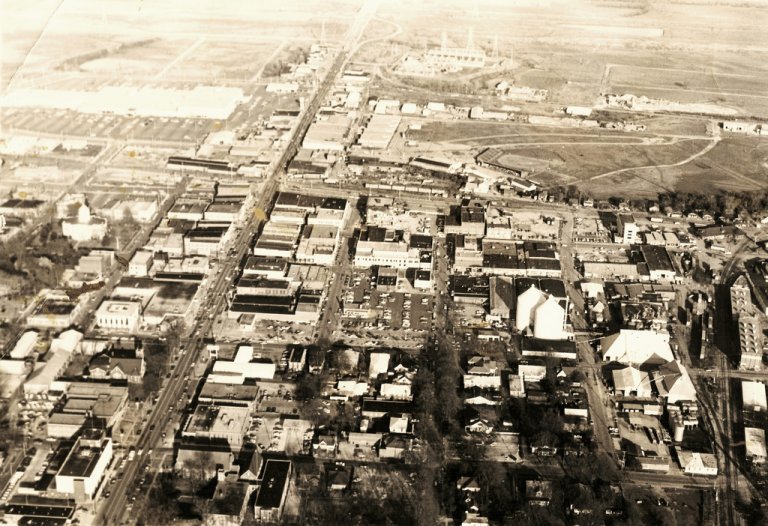 Downtown Tupelo looking East up Main St. with Fairgrounds and Grandstands in distance.
Photo courtesy Ronnie Harris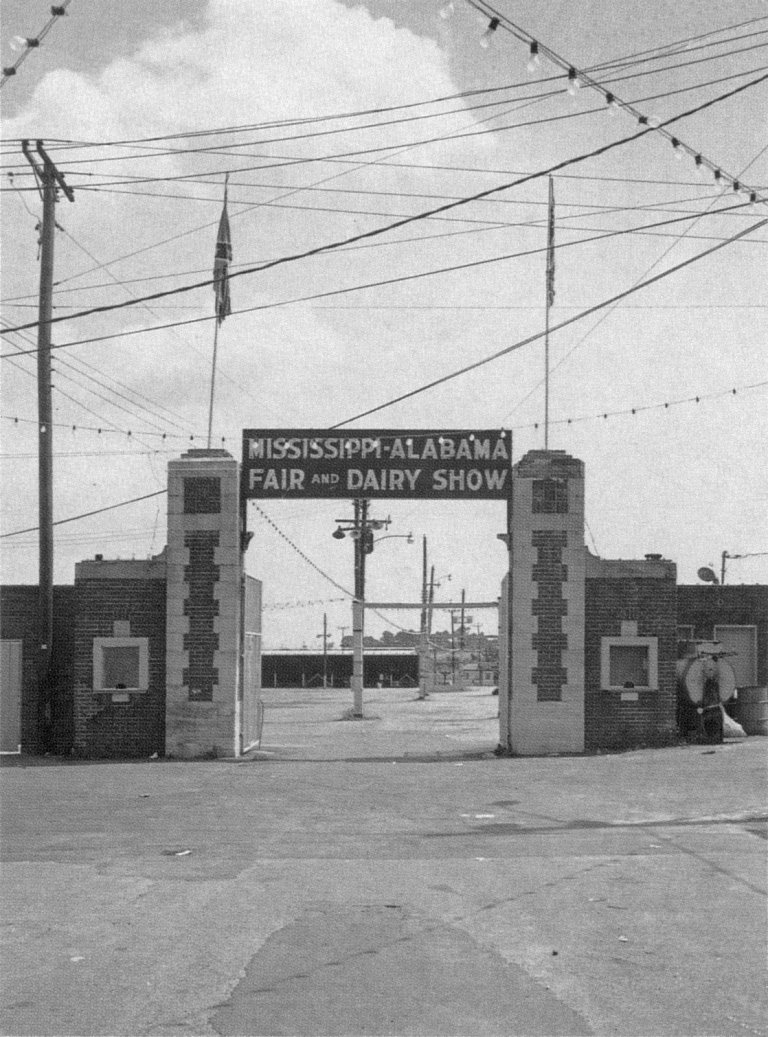 The Fairpark Portal on East Main St. at the intersection of Commerce
Photo courtesy Elvis Album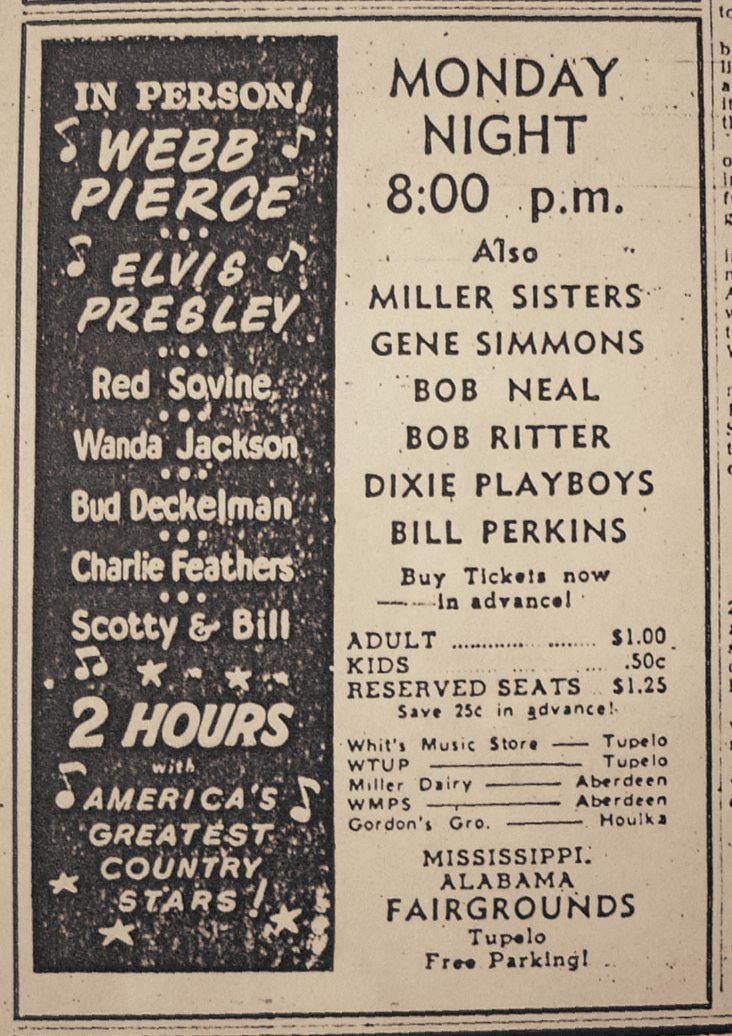 Ad for August 1, 1955 show at the fairgrounds
courtesy Roy Turner
Though the 1956 performance at the fair was heralded as Elvis' "homecoming," he, Scotty and Bill actually performed at the fairgrounds first on August 1st in 1955. It was the first stop on a short tour billed as Bob Neal's "eighth anniversary tour." Lee Cotten wrote, Webb Pierce headlined the jamboree when Elvis returned to play his hometown of Tupelo for the first time since he began his recording career. Also on the bill for this 8:00 p.m. show were Red Sovine, Wanda Jackson, Bud Deckelman, the Miller Sisters, Gene Simmons, Bob Ritter, the Dixie Playboys and Bill Perkins. Bob Neal was the show's emcee and promoter. This short tour also included Sun artist Charlie Feathers and his band from Memphis, featuring Stan Kesler on steel guitar and Marcus Van Story on bass. Tickets for the hometown folks were $1.00 for adults and half that for children. Reserved seating cost a quarter more. Attendance was estimated at 3,000.2 The tour completed on the 5th in Memphis at the Overton Park Shell.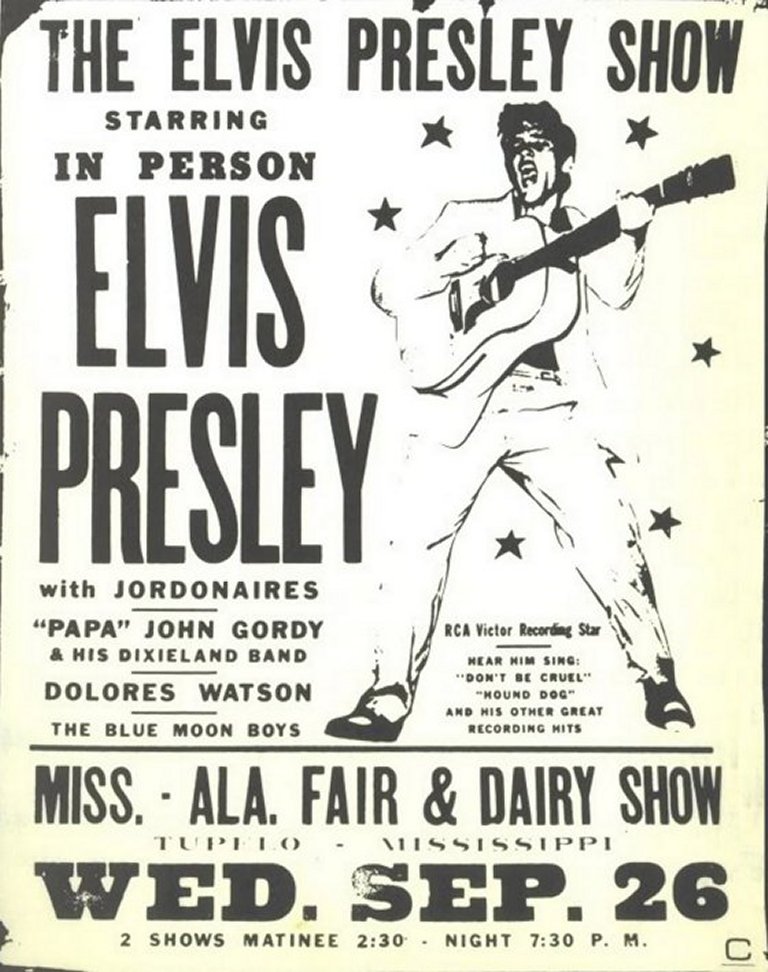 Poster for Elvis at the Mississippi-Alabamba Fair and Dairy Show
courtesy Strictly Elvis 41, September 1971, via Francesc Lopez and Cristi Dragomir
However, Elvis' rise to fame in 1956 gave cause for Tupelo to pull all the stops and they heralded his return that September as a featured act at the Mississippi-Alabama Fair and Dairy Show.
'Presley Homecoming' Theme Of Parade On Children's Day

Theme of the annual Children's Day parade Sept. 26 at the Mississippi - Alabama Fair will be "Elvis Presley's Homecoming," it was announced Friday by David Baker, parade chairman.
Floats to be entered in the parade will use titles of Presley's songs as their themes.
All Lee County schools are invited to enter floats in the parade.
Prizes-for the floats will be $100 for first place; $75 for second; $50 for third; and $35 for fourth. All other floats will receive $25 each.
It was decided to make the theme that of Elvis Presley since the Tupelo-born singer will be the guest of the city the day of the parade and will present two performances at the fairgrounds, Mr. Baker said.
Mr. Baker said he hoped the bands entered in the parade would play some of Presley's famous songs as part of their music for the parade.
An effort had been made to have Presley ride in the parade:
But EIvis' manager replied that it would be too dangerous for the singer to ride down Main St. with thousands of people on either side. Elvis has been mobbed by teenagers on several occasions and his manager felt that putting him in the middle of a parade would be inviting trouble.

The Tupelo Journal - September, 1956 courtesy Roy Turner

Come TO THE FAIR - This is a bird's eye view of the Mississippi-Alabama Dairy Show as it was readied Monday for the grand opening. A bigger attendance is expected than ever before in the 49-year history of the fair. The fairgrounds officially opens at 7 a.m. today. - staff photo by Arnold Collins

Gates Open for Fair's 49th Show
Grand Ole Opry appears tonight
Competition Keen For Top Booth Prizes
Native Son Elvis Presley Shows Wednesday

The gates open this morning for the 49th showing of the Mississippi-Alabama Fair and Dairy Show. When they close about midnight Saturday, thousands will have seen what is generally regarded as the top exposition in the long history of the event.
Today's highlights will be judging of the community booths, the flower show and the homemaking and crops exhibits. Tonight, the Grand Ole Opry troupe in front of the grandstands and the presentation of a Dodge automobile will be the top events.
The Olson Shows, presenting the midway attractions this year, will open this afternoon and will be in full swing tonight.
Twenty Journal Area communities have constructed eye catching booths to compete for the several hundred dollars in prizes.
A shift in the livestock show schedules leaves today without the traditional opening day swine shows. The swine events will be held Wednesday, as will the State Junior Dairy Show and the poultry shows.
But all the livestock barns will be open to the public today. Visitors will tour five barns chock full of beef cattle, dairy animals and swine. Two of the barns are brand new, in use for the first time.
Particularly attractive is the well - lighted new swine barn at the east end of "livestock row."
Admission prices to the fairgrounds remain unchanged from previous years. Prices are 25 cents for children under 12 and 50 cents for adults.
General Manager James M. Savery reminded fairgoers that tickets to all grandstand shows with the exception of the two Elvis Presley performances are 75 cents for everyone.
This year the grandstands ticket office will open each afternoon at 1:30 for advance sale of tickets. This is being done in an effort to avoid long lines at the ticket windows each night, Mr. Savery said.
Mr. Savery said there were still plenty of tickets left for the Elvis Presley shows. Advance sale of tickets for his two performances 8 a.m. Wednesday.


the annual Children's Day parade on Main street in Tupelo - Sept. 26, 1956
Photo courtesy Tupelo (Images of America)

The Welcome Mat Is Out For Presley Homecoming

The city of Tupelo will throw out a welcome mat seldom seen here Wednesday, when Elvis Presley comes home for two fairground performances.
Sky High street banners and all the other trappings of a royal welcome await the boy who once wore overalls and strummed a guitar on the school steps here.
Elvis will be well-covered in more ways than one. Local telephone operators have been swamped with calls from all over the nation" calls to fair president J. M. Savery, the Tupelo Journal, and others, asking information about Elvis; Tupelo appearances.
Mr. Savery said news and magazine reporters "from all over" will be on hand to occupy a special news press section in front of the grandstand stage Wednesday.
TV News and Fox Movietone plan to send cameramen to record Elvis' homecoming for nationwide distribution, Mr. Savery said. The fair association has received calls from New York, Hollywood and other news distribution points.
Calls have come in to the Tupelo Journal office from Los Angeles and from the London Sunday Express, making arrangements for coverage of Presley's appearances.
Units of the National Guard, city police and state highway patrol will form a cordon around Elvis during his performances, and furnish an escort through the city when he arrives shortly before his 2:30 p.m. appearance.
Mr. Savery said Presley's hideout between his afternoon and evening performances remains a secret "for his protection."
Elvis will drive from Memphis with his parents, but which of his five cars he will use also remains secret.
Newsmen realizing their front row seats put them squarely in the path of any potential stampeded, were considering erecting signs reading 'Don't Be Cruel', it was rumored Monday.
But which direction the signs will point, audience - ward, or Elvis-ward, also was among the ranks of the secret.


the annual Children's Day parade on Main street in Tupelo - Sept. 26, 1956
Photo courtesy FECC/vincent67

Elvis Traffic Brings Ban On Main Parking

Parking along the downtown area of Main Street will be prohibited from 6 a.m. to midnight Wednesday, Police chief Robert M. Monaghan said Monday. The one-day restriction will extend from Church Street to Front Street.
Vehicles parked in violation of traffic rules will be towed away at the owners expense. This will apply to all cases of improper parking during the day, Chief Monaghan added.
The measures are being taken as an aid to controlling what is expected to be the heaviest flow of traffic through Tupelo in the city's history.
any Wednesday promised to be the most hectic of the five day Mississippi - Alabama Fair with an enormous parade scheduled for the morning and the signal attraction of Elvis Presley punctuating the afternoon and evening activities.
"We think there will be people here who would never have heard of Tupelo but for Elvis Presley," said the chief. "They'll be coming from all over to get a look at him in his own home town, and with all the people and traffic we're going to have a hard time enforcing the law."
Chief Monaghan said that from 5 to 30 highway patrolmen will be assigned to Tupelo during the week to complement the city force. "We've cancelled all days off so every city patrolman will be available," he added.
Mayor James Ballard announce that extra police would be on duty to augment Tupelo's full-time force. Special attention will be paid to policing the downtown areas, especially the alleys.
the mayor also said that the fairgrounds would be checked very closely. Spot checks will be made of sideshows and shows considered indecent will be closed down, the mayor warned.
Chief Monaghan called for public cooperation in handling the traffic problems and asked local residents to keep their automobiles at home unless it was necessary to drive downtown. "If we have a congestion," said Chief Monaghan, "it will be the biggest one we've ever had."
The police chief also warned the public to take precautions against a possible influx of pickpockets and petty thieves. "Don't carry valuables with you and don't leave packages in your cars, " he said. He also advised against the parking of cars in remote places.

The Tupelo Journal - September 25, 1956 courtesy Roy Turner
For the 1956 fair a new stage was built in addition to new cattle and swine barns. Though Elvis was the big attraction, the 1956 fair was the first time name, or semi-name acts were offered each day in front of the Grandstands. The previous fairs all featured the same act daily. Ernest Tubb and His Texas Troubadours, the Wilburn Brothers, Hank Locklin and Bobby Helms were featured on the opening day, The Blackwood Brothers and the Statesmen on Thursday. Wally Fowler and his Chuck Wagon Gang, the Bond Sisters, Oak Ridge Quartet and Sister Kate Freeman were featured on Friday and lastly Carl Perkins, Johnny Mack Brown, Smiley Burnette, Warren Smith and Eddy Bond and the Stompers. The grandstand attractions alone cost them $22,000.3

Hugh Jarrett of the Jordanaires and Nick Adams onstage in Tupelo, Nick interviewed by Charlie Watts in the evening - Sep. 26, 1956
Photo source unknown, WTUP:Charlie Watts audio courtesy youtube**
Tickets for the Grandstand attractions sold for 75 cents though for Elvis' appearances they increased to $1.50.3 The acts that preceded Elvis were backed by Poppa John Gordy's band. Gordy, was a big band and Dixieland jazz band leader originally from Arkansas. A piano player, he had recorded with RCA since 1954, recording with, among others, Anita Carter and Bob Moore in Nashville. Nick Adams, who accompanied Elvis to the fair also entertained onstage with comedic impersonations while Elvis was interviewed by the multitude of press backstage.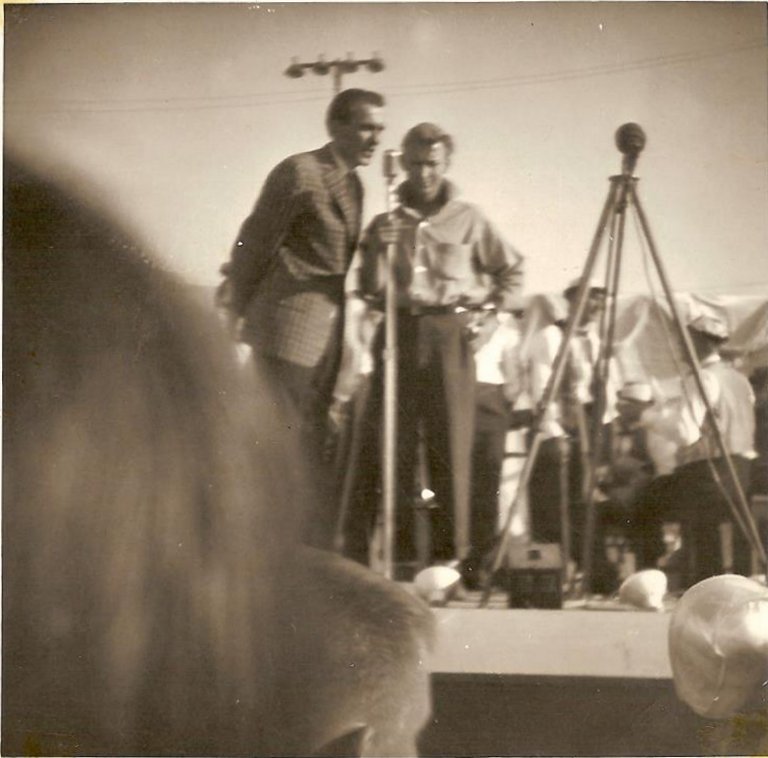 Hugh Jarrett and Nick Adams onstage with Poppa John Gordy's band - Sep. 26, 1956
Photo courtesy FECC/E-Cat
Nick would write in The Rebel and The King, When Elvis came up on that stage I thought someone had just dropped an Atomic Bomb. They cheered so loud I thought I was going to lose an eardrum. Someone told me the population of Tupelo was 12,000. Well there were close to 50,000 people at Elvis' Homecoming. Elvis told everyone what a great thrill this was for so many reasons. One of them was because he used to sneak into this very same fair when he was younger because he didn't have any money to buy a ticket. Elvis said, "Last time I was here, I didn't even have a nickel." 4

Hugh Jarrett of the Jordanaires and Nick Adams onstage in Tupelo with Poppa John Gordy's band - Sep. 26, 1956
Photo source unknown
Among the many members of the press and photographers covering the show that day were Eldred Reaney and John Seigenthaler of the Tennessean, Edith Haynie of the Tupelo Journal, Bob (Vance) Moulder of the Birmingham News, George Pierce and William B. Williams for the Memphis Press Scimitar, James Kingsley of the Commercial Appeal, Tupelo photographer (James) Terry Wood, and Roger Marshutz, at the time a Hollywood photographer on assignment for Photoplay Magazine. Several of the reviews in the press, or parts thereof, are included as follows:

Elvis, backstage with fans and Jack Cristil from WELO, and interviewed by Charlie Watts in the evening - Sep. 26, 1956
Photos © Terry Wood Photography courtesy Heritage Auction, WTUP:Charlie Watts audio courtesy Youtube**
Tupelo Pays Noisy Tribute to Him:
Girls Battle Police, Guardsmen

By William B. Williams, Press Scimitar Staff Writer

TUPELO, Miss. - Elvis Presley returned to his birthplace of Tupelo yesterday, and in seven hours there had the town rockin' and rollin'
Screaming teen-agers overcame 100 police and national guardsmen during his second of two performances at the Mississippi-Alabama Fair and Dairy Show.
"I can't sing with this going on," Elvis walled into his microphone while the stage swarmed with youngsters making lunges for his clothing. He halted his singing, and begged the besieging fans to return to their seats. They obeyed, and the show resumed.


Elvis with his parents in Tupelo, MS - Sep. 26, 1956
Photo courtesy FECC/Riley

Elvis Surprised
Even Elvis was surprised at the fair's turnout, estimated at up to 50,000. "I didn't expect coming home to be such a big deal. Why, people were lined up on the highways when I came into town."
But tho the crowds of adoring teen-agers, which required the protection of over 100 state and city police, didn't give Elvis any freedom to look around his hometown, he managed to see a few old friends.
W. M. (Bill) Angle took time off from parking cars to come over and shake Elvis' hand and hear the 21-year-old singer recall, "You've been here a long time, haven't you?" Another old friend, Clyde McStair, pointed out, "Elvis used to be one of 'my boys'."


Elvis with his parents in Tupelo, MS - Sep. 26, 1956
Photo courtesy FECC/jinjoe


Elvis with his parents in Tupelo, MS, and his parents interviewed by Charlie Watts in the evening - Sep. 26, 1956
Photo courtesy FECC/jinjoe, WTUP:Charlie Watts audio courtesy youtube**

Recalls Childhood
Chatting with reporters in a tent behind the outdoor stage at the fair while other performers entertained the impatient crowd, Elvis recalled his childhood days in Tupelo.
"Why, I used to sneak into this fair," he said. "I got carried out once or twice, too." Then thinking of the crowds which had pressed against his white Continental when he entered the Fairgrounds, he added, "Hope I get escorted out today, too. Last time I was here, I didn't have a nickel to get in."
The big moment came when Elvis stepped on stage for his ? numbers. A group of several hundred, consisting mostly of 'teen-age `girls, crowded toward the stage to get nearer the idol.


Tupelo Mayor James Ballard presented Elvis with a key to the City
Photo © Terry Wood Photography courtesy Heritage Auction


Elvis with his parents and key to the city backstage at the fairgrounds in Tupelo, MS - Sep. 26, 1956
Photo source unknown

Button Torn Off
Elvis accommodated them, getting as near the outstretched arms as he dared, singing directly to the screaming worshippers. At one point in the afternoon show he got too close, had a button torn from his bright blue velvet blouse.
As usual at Presley performances, the crowd grew frantic when Elvis went into his wiggling dance. A number of teen-agers wept freely.
During "Don't Be Cruel," blond, 14-year-old Judy Hopper from Alamo, Tenn., leaped to the stage and ran toward Elvis. Police pulled her away and held her while she continued to struggle to reach the singer. After that, six policemen stayed on the stage near Elvis.
Pandemonium at the first performance reached its height during the last song, "Houn' Dog," about which Elvis cracked, "It's a beautiful song. Has great lyrics—four lines."


Elvis with his parents backstage at the fairgrounds in Tupelo, MS - Sep. 26, 1956
Photo courtesy FECC/riley

Key to City
Between numbers, Tupelo's mayor James L. Ballard gave Elvis a key to the city: a metal framework in the shape of a guitar, with the initials "EP" and the words, "Welcome Home, Tupelo, Miss."
Gov. J. P. Coleman presented Elvis a certificate calling him America's No. 1 entertainer in the field of popular music."
Several hundred fans were waiting at noon in the stadium, two and a half hours before Presley arrived and the show began.


Elvis with Sara Ann Patterson - Sep. 26, 1956

In 1956, Sara Ann Patterson was working For James Kingsley, the Tupelo photographer and correspondent for the Commercial Appeal at the time when she heard Elvis was coming to the Fair & Dairy Show. She badgered James all summer to get her backstage to meet Elvis which he did to assist with his camera.

Photos from fan magazine courtesy Ger Rijff, quote courtesy Anthony Stuchbury


Elvis with Sara Ann Patterson - Sep. 26, 1956

Going in, Sara was given a hat to put on Elvis. When she did, Elvis reached down and kissed her as the camera clicked. My picture came out in a movie magazine the next month and I received letters from all over asking what was it like to kiss Elvis. She had a steno pad with her which Elvis signed. The following year she went backstage and met him again.

Photo courtesy FECC/javierTCB, quote courtesy Anthony Stuchbury

'Just a Quiet Boy'
Elvis was born in East Tupelo, a tiny settlement not a mile from the fair where he received a hero's welcome yesterday. A classmate at Lawhon High School remembers him as "just a quiet boy." Elvis moved to Memphis with his parents when he was 13.
"I love it here," Elvis told reporters before his afternoon show. "I'll come back as often as I can." He later added "I like California, too. I'd like to live there."
He arrived in Memphis from Hollywood Saturday for the Tupelo appearances and several days' rest in Memphis. He has been working on his first movie, "Love Me Tender," which Elvis said will probably premier in Memphis in November.
"I don't ever want to see the picture when it's released," he said. "Oh, maybe in a year when all the talk is down."


Elvis, Bitsy Mott and Tom Diskin before showtime in Tupelo - Sep. 26, 1956
Photo source FECC/bluejeans1944

Elvis on Marriage
Tho Elvis has refused to confirm any matrimonial intentions, he indicated to reporters that marriage is not entirely out of the question, "Even after I get married, I'll have to keep working. You can't starve to death just because you're married," he said, His "Memphis girl," pretty Barbara Hearn, went with him to Tupelo.
Included in the flock of newsmen and photographers around Elvis was Peter Dacre of the London Sunday Express, who came to America to interview Presley. He got his interview, and Elvis told him, "I'd like to go to England—if I could go on a ship. If something were to go wrong on a plane, there's no land under you. That's a long swim."

Memphis Press-Scimitar - September 27, 1956 courtesy Brian Petersen


Tupelo Mayor James Ballard onstage with Elvis being photographed by Nick Adams
Photo courtesy Allyson Adams


Scotty, Elvis and DJ onstage at the fairgrounds in Tupelo, MS - Sep. 26, 1956
Photo © Terry Wood Photography courtesy Heritage Auction


Elvis and Scotty onstage at the fairgrounds in Tupelo, MS - Sep. 26, 1956
Photo source unknown

Tupelo Rocks As Presley Gyrates In His Home Town

(pictures on Page 37)
By JAMES KINGSLEY
From The Commercial Appeal, Tupelo. Miss., Bureau
Tupelo, Miss., Sept. 26,-- Tupelo rocked and rolled and strained at the seams Wednesday as Elvis Presley, a Tupelo boy who made good, came back home.
For 35 hysterical minutes, Elvis treated. a paying audience of about 7,500 to fancy singing and gyrations as a crowd of almost equal proportions peeped through fences surrounding the grandstand area.
The 12,000-capacity Fairgrounds grandstand was sold out for the night performance.


Scotty and Elvis onstage at the fairgrounds in Tupelo, MS - Sep. 26, 1956
Photo source unknown


Elvis onstage at the fairgrounds in Tupelo, MS - Sep. 26, 1956
Photo courtesy Goldmine

Torn From Her Idol
Despite efforts of 50 National Guardsmen and about 25 highway patrolmen Elvis' fans put on a show which equaled their hero's performance.
One blond teenager broke through- a ring of patrolmen guarding the platform where Presley was performing.
As he sang, "Don't Be Cruel," she screamed: "I love him, I need him."
Removed from the platform by a patrolman, she continued to cry and plead to be allowed to return to her idol.
Reporters and photographers had to scramble to safety on the stage when one wave of teenagers pushed through the patrolmen and started scaling the platform.
Elvis managed to escape with only a few lost buttons. One teenage girl, when he snake-hipped too close to the edge of the stage, snatched the buttons off his blue velvet shirt.
After he wound up the show in a storm of applause and cheers with his "Hound Dog" hit, Elvis was whisked off to a local motel by highway patrolmen who hoped to keep him out of sight, "
He picked up $5,000 plus a 60 per cent guarantee of the gate for the two performances.


Elvis onstage at the fairgrounds in Tupelo, MS - Sep. 26, 1956
Photo by Eldred Reaney, The Tennessean


Elvis onstage at the fairgrounds in Tupelo, MS - Sep. 26, 1956
Photo courtesy Elvis Presley Unseen Archives


Elvis onstage at the fairgrounds in Tupelo, MS - Sep. 26, 1956
Photo © Terry Wood Photography courtesy Heritage Auction

Solid-White Lincoln
He arrived in a solid-white Lincoln with parents, Mr. and Mrs. Vernon Presley, from their home in Memphis. They moved to Memphis from their unpretentious frame house in East Tupelo when Elvis finished the eighth grade.
James M. Savery, president and manager of the sponsoring Mississippi—Alabama Fair and Dairy Show, estimated 60,000 persons were in town Wednesday afternoon. The crowd increased Wednesday night.
Presley came here from Hollywood-where he is making a picture. He received a goldplated key to the city, shaped in the form of a guitar from Mayor James Ballard. He also got a scroll from the state presented by Gov. J. P. Coleman.

By James Kingsley - The Commercial Appeal courtesy Roy Turner



News staff photo by Bob Moulder

ELVIS ROCKS HOME TOWN ROLLING 20,000 FANS INTO FAIRGROUNDS AT TUPELO
... Snakehipping too close to platform edge, he lost a few buttons

5000 greet hometown boy--
Tupelo teen-agers scream, cry as Elvis slurs and swivels
BY BOB MOULDER, News East Mississippi bureau

TUPELO, Miss., Sept. 27 - The return of rock and roll prophet, Elvis Presley, to his home town caused more hysteria than the devastating 1936 tornado that completely leveled the town.
Standing before approximately 5000 screaming and crying loyal subjects yesterday afternoon at the Miss - Ala Fair and Dairy Show, Elvis slurred and swiveled his way through many of his more current rock and roll tunes.
BUT WHILE Presley sang, hundreds of teen-age girls pushed and shoved their way to the stage in hopes of being able to touch "our Elvis."
Presley's appearance to Tupelo was made possible by the officials of the Miss-Ala Fair Assn. who have been working for months to prepare the City of Tupelo for its "most famous" famous hometown boy.
The streets of the city were resplendent in their multi-colored flags and signs that all depicted a welcome home for Elvis.


Elvis onstage at the fairgrounds in Tupelo, MS - Sep. 26, 1956
Photo courtesy Elvis Presley Unseen Archives

. . .
Tupelo opened its Elvis Presley Day" with a gigantic parade down the main street of town. Bands and floats from each of the neighboring towns did their part to welcome Elvis home.
It was estimated by James M. Savery, president and manager of the fair association, that over 25,000 people jammed into the city for the day and nights activities.
GOV. J. P. Coleman and Lt.-Gov. Carrol Gartin drove to the city from Jackson to personally welcome Presley back to his "native state."
Presley arrived at the fairgrounds around 2:30 p.m. yesterday with a four car Highway Patrol escort.


Scotty, Mississippi Governor J. P. Coleman and Elvis in Tupelo - Sep 26, 1956
Photo © Terry Wood Photography courtesy Heritage Auction

As Gov. Coleman's Cadillac was escorted through the entrance the mob surged to the rope separating them from the stage.
Gov. Coleman said "it is the biggest ovation I have ever had. I'm surprised they didn't boo when they found out I was not Elvis."
Upon arrival at the stage, Elvis was pounced on by the approximately 30 newspaper, magazine and newsreel photographers . . . each popping flashbulb after flashbulb at the polite and appreciative Presley.
ACCOMPANIED BY HIS mother and father, Elvis answered questions, posed for photographers and was officially greeted by Gov. Coleman.

excerpts from Birmingham News review By Bob Moulder, courtesy Ger Rijff


Eager Hands Reach For Elvis
Screaming teenage girls beg Elvis just for a touch oh his white buckskin shoes as the rock and roll king rolls them in the sawdust aisles with his famous body English.

quote by Edith Haynie for the Tupelo Journal, Press Scimitar Photo by George Pierce courtesy Ger Rijff

20,000 Persons, Mostly Screaming Teenagers, Welcome Presley Home
National Guards Join 40 highway Patrolmen And Local Officers In Holding Bock Hysterical Girls; Many Faint In Throng

By EDITH HAYNIE
Journal Roving Reporter

For twenty thousand screaming fans it was Heartbreak Hotel all over again Wednesday, as Elvis Presley came home to the fair. And this time be didn't have to climb a fence to get in.
National Guardsmen called out for the night performance had their hands full of hysterical teenage girls who fought the cordon of men thrown around the stage.
Dozens scratched, pulled hair and shoved for a desperate chance . . .


Elvis and Bill onstage at the fairgrounds in Tupelo, MS - Sep. 26, 1956
Photo by Eldred Reaney, The Tennessean

. . .
"It's all great," said Elvis. "These people are really great, and all that."
After clearing welcome formalities for the local boy who made good, gyrating Elvis and his guitar launched into his matinee performance before a roaring mob of some 5,000. More than 40 highway patrolmen and city police circled the five-foot stage, built to keep eager fans at a safe distance.


Bill, Elvis, DJ and Scotty onstage at the fairgrounds in Tupelo, MS - Sep. 26, 1956
Photo source unknown


Elvis onstage at the fairgrounds in Tupelo, MS - Sep. 26, 1956
Photo courtesy FECC/riley

. . .
"Elvis," the girls shrieked, teasing their hair and sobbing hysterically. "Please, Elvis."
Footlights were torn from their sockets as girls tried desperately to touch their idol. Several fans fainted and were nearly trampled in the melee.
Presley picked UP $5,000 plus a 60 percent gate guarantee for his two performances. A long parade in his honor went on without him Wednesday morning. The risk was too great, his manager said.

excerpts By Edith Haynie - The Tupelo Journal - September 27, 1956 courtesy Roy Turner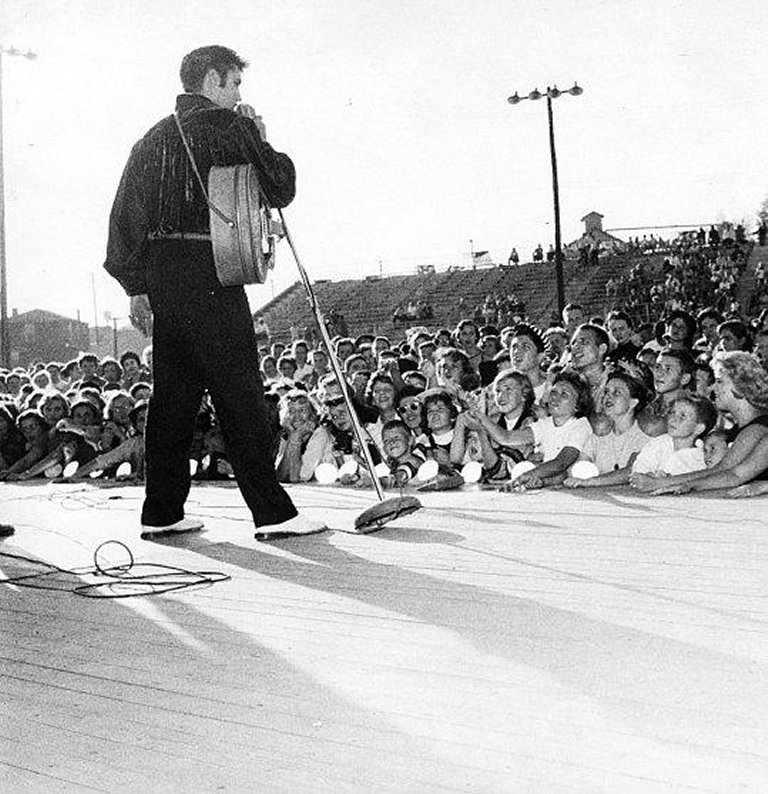 Elvis onstage at the fairgrounds in Tupelo, MS - Sep. 26, 1956
Photo source unknown
IDOL MOBBED

Elvis Pulls 50,000 In Home Town

Tupelo, Miss.—(INS)— Elvis Presley rock-'n'-rolled his hometown of Tupelo. Miss. into a frenzy—the likes of which has not been seen in the lazy Southern village since Civil War days.
Elvis whirled into the city Wednesday in a new white limousine, and threw 50,000 people attending the big Mississippi-Alabama Fair into panic.
He missed the big parade which featured floats made up along a "rock-'n'-roll" theme in his honor. But he did not disappoint the 12,000 screaming, squirming fans who turned out for his two performances -- for which he picked up a tidy $5000 plus 60 per cent of the gate.
About 30 policemen were needed to hold off a mob of teen-agers who tried to get near their singing idol as he swivel-hipped his way around the five foot stage bellowing his "Hound Dog" hit.


Elvis onstage at the fairgrounds in Tupelo, MS - Sep. 26, 1956
Photo source unknown

Even with this protection, though, Elvis lost the buttons of his blue velvet shirt when he ventured too near the edge of the stage.
At one point, a wave of youngsters broke through the police cordon and tried to scale the platform, forcing newsmen and photographers to scramble onto the stage for safety.


Elvis onstage at the fairgrounds in Tupelo, MS - Sep. 26, 1956
Photo courtesy Commercial Appeal

The 21-year-old sensation was presented citations from Mississippi Gov. James P. Coleman and Tupelo Mayor James Ballard.
Elvis lived in Tupelo until he finished the eighth grade and began his rise to fame there plucking the guitar and singing on school programs.
His family then moved to Memphis, Tenn., where they still reside.

Unknown Press article, Sept 27, 1956 - courtesy Gail Reaben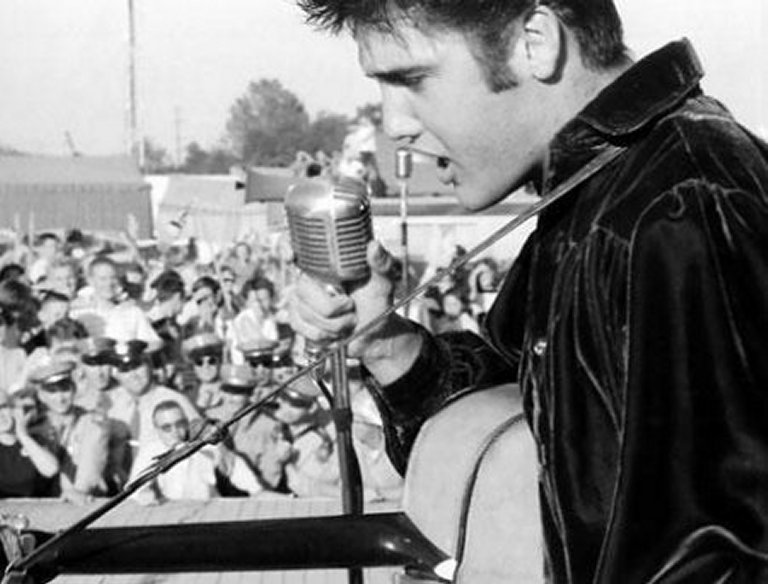 Ron Brandon watching Elvis onstage at the fairgrounds in Tupelo, MS - Sep. 26, 1956
Photo source unknown
Ron Brandon spent his high school years in Memphis and remembers seeing Elvis, Scotty and Bill when they appeared at the opening of the Lamar Airways Shopping Center in 1954, though he didn't attach any particular importance to it at the time. In the spring of 1956 he graduated from Central High School and was hired that summer to work at Tupelo's WTUP station as their engineer. He said, Billy Boren was playing rock n roll in the afternoon. I had told Jim Reese, WTUP's manager, that if Billy ever quit I could do the on-air slot. I was totally unqualified, having a high, squeaky voice and having grown up a North Mississippi redneck kid. With Billy's successes on the Ted Mack show, he did quit to pursue his career. Jim quickly did the math, and realized that he would only have to pay one employee instead of two and the gig was mine.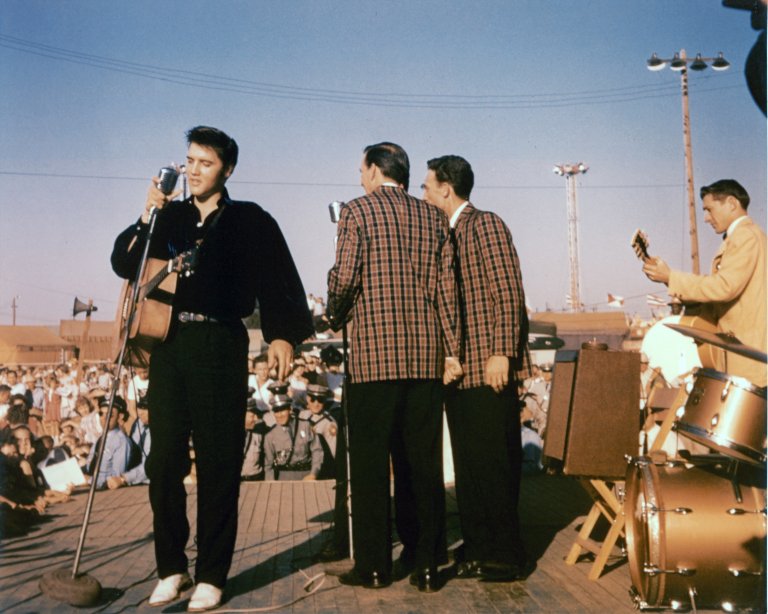 Elvis, the Jordanaires and Scotty onstage at the fairgrounds in Tupelo, MS - Sep. 26, 1956
Photo courtesy Steve Bonner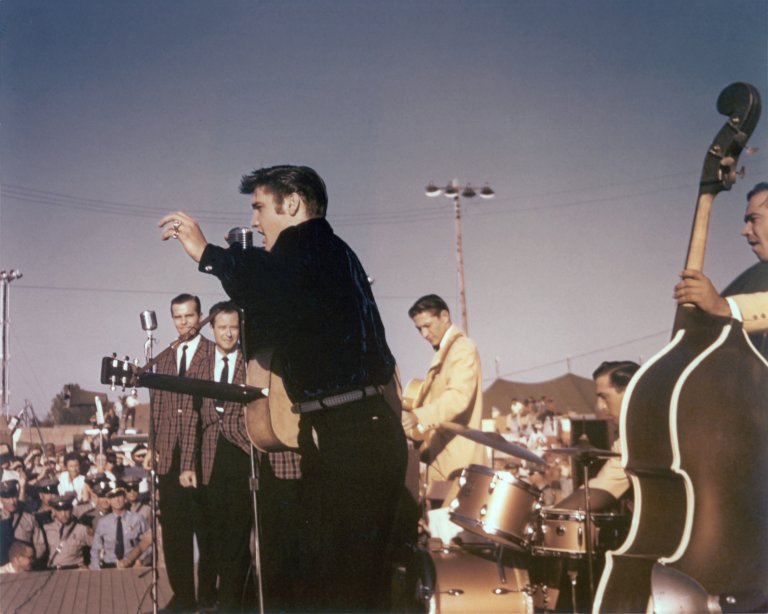 The Jordanaires, Elvis, Scotty, DJ and Bill onstage at the fairgrounds in Tupelo, MS - Sep. 26, 1956
Photo courtesy Steve Bonner
Several months later Jim Reese was the MC at Elvis' Tupelo "homecoming" concert, and Ron, 17 years old at the time, was in control of a one-track Magnecorder tape machine. He recorded the interviews with Elvis and his parents backstage. He then asked to record the shows but was told "Hell No!" Regardless, he set up the recorder under the stage, snaked a microphone out in front of a loud speaker, and recorded it. He and the microphone are visible in several pictures. The one with me across the stage shows the old WTUP mic up on its boom right in front of the public address horn, and that's the way it was recorded, he said. You can see the extension a/c cord flopped right across the stage running to where I had the table set up with our Magnecord recorder.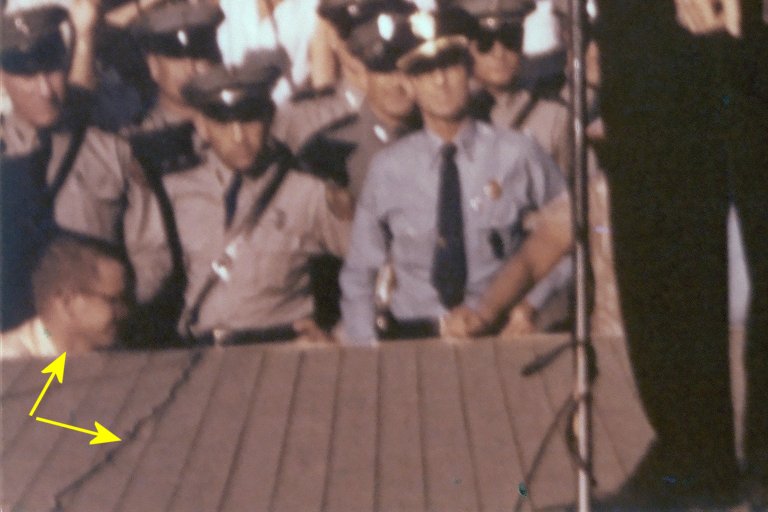 Ron Brandon (lower left corner) with power cord to his Magnecorder under the stage - Sep, 26, 1956
Photo courtesy Steve Bonner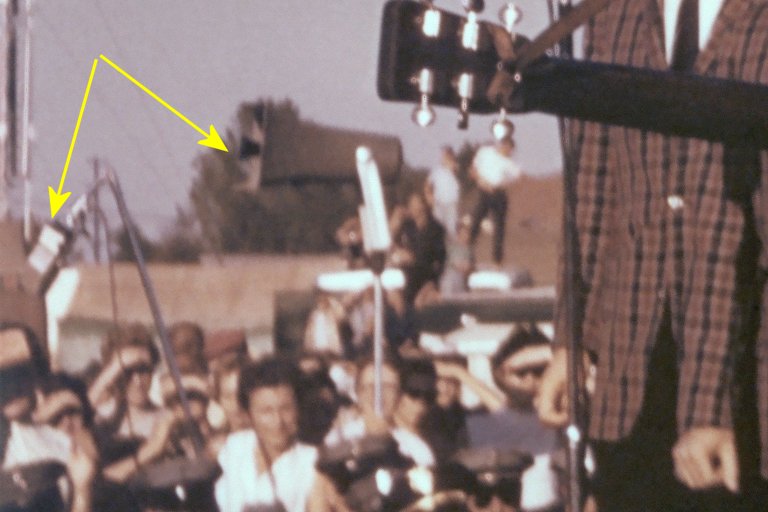 The boom and RCA mic in front of the loudspeaker at the fairgrounds in Tupelo, MS - Sep. 26, 1956
Photo courtesy Steve Bonner
When Elvis' mom died, I sent him a copy of the tape of the concert and the interviews to him at Graceland, Ron said. He saved it all those years, and after his death the tape was discovered in his bedroom at Graceland and released by RCA on "A Golden Celebration" in 1984. Many years later portions to the audio were synced by the European company Memphis Recording Service, to the film shot by Movietone News that day and released with their debut package, Tupelo's Own Elvis Presley, along with its accompanying book by Roy Turner.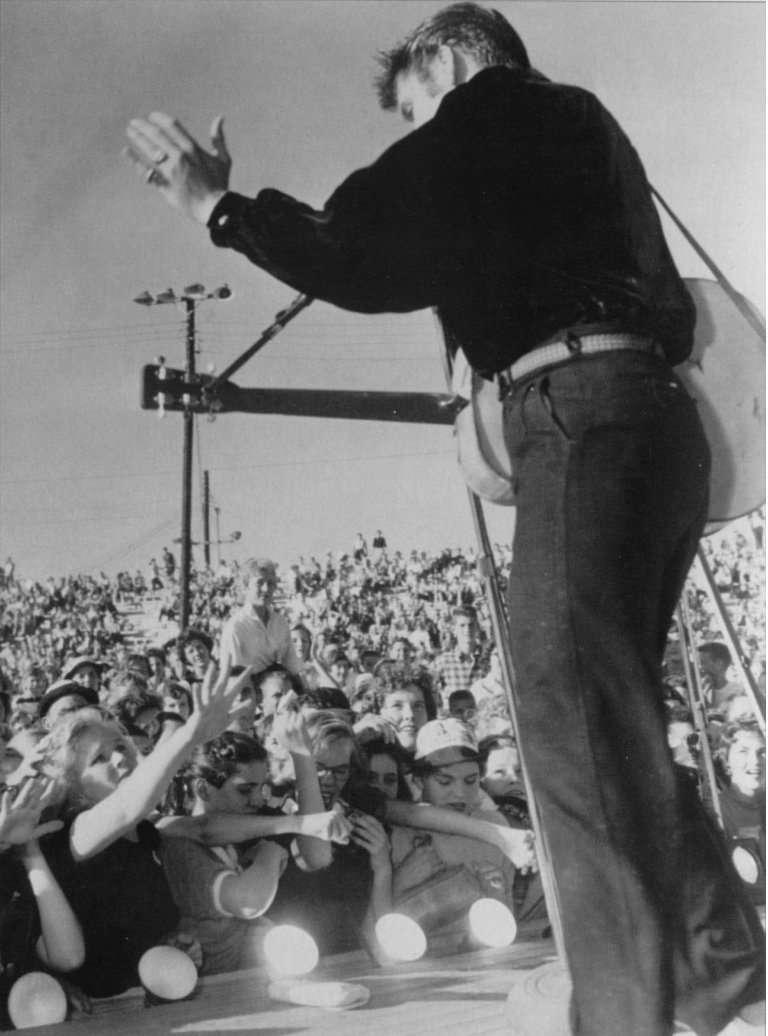 Judy Hopper in front reaches out to Elvis onstage in Tupelo - Sep. 26, 1956
Photo courtesy Elvis Presley Unseen Archives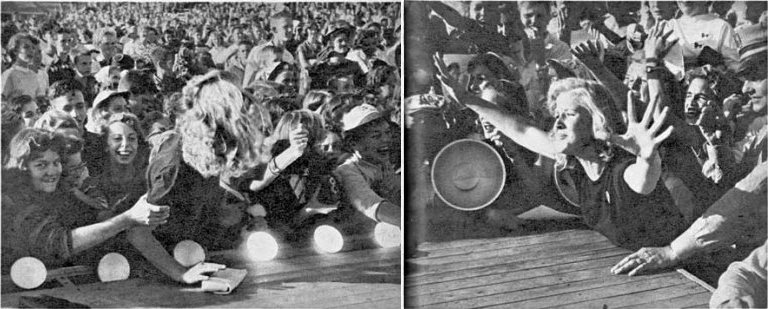 Judy Hopper climbing/pushed onstage, and after escorted off - Sep. 26, 1956
Photos from 50's fan magazine courtesy Ger Rijff
Judy Hopper was with a group of girls from Alamo, Tennessee that included Gloria Wedgeworth Reasons. Gloria's mother had driven them to the shows in Tupelo. To this day, I don't know how we conned my mother into it, Reasons said with a laugh. She hauled seven girls in a 1956 pink and white Impala, girls that were crazy about Elvis.5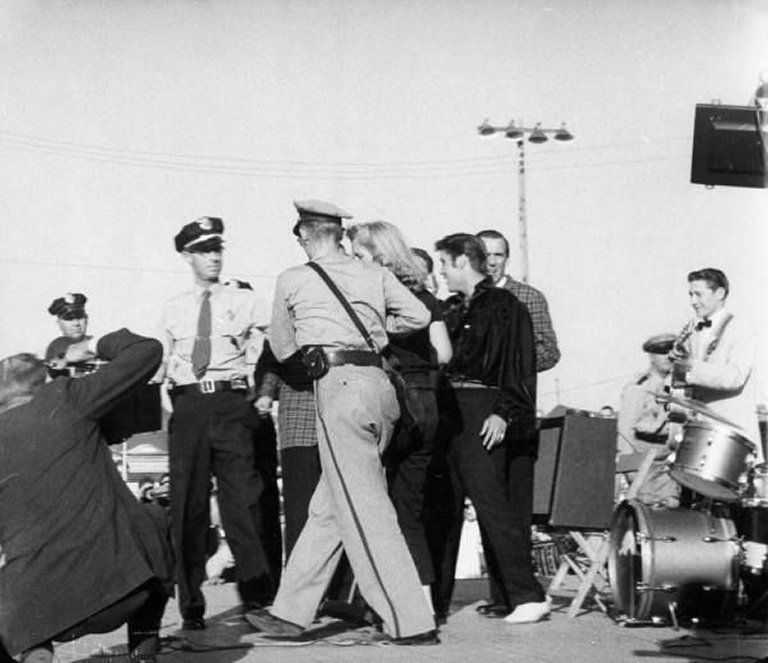 PLEASE, ELVIS - Fourteen-year-old Judy Hopper of Alamo, Tenn., was dragged sobbing from the stage during Presley's afternoon performance at the fairgrounds. She fought her war to the stage for a touch of Elvis. That night she was granted a few words with him. - Photo courtesy web

Judy Hopper under guard after being escorted of stage and Ron Brandon on right
Photos from 50's fan magazine courtesy Ger Rijff
Dressed in Elvis' favorite colors of pink and black, the Alamo girls were somehow transported from their 10th row seats to the stage's edge. There, the girls stood transfixed until Judy Hopper decided she was going up on the stage to meet her singing idol. And she did. Somehow we pushed Judy up on that stage … I had burns on my arms from the lights on the edge of the stage. It was a surreal moment, Gloria said.5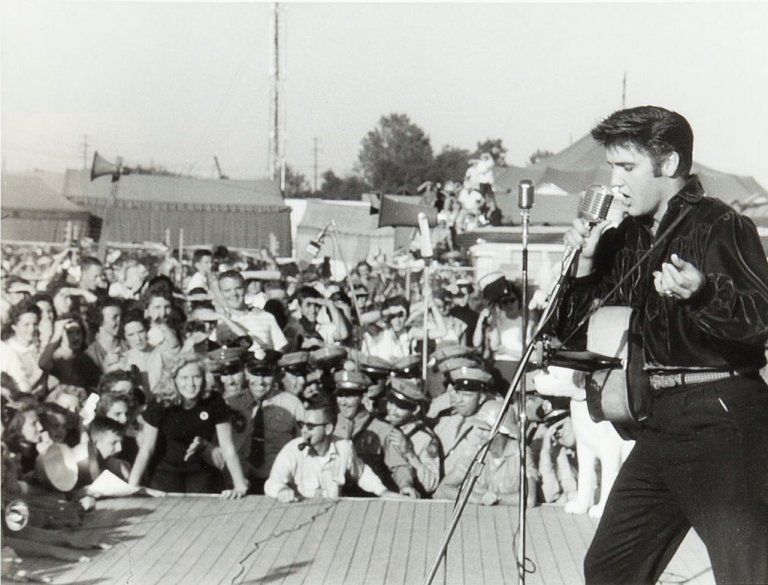 Judy Hopper watched by police and Ron Brandon watching Elvis on the side of the stage - Sep. 26, 1956
Photo courtesy Heritage Auction
Watching the action almost in slow motion, Reasons said she saw Hopper being escorted from the stage by policemen. They took her to the side of the stage and told her that if she would behave, she could stay there. From her prime spot, Hopper got to meet Elvis and his parents and return that evening for Presley's second show. We were green with envy, Reasons said. Although she was close enough to use her small camera to get good photos of Elvis performing on stage, Reasons says she always regretted that she didn't get to touch him.5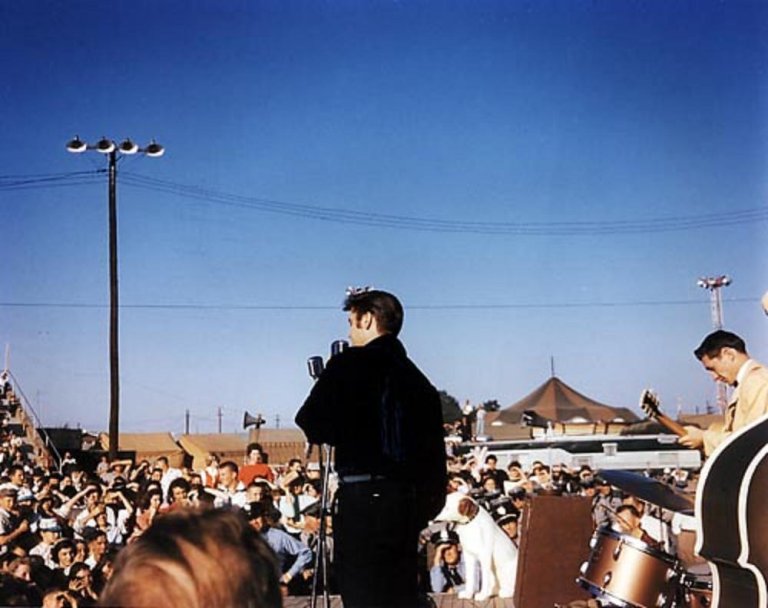 Elvis and Scotty onstage at the Mississippi-Alabam Fair and Dairy Show in Tupelo - Sep. 26, 1956
Photo courtesy Jimmy Velvet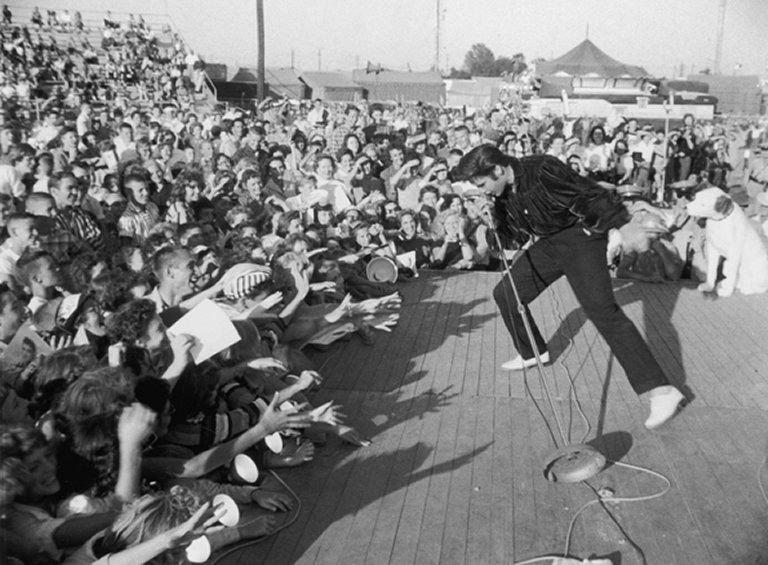 Elvis onstage at the Mississippi-Alabama Fair and Dairy Show in Tupelo - Sep. 26, 1956
Photo source unknown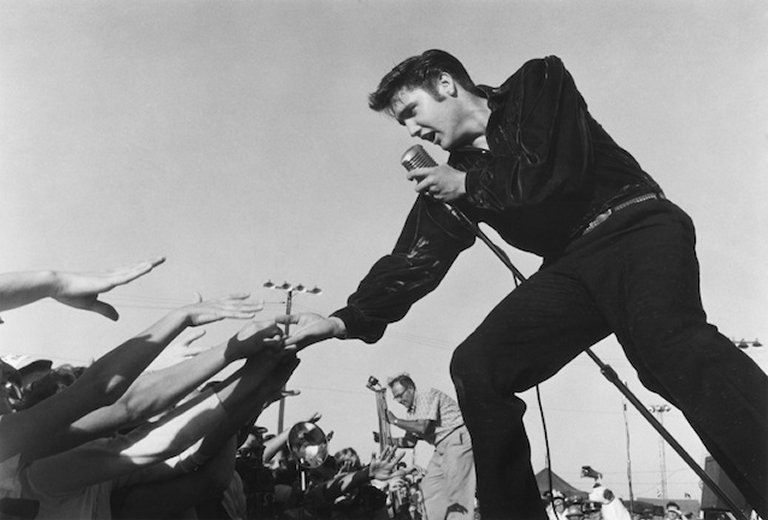 Elvis onstage at the Mississippi-Alabama Fair and Dairy Show in Tupelo - Sep. 26, 1956
Photo © Roger Marshutz

Elvis' performance filmed by Movietone News synced with Ron Brandon's recording in Tupelo - Sep. 26, 1956
Courtesy Memphis Recording Service and Youtube
According to Peter Guralnick, Fifty National Guardsmen were added for the evening show, which was anticipated to draw half again as many spectators. There must have been close to fifty thousand visitors to town, including sightseers and lookers-on, the biggest crowd that anyone could remember since Roosevelt had visited at the height of the Depression. Elvis was relaxed and chewing gum but disappointed that he wasn't feeling better for the occasion. "I've looked forward to this day for a long time," he said. "and the heck. of it is, I'm sick today." He asked for the girl who had crashed the stage that afternoon and was introduced to Judy Hopper, who had her picture taken with him and said, "It was even more thrilling than I dreamed it would be."6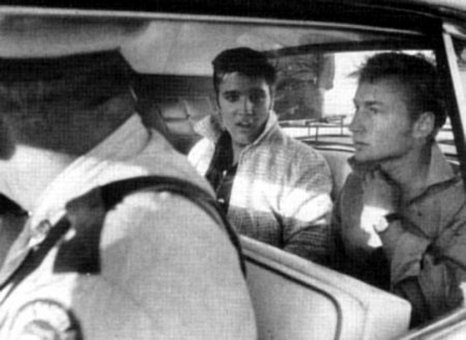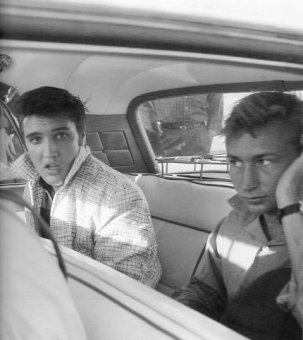 Elvis and Nick Adams driven from the the first performance or to the second - Sep. 26, 1956
courtesy Rolling Stones Fan club

Judy Hopper with Elvis before the evening performance, and interviewed by Charlie Watts later - Sep. 26, 1956
Photos courtesy Cristi Dragomir and Ger Rijff, WTUP:Charlie Watts interview courtesy Youtube**
The evening performance was, if anything, less inhibited on the part of the audience than the earlier one. At one point Elvis stopped the show to admonish the crowd in a good-natured way that little kids were getting hurt and that he wouldn't go on if they didn't sit back down. They were back up again for "Don't Be Cruel," though, and by the end they were almost out of control. "As howling sirens carried Elvis away, the fairgrounds were wild with crying teenagers," declared the Journal, "who fought for a chance for a last look at the boy who put burlesque back in business in a big way."6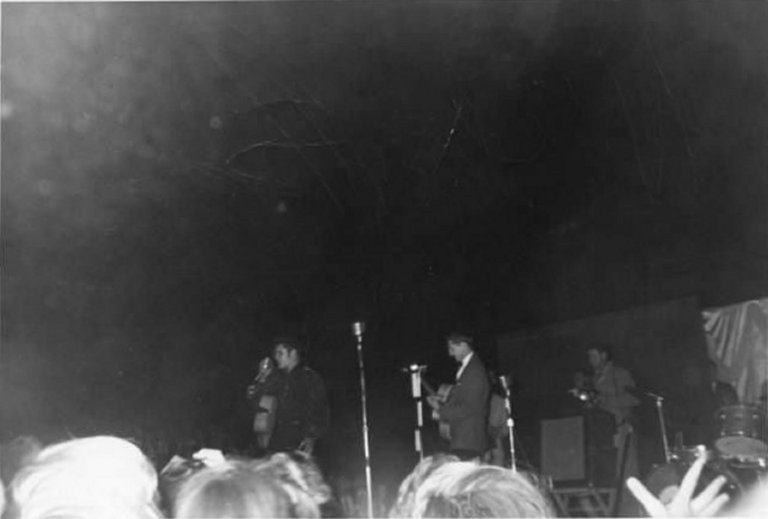 Elvis, Scotty and DJ onstage during the evening performance at the fairgrounds in Tupelo, MS - Sep. 26, 1956
Photo courtesy David English
Troops Quell Rioters In Elvis' Hometown

TUPELO, MISS Sept. 27, 1956 -(IP)- Screaming teenagers overran 100 police and National Guardsmen last night in a frenzy touched off by a homecoming appearance of rock 'n' roll singer Elvis Presley.
Pandemonium swept over teenagers forming about half a crowd of 12,500 that overflowed, specially built bleachers to see Tupelo's most famous former resident.
The youngsters stampeded from the bleachers, forced a cordon of officers back against the bandstand and literally literally crawled over the uniformed men to reach their idol.


DJ and Elvis onstage during the evening performance at the fairgrounds in Tupelo, MS - Sep. 26, 1956
Photo by Terry Wood courtesy Erik Lorentzen

Elvis Bags Fans
"I can't sing with this going on," Presley wailed into his microphone while the stage teemed with intruders making lunges for his clothing and with officers pulling them away as fast as they arrived.
Presley halted his singing to beg his young fans to return to their seats and they obeyed. Soon the audience was relatively quiet and Presley finished his show unscathed.
But during a matinee a few hours earlier a teenaged girl grabbed several buttons off his blue velvet shirt when Presley snake-hipped too close to the edge of the stage.


Elvis onstage during the evening performance at the fairgrounds in Tupelo, MS - Sep. 26, 1956
Photo courtesy Jimmy Velvet and David English

Nothing Like It
"I've never seen anything like this and I've been with the patrol since it was organized," Highway Patrol Inspector W. L Ellard said. That was nearly 20 years ago.
Officials had prepared for a lively demonstration, bringing in National Guardsmen, highway patrolmen and other officers from throughout the state before Presley arrived from nearby Memphis. Tenn., in a gleaming white limousine.


Elvis, Bill and DJ and onstage during the evening performance at the fairgrounds in Tupelo, MS - Sep. 26, 1956
Photo courtesy Erik Lorentzen

Kids Climb on Stage
The stage had been built five feet high but during the afternoon show teenagers made their first charge, and retreating newsmen and photographers climbed, up to get out of their way. The youngsters followed.
For the night performance the stage guard was more than doubled with a cordon consisting of 57 state highway patrolmen, 35 National Guardsmen and about 30 local police and deputies from nearby towns.
"It's all great—these people are great," Presley, who left Tupelo at 13, said of the townspeople and visitors.


Elvis onstage during the evening performance at the fairgrounds in Tupelo, MS - Sep. 26, 1956
Photo courtesy Erik Lorentzen

Governor on Hand
Gov. J. P. Coleman was on hand to present the 21-year-old star with a scroll. Coleman told Presley that Mississippi is "proud" of him."
Coleman arrived from Jackson before Presley rode into town. When Coleman's black Cadillac reached the fairgrounds where the show was held, thousands of teenagers cheered and then groaned when they realized it was "only the governor."

The Houston Press Thursday, Sept 27, 1956 - courtesy Gail Reaben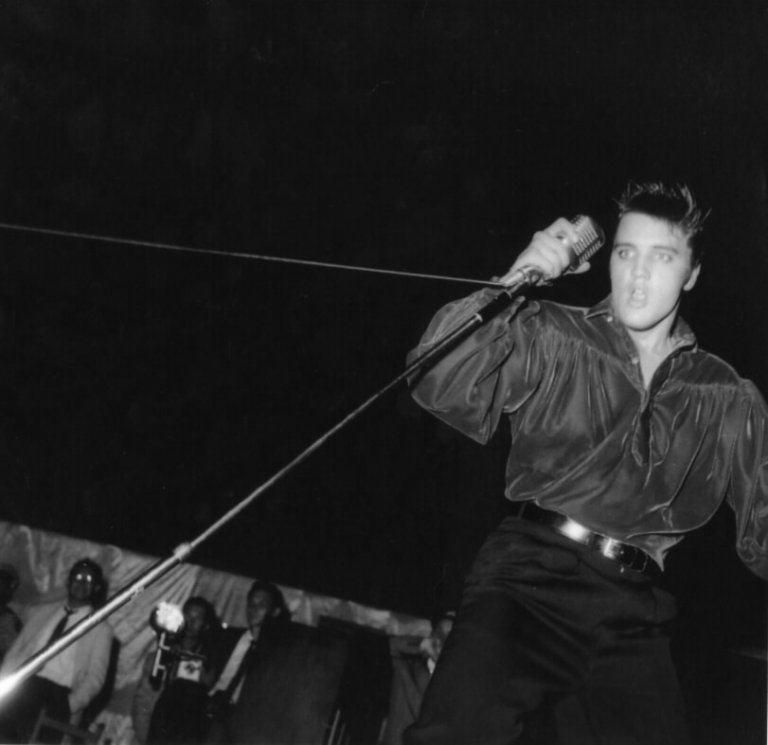 Elvis onstage during the evening performance at the fairgrounds in Tupelo, MS - Sep. 26, 1956
Photo source unknown
The six-day fair closed on Saturday, the 29th, set a record attendance of 180,000 surpassing the former record by 24,000. Elvis received $11,800 for his appearance, with his end based on 60 per cent of grandstand receipts.3 The following year they were booked again to appear for a benefit show, on September 27, 1957 to raise money to build a Youth Center and park in Tupelo. However, Scotty and Bill had resigned at the beginning of the month for economic reasons and replacements were required.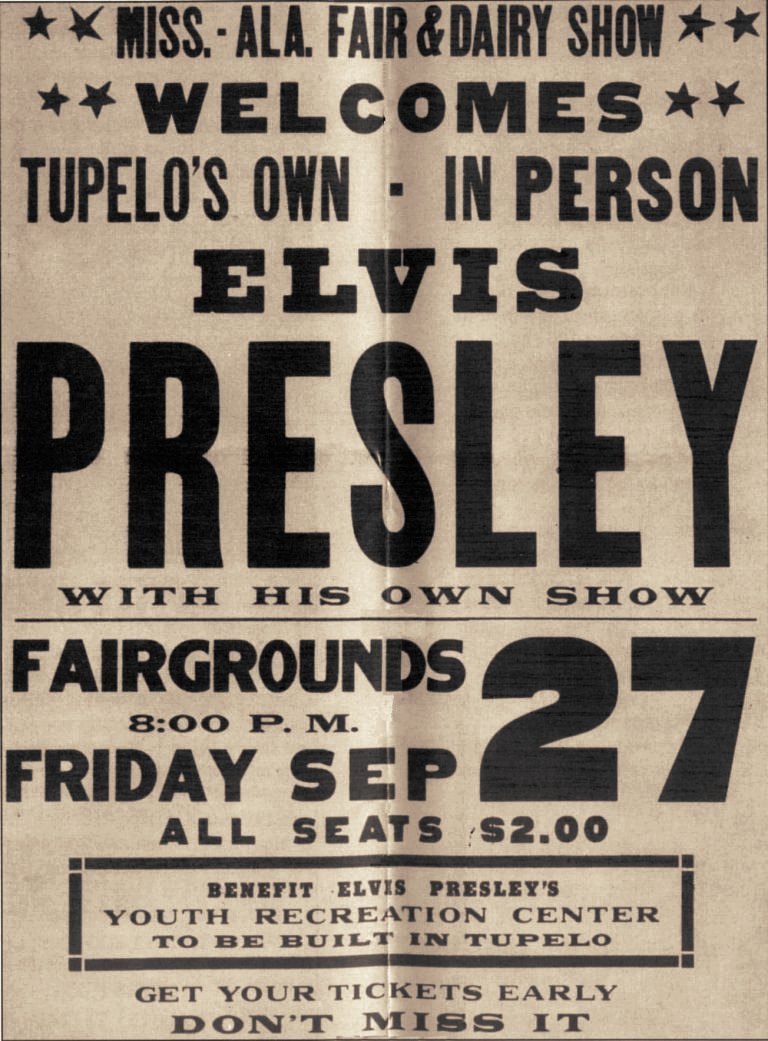 poster for 1957 Tupelo appearance
courtesy Elvis The Man and His Music No. 55
Elvis' Show at Tupelo May Set a Record

"If the weather's right, we'll set a record," J. M. Savery, president of the Mississippi-Alabama Fair, told the Press-Scimitar by telephone today.
Savery was talking in particular about the benefit show Elvis Presley is putting on tomorrow night at the fair.
Savery said 5000 advance sales of tickets have been mailed out, and "we won't have any trouble filling up the rest of the Fairgrounds." Some 12,000 can be seated and many will probably buy standing room only space at $2 - the regular price.
Metro-Goldwyn-Mayer notified Savery they intend to send a crew to Tupelo to film the show. Col. Tom Parker, Elvis' manager, plans to set up a press conference with Presley for newsmen, he said.
Many Elvis Presley fan clubs are ordering whole blocks of tickets, Savery said. "I just mailed out today tickets for a busload coming from Waco, Texas," he said.
Savery said "quite a number of Memphians have already booked reservations. Proceeds from the show will go to build an Elvis Presley Youth Center on a 12-acre plot of land , which includes the old Presley homesite.

The Memphis Press-Scimitar - September 26, 1957 - courtesy ebay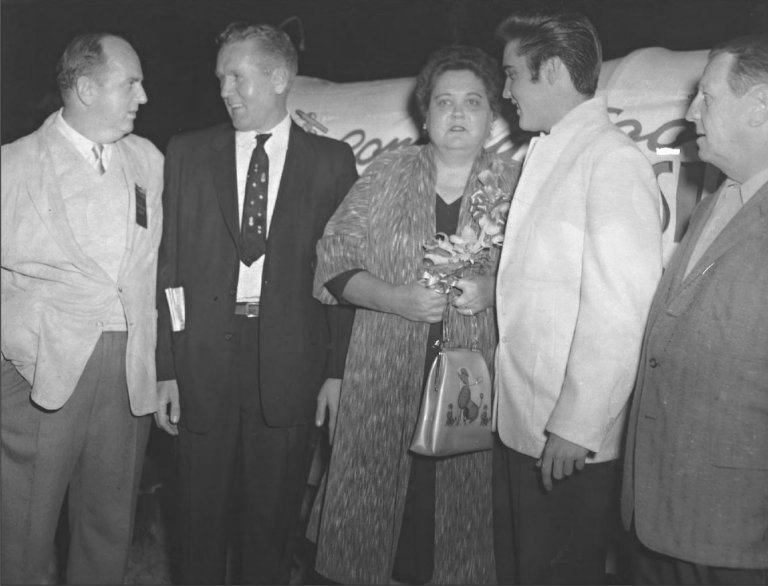 Col. Parker, Vernon, Gladys and Elvis Presley and J. M. Savery at the Fairgrounds - Sep. 27, 1957
Photo courtesy Tupelo (Images of America)
According to Peter Guralnick, Elvis arrived in Tupelo with Anita (Wood) and his parents, along with Cliff (Wood), George (Klein), Lamar (Fike), Alan (Fortas), and another friend, named Louis Harris. There was as much excitement in town about his upcoming appearance as there had been the previous year, but it was of a different sort, and mindful of his generous donation toward a youth center, the lead editorial in the paper offered an admonitory note to the community to "Let Our Welcome for Elvis Be Truly Warm." Elvis had been "the best ambassador any town could have," declared the Tupelo Daily Journal, and "he needs to feel appreciated in at least one community in America for just being himself."6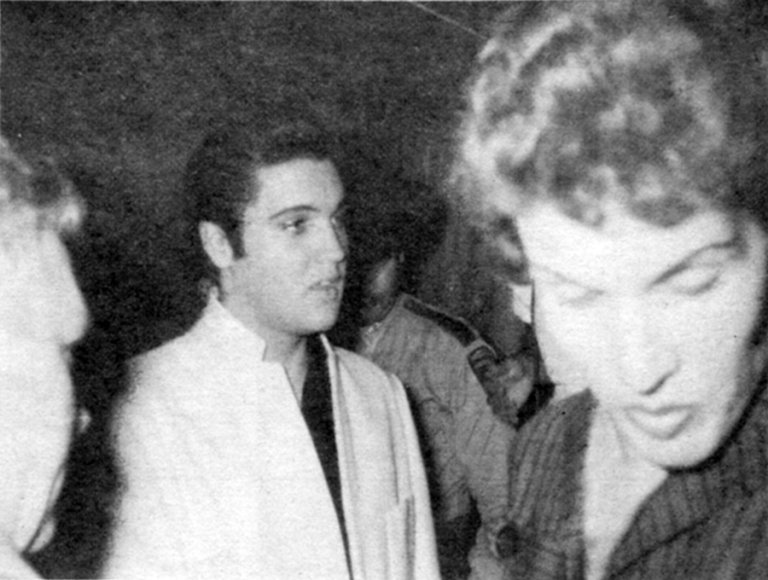 Elvis backstage at the Fairgrounds - Sep. 27, 1957
Photo source unknown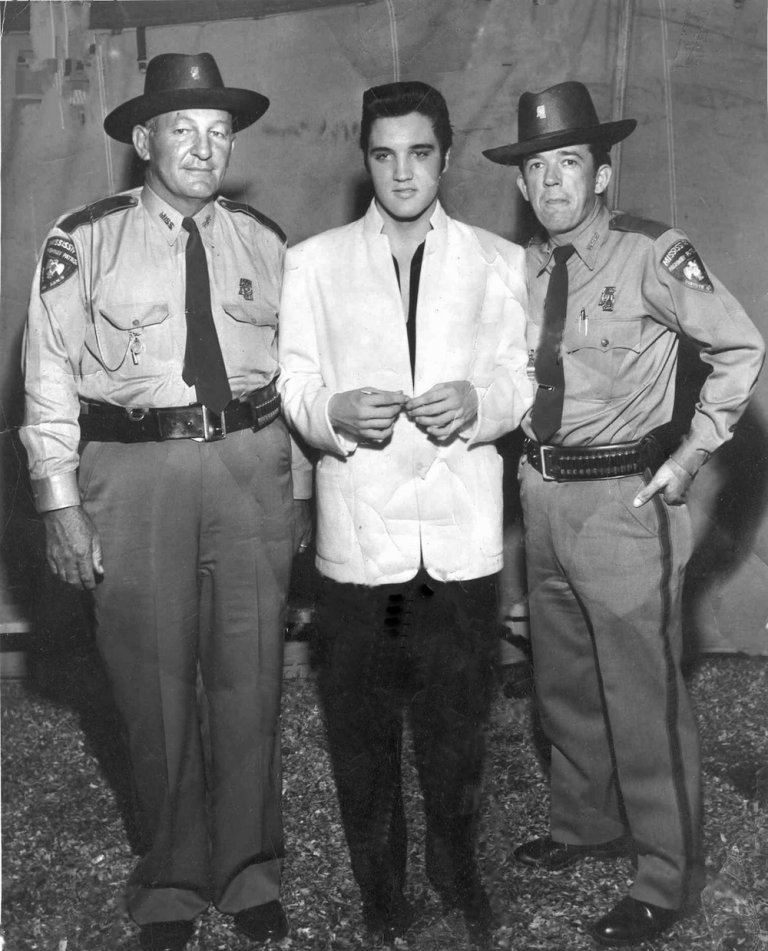 Elvis posing with Mississippi State Troopers backstage at the Fairgrounds in Tupelo - Sep. 27, 1957
Photo Shelaine Pennington Wise courtesy David English
At this time Elvis was seeing Anita Wood and the Memphis Press was more absorbed with that than with the present dissolution of the band. Even when the news broke weeks earlier it seemed to be overshadowed by her recent return from Hollywood. Peter wrote, Mr. Savery, the fair manager, had them all over to dinner, and Jack Cristil from WELO spent as much time interviewing Anita as he did Elvis. Did they have marriage plans? the reporters all shouted at him at the press conference in the tent before the performance. "I haven't found the girl yet," he said, staring straight at Anita with a look meant just for her.6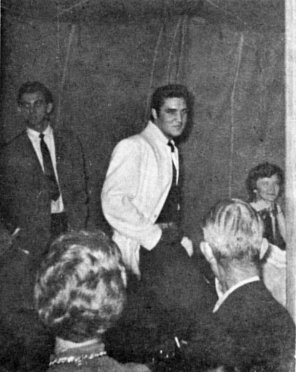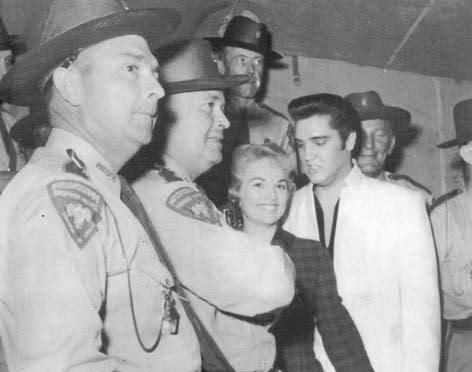 George Klein, Elvis and Anita Wood backstage at the Fairgrounds in Tupelo - Sep. 27, 1957
Photos courtesy Ger Rijff, and Rolling Stones Fan Club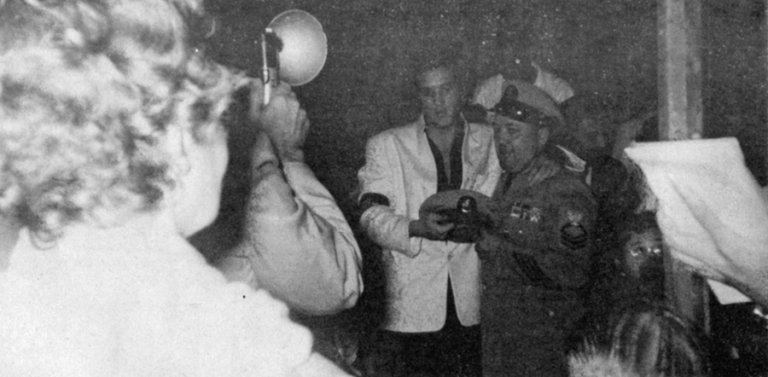 Elvis backstage at the Fairgrounds - Sep. 27, 1957
Photo source unknown
The paper was full of stories about the riots in Little Rock over school integration, and there was even a story with a Memphis dateline about white students from still segregated Humes High School jeering at Negro students on their way to nearby Manassas, but in Tupelo, the paper noted on the front page, while the annual 4-H Club style show would be held in front of the grandstand, "the negro junior Jersey show will start at 10 a.m. in the Negro section of the fairgrounds."6

Lamar, Anita, Elvis Cliff, Louis and George backstage at the fairgrounds in Tupelo - Sep. 27, 1957
Photo source ger rijff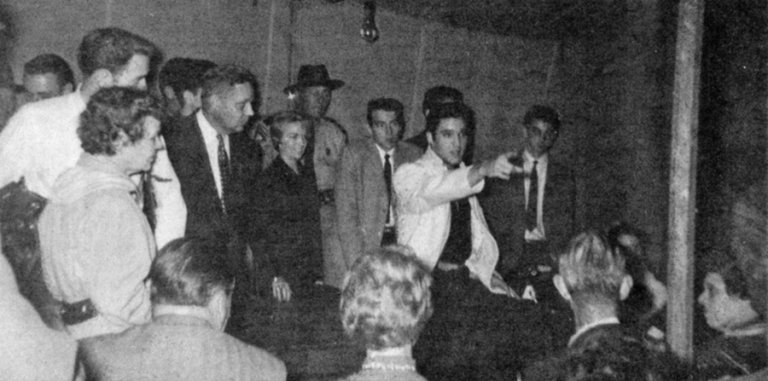 Mayor Ballard, Anita Wood, Tommy Young, Elvis and George Klein backstage at the Fairgrounds - Sep. 27, 1957
Photo source unknown
After a slow advance sale, the grandstand was filled to capacity; the band—with Nashville's Hank "Sugarfoot" Garland on guitar and Chuck Wiginton, a friend of D.J.'s from Dallas, on bass-sounded tight; Colonel made sure that they put up a big banner announcing that Jailhouse Rock was coming soon; and he worked the crowd, and himself, up into the usual frenzy. But somehow it wasn't the same. It didn't feel right, he told D.J. afterward. Garland was a helluva guitarist, but you could tell the difference on "Don't Be Cruel"; Garland could really play, but he didn't hit that intro the way that Scotty did.6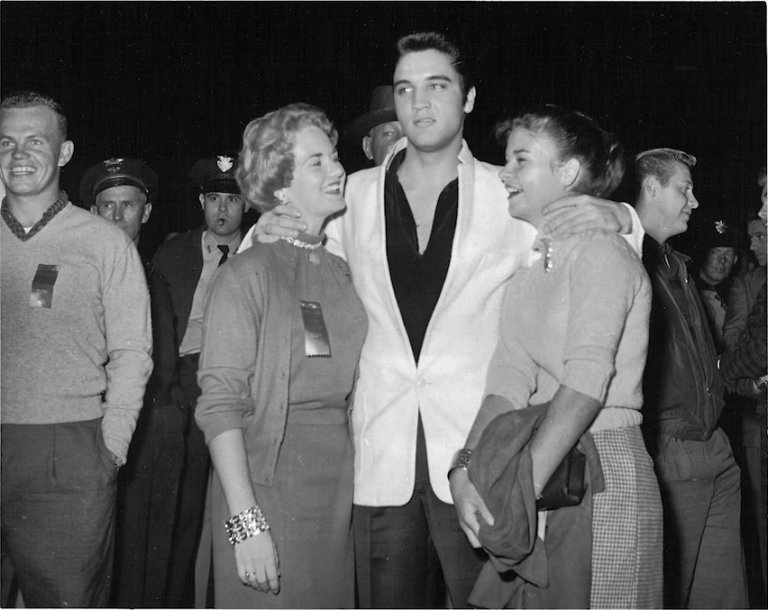 Elvis, again with Sara Ann Patterson on right and Billy Boren in back - Sep. 27, 1957
Photo courtesy Sara Ann Patterson, Roy Turner and Anthony Stuchbury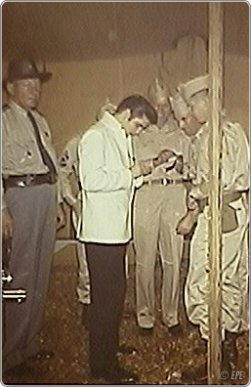 Elvis with Guardsmen and fans backstage at the fairgrounds in Tupelo - Sep. 27, 1957
Photos courtesy EPE and Claude Francisci
This was Hank Garland's first affiliation with Elvis. Bob Moore, a good friend of Hank's and fellow Nashville A-Teamer remembers accompanying Hank to Tupelo. Chuck Wiginton played bass. He was actually close friends with both D.J. and Scotty and in the late '40s at least, had played and recorded with Pee Wee King and His Golden West Cowboys and then became a staff musician at the Louisiana Hayride. In November of 2001 Trevor Cajiao got the opportunity to interview Chuck and he had this to say about his experience:
When did you first meet Elvis?
I first met Elvis in Shreveport, Louisiana when he came in as a guest on 'The Louisiana Hayride'. I was on the staff band there, along with D.J. Fontana, Floyd Cramer. Jimmy Day and Van Howard - that was the band we had that traveled with Lefty Frizzell for a good while. So I met Elvis at 'The Louisiana Hayride' when he came in with Scotty and Bill.

What were your first impressions of him?
He was real different. The musicians there, we knew that something different was happening but we didn't know just what it was. But he was a likeable guy and the audience just loved him.

Who did you play with on the Hayride? Did you work with guys like Johnny Horton?
Yes I did, and I even recorded some with Johnny back in his early days. Jim Reeves was another one, Jim Ed & Maxine Brown, The Browns...a lot of different stars came to 'The Louisiana Hayride'. Johnny Cash was there but I never played with him because he had his own band, but he was on the same show with us a lot of
times.

Had you followed Elvis' career after he left the Hayride?
Oh yeah, we always kept up with him because, y'know, being in the same business we kinda knew what everybody was doin'. And of course when D.J. joined him, we really kept up with him then.


The Jordanaires, Hank Garland, DJ, Elvis and Chuck Wiginton in Tupelo with the Bitsy Mott and the Colonel down front - Sep. 27, 1957
Photos source unknown

Was it Tom Diskin or Colonel Parker who contacted you to play the gig with Elvis in Tupelo in September 1957?
No, it was D.J. Fontana who called me. D.J. and I had worked together and we'd been friends for years. So when Scotty and Bill quit, then D.J. called me.

There was no contract through Elvis' management?
No, I didn't sign a contract. it was just a verbal agreement. I was working at a club in Dallas at the time called the Aragon Ballroom. I was doing that and I was also working in a bank in Dallas during the day. I took a leave of absence from the bank in order to do the show with Elvis.


Tupelo Mayor James Ballard onstage with Elvis
Photos source FECC, and ebay

So you were brought in to replace Bill Black and Hank Garland was brought in for Scotty Moore. Had you worked with Hank Garland before?
I had done a little session work with him in Nashville, so I knew he was an excellent guitar player.

Was there much chance to rehearse before the show?
Yes. We went into Memphis early, probably three or four days early, and we stayed-at his home, Graceland. We rehearsed with The Jordanaires and we worked out the routine he was going to do on the show.

Can you remember any of the numbers you performed?
'Hound Dog'. 'Heartbreak Hotel'...just the regular stuff he had doing at that time.


Elvis and Hank Garland with his 1955 Byrdland on stage in Tupelo, MS - Sep. 27, 1957
Photo courtesy Michael Ochs Archives/Stringer

What did you think of him as a stage performer?
He was just a super entertainer. Lots of charisma and he knew exactly what he was doing. The crowd was unbelievable. I'd never seen anything like the crowd that night. There were young girls standing there holding hands and cryin' in front of the stage...just screamin' and cryin'. When Elvis did his last number well of course he ran off to the back of the stage and I thought, 'Gosh, these people are gonna break through those lines and tear up our instruments and everything'. They had the National Guard standing in front of the stage and linked together, so luckily that never happened.

Were you aware at the time that someone was filming the show?
No I was not. Do you have the full show on tape?


Elvis onstage in Tupelo with fill in bass player Chuck Wiginton - Sep. 27, 1957
Photos source unknown, and ebay

Not the full show. It wasn't all filmed - just parts of it. But it keeps turning up in lots of documentaries.
I've just seen one segment from it. I don't have any still pictures at all, except I had some taken off a video tape and they turned out fairly well. I'd love to have some proper still pictures from the show.

When would have been the first time you saw the footage?
I don't remember exactly the first time I saw it. A friend of mine taped a show on TV which had a lot of rock n roll people on it and that came up on it. I went to Tupelo, Mississippi again in later years and tried to find some still pictures but was unable to find any. Nobody there seemed to have any.


MGM film footage from the Tupelo appearance - Sep 27, 1957

Once Bill Black rejoined the band, did you ever see Elvis again?
I don't think so. He went into the Service not long after that. I asked him at the time when we got through if this was gonna be a lasting job or if he was offering me a job, but he said 'I'm going into the Service so I won't be around for a while'. I figured I best just go on back to the bank and go back to work. That's what I did and I eventually retired from that bank.

What sort of age were you when you did the gig?
I was in my late 20s, I guess.

You obviously liked Elvis; were you a rock n roll fan in general?
Not really. I was more of a western swing musician and I loved western swing music. But I enjoyed working with Elvis and it was great to work with D.J. again. I still talk to D.J. once in a while and I go to Nashville to see him once in a while.

Do you talk about the show much these days? Does it come up in conversation much that you played one gig with Elvis In 1957?
Oh, it comes up all the time, but I don't go around telling people because they just think, 'Oh yeah, that's right!' (laughs). It's like all the fiddle players who say they played with Bob Wills! I just kinda let it lie, but if it comes up I'll tell people about it.


Elvis exiting the stage at the fairgrounds with Tom Diskin, the State Police and fans in pursuit - Sep 27, 1957
Photos source FECC

Well you've got the evidence - you're on the film...
Yeah, that's right. It was a great experience and I wouldn't take anything for it. I didn't realize at the time what a big deal it was; it was just another gig at the time - well, a little more than just another gig 'cause he was so hot at that time.

Your name has turned up in a few places recently but it's spelled as 'Wiggington'...
No, it's just the one 'g' - Wiginton.

And you're still playing gigs these days...
Yes I am. I work two or three times a month and just kinda try to keep in practice. I still enjoy playing.

Well thanks for your time, it's been great talking to you.
Nice talking to you too.

I'm glad I was able to track you down after all these years...
You betcha! Thanks a lot.

Interview by Trevor Cajiao, November 2001 - courtesy Elvis The Man and His Music Issue No, 55*
The week after the Tupelo homecoming, he decided to take them back. Scotty and Bill played a miserable two—week engagement at the Dallas State Fair and then formalized the arrangement, with everyone swallowing his pride a little and the Blue Moon Boys returning on a per diem basis. There were no hard feelings, Scotty said. It was a matter of money all along. For Elvis, though, it would have been hard to say what it was exactly. One day he heard "Jailhouse Rock" on the radio and declared, "Elvis Presley and his one-man band," with a rueful shake of his head. It seemed like everything was plunging headlong forward, and he didn't know how to hold it back.6

J. M. "Ikey" Savery, Mayor James Ballard and Alderman Raymond Merchant break ground for the planned Youth Center - ca. 1957
Photo courtesy Tupelo (Images of America)
Elvis had donated $20,000 toward the construction of a Youth Recreation center to be located near his birthplace. The property, including the birthplace, originally belonging to Orville Bean, was sold to the city by his daughter for that purpose, who happened to be Oleta Grimes, Elvis' fifth grade teacher. Initially, the land was cleared of all buildings and homes except for the birthplace and eventually the city built an indoor recreation hall, baseball diamond, swimming pool and a playground. It wasn't until 1971 though that Oleta and the East Tupelo Garden Club decided to restore the house along with Elvis' father's guidance and open it for tourism.7 In the 1990s the pool was filled in for expansion of the area.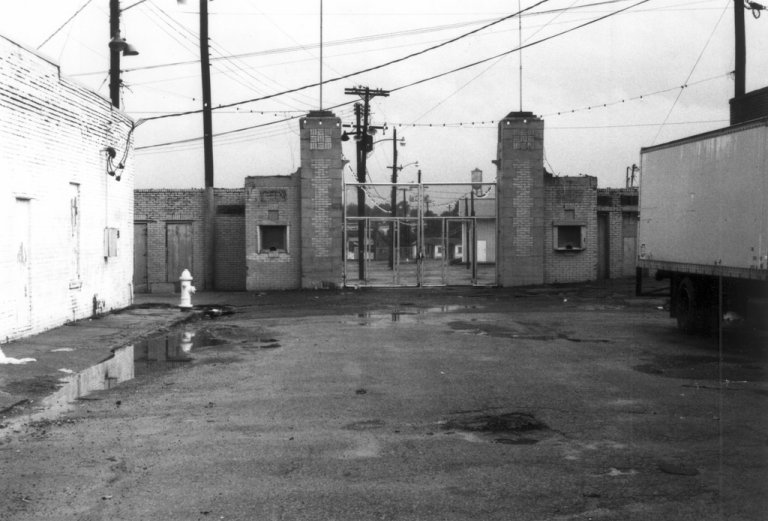 Tupelo Fairgrounds portal across Main Street from Commerce - ca. 1987
Photo by Mike McCarthy courtesy Ronnie Harris

satellite view of the former fairgrounds and grandstands in Tupelo - 1997
courtesy Google earth
The last fairs were held there in the early 1980s and by the 1990s the stage was torn down. By 2000 the grandstands were also torn down. The new City Hall was built roughly in the same place in 2003 and the former fairgrounds are now part of what is called the Fairpark District. That same year, Scotty Moore and DJ again returned to the Fairgrounds with Ronnie McDowall and Sonny Burgess and the Pacers as part of the 6th Annual Elvis Presley Festival in Tupelo. They had been doing that show for several years, originally held in August but now in June because of the heat.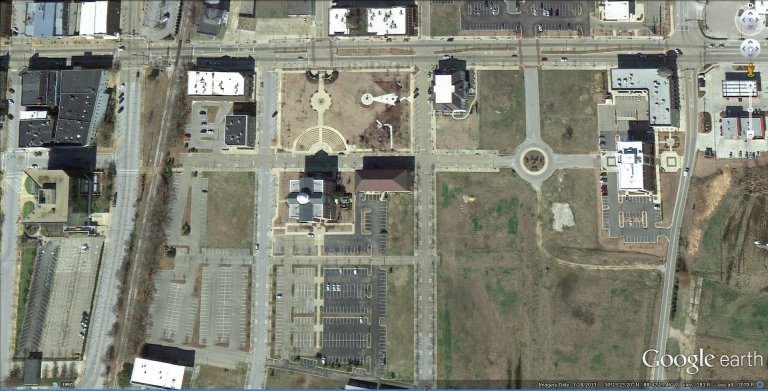 satellite view of the former fairgrounds / Fairpark District in Tupelo - 2013
courtesy Google earth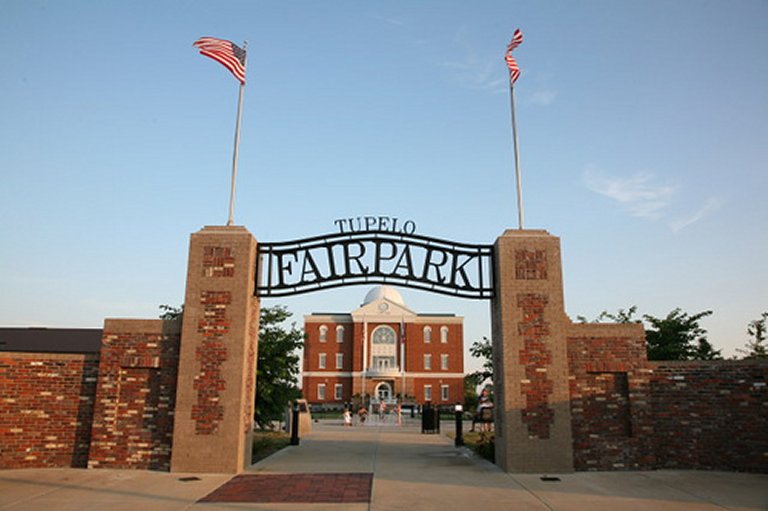 The Fairpark Portal on East Main St. at the intersection of Commerce - ca. 2012
Photo courtesy Patricia Neely-Dorsey
Recently, the concerts and Elvis' history in Tupelo have been covered in detail in the 2006 documentary by Roy Turner, Homecoming: Tupelo Welcomes Elvis, which inspired the 2008 documentary, Elvis: Return To Tupelo, by Michael Rose. In August of 2012 a statue of Elvis by Taylor, Mississippi sculptor Bill Beck was unveiled in Fairpark. It was the result of a joint effort of the Tupelo Convention and Visitors Bureau and the Tupelo Elvis Presley Fan Club. It is a depiction of the iconic photo taken on September 26, 1956 by Roger Marshutz, erected at just about original stage height.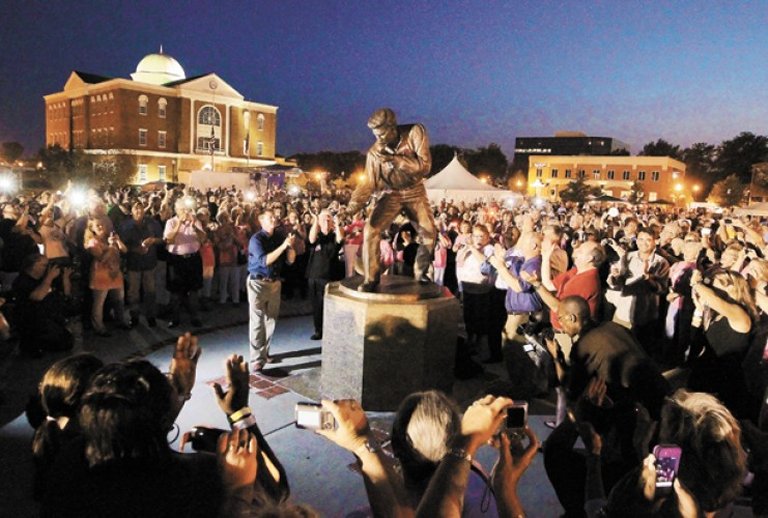 A statue of Elvis Presley is unveiled at Fairpark in Tupelo Miss., on August 9, 2012
AP Photo Northeast Mississippi Daily Journal, C. Todd Sherman, courtesy The Republic
page added January 16, 2014
Special Thanks to Roy Turner, Mike Rose, Ron Brandon and Trevor Cajiao for their help with this page.
1 according to Tupelo (Images of America) by David Baker, Dick Hill, Mem Leake, Bill Lyle, Julian Riley and Boyd Yarbrough
2 excerpt from Lee's Cotten's Did Elvis Sing in your Hometown?
3 according to Tupelo Journal article, Fair With ELVIS, Sets Gate, Grandstand Records - published October 6, 1956 courtesy Elvis Album
4 excerpt from The Rebel and the King by Nick Adams
5 excerpt from or according to Elvis fan recalls 1956 Tupelo Homecoming Concert August 14, 2012
6 excerpt from Last Train To Memphis by Peter Guralnick
7 according to Mike Freeman in A founder of the Elvis Presley Birthplace Park receives little credit today, posted January 24, 2012
** The audio of the interviews from 1956 presented here was by Charlie Watts, the then announcer at Station WTUP and recorded by Ron Brandon an the same recorder used for the show. The audio for the interview conducted by Jack Cristil of WELO as pictured is not believed to have survived, however one from the following year by him is said to exist.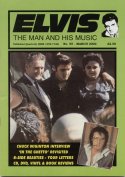 *The interview with Chuck Wiginton conducted by Trevor Cajiao was originally published in commemoration of the 50th Anniversary of the 1957 Tupelo show by our friends in the March 2002 issue of Elvis The Man and His Music, one of the finest publications on Elvis, available at www.nowdigthis.co.uk, and reprinted here with permission. Visit them also on Facebook.
---
In August of 2013 a photo sold on ebay believed to have been Elvis as a boy in Tupelo. Partially obscured in the auction there was much speculation about its authenticity. Fortunately area residents, historians and childhood friends were able to pinpoint the location and offer their qualified opinions. Alanna Nash told the whole story recently in Vanity Fair and for posterity we've reprinted it here:
Elvis as a Teen? See a Never-Before-Published Photo From His Hometown in Tupelo, Mississippi
Is it really him? Elvis friends, relatives, and experts weigh in.

By Alanna Nash


Previously unpublished photo believed to be Elvis at 13 in Tupelo - ca. 1948
(click to enlarge)

Elvis Presley is one of the most photographed figures in music history. But in the nearly 37 years since his death, every significant picture of rock's swivel-hipped pioneer has been widely seen. Or has it?

Wade Jones, 50, a lifelong Elvis fan from Mount Holly, North Carolina, has been "constantly looking at photos" since 1977, when he smuggled a tape recorder into one of Presley's last concerts. And so in 2005, when the late Janelle McComb—a Presley family friend from Tupelo, Mississippi—sent Jones a childhood picture of the future king of rock 'n' roll, Jones was dumbstruck.

"I had never seen that image in my life," says Jones, who looked at the photo of a young teenager leaning on his bike—his head tilted back, his hooded eyes nearly closed in the Tupelo sun—and realized it was the first shot placing Presley (who would have been 13 that year, 1948) on the streets of his hometown. "Just his pose, and the fact that he was in a candid situation, surrounded by normal people, was kind of eerie."

The image also appealed to a European fan, who paid $361.68 when Jones, partially obscuring the image to keep it from being copied, listed a print on eBay last August. The auction started an Internet buzz on Elvis-fan message boards. Graceland—Presley's homestead—contacted Jones about acquiring the original. Media requests poured in. Some believed they'd pinpointed the exact location in the picture—West Main Street, near the Tupelo Hardware store where Gladys Presley bought her son his first guitar. Others denounced the photo as a fake; after all, Jones was the same guy who had once auctioned water from a Styrofoam cup that Elvis had used on stage in Charlotte, and later sent the cup "on tour." Yes, admits the digital-sensor salesman, but that was all in good fun.

So, is the photo—published here, for the first time, uncropped—really Elvis? In the full-frame version, someone has written "Elvis" in script near the right border. But who? Janelle McComb, who died two months after mailing it, told Jones in a phone call that the woman who took the snapshot was on her way to the drugstore to drop off some film to be developed. She had one more exposure on the roll, and just asked Elvis, whom she knew, to pose. But Jones didn't catch her name.

Billy Smith, Elvis's first cousin, confirms that the boy in the photo is indeed his relative. Moreover, when approached by Vanity Fair, several Elvis experts attested to its seeming authenticity. British collector Tony Stuchbury, for one, said: "The body language matches. He put his head back like that in later years. I've seen pictures from vacations in '69/'70 where he looks just like that. I'm convinced the photo is real."

Roy Turner, the Tupelo historian who assisted Elaine Dundy in the research for her definitive biography, Elvis and Gladys, took one look at the picture and declared, "There's no doubt in my mind that it is Elvis." But the location eluded him. If it were Presley, the one person who would know the spot was 78-year-old Sam Bell, the last close friend Elvis made in Tupelo. The two were neighbors and constant companions when the Presleys lived for a year at 1010 North Green Street in a well-to-do black community known as the Hill.

"Yeah, I know that's him," says Bell, who is African-American. "That's the way he'd be looking. That's the way he'd be dressed. And the bike too, that's what we rode, those type of bikes."

Furthermore, he believes that that's Presley's mother, Gladys, keeping a watchful eye from the shadows. "Elvis wasn't ever running around by himself," recalls Bell, a retired personnel manager for a lawn-and-garden company, who often played and went to the movies with Elvis and their mixed-race group of friends. "If she wasn't with him, shopping and all that, we were."

But it's the location of the photo that cinches the deal. The boy in the frame stands at the intersection of North Spring and Jefferson, the epicenter of black and white Tupelo. The establishments on the west side of North Spring—a pool hall, barber shop, and military surplus store—catered to a mostly black clientele. The businesses to the east—a grocery-and-seafood market, a furniture store—served white customers. Bell, who still lives nearby, remembers many Saturdays when the block was the busiest spot in town, where some shoppers arrived from the country in horse-drawn wagons. He points to a squat building, on the right, with what appears to be an outside service window: "That was a little cafeteria where you could go and get a milkshake or a soda, but the counter wasn't integrated, so the blacks couldn't go in and sit down."

Elvis knew the neighborhood well. Not far from his gaze, on the opposite side of Jefferson, stands the Lee County Courthouse, where he regularly attended WELO's live radio shows on Saturday afternoons, soaking up the hillbilly sounds of local idol Mississippi Slim, who encouraged the boy's own singing and put him on the air. If he had ridden his bike a block or so east, down Jefferson, he would have arrived at Shake Rag, the impoverished local African-American community, where he first heard the low moan of the blues.

In the fall of 1948, only months after this photo was taken, the Presleys, deeply in debt and hoping for a brighter future, packed everything into an old green Plymouth owned by cousin Billy Smith's parents, and left for Memphis. There, Elvis united the sounds he remembered from both sides of Tupelo's streets. "He didn't say, 'We're going to Memphis,' " Bell recalls. "He said, 'We got to move.' He was kind of sad. Didn't really want to go."

"What makes the photo exceptional," insists Turner, the town historian, "is that it's the only pictorial reference to Elvis's years in North Tupelo, living in the historically black community." Presley long talked about it, and biographers labor to document it. "Now," he says, "we can see his story."

What we also see—in that head cocked back and that youthful swagger, if the experts are correct—is, precisely, Elvis becoming Elvis.

Copyright © Vanity Fair, originally published January 8, 2014
see the original publication for comments
---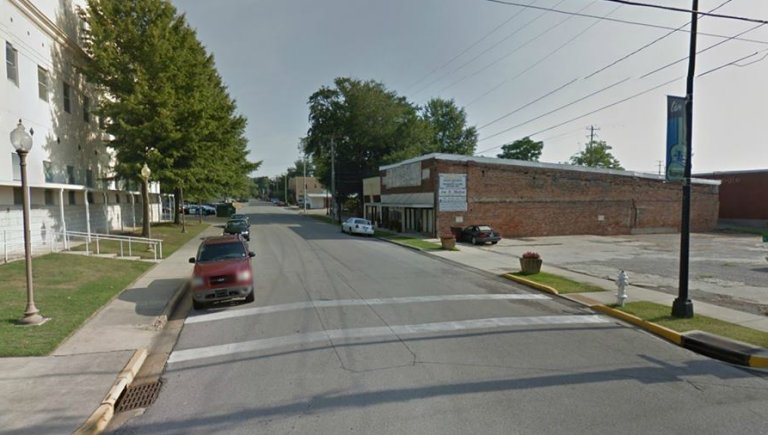 A contemporary view at the location of original photo identified by Sam Bell - 2013
Photo courtesy Google
According to Alanna Nash, Sam Bell identified the bike that Elvis owned and was pictured riding as an old Western Flyer. It very much looks like the one hanging in the now/former shooting range at Graceland.

An old bicycle hanging in the former shooting range behind Graceland - May 2006
Photo © James V. Roy
The location that Sam identified in the photo happens to be only a few blocks north and west from the site of the former fairgrounds.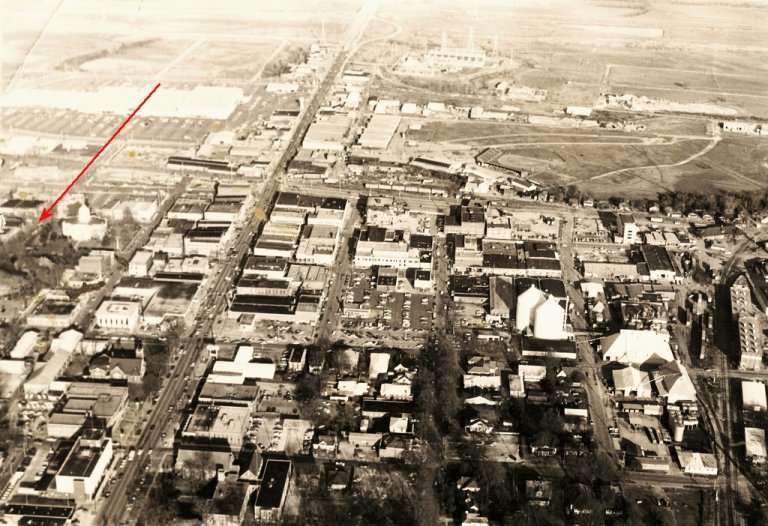 Downtown Tupelo looking East up Main St. with Fairgrounds and Grandstands in distance and location of intersection indicated.
Original Photo courtesy Ronnie Harris
article included January 16, 2014 with original page
Special thanks to Alanna Nash for permission to reprint her Vanity Fair article and to Peter Jason Riley for directing us to it.