Arkansas Municipal Auditorium
Texarkana, AR
The construction of the Texarkana, Arkansas, Municipal Building in the late 1920s was a response to the growth of Texarkana that paralleled the growth of the railroad in the region. Texarkana grew out of construction camps that were established at the western end of the Cairo & Fulton railroad line and the eastern end of the Texas & Pacific line. The officials of both railroads recognized that the terminus would be an ideal place for a town site, especially since the two lines were constructed using two different gauges, and required that railroad cars be shifted from one line to the other for several years. As a result, on December 8, 1873, the Texas & Pacific began selling building lots on the Texas side, and shortly afterwards the Cairo & Fulton followed suit in Arkansas.1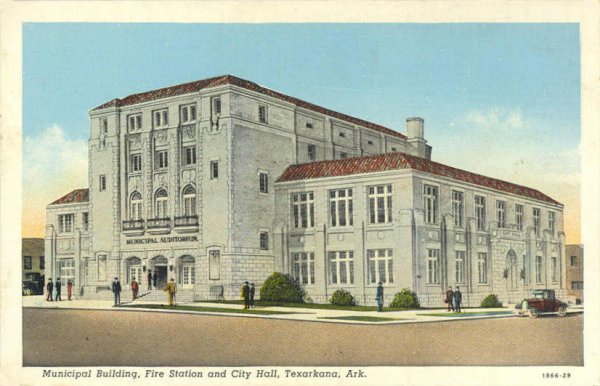 Municipal Building, Fire Station and City Hall - Texarkana, AR
postcard courtesy ebay
The importance as a railroad junction caused the city to grow rapidly as railroad traffic grew in the area. By the 1920s, Texarkana was a major railroad center in the region, which brought about the need for a new municipal building. Prior to its building, there was no theater, concert stage, or audience space for 1,000 people in the city. The City decided it would be a multipurpose building to serve four separate functions – city hall, fire station, jail and auditorium. Since Texarkana has always been a twin city in both Texas and Arkansas, the auditorium, especially, served the entire community population in the twin cities for performing arts and a gathering place for civic functions.1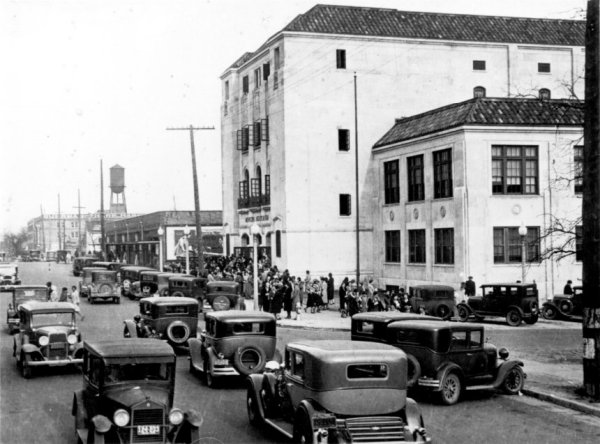 The Texarkana Municipal Building, Fire Station and City Hall - 1934
Photo courtesy Jimmy Smith & City of Texarkana Municipal Auditorium Project Advisory Commission
The architectural firm of Witt, Seibert, and Halsey of Texarkana was hired to design the structure, and they used the unusual combination of the Collegiate Gothic and Art Deco styles for the building. Located in the central commerce area of the twin cities located on the state line between Texas and Arkansas, it was built over a three year period by the Stewart McGehee Construction Company beginning in 1927. The auditorium, opened in June of 1928 and the jail, city hall and fire station were completed by 1930.1 With the balcony and main floor it sat roughly 950 people.
It served as a recreational and cultural gathering place during much of the twentieth-century. It was the primary place for dance and piano recitals, guitar students, theater productions as well as school productions. Fashion Shows were sponsored by the Chamber of Commerce and held in the auditorium. During World War II the auditorium became an important stage for emerging vocalists and musicians and variety shows to entertain the travelers. In 1942, Louis Armstrong appeared, as well as some of the noted Big Bands. By the early 1950s as the music scene was changed the Big Bands were being replaced with the new "rock and roll" music emerging from the Country & Western genre.1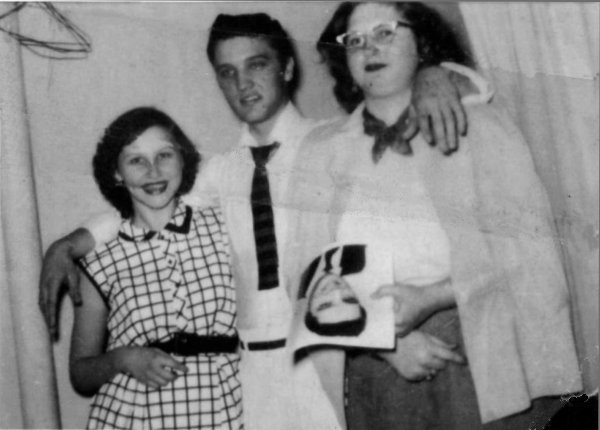 Bobby Jean Frost, Elvis Presley, and Dora Lou Pate backstage at Arkansas Municipal Auditorium - Mar. 6, 1955**
Photo courtesy Texarkana Gazette
Elvis, Scotty, Bill and eventually DJ made several appearances at the Auditorium, at least four in 1955 and varying accounts have suggested as many as two in 1954. Unfortunately, lacking ads for all the shows coupled with recollections that at times both corroborate and conflict make ascertaining exact dates for all shows difficult. The first was thought by some to be on November 24, 1954 and has since been confirmed by Brian Petersen and A Boy from Tupelo along with additional dates of March 3, and 6, 1955. Lee Cotten wrote that December 3rd was verified by several residents who were in their teens at the time, including Dewanda Jo Smith and Pat Cupp. Reputedly all the appearances were on Friday nights. Carl "Cheesy" Nelson, who reputedly filled in for Elvis, recalled that the Browns and the Louvin Brothers also performed and that the show was promoted by Jim LeFan of KOSY radio. He wrote that after the show Nelson and Elvis double-dated in Elvis' pink Ford Crown Victoria.2 They did in fact appear on April 22, 1955 but an item in the May 21 issue of Billboard magazine implies that Nelson (also) performed at the April show. It read, "A youngster named Cheesie Nelson brought down the house here (recently with the Elvis Presley unit, singing an old one, 'Worry, Worry, Worry,' writes Cousin Jim Lefan , of KOSY, Texarkana, Ark. 'Nelson has a style similar to Presley's and he's just as great.' " No mention was made of a duet. It wasn't the first time that other acts were backed by Scotty and Bill, its possible that he performed at several of their appearances.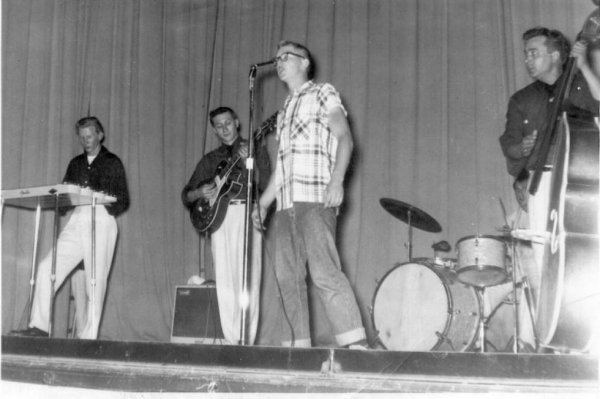 Jimmy Day, Scotty, Carl "Cheesie" Nelson, DJ and Bill on stage at the Municipal Auditorium - Apr. 22, 1955*
Photo courtesy Texarkana Gazette
Cotten wrote that the specifics of the April show are recalled by several Texarkanians and recollections indicate that also appearing were Jim Ed and Maxine Brown and Tommy Sands. Dewanda Jo Smith remembered borrowing a dress to wear when she met Tommy Sands from her friend Gwen Telford who had become friends with him when she wrote to him at KCIJ radio in Shreveport where he was a deejay. Dewanda Jo at the time was more interested in seeing the Browns than Elvis, and she bought a souvenir photo of the group and had them autograph it. Scotty also signed the back of the picture.2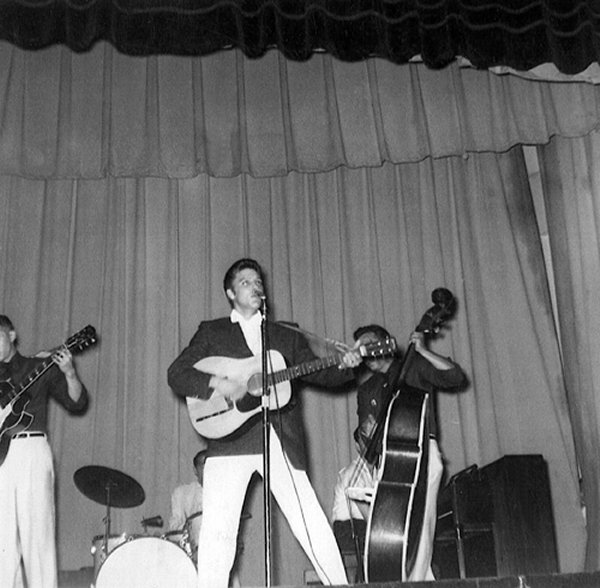 Scotty, DJ, Elvis and Bill on stage at the Arkansas Municipal Auditorium in Texarkana - Apr. 22, 1955*
Photo courtesy Steve Bonner
Bill E. Burk wrote that Nelson, sixteen years old at the time, had a band called Cheesy and the Flying Saucers (?) and his big thing was imitating performers. As he put it, Nelson was working the show "guarding the door upstairs," and Jim LeFan told Elvis about his imitator and arranged for the two to meet. Afraid of Elvis' reaction to what he had been doing, Cheesy at first refused to meet the original, "but the whole football team picked me up and took me backstage? Elvis, impressed with him said he wanted to bring Cheesy on stage with him after intermission and they would sing a duet. According to Burk, this show was said to happen in 1954 and that they performed Dance With Me Henry and as an encore sang "Fool, Fool, Fool." Eddie Arnold, then KOSY's Gumdrop Kid in Texarkana emceed the show and remembers it well. After the show, Arnold said, he and Elvis double dated and they went to Lacy's Drive-In and drank cherry Cokes.3

Scotty, DJ, Elvis and Bill on stage at the Arkansas Municipal Auditorium in Texarkana - Apr. 22, 1955*
Photo courtesy Jimmy Smith & City of Texarkana Municipal Auditorium Project Advisory Commission
They appeared again on May 27th and Dewanda Jo recalled attending the second springtime Texarkana show before she went to Shreveport in June. She remembered that the others on the bill were virtually unknown in Texarkana at this time: Johnny Cash, Carl Perkins and Conway Twitty. Of course, Ms. Smith's reason for attending was to visit with another artist, Tommy Sands. The first time in Texarkana, backing Elvis on this show, according to Dewanda, was D. J. Fontana. Ms. Smith recalls Elvis was driving a Chevrolet, possibly Scotty's, when he arrived at the auditorium. He wore black trousers and a black shirt open to the waist. Later, Elvis' stage antics were more than she could take. He had a pocketful of the thin "Italian" belts that were popular at the time, and he tossed them to the audience. He followed up by removing his shirt. At that point, Dewanda waited out the rest of his performance in the lobby.2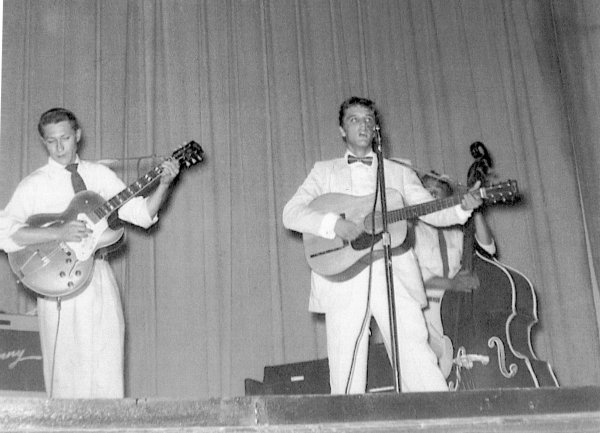 Scotty, Elvis and Bill at Arkansas Municipal Auditorium - May 27, 1955*
Photo courtesy Steve Bonner
Johnny Cash however, would not make his first appearance in Texarkana until November and Conway Twitty was in the Army at that time. Burk wrote that Margerie Marek, a school girl from Hope, AR, recalled first seeing Elvis reputedly at the May appearance. She was spending the weekend with her friend Janet and her sister Kay who wanted her to go see a new singer who was "absolute dynamite and extremely gorgeous!" Anticipating boredom, she was reluctant, though she had been hearing some of the girls at school talking about him, how cute he was, but also how vulgar he was! She had heard one or two of his songs on the radio and thought, "not bad," but had never seen him or even a photo of him.3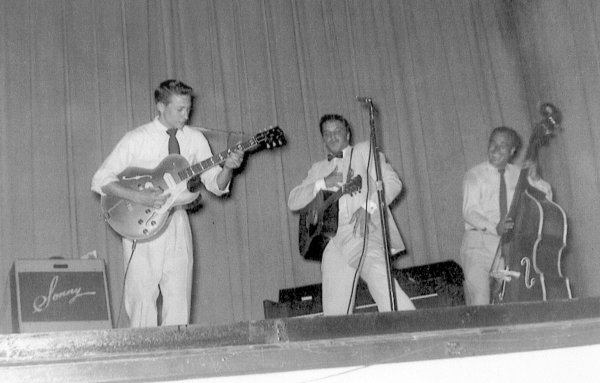 Scotty, Elvis and Bill at Arkansas Municipal Auditorium - May. 27, 1955*
Photo courtesy Steve Bonner
Margie recalled that it was 5 p.m. when they drove up to the Auditorium and only a few girls were there waiting close to the door for the show that would not start until 7. "We were standing at the door behind three other girls when we heard a car horn honk and we looked in the direction of the car. It was a 1955 pink and white Ford Crown Victoria. Some guy was waving and honking and stuck his right leg out the car window. Some of the girls were squealing and jumping up and down, and I just looked in amazement and total disbelief at what I was seeing. The car stopped at the stage door entrance, the door opened, and the girls ran in every direction like a horse stampede.3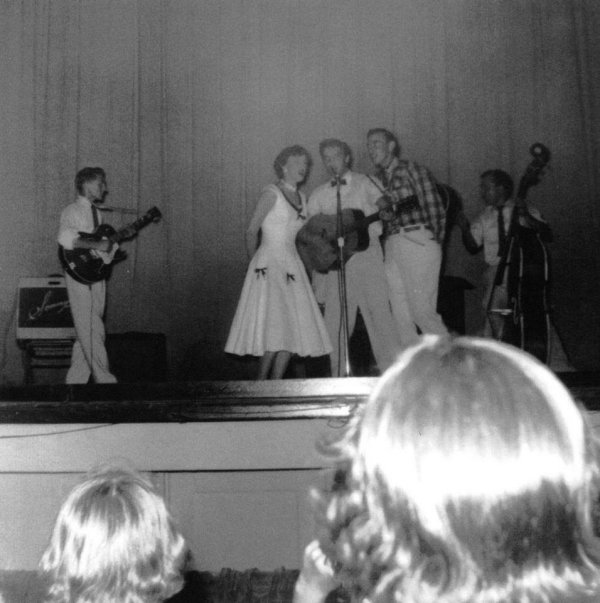 The Browns performing with Elvis, Scotty and Bill at Arkansas Municipal Auditorium - May. 27, 1955*
Photo source Ana Fernández Sangil, quite likely from A boy From Tupelo
We didn't get tickets then; just paid our admission and ran as fast and as hard as we could to the front row and luckily found three seats together to the left of the stage, the side Elvis would come from when the curtain opened. Tommy Sands opened and did his Elvis imitation, trying to sound like Elvis and move like Elvis. He was real cute, but he wasn't Elvis. After he left the stage, Jim LeFan, deejay for KOSY in Texarkana, came on to try quieting the girls. The girls knew who was next. You could feel the tension, the electricity in the air! Then Elvis came on, smiling and shading his eyes from the bright spotlights in the darkened auditorium.3
Margie immediately became a convert and a fan. She said, from the instant I first saw him, my mouth popped open. I froze. I couldn't say a word. I could hardly breathe. I stared in total awe and disbelief of him. I couldn't take my eyes off of him. It was like a spell was cast over me! As Elvis performed, he started throwing his clothes into the audience. I got my hand on his shirt, but so did the girl behind me. She got it. After he had thrown his shoes, his socks, belt and pocket comb into the crowd, he started throwing his pocket change, then sticks of gum (he always chewed Wrigley's Spearmint in those days). All he had left on by this time was his light blue slacks.3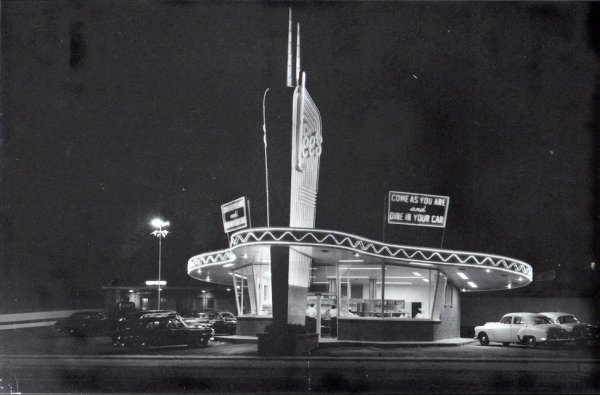 Lee's was a favorite drive-in restaurant and teen hangout in the 50s. The sign was designed by Baron Stanhope
Photo © Images of Texarkana, 1873-1990, courtesy mojavegirl
After the show, they went backstage for autographs where according to Margie they met Elvis. Lying about her age, but not fooling Elvis, he inquired about where to eat. "Standing there without a belt, he could hardly keep his pants up. They kept sliding down. Once I spotted the top of his Fruit of the Looms. It was funny. He had them on wrong-side-out. I could see the label (Size 32-34) as clear as day. After signing all the autographs, he asked if we had eaten yet. We said no, so he said, "Neither have I. Want to help me find a good place to eat'?" They agreed. After changing, Elvis returned and said he had called his Mom before she went to sleep. He asked Scotty and Bill to drive his car to the Park Plaza Motel. We took him to Lee's Drive-In, a popular hangout for teenagers. Elvis and I were in the back seat! Though he was sitting close to me, Elvis made no improper advances. Anyway, there we were, the four of us, sitting in the car in the drive-in. Elvis ordered three cheeseburgers, French fries, and two or three chocolate milk shakes! He surely had an enormous appetite and was so hyper and so full of energy he tired us out just watching him. We had so much fun laughing and talking and joking as we ate. We took Elvis riding around and at evening's end, Elvis thanked us. He got out of the car, smiled and waved goodbye, and disappeared around the corner of the motel.3


Lee's drive-in restaurant in the 50s
courtesy Arkansas High Alumni
During the 1950s and 1960s, Lee's drive-in restaurant was one of the favorite teen hangouts in Texarkana. It was located at 1010 East 9th Street. According to one local recollection, if the kids made too many circles driving around the parking lot, "Big Mary" (Mary Lou Oliver Burleson) would run them off or call the law! 4 The restaurant featured a large hand made neon sign by H.D. (Baron) Stanhope, who worked in outdoor advertising in Texarkana for nearly forty years.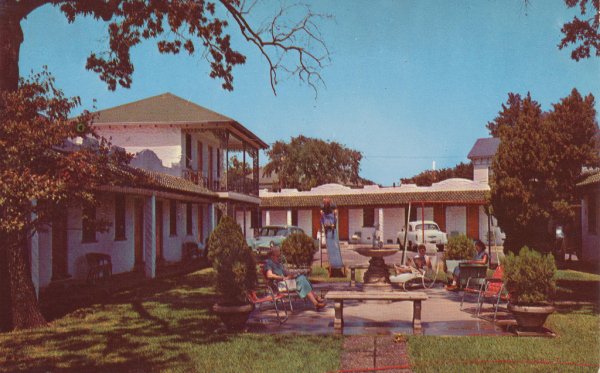 The Park Plaza Motel in Texarkana was located on East 7th at Hickory (near US Highways 67, 71 and 82) only a few minutes from downtown. Postcards advertised 85 lovely rooms and suites. Year-round guest control air-conditioned. Swimming pool and playground. Room phones, T.V. radios, room service. Town House Restaurant on premises. Also affiliated Park Plaza Motels in Fort Worth, Amarillo, Raton, Flagstaff, St. Louis, Town Park in Memphis, Belmont in Dallas, Catalina in Wichita Falls.
The next morning the girls headed straight for the Park Plaza Motel and found Elvis washing his car at the Amoco station across the street. He again accompanied them, this time to a record shop downtown where Margie bought several of Elvis' records which he signed, including a copy of Milkcow Blues which he autographed, "Love ya, Elvis Presley." After another hamburger at Lee's he hurried back to load the car and set off for Shreveport for the Louisiana Hayride show that night. Later that summer Margie said she saw Elvis in Hope, AR where he invited her to a watermelon party which she did not attend. The girls had made attempts that summer to go to as many close-by Arkansas and Texas towns that they could to see Elvis perform and though the crowds kept getting bigger they still had access to Elvis who seemed to recognize them.3 She recalled one being at Four States Fairgrounds, singing from a flatbed truck, but may in fact have confused it, possibly with nearby New Boston, TX. The watermelon party in Hope was at the home of Lura Mae Mitchell, who at the time was the president of the local Tommy Sands fan club.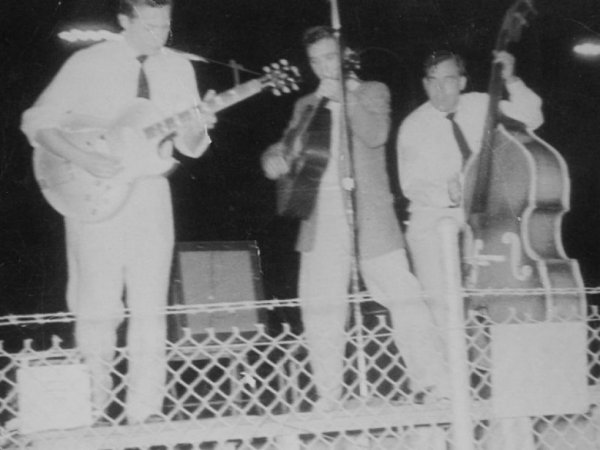 Scotty, Elvis and Bill thought to be at the High School football field in New Boston, TX - June 6, 1955
Photo courtesy Texarkana Gazette
Elvis did make an appearance around then in Hope, but in the Coliseum, though he did perform in New Boston at the High School football field on a flatbed truck, reputedly on June 6, 1955.5
They heard Elvis was returning to Texarkana soon and attending, seemed to recall that Tommy Sands again opened. Their next appearance in Texarkana was on September 2nd. Sometime towards the end of August Bob Neal and the boys did a radio bit plugging the upcoming show. They mentioned .... The recording is believed to have been made in Memphis, though Margie recalls one morning going to a Texarkana radio station after hearing that Elvis would be there for an interview. They watched the interview through the glass and in the afternoon went by his hotel just as Scotty drove away in the pink Cadillac. "Elvis spotted us, smiled and waved and kept looking back at us." 2


Marshall Grant, Johnny Cash and Luther Perkins at the Municipal Auditorium in Texarkana - ca.1955
Bob Neal, Scotty, Elvis and Bill promoting the upcoming September show in Texarkana
Photo courtesy Jimmy Smith & City of Texarkana Municipal Auditorium Project Advisory Commission
If audio fails to play in your browser click here for mp3
In Bob Neal's radio spot for the show on September 2nd, Elvis mentions having not been in Texarkana for about four or five months. Scotty mentions that Floyd Cramer and Jimmy Day, hayride members, will be there and Bob mentions Charline Arthur and also Johnny Cash, specifying that this would be Johnny's first appearance in Texarkana. There would be two shows, one at 7:00 p.m. and 9:00 p.m. Scotty mentions that people have been asking about the drummer that was with them last time, DJ, and that he will be appearing again, which almost implies that the last time was the first time for him there. Pictures from May however show no drummer.* Pictures from the September show, as far as we know, are the earliest that show DJ using his iconic Gretch drumset.
Fouke Man Hurt In Collision Of Car, Truck

A collision near Fouke, Ark., about 8:45 p.m. Friday resulted in slight injuries to J. B. Wiley, 54, of Fouke.
Wiley was treated for lacerations at St. Michael's Hospital and released.
According to Arkansas State Police, a car driven by Scottie Williams, a steel guitar player in Elvis Presley's band, hit Wiley's pickup truck about one mile north of Fouke as the truck was preparing to make a left turn. The truck knocked several feet by the impact. Both vehicles were heavily damaged,
The car driven by Williams, was owned by Presley. Officers said the car was in passing position at the time of the accident.
Presley and Williams were traveling to Texarkana to appear at the Municipal Auditorium.

Texarkana Daily News, Saturday, September 3, 1955 courtesy Francesc Lopez
On the way to the show that night Scotty, driving Elvis' pink Cadillac, got into an accident while passing a pickup truck which turned suddenly in front of them. The local paper mistakenly identified Scotty as "Scottie Williams." No one got hurt but it caused about $1200 damage to the Caddy and naturally delayed their arrival. Only three months earlier, Elvis's first Cadillac burned up not too far away in outside of Fulton, AR.

Scotty, DJ, Elvis (with Charline's guitar) and Bill onstage at the Municipal Auditorium in Texarkana - Sep. 2, 1955
Photo courtesy Steve Bonner
According to Cotten, when it was learned that Elvis would be arriving late, a call went out for Cheesy Nelson, who was located with Pat Cupp at Lee's Drive-In where they had gone following their high school football game. When Elvis failed to arrive for his entrance, Nelson entertained the crowd for about thirty minutes. As soon as Elvis showed up, he was rushed on stage in the same clothes he had been wearing in the car.2

Elvis (with Charline's guitar) and Scotty onstage at the Municipal Auditorium in Texarkana - Sep. 2, 1955
Photo courtesy Steve Bonner
Margie said, unlike before, they had security guards this time and Elvis' performance was even more electrifying than before. After the show, we dashed backstage to get him to autograph our new Sun records. He saw us and came over to talk. The girls were knee-deep backstage and were envious when he came to us. I was just so happy to have him come to me, call me by name and ask how we all had been since we saw him last in Hope. He asked why we had not come to the watermelon party, laughing when we told him of its no kids policy. He said he had enjoyed the party and had eaten a lot of watermelon.3

Elvis (with Charline's guitar) and Bill onstage at the Municipal Auditorium in Texarkana - Sep. 2, 1955
Photo courtesy Marileon Hopkins Jerden, source Elvis in Texas
Sometime near the end of the summer Janet and Kay's parents took Margie and them to the Louisiana Hayride. They succeeded in getting backstage but the security people asked them to leave, then Elvis walked out of his dressing room and saw them. "These girls (meaning us) are OK," Elvis told security. "They are my friends. It's all right for them to be back here." Quickly, Janet shot a picture of Elvis and me. She told us to move closer together and we did. Elvis pulled me tight against him and I sort of pulled back from him. His wrist watch band was almost penetrating through my back. Just before going on stage, Elvis put his hand under my chin and kissed me tenderly and oh, so gently, on the lips. That was to be the last time I was to be that close to him. He turned and walked away, took a few steps, turned and looked back and smiled at me." 3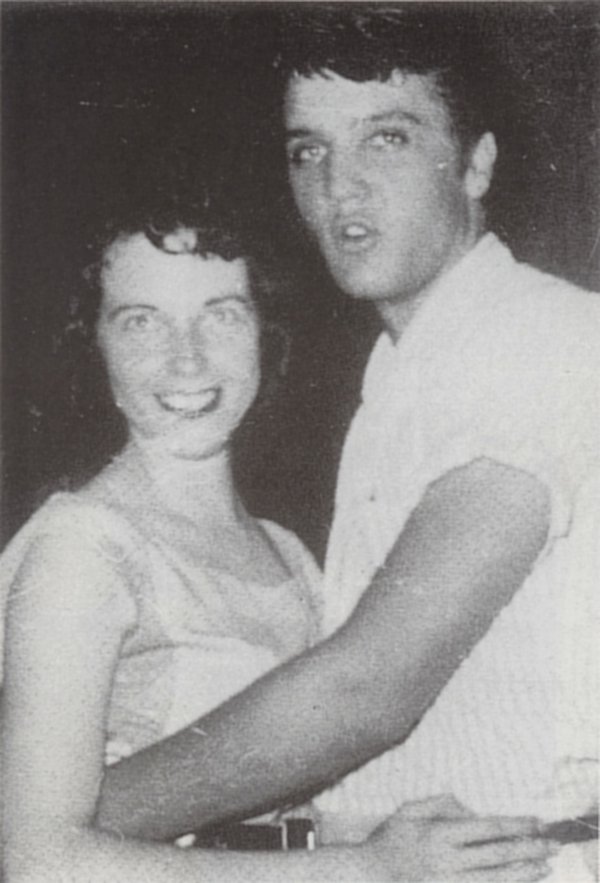 Margie Marek and Elvis (captioned as Texarkana but more likely Shreveport)
Photo © Margie Marek courtesy Bill E. Burk
Their final appearance at the Auditorium was on November 17, 1955, a Thursday, less than a week before Elvis signed with RCA. They had been touring that week with Hank Thompson and Carl Perkins but for this show Johnny Cash and the Tennessee Two performed instead of Carl. There were two shows, at 7:00 and 9: 15 p.m.2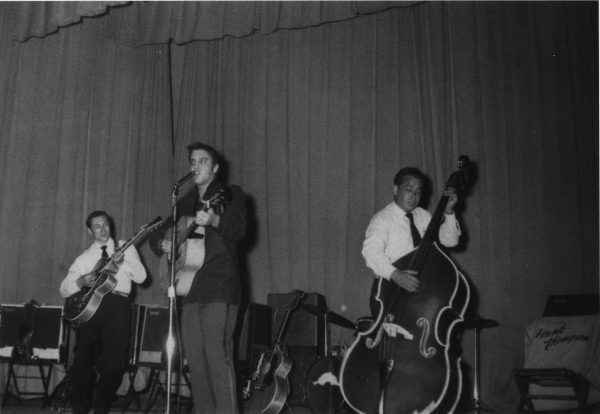 Scotty, Elvis, DJ and Bill onstage at the Municipal Auditorium in Texarkana - Nov. 17, 1955
Photo courtesy Erik Lorentzen
According to Cotten, afterwards, Elvis and Thompson appeared at Texarkana's Hut Club from 10:00 p.m. until 1:30 a.m. An article in the Texarkana Gazette (December 27, 1981) reported that the club's owner, Roy Oliver, paid Elvis only $17.50 to play the club. He wouldn't have booked him at all except that he came with the Thompson package. According to Dewanda Jo Smith, who had a sister that worked at the club, the Hut was fairly refined for a roadhouse. It was located on Highway 67 north of the city. Inside, there were a series of relatively small rooms set aside for dining, dancing and the bar.2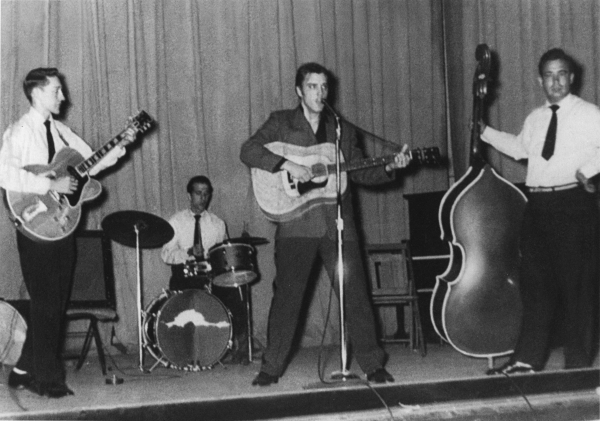 Scotty, Elvis, DJ and Bill onstage at the Municipal Auditorium in Texarkana - Nov. 17, 1955
Photo courtesy Erik Lorentzen
In 1956, local musicians were evolving as new jazz and "rockabilly" backups to visiting artists. The Auditorium became the first place in Texarkana for a mixed-race stage performance. A significant event, called the "The Evolution of Jazz," featured a band with a local black trumpeter, Artis L. Brewster, who was at that time only known in the Texarkana area. In 1946, his segregated black high school baccalaureate was held in the auditorium. For quite some time local talent put together weekly shows slated as "the Big T Jamboree" in the auditorium. Among those young talents were Pat Cupp with Bill Manning and Jerry Atkins.1
Pat Cupp, a long history as a musician from the Texarkana area, according to Lee Cotten, was later asked to fill in for Elvis on the Louisiana Hayride in early 1956 while Elvis was off appearing on television. This led to a brief recording career on the R.P.M. label.2 Elvis' last "regular" appearance on the Hayride was in March of 1956. In December of 1956 when Elvis returned to Shreveport to fulfill his final Hayride obligation Margie attended. It was the last time she saw him perform live. Carl "Cheesy" Nelson went on to get his doctorate degree and later served as president of Texarkana College for 30 years.3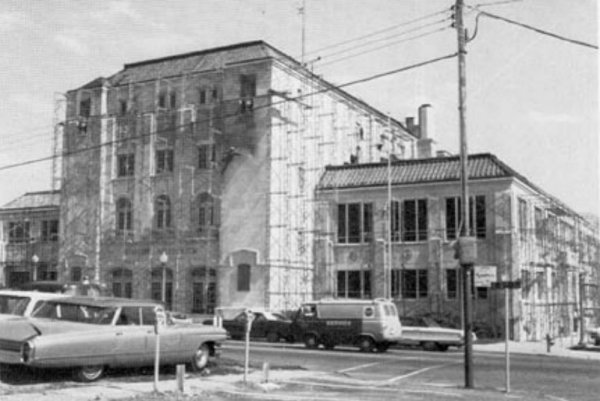 The Municipal Auditorium Building in Texarkana undergoing restoration in 1965
Photo courtesy Jimmy Smith & City of Texarkana Municipal Auditorium Project Advisory Commission
The auditorium remained a center of Texarkana's cultural life until it was closed in the mid-1970s, though the building continued to serve as the fire station, city hall, and jail since. Renovations were done from the late 1960s through the late 1980s in various parts of the building which have included converting the court room in the city hall into the city board room in 1968. In 1977 a false floor was designed in the auditorium at the level of the stage to create office space in the lower level (which would be the basement level of the City Hall area). These newly expanded offices were then in the areas of the auditorium dressing rooms and orchestra pit. In 1988 fire station offices were created by expanding into the first floor of the front part of the auditorium.1

A contemporary view of the unused stage and auditorium from the balcony - 2011
Photo courtesy Texarkana Gazette
However, the integrity of most of the exterior architectural features has been maintained. Only the windows and the terra cotta tile mansard roof have been replaced, both done at an unknown date. Though the auditorium remains closed, it is hoped that the space can be restored and returned to its place as one of the great cultural venues in Texarkana.1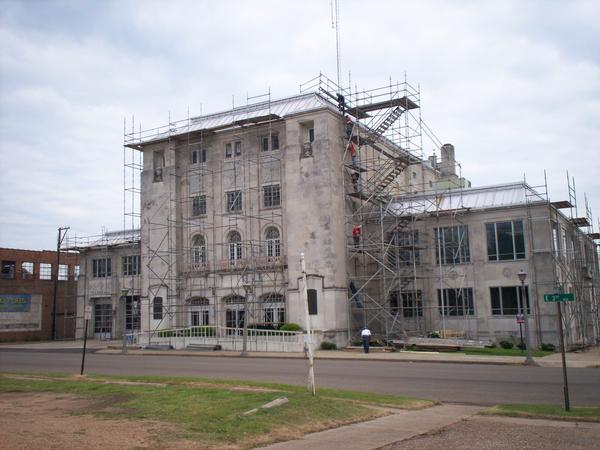 The Municipal Auditorium Building in Texarkana undergoing restoration in 2008
Photo courtesy Arkansas Municipal Auditorium Commission
The building was placed on the National List of Historic Places on January 24, 2004 which prohibits the City from demolishing, removing, or razing the building or any of the facades. The preservation easement further restricts signage on the building, enlarging the building, obstructing the view of the building, etc.... and requires that the building be open to the general public for a minimum of two days per year from 10:00 a.m. to 4:00 p.m. and other times by appointment.1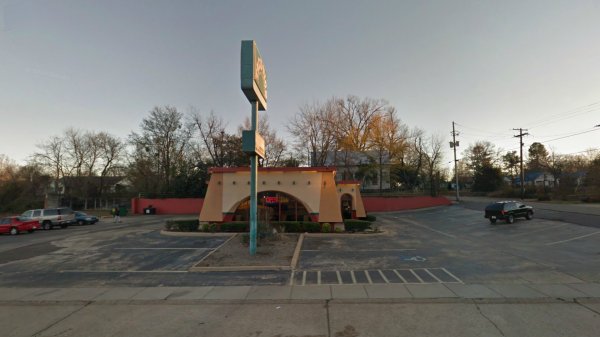 Taco Tico at 1010 East 9th, formerly the site of Lee's Drive-In
Photo © Google Streetmaps
Many of the other familiar landmarks of that era are now gone, including the Park Plaza Motel. The location of Lee's Drive in restaurant now contains a Mexican restaurant. According to his daughter Baron Stanhope's daughter, Carla Stanhope Tallant, most of his neon signs are now gone, but the relics of a few signs are still scattered around town. A few are still operating – like the Bottle Shop sign on Stateline Ave.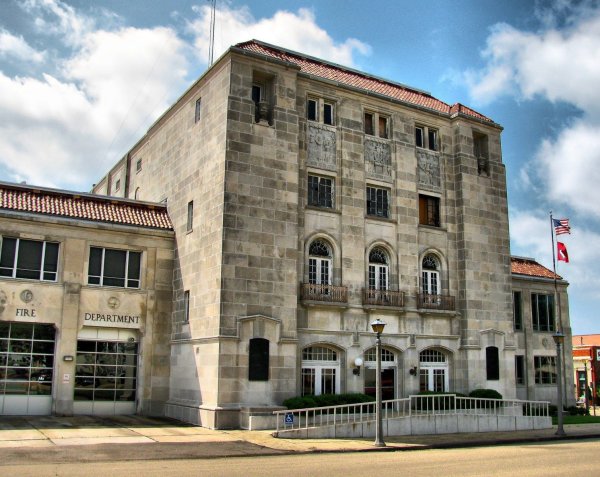 The Municipal Auditorium Building in Texarkana, AR - May 2009
Photo © by Wayne Kizziar courtesy Landmark Hunter
The City was ultimately awarded a preservation grant from the Arkansas Historic Preservation Program (AHPP) to restore the mansard roof of the Municipal Auditorium Building to its original materials that consisted of reddish-orange terra cotta clay tiles.1 It remains the plans and hopes of the Arkansas Municipal Auditorium Commission to not only restore and preserve Texarkana's national treasure but also to restore and preserve the history that the auditorium produced.
page added August 16, 2013

* the photos as captioned in April and May are reported and confirmed that way in A Boy From Tupelo** , though Scotty's remarks in Bob Neal's radio spot about the appearances of DJ Fontana suggests the contrary. Though the photo presented here with the Browns onstage doesn't easily reveal the amplifier as Scotty's Echosonic, Brian Petersen supplied a superior quality image of that section that proves beyond question that the photo was taken post May 24th thereby enabling us to record them accurately.
** this date reported in A Boy From Tupelo, courtesy FECC/djc
1 quoted or condensed from and according to, the Arkansas Historic Preservation Program
2 according to or excerpt from Did Elvis Sing in Your Hometown? by Lee Cotten
3 according to or excerpt from Bill E. Burk Elvis: The Sun Years
4 according to Arkansas High Alumni
5 according to Erik Lorentzen's Elvis Files