Beaumont City Auditorium
Beaumont, TX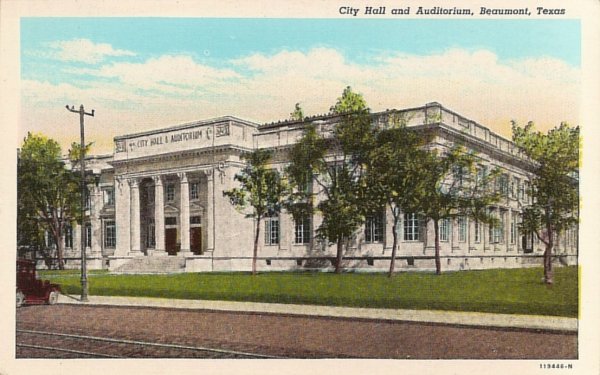 City Hall and Auditorium in Beaumont, TX - ca. 1928
courtesy eBay
Beaumont, Texas, in the Golden Triangle industrial area, is located on a coastal plain about 30 miles inland from the Gulf about 85 miles east of Houston on I-10. Formed as a town in 1838 it became an important for lumber after the Civil war and then oil after the turn of the century. Musically, it was the birthplace and/or became the home of Harry James, Barbara Lynn, Blind Willie Johnson, George Jones, Moon Mullican, J.P. Richardson (The Big Bopper) and Johnny and Edgar Winter.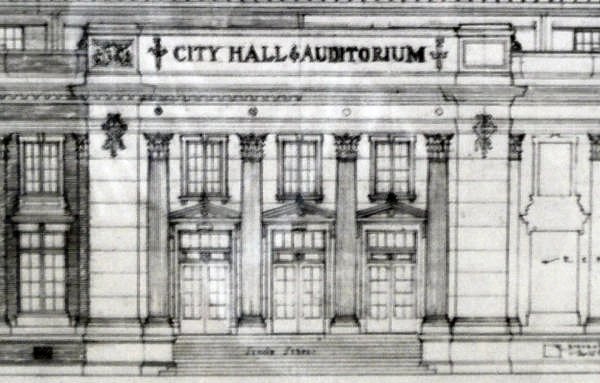 Architectural drawings for the City Hall and Auditorium, Pearl Street entrance in Beaumont, TX - ca. 1920s
Photo © Bobby Dean

Architectural drawings for the City Hall and Auditorium, Pearl Street side in Beaumont, TX - ca. 1920s
Photo © Bobby Dean


Architectural drawings for the City Hall and Auditorium, Wall Street side in Beaumont, TX - ca. 1920s
Photo © Bobby Dean
In 1928 the City Hall and Auditorium was constructed downtown on Pearl Street between Forsythe and what was Wall Street. A Classical Revival Structure, it was built to house city offices and an auditorium. The auditorium features a 50 foot proscenium stage and, at the time, with the balcony, sat approximately 2400 people. On June 20th and 21st in 1955, Elvis, Scotty and Bill made their first appearances in Beaumont at the City auditorium. The events in Jacksonville in mid-May had all but sold the Colonel on Elvis' appeal and thus earning potential.
According to Peter Guralnick, the Jimmie Rogers Festival in Meridian in May introduced Elvis to both RCA's Chick Crumpacker and Hill and Range's Grelun Landon who began discussions with Elvis about a song folio, a kind of promotional publicity bio with pictures built around the sheet music for some of Elvis' songs. At this time the Colonel offered to work more closely with Bob Neal promoting Elvis even suggesting he let him carry the ball. It was Parker's thoughts that Neal was unable to book and handle him properly and he felt that with an increased popularity he could send him into new territory, even a booking in Las Vegas. By mid June it is agreed that as of July 24th all booking and long-term planning will be handled by the Colonel's office, included a concerted effort to move Elvis from Sun to a major label though Neal will remain as manager.2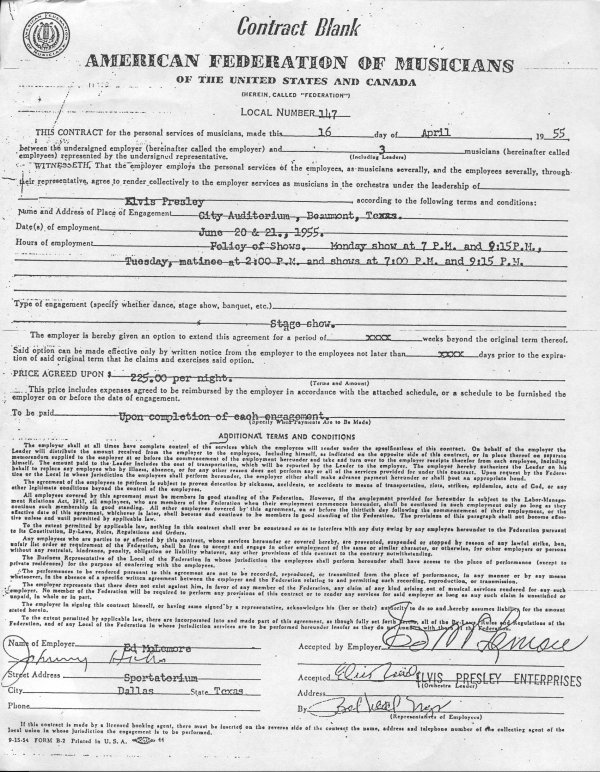 Contract with Ed McLemore for dates in Beaumont
Photo courtesy Steve Bonner
Bob Neal got them this appearance in Beamont through Ed McLemore while at the Big D the previous April. In addition to Marty Robbins from the Opry, they shared the bill with others from the Hayride and Big D. They received a total of $450 for the two days. Lee Cotten wrote,

Beaumont rolled out the red carpet when Elvis and Marty came to town! Advertising for their two-day stand was just about the greatest in Elvis' career. The show was plugged for weeks on radio stations within a radius of fifty miles. The first newspaper ad appeared June 5 in the Beaumont Enterprise, followed by the Beaumont Journal on June 10. Then, beginning June 13, daily ads ran unabated in both papers until show time. To top it off, there was an article in the Enterprise on June 12, another in the Journal on June 17, and still another in the Enterprise on June 19 and 20. lf that was not enough, it was touted that Davy Crockett, a national sensation at the time, would be on hand to greet the kids. (just who portrayed Mr. Crockett remains a mystery.) Tickets for the extravaganza were hawked as far away as Port Arthur and Orange.
Billed as "Stars of the Grand Ole Opry, Louisiana Hayride and Big D Jamboree," Elvis and Marty and the troupe played two sold-out shows on Monday at 7:00 and 9:00 p.m. at the 2,400 seat City Auditorium to benefit the local Police Department. Also featured were the Maddox Brothers with Rose and Rhetta, the Belew Twins, Sonny James, Charlene Arthur, LaFawn Paul of the Hayride, singer/songwriter/emcee Johnny Hicks, and the Texas Stompers, who recorded for Coral Records. Admission was a dollar for adults and children, alike.3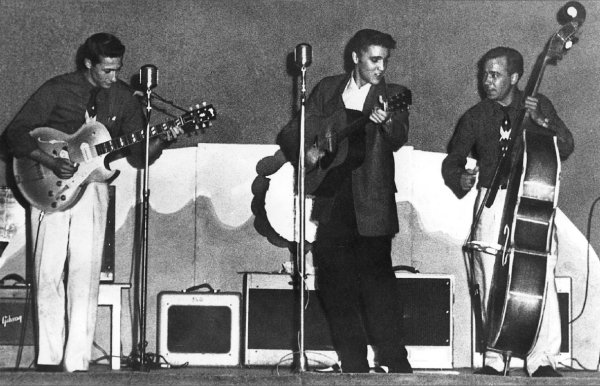 Scotty, Elvis and Bill onstage at the City Auditorium in Beaumont, TX - June, 1955
Photo courtesy Steve Bonner
From Beaumont Neal wrote the Colonel about Elvis' ambivalence about leaving Sun and his inability to convince him otherwise while the Colonel informed Steve Sholes at RCA about his arrangement with Neal and encouraged Sholes to make a bid for his contract. In six months time Elvis signed with RCA and the following January returned to Beaumont once more.2


Ads from January 16 and 17, 1956
courtesy Frances Lopez
On January 17th they made their second and last appearance in Beaumont. It was during a week of dates in Texas, their last with Hank Snow and last as a supporting act. It included stops in San Antonio, Galveston, Austin, Wichita Falls, and Fort Worth. This appearance was promoted by Biff Collie, the Houston deejay that had initially brought them to Texas in 1954 and had emceed the previous night in Galveston. Cotten wrote,
The Beaumont City Auditorium was the site of this evening's performances at 7:00 and 9:00 p.m. Once again, Biff Collie was the master of ceremonies. As in Galveston, the first 2,000 general admission tickets sold for only a dollar, while a reserved section was extra. Children were also admitted for 50-cents.3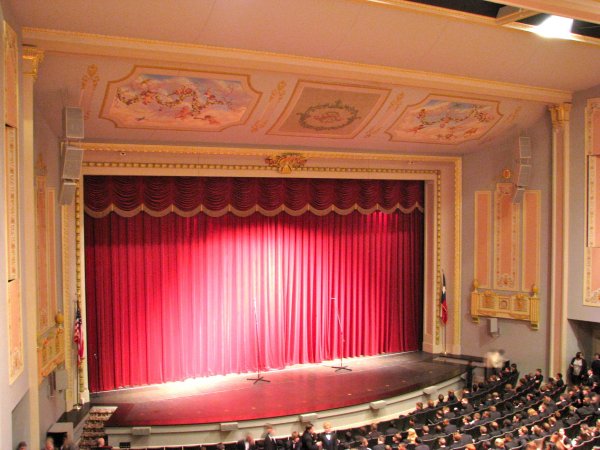 The Stage at the Julie Rogers Theatre of the Performing Arts - Nov. 2010
Photo by Reagan Rothenberger
By 1982 the city offices moved out and the the building was renovated and renamed the Julie Rogers Theatre for the Performing Arts. Today it is run as part of the Beaumont Civic Center complex which also includes the adjacent Civic Center and Jefferson Theater. It became the home of the Symphony of Southeast Texas and has since seem performances and presentations from the Beaumont Civic opera and Ballet to watermelon-smashing by Gallagher.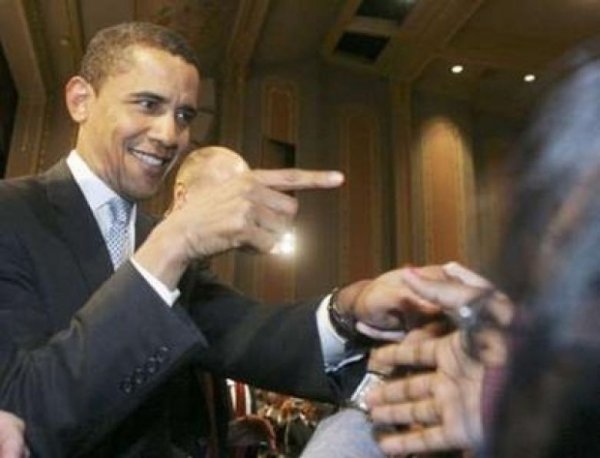 Senator Barack Obama in the Julie Rogers Theatre in Beaumont, TX - Feb. 28, 2008
Photo courtesy mySA
It was remodeled again in 2007 and today has a seating capacity of 1663; 1251 on the main floor and 421 in the balcony. It was even used to host a town hall meeting with then Senator Barack Obama in 2008.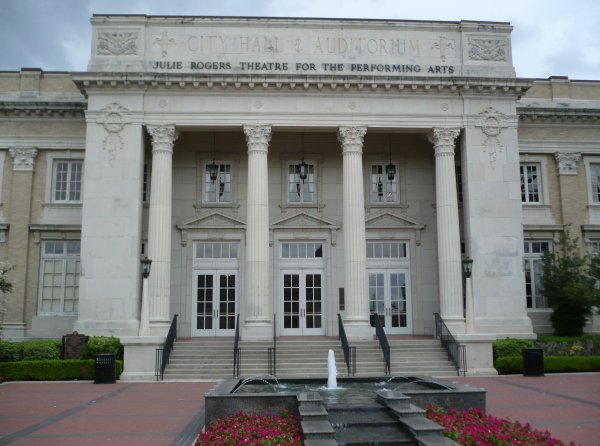 The Julie Rogers Theatre of the Performing Arts at 765 Pearl St. in Beaumont, TX - Nov. 2010
Photo © Bobby Dean
page added July 1, 2013
Special thanks to Bobby Deen of Dallas, formerly of Beaumont for his photos and the inspiration to due this page, and also to Steve Bonner who sent us his a long time ago.
1 according to wikipedia
2 excerpt from or according to "Elvis Day by Day" by Peter Guralnick
3 according to or excerpt from Did Elvis Sing in Your Hometown? by Lee Cotton
---
A few more shots courtesy of the Beaumont Enterprise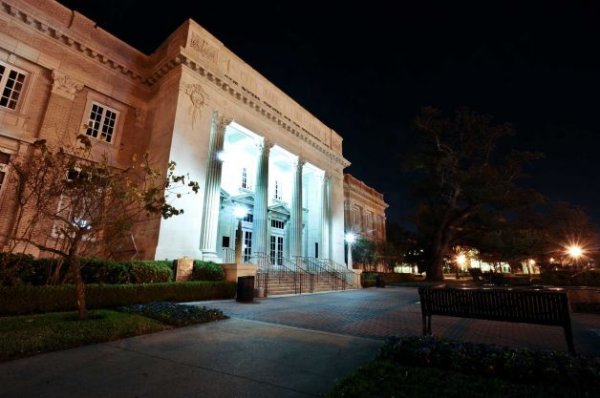 The July Rogers Theatre for the Performing Arts
Photo © Randy Edwards courtesy Beaumont Enterprise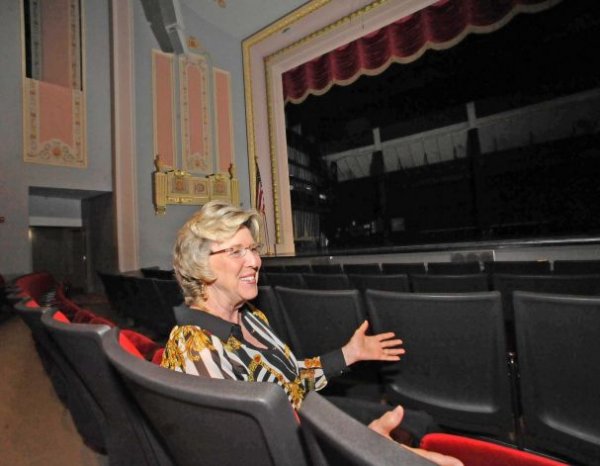 Claudie Hawkins, 35 year event planner for the City of Beaumont (retired), in the Julie Rogers Theatre - Apr. 2013
Photo © Dave Rysn courtesy Beaumont Enterpris
e

Claudie Hawkins, 35 year event planner for the City of Beaumont (retired), in the Julie Rogers Theatre - Apr. 2013
Photo © Dave Rysn courtesy Beaumont Enterpris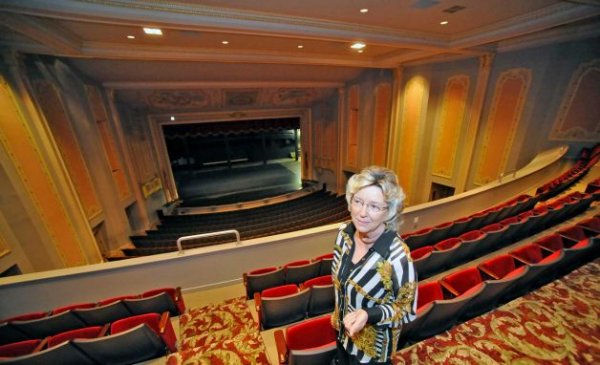 Claudie Hawkins, 35 year event planner for the City of Beaumont (retired), in the Julie Rogers Theatre - Apr. 2013
Photo © Dave Rysn courtesy Beaumont Enterprise