The 2014 Winter NAMM show
catching up with old friends and making new ones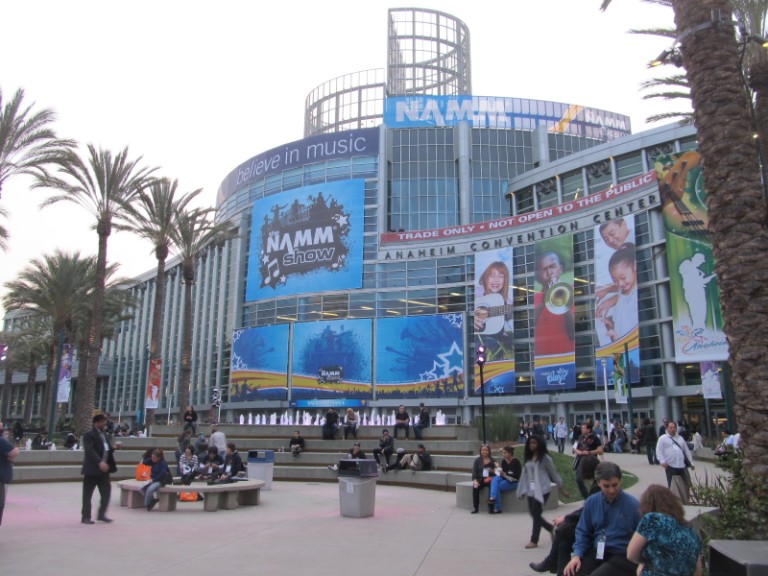 The Anaheim Convention Center, home to the Winter NAMM show
Photo © James V. Roy
Its been a few years since I attended a NAMM show (National Association of Music Merchants), a semi-annual event where music manufacturers showcase there line of products to dealers. Scotty himself hasn't attended one I believe since the summer of 2003 in Nashville and during this one he was actually in Memphis doing a (now rare) interview for our friend Pete Pritchard and the BBC (more on that possibly later). The Winter show is traditionally held in the Anaheim convention Center and is about the only event that takes up all four floors. It is a real boon to the area businesses but not open to the public and attendees are required to wear ID badges at all times.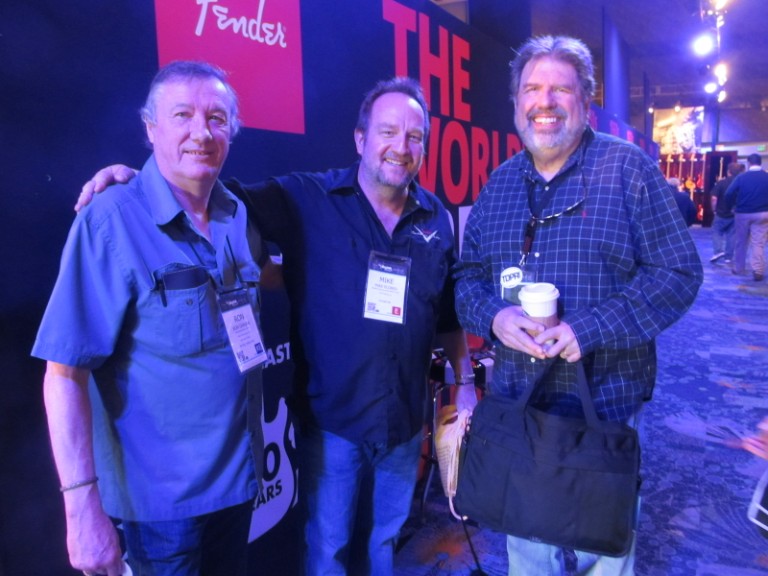 Ron Garson with Mike Eldred of Fender and Paul Green of the TDPRI in the Fender booth at NAMM - Jan. 23, 2014
Photo © James V. Roy
I was fortunate enough to go though again as a guest of Fender Musical Instruments thanks to our friend Mike Eldred. Another friend Ron Garson came over from Scotland also. Mike, you may remember if you're a frequenter to Scotty's site, was the one that initially introduced me to Scotty and earlier discussions with him actually formed the basis and motivation initially for this site. We met up with him in the Fender booth, our first stop, and also with Paul Green who heads up the Telecaster Discussion site, the leading discussion forum on Telecasters since 1999.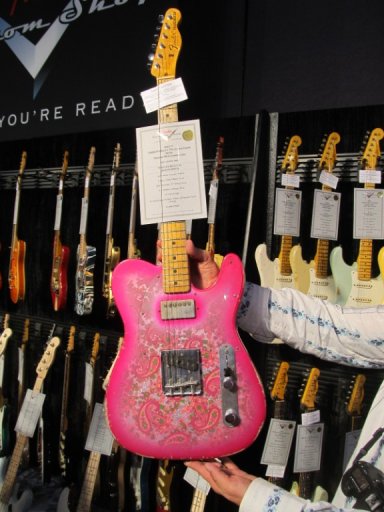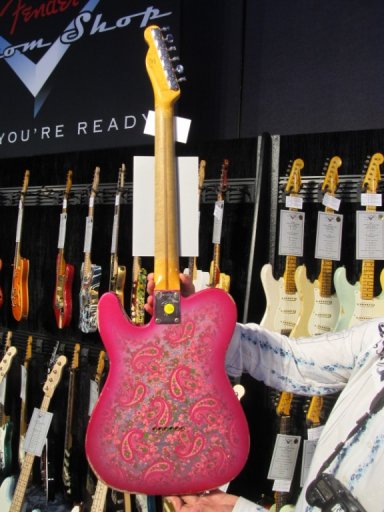 Paisley Fender Custom Shop Telecaster with humbucker pickup - Jan. 23, 2014
Photos © James V. Roy
In the Fender Custom Shop booth at the show one particular guitar that stood out was a reissue of a 1969 Paisley Telecaster, a model made famous by James Burton during his years with Elvis and the TCB band. This one though was equipped with a humbucker pickup in the neck position. Like most of the Custom Shop guitars there, this sold at the "dealer only" showing the night before the show opened.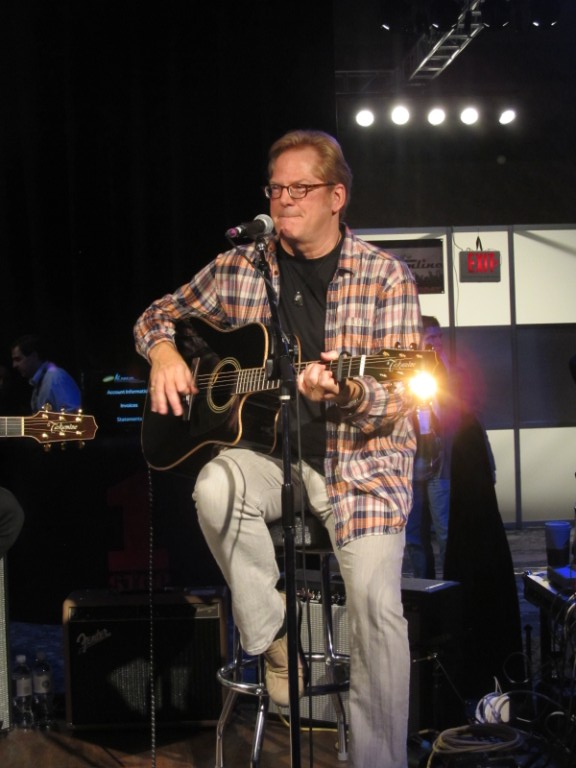 John Jorgenson performing in the Takemine booth at NAMM - Jan 23, 2014
Photo © James V. Roy
Our friend John Jorgenson happened to be performing in the adjacent Takemine booth. Takemine Guitars are now an affiliate of KMC, a subsidiary of FMIC. Scotty met John years ago at a Chet Atkins Appreciation Society function. He, I believe was originally from the southern California area and is good friends with Kittra Moore, Bob's wife. I met him first at a party for Scotty at Gibson in 2003 and had the opportunity to see him play again a little over a year ago with Albert Lee.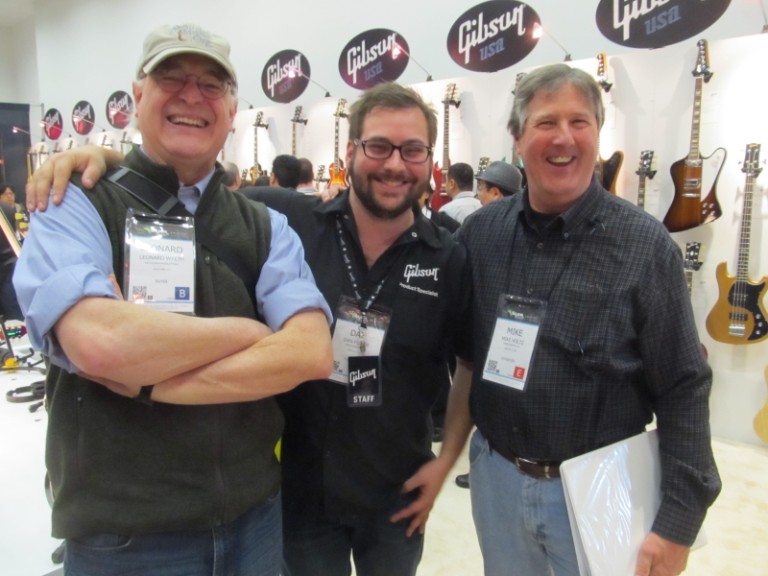 Leonard Wyeth with Dan Pilver and Mike Voltz of Gibson in their booth at NAMM - Jan 23, 2014
Photo © James V. Roy
Mike Voltz you may remember from Scotty's party last August. He heads up Gibson in Memphis and was the man responsible for the 81 tribute ES295s modeled after Scotty's that were produced and released last year. We met up with him again in the Gibson booth, naturally. I asked if he had brought any to the show and he said that he hadn't and that they were all but sold out. He said that he was leaving NAMM a day early to get back to Memphis to hook up with Scotty at Sun for his interview with the BBC.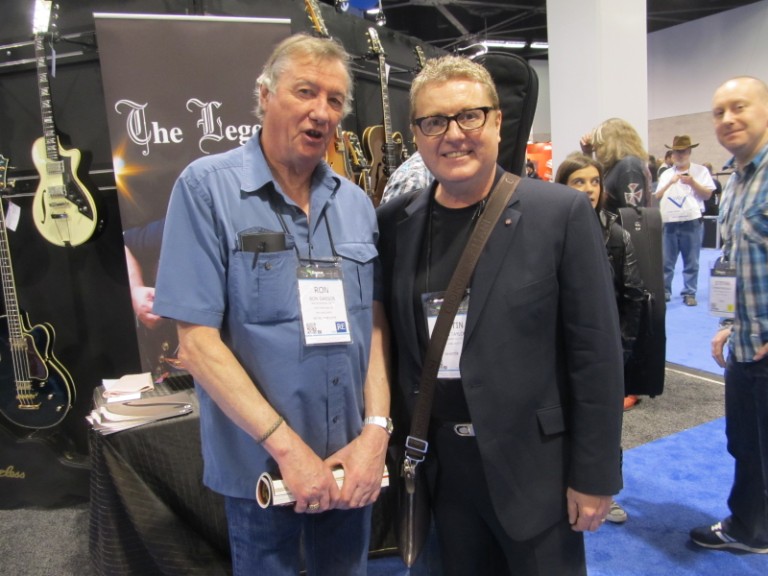 Ron Garson and Martin Taylor at NAMM - Jan. 23, 2014
Photo © James V. Roy
Martin Taylor is a long time friend and fan of Scotty's. He met Martin years ago and really enjoys his playing. When Mike Eldred was working for Yamaha he gave Scotty an AEX 1500 that was designed in collaboration with Martin. Martin told us that he had been playing several dates while out there for NAMM. When I mentioned that we had him up on a page about the guitar on Scotty's site he said, "I played Folsom Prison last night." I didn't make the connection at first thinking that was a Johnny Cash song and thought to myself that couldn't have been too challenging for a guitarist of his caliber but I told him, "that's always a fun song to play, people really love it." He then said, "No, I mean the actual prison."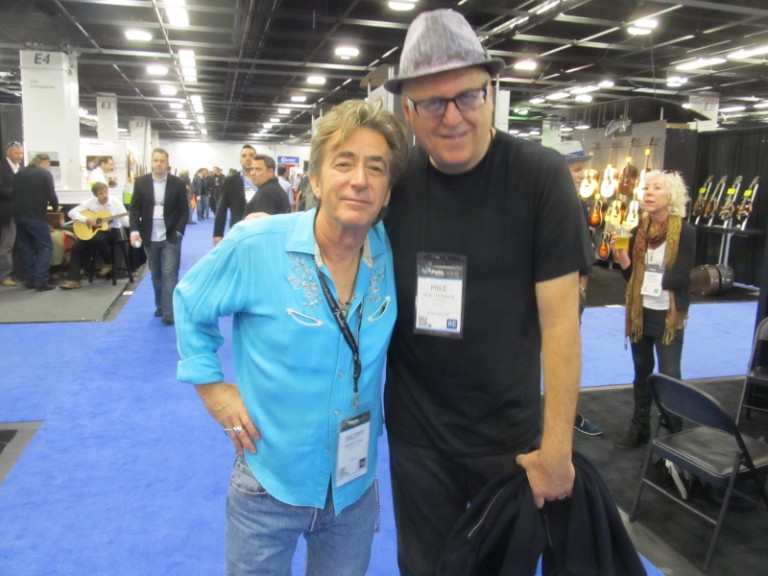 Brophy Dale and Mike Thompson - Jan 23, 2014
Photo © James V. Roy
We always run into Brophy Dale at the show. In addition to heading up his own band he also plays lead guitar in Lee Rocker's band which is how I originally met him. The second time I saw Scotty perform was in 2002 at the original House of Blues in Harvard Sq. in Cambridge, MA. He was on tour with Brophy and Lee. In fact a picture I took of him there was published along with a feature on Brophy in Guitar Player magazine.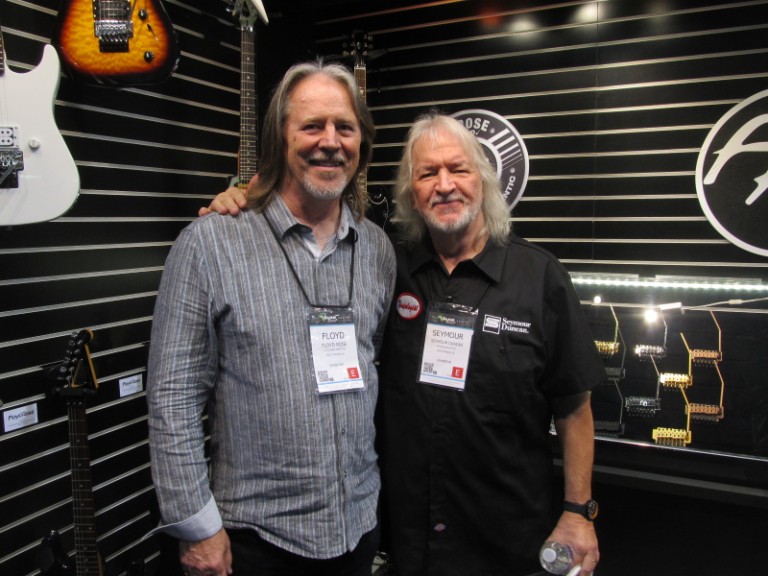 Floyd Rose and Seymour Duncan in the Floyd Rose booth at NAMM - Jan 23, 2014
Photo © James V. Roy
We ran into Seymour Duncan in the Floyd Rose booth. Seymour I'm sure you know to be one of the leading manufactures of guitar pickups and used by many of the manufacturers. He as you may know is also a good friend and fan of Scotty's. Floyd is renown for his design and development of the Floyd Rose tremolo system for guitar.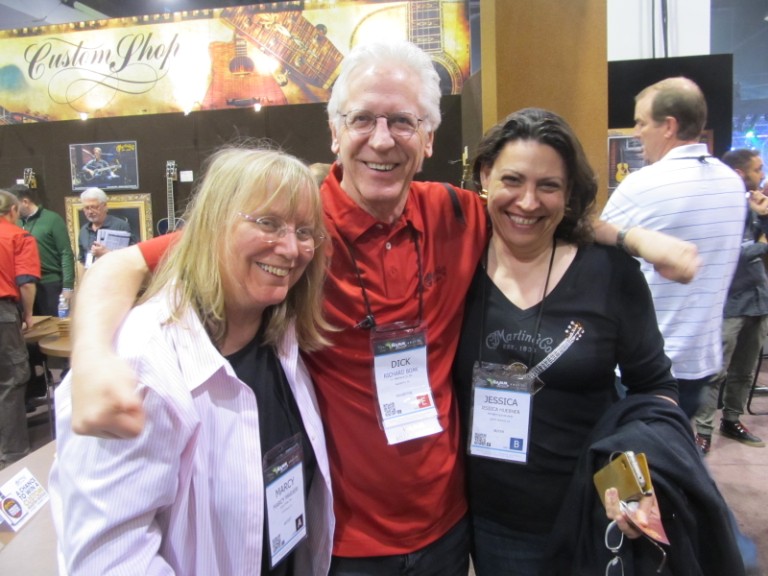 Dick Boak of C.F. Martin Guitars in their booth with Marcy Marxer and Jessica Huebner - Jan 23, 2014
Photo © James V. Roy
We stopped by the Martin booth to visit with Dick Boak briefly. He is another that always enjoys getting the updates to Scotty's site. Dick used to head up the Artist relations department and was responsible for the 175th anniversary series of Elvis Presley tribute Martin D28s released a few years ago. He is now director of the Museum, archives and special projects at C.F. Martin and most recently coordinated the exhibit at the New York Metropolitan Museum of Art, Early American Guitars: The Instruments of C.F. Martin which runs January 14, 2014 – December 7, 2014.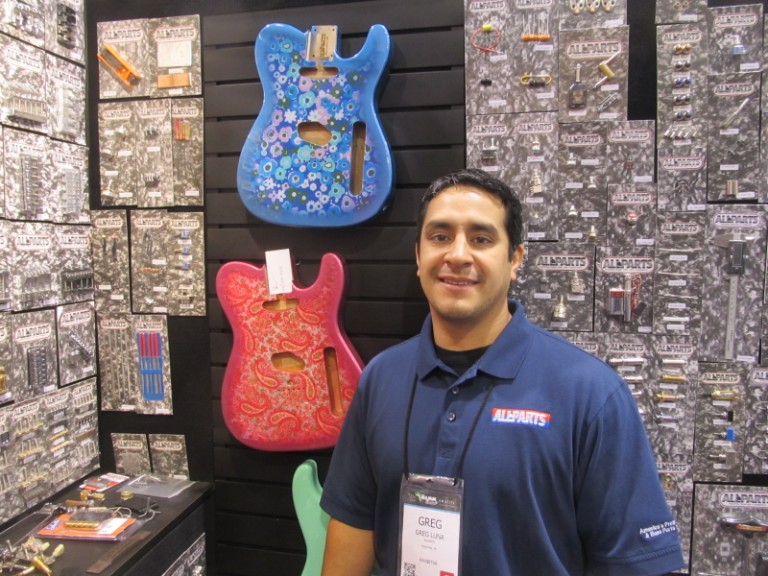 Greg Luna of Allparts in their booth at NAMM with paisley and floral Telecaster bodies - Jan. 24, 2014
Photo © James V. Roy
Another stop I always make at NAMM is the Allparts booth. They are one of the leaders in parts, bodies and necks, both finished and unfinished. I first met Greg Luna at a vintage show in Arlington, TX several years ago.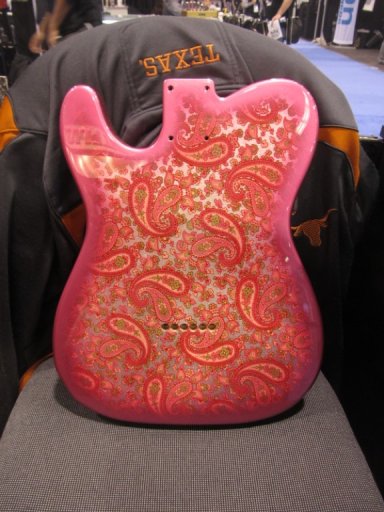 The Allparts paisley Telecaster bodies at NAMM - Jan. 24, 2014
Photo © James V. Roy
Speaking of Paisleys, I was knocked out by a body they had like the original Fender Paisley Telecaster previously mentioned that James played. Fortunately for me this one was already sold because I would've walked out with it and started another project. These Greg said were made by Tokai.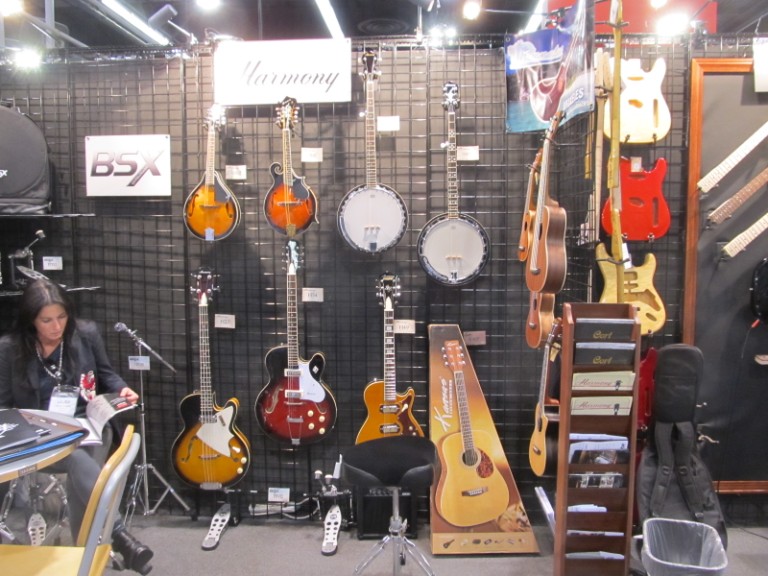 The Harmony Guitar booth at NAMM - Jan. 23, 2014
Photo © James V. Roy
It's nice to see Harmony Guitars back in business at the NAMM show. At one time the Harmony company must have been responsible for most of the guitars made in this country. Elvis used several models in his films: including a Harmony Stella in Jailhouse Rock; a Monterey in G.I. Blues, Fun in Acapulco, Roustabout and Paradise, Hawaiian Style; a Grand Concert Mahogany in Girls! Girls! Girls and Fun in Acapulco; and a
Stella Tenor in Frankie and Johnny. We talked to the president of the company Larry Goldstein, who told us he had been a long time employee of Harmony and in 2009 as the owner as the president of the Westheimer Corporation purchased the name and all intellectual property of the Company and now are reintroducing several of the older models with plans for more.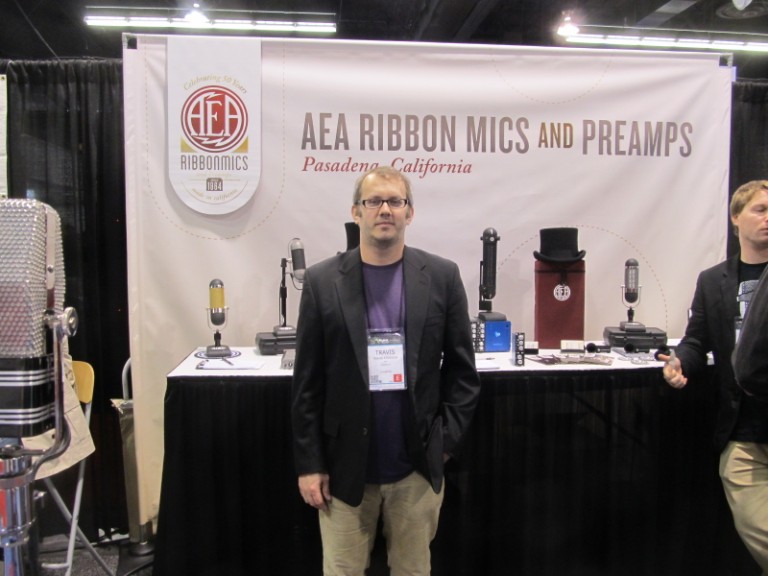 Travis Atkinson in the AEA Ribbon Mics booth at NAMM - Jan 24, 2014
Photo © James V. Roy
One of the booths we hadn't seen before was for AEA Ribbonmics and Preamps where we met Travis Atkins. Several of their products resemble the old RCA designs like the 44BX and the 77DX microphones used by Elvis, Sam Phillips and countless others over the years.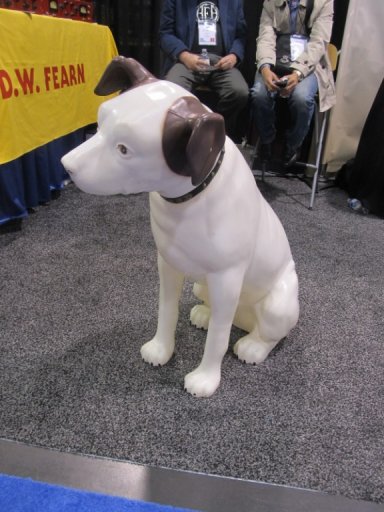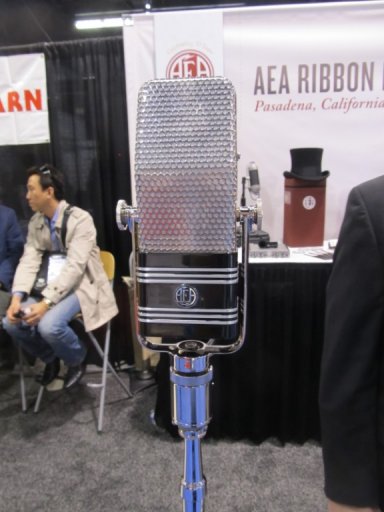 Nipper and an RCA 44BX inspired AEA ribbon microphone at NAMM - Jan 24, 2014
Photo © James V. Roy
Travis explained that they had Nipper on display in the booth as a nod and acknowledgement to RCA who they practically owe their start. Elvis fans should recognize the Nipped statue from the concerts of the '50s, particularly the controversial one at the Pan Pacific auditorium in 1957.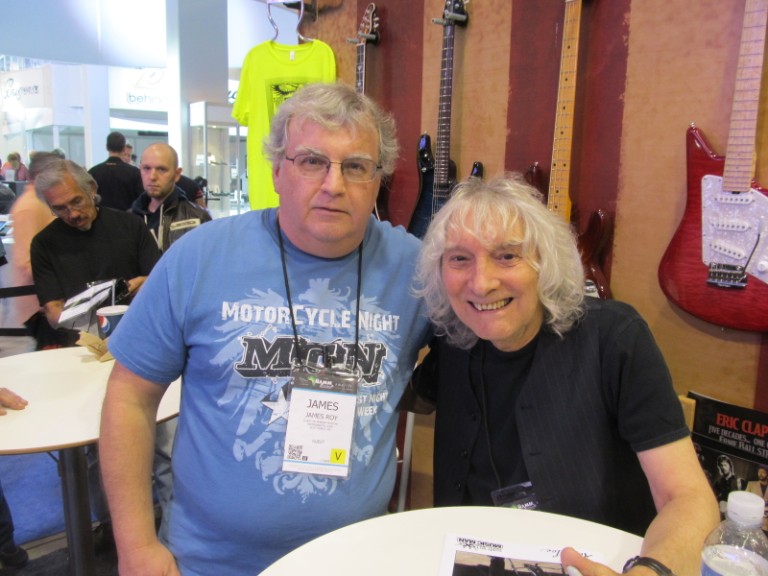 Me and Albert Lee in the Ernie Ball booth at NAMM - Jan. 24, 2014
Photo © James V. Roy
We ran into Albert Lee who was signing autographs in the Ernie Ball booth. Ernie Ball is the make of the Albert Lee model guitar which he uses exclusively now to perform. Albert you may recall owns the Gibson J200 that Elvis used in his movies for Paramount. I was able to positively ID it for him after he bought it and sent us pictures.

Juliana Kaltakhchan, General Manager at Flight Music with an Elvis Presley Special Edition Ukulele - Jan. 26, 2014
Photo © James V. Roy
Another booth that caught our attention was for Flight Music, particularly their Special Edition Elvis Presley Ukuleles. Officially authorized by EPE, Inc., they offer three Soprano models appropriate for beginner and intermediate players.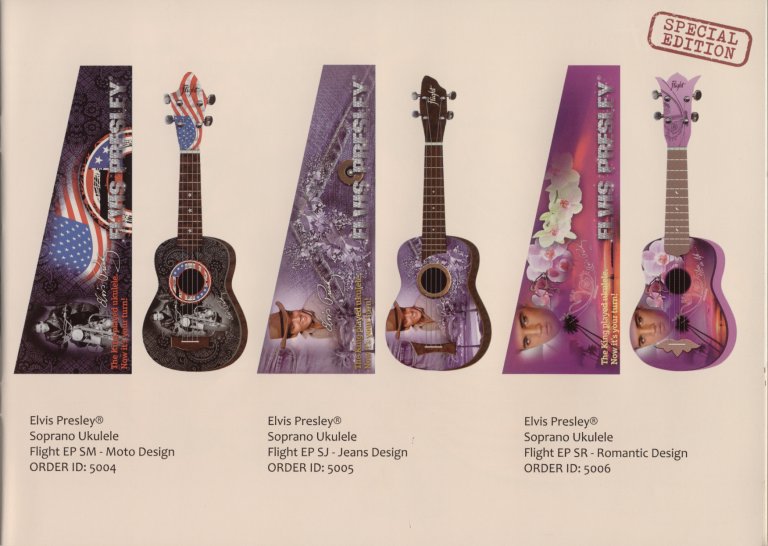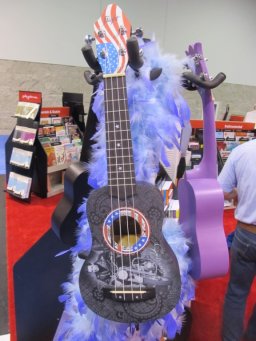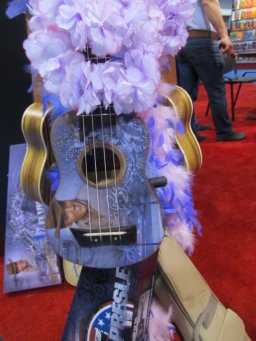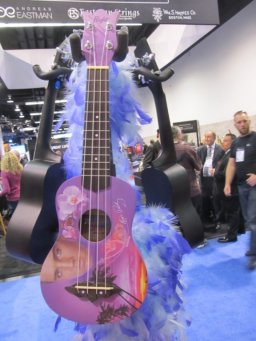 Elvis Presley Special Edition Soprano Ukuleles: Moto Design - 5004, Jeans Design - 5005 and Romantic Design - 5006 - Jan. 23, 2014
Photo © James V. Roy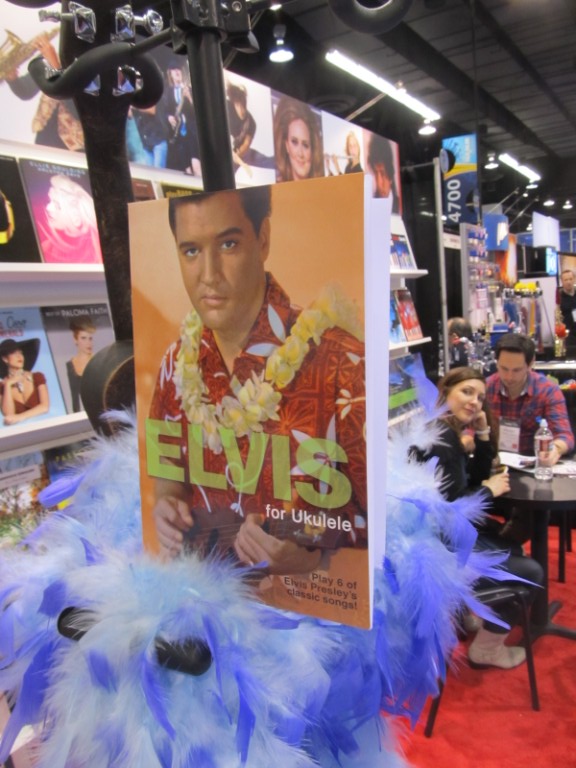 The Elvis Presley Ukulele songbook - Jan 26, 2014
Photo © James V. Roy
Additionally, they offer an Elvis Presley Ukulele songbook featuring 6 of his classic sons. Juliana was kind enough to give me a copy of one. Now all I need is a Uke.

Ron Garson with Drew Berlin in his booth at the OC Vintage Guitar show - Jan. 26, 2014
Photo © James V. Roy
During our stay in Anaheim we made a couple of side trips. One was to the California World Guitar show in nearby Costa Mesa. There we ran into our friend Drew Berlin. Drew for years was employed by Guitar Center and was known as one of the Burst Brothers. He is the one that brokered the sale of Scotty's Echosonic amplifier not too long ago. I last met up with him in Arlington, TX at another guitar show. Retired from GC, he now has his own business dealing in vintage guitars.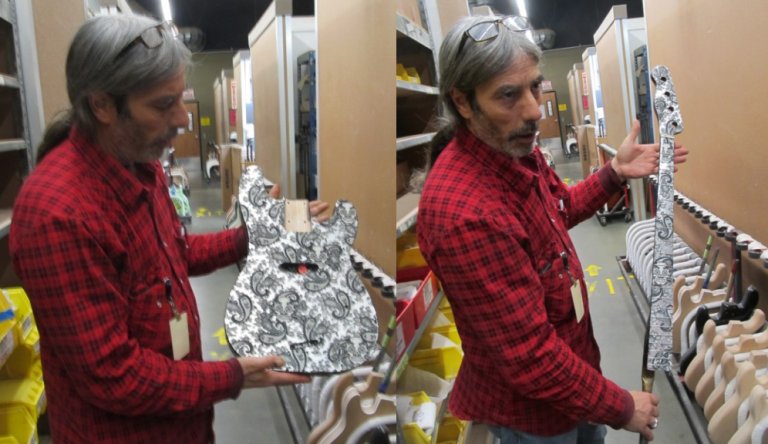 Ralph Esposito of Fender with one of the Día de Muertos Paisley Basses he designed and built for ZZ Top bassist Dusty Hill - Jan. 27 2014
Photo © James V. Roy
Another fulfilling trip was the the Fender Visitor Center and Custom shop in Corona. There we met up with Ralph and Jane Esposito. Jane works in the Visitor Center and Ralph is the Custom Shop Projects Coordinator and New Product Development. He took us on a quick tour of the shop where we got to see some of the masters at work. If you're in the area be sure to check out one of the factory tours now open to the public.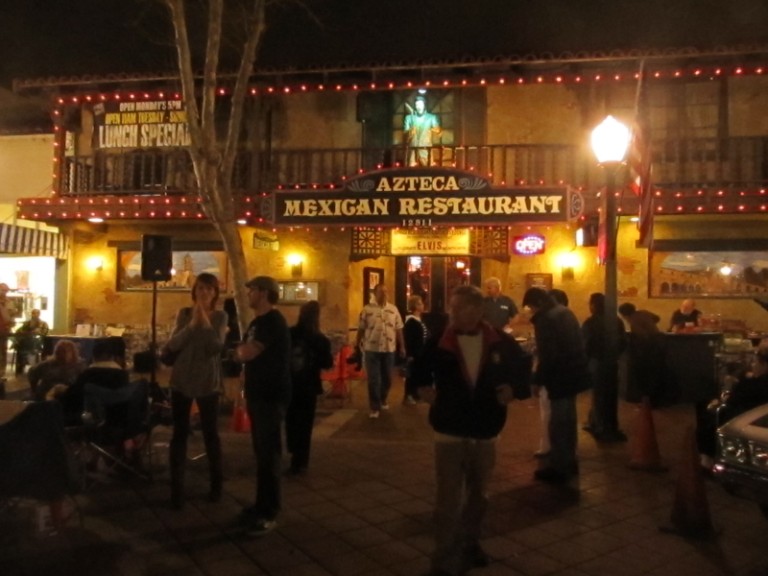 The Azteca Mexican Restaurant & Crooners Lounge in Garden Grove - Jan 24, 2014
Photo © James V. Roy
No trip to NAMM or Anaheim would be complete without at least several visits to our favorite Mexican restaurant, The Azteca Mexican Restaurant & Crooners Lounge in Garden Grove.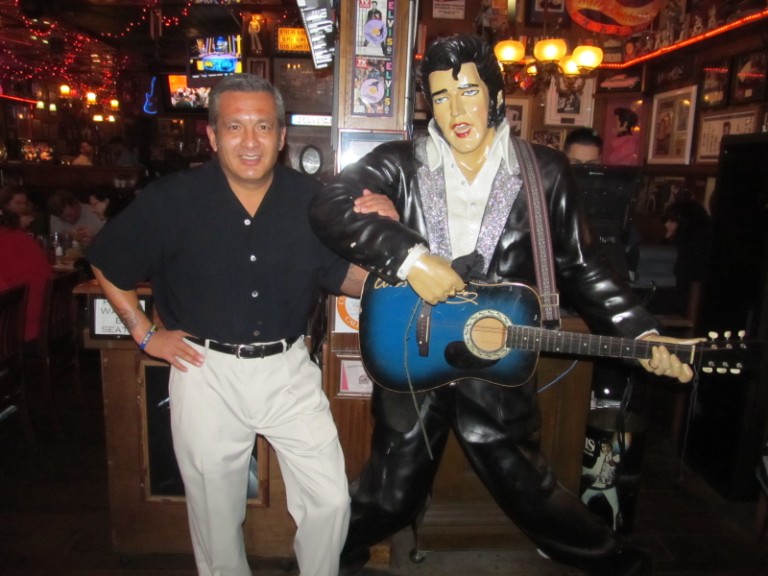 J.J. Jauregui, owner and proprietor of the Azteca Mexican Restaurant & Crooners Lounge in Garden Grove - Jan. 24, 2014
Photo © James V. Roy
Owned and operated by Elvis super fan J.J. Jauregui, the restaurant is a local favorite with superb food and a unique atmosphere. Just about every square inch of the interior, walls and ceilings are decorated with Elvis memorabilia. Its a must see, if not only for the food. Check them out on Facebook. This trip we went four times, with Ralph and Jane joining us for one.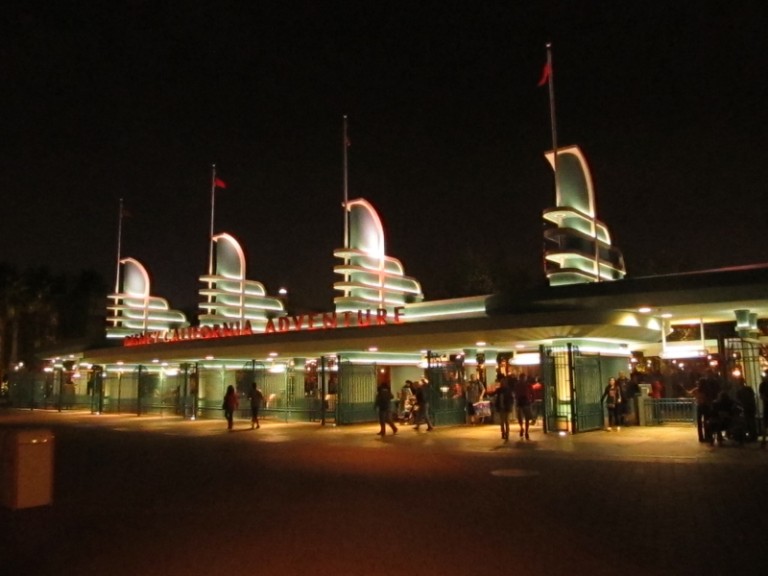 The entrance to Disney's California Adventure theme park in Anaheim, CA - Jan. 23, 2014
Photo © James V. Roy
The Anaheim convention center, where the NAMM show is held, is located virtually a block away from Disneyland and afforded me the opportunity to head into Downtown Disney to take a photo of the entrance to their California Adventure park. The entrance was modeled after the iconic Pan Pacific auditorium where Scotty and the boys made their last continental US appearances together in October of 1957.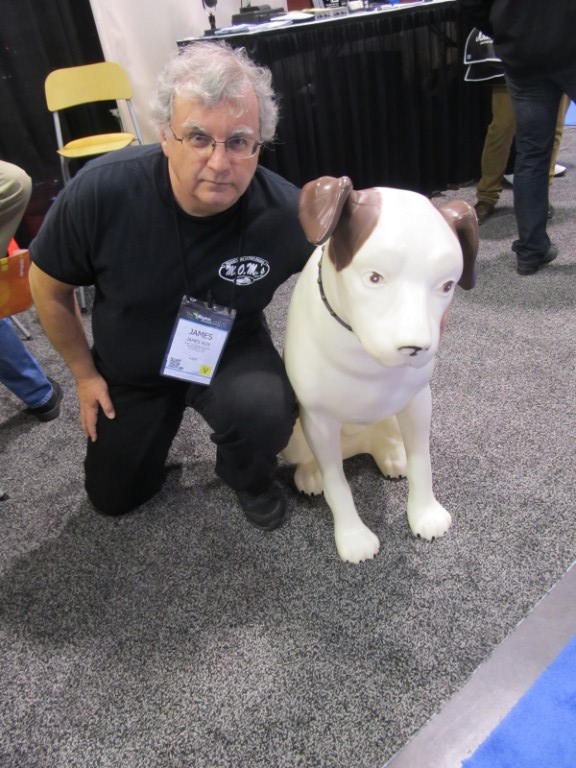 me with Nipper at NAMM - Jan. 26, 2014
Photo © James V. Roy
Needless to say I had to get at least one shot with Nipper in a nod to that concert. It was a great trip and I hated to leave the beautiful weather of Southern California to return the the icy Northeast. Ironically, I heard that Pete Pritchard got snowed in at Memphis trying to get home after the interviews, go figure.
more show pix here
James V. Roy
February 1, 2014